---
Let's say you want to buy 1 Oz gold bars for your portfolio but not sure where to turn. It can be difficult to fight through the noise and find trustworthy resources. While gold is one of the oldest asset classes in human history, dating back to 4000 BC, there's never been more confusion and controversy around the topic. Invest wisely with 1 Oz gold bars and add long-term quality and safety to your portfolio.
Many investment "gurus" seem to have strong opinions around gold, either for or against owning the yellow metal as an investment. It's amazing how polarizing and controversial purchasing gold can become.
Maybe it's always been this way – I'm not sure, but nowadays, a gold purchase seems more like an economic, social, and political statement wrapped inside your philosophy and entire belief system – rather than simply accumulating an asset. I prefer to keep it simple and tune out the noise when it comes to the endless gold debate.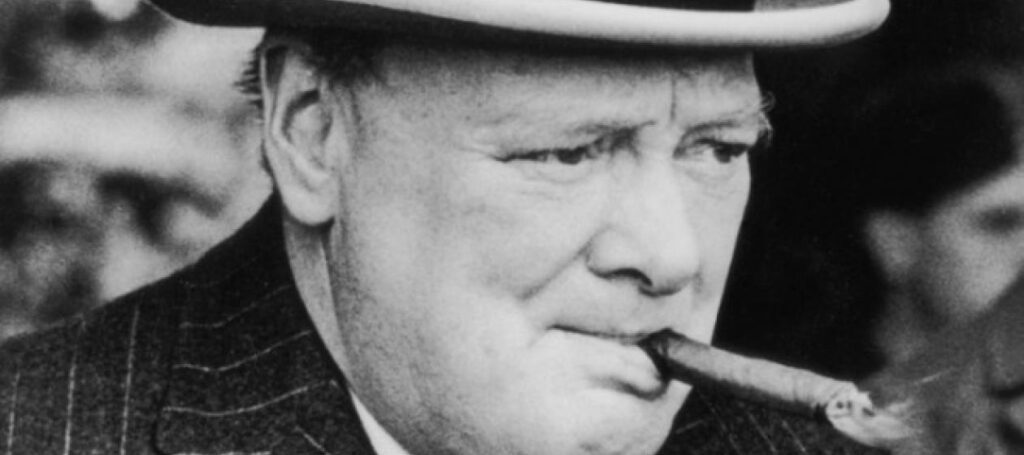 ---
Many Reasons to Invest in Gold
There are many reasons to invest in gold. Its considered less volatile and low risk relative to other asset classes. Buying gold has been synonymous with protecting against inflation and providing a safe place to hide during economic turbulence and stock market plunges.
When inflation fears rise, the price of gold usually rises along with it. Because the price of gold is in U.S. dollars, you would want to own it as inflation increases, and the value of the dollar falls. The chart below shows exactly that, with the decline in the U.S. Dollar over the last year and the expectation that inflation will increase in the near future, the gold price has gone up.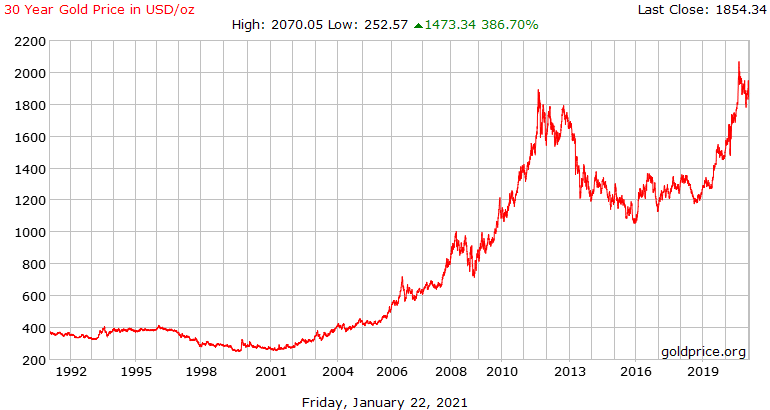 ---
Buying 1 Oz Gold Bars
If you decide owning gold is the right move for your portfolio, buying 1 Oz gold bars might be the right decision for you. As polarizing as a gold investment can be, many investment professionals agree allocating at least a few percent of your overall portfolio wouldn't be the worst idea in the world.
There are countless online sellers of 1 oz gold bars. Many are reputable, but you need to always watch for scams and fake products. With so many choices available, it's best to go with an established and well-known seller you can trust.
---
JM Bullion
One of the largest online sellers in the gold bar market is JM Bullion. Of all the various gold bars, silver bars, and platinum coins they offer, the gold 1 oz bar is one of the most popular purchases. This is because the 1 Oz gold bar is struck to exact standards across the industry. It's also easily moved and stored at this size.
The 1 Oz gold bars are among the most common sizes and weights in the precious metals market. There's a handful of well-known producers of 1 oz gold bullion bars featured on JM Bullion along with dozens of other lesser-known mints. PAMP Suisse, Perth Mint, and Valcambi Suisse are three of the most common producers.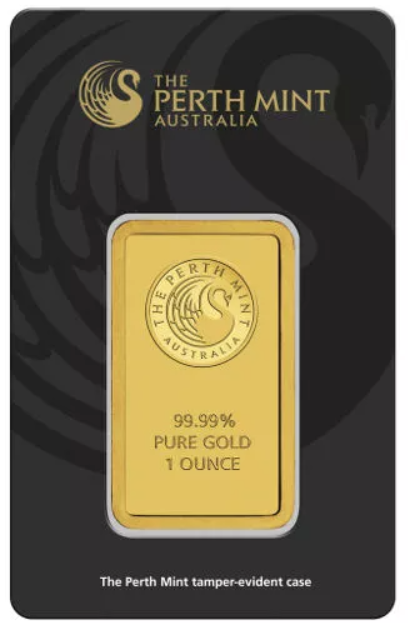 ---
Other mints offering 1 oz gold bars through JM Bullion are Credit Suisse, Royal Mint of England, Asahi Refining, Argor-Heraeus, and Royal Canadian Mint. Prices for gold bars can vary, depending on which producer you consider purchasing from, but most of the bars offered on JM Bullion are stamped with a .9999 purity and 1 oz weight indication and the mint's name.
APMEX
Another online seller of gold, silver, and platinum bars and coins is APMEX. One of their top sellers is the 1 oz Credit Suisse Gold bar with a minimalistic design, engraved with a unique serial number and sealed in a tamper-proof package. Along with the Credit Suisse bar, you also receive an assay card, certifying the bars .9999 purity and weight.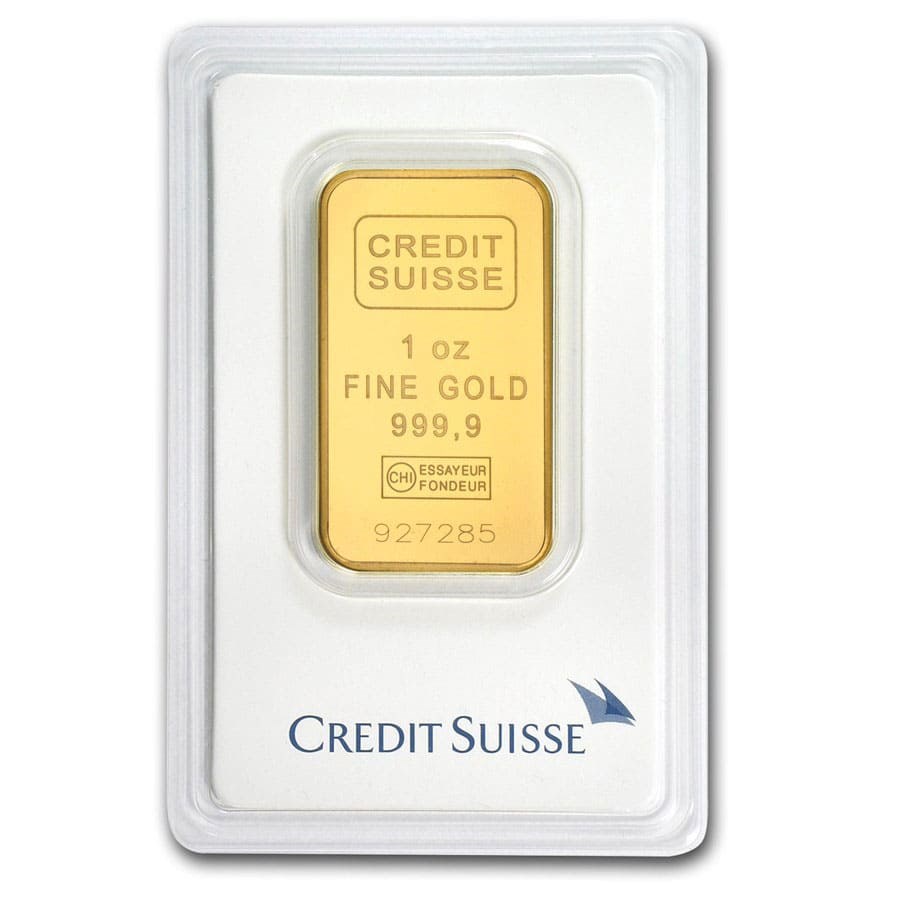 ---
APMEX offers a huge selection of 1 Oz gold bars and coins. The 1 Oz American Gold Eagle coin is one of the most popular among gold investors. American Gold Eagles are not only a wise decision for your investment portfolio, but they make great collector coins.
Another feature at APMEX is the incredible resources found on the website. There's a huge library of educational information to help you make better gold investment decisions. There's even an option to store your gold through the APMEX storage solutions. For a small fee, gold investors can store inventory in a fully insured and secure vault.
Wholesale Coins Direct
Another resource for purchasing precious metals online is WholesaleCoinsDirect.com. They offer gold, silver, platinum, palladium, and rare coins in all shapes and sizes. For over 17 years, Wholesale Coins Direct has provided quality bullion metal and numismatic coins at wholesale prices.
The Royal Canadian Mint is recognized for its quality gold bars. They offer a .999 1 oz gold bar with the Royal Canadian Mint logo stamped on the front. Also included is the weight, purity, and unique serial number for each bar. On the reverse side, a decorative maple leaf pattern is displayed.
Each bar is sealed in a protective assay package with a certification of the bar's purity and weight and a printed signature from the Chief Assayer at the Royal Canadian Mint.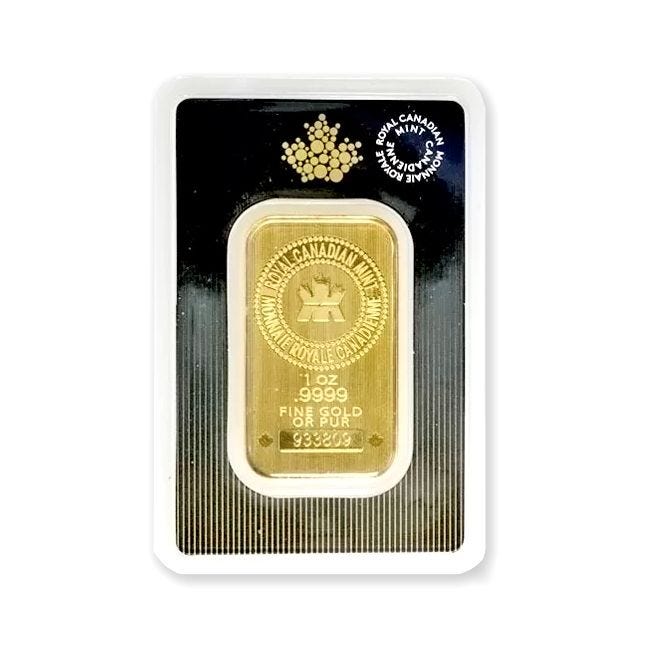 ---
Gold Coins
Similar to gold bars, owning gold coins can be a great way to gain exposure to the asset class. One of the advantages of buying gold coins is they are offered in many small sizes compared to gold bars. Gold coins are available as small as one-tenth of an ounce.
For around $200, you can own a gold coin from some of the largest and most reputable mints in the world.
One Big Benefit to Owning Physical Investments
One of the biggest benefits to owning actual "physical" objects as investments is not often discussed. Let's say you make an investment and don't have the option to sell it for a long period of time. Sometimes this can be a blessing rather than a curse. Taking delivery of an object and owning it generally makes it less "liquid" than an asset owned through your brokerage account.
Liquidity is mostly talked about as an advantageous characteristic in investing. But sometimes, it can be your worst enemy. When human emotions are at play, mistakes can be made by the ease of selling an asset when the slightest amount of fear starts to creep into your mind.
Not having the ability to sell an asset at the whim of daily price swings can be your greatest friend. Some of my best investments have come from assets that are not very liquid. This has helped me "stay the course," where I might have had the urge to otherwise sell during sudden market price moves.
---
Should I Buy or Sell?
Two quick examples to make my point. When you own real estate as an investment, it takes time to sell. Getting the property into top selling condition takes time, then you need to find a buyer. Waiting for that buyer to arrange financing can take a month or more.
Finally, you have commissions, taxes, and legal issues to reconcile. Real estate would be considered highly illiquid, encouraging a long-term holding period.
Are You Liquid?
On the other end of the spectrum, you have Bitcoin. Probably one of the most liquid assets out there. Trading around the clock, 24-7, and 365 days a year, from the phone in your hand. If you own Bitcoin, you can also sell it in the next 5 seconds.
As great as that instant liquidity might seem, a sudden plunge in prices can persuade even the strongest hands into selling. This is one of the great challenges of owning a highly liquid asset.
Other Ways to Invest in Gold
If owning physical gold turns out to be the wrong decision for your investment portfolio, there are multiple alternatives providing gold benefits without some of the hassles. It's still possible to invest in gold through your brokerage or retirement account, and you won't need to worry about storing bars and coins.
Gold ETFs
If you have a brokerage account, you can simply buy gold ETFs for instant exposure to the price of gold. Three of the most popular ETFs for gold investment are the SPDR Gold Trust, Aberdeen Standard Physical Swiss Gold Shares ETF, and the iShares Gold Trust.
There is a small expense ratio on these ETFs of around .2 to .4 percent per year; other than that, it's one of the most cost effective ways to purchase gold.
Gold Mining Stocks and Mining ETFs
A second way to expose your portfolio to gold is by purchasing stock in mining companies. If you're not comfortable selecting a particular mining company, there's another option to buy gold mining ETFs, which will include a handful of the top mining companies.
A few of the biggest gold mining ETFs are iShares MSCI Global Gold Miners and Van Eck Vectors Gold Miners ETF.
Gold Futures
Some people like to take things to the extreme, no matter what the investment might be. Gold futures give you the possibility of huge leverage if you desire that sort of thing. Just beware of the possible risk along with the potential for reward. Losses can add up quickly in the futures market if the price of gold moves against you.
---
---
How Much Does Gold Bullion Weigh
For comparison, a 1 Oz gold bar weighs as much as ten pennies, a double-A battery, or one slice of bread. 400 Oz gold bars weigh as much as a mountain bike. These are the large gold bars usually seen in movies or photos of gold vaults. One single 400 Oz gold bar is valued at roughly $750,000, and usually not sold to the general public.
The gross weight of gold bars and coins is sold in so many different sizes allowing almost anyone to invest. The 1 Oz gold bar is the most popular weight, but smaller gold bars allow gold investment that works for anyone's budget.
---