---
If you're searching for Jim Carrey net worth, I can tell you right now; it's just about $180 million. Give or take a few million. That's what Google says.
There. Now you know. Now you can go on with your day. But please, continue reading if you'd like to indulge. Sometimes it's nice to go beyond the constant curiosity of net worth and look at the complete story.
There's Much More to the Story of Jim Carrey's Net Worth
After hearing a few recent interviews with Jim Carrey, my impression is that he might be the last one on this planet concerned with his net worth, or anyone else's, for that matter.
With his latest book writing and painting endeavors, he could be one of the best examples of a true artist at work in the world today.
Jim Carrey the Author
If you don't know Jim Carrey's full story, it's a fascinating tale. He recently published a book along with author Dana Vachon, and it's one of the most unique books I've ever read.
The title of the book is "Memoirs and Misinformation: A Novel." It's a fictional story using details from Jim Carrey's real life and an incredibly creative endeavor, to say the least.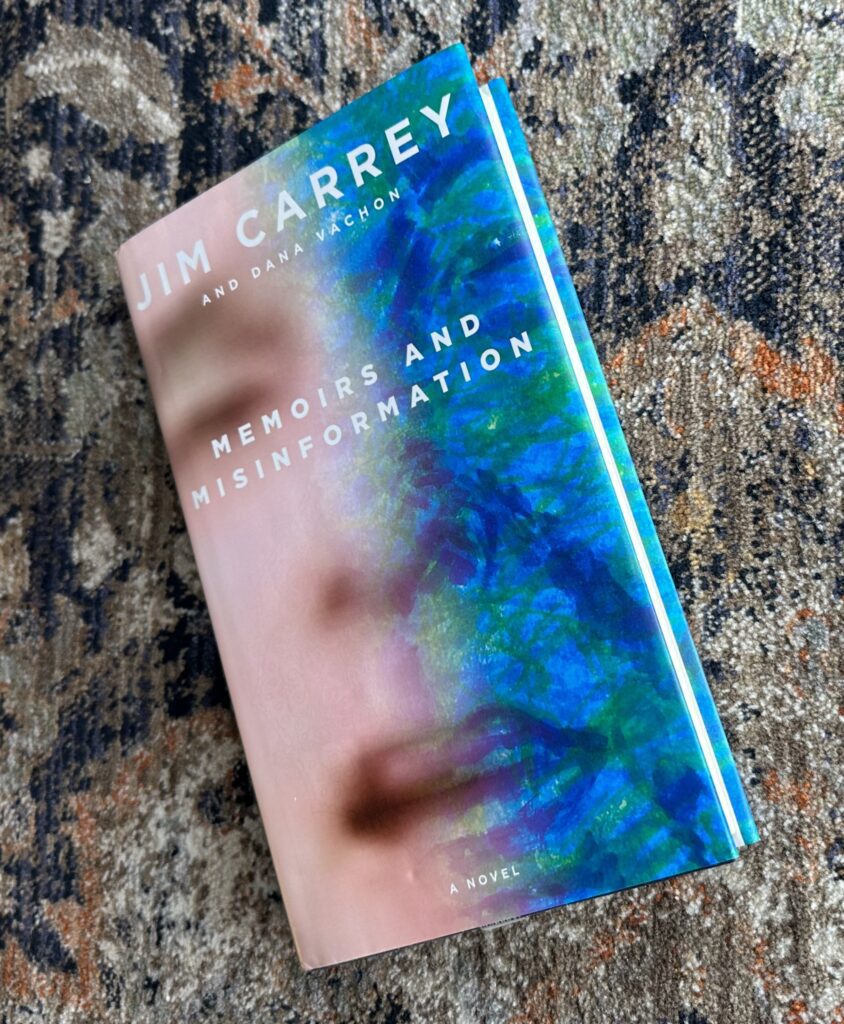 In addition to the children's book he wrote in 2013 titled "How Roland Rolls," he's published a novel for the first time. 
People have asked Jim why he didn't just write a typical memoir like any super-famous megastar would do.
The One and Only Jim Carrey
In a New York Times interview, his response, in true Jim Carrey form, was, "there's nothing, at this point in my artistic life, more boring than the idea of writing down the actual events of my life in some chronological order. Trying to expand my brand."
The book touches on Jim's view of Hollywood, the entertainment industry, and how an artist changes and grows and arrives at certain truths.
He was quoted in the same New York Times interview saying the book describes a realization he had.
"The Truman Show was not a mistake. I'm a guy that suddenly looked up one day and started seeing all the machinery and the lights falling from the sky. Every project is a little bit of me recreating myself, tearing the old self down, and exploring something new."
---
Jim Carrey the Comedian
It's difficult not to discuss Jim Carrey's early life and events leading to the big break.
But I'm not sure To fully appreciate his new book, you need to understand his progression as a comedian and actor first.
After working his way to appearances as a stand-up comedian at the local comedy club in his hometown near Toronto, Canada called Yuk Yuks.
Comedy Clubs in Canada
After working the comedy clubs in Canada, perfecting his act at the tender age of fifteen, well-known comedian Rodney Dangerfield took notice.
Rodney signed the young comic to open at his comedy tour, and a lifelong friendship began. Carrey decided to move to Hollywood, and he began performing regularly at The Comedy Store.
After much hard work and perseverance, Carrey finally got his shot on The Tonight Show, Starring Johnny Carson.
Even though the comic reached the biggest stage in the world at the time, he was still far from a success.
Jim Carrey the Actor
It would be years until the comedian and actor, James Eugene Carrey, from Toronto, Canada, would break through to superstardom, this time through auditioning for tv shows.
After being denied by Lorne Michaels at an audition for Saturday Night Live, Carrey would eventually appear as a regular cast member on the television series "In Living Color."
From here, he was able to successfully deliver his fresh style and energetic slapstick performances to a huge audience and land his first movie roles.
---
Jim Carrey Quote –
"I think everybody should get rich and famous and do everything they ever dreamed of so they can see that it's not the answer." – Jim Carrey
---
His first big hit was in 1994 playing the lead role in Ace Ventura, Pet Detective. Carrey's rise in fame and fortune through the late 1990s continued.
Not only in notoriety but Jim Carrey's net worth was also headed for the moon.
Golden Globe Nomination
After starring in the satirical comedy-drama "The Truman Show" in 1998, he was nominated for Golden Globe Awards as best actor.
The movie earned over a quarter-billion dollars, while the film's budget was only $60 million. This made Jim Carrey a highly-valuable talent to movie producers in Hollywood.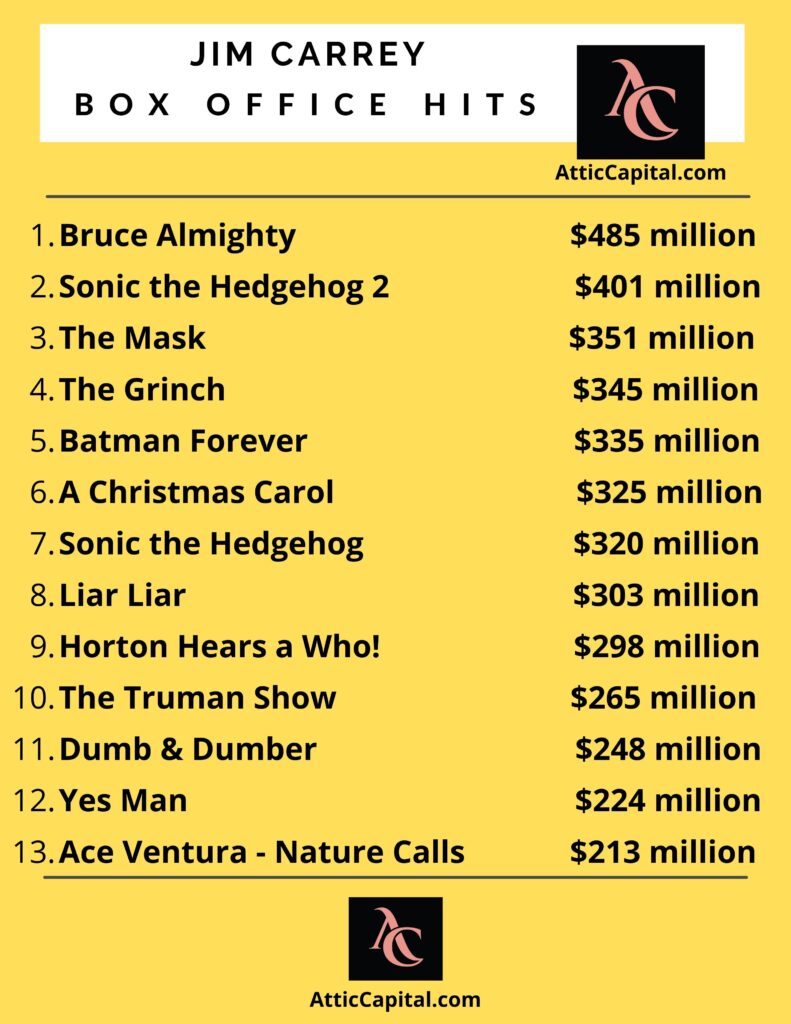 Superstardom
The very next year following "The Truman Show" success, his next film, Carrey starred in "Man on the Moon." He showed his strength with more serious roles and earned himself a second Golden Globe Award nomination.
He would win many awards in all types of categories, showing his extreme range of talent on the big screen. For example, he was nominated six times as Favorite Actor for the Blockbuster Entertainment Awards.
The list of television shows and movies Jim Carrey has starred in is long, and he's reached the entertainment business's pinnacle of success.
---
Here's just a small list of his feature films.
Favorite Jim Carrey Movies
Ace Ventura: Pet Detective
Ace Ventura: When Nature Calls
Eternal Sunshine of the Spotless Mind
Cable Guy
Liar Liar
Bruce Almighty
How the Grinch Stole Christmas
The Truman Show, 1998
The Mask
Batman Forever
Lemony Snicket, A Series of Unfortunate Events, 2004
A Christmas Carol, 2009
Yes Man
Mr. Popper's Penguins
Sonic the Hedgehog
Me, Myself & Irene
Fun With Dick & Jane
---
Jim Carrey the Painter
Something new Jim Carrey has been hard at work creating over the last few years has been his artwork. He made a wonderful short video titled "I Needed Color," explaining why he began painting and what drove him to continue.
Jim Carrey: I Needed Color from JC on Vimeo.
After mastering the art of comedy and acting over the last 35 years or so, the artist known as Jim Carrey moved into a new realm of expression through painting.
And he's been dedicating himself to the craft with the passion of a man driven to create.
Google Search Interest Over Time: Net Worth

After listening to many interviews with Jim Carrey as he promotes his new book and discovering more about his drive and hunger for creative expression through painting, I'm guessing he doesn't obsess over his TD Ameritrade account balance.
Although Google tells us he has hundreds of millions of dollars, his net worth seems to be the furthest thing from his mind.
Net Worth Obsession
Yet, the obsession continues for others. As you can see from the Google Trends search results in the above chart, people's fascination with their own net worth and the net worth of others has never been higher.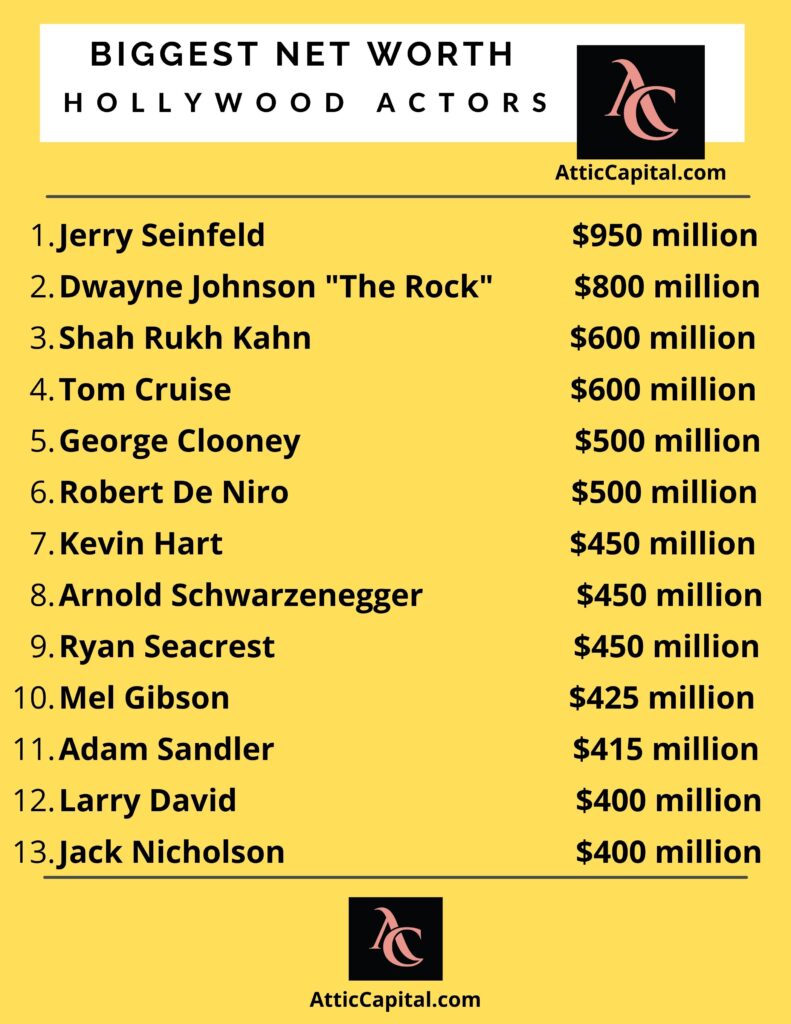 The Canadian-American actor has had enormous success at the box office, with almost $5 billion in worldwide revenue from his movies. He broke records from his film salaries as one of the biggest movie stars on the planet.
The money was rolling in, but Carrey was finding out income did not equal happiness.
Beyond Jim Carrey's Net Worth
As a household name, many people know his hit movies and maybe pieces of his personal life, but there's much more to Jim Carrey.
Jim Carrey's net worth doesn't even begin to capture the impact he's made in the entertainment industry.
"Desperation is a necessary ingredient to learning anything, or creating anything. Period. If you ain't desperate at some point, you ain't interesting." – Jim Carrey
---
Jim Carrey's Net Worth is Not What You Might Think
I stumbled on a commencement address he gave in 2014, where he made a few remarks about net worth, fame, and fortune. He said,
Painting is one of the ways I free myself from concern. A way to stop the world through total mental, spiritual, and physical involvement. But even with that, comes a feeling of divine dissatisfaction, because ultimately, we are not the avatars we create. We are not the pictures on the film stock, we are the light that shines through. All else is just smoke and mirrors, distracting but not truly compelling. I've often said that I wish people could realize all their dreams and wealth and fame so that they could see it's not where you're going to find your sense of completion."

Jim Carrey's Commencement Address, 2014
The Same Message Over and Over
Every now and then, you hear a certain phrase from people at the top of their fields, the best of the best, people who have reached legendary status.
Regarding fame and fortune, they simply say, "it's not the answer." You hear this over and over. If you searched for 'Jim Carrey Net Worth,' and changed your opinion about what net worth stands for, then he's making an impression with his message.
Net Worth, It's Not the Answer
Whenever I hear something like that from a larger-than-life figure, it makes me take note. It's a sincere attempt to share wisdom most of us will never know from experiencing it as they did. It seems like a worthy and heartfelt message.
Jim Carrey Net Worth? Write Yourself a Check
I'm not sure if this is recommended practice, but if you're looking for a little personal motivation – write yourself a check. That's what Jim Carrey did in 1985.
When His stand-up career wasn't taking off as he hoped, Carrey decided to focus on his acting career. He wrote himself a check for 10 million dollars with the memo, "acting services rendered."
He dated the check ten years into the future and kept the check in his wallet for motivation.
Ten years later, after Carrey and Melissa Womer married in 1987 for his first marriage, he would go on to become one of the biggest stars of the next decade.
Jim's Path to Success
His recurring role in the sketch comedy television series hit TV show "In Living Color" helped land his first lead role in Ace Ventura: Pet Dectective.
By 1994, Carrey had a hit motion picture with his name on it. The following year, the movie 'Dumb and Dumber' made Carrey a household name.
Jim Carrey's Record Breaking Career
He was the first actor in the film industry to break the $20 million paycheck salary record for a single movie with his role in "The Cable Guy."
By the early 2000s, Jim Carrey's net worth and earnings soared to over $100 million.
Carrey was married twice. Melissa Wormer and Jim have a daughter, Jane Erin Carrey. He also married his Dumb & Dumber co-star Lauren Holly in 1996. Then had a long relationship with actress Jenny McCarthy in the 2000s.
Lessons from Jim
Not only has Carrey become one of the biggest movie stars and actors in the world with box-office hits and nine-digit celebrity net worth, but he's also done it by his own unique path.
Starting from just an opening act at a local stand-up comedy club to a leading role and critical acclaim on the big screen, Carrey wasn't afraid to change directions.
Carrey showed the world that he wasn't afraid to fail and could change direction if that's what it took to succeed.
To visualize success, even if it takes writing a 10 million dollar check to yourself, can push people to great heights. The law of attraction, hard work, determination, and tons of talent will eventually shine through.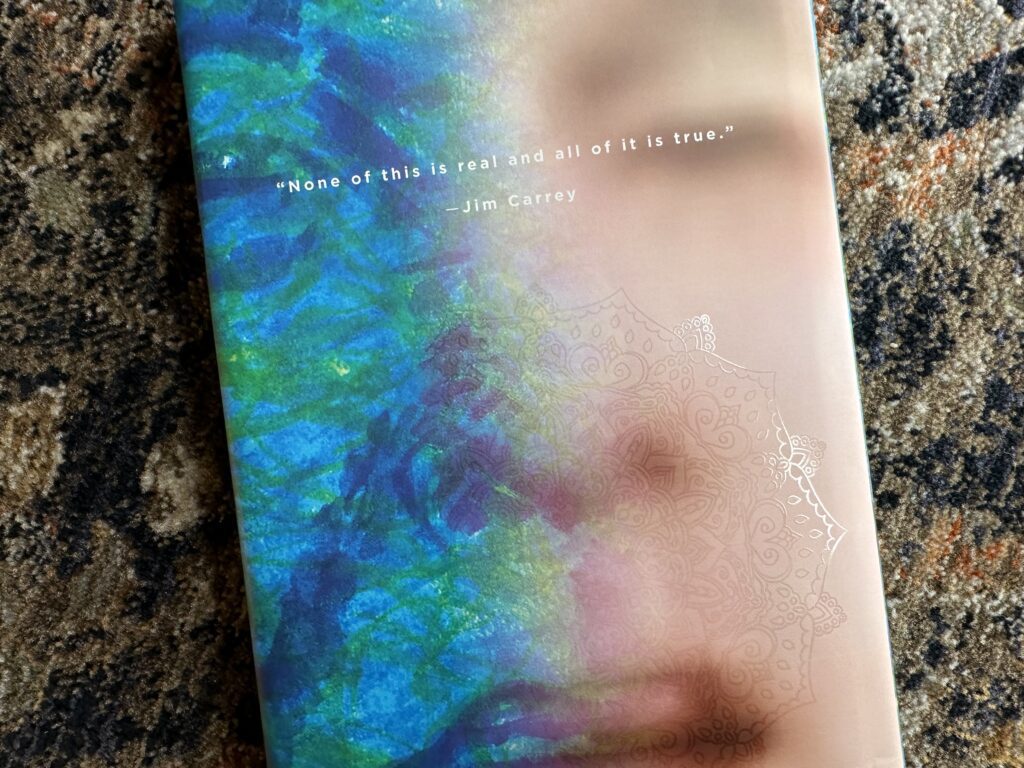 ---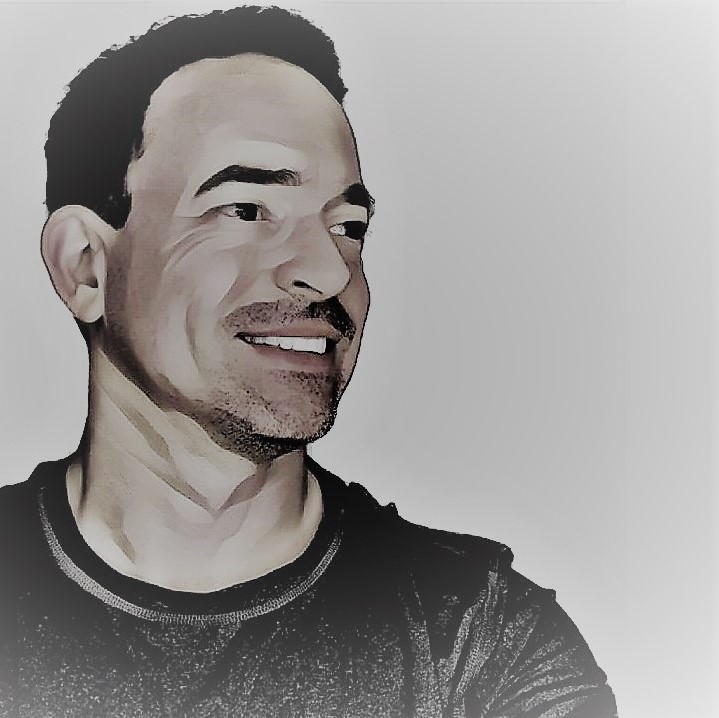 R.J. Bachman
Attic Capital – Writer, Editor, and Lifelong Collector
After many years of collecting rare coins, sports cards, and all types of collectibles, I began writing at Attic Capital to share my experience, knowledge, and passion.
I would love to connect with you, so don't hesitate to reach out and let me know more about your passion for collecting.