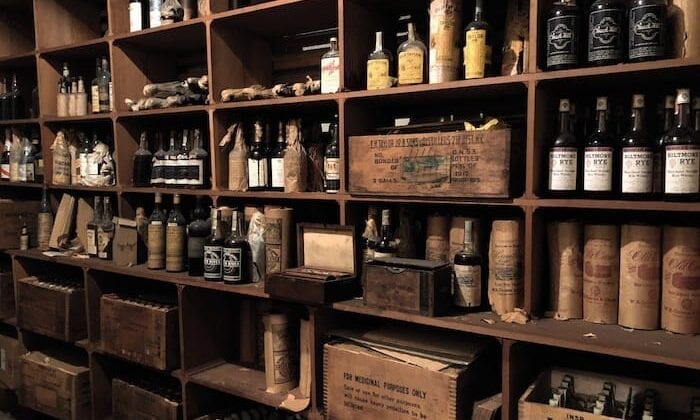 A massive collection of pre-prohibition whiskey is going to the Christie's auction. December 7th bidders are preparing for what Christie's is calling, "the largest collection of pre-prohibition whiskey ever to appear" in an auction. The auction house says the collection includes the "Old Crow 1912 and deep quantities of Hermitage 1914 from W.A. Gaines, among others." 
Here's a detailed listing from Christie's for the upcoming event –
The auction closes with an unprecedented collection of 100-year-old pre-prohibition whiskey recently discovered on the West Coast (lots 744-787). Discovered in 2017, over 40 cases of unopened bonded whiskey, distilled as early as 1914, were found in secret vaults built by Jean-Baptiste Leonis in the early 1920s. The prohibition vault rooms were each constructed behind book cases which open to reveal a bank vault door and combination lock.
Leonis, a banker by trade, easily added these rooms to property designs ahead of prohibition. Featured lots include multiple cases of century-old pint bottles of Hermitage whiskey distilled in 1914, Old Crow distilled in 1912, and Biltmore Rye Maryland Straight Whisky in bottles labeled-to-ordered for the iconic Los Angeles Biltmore Hotel. Ancient cognacs alongside rare malt whiskies from The Macallan distillery are also represented in this treasure trove of spirits.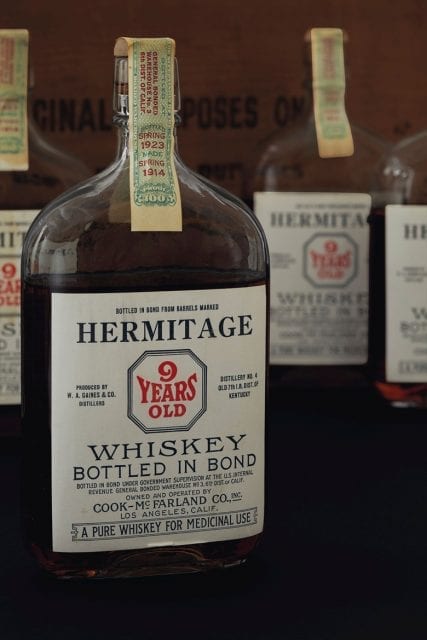 After the evaluation of the collection, Christie's believes the whiskeys to be 'supremely unique, especially when sampled alongside their modern iteration.' Some of the bottles will be up for sale for the first time in 100 years since they were last offered for sale at the family's retail business. 
---