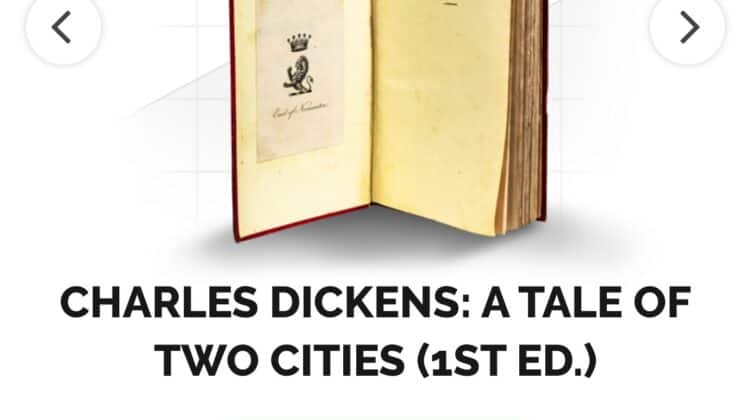 ---
Fractional investment company Rally Road plans to expand it's offering beyond classic cars to the world of sports memorabilia, watches, rare books and fine wine.
Rally is a free app with a mission to democratize alternative investments to provide access, liquidity and transparency to markets that have traditionally only been available to a select few. The company goes on to say that each asset on Rally has been vetted by a team of industry experts, acquired, insured and professionally maintained.
At last count the company has completed offerings in 39 vehicles and lately has expanded into other asset classes. Rally expands offerings to now have 3 new items in the sports memorabilia category, 3 items in the watches category, 3 rare books and 2 in the fine wine category all coming soon.
"Today we're excited to announce that we're adding support for all types of collectible assets on Rally, letting our members truly build a 21st Century portfolio." The company said in a press release earlier this year.
Here's a closer look at the expanded list of offerings.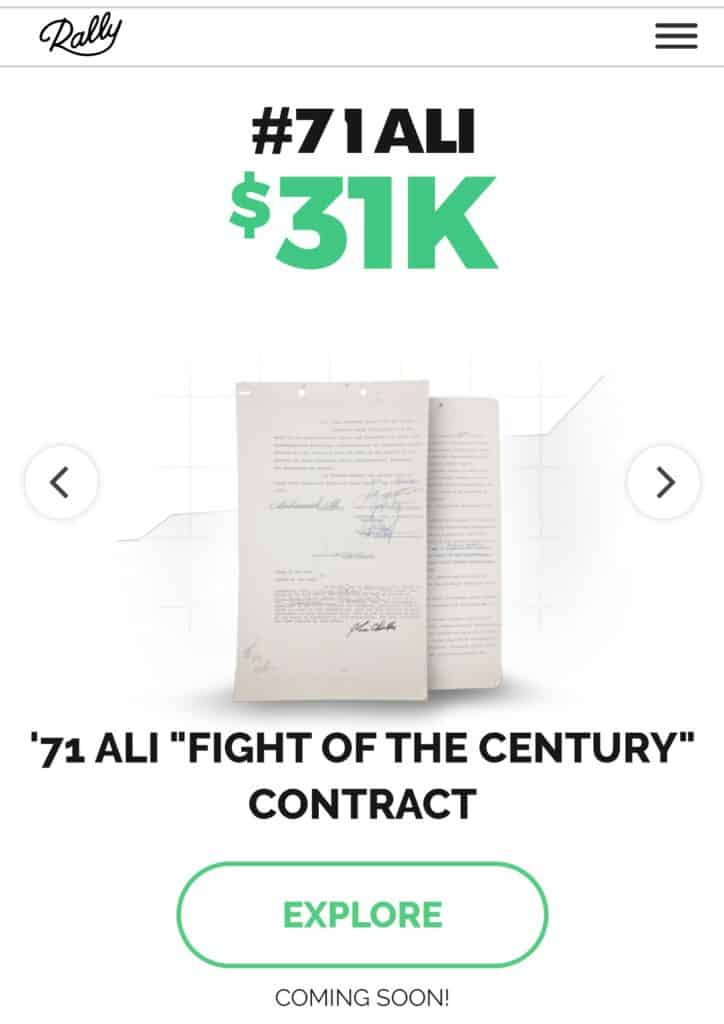 This contract is the official document where Muhammad Ali and Joe Frazier agreed to fight in the matchup that turned into the "Fight of the Century." It was the first time two undefeated boxers competed for a heavyweight title and ended up being the first of three fights between the two rivals. The eight page contract is signed by Ali, Frazier, fight promoter Jerry Perenchio and Cloverlay Inc. Rally plans to offer the document with a current value of $31,000.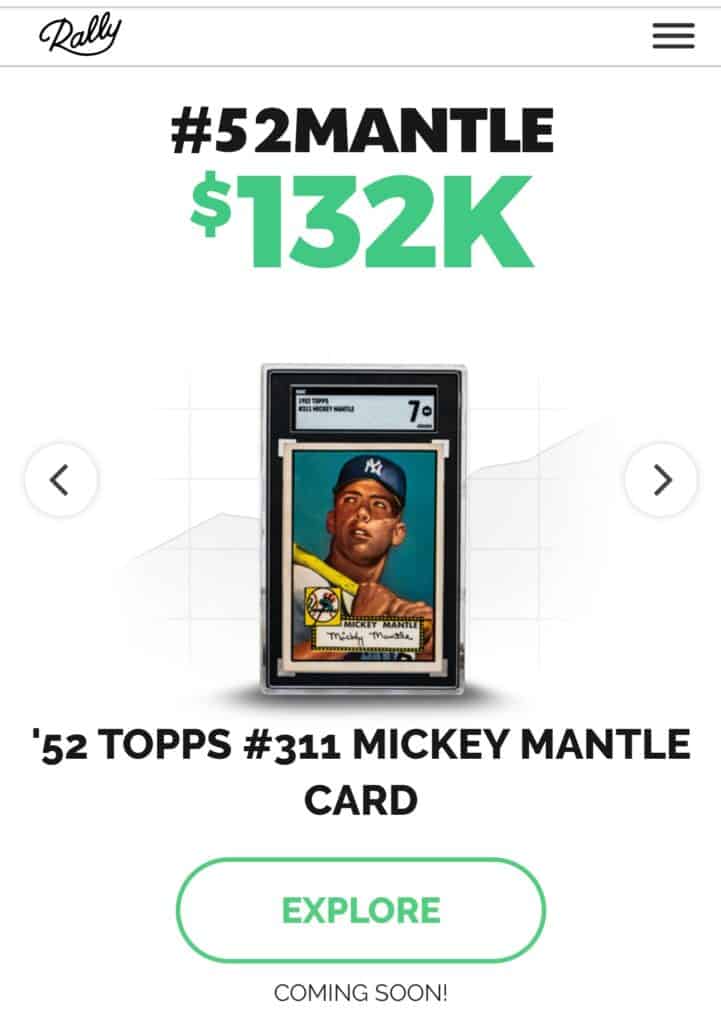 The 1952 Topps Mickey Mantle baseball card is one of the most recognizable baseball cards in history. The story goes like this, the Topps baseball card company had to make room in it's warehouse for new additions of cards so the company dumped hundreds of cases into the ocean which included many of the '52 Mantle cards. This card is in Near Mint condition and considered to be part of a rare final series of the 1952 set. Rally plans to offer this card with a current value of $132,000.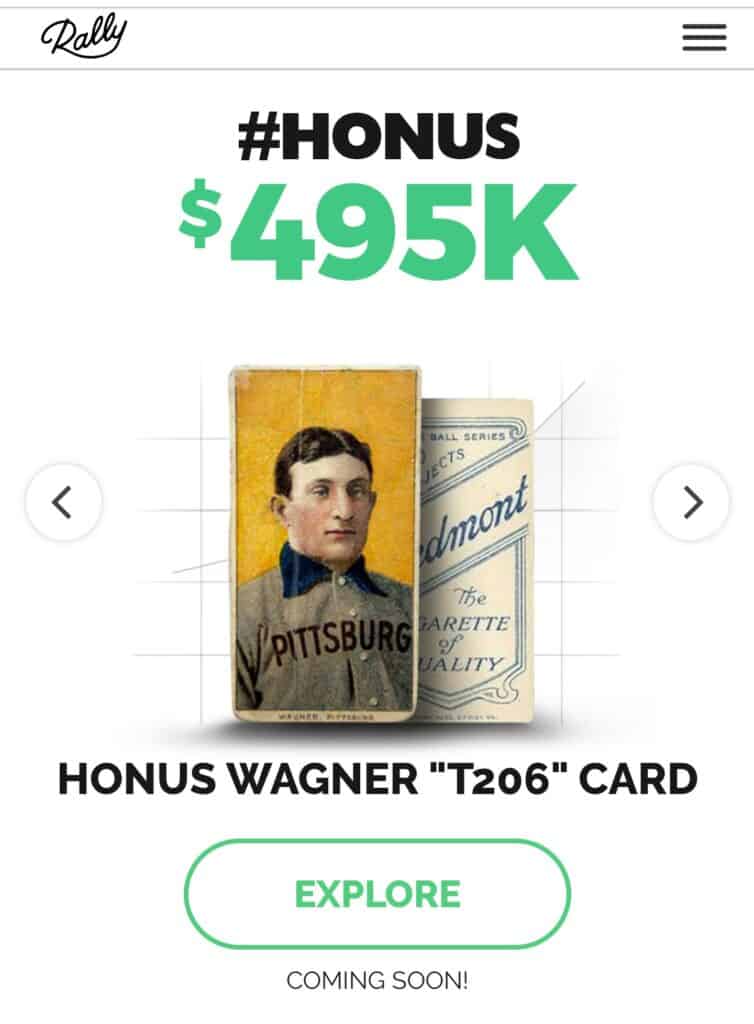 Known as the most valuable baseball card in the world, The "T206" Honus Wagner will be offered on Rally with a current value of $495,000. Wagner was one of the 5 original Hall of Famers and played 21 pro seasons. He ordered the tobacco company to halt production of his card which makes the T206 one of the rarest cards to exist. The card to be offered changed hands only 3 times in the last 100 years.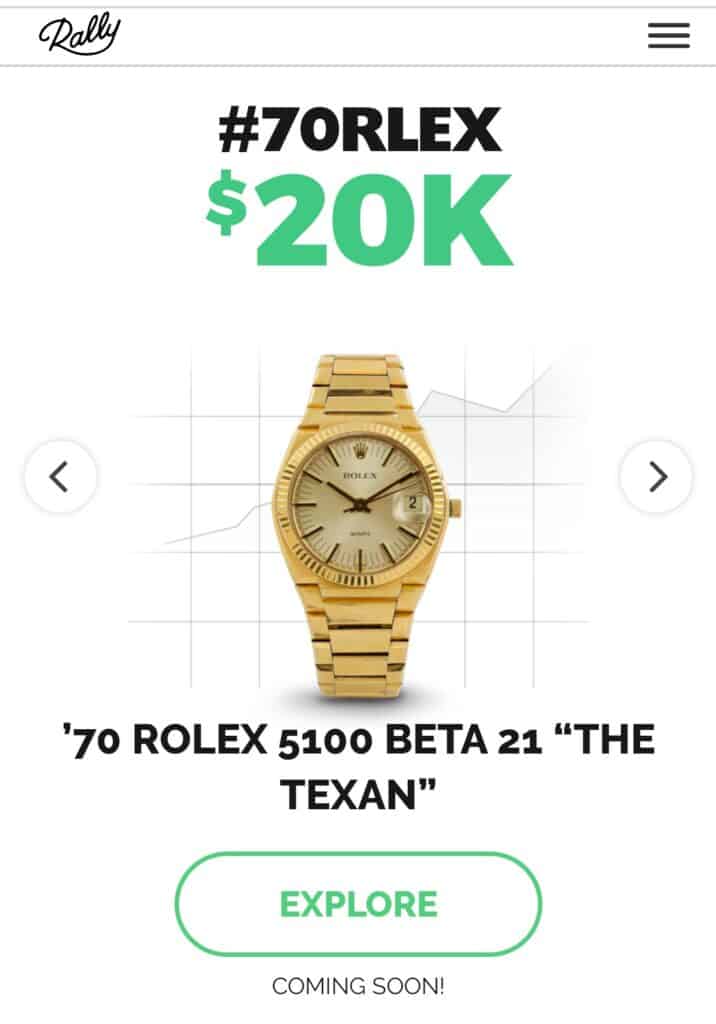 The 1970 Rolex 5100 was the first Rolex to feature a quickset date function and a sapphire crystal which are now standard features. This series was limited to 1,000 watches. At the time of it's release, this watch was regarded as the most accurate chronometer ever produced. Rally plans to offer the watch with a current value of $20,000.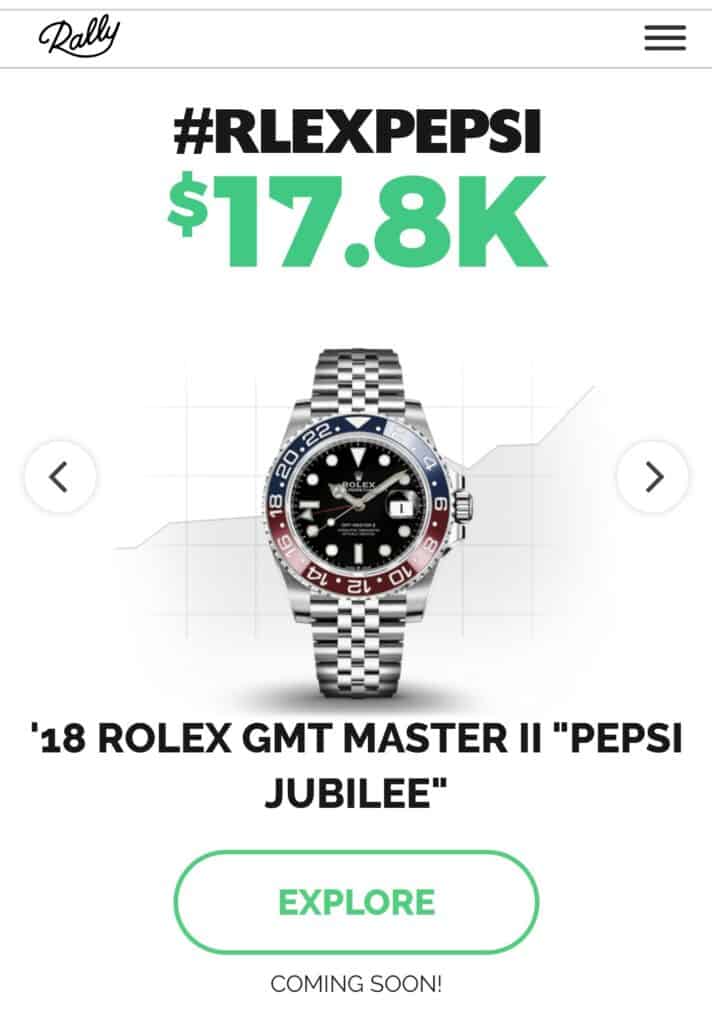 The 2018 Rolex GMT Master II "Pepsi Jubilee" will be offered on Rally with a current value of $17,800. It was released at Baselworld in 2018 featuring a new bezel material, a new movement and an unexpected re-introduction of the Jubilee Bracelet.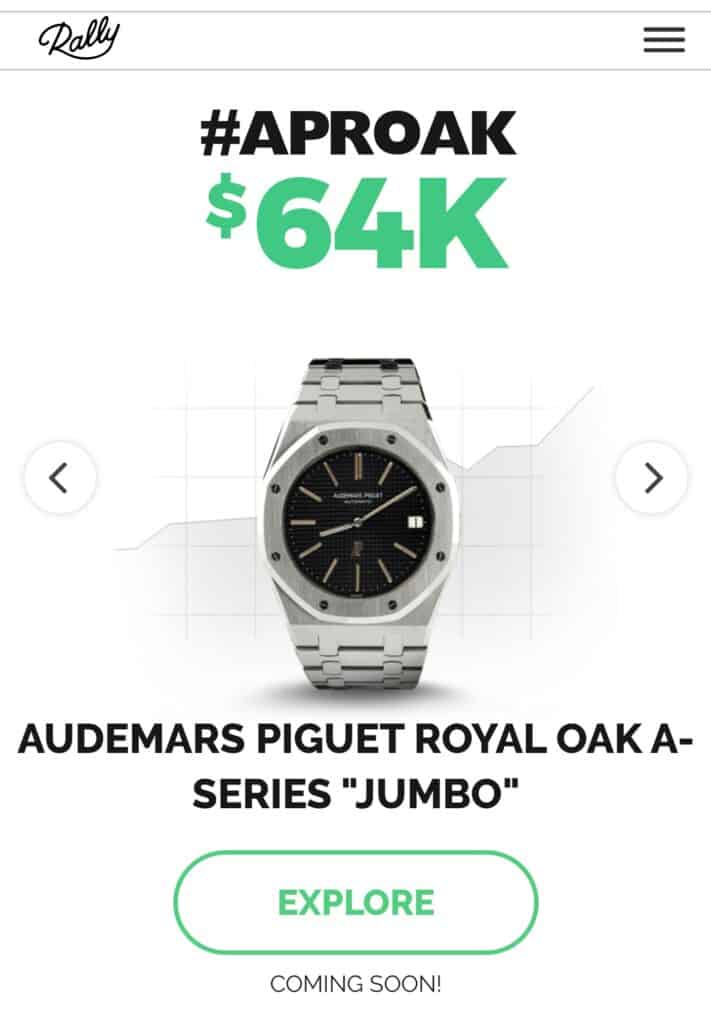 The Audemars Piguet Royal Oak A-Series "Jumbo" is regarded as one of the most influential watches ever produced. The 1972 Gerald Genta design set the stage for an iconic design for decades to come. This is considered one of the most respected Royal Oak models in the AP collection. When the watch is offered on Rally it's expected to have a value of $64,000.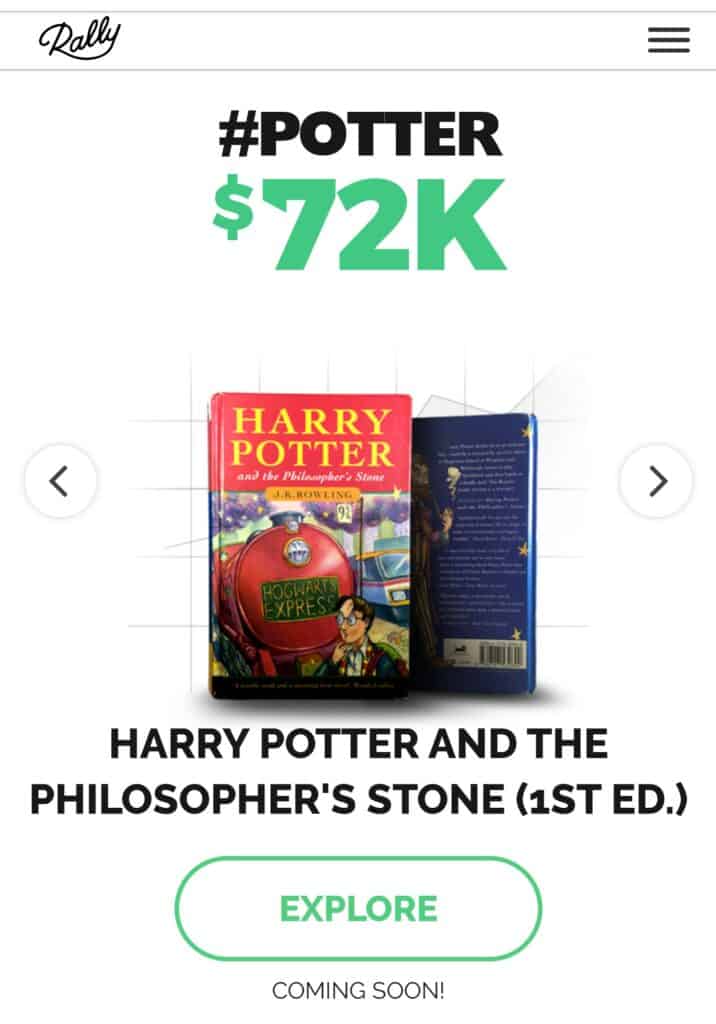 The Harry Potter 1st Edition was published in 1997 with only 500 copies printed. The book would go on to break record sales numbers with the series selling 500 million copies to date. This offering includes an inscription from a Bloomsbury editor and a page listing the author as "Joanne Rowling," who would be better known as J.K. Rowling. Rally plans to offer the book with a current value of $72,000.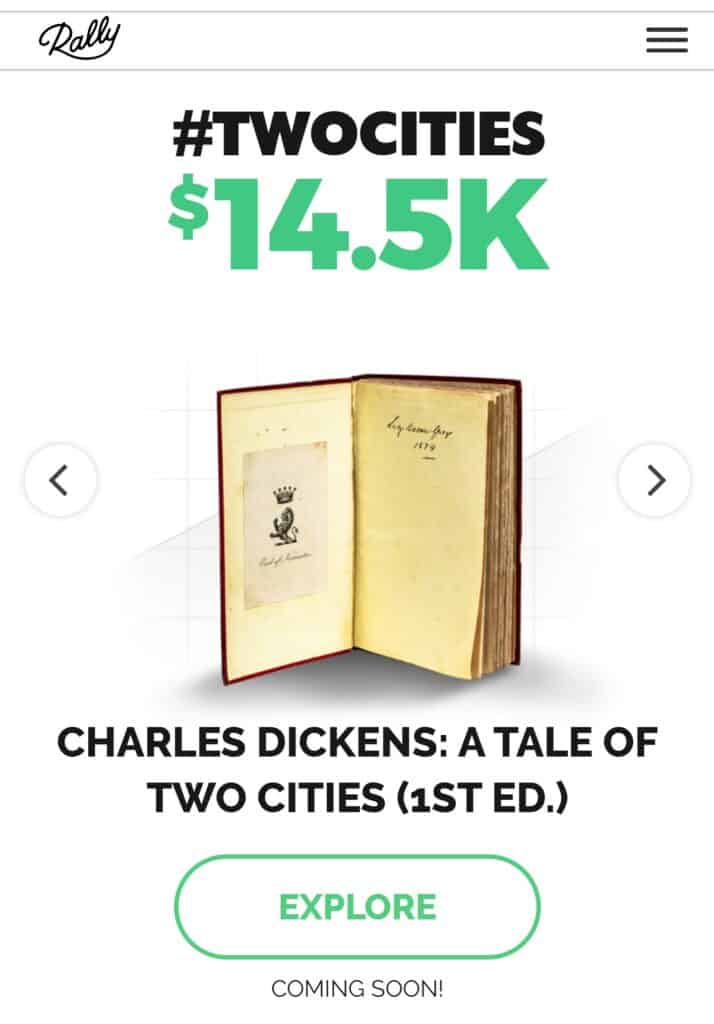 A Tale of Two Cities by Charles Dickens 1st edition is part of a first issue volume from 1859. It was also part of the last edition to be illustrated by Dickens' longtime collaborator H.K. Browne. This partitular book also includes a bookplate from the Earl of Normanton making it especially rare. Rally will offer the book soon with a starting value of $14,500.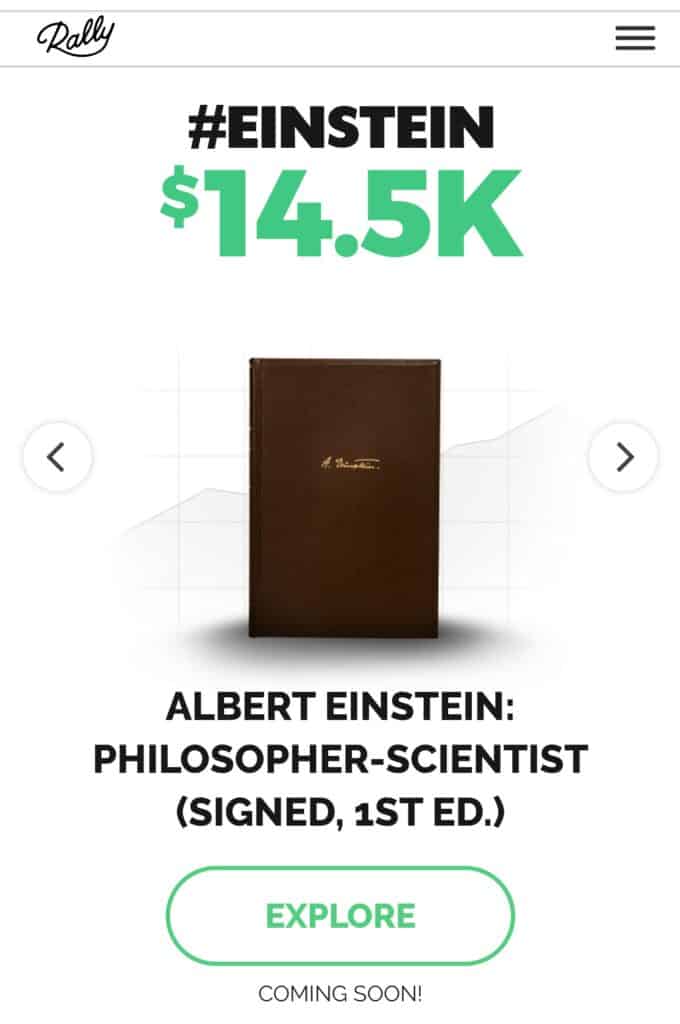 This 1st edition signed copy of Albert Einstein, Philosopher-Scientist will be offered on Rally with a current value of $14,500. It's one of 760 limited first edition volumes signed by Einstein and features original German writing with an English translation by Paul Arthur Schilpp.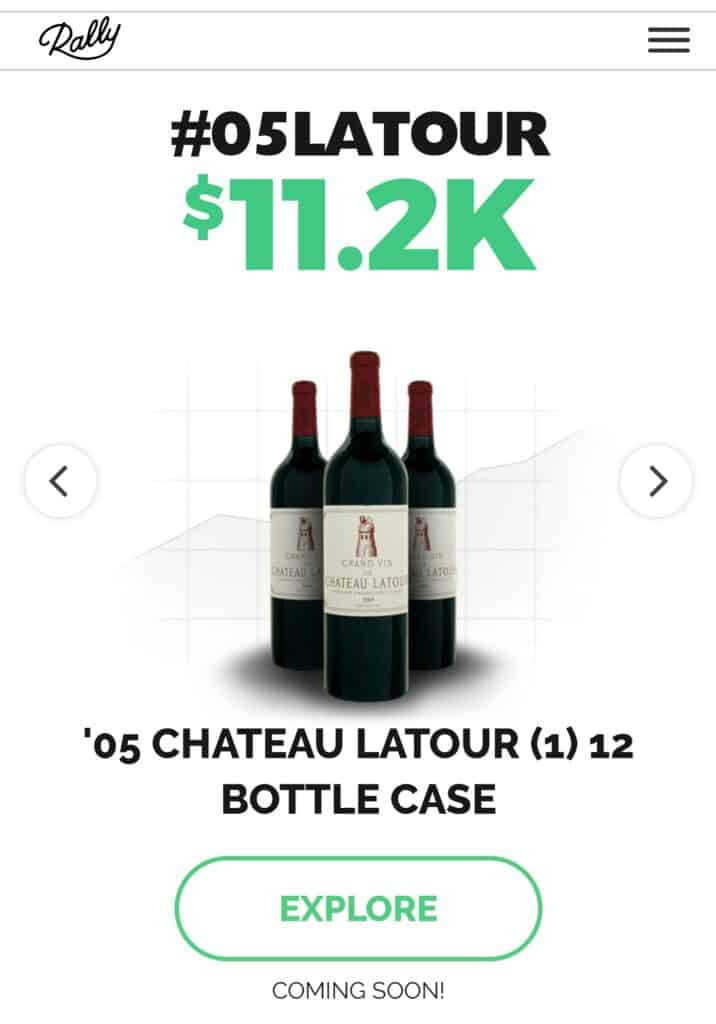 This 12 bottle case of 2005 Chateau Latour will be offered on Rally with a current value of $11,200. The year 2005 is universally known as a great vintage for the Bordeaux First Growths. These bottles were from the vineyard where some of the vines are reaching 100 years of age.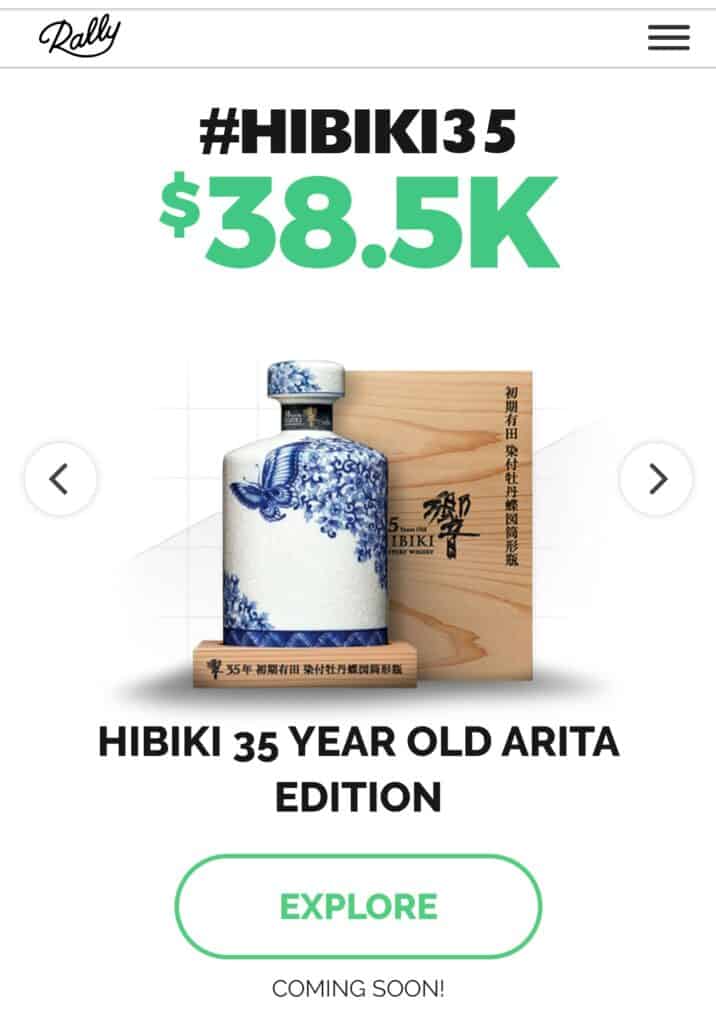 The Hibiki 35 year old Arita edition will be offered on Rally with a current value of $38,500. In the world of whisky, the Hibiki name is one of the most famous Japanese blends out there. This particular bottle is one of 150 Arita edition bottles to be released in 2016 to celebrate the 400th anniversary of the Japanese brand's porcelain production.
Download the Rally app and purchase shares of the many amazing collector cars they are currently offering. On the app you can select the 'Notify When Active' button where you will receive email updates on offerings coming soon.
---