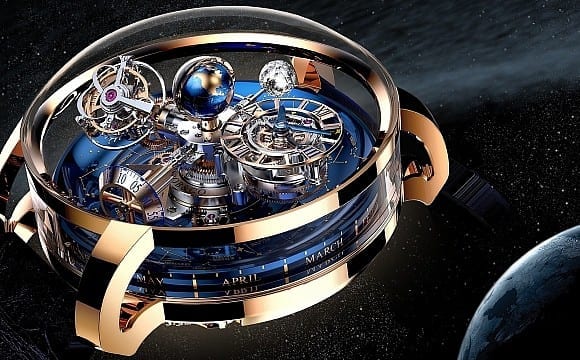 The Astronomia Sky watch by Jacob & Company is a true feat of watchmaking. The founder of Jacob & Co. commented on the watch, "as a sailor heading toward the seas driven by the celestial vault, I found my star: the Astronomia Sky."
Unveiled in 2014 and going against the conservative watch design trend of the last few years. The Astronomia Sky Watch by Jacob & Co. can be yours for roughly $750,000.
The fixed dial which shows the time is fixed on a differential system so it's always right side up. Behind that there's a globe which turns inside a hemisphere of sapphire. The tourbillon rotates around the inner axis every 60 seconds and around the outter axis every five minutes.
The watch actually looks different each time you look at it. It was produced with a 'four armed' movement design where there's a dial for the time, tourbillon, seconds indicator and spinning orb. The earth orb moves around to signify day and night. The small globe is made from titanium and hand-lacquered and engraved.
Just like most other pieces made from the company, the Astronomia Sky Watch by Jacob & Co. is part of a limited edition set, just one of 18 watches made.
---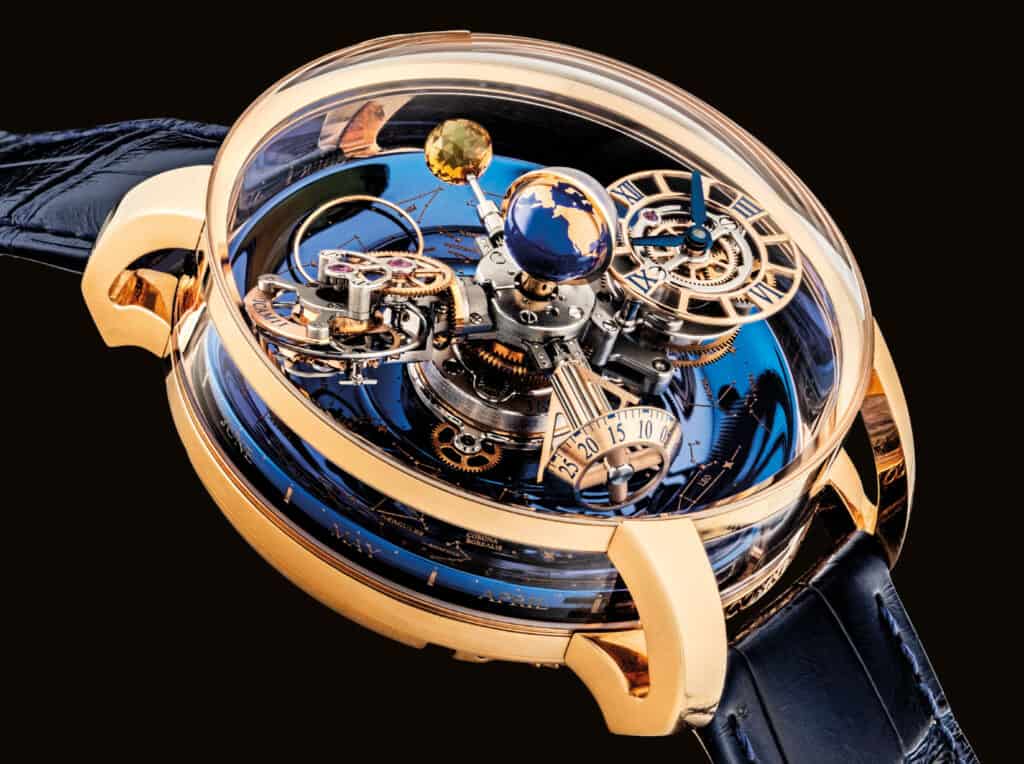 The watch by Jacob & Co. is a three dimensional triple axis tourbillon watch with a celestial dial beneath an oval sky with rotating stars. The specs described as 18ct gold with a sidereal display and an oval sky indicator of the celestial panorama. Gravitational triple axis tourbillon, day / night indicator, hours and minutes subdial and orbital second hand, "Jacob Cut" red moon orange sapphire with 288 facets. 
---