---
The 1976 Walter Payton rookie card might be one of the most important football cards in existence.
Few other football cards capture so much legacy, historical significance, and value as a collectible, such as the Walter Payton rookie card.
But beyond the incredible stats, records, pro football Hall of Fame career, and monetary value encompassing a single football card, there's much more.
Walter Payton was larger than life on and off the field.
Walter Payton's Legacy
His status only grows over time as a legendary player and one of the game's most prolific running backs. But the impression he left on others might be his most significant achievement.
Walter Payton's legacy might be summarized best by his Hall of Fame coach, Mike Ditka, who said Payton was "the greatest football player he had ever seen – but even greater as a human being."
A Closer Look at the Walter Payton Rookie Card
Let's take a closer look at the Walter Payton rookie card and examine his lasting legacy as one of the greatest running backs of all time.
PSA sports card authentication service reports only 51 verified PSA 10 Walter Payton rookie cards in existence.
There's no shortage of PSA 7, 8, & 9 rated Payton rookie cards, with thousands authenticated, but the ultra-rare PSA 10 is mainly due to problems with perfect centering of the card.
It's by far the highlight of the 1976 Topps football card set. It's one of the key cards for anyone who understands the history of the NFL.
Other notable cards from the 76′ year include the Jack Lambert rookie card and a Randy White rookie card.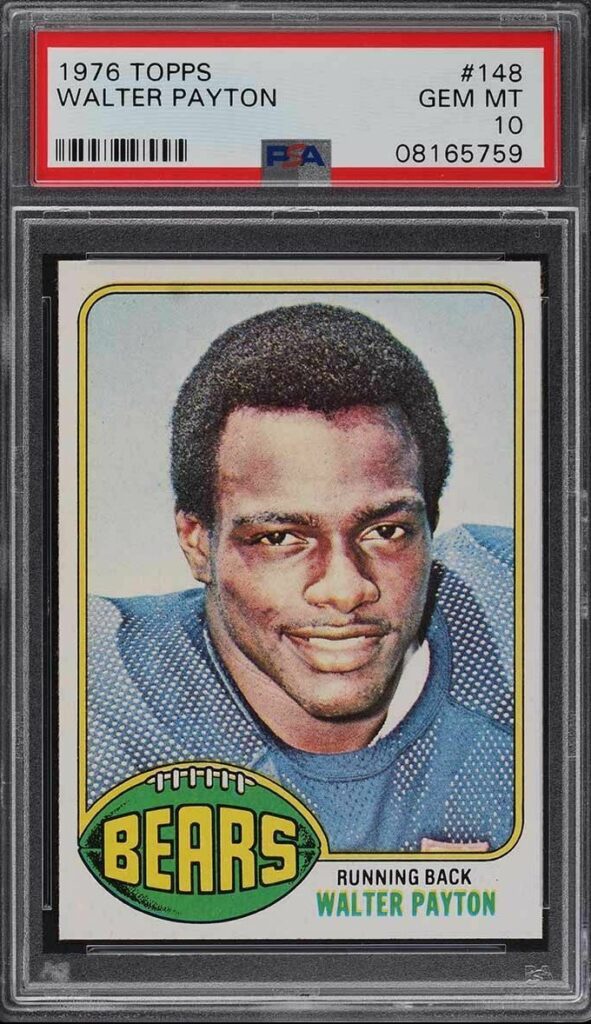 ---
Walter Payton Rookie Card Value
How much is the Topps Walter Payton rookie card worth? $80,000, as of the last sale just weeks ago on eBay.
This was a Walter Payton PSA 10 graded card, and looking at a previous sale a few weeks before this one, its value increased by about $4,000 for an identical PSA 10 graded card.

---
Other recent notable sales of the Walter Payton rookie card recorded on eBay were just a few months prior, where an SGC 10-graded card sold for $28,000 and a PSA 9-graded card sold for $10,000.
For comparison, a Walter Payton rookie card with a PSA 8 rating sold for $1,025 on eBay just a few months ago.
This shows the massive discrepancy in the values for a perfectly mint, PSA 10-rated card, and "near mint" cards.
The difficulty finding perfectly centered 1976 Payton's is tough, and prices reflect that rarity.
Walter Payton Rookie Card For Sale
One thing to consider if you have a limited budget or don't have the funds to allocate towards a GEM MT PSA 10, perfect Payton Topps rookie card.
There's a decent amount of eBay sales activity for the BVG, PSA, and SGC 7 & 8-rated trading cards for just under $1,000.
These are still great-looking cards with sharp corners, and if you want to improve your football card collection, there's absolutely nothing wrong with adding one of these cards to your stache.

---
The Rally Walter Payton Rookie Card
I wouldn't be doing my job if I didn't mention another way to own a piece of a perfectly mint condition, PSA 10 1976 Walter Payton card.
Fractional ownership and investment platform Rally has just announced it will be offering the card any day now.
I've talked plenty about Rally, so go check them out; if you've been living under a rock for the last few years and not familiar with the platform, here's the link.
Fractional Ownership Payton Rookie
Coming soon is the initial offering for a Walter Payton rookie card, with an initial offering value of $65,000.
This appears to be less than a few PSA 10 Payton rookies which have recently sold on eBay.
You might want to set an Outlook calendar reminder for this one because it could be gone fast.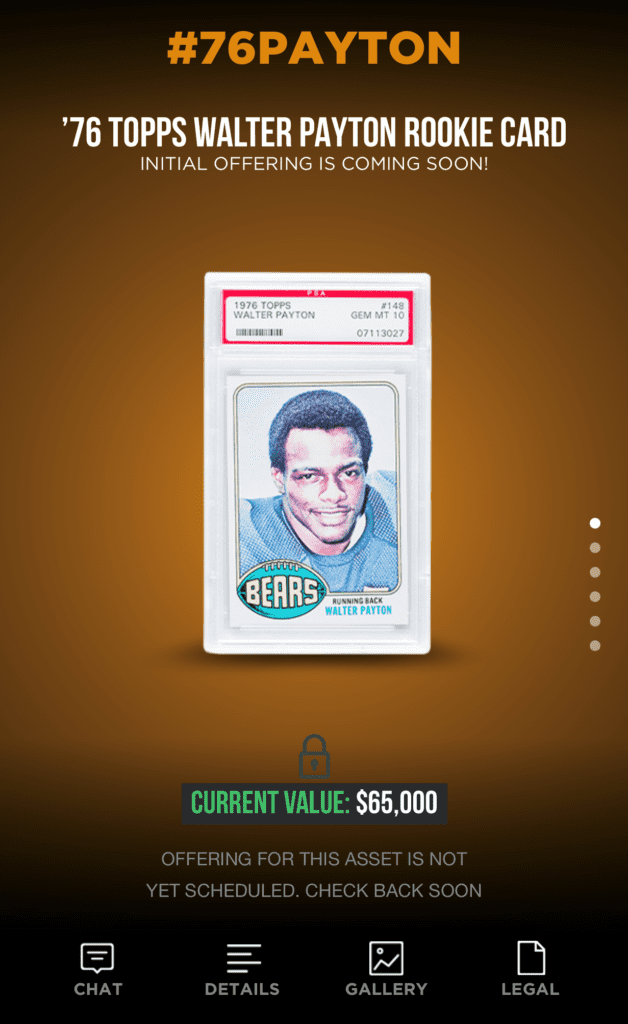 ---
Buying Cards From Amazon, Craigslist, and eBay
Amazon also includes a sports card store where almost any card can be found. Beyond that, there are countless online football card retailers for purchasing amazing cards.
But one warning: If purchasing valuable football cards or ungraded copies online, it's obvious but should be repeated, do your homework.
And as always, be on the lookout for scams, frauds, fakes, copies, and misrepresentations. It's a jungle out there!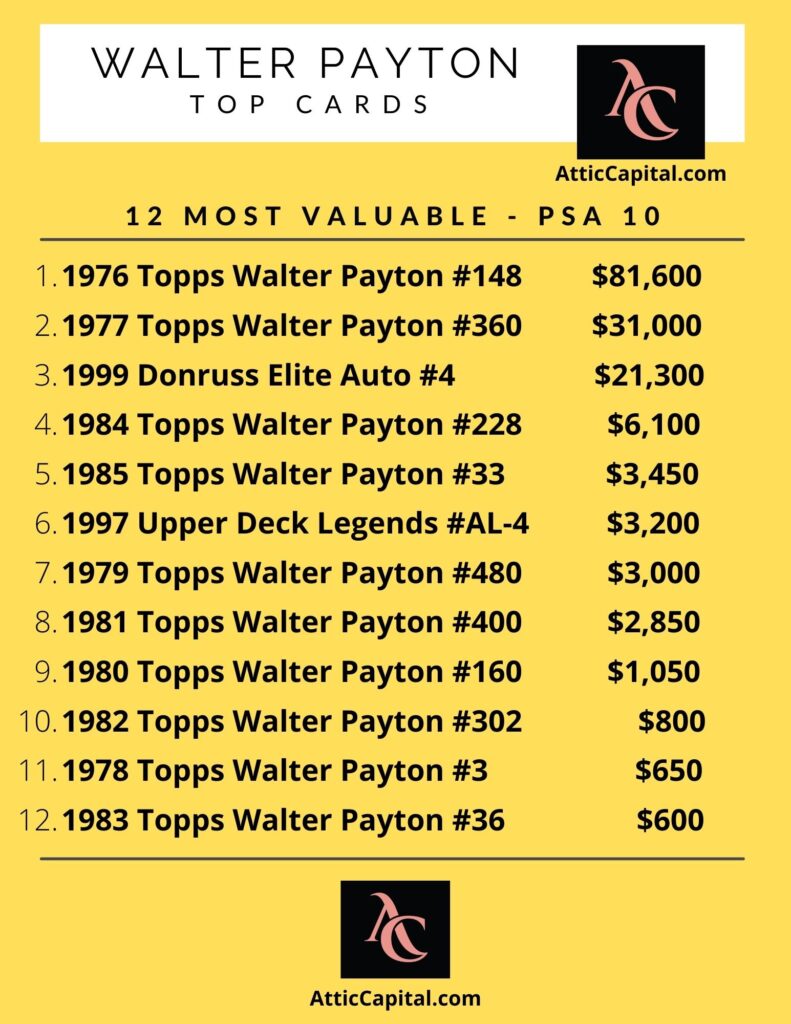 They do exist, and the sports card market is no different than anything else. Scammers are always waiting around the corner for their next victim.
Sweetness
Walter Payton's brother, Eddie, wrote a book titled "Walter & Me, Standing in the Shadow of Sweetness," where he gave an inside look at how Payton grew into his iconic nickname.
He was born Walter Jerry Payton, but when he was a kid, they called him "Bubba." While he played football at Jackson State, fans started to call him "Spider-Man" but eventually changed to "Sugarman."
Not long after that, his nickname evolved to "Sweetness," and it stuck.
Some people speculate that the nickname "Sweetness" was attributed to Payton because of his high-pitched, soft voice.
Local media ran with the phrase after a reporter was quoted saying, "he runs so sweet that it gives me cavities just watching him."
---
Walter Payton's Legacy
I could spend thousands of words attempting to describe Walter Payton's legacy, and I would just be scratching the surface.
The proof by biographies, interviews, podcasts, and endless YouTube videos, Walter Payton made a lasting impression on countless people.
Some of his biggest fans were his teammates, one of the highest honors anyone playing team sports can be granted.
"When you're good at something, you'll tell everyone. When you're great at something, they'll tell you."

Walter Payton
Each year the NFL awards one player for his excellence on and off the field. One representative from each team is nominated for the award.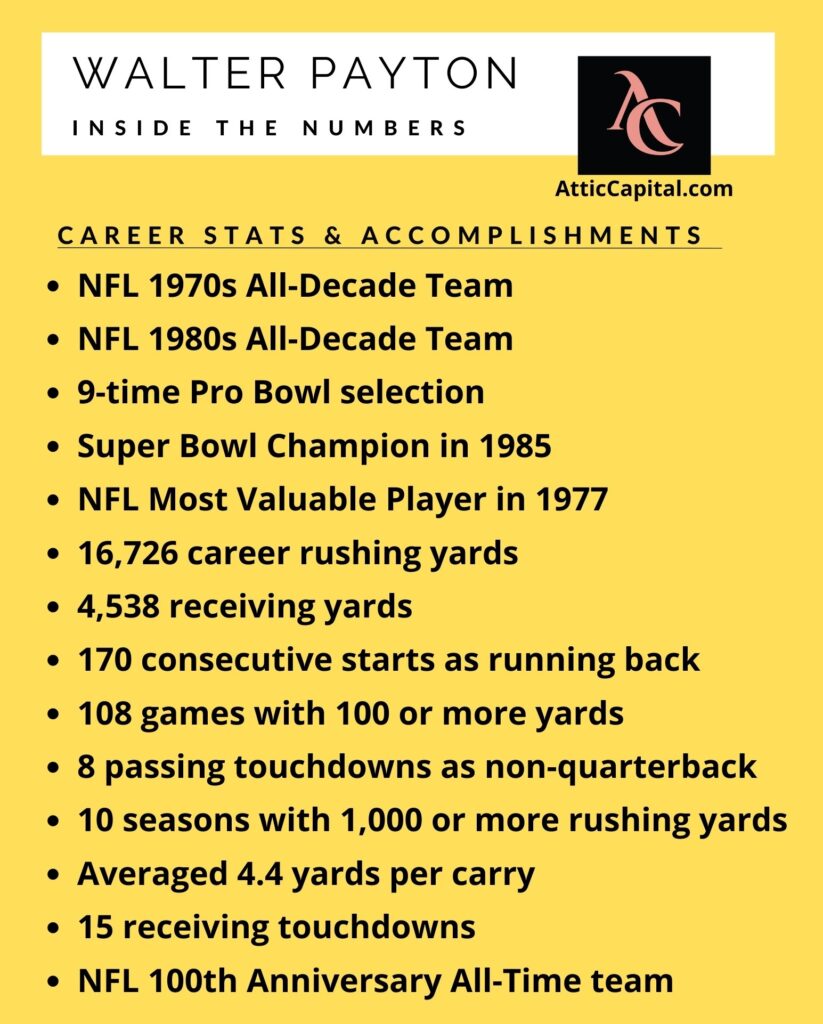 The nominated player shows the very best of the NFL's commitment to philanthropy and their surrounding community.
Of the 32 players nominated, one is chosen after the season for the award. They call it the Walter Payton Man of the Year Award.
Tributes to Walter Payton
There's no place you will find more tributes to Walter Payton than the City of Chicago.
Bears fans pay tribute to their favorite running back with dedications around the city.
After playing for the Chicago Bears over 13 seasons and winning the Super Bowl, Payton still holds dozens of Bears franchise records.
The University of Illinois at Chicago Medical Center dedicated the Walter Payton Liver Center.
The State of Illinois has also named U.S. Route 34 as the Walter Payton Memorial Highway.
---
The Life and Times of Walter Payton
I stumbled on a really cool podcast while diving into the Walter Payton archives. The title of the show is "Savoring Sweetness, The Life & Times of Walter Payton."
If you really want an in-depth look at Walter Payton's legacy, this is a great place to start.
One of the episodes features one of Walter Payton's old teammates, Dan Hampton. At the beginning of the podcast, there's a clip of Hampton giving a speech at Soldier Field the day after Walter Payton died.
Dan Hampton Remembering Walter
He's choking back the tears as he says,
"I've got a little girl. She's four years old. Ten years from now, when she asks me about the Chicago Bears, I'll tell her about a championship. I'll tell her about great teams and great teammates and great coaches and how great it was to be a part of it. But, the first thing I tell her about is Walter Payton."
If you're a Walter Payton fan, I highly recommend you check out this podcast for incredible stories from football legends, Hall of Famers, and Peyton's friends and family.
Payton remains to this day one of the favorite professional athletes in the sports memorabilia and collectibles market.
The Topps football Walter Payton Rookie RC is definitely one of my favorite cards out there. And the HOF Chicago Bears Football player they call Sweetness will be long remembered.
---
He's one of the All-Time greats in NFL history, with numerous NFL records still under his belt. And still the all-time leader in consecutive regular-season game starts by a running back.
Peyton was the all-time leader in rushing yards until the 2002 NFL season when Emmitt Smith broke his record.
Other Great Walter Payton Football Cards
1977 Topps Walter Payton Card – $12,500
Professional Sports Authenticators report 12 GEM Mint PSA 10 Walter Payton 1977 Topps cards, with a most recent sale of $13,500.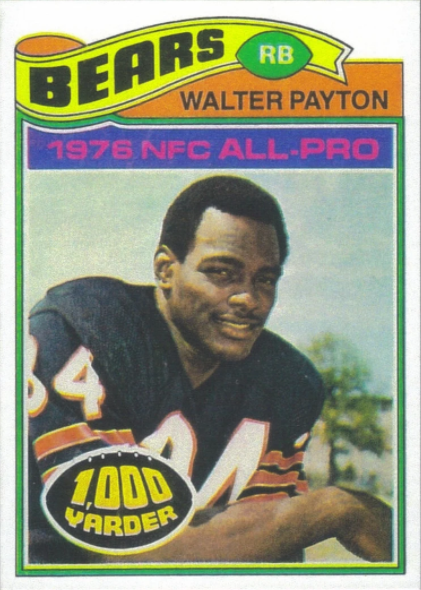 1978 Topps Walter Payton – $700
PSA reports only 25 GEM Mint 10 rated 1978 Walter Payton Topps cards.
The most recent sale price for the card was $687 for a PSA 10. It's a sweet card, for a Bears fan, or any card collector.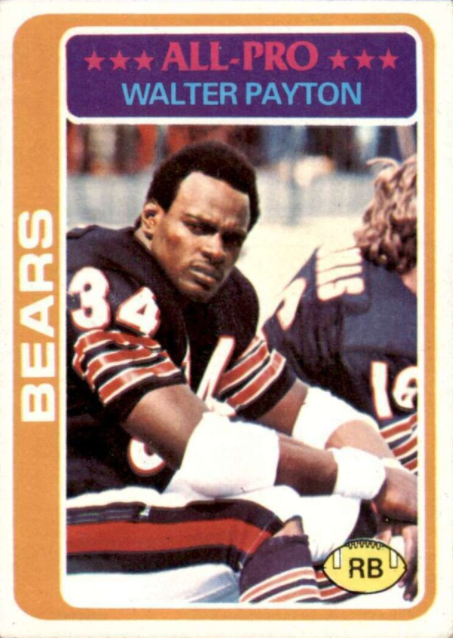 1979 Topps Walter Payton – $2,100
There are only 18 PSA 10-graded 1979 Topps Walter Payton cards. With a recent sale and winning bid of $2,100, this card could be one of my favorites.
Not just for the rarity, but it's a beautiful card and a great photo showing Sweetness up close.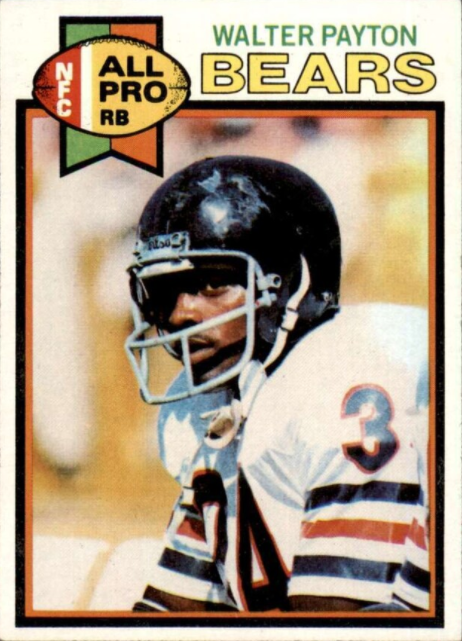 1981 Topps Football Walter Payton – $2,850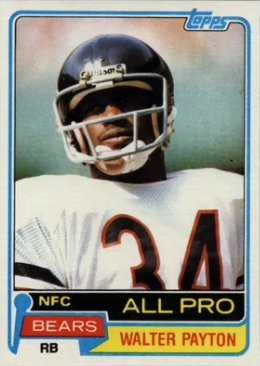 ---
More of my Favorite Walter Payton Football Cards
One of the most fun you could have back in the day was to buy an entire box of unopened packs, and tear into them.
You were guaranteed to uncover stacks of superstar players. Nowadays, packs are full of ultra rare, special edition, autographed cards worth tens of thousands. But back in those days, times were much more simple. It was all about the players.
So here are a few of my personal favorite Walter Payton cards. Most likely, these vintage singles were pulled straight out of packs with my own two hands.
I've managed to hang onto them over the years. Although they are extremely banged up and not worth much, they still give me great memories.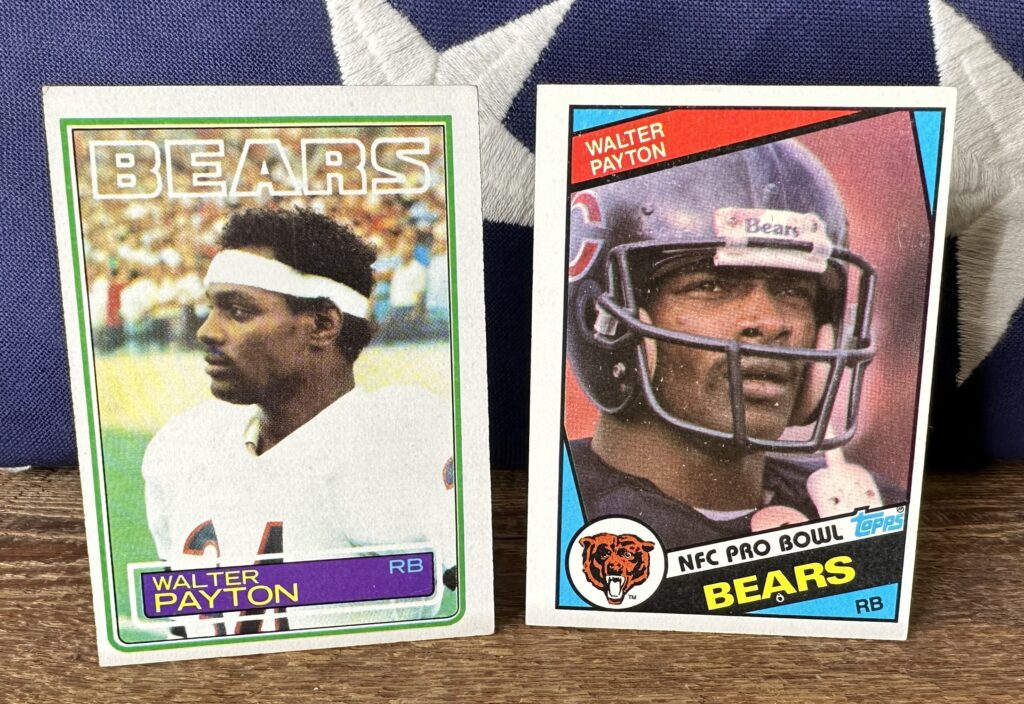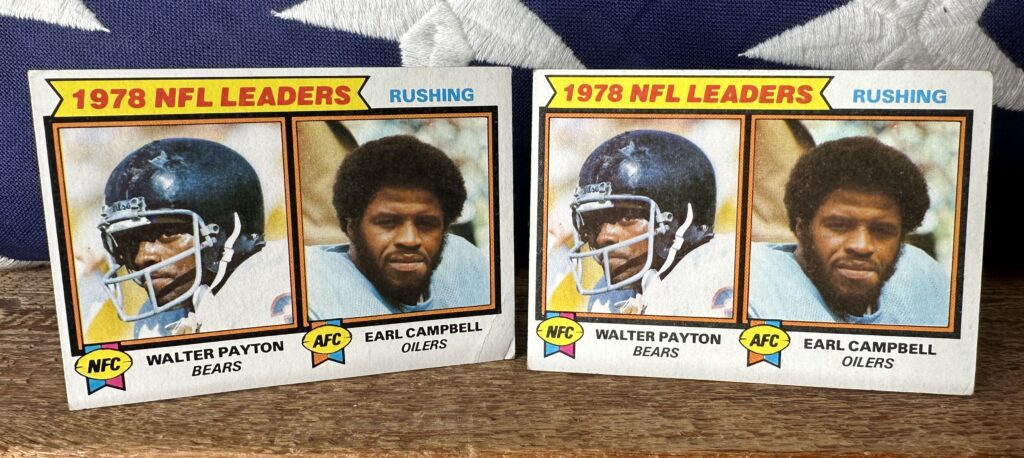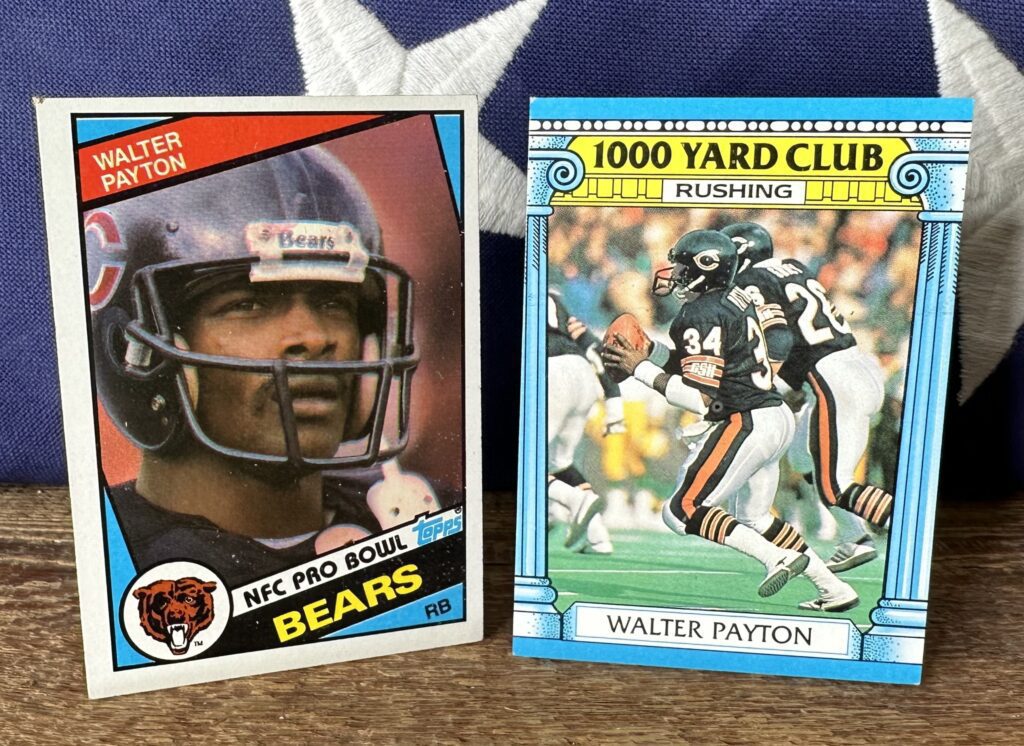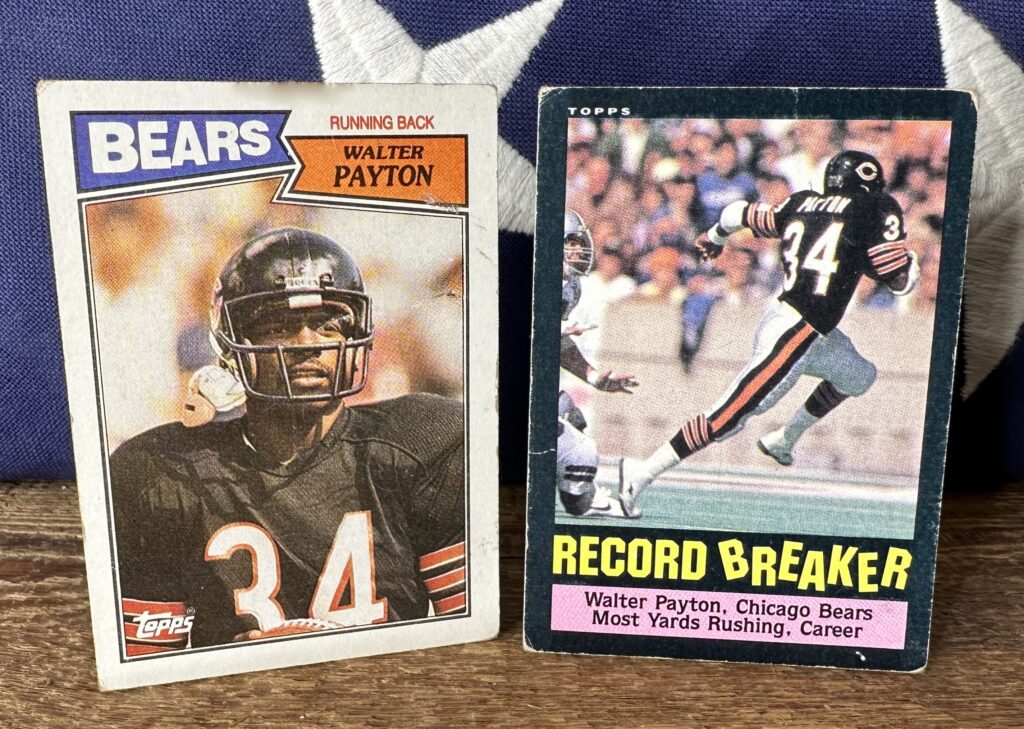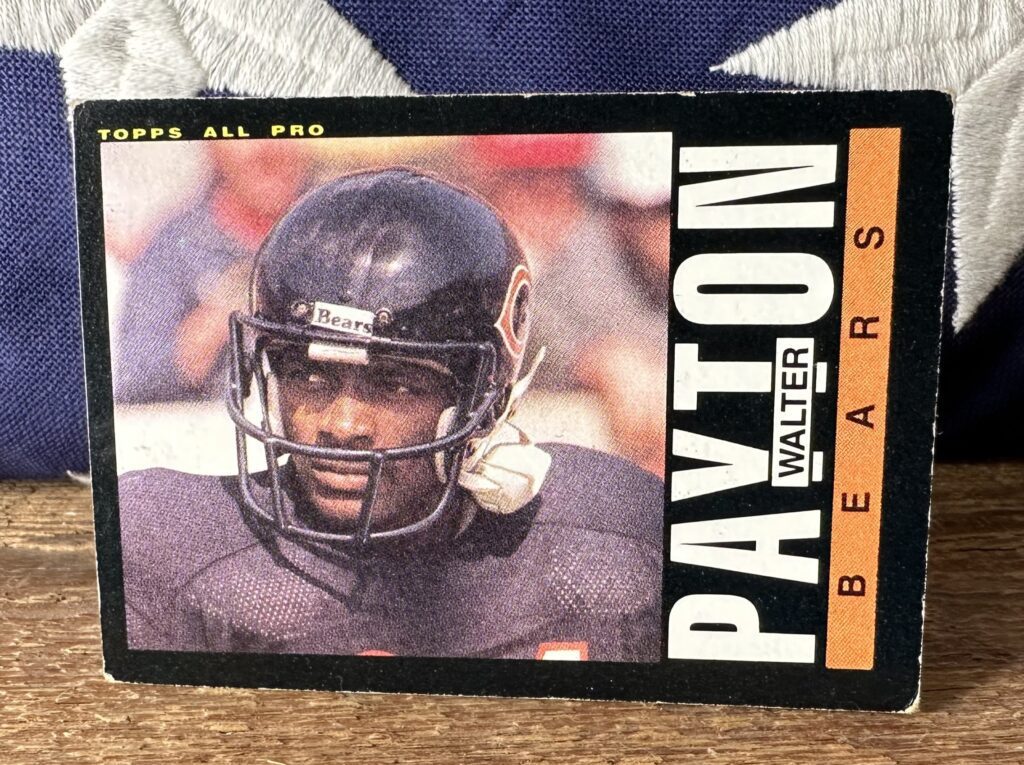 ---
Card Collectors –> Looking to Sell Football Cards? Here's How (and Where) To Do It
How to Find the Best Local Sports Card Shops
Tell Us What You Think –
What is your favorite Walter Payton memory?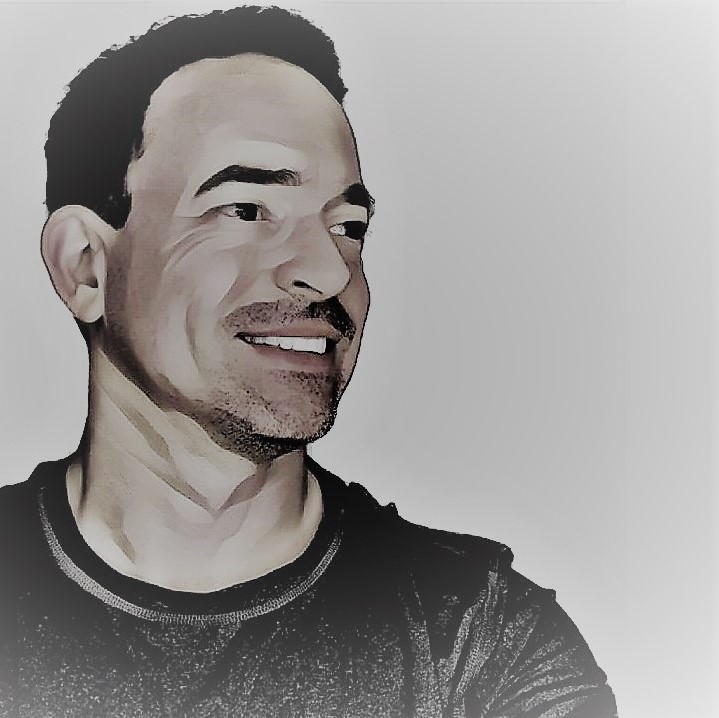 R.J. Bachman
Attic Capital – Writer, Editor, and Lifelong Collector
After many years of collecting rare coins, sports cards, and all types of collectibles, I began writing at Attic Capital to share my experience, knowledge, and passion.
I would love to connect with you, so don't hesitate to reach out and let me know more about your passion for collecting.