---
If you're wondering what your Nolan Ryan baseball card value has been doing over the last few years, a good place to start is the eBay "sold" page. There are few better places to find valuable and up to date information to help you value your collection. Searching for Nolan Ryan card values can be especially informative and interesting because his playing career was so prolific that his baseball card portfolio extends through six decades. Cards ranging from his 1968 Topps rookie card all the way up to the modern-day tribute cards can give you a good feel for what's in demand and also could give a signal for what's out of favor with collectors.
Like any other sports card out there, Nolan Ryan baseball card values are highly dependent on various factors. The year and condition of the card are the first two obvious factors determining its value. But instead of simply searching Google and wandering around the internet trying to find a similar card, let's start with Nolan Ryan cards that have actually sold. Cards that have recently traded hands for an agreed-upon price with real dollars at stake are a better indicator of the value of your card than any price guides, in my opinion.
Nolan Ryan Card Sales on eBay
When I go to the eBay Sold search bar and enter "Nolan Ryan Cards," I received over 32,000 results. Obviously, these will not all be Nolan Ryan baseball cards' sales, as the search function is not perfect in filtering out some of the random memorabilia that might appear. But a large percentage of the results are recent sales of Nolan Ryan cards.
Now you have many sorting options for your 32,000 results at your fingertips. You can sort by most recent sales or sort by price, from the highest price first or the lowest price. You can even sort by sales which have occurred closest to your location by zip code.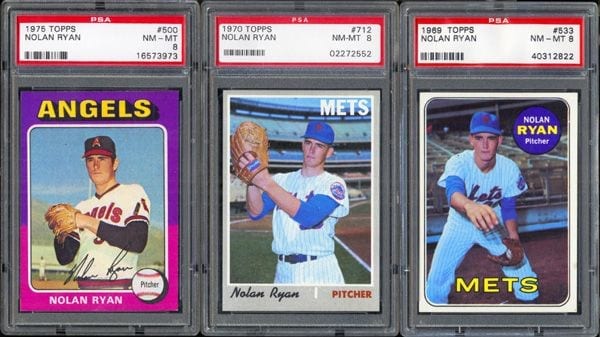 I like to sort by price with the highest price first and view the most recent sales. In this case, the highest most recent sale is the 1968 Topps Nolan Ryan, Jerry Koosman Rookie card graded 9.5 by SCG with a sales price of $32,600. Here's where it gets interesting, and one of the reasons I love using the eBay sold search function. You can not only view the time and date this particular purchase was made, but you can also view the details of the auction itself.
The Nolan Ryan Rookie Card
To the right of the "Winning Bid" price, you will see the number of bids that occurred during the sale. Click on the actual number of bids; in this case, there were "43 bids." Click the hyperlink, and eBay serves up a list of every bid for the Nolan Ryan rookie card as it occurred, along with the price each bidder was willing to pay at that time while the auction was open. This is where you can start to understand the demand, or lack of demand, for a given card, at a certain point in time. Fascinating information at your fingertips, all free of charge courtesy of the folks at eBay. (no affiliation)
1968 Topps Nolan Ryan Rookie Card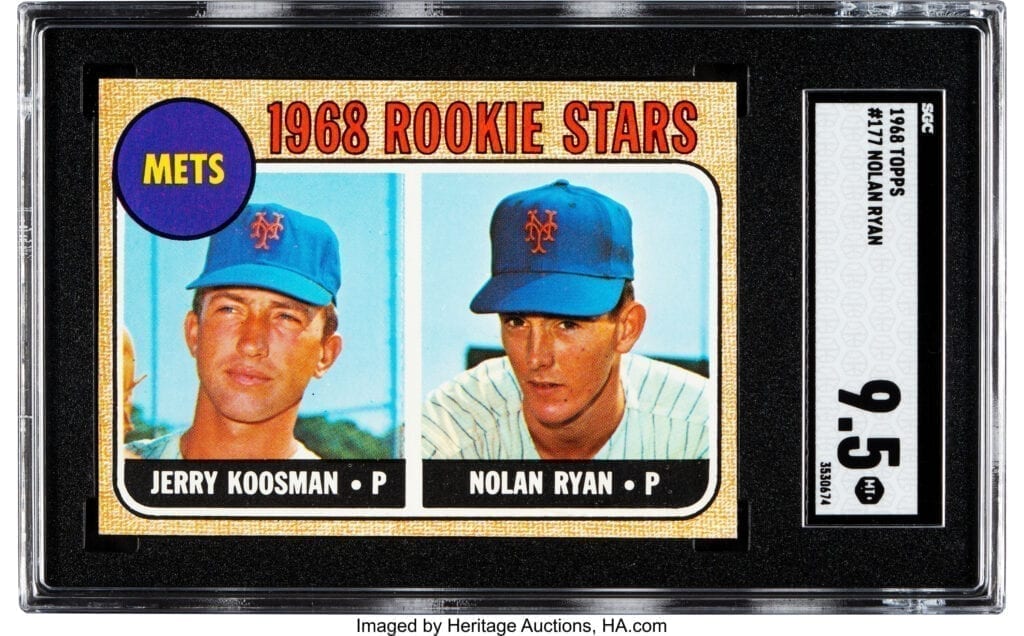 Also included is the number of bidders who actively participated in the auction. The sale of the 1968 Nolan Ryan rookie SCG 9.5 included 18 bidders who entered 43 separate bids until the card was finally sold. The 43 bidders include actual bids only and exclude automatic bids, which we will discuss later.
You can also see that the starting price for the card was $0.99, and the duration of the auction was 10 days. The very first bid was $158, the second bid was $10,000, then someone really threw down the gauntlet and increased their bid a whopping $1.68 to $10,001.68. Sorry pal, not going to be enough for this one.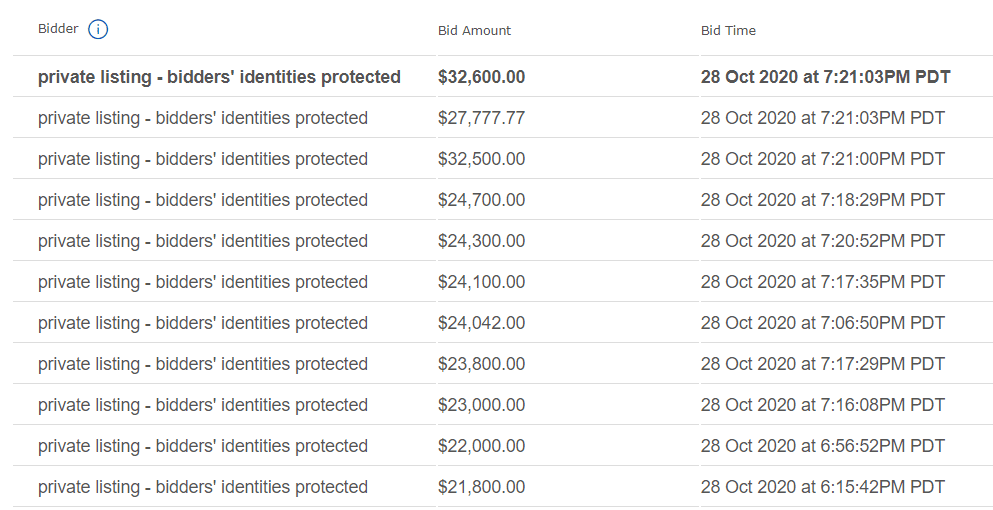 Over that 10 day period, the interested bidders went from the first bid of $158 to a final sales price of $32,600. Twenty of the total forty-three bids occurred on the last day of the auction. Within the final three hours, bids went from $19,700 to $32,600. The data shows a flurry of activity driving the price up roughly 60% in the final hours of the 10-day bid. I have no idea if the seller was happy with the auction's final result, but a substantial price increase near the end of an auction is a positive indicator for any sale.
Comparing Sales to Determine Nolan Ryan Card Value
Another intriguing data point you will find when sorting your search results by highest price first is multiple sales of similar cards with different sale prices. You can use this information to form an opinion about a recent trend in a specific card – if you should dare to venture into such speculation. I consider myself warned, so let's take a look at what the numbers say.
In this case, I'm searching for Nolan Ryan's recent sales and I notice his 1969 Topps PSA 9 has sold three separate times within the last few months at varying prices.
The first sale occurred on August 30th, the second sale on October 14th, and the third sale of the nearly identical card on October 28th. The first sale included 59 manual bids entered over 10 days. The second sale had 57 bids over 10 days, and the third sale on October 28th had 46 bids. (excluding all automatic bids for now)
1st Sale – 1969 Topps Nolan Ryan, PSA 9 Sale Price $6,100 on August 30th
2nd Sale – 1969 Topps Nolan Ryan, PSA 9 Sale Price $5,049 on October 14th
3rd Sale – 1969 Topps Nolan Ryan, PSA 9 Sale Price $4,155 on October 28th
With these three sales, we can see that sale prices for the same 1969 Nolan Ryan PSA 9 graded card have declined from $6,100 to $4,155 within 6 weeks. I have no idea why these three separate sales have over 30% variation in the sale price; it could be several factors. Would I forecast the 1969 Topps Nolan Ryan to continue falling in value? I'm not saying that at all. Just the fact that there are lots of data lying right in front of us if we know where to look. These three sales represent three tiny drops into an ocean that makes up the enormous sports card market, but I might be interested in the data if I was an owner of a PSA 9 Topps 1969 Nolan Ryan.
1969 Topps Nolan Ryan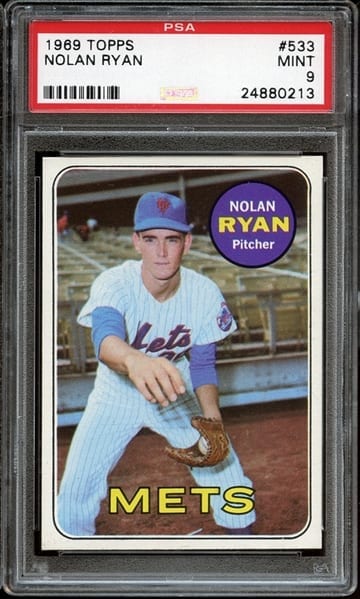 Nolan Ryan Card Values Across Different Eras
For someone who's been relevant in the baseball card scene as long as Nolan Ryan has, it's always fun to see the latest modern-day releases of tribute cards. For the fifth year in a row, the Topps Transcendent cards will be released featuring a 50-card base set and several special feature cards with autographs and exclusive "one of one" cards.
A 2019 Nolan Ryan Transcendent Sketch Reproduction card, BGS 10, recently sold for $400. A 2019 Nolan Ryan Topps Transcendent Hall of Fame Gold with an autograph, 4 out of 25, sold for $195.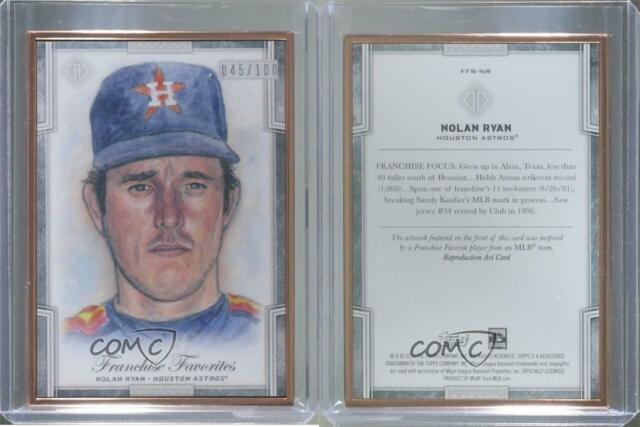 Another recent Nolan Ryan sale from the early 1980s is this 1981 Topps PSA 10. Over a 7 day auction, 18 bidders agreed on the price of $1,624. The last three hours of this auction saw the card gain nearly $300 in value before the auction bell rang.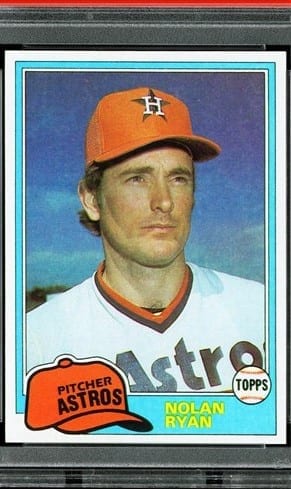 An Epic Career and an Epic Baseball Card Portfolio
If you've been a card collector at any time over the last 50 years, chances are you've owned a Nolan Ryan card or two. If he were an author, they would call him one of the most prolific in world history. Nolan Ryan played for 27 seasons spanning the administrations of seven U.S. Presidents. Ryan holds 51 major league records, some of which might never be challenged. His career strikeout record of 5,714 is over 800 more than the second place holder. 7 career no-hitters and 324 career wins; the list goes on and on with ridiculous stats. Not to mention, by all accounts, Nolan seems to be one of the friendliest and all-around class-acts ever to play the game.
His 100 mile per hour fastball stayed with him virtually his entire 27-year career. And if that wasn't enough, former major league hitters are still having nightmares over his knee-buckling curve ball. Nolan's incredible baseball talent and amazing ability to remain healthy for an epic career make his baseball cards some of the most sought and will continue for generations to come.
---
---