---
If you're wondering what your Nolan Ryan baseball card value has been doing over the last few years, a good place to start is the eBay "sold" page.
There are few better places to find valuable and up-to-date information to help you value your collection.
Searching for Nolan Ryan baseball card value can be especially informative and interesting because his playing career was so prolific that his baseball card portfolio extends through six decades.
Cards ranging from his 1968 Topps rookie card all the way up to the modern-day tribute cards can give you a good feel for what's in demand and also could give a signal for what's out of favor with collectors.
Nolan Ryan Baseball Card Value
Like any other sports card out there, Nolan Ryan baseball card value is highly dependent on various factors. The year and condition of the card are the first two obvious factors determining its value.
But instead of simply searching Google and wandering around the internet trying to find a similar card, let's start with Nolan Ryan cards that have actually sold.
Cards that have recently traded hands for an agreed-upon price with real dollars at stake are a better indicator of the value of your card than any price guides, in my opinion.
Nolan Ryan Card Sales on eBay
When I go to the eBay Sold search bar and enter "Nolan Ryan Cards," I received over 32,000 results for the Hall of Famer.
Obviously, these will not all be Nolan Ryan baseball cards' sales, as the search function is not perfect in filtering out some of the random memorabilia that might appear.
But a large percentage of the results are recent sales of Nolan Ryan cards.
Now you have many sorting options for your 32,000 results at your fingertips. You can sort by most recent sales or sort by price, from the highest price first or the lowest price.
You can even sort by sales that have occurred closest to your location by zip code.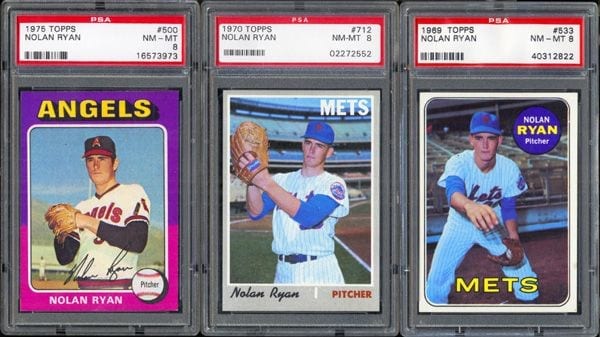 ---
I like to sort by price with the highest price first and view the most recent sales.
In this case, the highest most recent sale is the 1968 Topps Nolan Ryan rookie card with Jerry Koosman, graded 9.5 by SCG with a sales price of $32,600.
Here's where it gets interesting, and one of the reasons I love using the eBay sold search function.
Not only can you view the time and date this particular purchase was made, but you can also view the details of the auction itself.
The Nolan Ryan Rookie Card
To the right of the "Winning Bid" price, you will see the number of bids that occurred during the sale. Click on the actual number of bids; in this case, there were "43 bids."
Click the hyperlink, and eBay serves up a list of every bid for the Nolan Ryan rookie card as it occurred, along with the price each bidder was willing to pay at that time while the auction was open.
This is where you can start to understand the demand, or lack of demand, for a given card, at a certain point in time—fascinating information at your fingertips, all free of charge courtesy of the folks at eBay.
1968 Topps Nolan Ryan Rookie Card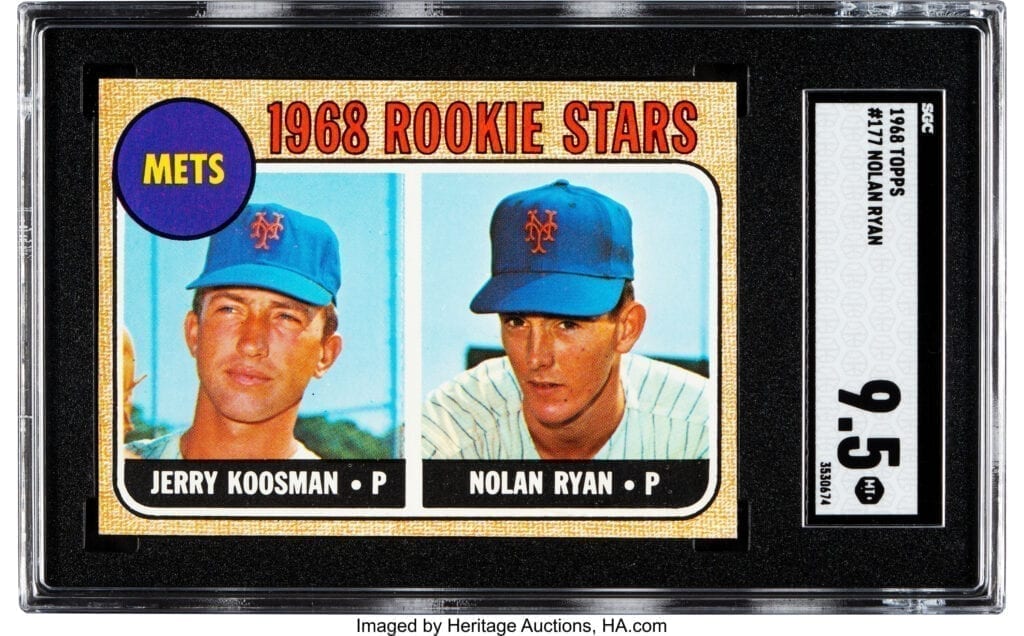 ---
Also included is the number of bidders who actively participated in the auction. The sale of the 1968 Nolan Ryan rookie SCG 9.5 included 18 bidders who entered 43 separate bids until the card was finally sold.
The 43 bidders include actual bids only and exclude automatic bids, which we will discuss later.
You can also see that the starting price for the card was $0.99, and the duration of the auction was 10 days.
The very first bid was $158, the second bid was $10,000, then someone really threw down the gauntlet and increased their bid a whopping $1.68 to $10,001.68. Sorry pal, not going to be enough for this one.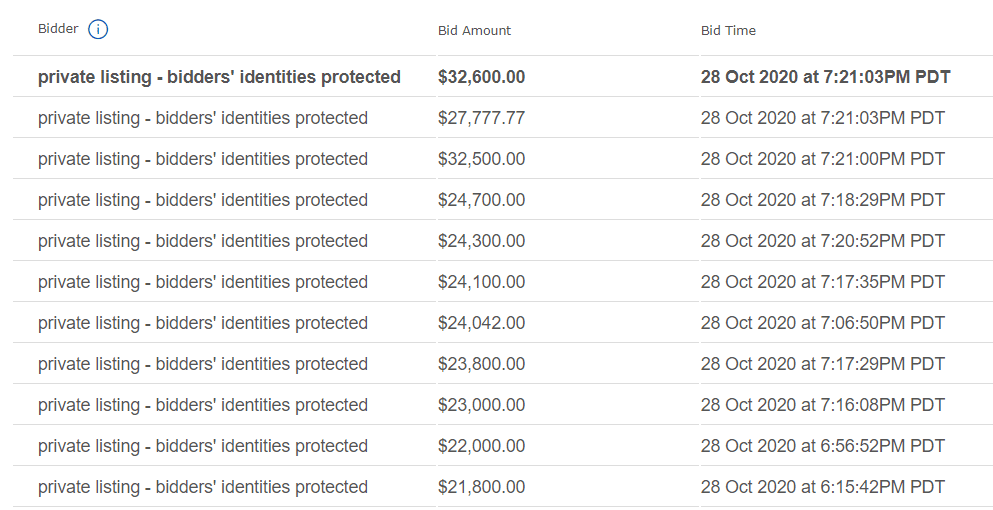 ---
Over that 10-day period, the interested bidders went from the first bid of $158 to a final sales price of $32,600.
Twenty of the total forty-three bids occurred on the last day of the auction. Within the final three hours, bids went from $19,700 to $32,600.
The data shows a flurry of activity driving the price up roughly 60% in the final hours of the 10-day bid.
I have no idea if the seller was happy with the auction's final result, but a substantial price increase near the end of an auction is a positive indicator of any sale.
---
Professional Sports Authenticator Nolan Ryan Rookie – The PSA 10
The GEM Mint PSA 10 Nolan Ryan Rookie card from 1968 sold recently for $600,000 at Goldin Auctions. It's one of the most valuable cards to ever sell at auction.
How does the Ryan rookie go from $30,000 for an SGC 9.5 to $600,000 for a PSA 10? Simple. "One."
There is only one PSA 10 Jerry Koosman/Nolan Ryan rookie card in existence.
To date, only one PSA 10 Ryan rookie has been authenticated, which is pretty amazing, considering the card is only 50 years old. I would suspect there are more PSA 10s out there somewhere.
For comparison, there are three PSA 10-graded Topps Mickey Mantle rookie cards from 1952. PSA notes there is no sale history of any PSA 10 Mickey Mantle Topps rookie cards.
But the PSA 9 Mantle rookie has traded hands for $5 million recently, and there's a population of 6.
No matter what way you look at it, the Nolan Ryan rookie card PSA 10 with a population of one single card is pretty astounding.
Comparing Sales to Determine Nolan Ryan Card Value
Another intriguing data point you will find when sorting your search results by highest price first is multiple sales of similar cards with different sale prices.
You can use this information to form an opinion about a recent trend in a specific card – if you should dare to venture into such speculation. I consider myself warned, so let's take a look at what the numbers say.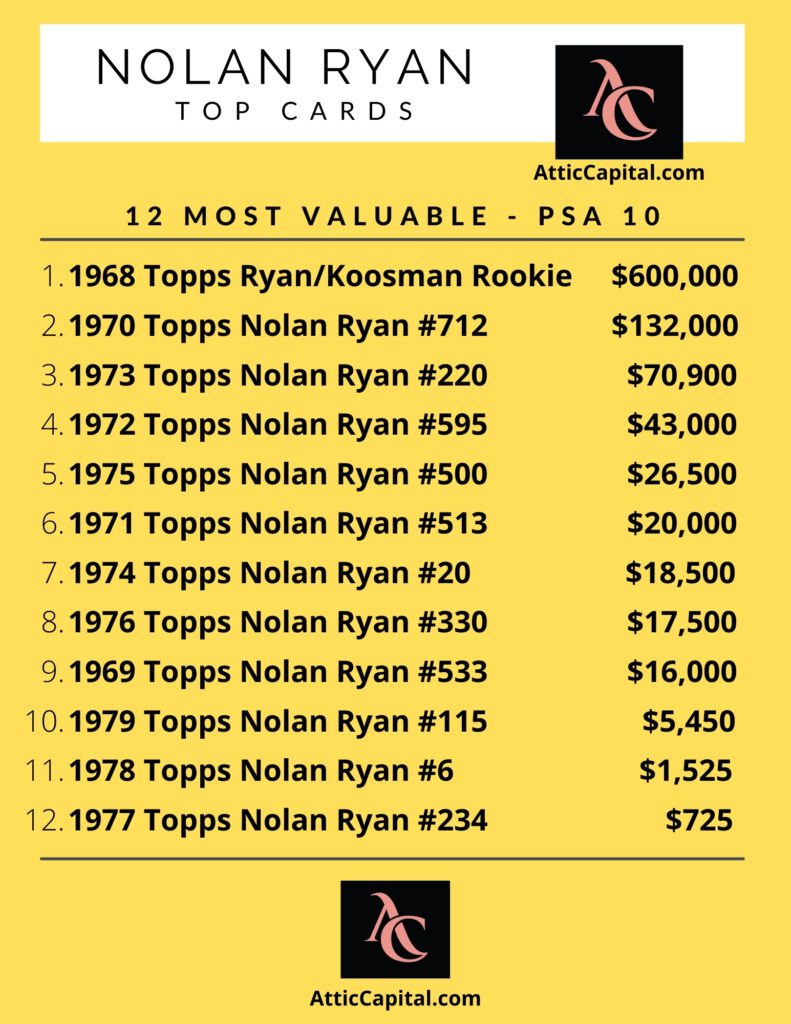 In this case, I'm searching for Nolan Ryan's recent sales, and I notice his PSA 9, 1969 Topps card has sold three separate times within the last few months at varying prices.
The first sale occurred on August 30th, the second sale on October 14th, and the third sale of the nearly identical card on October 28th. The first sale included 59 manual bids entered over 10 days.
The second sale had 57 bids over 10 days, and the third sale on October 28th had 46 bids. (excluding all automatic bids for now)
Nolan Ryan Baseball Card Values on eBay
1st Sale – 1969 Topps Nolan Ryan, PSA 9 Sale Price $6,100 on August 30th
2nd Sale – 1969 Topps Nolan Ryan, PSA 9 Sale Price $5,049 on October 14th
3rd Sale – 1969 Topps Nolan Ryan, PSA 9 Sale Price $4,155 on October 28th
With these three sales, we can see that sale prices for the same 1969 Nolan Ryan PSA 9 graded card have declined from $6,100 to $4,155 within 6 weeks.
I have no idea why these three separate sales have over 30% variation in the sale price; it could be several factors.
Would I forecast the 1969 Topps Nolan Ryan to continue falling in value? I'm not saying that at all. Just the fact that there are lots of data lying right in front of us if we know where to look.
These three sales represent three tiny drops into an ocean that makes up the enormous sports card market, but I might be interested in the data if I was an owner of a PSA 9 Topps 1969 Nolan Ryan.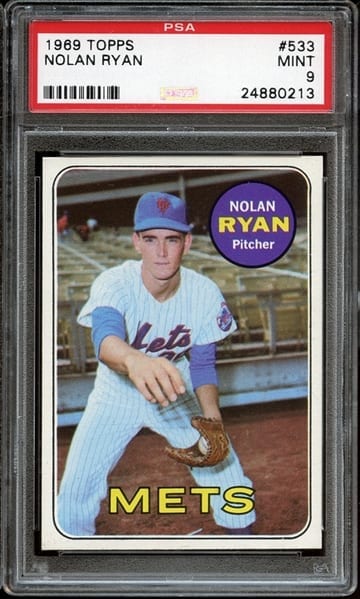 ---
Nolan Ryan Baseball Card Values Across Different Eras
For someone who's been relevant in the baseball card scene as long as Nolan Ryan has, it's always fun to see the latest modern-day releases of tribute cards.
For the fifth year in a row, the Topps Transcendent cards will be released featuring a 50-card base set and several special feature cards with autographs and exclusive "one of one" cards.
A 2019 Nolan Ryan Transcendent Sketch Reproduction card, mint condition BGS 10, recently sold for $400. A 2019 Nolan Ryan Topps Transcendent Hall of Fame Gold with an autograph, 4 out of 25, sold for $195.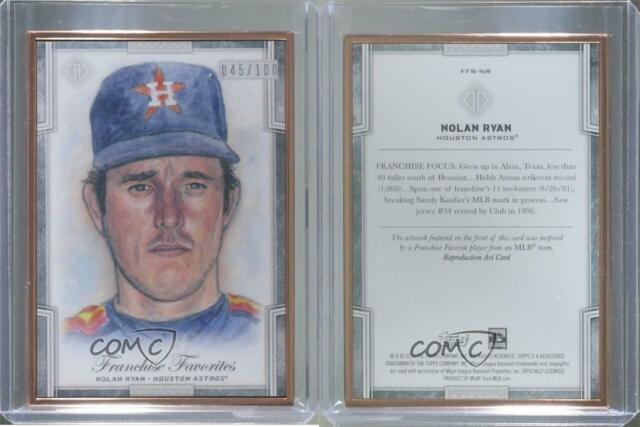 ---
Another recent sale from the early 1980s is this 1981 Topps Nolan Ryan card, PSA 10. Over a 7 day auction, 18 bidders agreed on the price of $1,624.
The last three hours of this auction saw the card gain nearly $300 in value before the auction bell rang. This is a perfect example of a great Topps baseball card to add to your Nolan Ryan collection if you have a modest budget.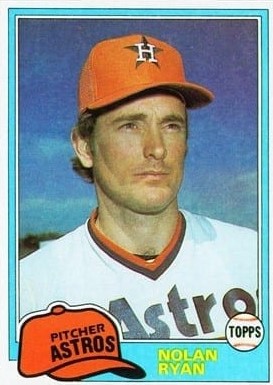 ---
An Epic Career and an Epic Baseball Card Portfolio
If you've been a card collector at any time over the last 50 years, chances are you've owned a Nolan Ryan card or two.
If he were an author, they would call him one of the most prolific in world history.
One of the greatest pitchers to play the game, Nolan Ryan played for 27 seasons spanning the administrations of seven U.S. Presidents and four different decades.
Ryan holds 51 major league records, some of which might never be challenged. His major league record of 5,714 career strikeouts is over 800 more than the second-place holder.
With 7 career no-hitters and 324 career wins; the list goes on and on with ridiculous stats. Not to mention, by all accounts, Nolan seems to be one of the friendliest and all-around class acts ever to play the game.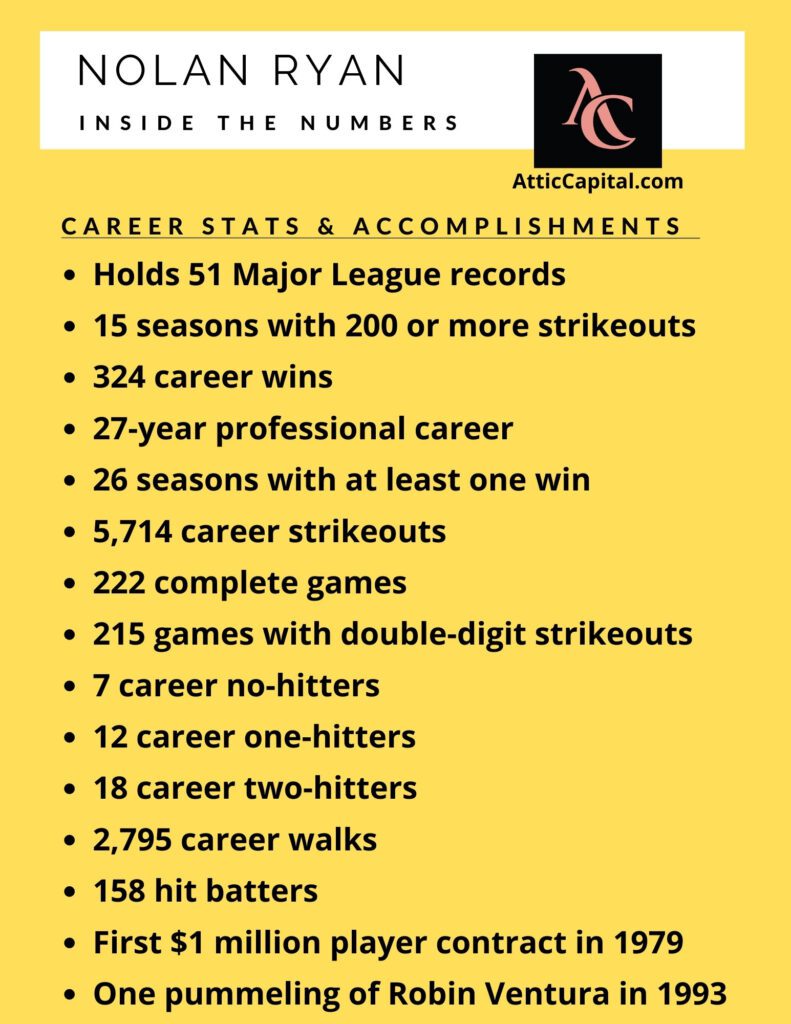 With the record of seven career no-hitters, Nolan also tied Bob Feller or most career one-hitters with 12.
Another crazy stat is Nolan owns a lifetime batting average allowed of .204, which is also a major league record.
He's one of five Hall of Fame pitchers, along with Sandy Koufax, Randy Johnson, Trevor Hoffman, and Pedro Martinez had more career strikeouts than innings pitched.
---
The Nolan Ryan Baseball Card Legacy
Even with all these incredible stats, Nolan never won the Cy Young award. He also never threw a perfect game but did record 18 two-hit performances.
He's one of three players ever to have his number retired by at least three different teams, along with Frank Robinson and Jackie Robinson.
The "Ryan Express" had one of the most incredible careers in MLB history. He pitched for the New York Mets, California Angels, Houston Astros, and Texas Rangers.
After being inducted into the Baseball Hall of Fame in 1999, Nolan became CEO of the Texas Rangers and advisor to the Houston Astros.
From his early days with the Mets, all the way to his final seasons with the Rangers, baseball fans and card collectors will never forget Nolan's almost invincible presence on the mound.
His 100-mile-per-hour fastball stayed with him virtually his entire 27-year career in the big leagues. And if that wasn't enough, former major league hitters are still having nightmares over his knee-buckling curveball.
Nolan's incredible baseball talent and amazing ability to remain healthy for an epic career make his baseball cards some of the most sought after and will continue for generations to come.
Card collectors of all generations will learn about The Ryan Express, and Nolan Ryan baseball card value, sooner or later.
1970s Topps Nolan Ryan Baseball Cards
Nolan Ryan baseball cards are extremely valuable in high-grade condition, even if it's not the Ryan/Koosman rookie card. Let's take a look at every Nolan Ryan card from the 1970s.
After Nolan's 1969 Topps card, the first year he appeared on a card outside the 'Ryan/Koosman,' many Nolan cards await the budget-conscious collector. Let's go through each 1970s Nolan card.
1970 Topps PSA 8 – $1,000
There were dozens of Hall of Famers in the 1970s Topps set, but my favorite, by far, is the Nolan Ryan card, #712.
With a PSA 10 population of only 3 in GEM Mint condition, a PSA 10 card is valued at 132,000. In good condition, near mint PSA 8, the value is around $1,000.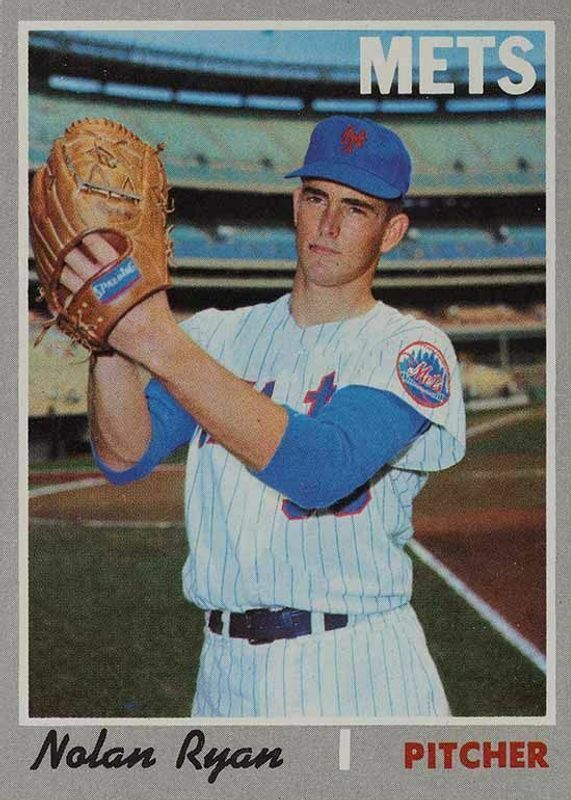 1971 Topps Nolan PSA 8 – $1,300
The Ryan Express was just leaving the station in 1971. He only won ten games but had a career-high in bean balls with 15. He was just getting started and finding his groove.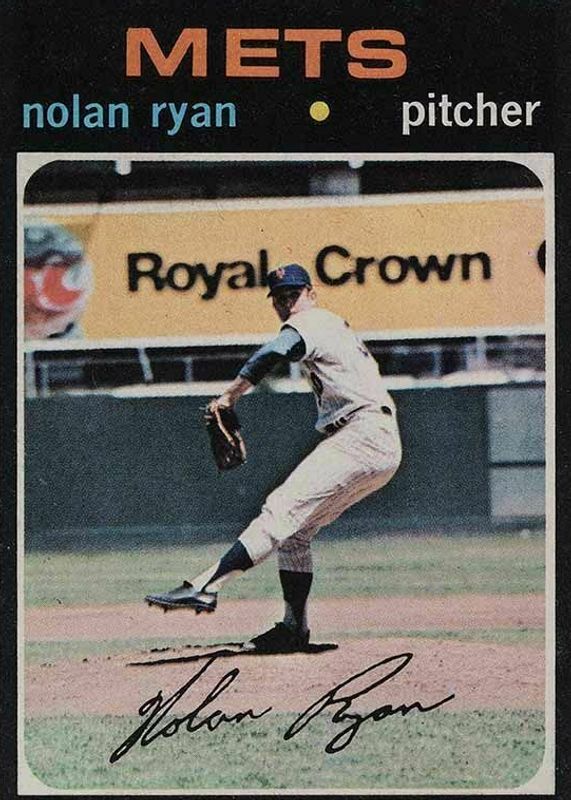 1972 Topps PSA 8 – $600
Nolan pitched a career-high nine shutouts in 1972. He led the majors in walks with 157 but also led the league in strikeouts with 329. 1972 officially began the Nolan era of flamethrowing. Good luck, hitters of the 1970s!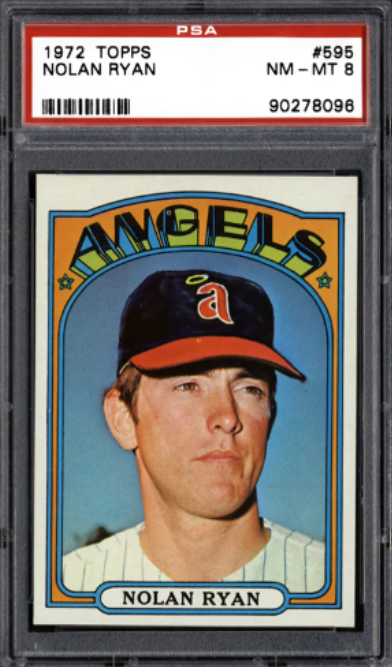 1973 Topps PSA 8 – $550
With 10.6 strikeouts per nine innings, Nolan had a career-high strikeout total of 383 in 1973. He led the league in walks, again, with 162. But check this out – He threw two no-hitters in 1973.
So enough talk about Nolan as the all-time leader with 2,795 walks. The King of K's holds the all-time record with 5,714 strikeouts.
Nolan also made his first all-star team in 1973, pitching two innings and striking out two.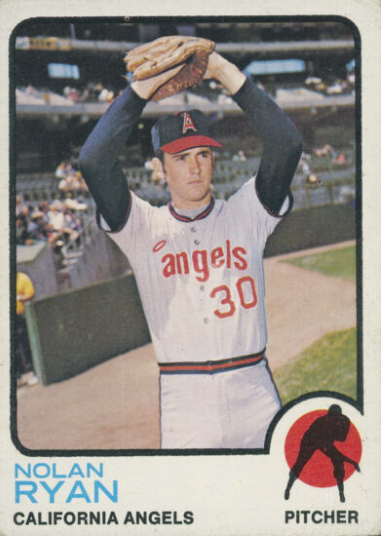 1974 Topps Nolan Ryan PSA 8 – $240
Nolan won 22 games in 1974, led the majors with 332 innings, and struck out ten batters per nine innings pitched. He also struck out 19 hitters in a single game – twice.
Not only that, but he threw another no-hitter in 1974 against the Twins.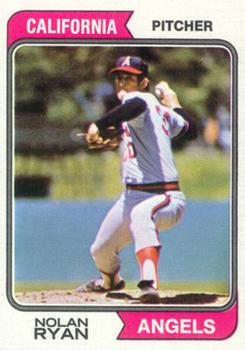 1975 Topps Nolan Ryan PSA 8 – $280
The 1975 Topps cards were ugly; there's no question. Nonetheless, they are part of baseball card history. Nolan's stats were down in 75,' but he still threw another no-hitter in June. His 4th.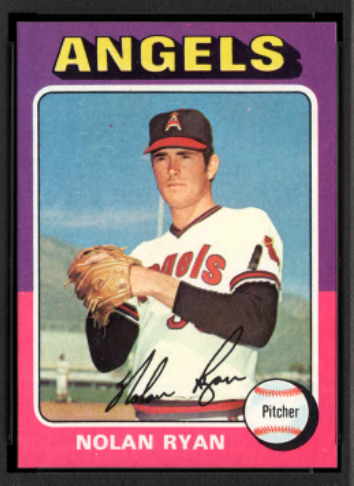 1976 Topps PSA 8 – $150
With a league-leading seven shutouts and 327 strikeouts in 1976, Nolan hardly had a down year. But his manager, Buzzie Bavasi, once called him a "flashy .500 pitcher." I'm sure Buzzie would like to have that one back.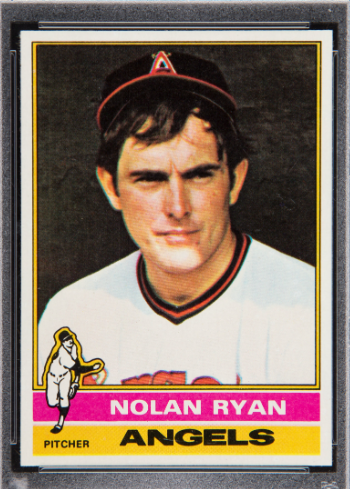 1977 Topps Nolan Ryan PSA 8 $100
The 1977 Topps Nolan Ryan is a classic card. Topps totally redeemed themselves with a clean, epic set. Complete with a pennant in the corner and a stamped autograph on every card.
PSA 10 Nolan cards from 1977 sell for nine grand.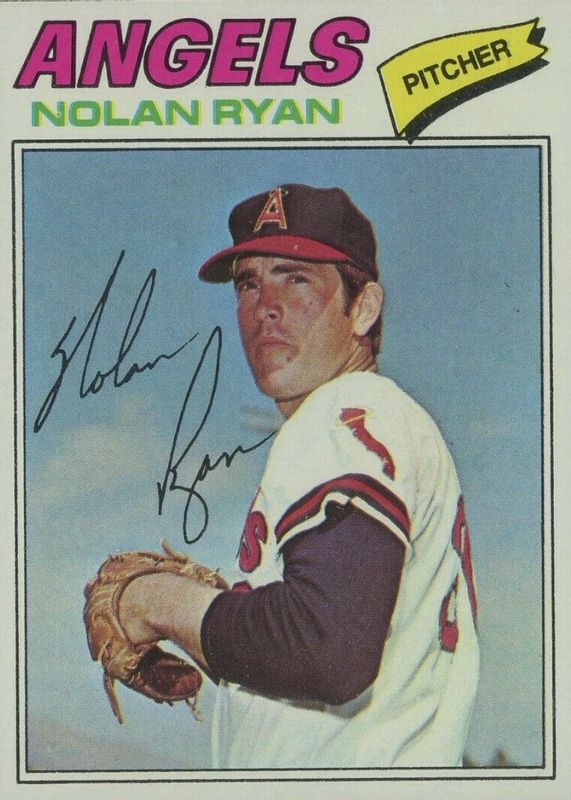 1978 Topps PSA 8 $200
Nolan was cruising through the late 1970s, striking out 10 per nine innings pitched, again.
Mind-blowing stats from Nolan's career included a major league all-time record of 215 career double-digit strikeout games.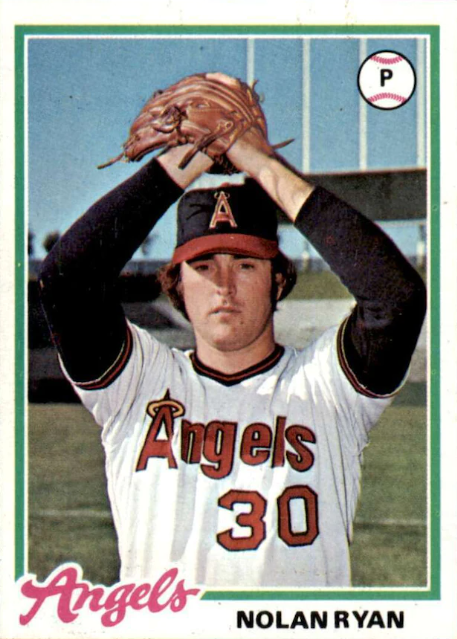 1979 Topps PSA 8 – $100
The 1979 Topps cards were another hit. Crisp. Clean. And featuring dozens of future Hall of Fame players. Nolan would be traded after the Angels' 1979 playoff "run," where they would be swept by the Orioles.
In November of 1979, Nolan became the first million-dollar baseball player when he signed a four-year, $4.5 million dollar contract with the Houston Astros.
Nolan began his Houston career with a bang on April 20th, 1980. He smashed a three-run home run off Don Sutton in a nationally televised game. And the rest is history.
Nolan would pitch 14 more years, racking up amazing stats and records on his way to the Hall of Fame.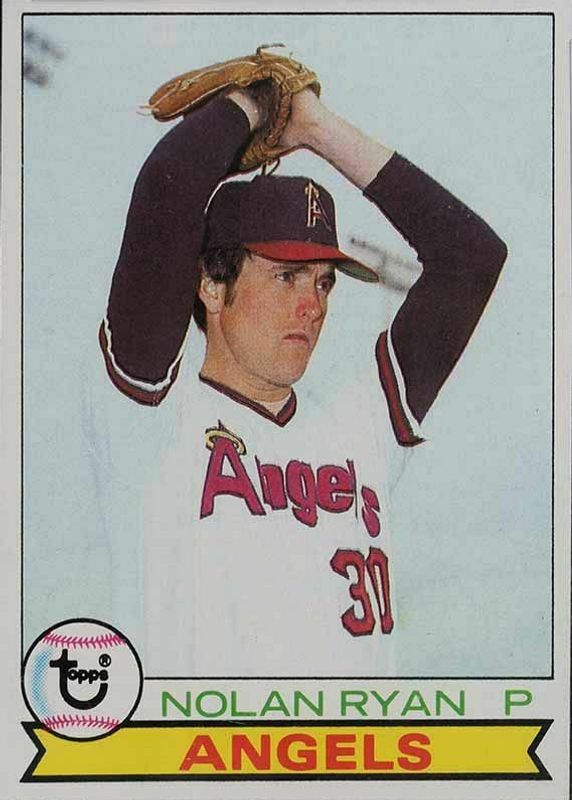 1968 Topps Milton Bradley Nolan Ryan / Jerry Koosman #177
Milton Bradley produced a Nolan Ryan rookie card, but instead of selling it in packs, the card was part of the box for the Win-a-Card board game.
How do you know the difference between a Milton Bradley Nolan Ryan rookie card, and a Topps card? The Milton Bradley card has a bright yellow background.
The Topps card has a plain, cardboard-looking background. It's a rare card to find in good condition, as you might imagine. 
My Favorite Nolan Ryan Cards
I hope you're ready for a deep-dive into the world of Nolan Ryan baseball cards. His library is extensive, more than a thousand cards deep.
We're going to look at a handful of my favorites – buckle up!
Let me know your favorites in the comments!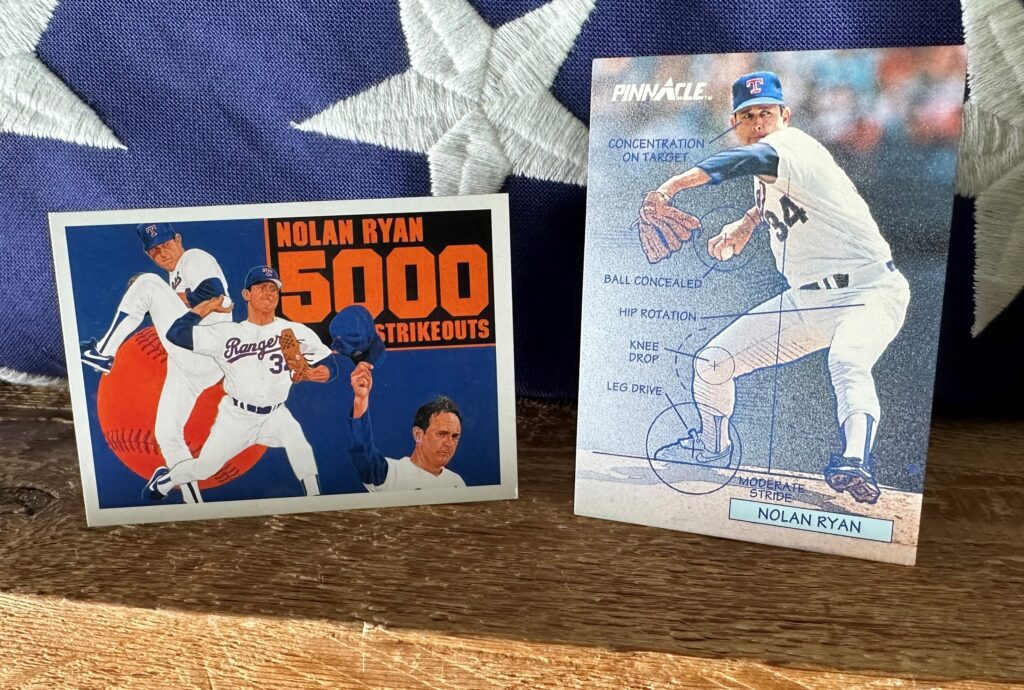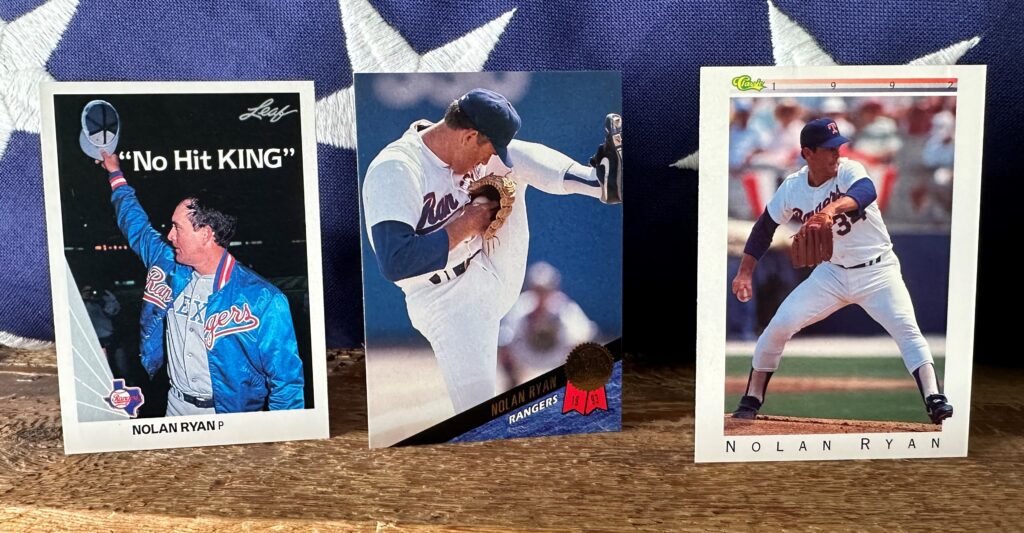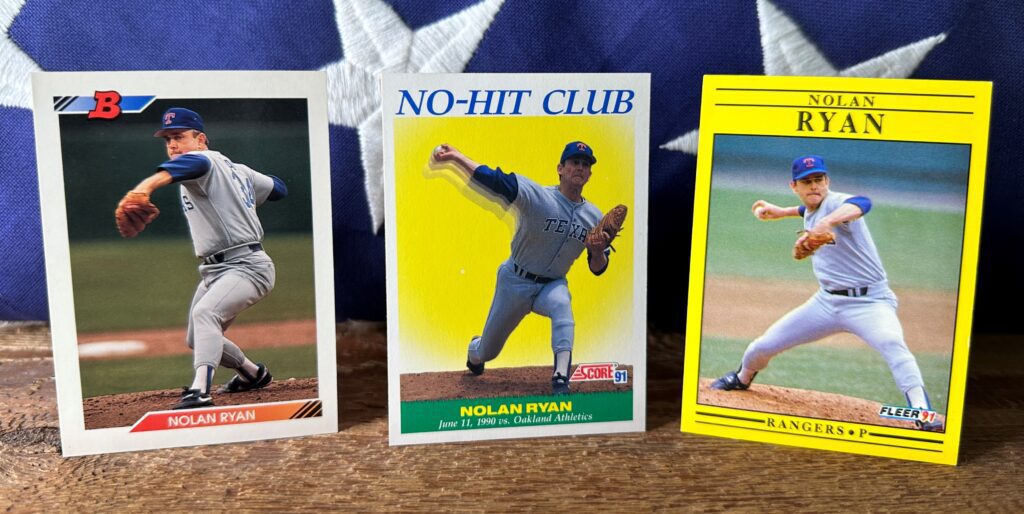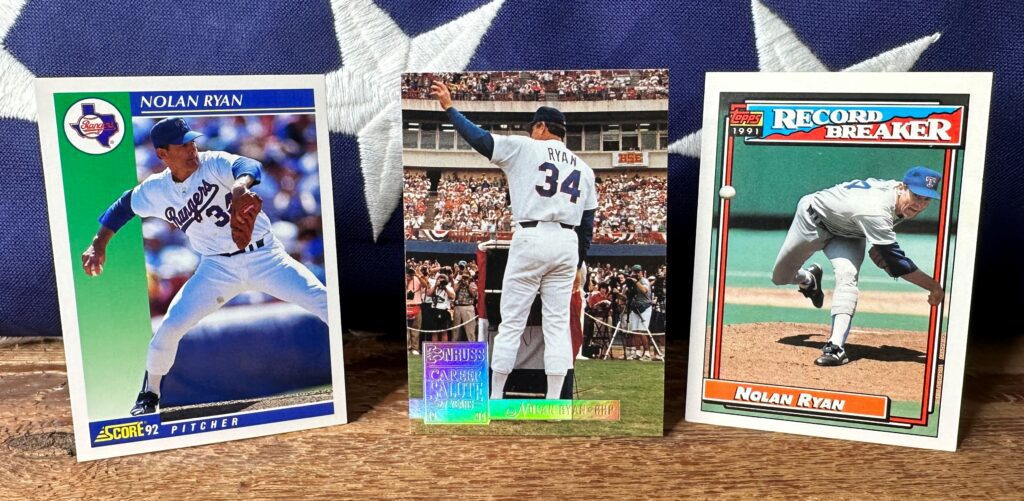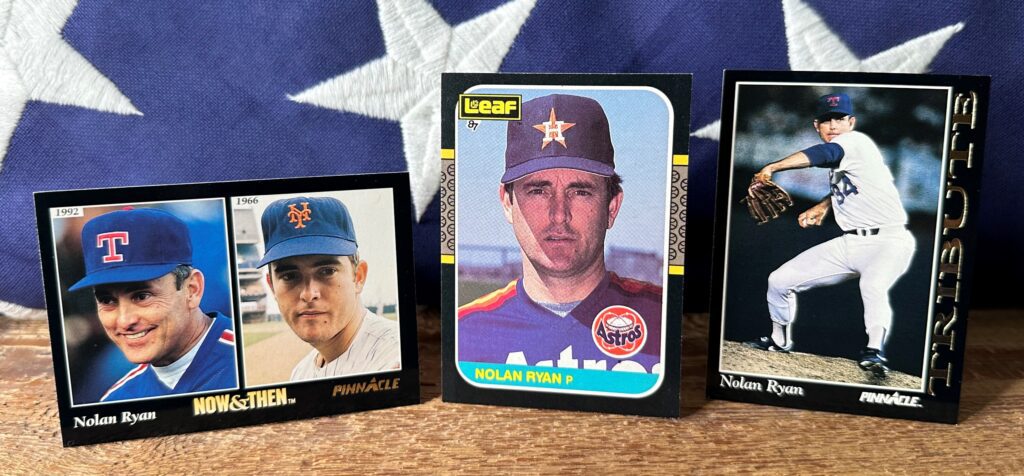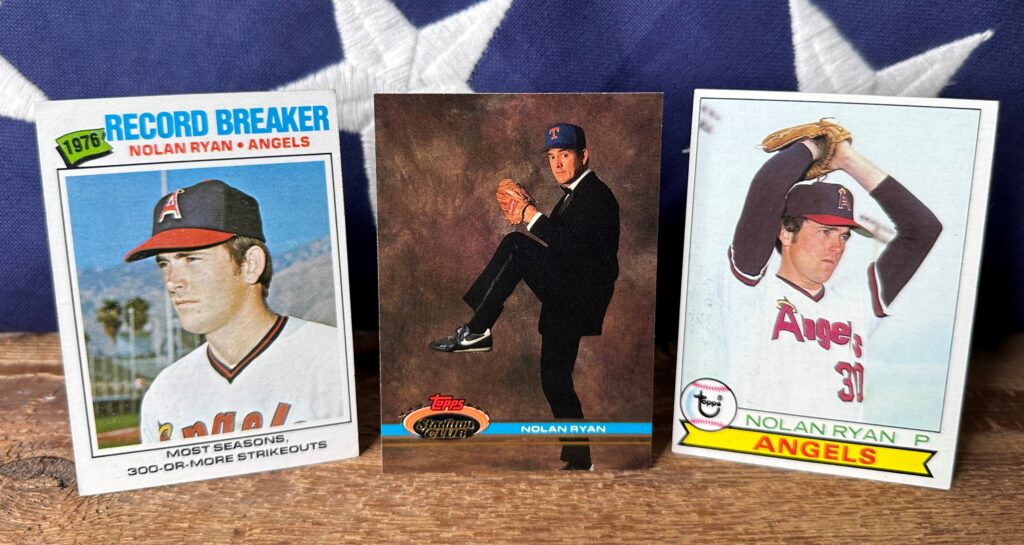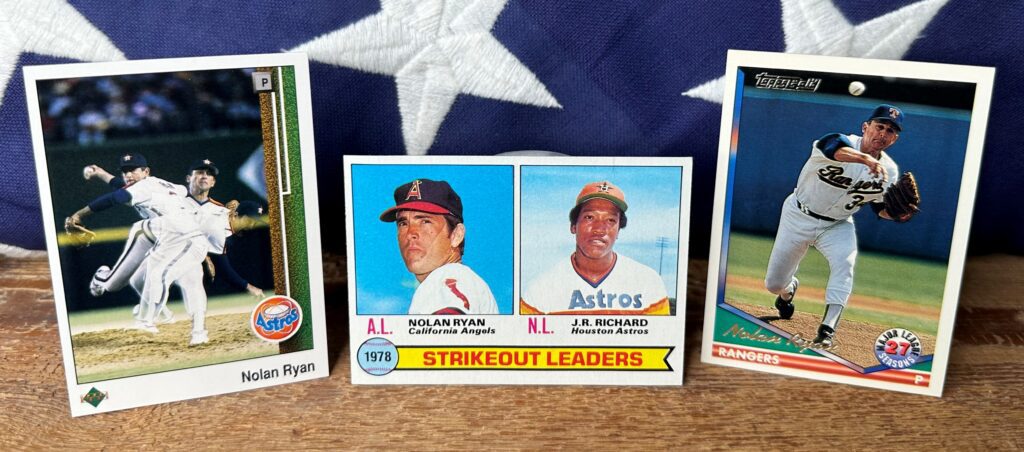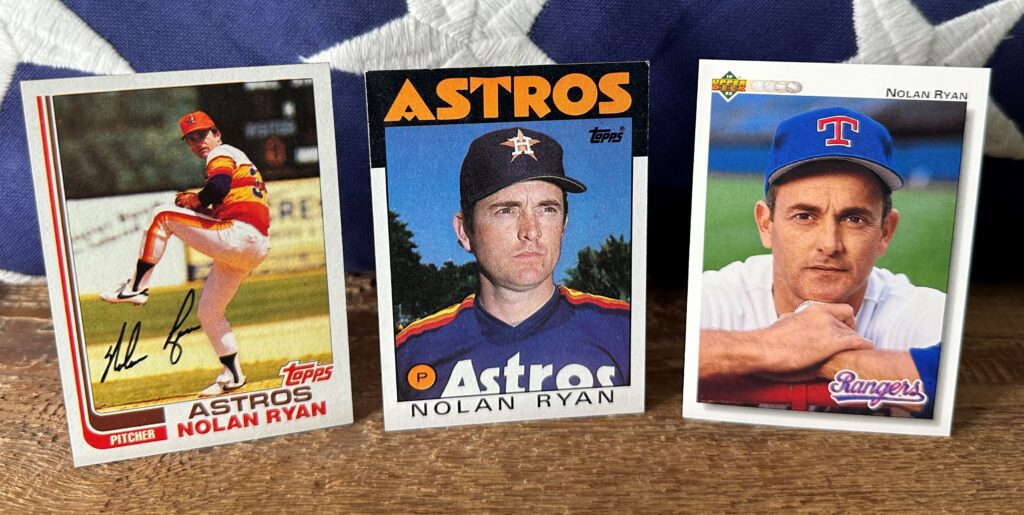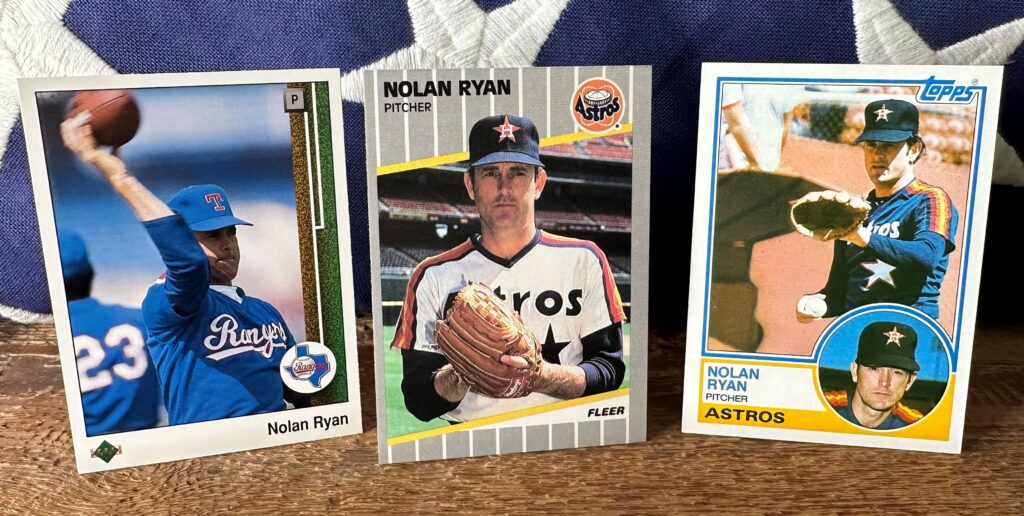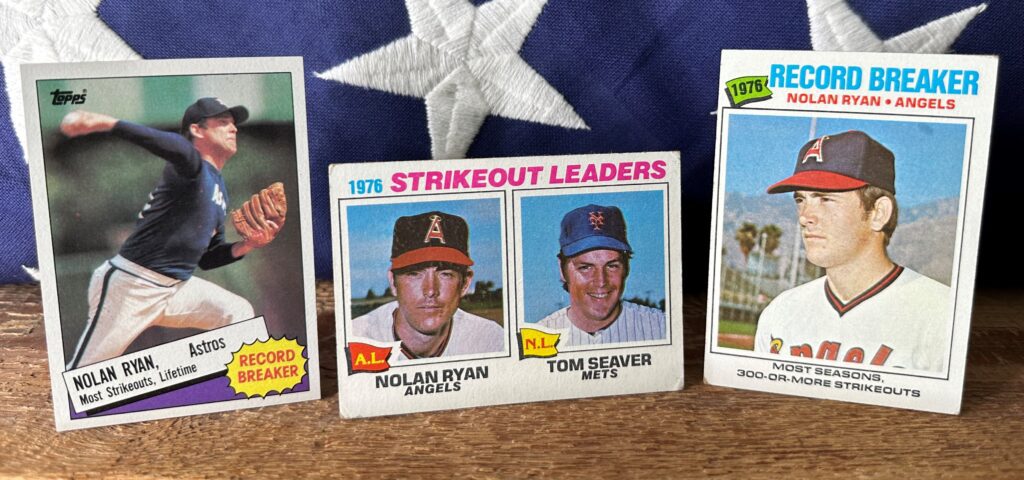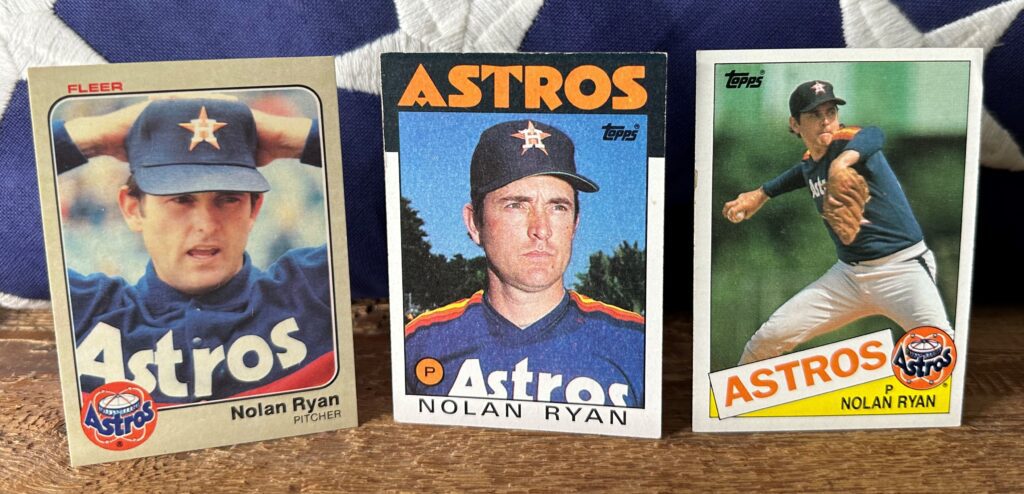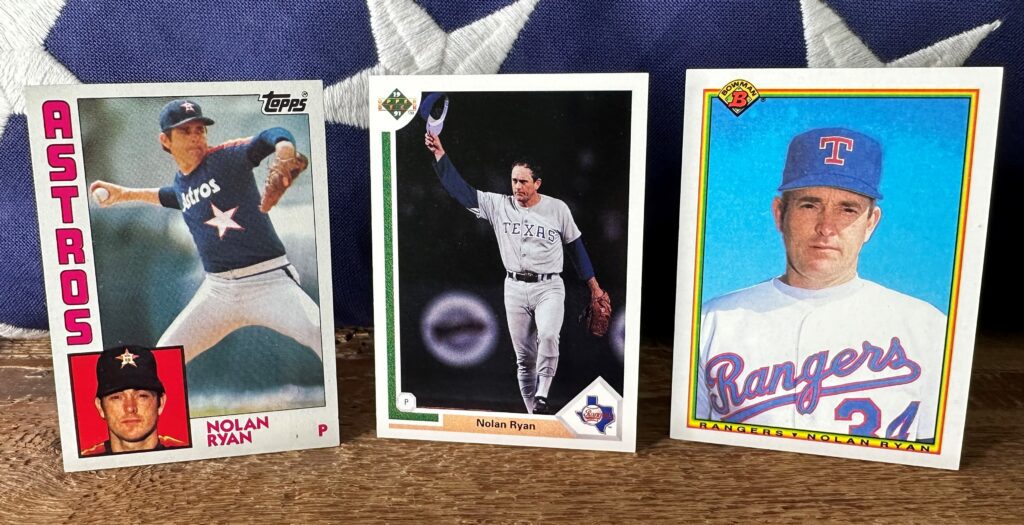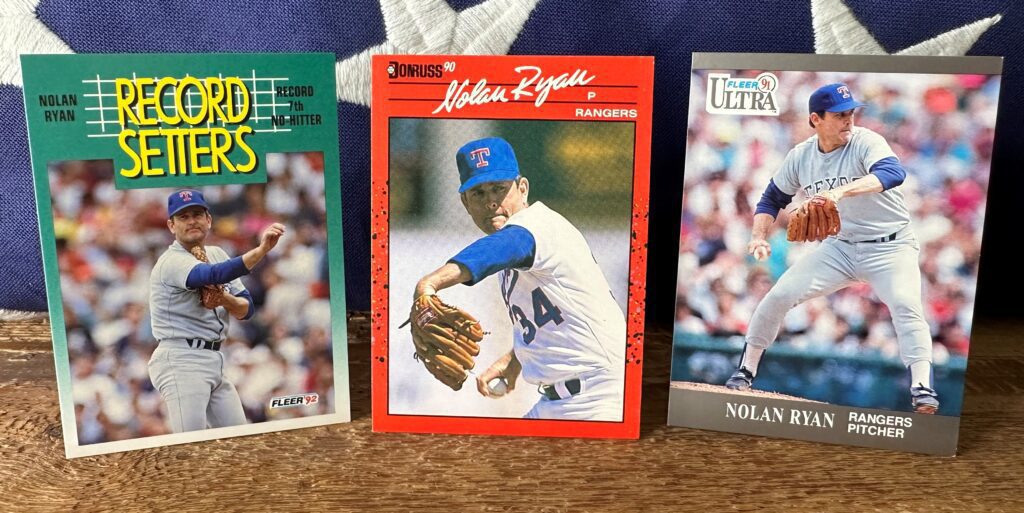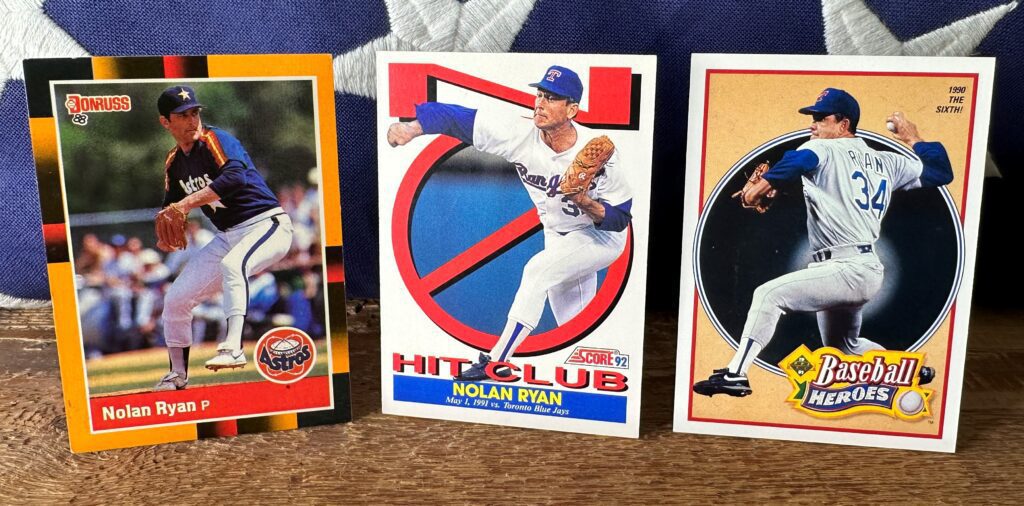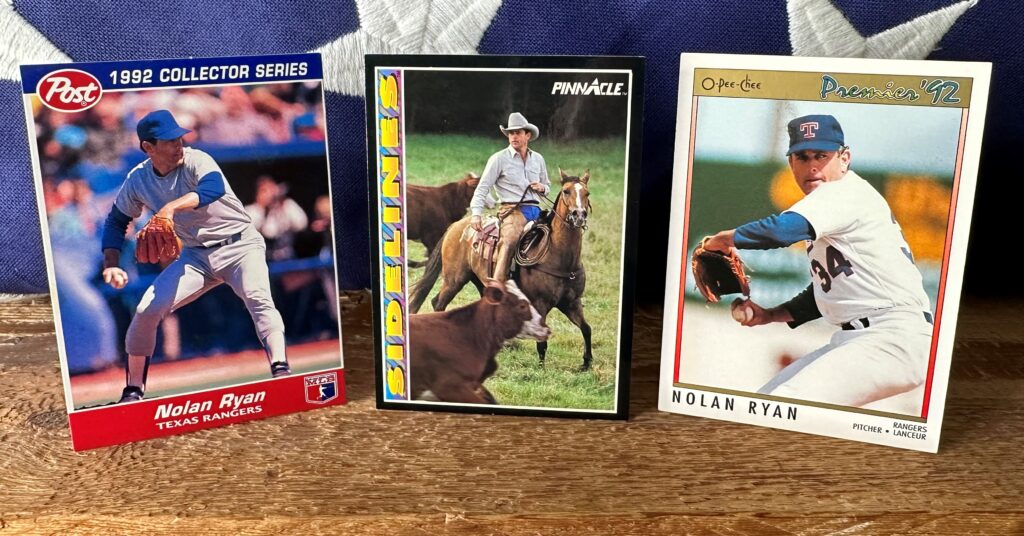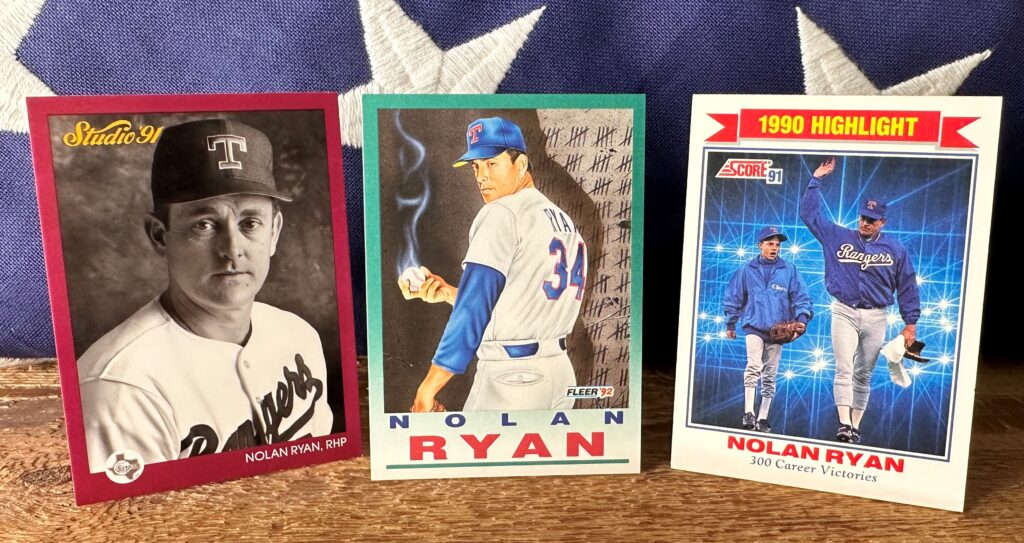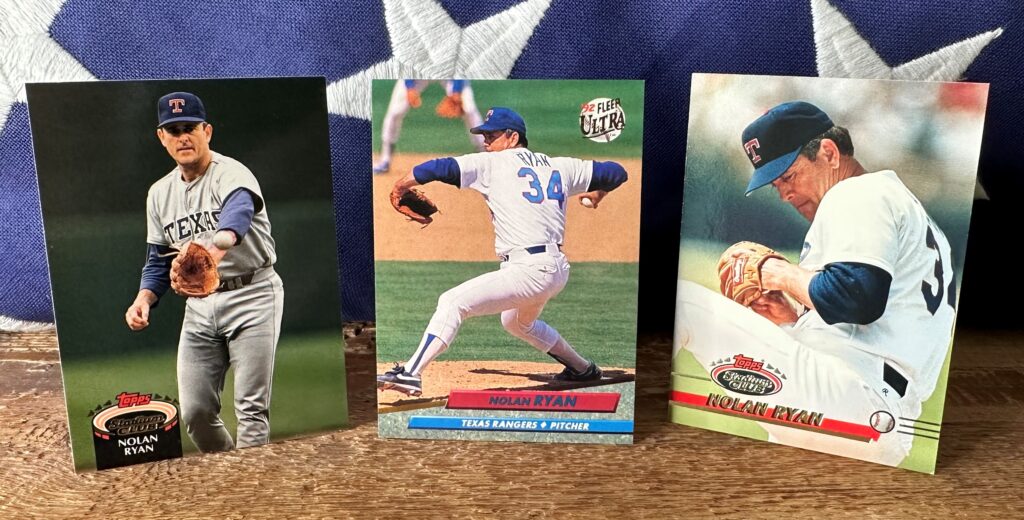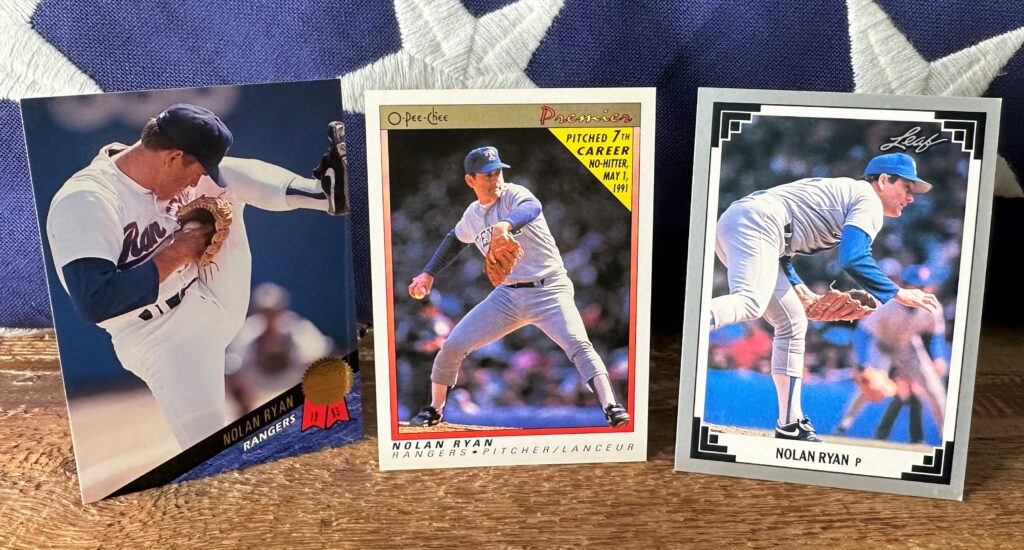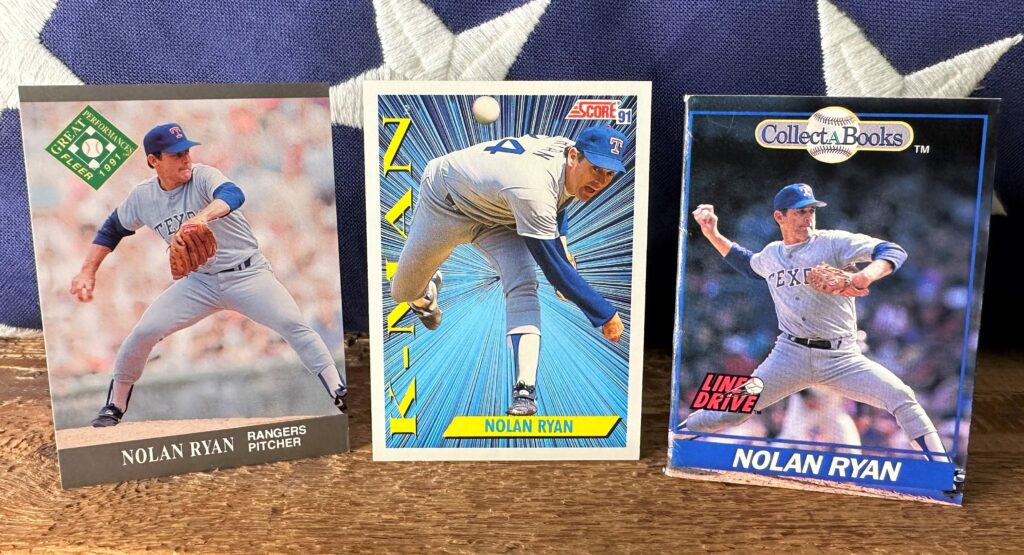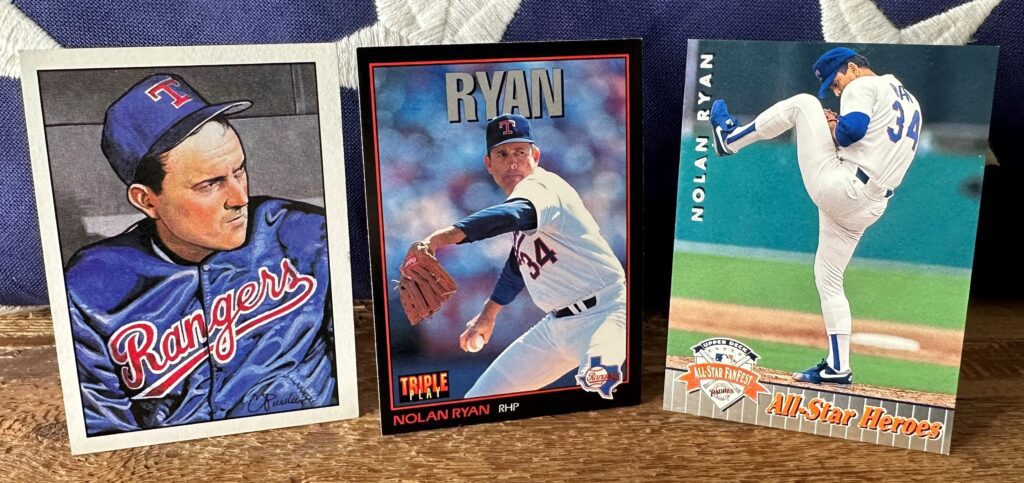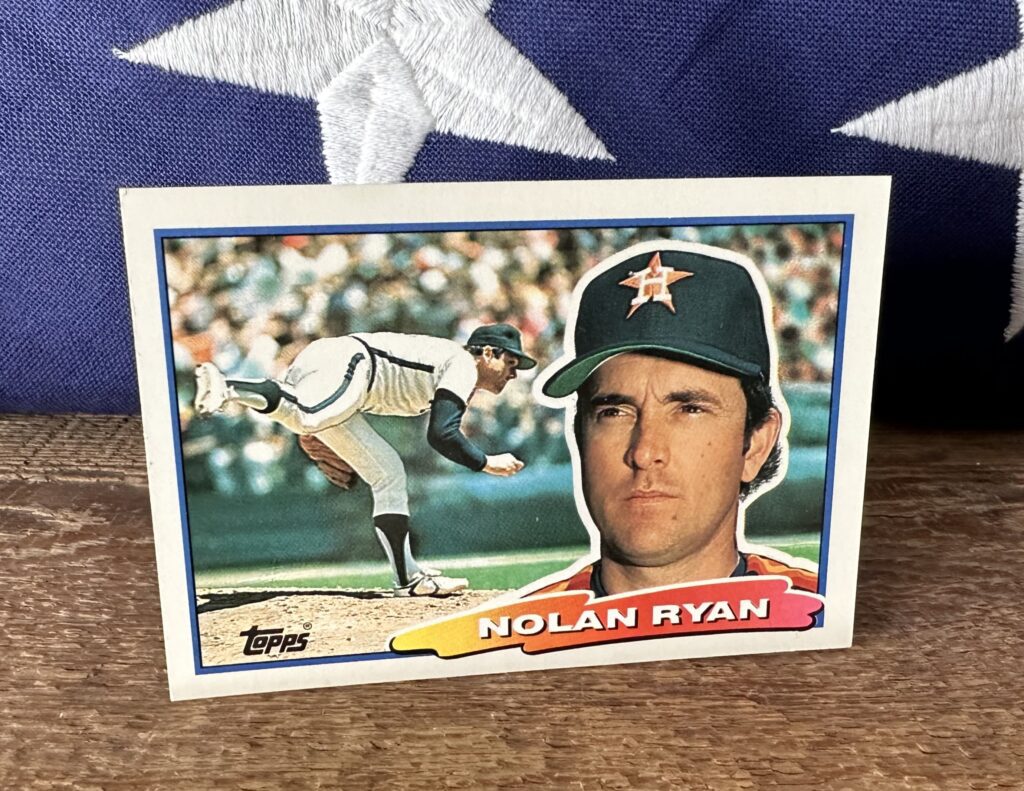 ---
More Nolan Ryan Baseball Card Values
1981 Fleer Star Stickers Nolan Ryan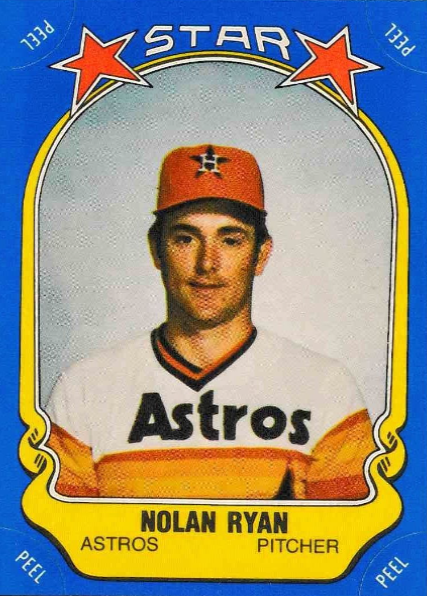 1985 Topps Tiffany Nolan Ryan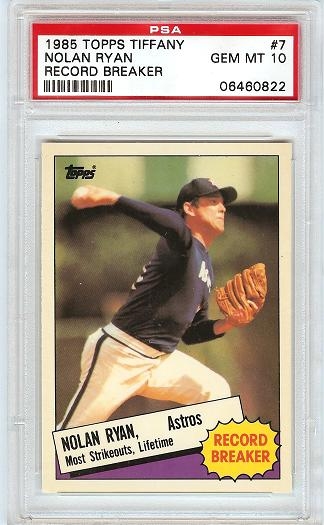 1987 Kraft Home Plate Hero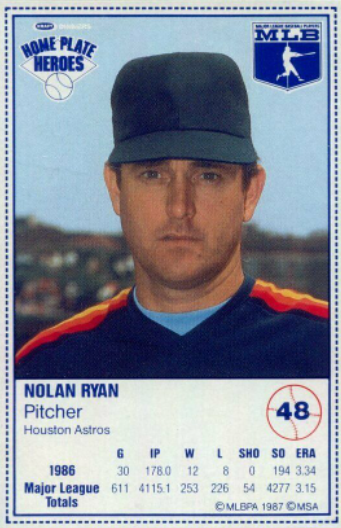 1987 Topps Nolan Ryan
Is there anything better than a 1987 Topps baseball card? With the wood grain thick border, almost everyone instantly recognizes this classic design.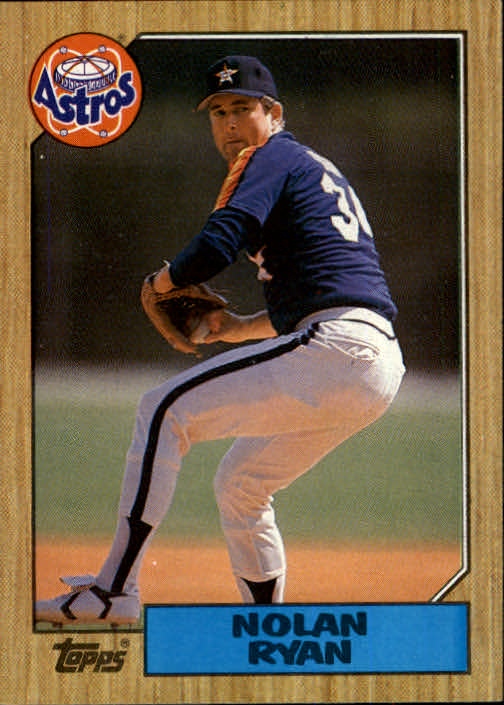 1990 Donruss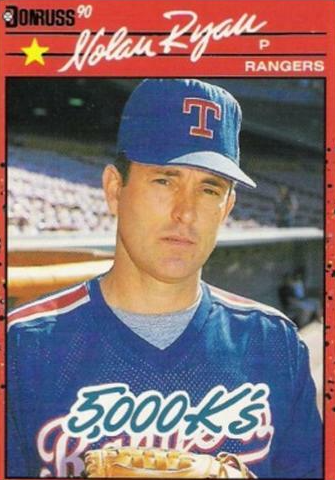 1985 Fun Foods Pins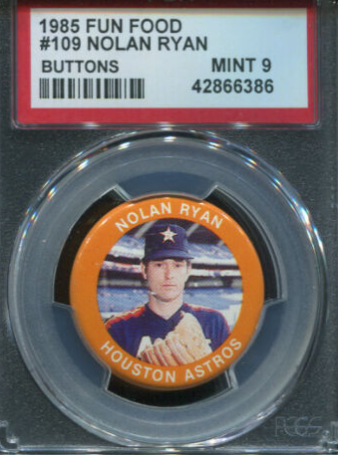 1993 Finest Promo Refractors #107 – $1,200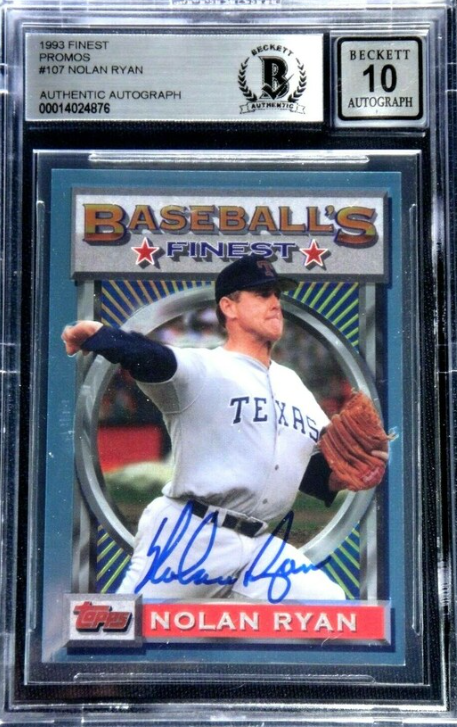 ---
The Nolan Ryan Finest Refractors card features The Ryan Express in the final season of his career with the Texas Rangers.
After a long career appearing in 807 Major League baseball games, Nolan Ryan retired in 1993.
After being the first major league pitcher to have his pitch measured over 100 miles per hour on a radar gun and setting numerous other records, including seven no-hitters, he'll be remembered for generations.
Not only did he dominate for decades in the major leagues, but he also did so with class, humility, and charm.
---
Card Collectors –> Looking to Sell Baseball Cards? Here's How (and Where) To Do It
Tell Us What You Think –
What is your favorite Nolan Ryan highlight?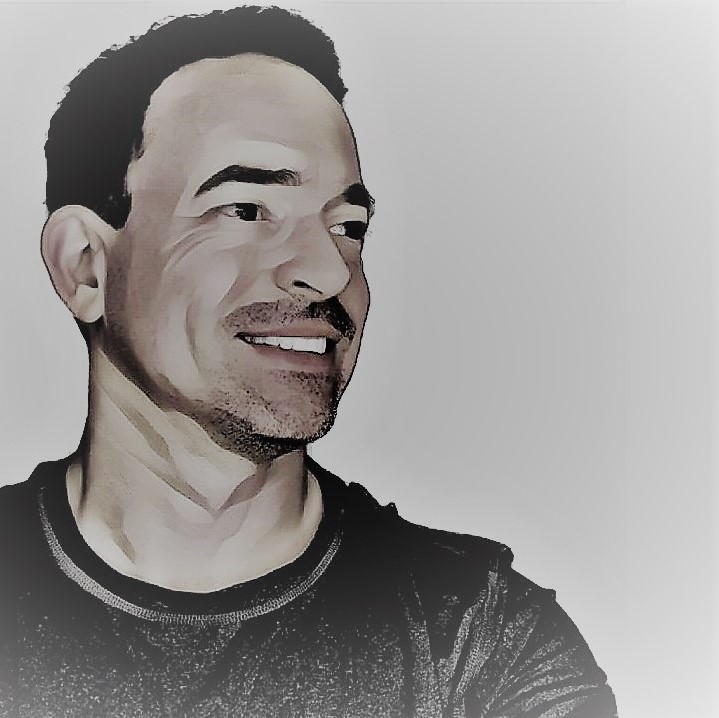 R.J. Bachman
Attic Capital – Writer, Editor, and Lifelong Collector
After many years of collecting rare coins, sports cards, and all types of collectibles, I began writing at Attic Capital to share my experience, knowledge, and passion.
I would love to connect with you, so don't hesitate to reach out and let me know more about your passion for collecting.