---
If you've been a sports card collector over the last several years, you have been on quite a ride! And if you've been collecting sports cards for decades like me, you know that boom and bust cycles don't just happen in the stock market. Because this hobby has had it's share of up's and down's.
The sports card market is one of the most fascinating collector markets of all-time. With peaks and valleys as high and deep as any other market.
And if you're just now thinking about starting a sports card collection, it's important to know where we are at in the hobby today. Not only that, but where the market for sports cards is heading in the coming years.
Sports Card Industry Market Report, 2024
That's why I created this market report. I hope it helps you navigate one of the most thrilling and entertaining collector markets. The history of cards, the most valuable and coveted cards, and the major players in the market.
Hopefully by understanding the industry better, you can make more informed decisions to buy, sell, hold, and grow your collection over time.
"The Hobby," as some veteran collectors like to call it. Let's journey together through the sports card market!
Why Collect Sports Cards?
There's almost unlimited reasons why anyone would collect baseball, hockey, football, and basketball cards. The love of sports, a favorite professional player, your favorite local sports team, or an enjoyable thing to do with friends and family members.
The list goes on and on. Many people get introduced to sports cards as kids, and grow up with fond memories of collecting cards when they were younger. With those nostalgic memories, some adults re-introduce themselves to sports cards and find the excitement and joy of collecting just as strong as they remember as kids.
History's Greatest Sports Card Collectors
You might thing you have a great card collection, however, there are a few people who've defined the art of sports card collecting. Here's a few of my top picks for the sports card collecting Hall of Fame.
E. Powell Miller
Joel Platt
Jefferson R. Burdick
Paul Jones
Leopold Morse Goulston
James Micioni
George Arents
Ronald S. Korda
The Very First Sports Cards
So when did all of this sports card craziness begin? The earliest known baseball card dates back to 1860, when the Brooklyn Atlantics printed a card with the team photo for fans.
Not long after that in 1886, the first baseball cards were printed by a tobacco company to promote the brand and stiffen the pack of cigarettes.
Sports Card Valuations
Way back in the day, it was easy to value sports cards. When I started collecting, there was only one source for prices, the Beckett price guide. A monthly publication listing every single card and the value, along with the increase or decrease in value compared to the previous month.
Now, we have dozens of price guides, auction sales results, and sports card price indexes at our fingertips.
Tracking price changes of your sports cards can be a full-time job. Here are a few methods to save you time, and stay on top of rapidly changing valuations.
Card Ladder
If you haven't tried Card Ladder, I highly recommend you check it out. It's probably the cleanest, fastest, most comprehensive website for sports card valuation I've ever seen.
Card Ladder tracks trading card values individually, and also through several price indexes. I love price indexes. And when they are done well, and updated daily, they can give you snapshots of critical information so you can make better collecting decisions.
So what does Card Ladder say about current sports card valuations? The charts don't lie, most card values have been sliding lower since the insane run-up of 2020. Here's a chart of the CL50, a price index including 50 hand-picked, most important sports cards.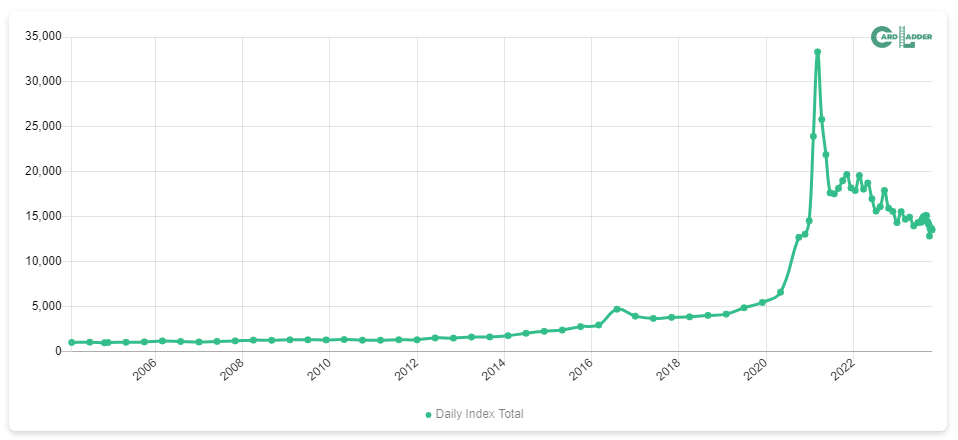 As you can see in the chart above, there's a familiar boom-and-bust pattern that long-time collectors will recognize. My guess would be if the above chart was extended back to the mid-1980s you would see a similar pattern peaking around the 1989-90 years.
One more look at the CL50 price index from Card Ladder, zoomed in on the last 2 years.
PSACard.com
The PSA website is getting better every day for card valuations. Now, the website lists each sale of a particular card and sorts results according to the PSA grade.
By looking at the recent sale prices for a certain card, the sales date, and which auction house sold the card, you can get a pretty good idea of not only the current value, but also which way the card value is trending.
Take a look at the PSA screenshot for the 1986 Topps Traded Bo Jackson rookie card.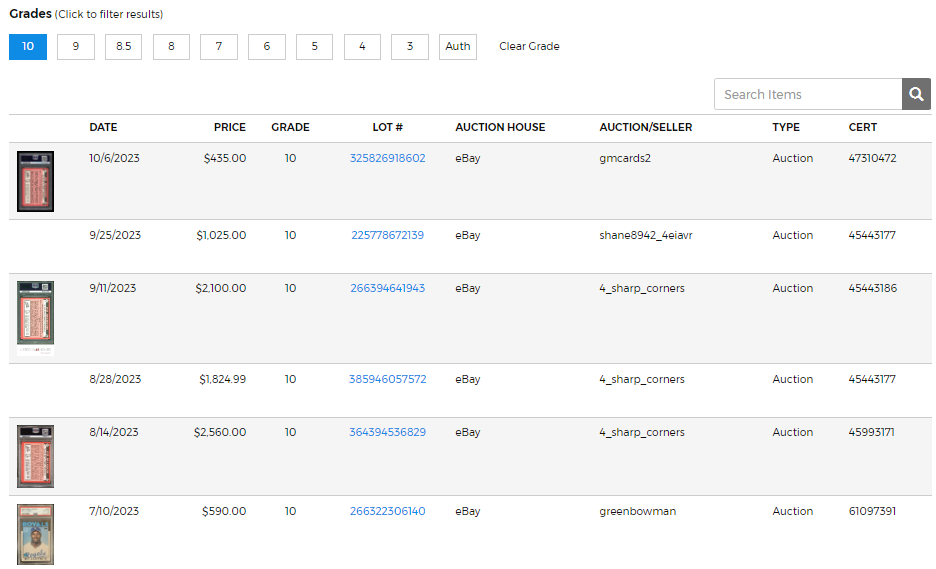 Using the PSA, "Summary Price by Grade" filter, you can see every sale of the 1986 Topps Traded Bo Jackson rookie card by PSA grade. The most recent sale of a PSA 10 card shows the price at $435. By seeing recent sales, you can be confident in values for comparable cards. This is one of my favorite methods for researching current values.
Beckett Price Guide
Beckett Media was started by Dr. James Beckett in 1979 when he published the Sport Americana Baseball Price Guide. Since then, the Beckett name has grown into one of the most respected brands in sports card collecting.
Through their online service, Beckett offers daily updated card prices, along with several other features. And a mobile app makes it easy to track your collection away from your desk.
Prices for the monthly price guide service start at about $15.
---
Sports Card Facts and Figures
Every year, somewhere between 1 and 2 million baseball cards are printed. Some estimates say there are nearly 980 million sports cards to date.
The sports card market is expected to grow to a market size of $100 billion by the year 2027.
The most valuable hockey card is the 1979-80 O-Pee-Chee Wayne Gretzky rookie card which sold for $3.7 million in 2021.
eBay is the most popular sports card auction site, where 90 cards are sold every minute.
The Players – Biggest Companies Involved in Sports Cards
Sure, you might love to make trips to your local card shop for all your collecting needs, but you should really know the massive companies behind the distribution of the sports cards you know and love. Here's a few of the biggest companies presently shaping the industry.
Fanatics
Panini
Marvel Entertainment Group
Collectors Universe
PWCC Marketplace
Sports Card Brands
Fleer
Donruss
Panini
Auction Houses
eBay
Goldin
PWCC Marketplace
Heritage Auctions
Pristine Auction
Mile High Card Company
Robert Edward Auctions
Lelands
SCP Auctions
Fanatics Auctions
The Players – Biggest Private Collectors of Sports Cards
Present Day Collections
Ken Kendrick
Richard Angrist
Rob Lifson
Marshall Fogel
Gary Cypres
Pat Neshek
Todd Lieberman
Josh Donaldson
Marshall Fogel
Celebrity Card Collectors
Charlie Sheen
Drake
Mark Wahlberg
Steve Aoki
Snoop Dogg
Darren Rovell
Keith Olbermann
The Influencers – Sports Card Market Top Executives
Michael Rubin – CEO of Fanatics
Steve Cohen – Billionaire hedge fund manager, and co-owner of Collectors Universe
Nat Turner – CEO of Collectors, and co-owner of Collectors Universe (PSA)
Chris Ivy – Heritage Auctions Director of Sports Auctions
Mark Warsop – CEO of Panini
Brent Huigens – Founder of PWCC Marketplace
Dr. James Beckett – Founder of Beckett
Joe Orlando – Former CEO of PSA
Grading Sports Cards
The popularity of grading sports cards took off in the late 1990s. The internet boom and the growth of eBay had card collectors flocking to authenticate and re-sell their cards.
Most collectors might consider PSA the original card grading service dating all the way back to 1991, however, they were not the first grading service.
Accugrade Sportscard Authentication (ASA) was founded in 1984 by Alan Hager, and laid the groundwork for what would become the sports card grading industry.
Hager patented the case for sports cards, and PSA later acquired his card holder design.
Top Sports Card Grading Companies
PSA (Professional Sports Authenticator) – PSA is the most recognized sports card grading company because it's been grading cards for over 30 years. Prices for PSA grading start at $25 per card for values of $499 or less.
BGS (Beckett Grading Services) – In the year 2000, Beckett began grading sports cards and branded the service 'BGS.' Beckett evaluates cards using four key metrics, corners, surface, edges, and centering. Prices start at $22 per card for the base grading service.
SGC – A third option for grading sports cards is SCG. The company is known for affordable card grading and reliable turn-around times. Since 1998, SGC has served card collectors around the country. Prices start at $15 per card.
CGC (Certified Guaranty Company) – Not only does CGC grade sports cards, but they also serve comic book, VHS, and video game collectors. Prices start at $15 per card with a 45 day turnaround time.
---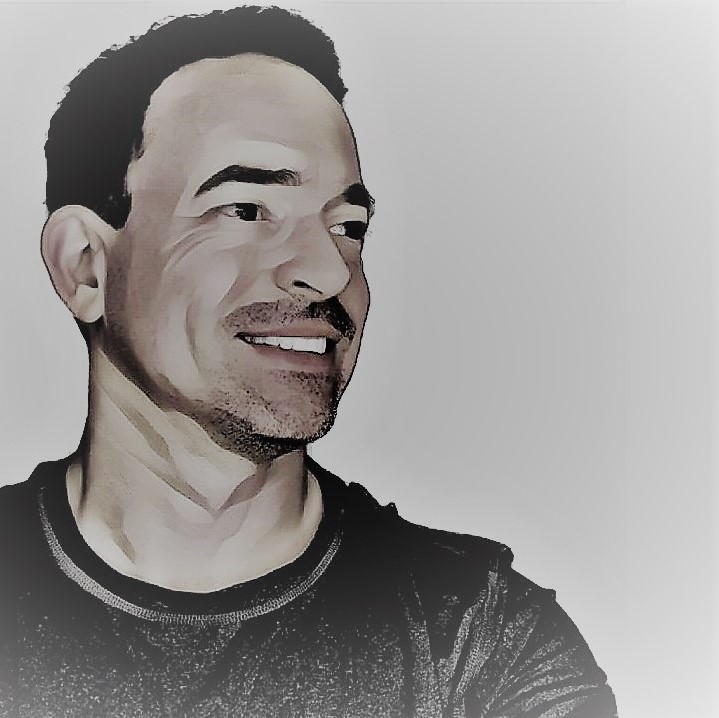 R.J. Bachman
Attic Capital – Writer, Editor, and Lifelong Collector
After many years of collecting rare coins, sports cards, and all types of collectibles, I began writing at Attic Capital to share my experience, knowledge, and passion.
I would love to connect with you, so don't hesitate to reach out and let me know more about your passion for collecting.