---
Growing up, I thought I had a relatively decent collection of baseball cards. These were the days of trading cards with the neighborhood kids. It turns out I did not have the greatest baseball card collection of all time. Although I did manage to grow the collection. The intent was gaining as many cards of your favorite players as possible. It didn't take much detective work to figure out who little Bobby's favorite player was. Without much salesmanship, you could dish off a few of his favorite cards to gain something you had your eye on out of his tidy collection.
Repeat the process day after day, month after month with dozens of different kids favoring completely different players. Willing to do business within entirely different guidelines, and if diligent enough, you were well on your way to perfecting your own collection. Along the way, hopefully netting a few gems worthy of a solid plastic case.
"A Magic carpet that takes you away from work-a-day cares to havens of relaxing quietude where you can relive the pleasures and adventures of a past day – brought to life in vivid picture and prose.

– Jefferson R. Burdick, owner of one of the greatest baseball card collections of all time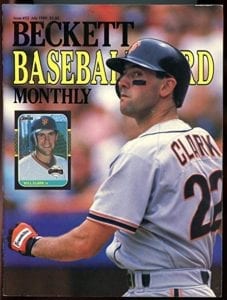 Then the game changed. Someone brought a thin magazine to the trading session and dropped it on the carpet in the middle of the floor. "What's that?" One kid quizzed the group with a puzzled look. The magazine had the words, 'Beckett Baseball Card Monthly' across the top and a glossy cover with a close-up photo of a then superstar-of-the-moment ballplayer.
Beckett Baseball card monthly changed the game for the kids in the neighborhood. Now we were searching for the highest-priced and most popular items rather than merely collecting our favorite players. The goal of collecting favorite players and hometown heroes suddenly shifted to dollars and cents. The 'Beckett' was a must-have item, and those without the latest pricing info would soon be swindled out of their high-priced cards without ever knowing it.
As cards rose and fell in value, the fortunes shifted throughout the neighborhood as each kid would anticipate and track their personal holdings. This was a necessity if you were an active trader as you had to be ready to defend the lamest trade offers. Scam artists circled like vultures, knocking on your door looking to pillage your collection.
Many people look back on baseball card collecting as their first encounter with business and investing. The skills acquired and practiced during this childhood pastime was an essential part of growing up and maturing as an adult in many cases. Learning new skills and having a ton of fun at the same time is a recipe for success. Many people can still recall their own best and worst trades made from their childhood collections and lessons learned from each.
A Whole New World
Decades later, we find ourselves in a completely different world when it comes to card collecting. Some of the most significant private baseball card collections in the world are held by people who fondly remember trading and collecting cards as kids.
E Powell Miller's collection is valued at an estimated $5 Million. The highlight of his collection is a complete set of T206 cards that went into tobacco packages between 1909 and 1911.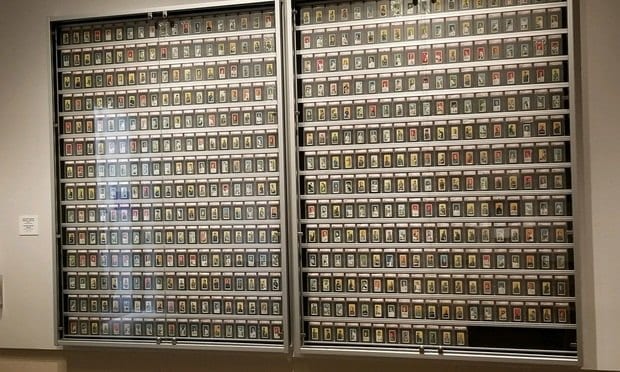 Many of the most notable card collectors started out in similar fashion. A love of baseball and a dream of someday wearing a pro jersey was a common trait among the youngsters just starting a collection. To these collectors, it was a way to stay involved with the game they loved even in the offseason when there were no games to watch. When the realization set in that they were not going to be the next Mickey Mantle or even play on the high school team, collecting cards put them up close and personal to the game year-round.
Over the years, careers in different fields are perused, families started, and successes away from baseball are spun into the decades. Many early collectors return to a past time they had fond memories of. They begin again, this time with new energy, passion, and possibly most importantly, the financial resources they didn't dream of as a youngster.
A Lifelong Pursuit
One of the most amazing and spectacular stories in sports cards belongs to Joel Platt. The story began when Joel was 4 years old, hanging around a gas station. He tossed a match into a gas tank of a car resulting in an explosion. The youngster landed himself in a hospital for nearly a year. During this time of recovery Platt's parents brought him baseball cards while he recovered from his injuries.
During this time, Platt recalls Babe Ruth came to him in a dream. "Don't give up," he was told. "You can be a baseball player or open a museum to sports legends." The words were not taken lightly by the youngster. After he recovered from the explosion, he continued collecting cards. He expanded his collection to include autographs and other collectibles from the sports world.
Joel continued over the years as a successful professional with a career in Commercial Real Estate and Merchandise Sales. During this time, he accumulated what turns out to be a over 1 million piece collection valued at over $250 Million. Included was the greatest baseball card collection of all time. The collection journey has taken Joel around the world. Meeting the most significant collectors and, at times, buying entire collections from others. In the process, he amassed a genuinely spectacular museum of one of a kind artifacts and historical pieces, many which could be argued to be priceless.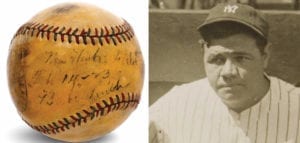 The Best Kept Secret in Card Collecting
For almost 70 years, the Metropolitan Museum of Art has owned one of the greatest baseball card collections of all time. Donated by a Syracuse electrician named Jefferson Burdick in 1947, he is known and considered to be the father of baseball card collecting. The collection contains over 300,000 items in which many, if not most, have never seen the light of day.
From the age of 10 years old, Burdick began collecting the cards which date from the 1860s to 1963 and include not only sports cards but also advertising inserts, postcards and posters. Found on The Met website is a fantastic quote from Burdick. In 1960 he wrote, card collection is "a magic carpet that takes you away from work-a-day cares to havens of relaxing quietude where you can relive the pleasures and adventures of a past day – brought to life in vivid picture and prose."
The collection includes over 500 albums donated by Burdick, which were kept in a museum storeroom. The cards couldn't possibly be displayed for public viewing due to the immense quantities of cards. So in 2010, a fundraising initiative began to digitize the entire collection and create an online database where anyone could access and enjoy the preserved historical cards.
More than 30,000 baseball cards are included and represent one of the greatest baseball card collections of all time. Illustrating the history of the game from the dead-ball era of the 1900s to the golden age and modern era of the sport.
View parts of the collection, Baseball at The Met and Sports Cards, through The Metropolitan Museum of Art website, Metmuseum.org, entirely digitized and summarized for the public to enjoy. It's genuinely an immense wealth of history and nostalgia gifted by not only a generous collector but also a great writer and historian.
The 1937 baseball season is now in full swing and the nation's fans are daily cheering their favorite diamond stars. Baseball's heroes come and go, but few people have a better record of the game's great ones than the card collector . . . For Ruth and Gehrig and other present-day celebrities we must turn to the various candy and gum cards issued during the past few years. While intended primarily for the younger fans, they are of equal interest to all who love our national game.

—Jefferson R. Burdick
People are drawn to collect different things for different reasons. Most of us won't have multi-million dollar collections worthy of museum dedication like E Powell Miller and Jefferson Burdick. The one common thread that comes through over and over as I read about these legendary collectors is a pure joy that collecting can bring.
A youngster not only learns many essential life skills at an early age perfecting their collections, but they also tend to have tons of fun. Evident by fond memories of chasing that next big card. Dreams of having the greatest baseball collections of all time while having fun and making new friends.
---