---
Gary Vee loves sports cards. He made a great call a few years ago on sports cards booming. Now he's been doubling and tripling down on his sports card investments.
He also gives some compelling thoughts on why he believes the sports card craze will continue for longer than you might think.
Now that I think about it, Gary Vee made one of the most confident predictions since Owen Nolan called his shot on a breakaway against Dominik Hasek in the 1997 All-Star Game. (I'm always looking for a reason to reference Owen Nolan. See the video at the end of the post)
Gary Vee's Big Call
Let me be clear on how Gary Vee nailed his sports cards call. Here's Gary's quote from The Rich Eisen Show interview on April 17th, 2019.
"Well, I don't think people understand that sports cards are about to become a cultural phenomenon again, so I'm just putting it on the record, in the media so I'm historically correct…"
I'm not sure if you remember, but in early 2019, it was not an obvious conclusion that sports cards were going to come back. Not in the least bit. It was starting to, but Gary Vee was all over it.
Who is This Guy?
For those of you who don't know, Gary Vee is also known as Gary Vaynerchuk.
He's an entrepreneur, CEO of Vaynermedia, author, speaker, social media star, and engaging personality with a massive following on various media platforms.
For about three years now, Gary Vee has been pounding the table on sports cards and how they are coming back in a big way. Well, that's exactly what happened.
Do Not Sleep on Gary Vee
I'm thinking about this now because I can remember stumbling on one of his videos a few years ago after a friend mentioned his name. I knew Gary Vee but hadn't really checked in on him in the last few years.
In that video I stumbled on last year, he talked about sports cards making a big comeback. When I heard it, I remember thinking, "wow, I wasn't expecting that."
Fast forward two years, and sure enough, Gary Vee was right on baseball cards, basketball, football, hockey, and every other type of trading cards and sports cards out there.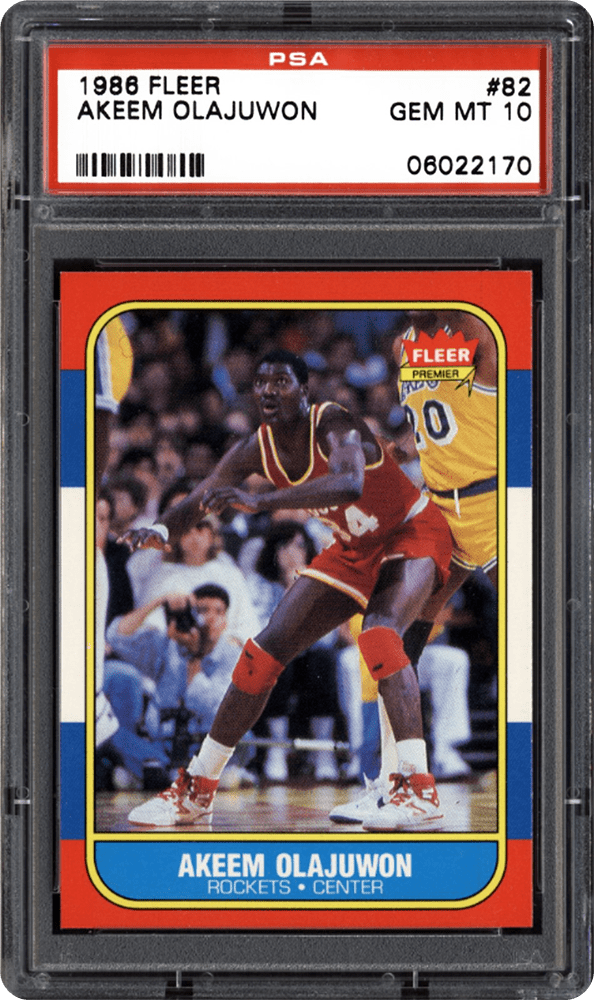 Do you love old basketball cards? So does Gary Vee. We all remember the Fleer Michael Jordan rookie card from 1986, but Gary is big on the 1986 Fleer Hakeem Olajuwon Rookie card, which he feels could be a much better investment.
---
Along with his prediction, he's never shy about explaining in detail how he came to his conclusion, which is one of the reasons I like him. He's unique, original, and not afraid to put himself out there.
Big Trends Moving Toward Sports Cards
Whether it's the kids from the 1980s who collected sports cards and remember their childhood passions or the Millenials and young people moving from sneakers to cards, Gary Vee has a solid argument.
Here are a few reasons why Gary Vee likes sports cards as a great alternative investment over the next few years.
Kids who flipped sneakers will start selling sports cards.
Sports card collectors from the 1980s now have kids of their own.
Gambling on sports is growing.
As you can imagine, Gary has much to say on the topic. If you're beginning to collect sportscards, I highly recommend reading a few of his articles here and here.
He's done his homework and has solid advice for new collectors.
---
Sports Cards are Back
Sportscard prices have soared in recent years. What's fueling the fire of the sports card craze? Over the next decade, Generation X'ers with kids will remember their childhood interests.
Anyone growing up in the 80s most likely had a small baseball card collection, or a few stacks of 1987 Topps series baseball cards, at the very minimum.
Those same parents will now be introducing the love of collecting to their children.
Modern cards have boomed just as much, or more, than the vintage cards. The Zion Williamson rookie card has soared in recent years, along with every other athlete deemed the next big thing.
Collectors are focused on who might be the next Jordan or Kobe and stand ready to buy cards at the first indication a player's future looks promising.
Big Players Coming Back to Sports Cards
Big-time celebrities have also been pouring into the craze. Famous American D.J. and record producer extraordinaire Steve Aoki has been very active in buying numerous big-ticket modern cards.
When asked why he started collecting cards again after his childhood hobby burnt out, Aoki said, "It's like fantasy sports, combined with stocks, combined with nostalgia combined with gambling." he said. "It's like fantasy sports on steroids, but you can actually own the card."
Look at the Lebron James rookie card, for example. Don't have millions to grab your very own 2003 LeBron rookie? Aoki has some advice and explains the approach for new collectors perfectly in a recent interview in RollingStone.
"Say you love LeBron, right? Everyone loves LeBron. Go for a 2019. Those cards are not going to be nearly what his 2003 rookie years are. Get that card for $100. Get it slabbed. It's like a frame. Put it up on your wall or your mantle. You've got your LeBron card. Boom! The Lakers won last year. Get it in his Lakers uniform and put it up. It all starts with what matters to you."
Celebs, famous athletes, and influential business people have not only taken up an interest in sports cards lately, but they've also taken center stage in the hobby.
Evidence is clear from the National Sports Collectors Convention, where it's a booming business.
---
READ more about amazing athletes and their valuable rookie cards –
Barry Bonds Rookie Card, How Many Should I Have?
Rickey Henderson Rookie Card and the Man of Steal
Beyond the Walter Payton Rookie Card
The Greatness of the Barry Sanders Rookie Card
Roger Clemens Rookie Card Breakdown
---
Fanatics, Josh Luber, and the Future of Topps
Keep your eyes on Josh Luber. As the co-founder of StockX, the stock market of things, Luber knows a few things about collecting.
After taking his StockX idea to a multi-billion dollar platform, Josh recently moved to his new role as Co-Founder and Chief Vision Officer of Fanatics Trading Cards.
That's the same Fanatics company that recently purchased the Topps trading card company. (yes, that Topps!)
Bringing it Back to Gary Vee
One of the things I appreciate about Gary Vee's message is the enjoyment factor. People getting excited and having fun collecting sports cards is pretty cool.
Maybe it's all about the money for some folks, but many people really do have a great time researching and collecting sports cards without the desire to make a fortune while doing so. That's always encouraging to see.
There Will Be Blood – There Always Is
The world is full of scammers and con artists. Sports cards will be no different. From counterfeiting to grading tricks to oversupply.
The industry has issues to deal with, no different than art, cars, watches, or the public stock market. There's always a risk of loss and inherent risk in any investment; sports cards are not unique.
What's the Next Gary Vee Call?
Let's give credit where it's due. When someone makes a good call and has solid, thoughtful advice to offer, let's tip our cap. In a world full of unsavory characters, Gary Vee is a breath of fresh air.
And if you're looking for fresh ideas and takes, look no further. Whether it's NFTs or anything else under the sun, you can be sure Gary Vee is already cooking up his next big call.
He's full of ideas. Of course, some are better than others, but I appreciate his thoughtfulness and relentless energy.
He has a strong passion for business and seems genuine in his attempt to help others. Well played, Gary Vee.
---
READ more about amazing athletes and their valuable rookie cards –
Mr. November, the Ultimate Derek Jeter Rookie Card Guide
Top 20 Frank Thomas Rookie Cards
Respect for the A-Rod Rookie Card
---
Card Collectors –> Looking to Sell Baseball Cards? Here's How (and Where) To Do It