---
You might remember the 1986 Topps baseball cards as plain, boring, or ugly. I remember them as marking a transition in baseball where a new era began, and the game reclaimed its status as a national pastime.
Topps Baseball Cards
Baseball cards in the 1980s were relatively simple compared to the current landscape of the industry. The early 1980s included only a few card brands, and Topps was the most recognized. Of course, there was also Fleer, Donruss, and late in the decade, Upper Deck, but Topps was the standard.
The Topps baseball card maker's roots date all the way back to 1890 when Morris Shorin started a company called American Leaf Tobacco. During World War I, the company had difficulty with its tobacco supplied from Turkey.
Later, the Great Depression of the 1930s would impact the companies sales. Shorin had four sons, Abram, Ira, Joseph, and Philip, who would refocus the company on chewing gum. The four brothers formed Topps in 1938, with the goal of becoming "tops" in their industry.
---
After finding success with their Bazooka bubble gum, the Shorin brothers attempted to increase sales at Topps by packaging their gum with trading cards in 1950. The first rendition included the Western character Hopalong Cassidy, one of the biggest T.V. stars at the time.
Sy Berger
With the Hopalong Cassidy trading cards' success, Topps realized it would be wise to expand on the concept. Sy Berger, a 28-year-old Topps employee, was tasked with designing the now-famous 1952 Topps cards. The rest is history, as they say. The 1952 Topps set featured the Mickey Mantle card, now valued at over $3 million. Sy Berger would go on to work at Topps for over 50 years.
Baseball in Transition
The game of baseball is always going through phases. Baseball cards are no different. The 60s and 70s had their ups and downs for the sports card market, but Topps continued with their yearly sets. When the 1980s rolled around, baseball was dealing with a few popularity issues. The strike in 1981 hurt baseball's image.
It also needed to replace the game's huge personas from previous decades that weren't around anymore. Names like Aaron, Clemente, Mays, and Mantle, these players were now retired. And the new stars of the early 80s were just more soft-spoken than, say, a Reggie Jackson-type character.
---
Robin Yount, Tony Gwynn, Ryne Sandberg, Dale Murphy were great players but would not be considered outspoken in the least bit. Eddie Murray, Andre Dawson, Cal Ripken Jr., and Ozzie Smith, more great players but lacking in superstar qualities that would captivate audiences like a Mantle or Willie Mays.
1986 Topps Baseball Cards
I don't think anyone would say there was a baseball card "craze" in 1986, but they were gaining some momentum, much like the game itself.
I would consider the 1986 Topps baseball cards to mark a turning point in both baseball cards and baseball's popularity overall. Some of the greatest players of all time had their rookie seasons right around this time. Bo Jackson, Barry Bonds, Roger Clemens, Mark McGwire, Jose Canseco. These were future superstars who would leave their mark on the game, in one way or another, forever. And with personalities larger than life to attract fans back to baseball.
The Greatest Athlete of All-Time
I can easily make the case that Bo Jackson is the greatest athlete ever to play professional sports. It's almost not even a discussion at this point. He's a legend in every sense. And the 1986 Topps Traded Tiffany Bo Jackson rookie card might be my personal all-time favorite card. Right up there with the 1989 Upper Deck Ken Griffey Jr.
I don't need to run down Bo's career stats, highlights, and accomplishments to make people understand what type of athlete he was; most people already know. In fact, his famous marketing campaign for Nike was such a success. People started to think "Bo Knows" just about everything. The 1986 Topps Bo Jackson card was the start.
1986 Topps Bo Jackson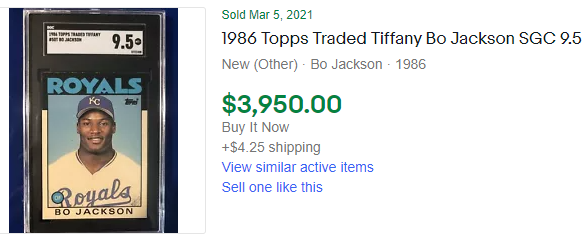 ---
Baseball fans talked about Vincent Edward "Bo" Jackson from the time he was playing in high school. If you read Bo's book, Bo Knows Bo; he was actually a legend in his own neighborhood when he was about 5 years old. I read the book, and if half the stuff in the book is true, Bo is undoubtedly the most amazing athlete ever to live.
One of the most anticipated debuts of a baseball player occurred in Kansas City in late September of 1986. His first at-bat was an infield single, where he beat the throw from second base and showed his blazing speed.
---
The Greatest Hitter of All-Time
Barry Bonds might be the Rodney Dangerfield of baseball; he gets no respect. And by no respect, I'm saying his 1986 Topps Traded Tiffany rookie card has only recently started to sell for good money. The most recent sales of 1986 Topps Barry Bonds PSA 9 cards have been right around $1,500.
Allow me to remind you that the guy has 762 career home runs, more than any other person ever to play major league baseball. Bonds has hit about 230 more home runs than Mickey Mantle – if that means anything to you.
1986 Topps Barry Bonds

---
And before you mention the performance enhancements that Bonds might have indulged in, let me say that maybe half the pitchers he faced were also roided out of their minds. Do you really think Harmon Killebrew could have handled a 102 mile per hour fastball from Eric Gagne?
The 1986 Topps Traded Tiffany Barry Bonds rookie card deserves some respect. Respect for the player, the home runs, and the swagger that Bonds would demonstrate for the next 21 years after this card was printed. It's the premier card from perhaps the greatest hitter of all-time. ( * )
---
The Rocket
There was a time when Roger Clemens was the most feared pitcher in the world. Nobody wanted to face him. They wanted no part of The Rocket. The 1986 Topps Roger Clemens was not his rookie card, but it was the year Roger became "The Rocket."
After getting drafted 19th overall in the 1983 MLB draft by the Boston Red Sox, Clemens soared through the minor leagues' ranks. Only one year after being drafted, he made his major league debut on May 15th, 1984.
At the start of the 1986 season, Clemens did something no other pitcher in history had done. He stuck out 20 hitters in a nine-inning game against the Seattle Mariners. He would go on to win the American League MVP in 1986 with a 24-4 record and 238 strikeouts.
1986 Topps Roger Clemens

---
There are plenty more incredible Roger Clemens achievements to mention. Some would say his legacy is tarnished by the controversy of the steroid era and other incidents that may or may not have happened over his life. But one thing is clear; the 1986 Topps Roger Clemens card marks the moment when The Rocket was born.
---
Topps Baseball Cards Value
There were other notable 1986 Topps baseball cards such as the Eric Davis, Nolan Ryan, and Andre Dawson card. Ryne Sandberg, George Brett, Keith Hernandez, and Rickey Henderson were also included in the Topps set. Don Mattingly, Dwight Gooden, Pete Rose, Will Clark, and Carlton Fisk all had 1986 Topps baseball cards.
The 1986 Topps baseball cards were packed with future Hall of Fame players. If you remember trading these cards as kids, they will always be incredibly nostalgic, even though the card's actual design is perhaps one of the most boring layouts in baseball card history. It turns out these cards are historically significant after all.
Topps 1986 Complete Set Values

---
The sealed 1986 Topps baseball factory sets still hold valuable, especially if it's the Tiffany and Traded versions. Topps card wax packs are also valuable if you can somehow authenticate the packs are still factory sealed. 1986 Topps baseball cards will live in infamy as marking the beginning of many eras to come.
---
Other players printed in 1986 Topps baseball cards include Shawon Dunston, Darryl Strawberry, Rollie Fingers, Carney Lansford, Tom Seaver, Bret Saberhagen, Dave Winfield, Mike Scioscia, Cecil Fielder, Ozzie Guillen, Vince Coleman, Wade Boggs, Terry Francona, Andres Galarraga, Willie Wilson, Steve Carlton, Bobby Bonilla, Orel Hershiser, Gary Gaetti, Dan Quisenberry, and Gary Carter.
There's an unbelievable 43 players from 1986 Topps baseball cards who have been elected to the Hall of Fame.
---