---
A Rickey Henderson rookie card in excellent condition is not only a great collector's item but a tribute to an all-time classic character.
In the last few decades, the card has skyrocketed in value. Rickey Henderson was an electric baseball player, memorable for his speed, power, and unique personality.
He was an MLB record holder in dozens of categories, and arguably the greatest leadoff man in baseball history.
The 1980 Topps Rickey Henderson rookie card marks a turning point for baseball cards and features a player who will be remembered for his dynamic style, on and off the field.
Topps Rickey Henderson Rookie Card
Starting in the 1950s, Topps was the only baseball card producer in the U.S., and their monopoly over the baseball card industry allowed the market to boom.
However, new baseball card manufacturers came in 1981, ending Topps' monopoly and eventually flooding the market with low-valued cards.
Many 1980s baseball cards aren't worth as much as older cards from the 50s, 60s, and 70s. But several, including the Rickey Henderson rookie cards, are incredibly rare and sought after.
Despite this change in the baseball card market, the 1980 Topps set is highly valued. It is the last issue from the Topps monopoly before new brands began to flood the market.
1980 Topps cards feature many great rookies and eventual Hall of Famers, as their baseball careers exploded in the late 80s to early 90s. It's a classic Topps design, complete with team pennants and stamped autographed player signatures along the bottom of the card.
Rickey Henderson Rookie Card – 1980 Topps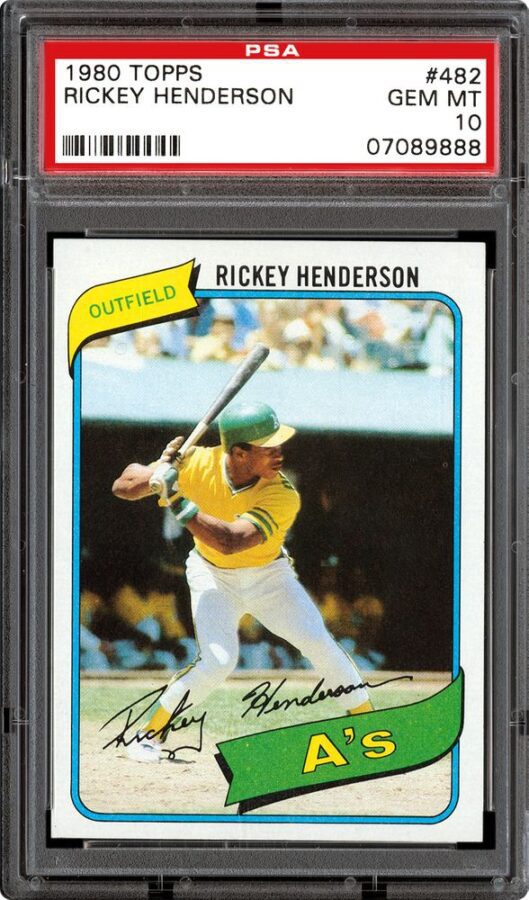 ---
1980 Topps Rickey Henderson #482 Rookie Card
One of the most important aspects of baseball card values is rarity. The more rare the card, the more valuable it will be.
So how do you know how many cards were produced of a certain player? That's a difficult question. But there is one way to know how many cards have been graded, and that's to look at the population report.
PSA lists 25 Gem Mint PSA 10 1980 Topps Rickey Henderson rookie cards, each one valued at $125,000. They have confirmed 2,119 PSA 9 cards, each valued at $2,400.
Drop down to a NM-MT PSA 8-graded card, and the population starts to jump. More than 11,100 PSA 8 cards have been certified by PSA.
At just $290, the values for a PSA 8 Rickey Henderson 1980 Topps card also reflect the high population.
Rickey Henderson Rookie Card Value
One of the most notable baseball cards from the 1980s is the Topps Rickey Henderson rookie card. The PSA 10 graded Topps card has sold at Heritage Auctions and an eBay partner network for over $100,000.
Some of you might forget why a Ricky Rookie is so valuable.
Keep reading for a refresher on why the Hall of Famer was one of baseball's best lead-off hitters and base stealers ever to play the game.
There's more to Rickey than just stolen bases. He's an all-time classic.
---
Rickey's Early Years
Rickey Henderson was born in Chicago, Illinois, in the back seat of an Oldsmobile heading to the hospital in 1958. His parents separated when he was two years old. His mother and siblings moved to Oakland, California when he was seven. 
Henderson was a natural athlete in high school, playing baseball, basketball, football, and track.
It seemed like his athletic career would have been in football: he was a star running back and linebacker and received over a dozen scholarship offers.
However, a professional career in the NFL was not in the cards, so he turned down the scholarships. The decision was heavily influenced by his mother, as she explained in 1982,
"I was kind of scared of him getting hurt playing football. It was all right when he was playing tag football, but when he started playing tackle, I didn't like it, … I thought he wouldn't last as long-playing football."
Despite being a great football player, Rickey was drafted by the Oakland Athletics in 1976. Henderson made an instant impression in the minor leagues and quickly joined the major league team in only three seasons.
Rickey Henderson Rookie Card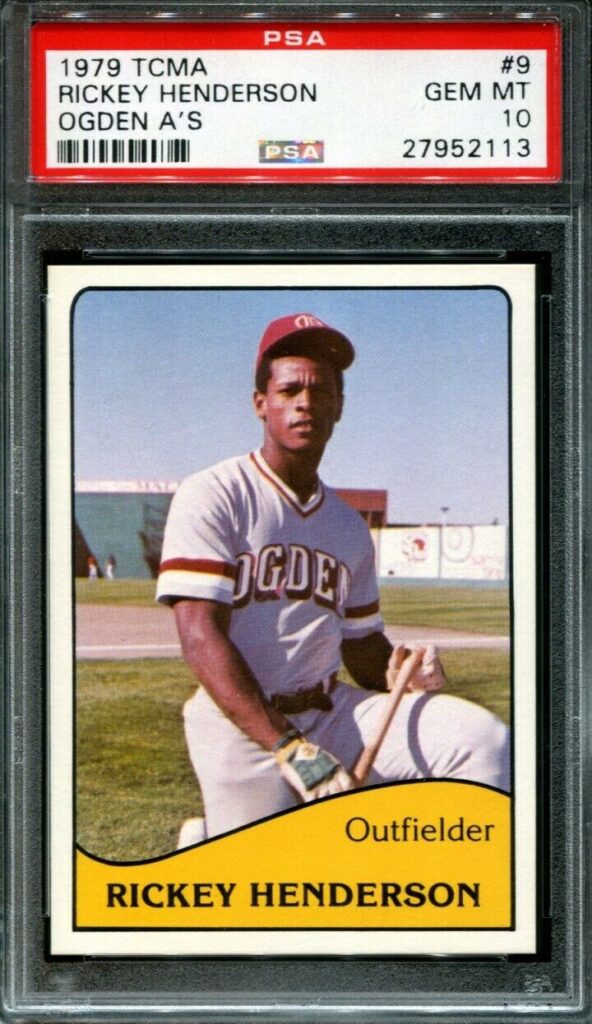 ---
Rickey Henderson's MLB Career
In 1980, Henderson would become the third modern-day player to steal 100 bases in a season. In the next few years with the A's, he would eventually finish with three 100-plus steal seasons in 1980, 1982, and 1983.
In 1982, Henderson broke the single-season record by stealing 130 bases. 84 of those steals came before the All-Star break.
No one had ever stolen 84 bases in an entire season, let alone by the All-Star break. Rickey was quickly becoming the greatest baserunner of all time.
In 1985, he was traded to the New York Yankees. He would become the first player in major league history to reach 80 stolen bases and 20 home runs.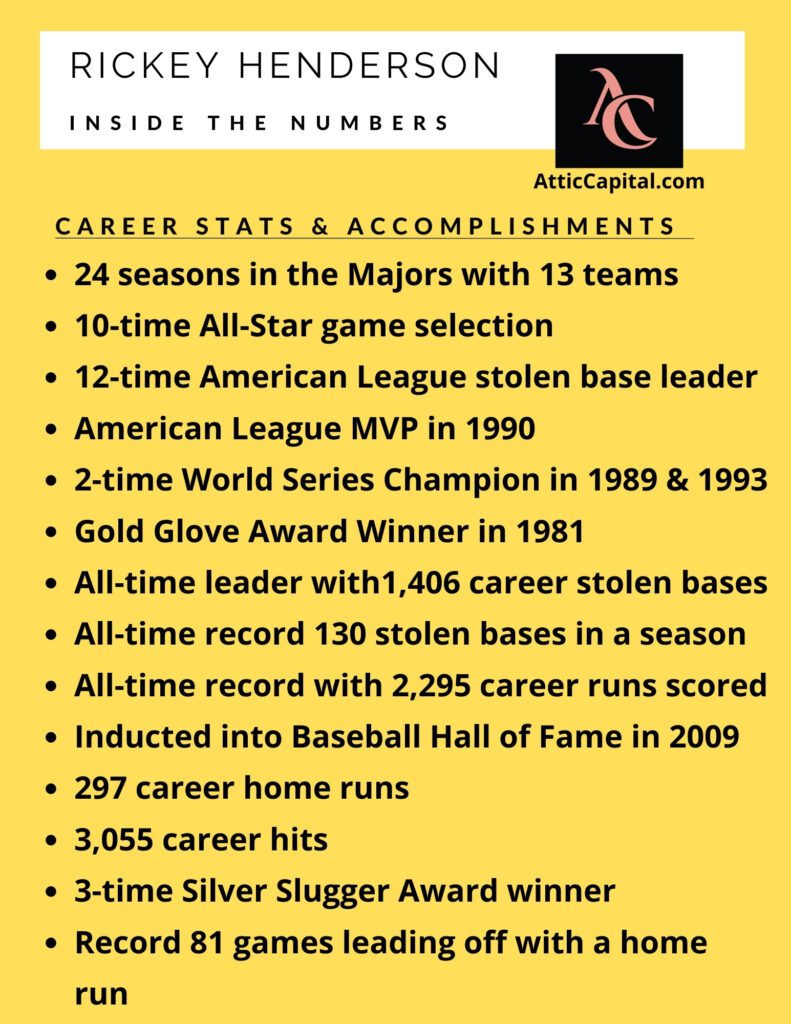 Rickey didn't only have speed, he had power too. In 1985, he won the Silver Slugger Award.
However, Henderson entered a slump in 1987 and would have a problematic relationship with the New York media and Yankee fans.
Rickey Henderson Breaking Records
Rickey bounced back in 1989 after a mid-season trade to Oakland, where he became MVP of the American League Championship Series. He led the Oakland A's to win the World Series, which has not happened for the franchise since 1974.
During Henderson's second stint with the Oakland A's, he stole the 939th base of his career in 1991, breaking the previous record set by Lou Brock.
As it stands, Henderson has 468 more stolen bases than Brock and has 50% more stolen bases than the sport's all-time runner-up. The margin between the two men's totals is one of the greatest in any professional sport to date.
Henderson was traded to the Toronto Blue Jays in 1993. While he had a disappointing performance, most likely due to a bone fracture in his hand, he helped Toronto win the World Series.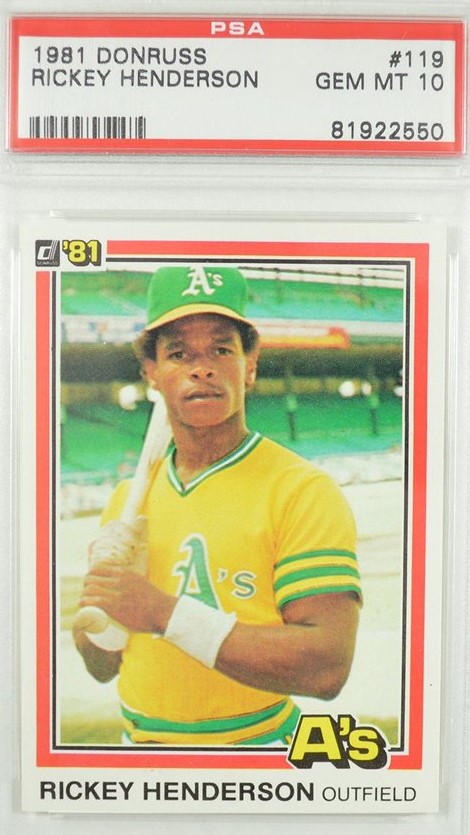 ---
Rickey's Retirement
From 1994 to the end of his formal MLB career in 2003, he would move from team to team.
The Oakland A's, the San Diego Padres, the Anaheim Angels, the New York Mets, Seattle Mariners, Newark Bears, and LA Dodgers. He played for nine different teams over his 25-year career.
After leaving the Dodgers in 2003, Henderson would not accept the end of his major league career. In 2005, he insisted he could still play in the major leagues.
NBC and ESPN reported Henderson announced his official retirement at the end of the year. He would concede his official retirement in 2007, stating –
"I haven't submitted retirement papers to MLB, but I think MLB already had their papers that I was retired."
Henderson continued to stay involved in the baseball community in retirement. In 2006, he was hired by the New York Mets as a special instructor to teach base stealing and work with hitters.
In 2007, he was promoted to full-time first base coach. He coached in the minor league, independent league, and held assistant manager roles in the major leagues.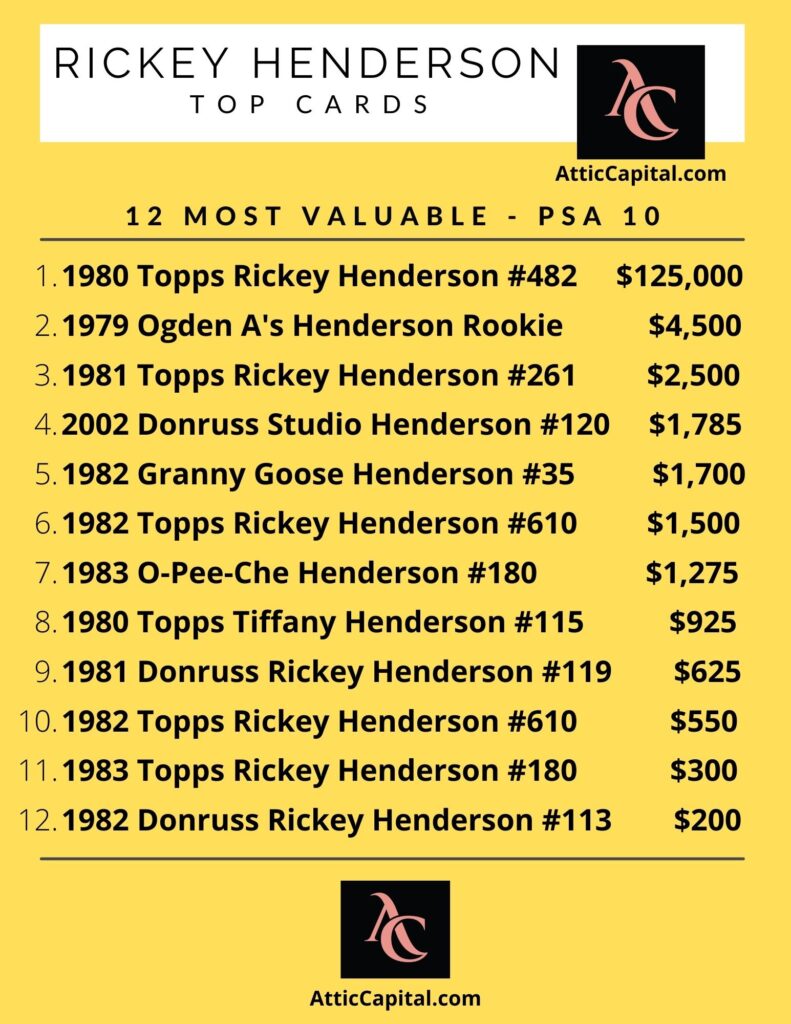 Rickey Henderson's Amazing Career Stats
Throughout his 25-year major league career, Henderson accumulated several awards and records still held to this day. His nickname was the "Man of Steal," having stolen 1,406 bases during his career.
He holds the single-season all-time record for 130 stolen bases in 1982. Additionally, he holds Major League records with 2,295 career runs scored and 81 career leadoff home runs.
Henderson will go down in history as one of baseball's greatest lead-off hitters, bringing the Oakland A's and the Toronto Blue Jays to the World Series.
In addition to winning two World Series, he was also a 10-time All-Star, a Gold Glove winner, an American League MVP, a 3-time Silver Slugger, and a first-ballot HOF – Hall of Famer in 2009 with 94.8% of the required votes.
Rickey Henderson Legacy
Rickey Henderson's legacy as one of the game's best lead-off hitters and base stealers will continue to inspire new players and fans for generations to come.
Not only did his Hall of fame-play on the baseball field inspire fans, but his unique persona off the field was just as entertaining.
Henderson's rookie card remains one of the most sought-after items in the sports card hobby. 
If you're a card collector looking to hold valuable trading cards for a long-term investment, you would want to consider the 1980 Rickey Henderson Topps rookie card
---
Other Great Rickey Henderson Cards
1981 Fleer Rickey Henderson
It's not a Rickey Henderson RC card, but the second-year 1981 Rickey Fleer card can make for a sweet addition to any collection.
For only $200 – $300, you can acquire a graded PSA 10 1981 Fleer Rickey card.
Looking for a bargain? The 1981 Fleer Rickey Henderson SGC 5.5 card sells for around 50 bucks. A Beckett-graded card in BGS 6 ex-mt condition is valued around the same. PSA 5? 10 bucks.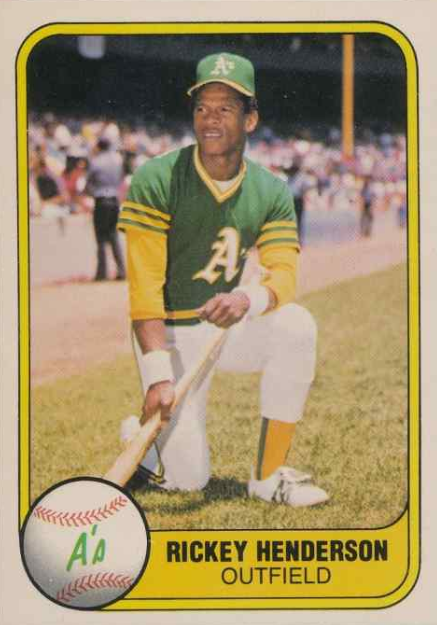 ---
1981 Topps Rickey Henderson
Another classic 1980s card is the 1981 Topps Rickey Henderson. The second-year Rickey cards in PSA 10 condition are valued at $2,500 – $3,000.
If you just love the card and are not concerned with having the absolute top PSA-rated card, consider buying a PSA 6. It's just $10.
Don't laugh – some collectors love actually collecting cards, and don't worry about the condition or value. Even a card with slight centering issues will still make a great collector's item.
The PSA 6 Rickey Henderson second-year 1981 Topps card would be a great card for any collection, in my humble opinion.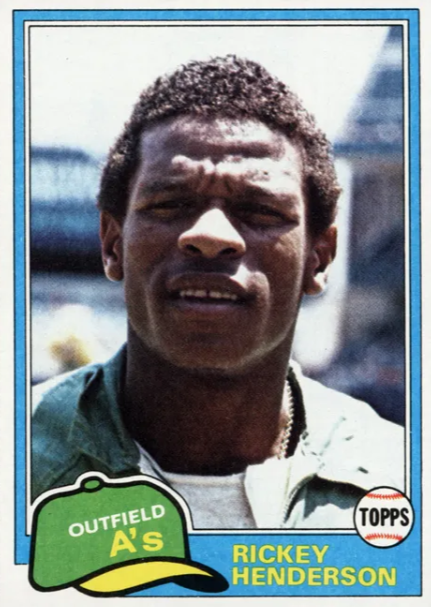 ---
1981 Donruss Rickey Henderson
My favorite card from the 1981 Donruss set is Rickey Henderson's, without a doubt. I love the classic pose and the blank-baseball stare.
Another reason I love the 1981 Donruss cards is that it was their first year producing cards. Along with Fleer, Donruss busted onto the card-collecting scene in 1981 with a fresh design.
Memorabilia and card collectors were no longer stuck with one choice in baseball cards. Topps now had competition, and although nobody realized it in 1981, it was just the beginning of the great baseball card boom and bust of the 1980s.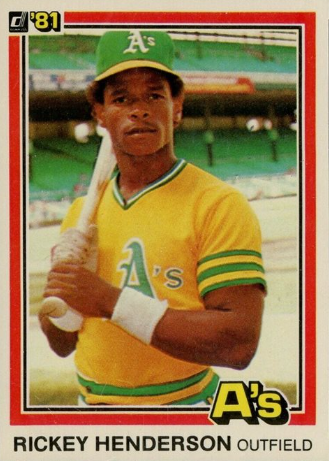 ---
1982 Topps Rickey Henderson
Now we are getting somewhere. My all-time favorite Rickey Henderson card is the 1982 Topps. It's just a classic photo of Rickey getting ready to swipe another bag.
I love the card's simple 1982 Topps design, along with the stamped player signature autograph along the bottom.
Clean, crisp, sleek, and totally 80s. The 1982 Topps baseball cards were perfect.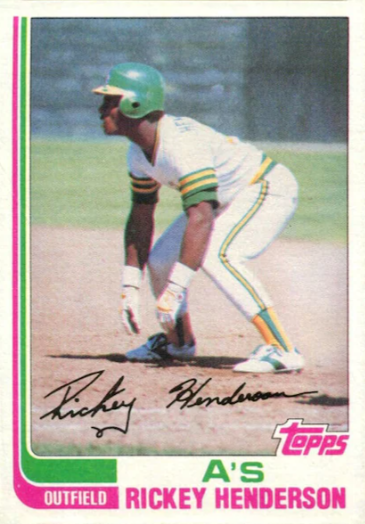 ---
1983 Topps Rickey Henderson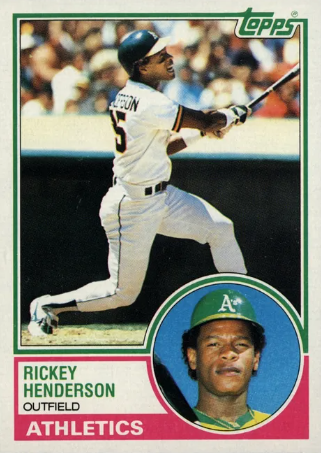 ---
2018 Panini Donruss Lou Brock, Rickey Henderson Autograph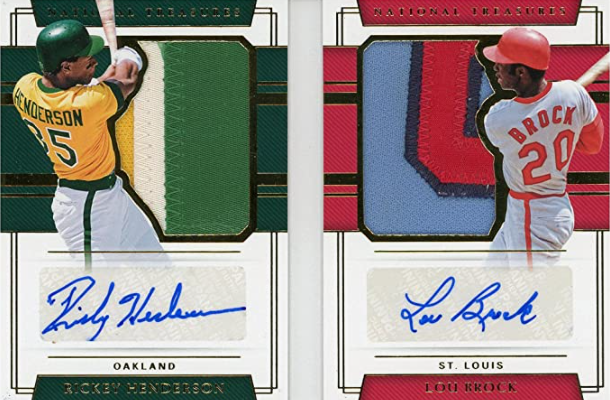 A Few of My Favorite Rickey Henderson Cards
I've had a high interest in Rickey Henderson cards since I was a kid. His speed on the basepaths, and personal flare have always caught my eye.
It's a great collectible card, and you don't need to buy a Rickey rookie at an extremely high price. There are dozens of awesome Rickey cards out there selling for just a few bucks each.
Here's a few of my favorite Rickey cards. Take a look and if you see a card you like, make me an offer!!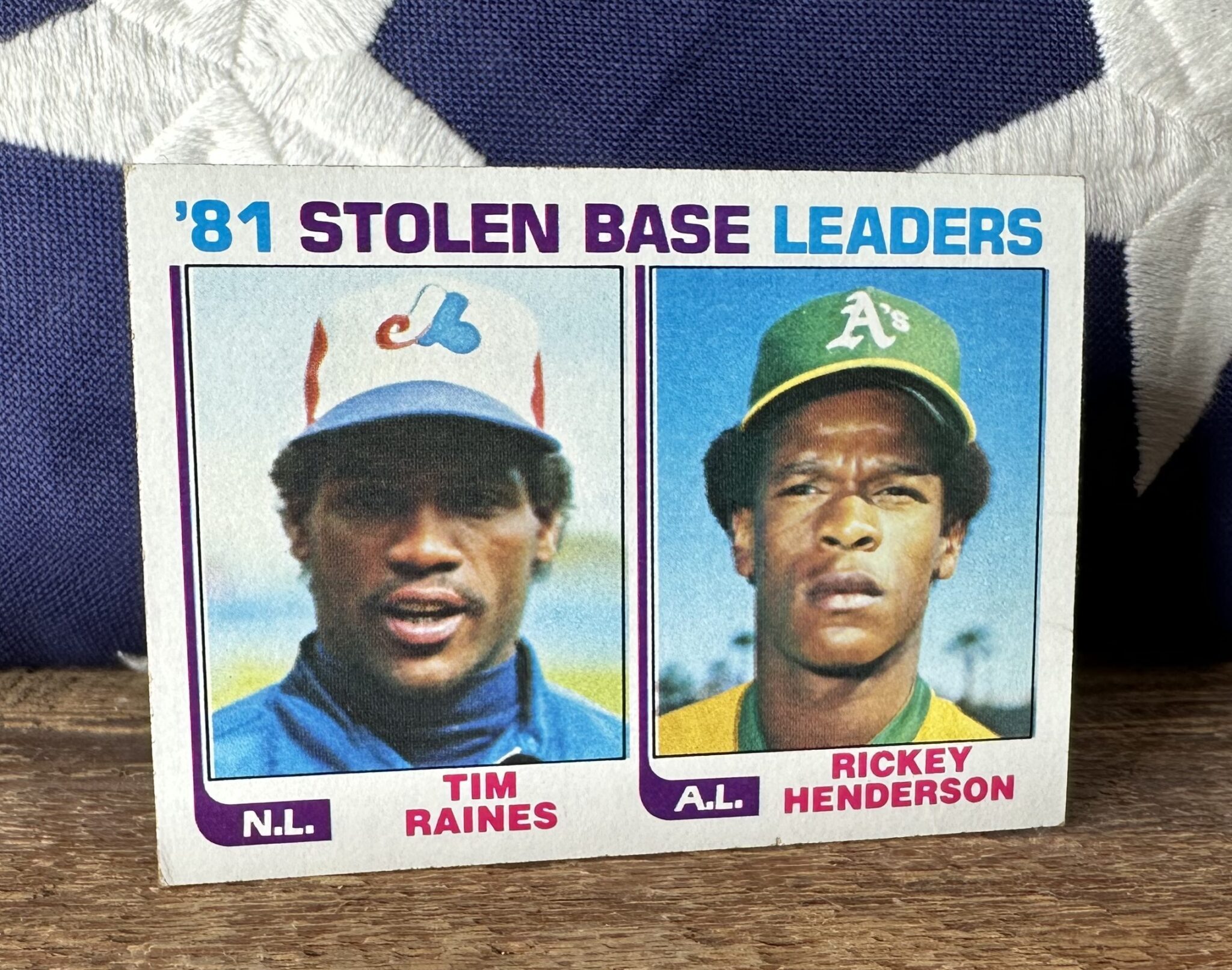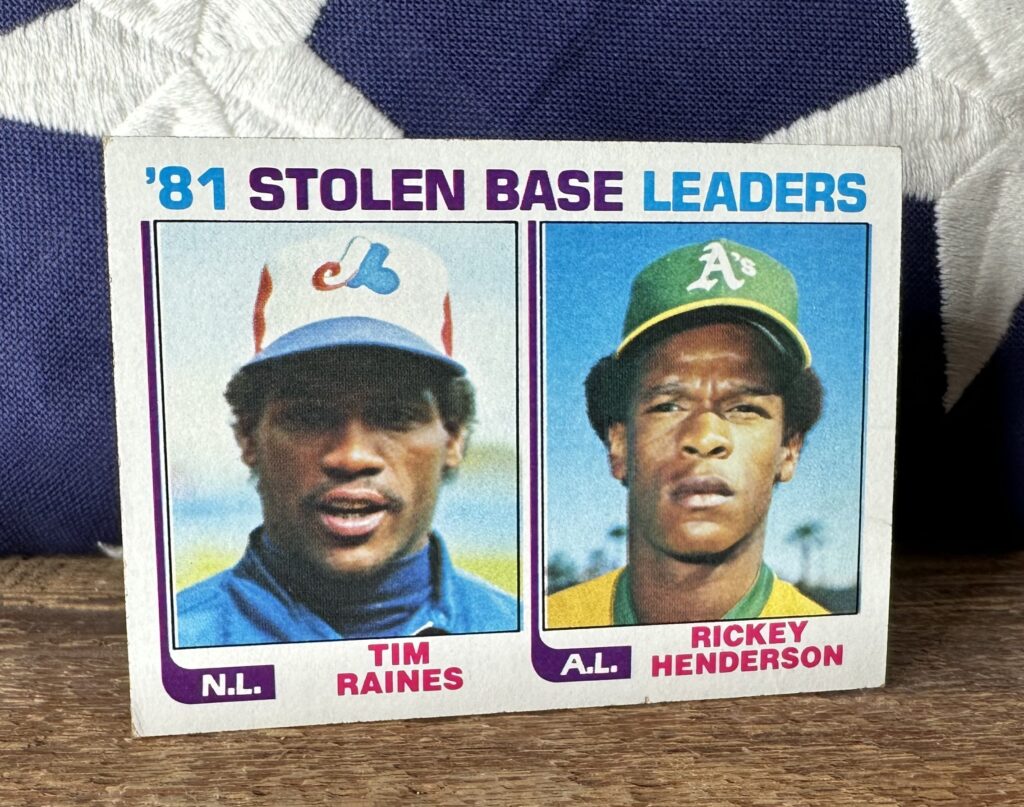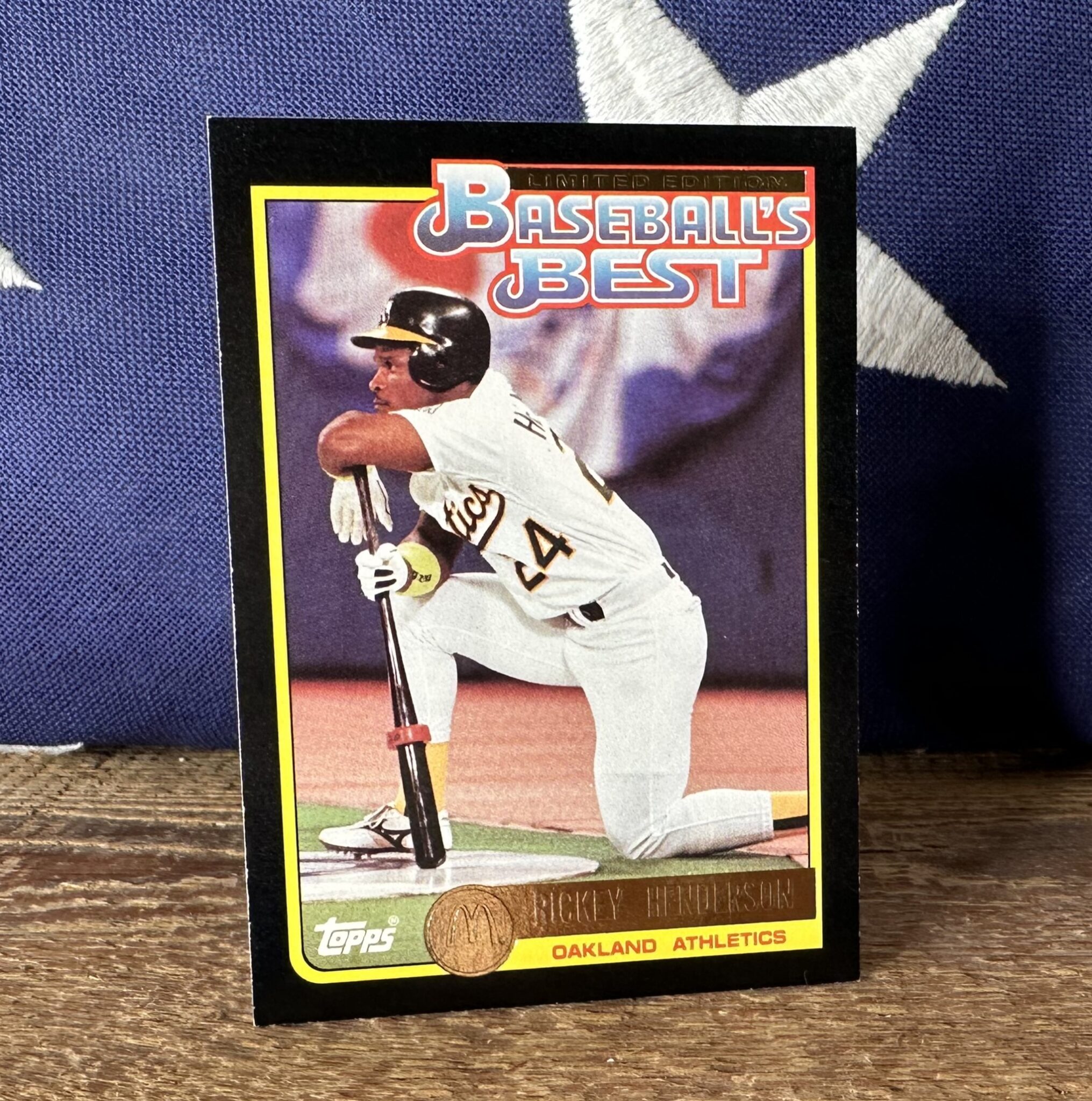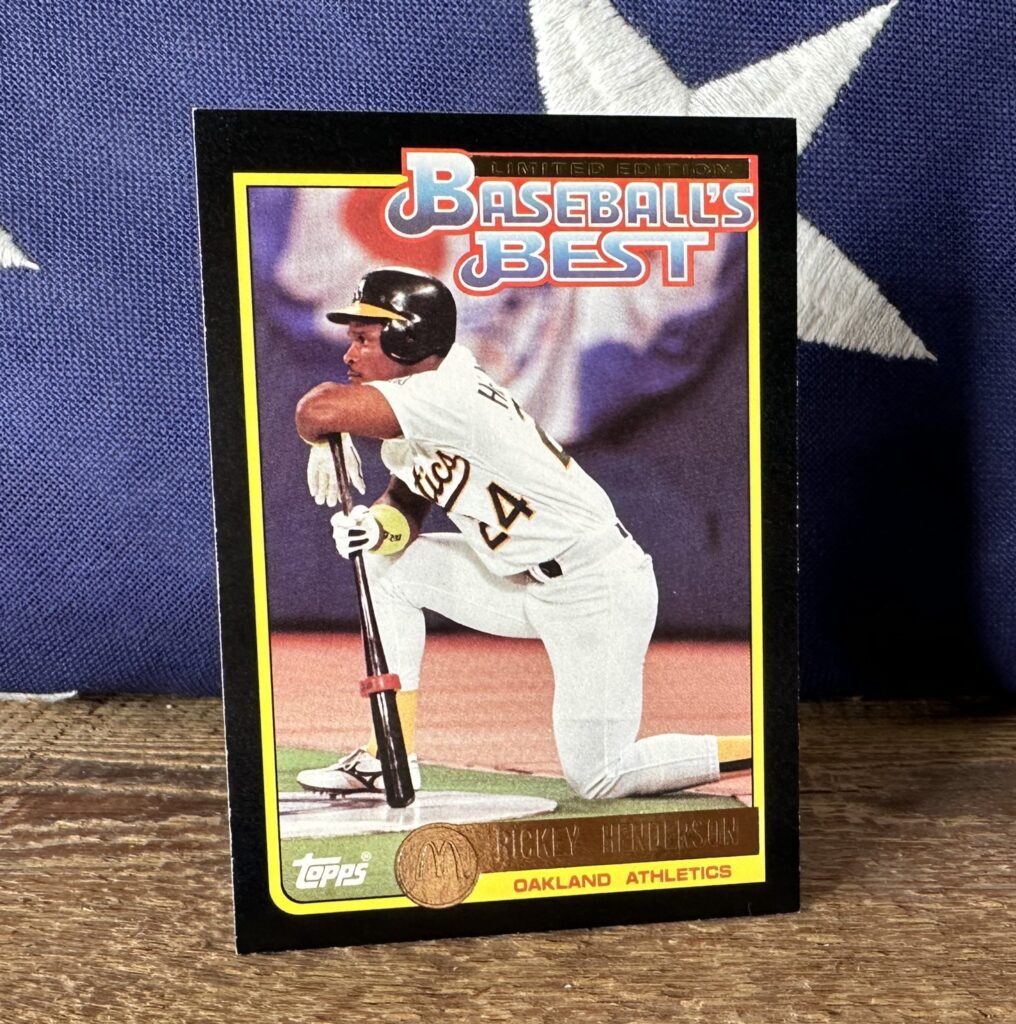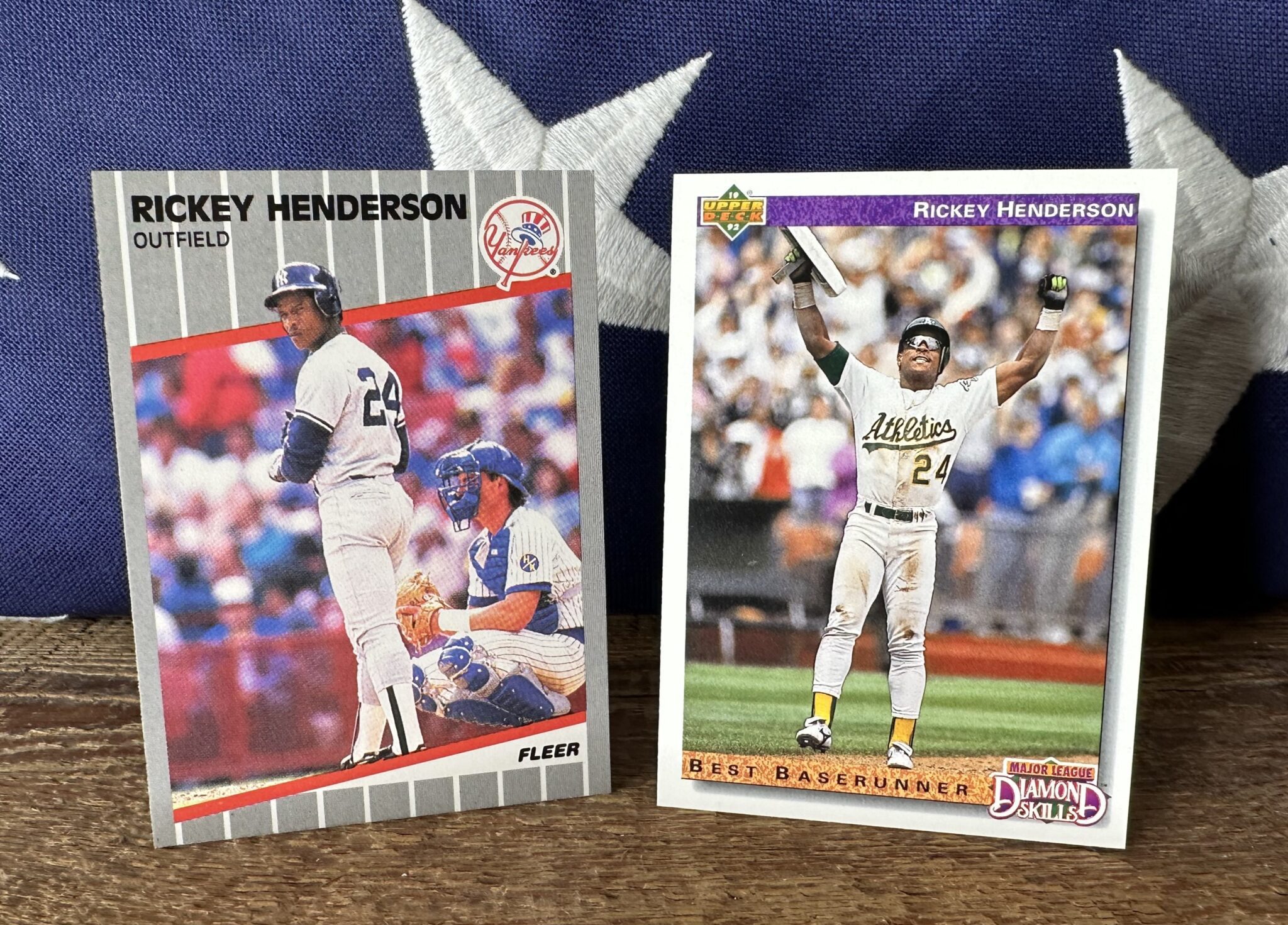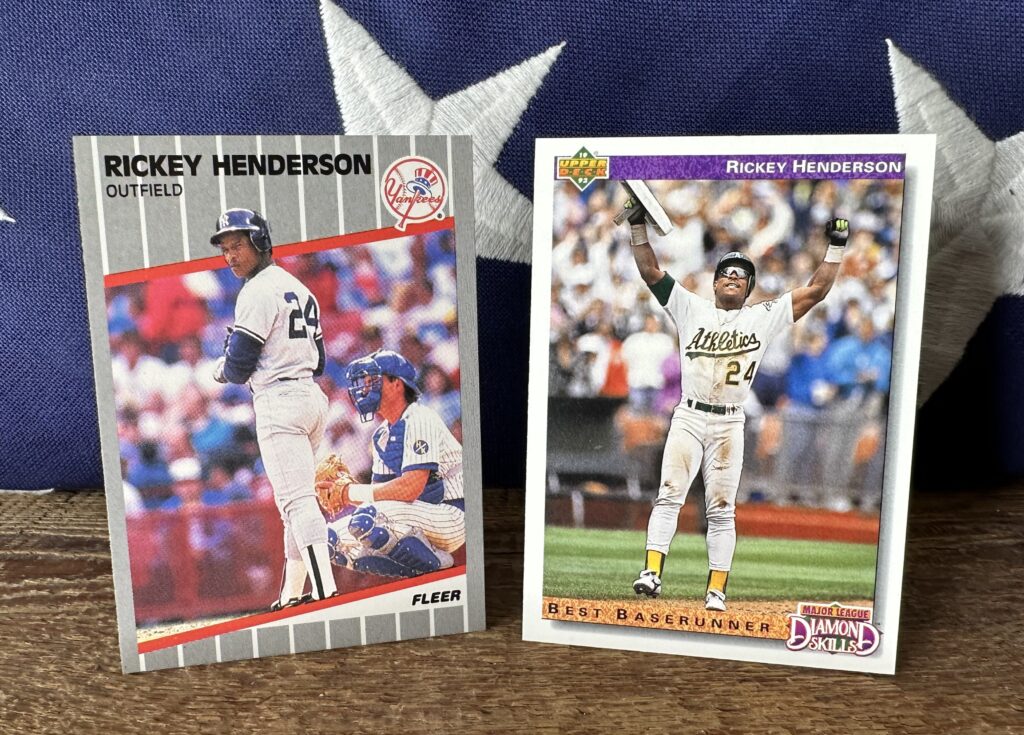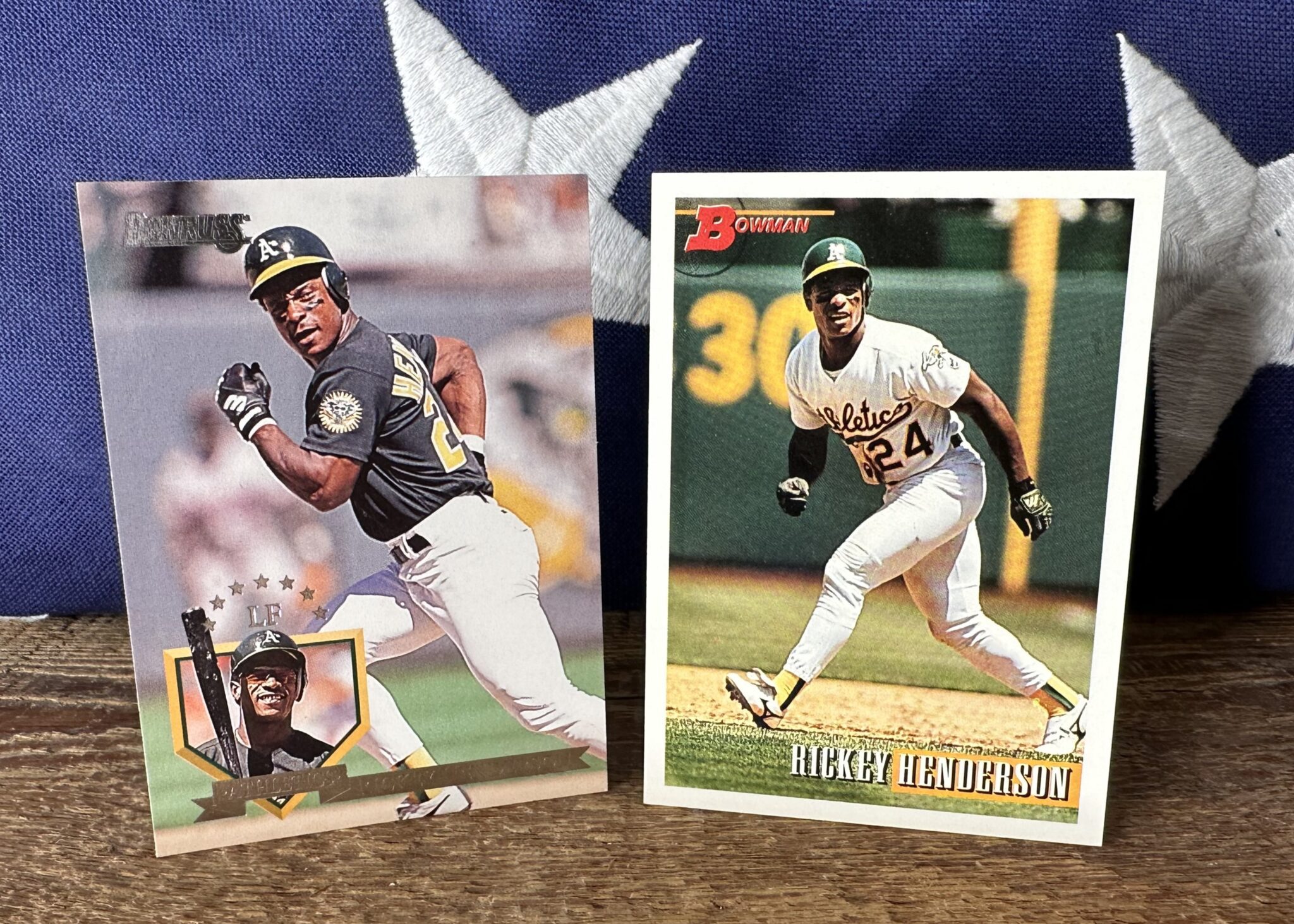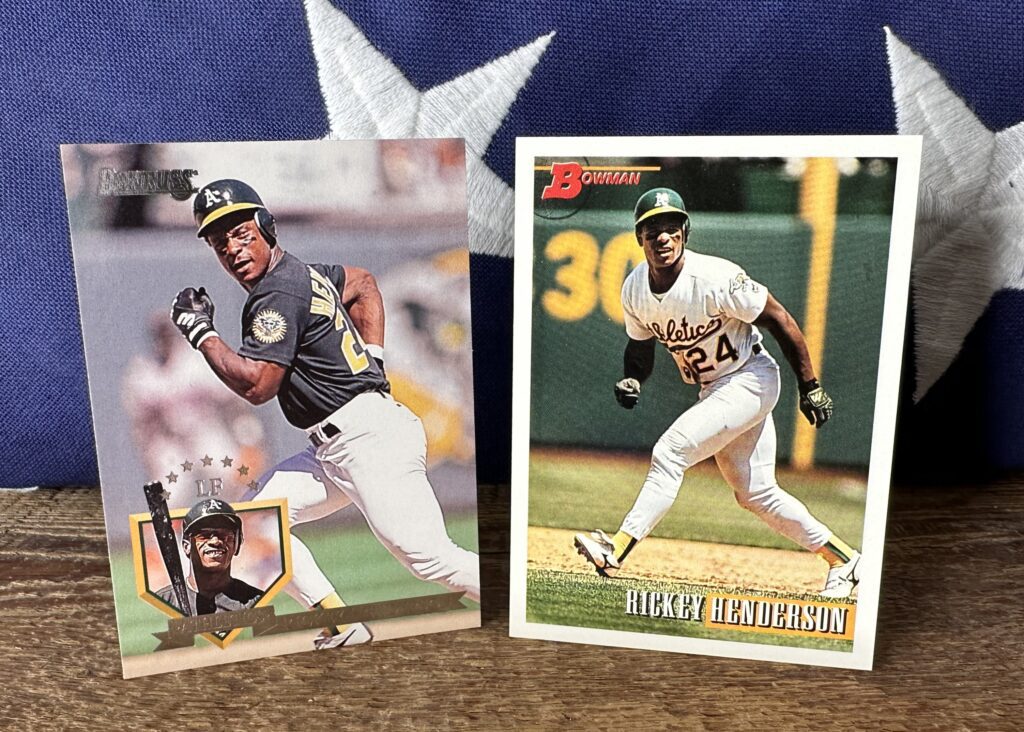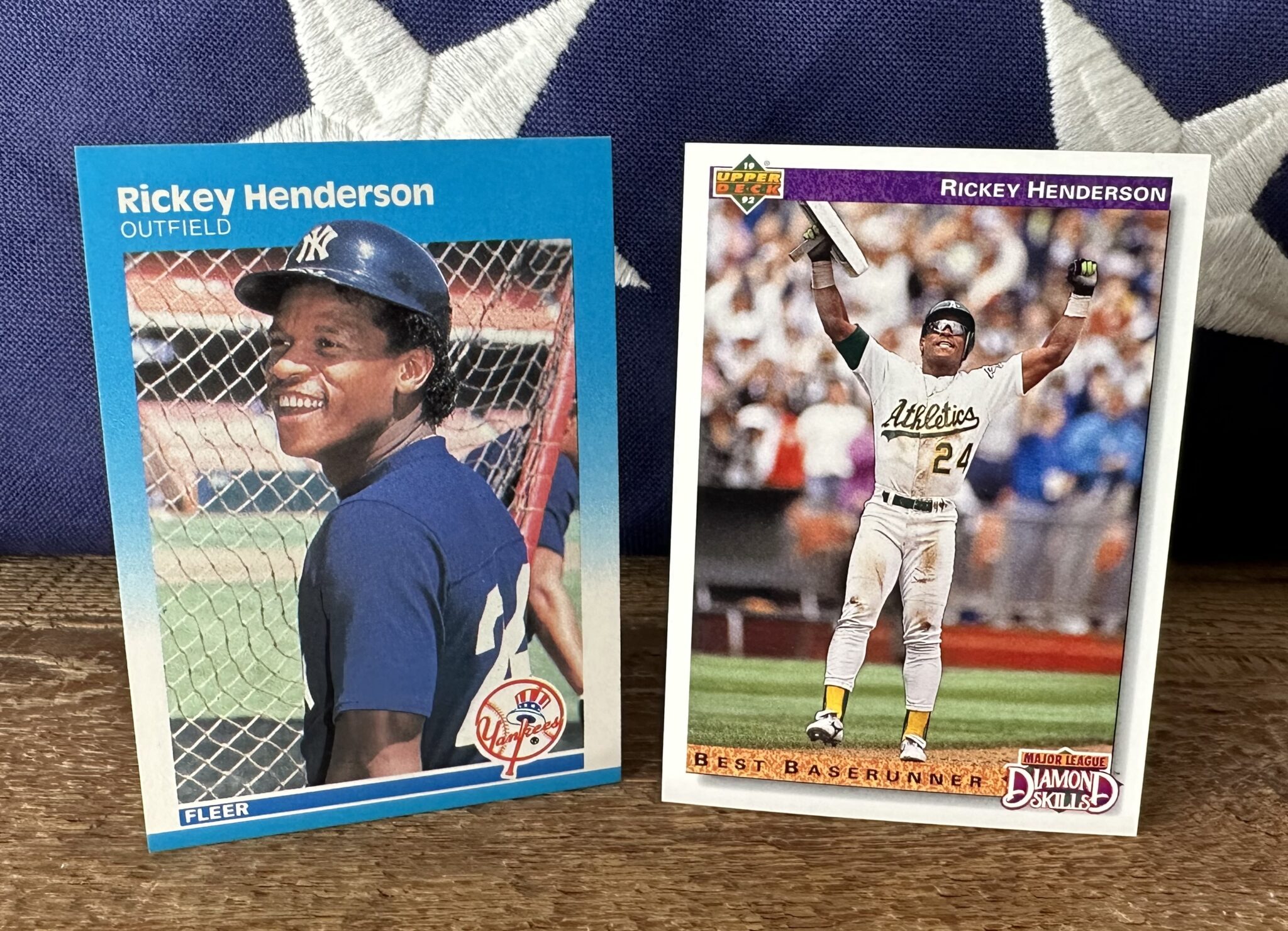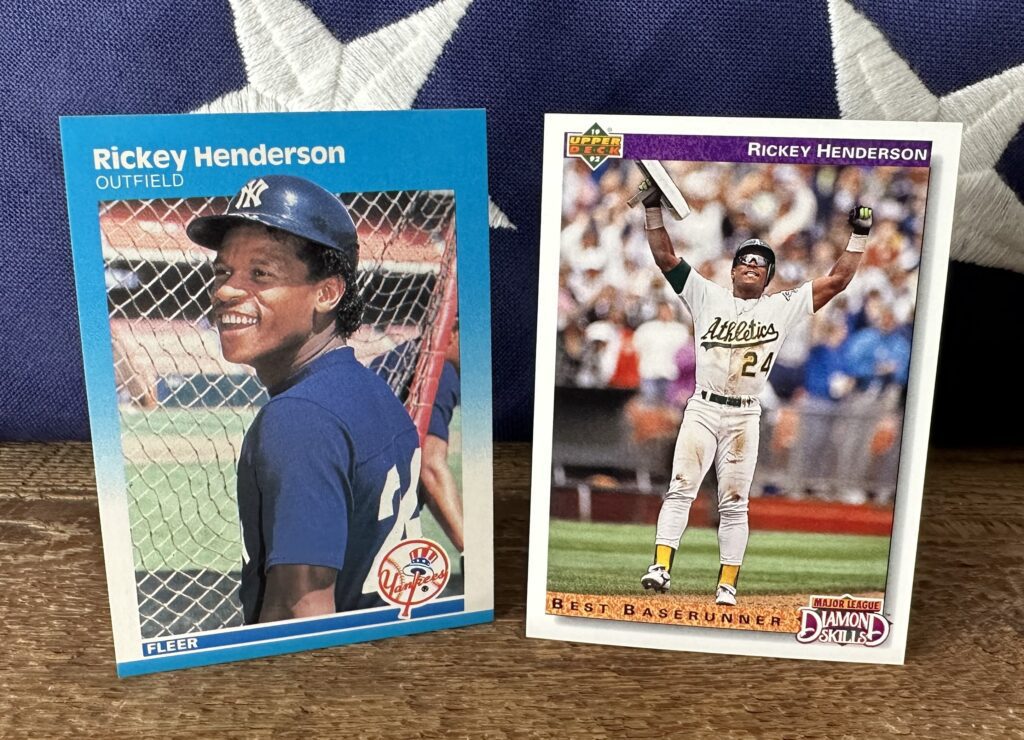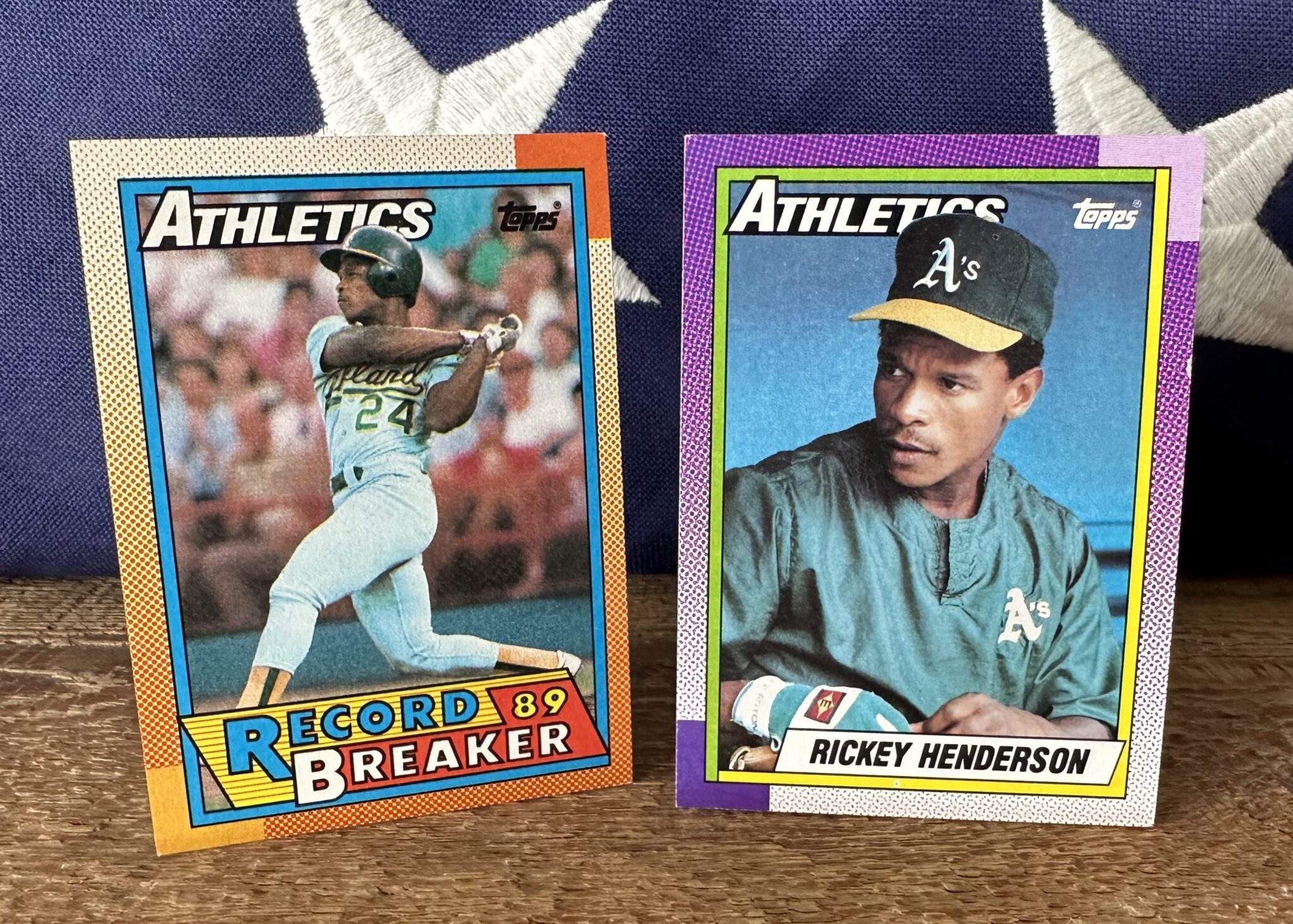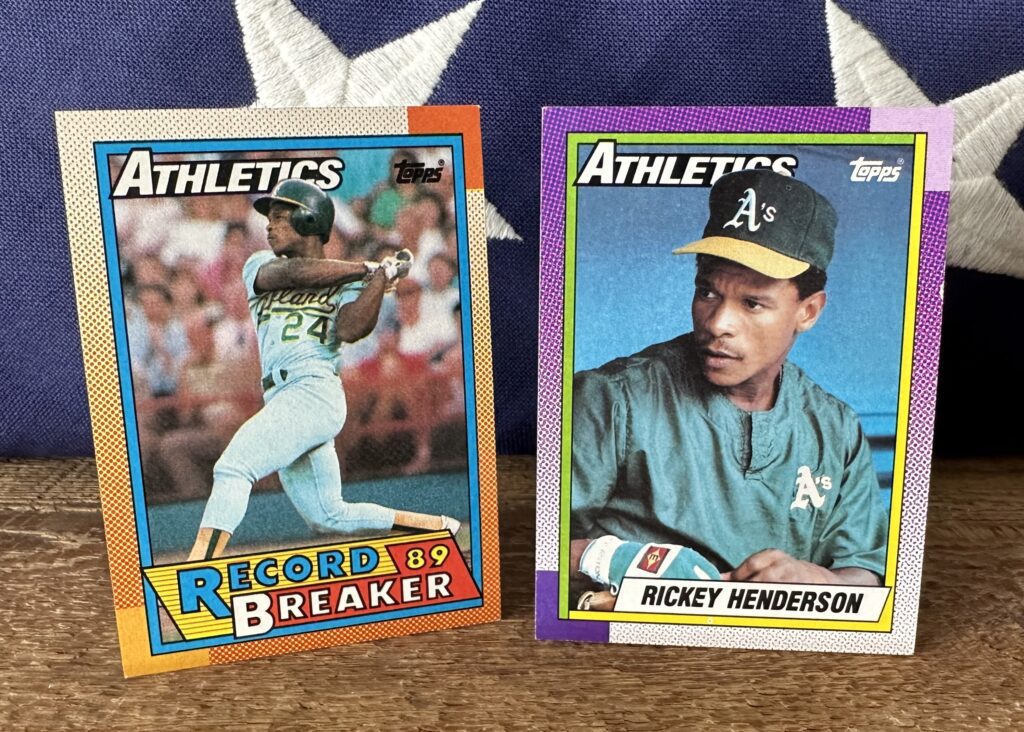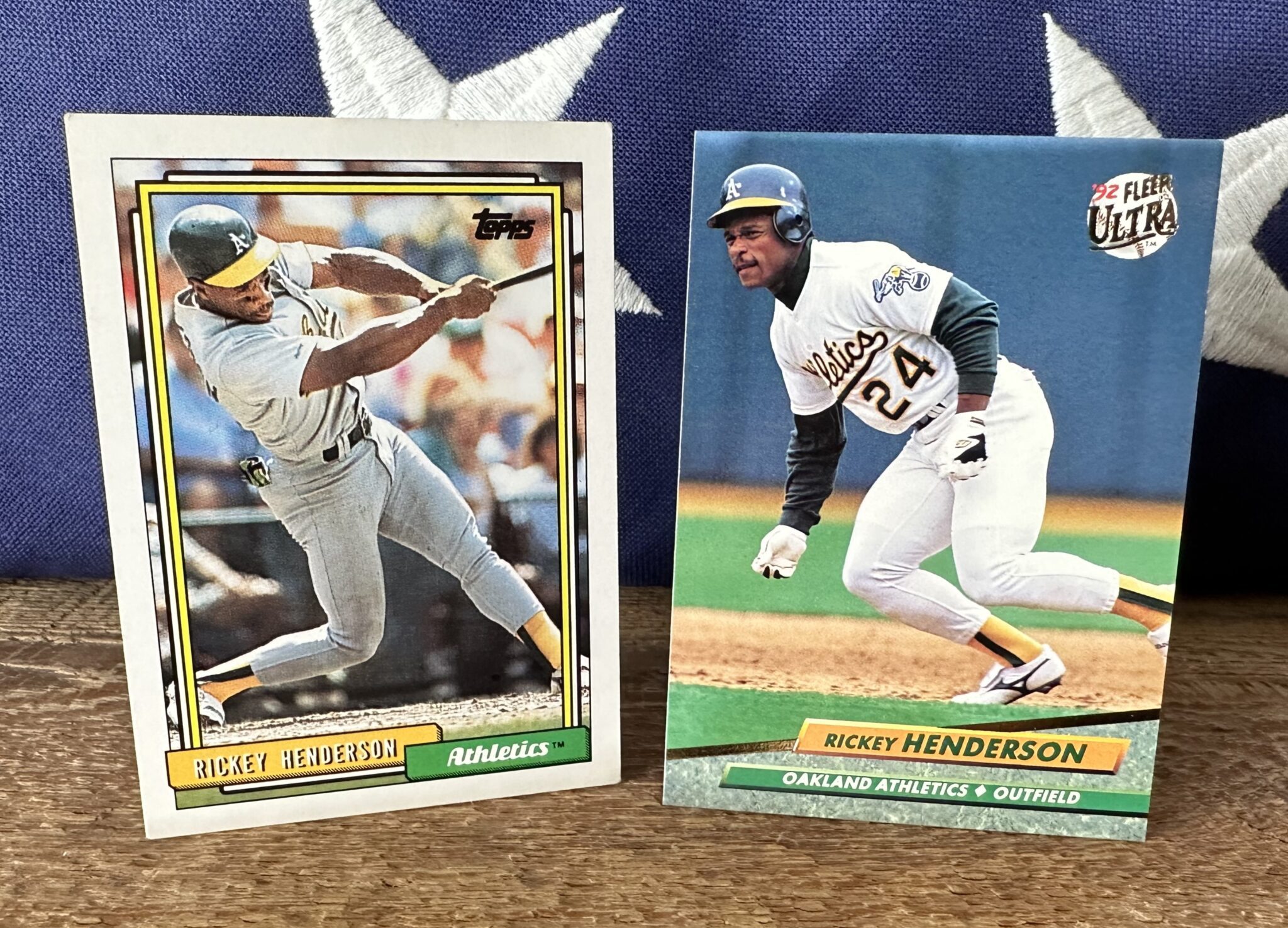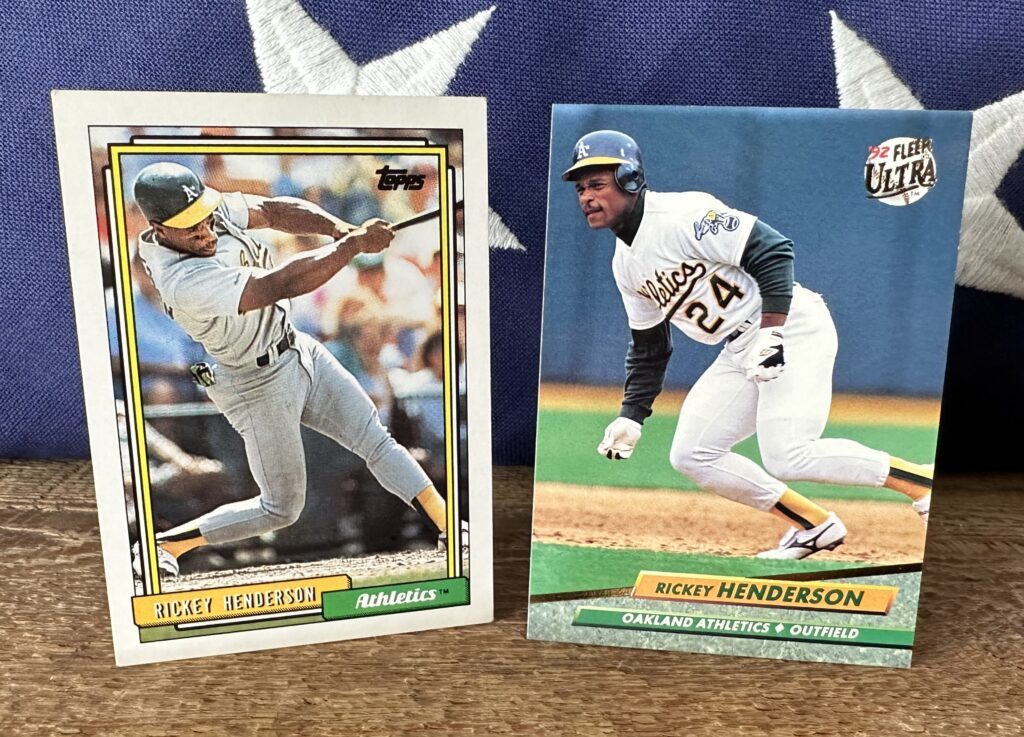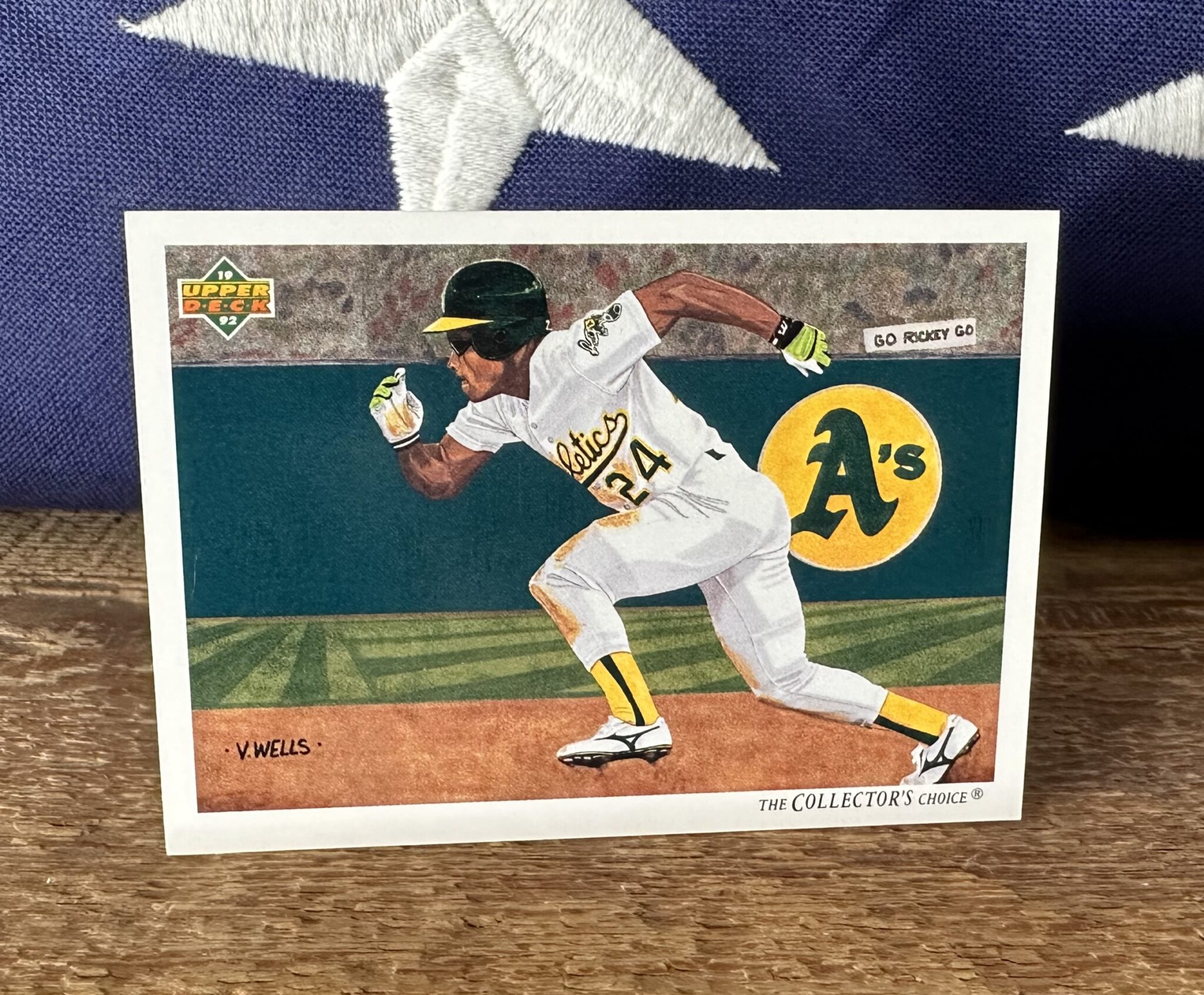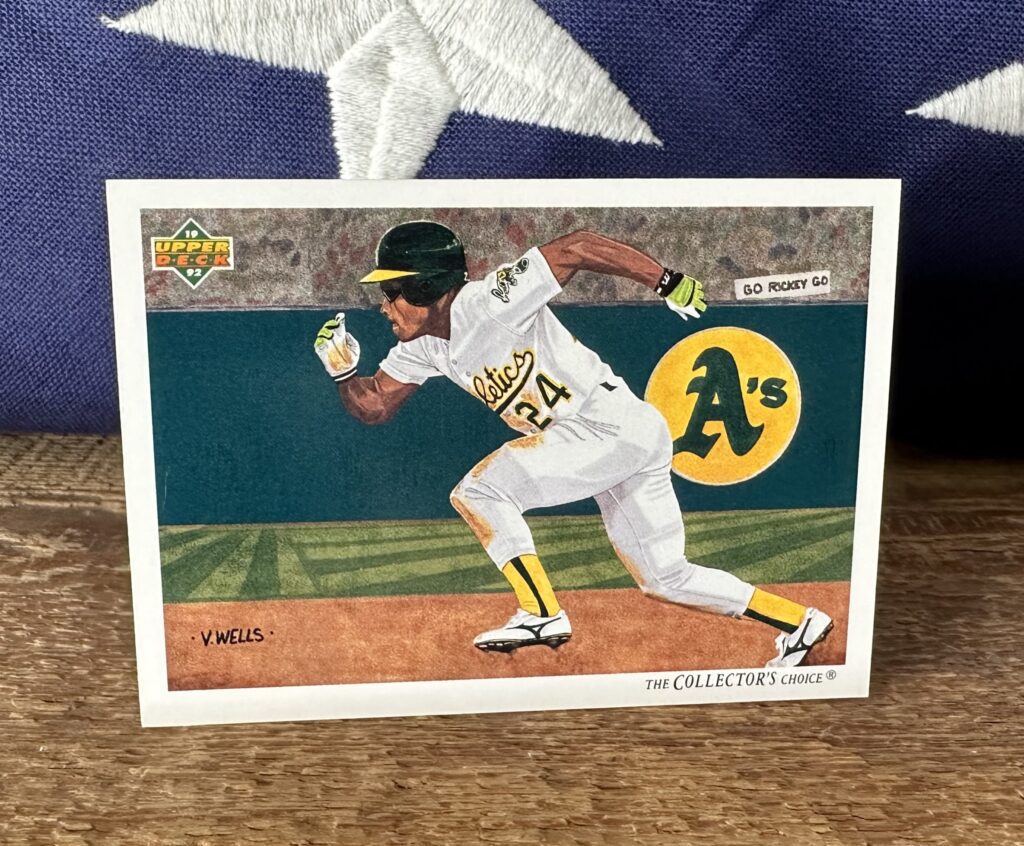 The Most Amazing Rickey Henderson Story
What makes collecting baseball cards so much fun is the memories as kids, chasing the best cards, trying to build a great collection.
But another fun part about The Hobby is the players on the cardboard, and getting to know the personalities.
Rickey has dozens of amazing stories about his unique style over the years, but here's my favorite.
When the Yankees sent Rickey a bonus check in the six-figures, months passed before the team discovered the check was never cashed.
Brian Cashman of the Yankees reached out to Rickey to see if he ever received the check. Henderson told Cashman, "I'm just waiting for the money market rates to go up."
---
Card Collectors –> Looking to Sell Baseball Cards? Here's How (and Where) To Do It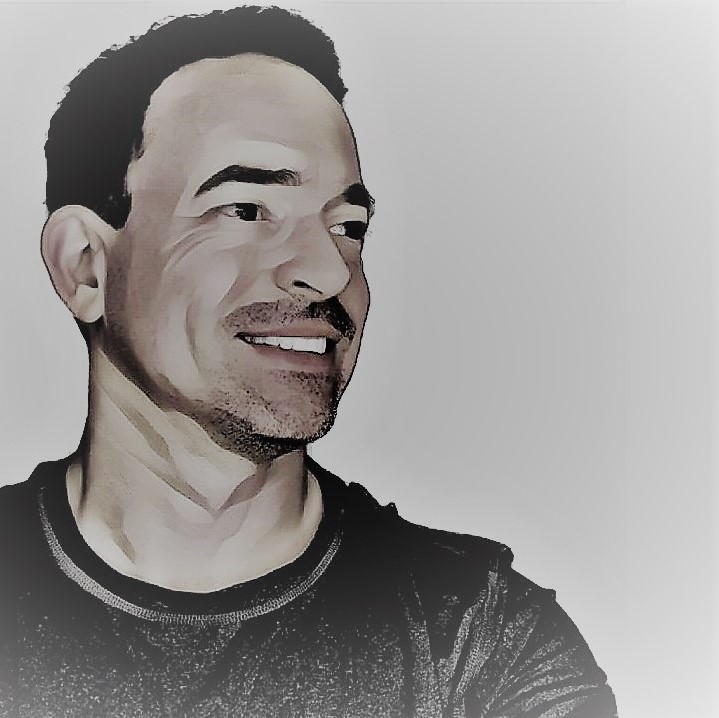 R.J. Bachman
Attic Capital – Writer, Editor, and Lifelong Collector
After many years of collecting rare coins, sports cards, and all types of collectibles, I began writing at Attic Capital to share my experience, knowledge, and passion.
I would love to connect with you, so don't hesitate to reach out and let me know more about your passion for collecting.