---
A Jose Canseco rookie card will instantly shock you into a 1980s flashback. And not a flashback of a baseball card, but of a muscled-up, giant baseball player's swing.
If you watched baseball in the late 80s, the Jose Canseco swing is burned into your mind as one of the most terrific, violent, and gigantic hacks in baseball history.
Play the short video below and thank me later.
---
Canseco the Ballplayer
Jose Canseco is a former Major League Baseball outfielder and designated hitter.
When he was with the Oakland Athletics from 1985 to 1992, he won Rookie of the Year, the Most Valuable Player Award, and was a six-time All-Star.
Together with Mark McGwire, both home run hitters helped the Oakland A's win the World Series title in 1989.
The two celebrated home runs by bashing each other's forearms, giving them the nickname Bash Brothers.
Canseco and other players in his era would later admit to using performance-enhancing drugs. But seriously, who cares.
This guy could mash the damn baseball out of the stadium.
Baseball card collectors, young and old, would flock around the T.V. screens when Canseco stepped to the plate. They wanted to see how far that ball would go.
The Young Jose Canseco Journey
Jose Canseco was born in Havana, Cuba, along with his twin brother, Ozzie Canseco, another former major league player.
The family left Cuba in 1965 for Miami, Florida, when Jose was just nine months old.
Jose would eventually be named Most Valuable Player during his junior varsity and varsity baseball seasons in high school.
The Oakland A's drafted Canseco in the 15th round of the 1982 MLB draft. While playing in the Minor Leagues, he became known for his long home runs.
He won the Baseball America Minor League Player of the Year Award in 1985, and he made his Major League debut later that year.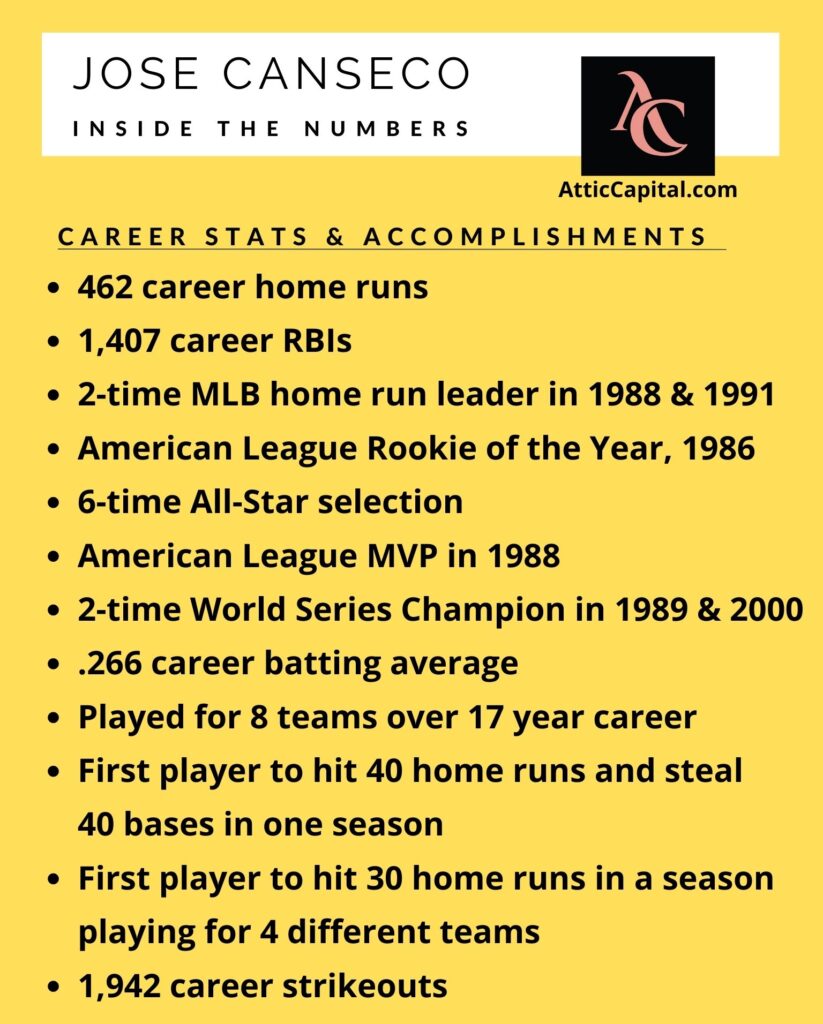 Power, Speed, and a Household Name
During the 1988 season, Canseco became the first player in baseball history to hit the "40-40" mark, where he hit 42 home runs and 40 stolen bases in a single season.
The two numbers represent a rare baseball combination, home run power, and running speed on the basepaths.
Canseco was a bash brother with power, speed, and a name that was becoming known in almost every household in the country.
He was unanimously named the American League's MVP and won his first Silver Slugger Award.
In 1989, the Oakland A's won the World Series, although Canseco missed 97 regular-season games due to injuries.
Nagging injuries would continue to plague Canseco in the 1990s, resulting in lower statistics but still winning his second Silver Slugger award.
Throughout his career with the A's from 1986 to 1992, Conseco would continue to win awards and set all-time team records for the Athletics.
---
Jose Canseco Rookie Cards
While Jose Canseco had a fantastic MLB career and was a fierce homerun slugger, his baseball career was eventually overshadowed by steroids. Further, the baseball card industry was experiencing a bubble in the late 1980s.
As the Topps monopoly ended and new companies were printing many new sports cards, card values and collectors' interest soon plummeted.
Many baseball cards printed around this time, known as the Junk Wax era, were mainly forgotten for decades.
But, if graded in GEM MINT high-grade condition, it's still possible to find highly valued Jose Canseco rookie cards. Especially in recent years, when sports cards are making a huge comeback.
We'll go over his best rookie cards and other high-value cards and collectibles from the Canseco era.
The First Jose Canseco Rookie Card
Most people assume Jose Canseco was a first-round draft pick and went straight from High School to the big leagues like so many other superstars. But his path to superstardom took longer than you'd guess.
After getting drafted in the 15th round, Jose was assigned to the minor leagues.
He played for the Miami Marlins of the Florida State League, the Medford A's, Madison Muskies, Modesto A's, Idaho Falls A's, and the Tacoma Tigers.
His minor league journey didn't end there. Next, he went on to the Huntsville Stars. After being drafted in 1982, it wasn't until three years later that he won the Baseball America Minor League Player of the Year Award.
1983 Fritsch Madison Muskies Jose Canseco Rookie Card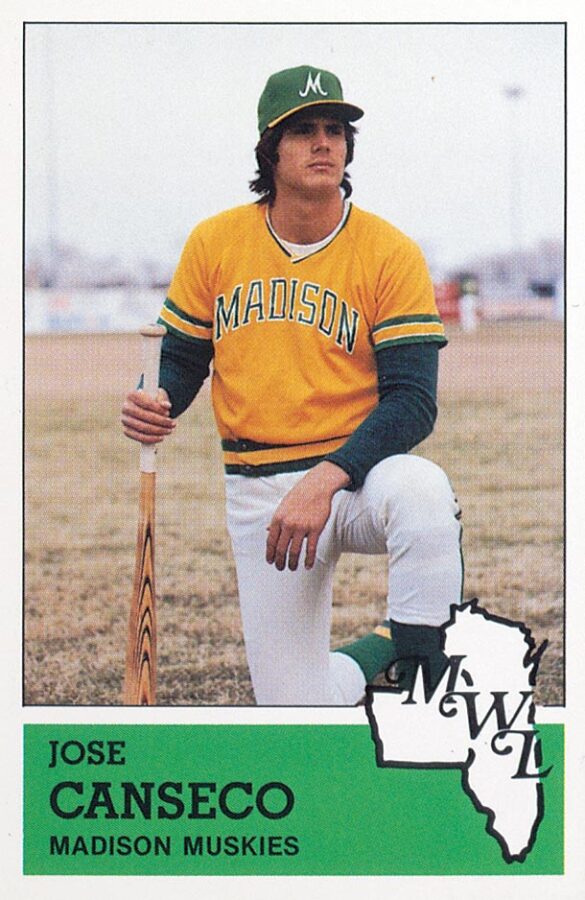 1984 Frank Chong Modesto A's Jose Canseco Rookie Card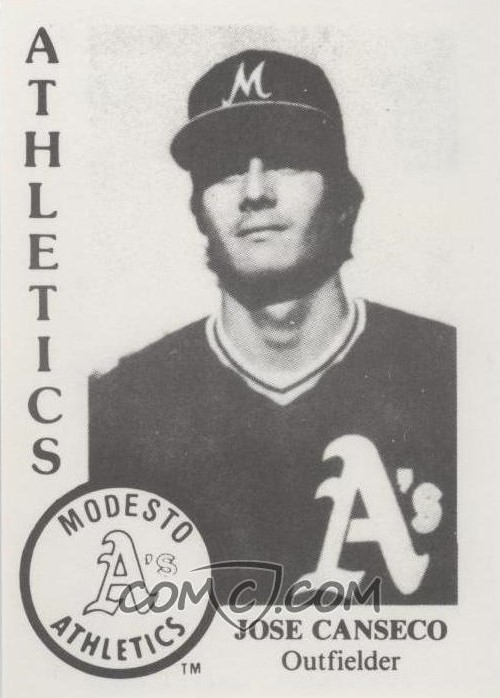 1985 Burger King Huntsville Stars Jose Canseco Rookie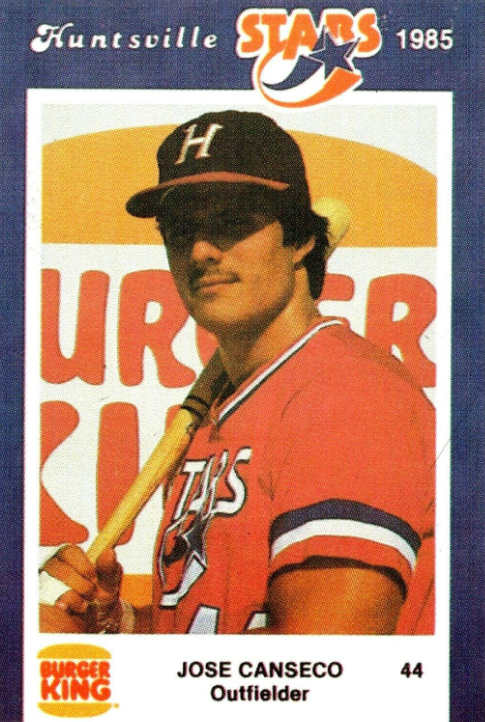 1986 Donn Jennings Jose Canseco Rookie Card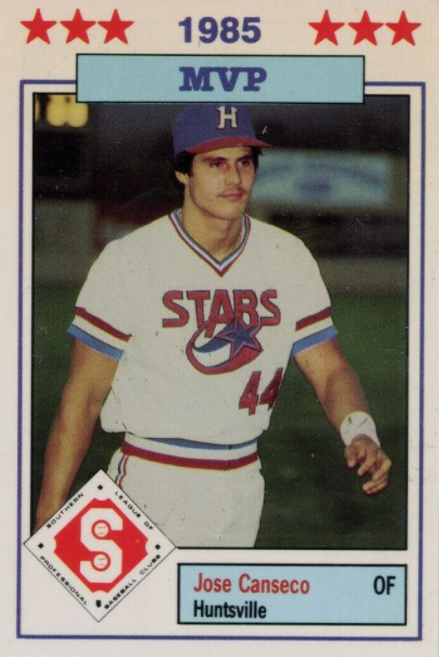 ---
Jose Canseco Topps Baseball Rookie Cards
Topps produced a few highly valued Jose Canseco baseball cards. The 1986 high grade Topps Traded Tiffany versions are the most valuable Jose Canseco rookie cards due to their higher quality and limited production numbers.
A top condition PSA 10 1986 Topps Tiffany #620 Jose Canseco A's Mint recently sold for around $600. The 1987 Jose Canseco All-Star Rookie Topps card is another favorite. And who can forget the wood-grained Topps beauties?!
1986 Jose Canseco Topps Traded Tiffany Rookie Card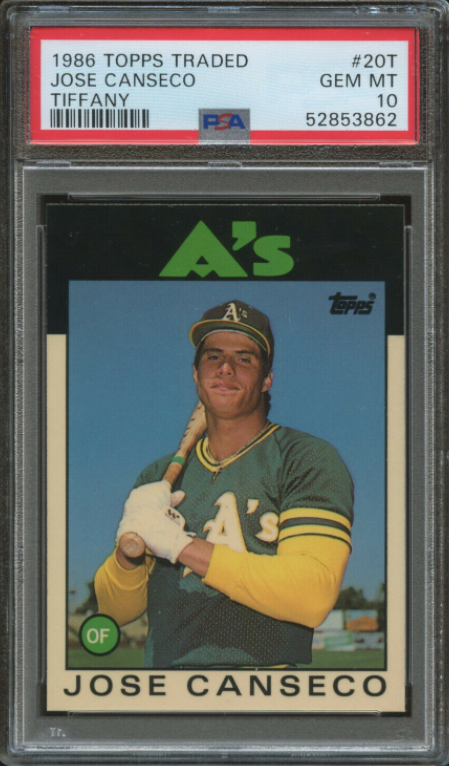 1987 Topps Jose Canseco All-Star Rookie
The 1987 Canseco Topps baseball card is unforgettable. The wood-grained Topps #620 is a classic card because it was the moment when baseball fans were beginning to realize the enormous potential of Canseco.
Would he go down in history as the game's greatest slugger? If you were watching baseball, the question was creeping into your mind in 1987.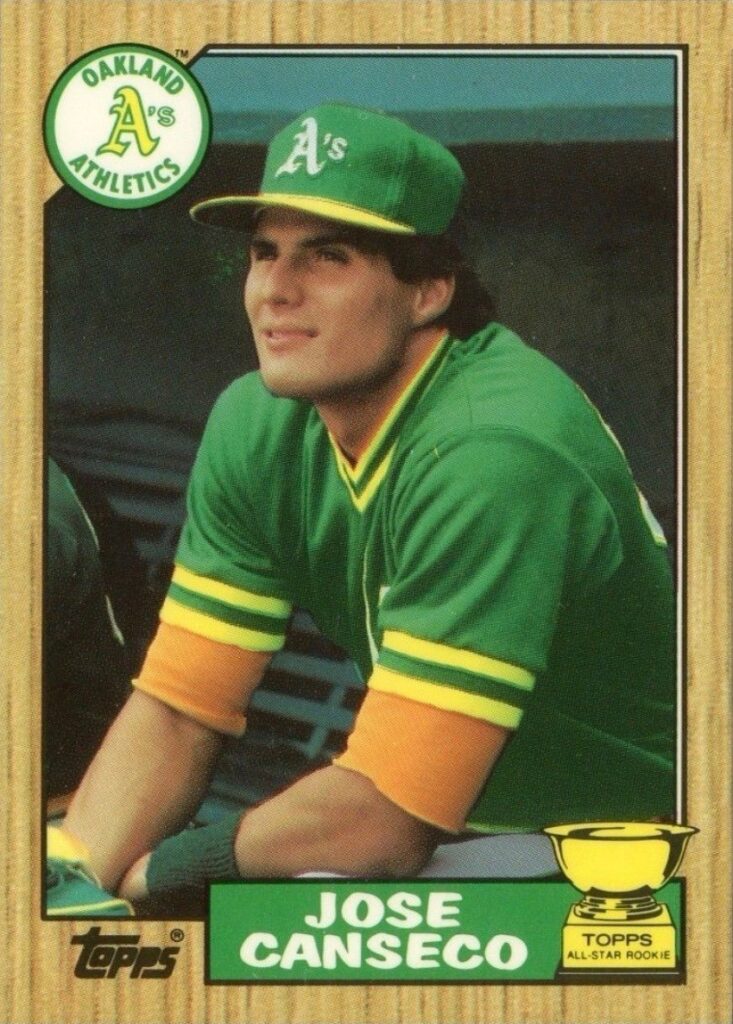 ---
Jose Canseco Donruss Rookie Cards
Several Donruss Jose Canseco rookie cards are valued in the hundreds of dollars, in top-rated condition, of course. Two of the most notable cards are the 1986 Rated Rookie, and the 1986 Jose Canseco Donruss Highlights card.
1986 Donruss Rated Rookie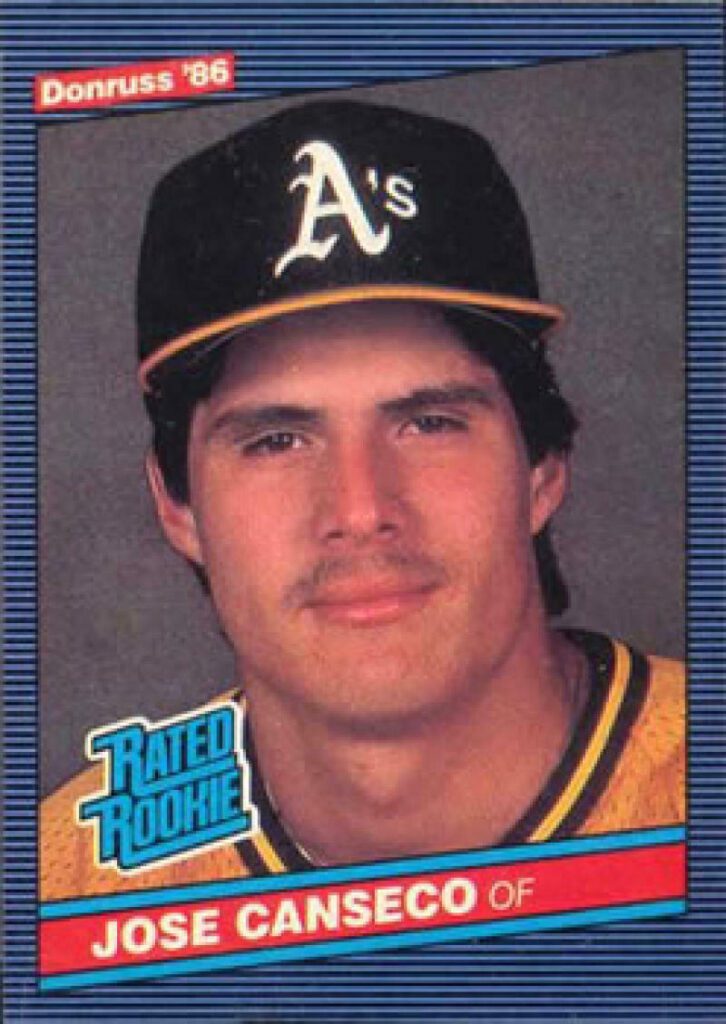 1986 Donruss Highlights – A.L. Rookie of the Year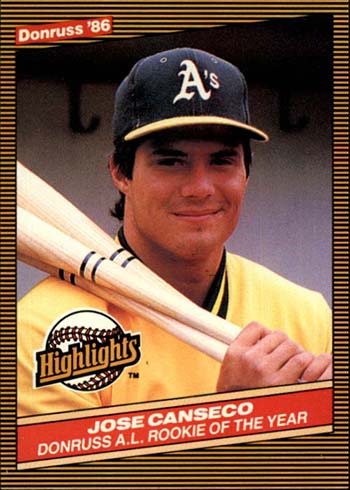 While not technically his "rookie card," the Jose Canseco 1987 Donruss Opening Day card was included in the 273 card set featuring players in the starting line-ups on opening day of 1987.
Along with the Canseco card, other notable cards from the opening day set include rookie cards of Bo Jackson, Will Clark, Barry Bonds, and Barry Larkin.
---
Jose Canseco 1987 Donruss Opening Day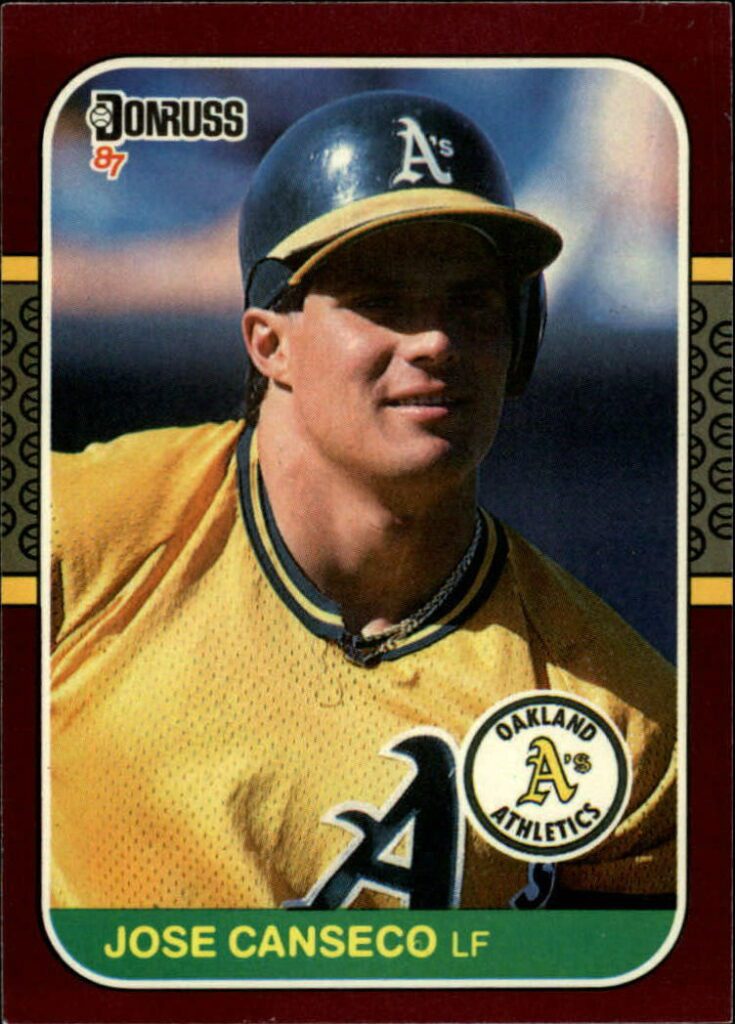 Fleer Jose Canseco Rookie Cards
The Jose Canseco 1986 Fleer rookie "Major League Prospects" card is currently valued at $300 – $500, based on recent sales on eBay.
Let me remind you these are reported sales that have been completed – not simply asking prices—big difference.
Anyway, I love this Canseco rookie card. And one of the reasons is because hot-shot prospect Eric Plunk is side-by-side with the future bash brother himself.
If you're unfamiliar, Eric Plunk would go on to have a very respectable 14-year major league career racking up 72 wins as a starting pitcher and 58 losses.
Unfortunately, Eric Plunk gets no respect. The value of this card is 100% all-Canseco. Sorry, Plunk.
1986 Fleer Jose Canseco RC Rookie Card #649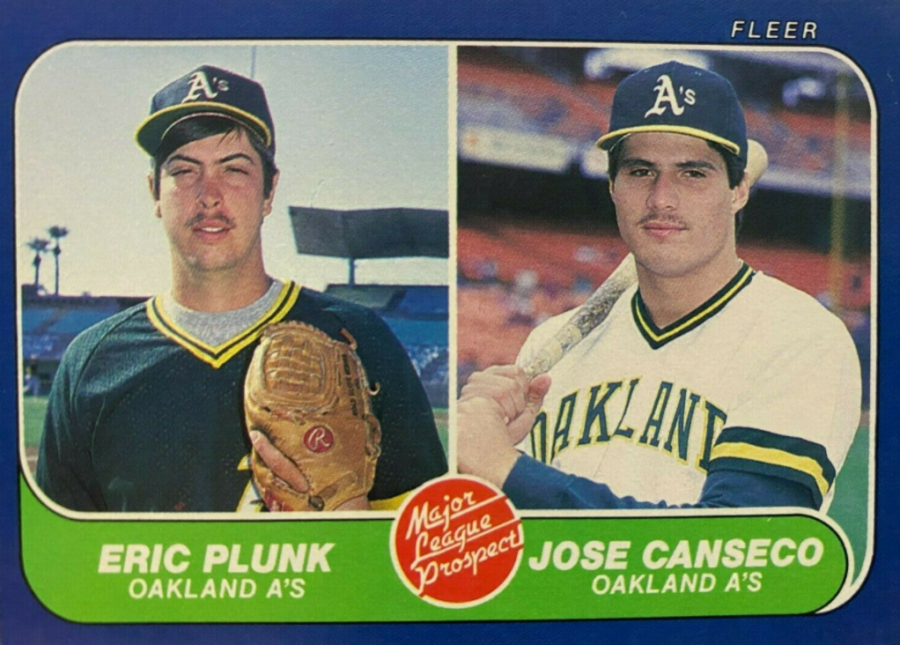 The 1986 Fleer League Leaders set includes six logo stickers, and #3 Jose Canseco is another card that has appreciated over time. A PSA 10 graded card will land you around $150.
The Fleer Mini baseball card set is a 120-card set released in 1987, and a PSA 10 Jose Canseco can land you around $70.
1986 Fleer League Leaders Jose Canseco RC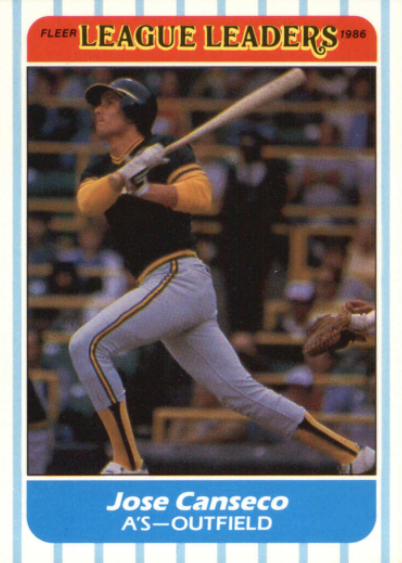 Finally, the 1987 Fleer Award Winners is a 44-card set featuring players who won different major league awards during their careers. A Jose Canseco card from this collection is currently valued at $100.
1987 Fleer Jose Canseco Award Winner – Rookie of the Year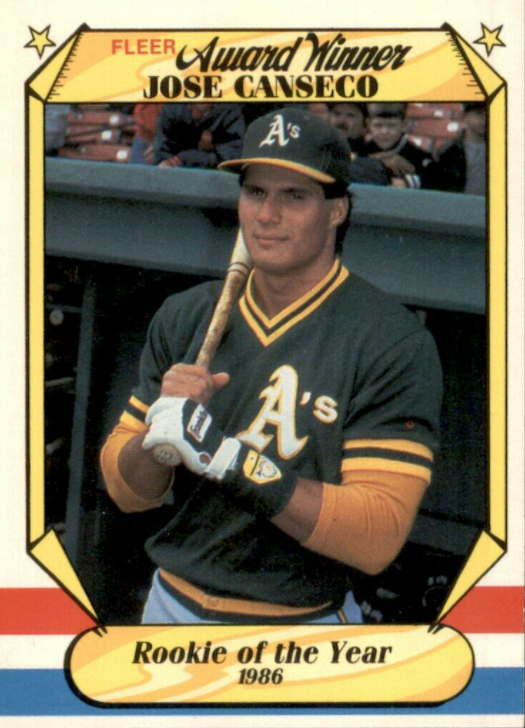 1987 Fleer Star Sticker Jose Canseco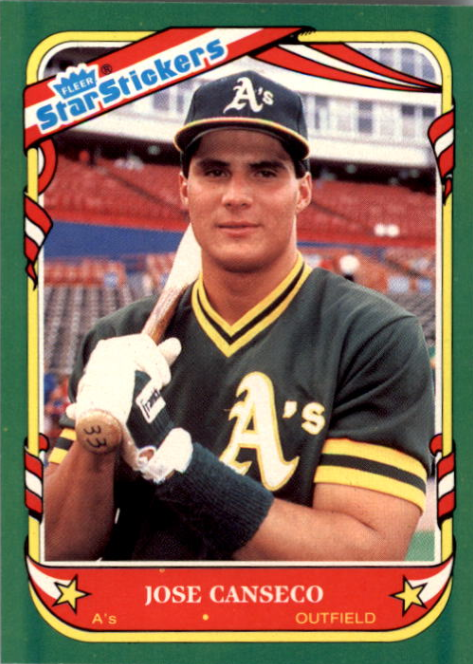 1989 Upper Deck Jose Canseco
Of course, it's not his rookie card because 1989 was the first year Upper Deck went into production, but it's a great card, nonetheless.
1991 Donruss Elite Jose Canseco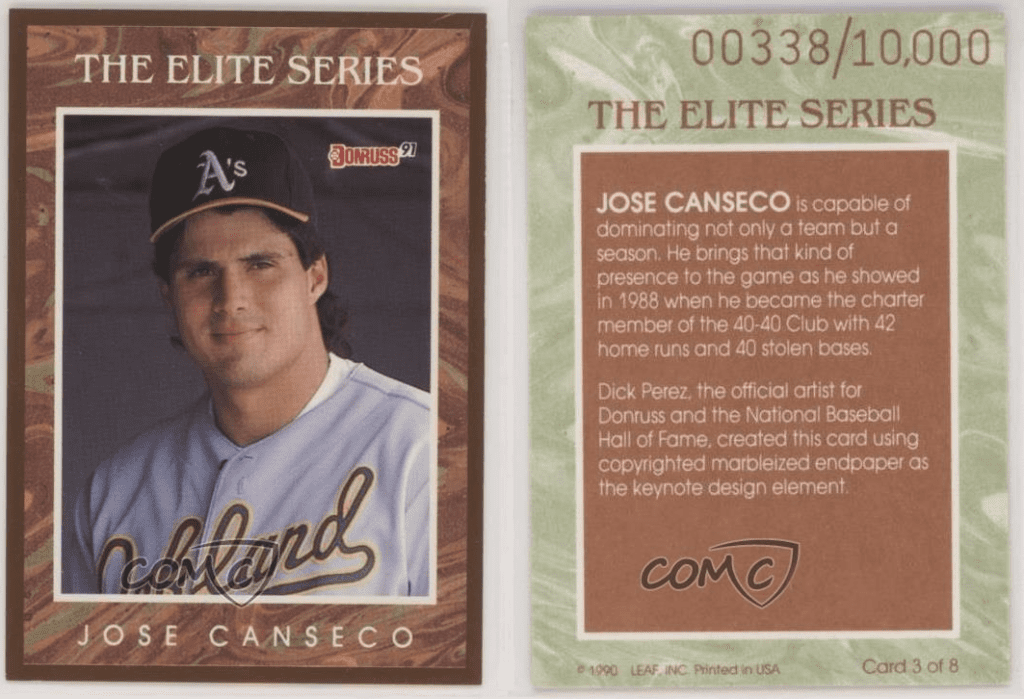 Donruss set the stage for many card producers when they produced only 10,000 of each "Elite" series cards in 1991.
They were the first to print serial numbers on each card, highlighting the rarity and giving a big boost to the desirability and value of this set.
The Jose Canseco 1991 Donruss Elite has sold for several hundred dollars in PSA 10 condition. PSA 9? $50 bucks and a PSA 8 NM-MT card can be had for $20 to $30 bucks.
1987 Jose Canseco Donruss Baseball Wax Box Cards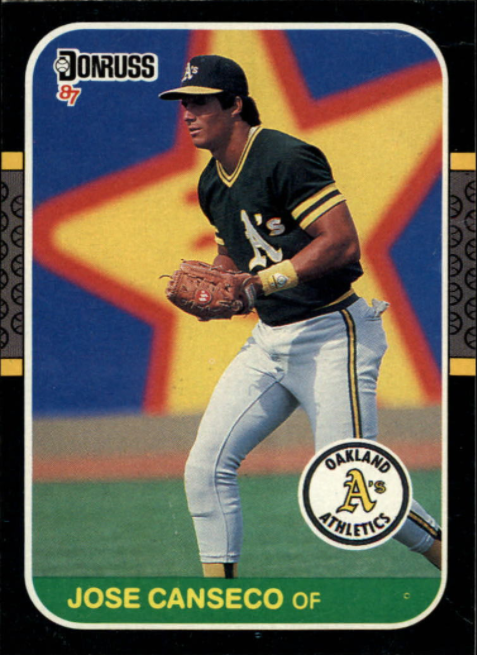 Another rare and interesting Jose Canseco card is the 1987 Donruss wax box bottom card. It's one of four cards printed on the bottom of the wax pack boxes.
If you can find a panel of all four cards uncut, values are higher than cards cut out individually. As you can imagine, cards in good condition are extremely tough to find.
1987 Jose Canseco Topps Mini League Leader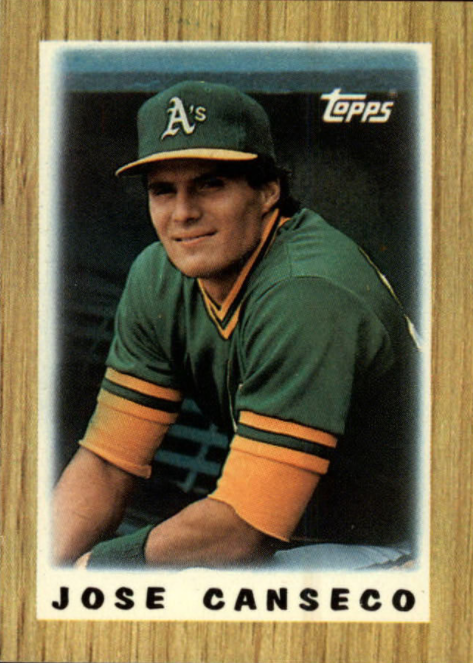 1988 Jose Canseco Topps Big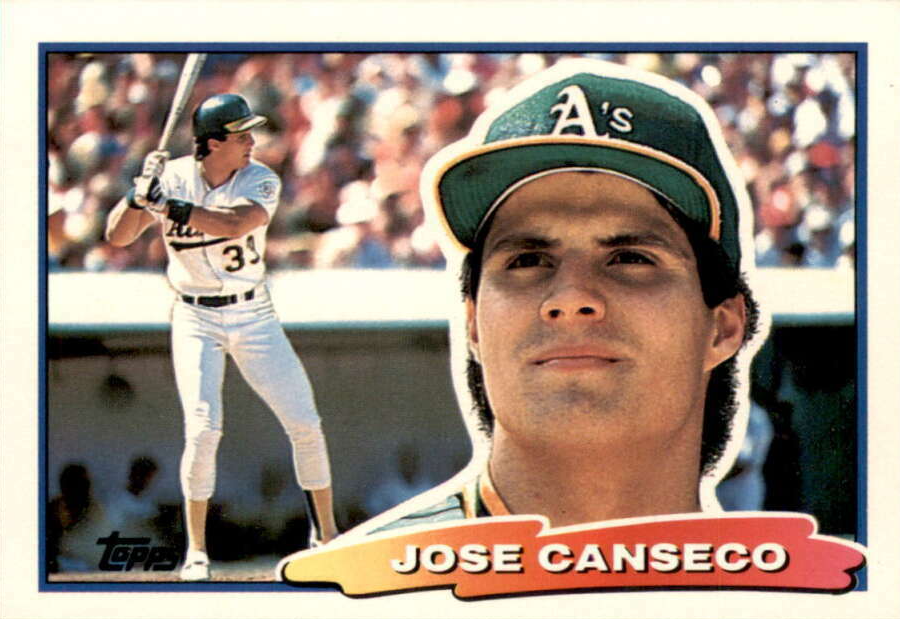 1989 Bowman Jose Canseco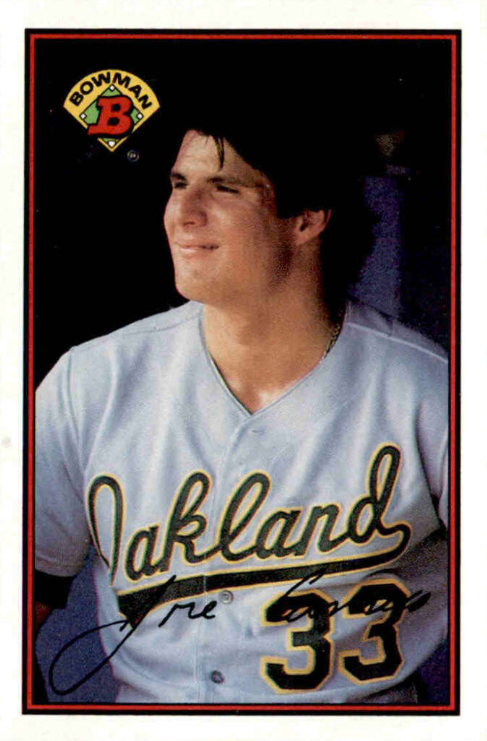 2021 Topps Chrome Jose Canseco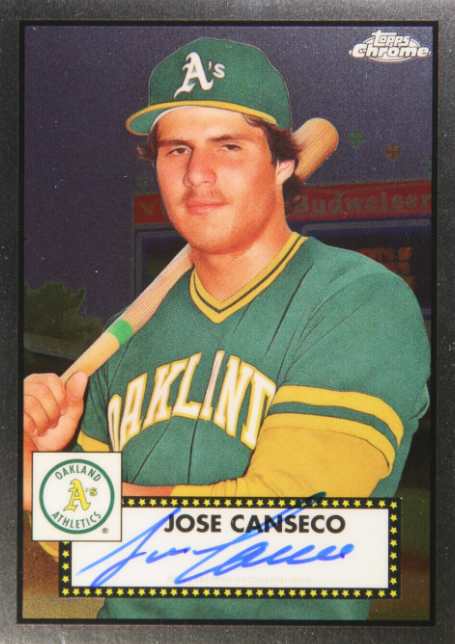 2022 Jose Canseco Topps '87 Sliver Pack Chrome Refractor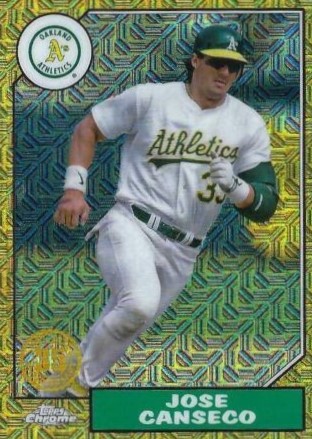 Even though it's a modern-day baseball trading card, I just love the look of the 1987 throwback tribute. You can almost smell the 35-year-old piece of bubble gum inside the pack.
---
Other Valuable Jose Canseco Collectibles
While many stickers have not been appreciated much over time, a few Jose Canseco stickers are worth collecting.
A 1990 Jose Canseco Red Foley Sticker #14 PSA 10 Pop 1 is a rare find valued over $100. There is also a 1988 Jose Canseco Panini Sticker that is somewhat rare and valuable.
1988 Topps Cloth Test Team Leaders
Legend has it, Topps decided to run a test printing of the 1988 Topps Team Leaders card featuring Mark McGwire and Jose Canseco.
The cloth sheets include instructions they are "not for sale," and only 50 were produced.
I've never seen the Topps test cloth printing in person, but reports say there were 121 "cards" printed that partially mirror the standard 1988 Topps cardboard set.
If you see these cloth test printings in the wild, I'd recommend adding them to your 1980s memorabilia collection. They are regarded as Topps true holy grail cards for the Junk Wax superfan.
---
Jose Canseco Collectible Coins
Other high-value collectibles include Topps coins, which measure 1.5 inches in diameter and feature the full-color photo of the player, along with the name, team, and position.
A PSA 10 Gem Mint Jose Canseco 1987 Topps Coins Card can sell for over $300.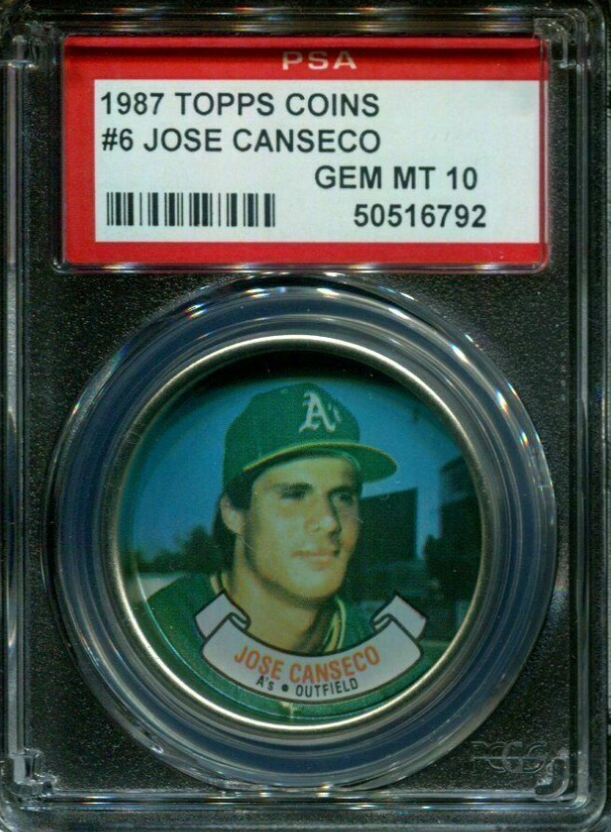 Finally, there are Topps stickers, which have different rarity levels and features different designs. Depending on their rarity and design, these stickers can be valuable.
A 1990 Jose Canseco, Topps Super Star Sticker, can range in value around twenty bucks.
Jose Canseco Kenner Starting Lineup Cards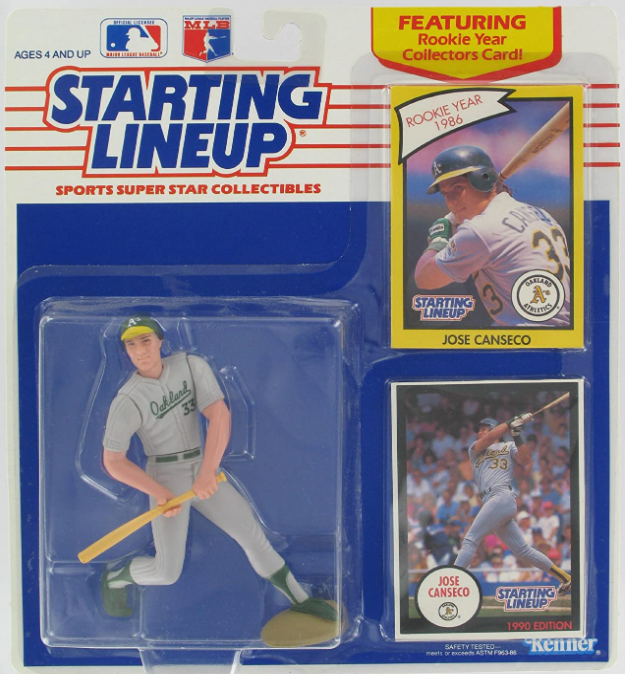 The Timeless Bash Brother
Jose Canseco is far from perfect. He's made plenty of very public mistakes. Even if he's seemed to own them, it certainly doesn't excuse his behavior.
That said, everyone has things in their past they would most likely want to change.
I find this half of the bash brother duo to be a likable, very human, and undoubtedly entertaining caricature of baseball history. Jose Canseco is timeless.
Not only has he played baseball for more than four decades in almost every different league imaginable, but he's also still very relevant today.
His Twitter account has over a half-million followers, and he is constantly pitching new products, ideas, and theories on a wide array of topics.
A former big-league slugger-turned renaissance man. If you don't follow him, I'd recommend checking him out.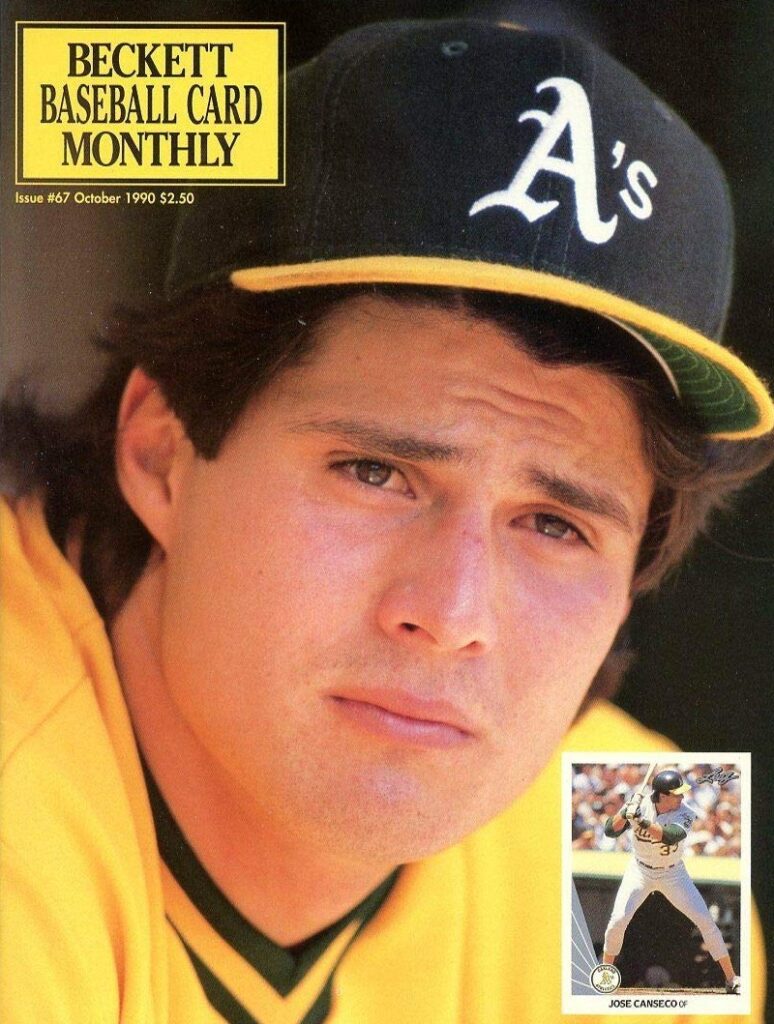 Still Entertaining Fans and "Haters" After All These Years
To say Jose is constantly re-inventing himself would be an understatement. Like it or not, the Jose Canseco rookie card will be a part of baseball and American culture for many years to come.
Now go follow Jose on Twitter. And don't forget to stop by his Las Vegas car wash, where you can fill your tank, wash your car, and get an autograph and photo with Jose.
---
Major League Baseball Career
Canseco established himself as the starting left fielder for the Oakland Athletics in his first full season.
He led the American League in home runs and runs batted by the All-Star break but ran into a slump that prevented him from winning the RBI crown.
Then won the American League Rookie of the Year award despite the setback.
In 1987, Mark McGwire joined the Athletics, forming the Bash Brothers – two of the biggest, baddest home run sluggers in the league.
Combined with Mark McGwire, they mashed 80 home runs and racked up 236 runs batted in.
Texas Rangers
In 1992, Canseco was traded to the Texas Rangers, catching everyone by surprise as Canseco was one of the best players in MLB at the time.
Despite battling injuries throughout his two seasons as a Texas Ranger, he was named The Sporting News Comeback Player of the Year.
Canseco was traded to the Boston Red Sox in 1995 and continued to be productive when he was on the field but battled injuries that left him out of many games during the 1995-1996 seasons.
Boston, Oakland, Tampa Bay, New York, Anaheim
Canseco returned to the Oakland A's in 1997, reuniting the Bash Brothers temporarily. Jose had a promising season but suffered a back injury causing him to miss several games.
While playing as a DH for three seasons, he played more outfield in 1993.
In 1998, he joined the Toronto Blue Jays as an outfielder. After 151 games, his highest total in six years, he belted a career-high 46 home runs with 107 RBIs, 29 stolen bases, and 98 runs scored.
In 1998, Canseco won his 4th career Silver Slugger Award.
Jose Canseco's Retirement from Major League Baseball
Canseco signed a one-year contract with the Tampa Bay Devil Rays with an excellent season overall. He injured his back before the mid-summer classic and missed the remainder of the season to recover from back surgery.
Fans voted Jose to the American League All-Star team as a starting designated hitter. Canseco became the 14th person in MLB history to hit 30+ home runs before the All-Star Break.
Prior to spring training in 2000, Canseco played in the MLBPA Big League Challenge home run derby in Las Vegas against 12 other sluggers.
The competition included Mark McGwire, Sammy Sosa, Barry Bonds, Mike Piazza, and Rafael Palmeiro. Canseco won the tournament.
Canseco re-signed a contract with the Devil Rays for the 2000 season. Still, he was plagued with injuries throughout his MLB career.
He was traded several times to the Yankees, the Anaheim Angels, and the Montreal Expos until he officially announced his retirement in 2002.
A Few of My Favorite Jose Canseco Cards
Canseco rookies are great, but there are many more cards that bring back memories of the slugger.
The Sports Illustrated for Kids cards were pretty iconic. With limited supply, many of them sell today for big money if the condition is excellent. My Canseco S.I. Kids card is a favorite, even with the white block across the top.
Jose didn't have the best batting average, and didn't lead the league in base hits very often, but that swing!
He could hammer the baseball 500 feet. That's what I'll always appreciate about Canseco.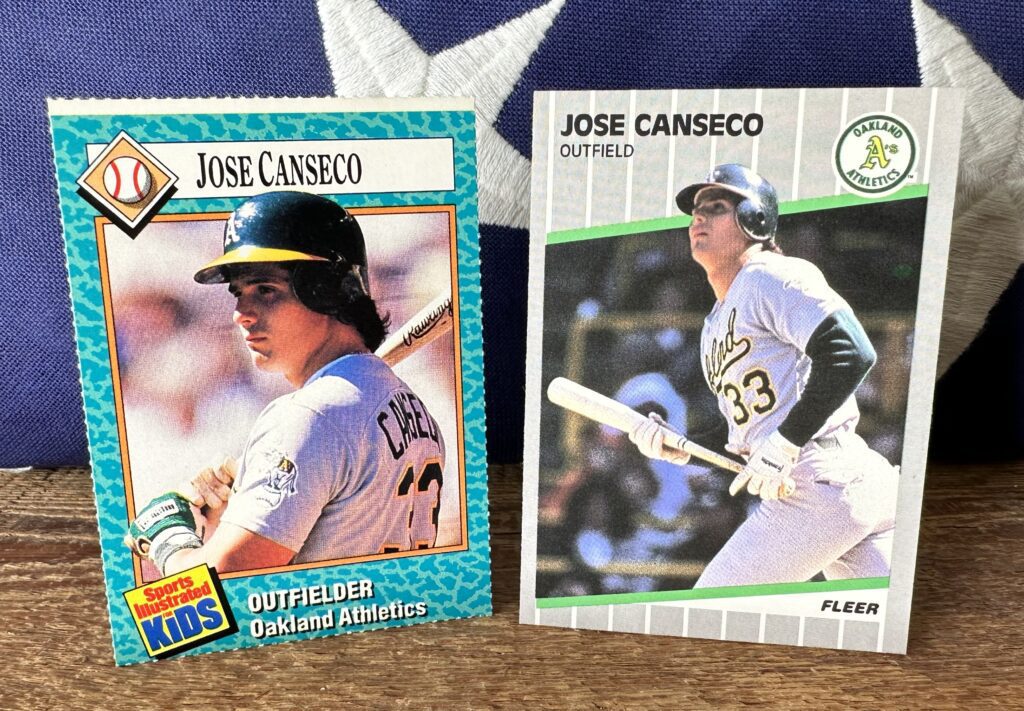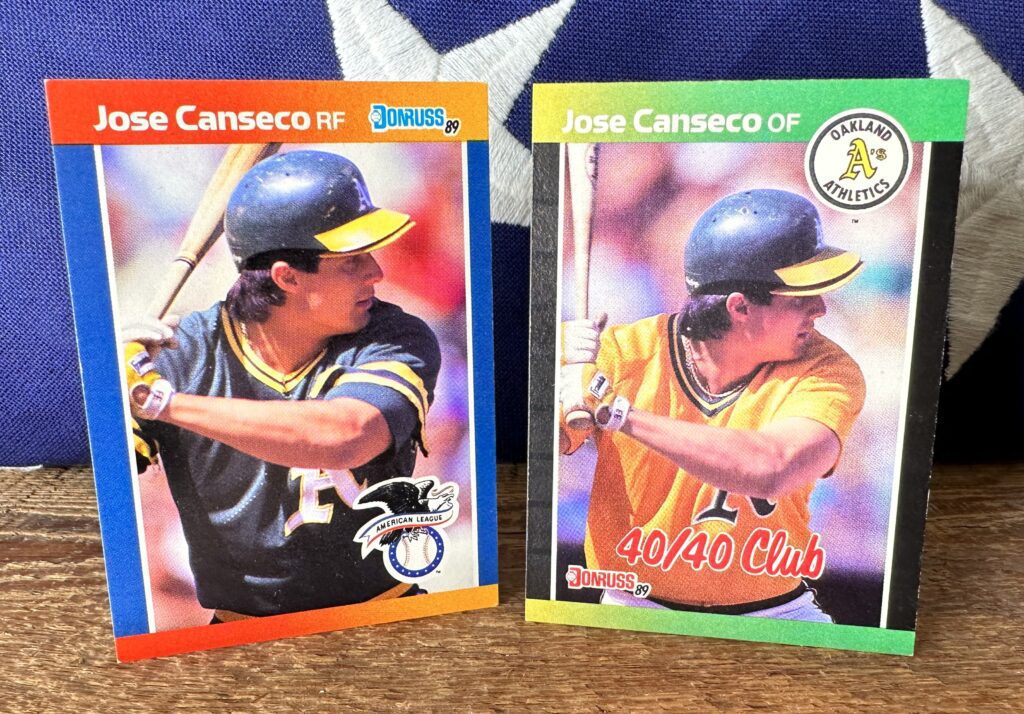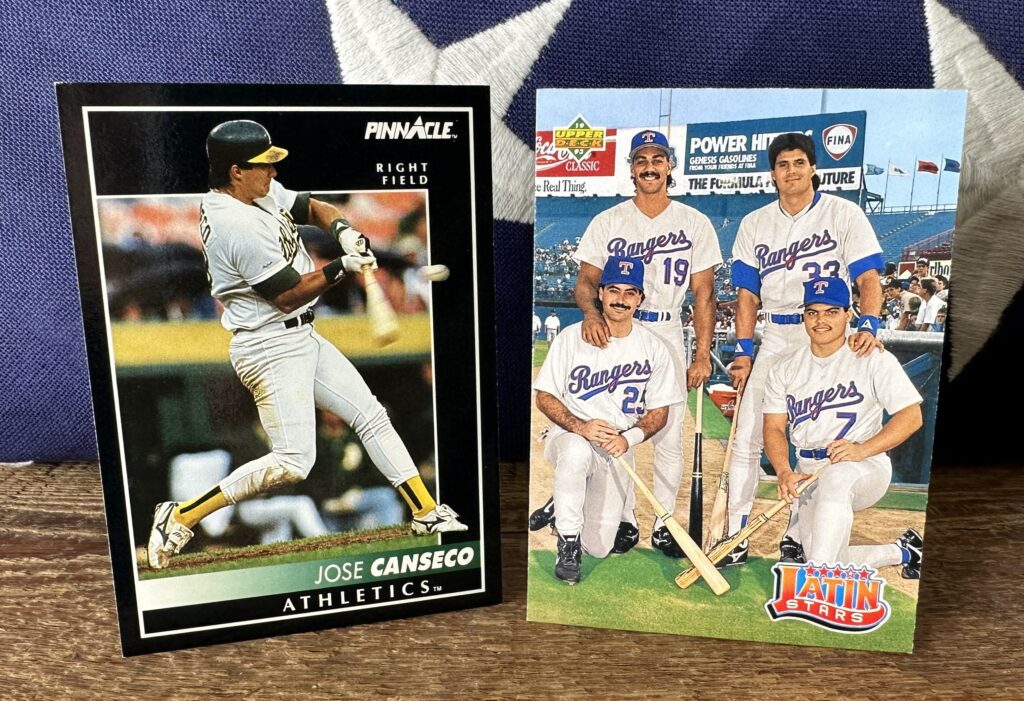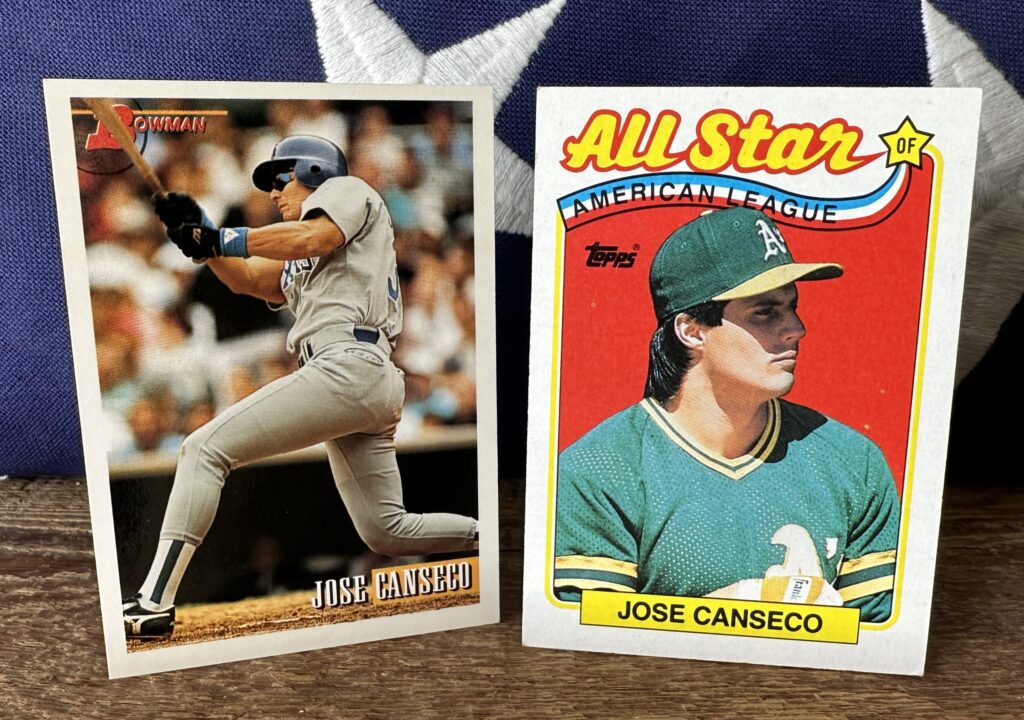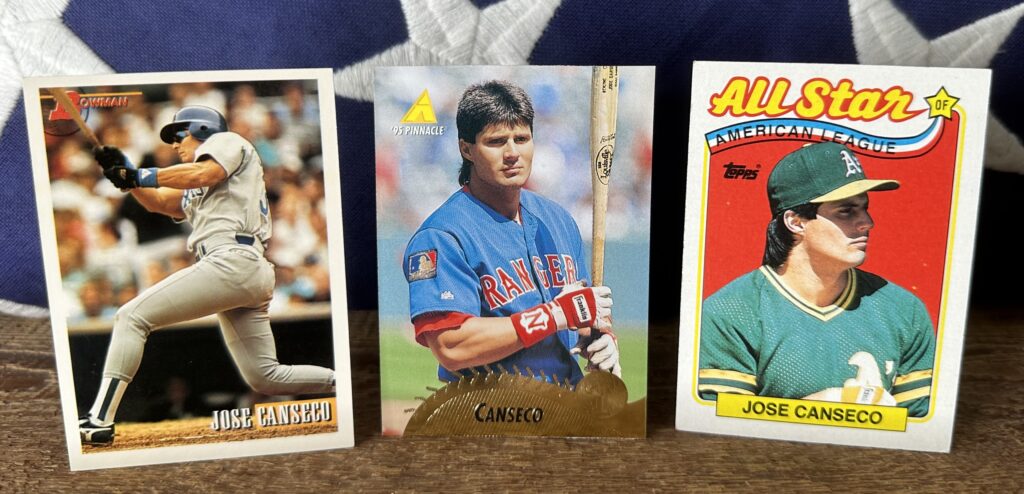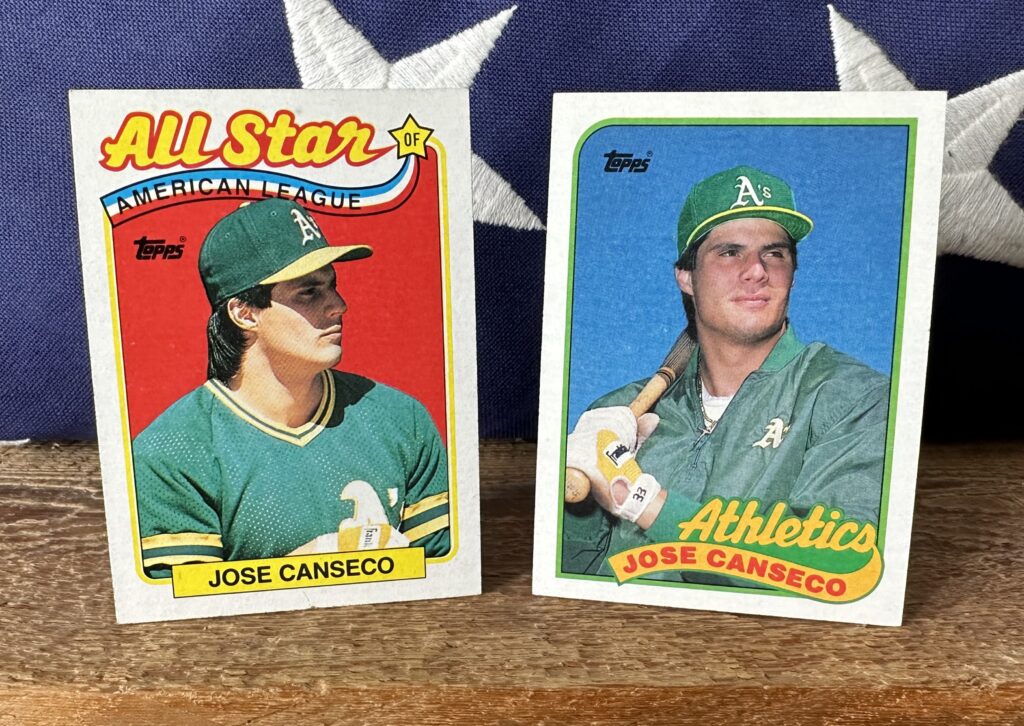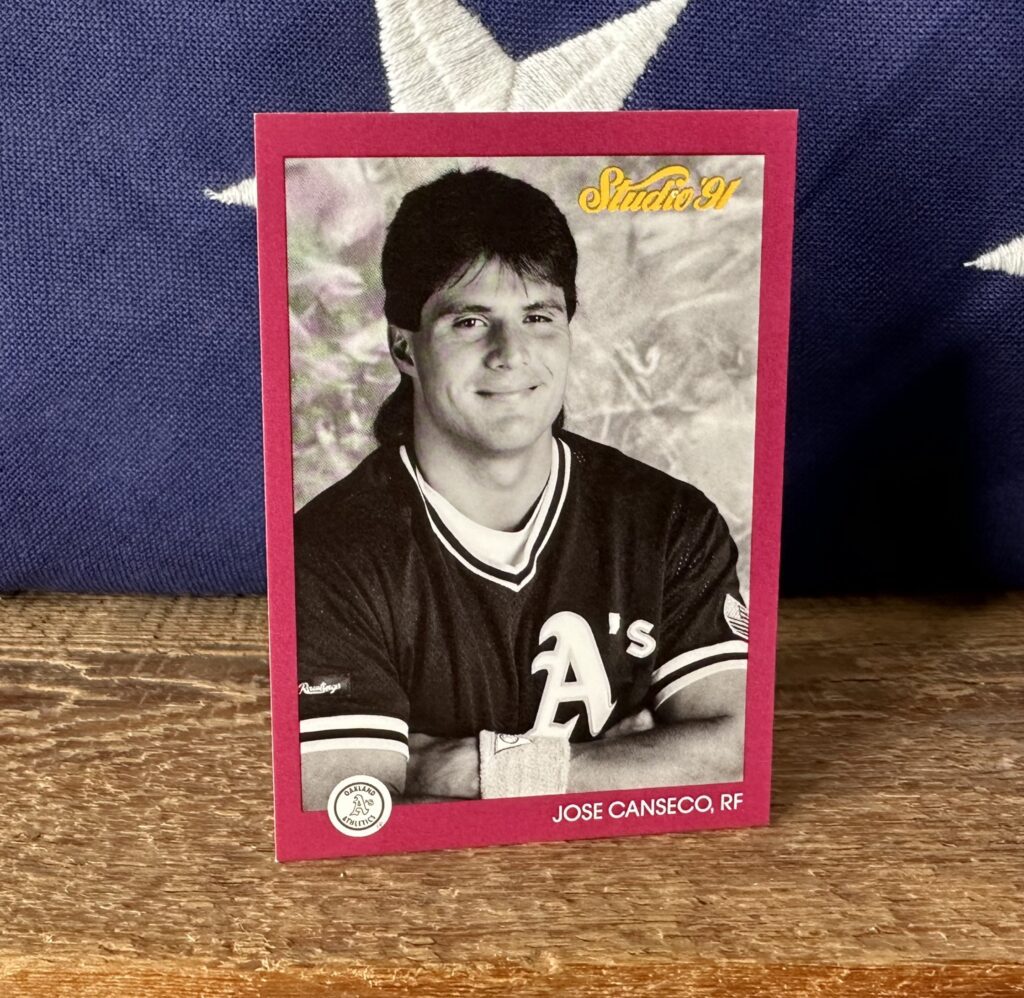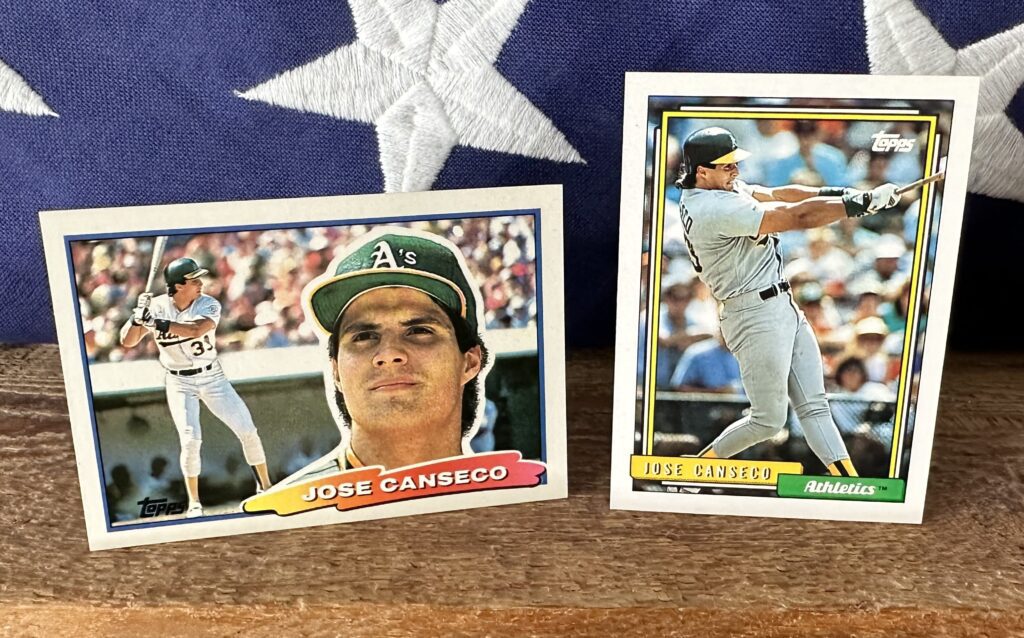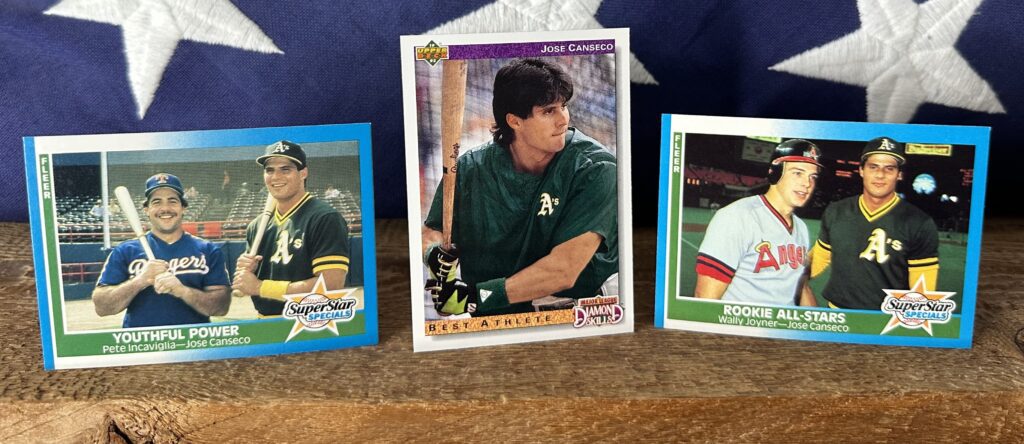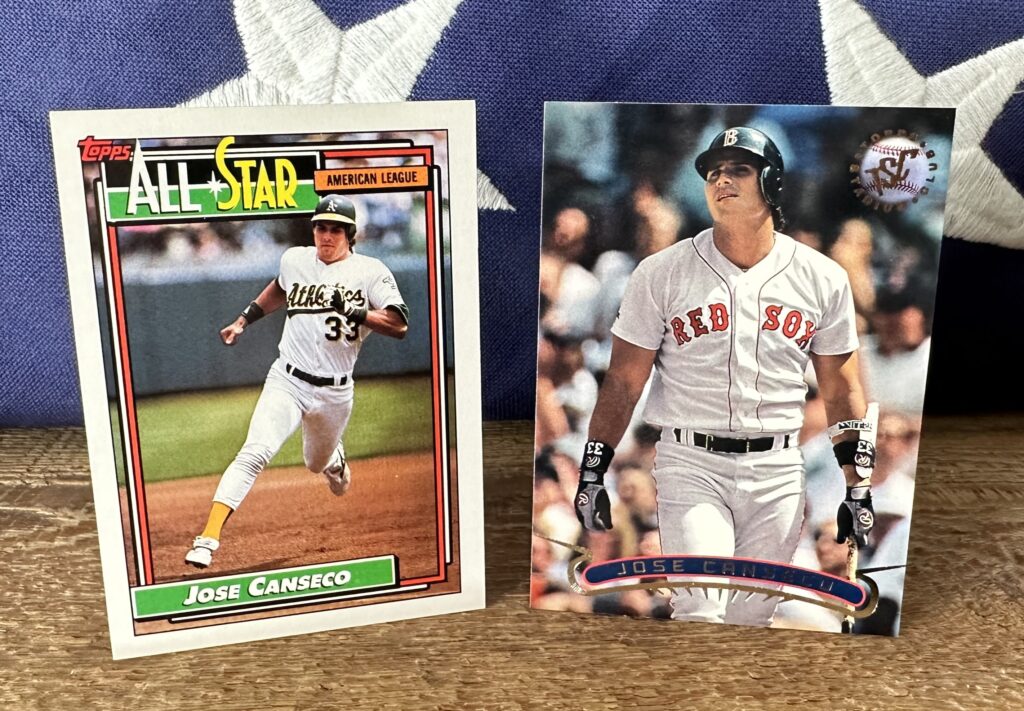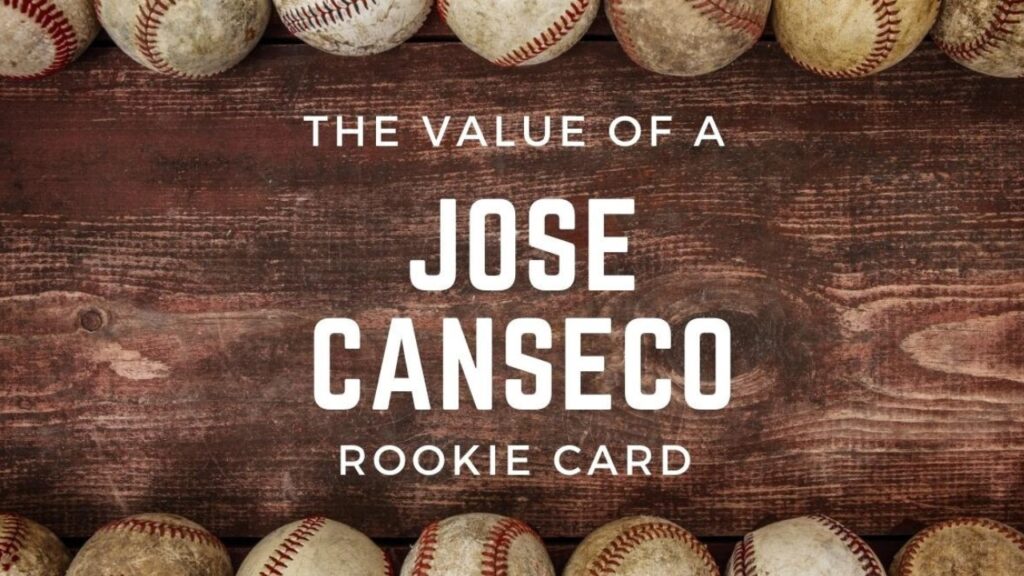 Card Collectors –> Looking to Sell Baseball Cards? Here's How (and Where) To Do It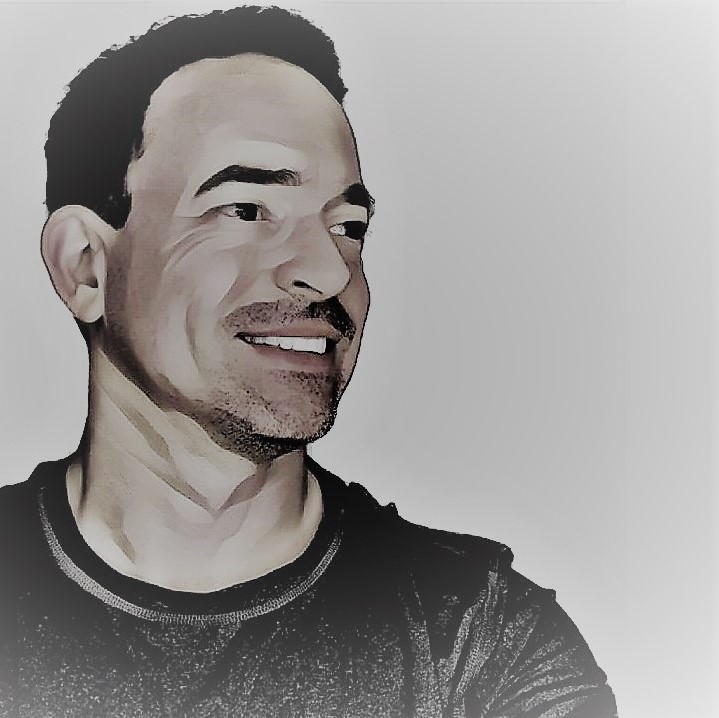 R.J. Bachman
Attic Capital – Writer, Editor, and Lifelong Collector
After many years of collecting rare coins, sports cards, and all types of collectibles, I began writing at Attic Capital to share my experience, knowledge, and passion.
I would love to connect with you, so don't hesitate to reach out and let me know more about your passion for collecting.