---
Imagine finding a 1986 Fleer basketball box unopened and sealed, sitting on a shelf in your storage room.
If you know anything about sports cards, your heart might flutter just a little bit when you realize 1986 was the year of the Michael Jordan rookie card and the rookie year of many other future Hall of Famers.
Larry Fritsch Cards
That's exactly what happened to Jeremy Fritsch, owner of Larry Fritsch Cards.
Jeremy's father, Larry Fritsch, opened the card store in 1970, and over the years, they realized they still had not just one box but an entire sealed case on the shelf.
They weren't exactly sure how they ended up with an extra sealed case, but over the years, as Michael Jordan became the greatest basketball player of all time, the incredible value of the sealed case started to sink in.
Record Breaking Sale
Back in the 80s, Fleer packs of 1986 basketball cards were selling for fifty cents. Entire cases were sold to card shops and retail stores for around $100.
But something that nobody could predict was the group of great players included in one single year.
Not only Michael Jordan but also rookie years for Charles Barkley, Karl Malone, Clyde Drexler, Hakeen Olajuwon, and Dominique Wilkins make the Fleer set loaded with stars.
Over the years, as prices climbed for sports cards, there were discussions about selling the case, but the Fritsch's wisely held out.
---
The Last Dance Liftoff
It was only recently when the pandemic helped send sports card values through the roof and 'The Last Dance' propelled Michael Jordan rookie cards to sky-high valuations, that the Fritsch's decided to pull the trigger and sell the case at auction.
The auction was a huge success. The sealed case of 1986 Fleer basketball cards owned by Jeremy Fritsch sold for $1.8 million to the winning bidder.
The sale equates to around $149,000 per box or $4,100 per pack.
1986 Fleer Basketball Pack
What's better than opening up a few wax packs, and finding out who's inside?
In recent years, opening up a few 1986 Fleer packs has nearly broken YouTube, where card collectors record their "unveiling," with thousands of viewers experiencing the adrenaline rush along with the lucky pack breaker.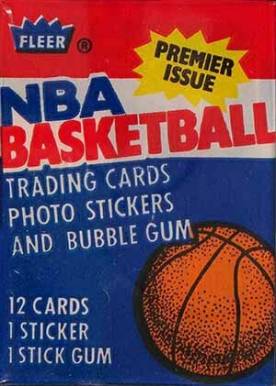 1986 Fleer Basketball Box
There's one thing to make clear; there are 1986 Fleer basketball sealed boxes, and there are 1986 Fleer basketball sealed cases.
A case holds 12 boxes. There are many sales of sealed boxes; there hasn't been a sealed case sale in more than 20 years.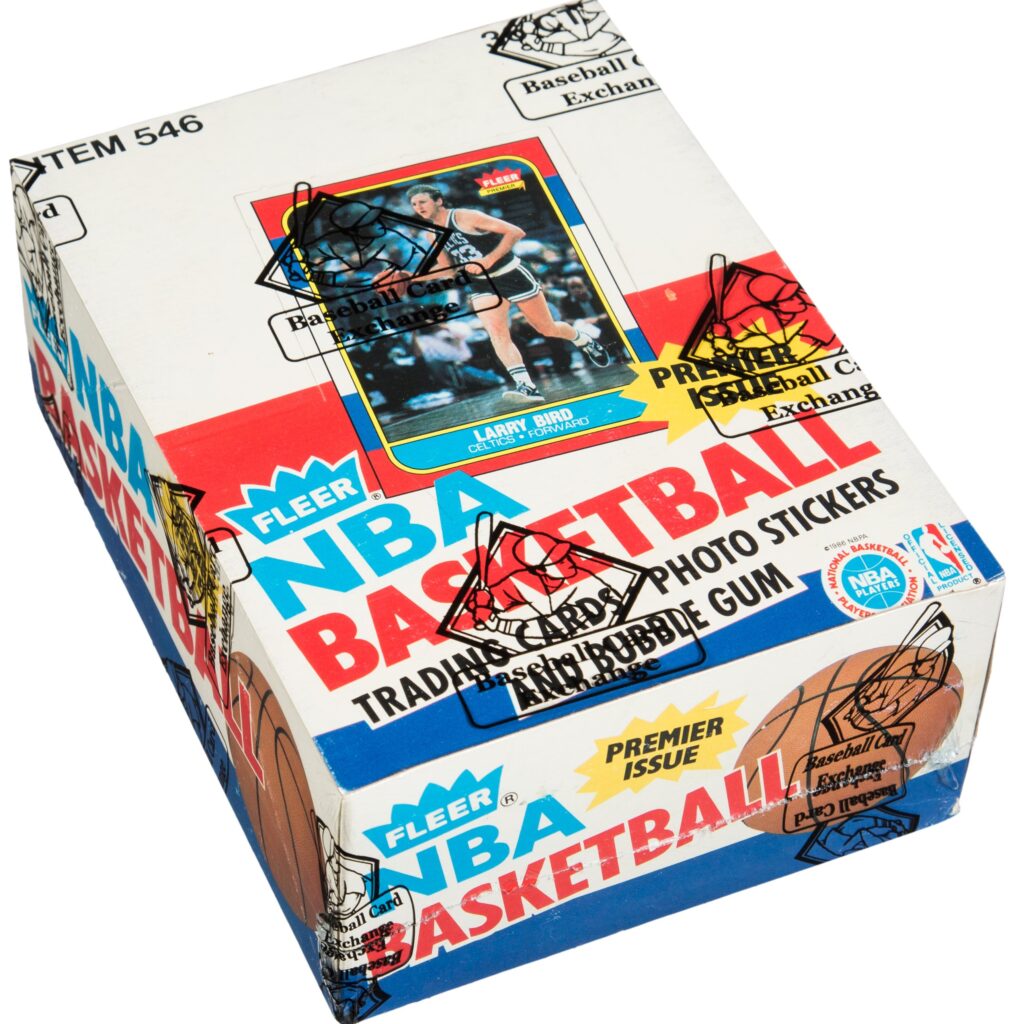 The Rally Fleer Box
Rally, the fractional share investment platform, offered a sealed 1986 Fleer basketball wax box recently, and the offering was 100% funded incredibly quickly.
The value for the sealed fleer basketball box sits at $160,000 for now. Explore the Rally app for more information on the sealed box, and find out when it will open for trading if you would like to own a few shares.
There's a huge demand for the 86′ Fleer sealed boxes, with recent sales well over $100,000. Each box contains 36 packs, and each pack includes 12 cards. There was also one sticker in each pack, as part of an 11-piece set.
With 132 Fleer cards in the complete set, the average number of Michael Jordan rookie cards inside would be roughly 3 per box.
The sealed 1986 Fleer basketball boxes became one of the most desirable items in the card collecting universe.
---

---
1986 Fleer Basketball Case
An entire case of 1986 Fleer Basketball cards includes 12 boxes, so the math works out to potentially 40 Michael Jordan rookie cards inside the sealed case.
What's amazing about the Fritsch Family's case is the stunning condition, with good corners and the original 35-year-old tape.
Two labels on the outside of the box explain how it ended up at the Fritsch Card shop.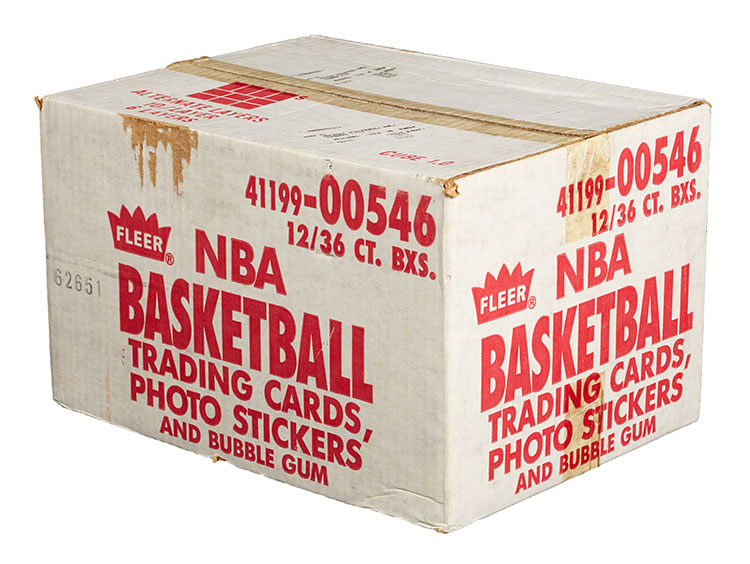 The distributor listed as Holiday Wholesale, Inc. in Wisconsin Dells, WI, sold the case to Fritsch Sports Cards, just a few miles down the road in Stevens Point, WI.
Michael Jordan 1986 Fleer Rookie Card
The 1986 Fleer Michael Jordan rookie card has been the poster child of the last few years' resurgences of sports cards.
Prices have skyrocketed from around $50,000 to over $200,000 in 2021 for PSA 10-rated Fleer Michael Jordan cards.

---
A great example of how red-hot the '86 Fleer Jordan rookie is right now you can look at a past offering on the Rally platform.
Last spring, Rally offered a 1986 Fleer Michael Jordan rookie, PSA 10, with an opening valuation of about $40,000.
Just a few months later, after The Last Dance series aired on ESPN in June, it was purchased by a private investor for $72,000.
That's an almost 80% gain in just a few months.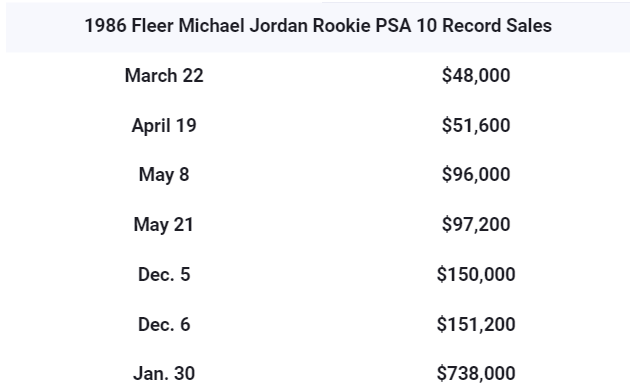 Since June, it's possible the card has at least doubled from that price. The biggest gamble in sports cards lately, or almost any asset class for that matter, is deciding to sell.
Then you have to deal with the horror of watching the value of what you just sold soar into the stratosphere without you.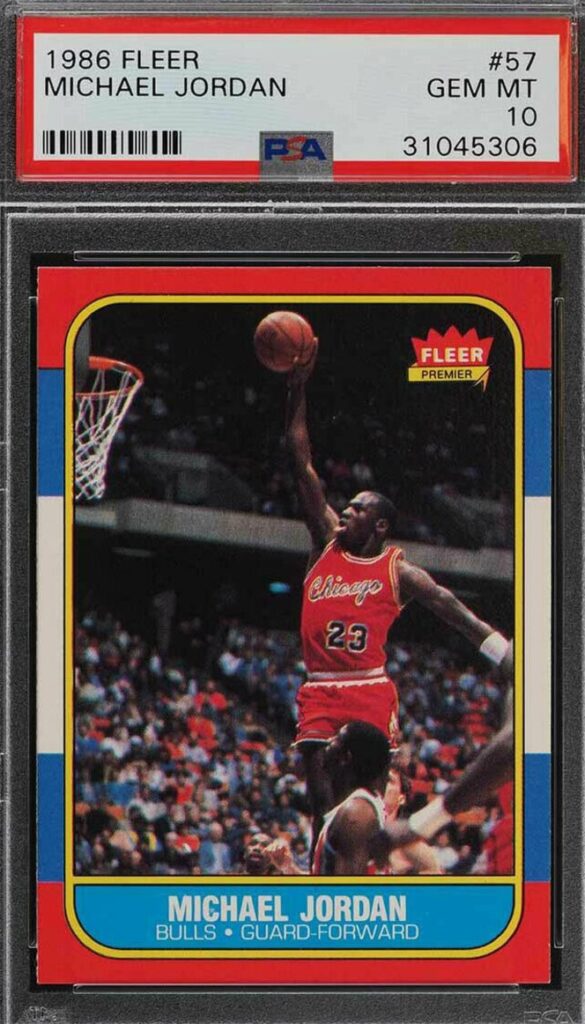 The 1986 Fleer Michael Jordan rookie card is by far the most iconic basketball card of all time. Over the last year, prices have skyrocketed. What was once a $20,000 card not long ago is now selling for well over $100,000.
Fleer
The Fleer Corporation was founded in 1885 by Frank H. Fleer.
It began as a bubble gum manufacturer, the first of its kind, and eventually moved into sports cards starting in 1923. At first, Fleer only printed baseball cards, later adding football cards in 1960.
---
Finally, in 1986, the company decided to produce basketball cards, and they picked the right time to enter the basketball world.
Many card collectors regard the 1986 Fleer basketball set as one of the most important trading card sets of all time, comparable to the 1952 Topps baseball set.
The Sale of Fleer
The Fleer company was sold to Marvel Entertainment Group in 1992 for over $500 million, just as the card collecting craze of the early 90s was in full swing.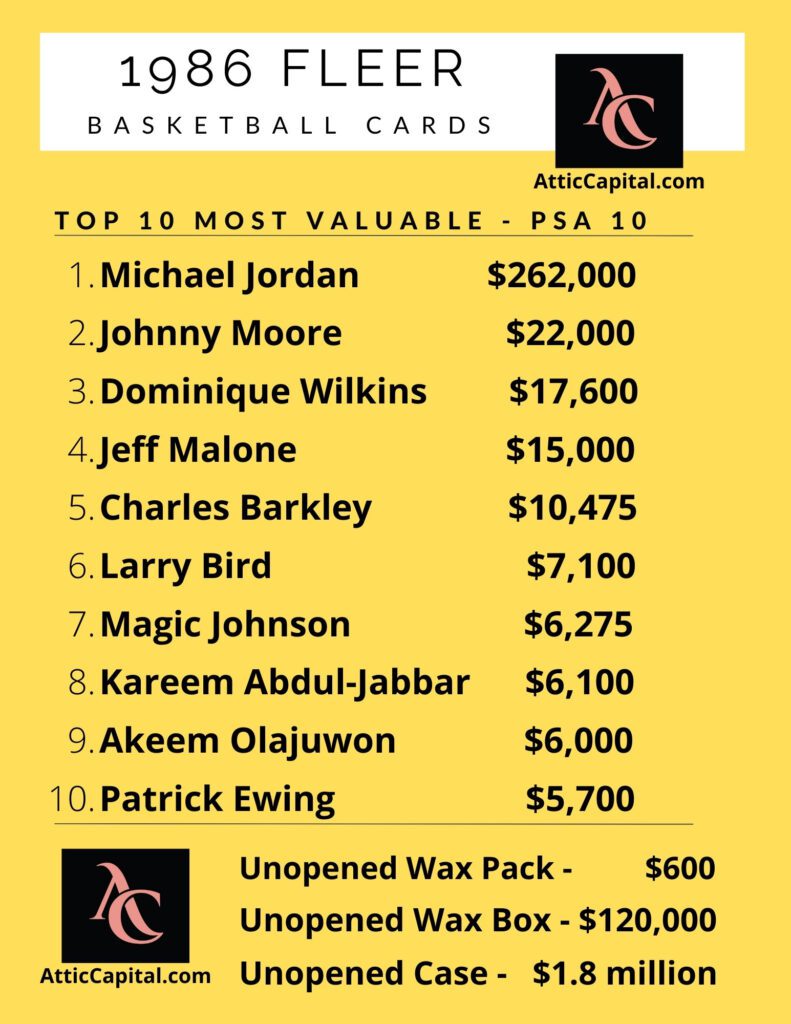 The 1994 Major League Baseball strike and lockouts in the NBA hurt the card collecting industry, along with various other factors, and sales declined. Marvel entered bankruptcy in 1996.
The Big Gamble
It's a huge gamble to actually sell something these days, only to watch prices continue to rise after you cash out. One of the reasons I love the idea of owning sealed, unopened cases and boxes of sports cards is the "big gamble."
The big gamble is the thought of unsealing and opening the box to identify its contents. The 1986 Fleer basketball sealed unopened case contains 12 boxes. Inside each box is 36 packs with 12 cards each.
To Open or Not
You might end up with more than 40 Michael Jordan rookie cards, or you could end up with much less. Maybe most importantly, what is the condition of each? Do you even have one single PSA 10 graded card? Or a dozen?
As far as I know, the '86 Fleer case will remain sealed with its new owner, who remains unidentified.
Will the new owner ever consider taking the gamble and revealing what they actually own? I would say there's much value in the case remaining sealed, so we can only imagine the contents.
Hopefully, the mysterious case of '86 Fleer can live on.
---
---
Great Cards from the 1986 Fleer Set
It wasn't only the Jordan rookie from the 1986 Fleer set. Packs were absolutely loaded with future stars and Hall of Famers.
All the stars aligned for the 1986 basketball cards to become a future collectible gold mine.
1986 Fleer Hakeem Olajuwon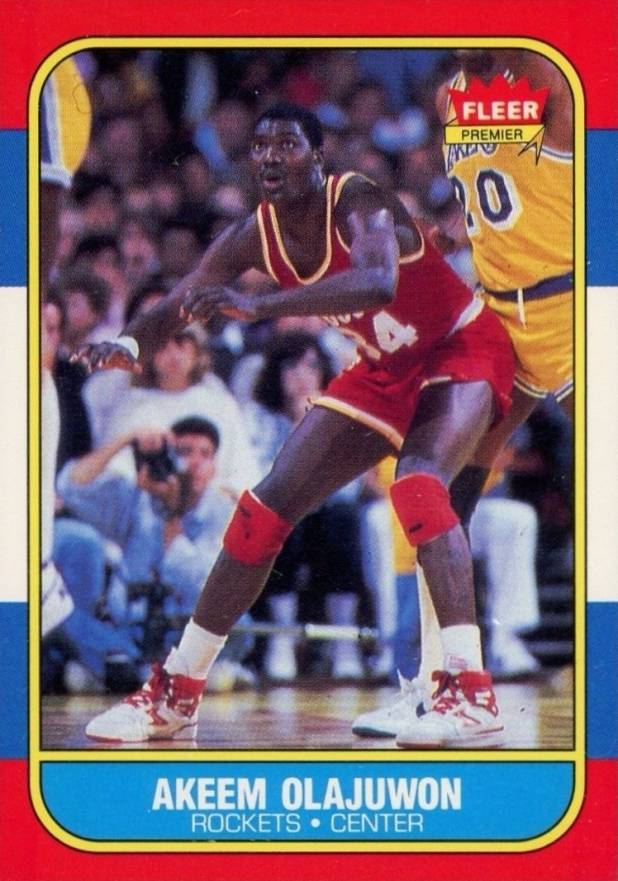 1986 Fleer Charles Barkley Rookie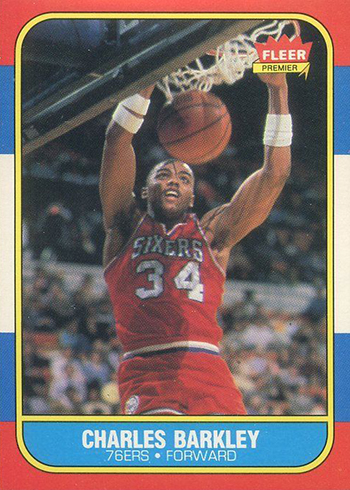 1986 Fleer Clyde Drexler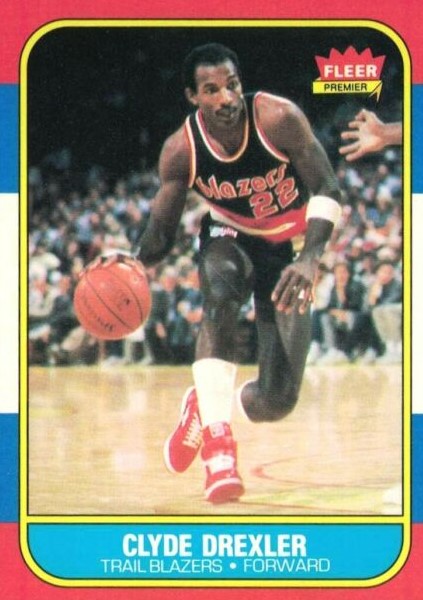 1986 Fleer Dominique Wilkins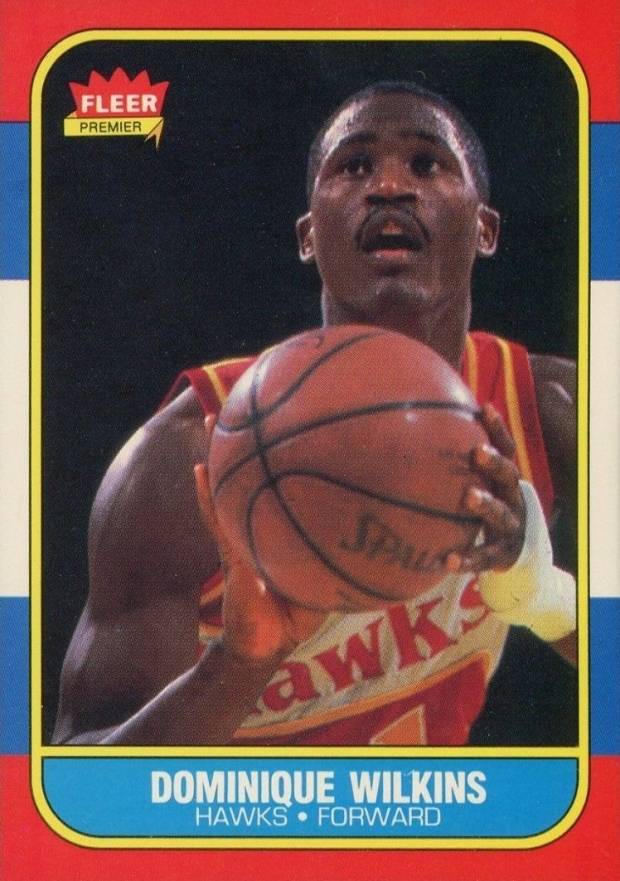 1986 Fleer Karl Malone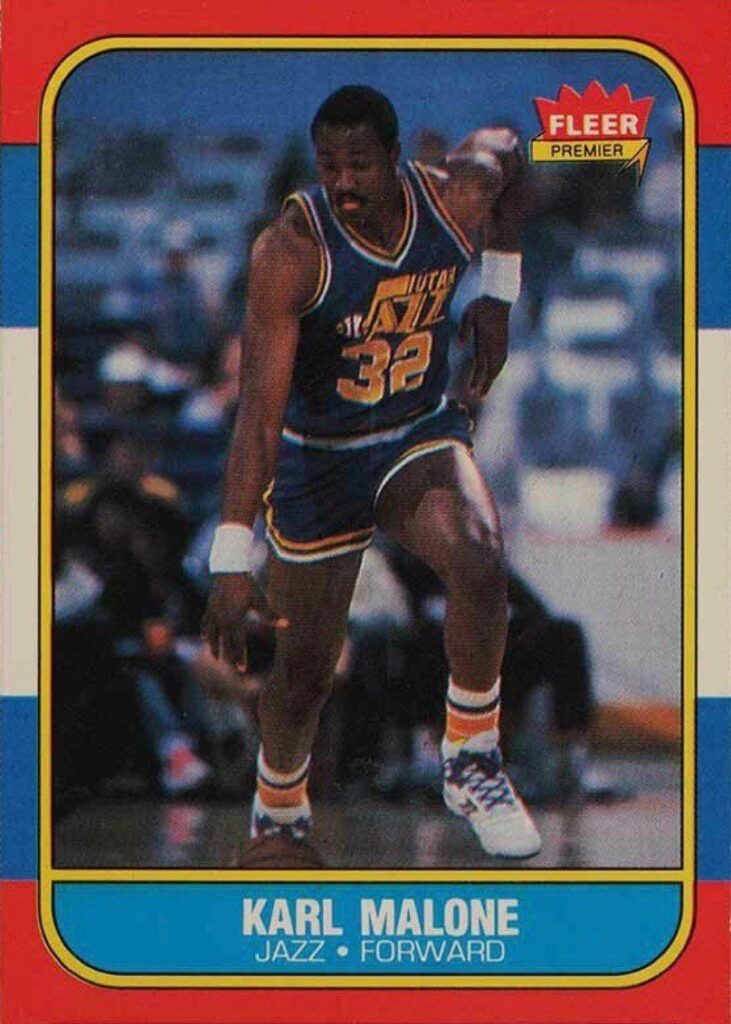 1986 Fleer Isiah Thomas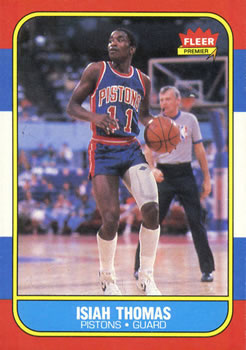 1986 Fleer Patrick Ewing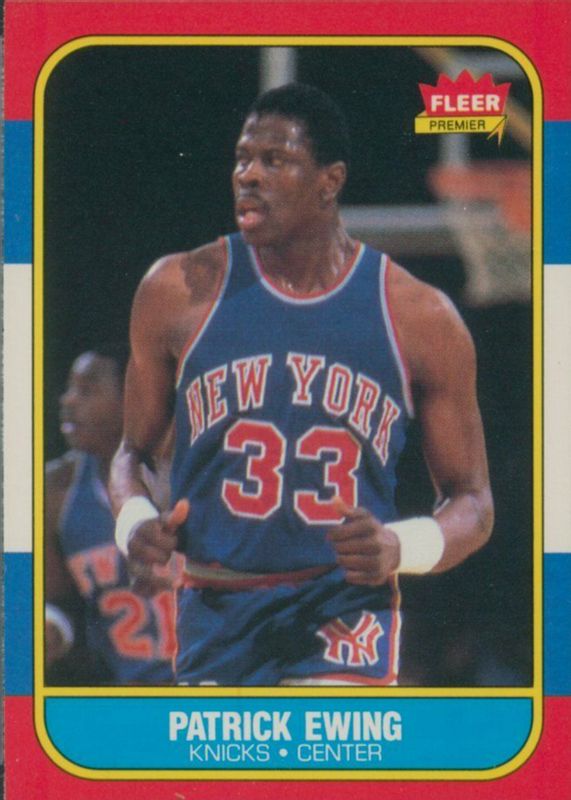 1986 Fleer Magic johnson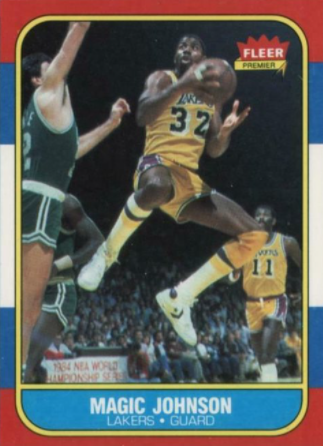 1986 Fleer Chris Mullin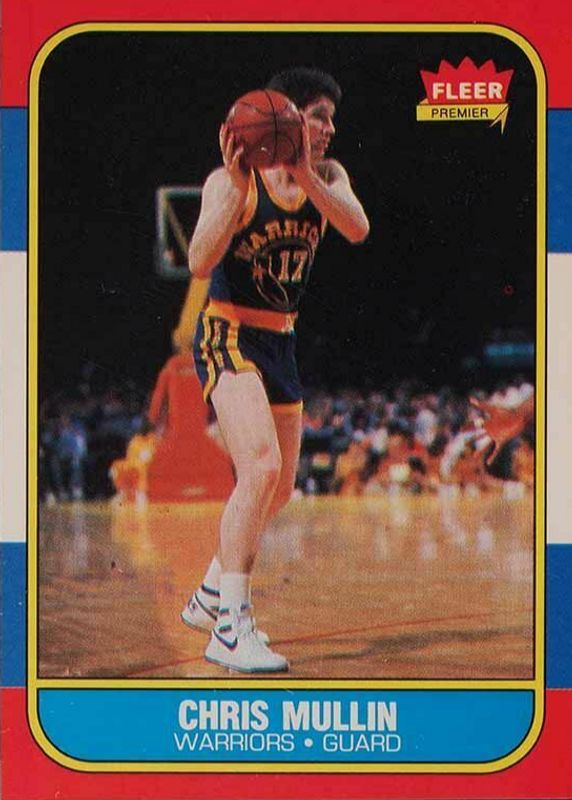 1986 Fleer Larry Bird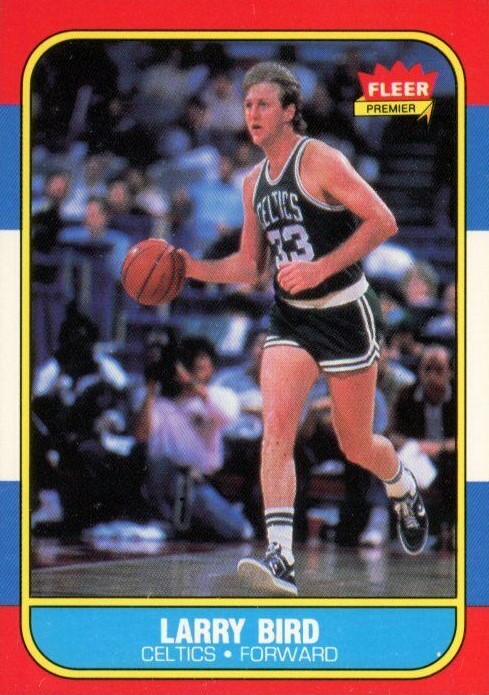 1986 Fleer Joe Dumars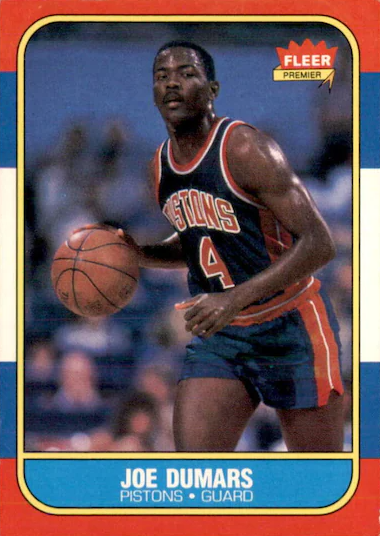 1986 Fleer Kareem Abdul-Jabbar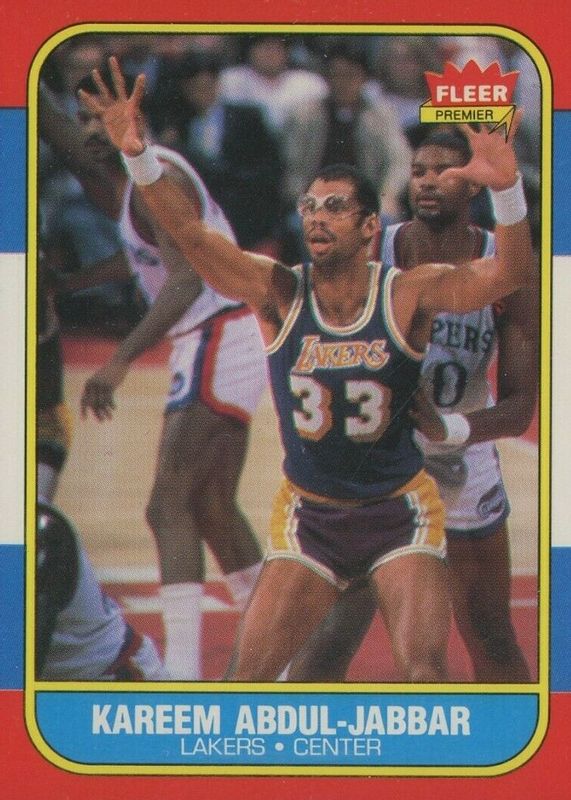 1986 Fleer James Worthy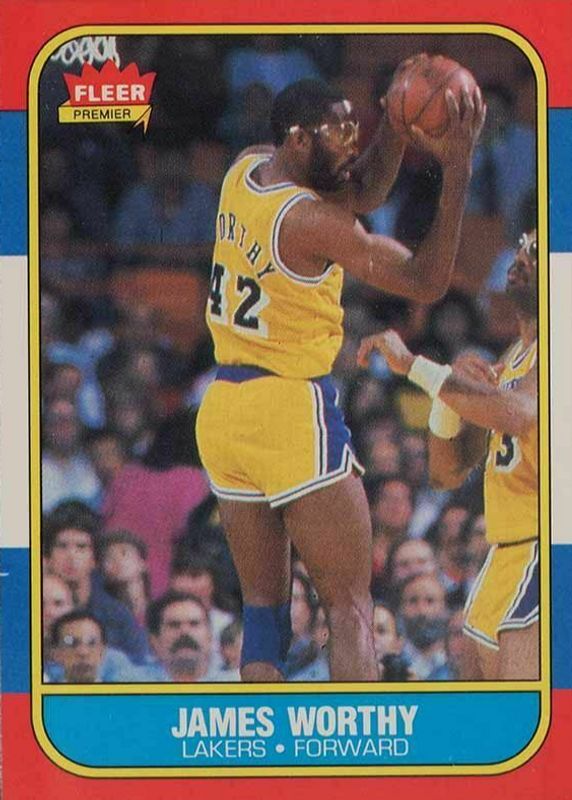 1986 Fleer Johnny Moore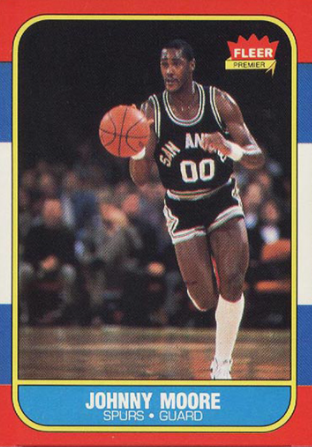 1986 Fleer Manute Bol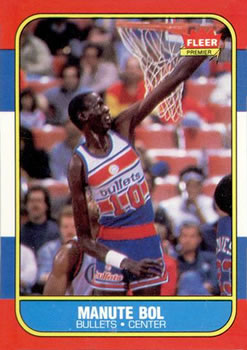 1986 Fleer Wayman Tisdale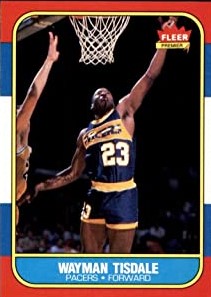 1986 Fleer Danny Ainge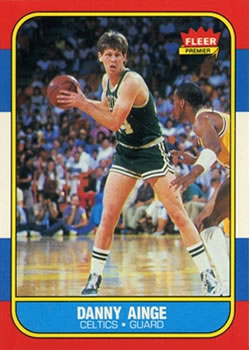 1986 Fleer Jeff Malone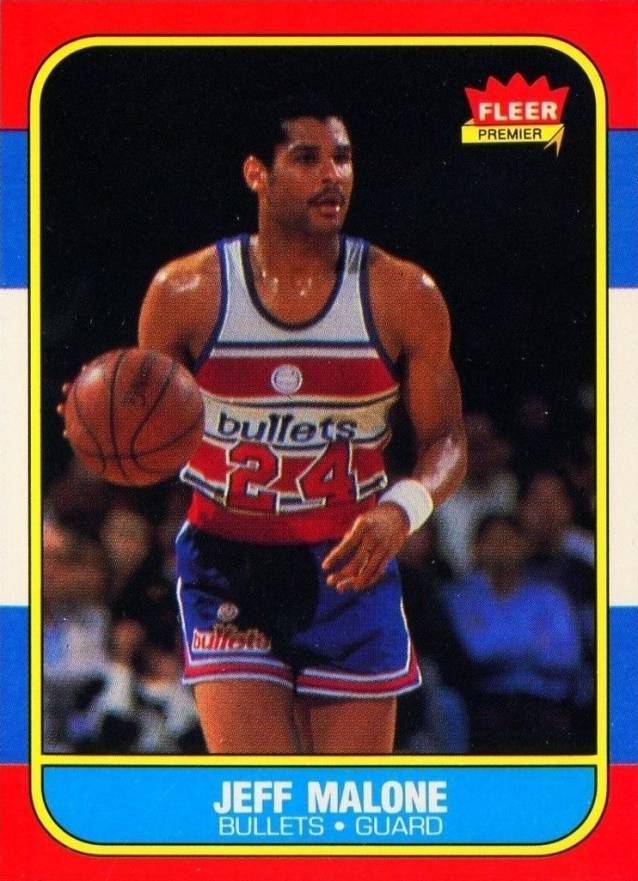 1986 Fleer Julius Erving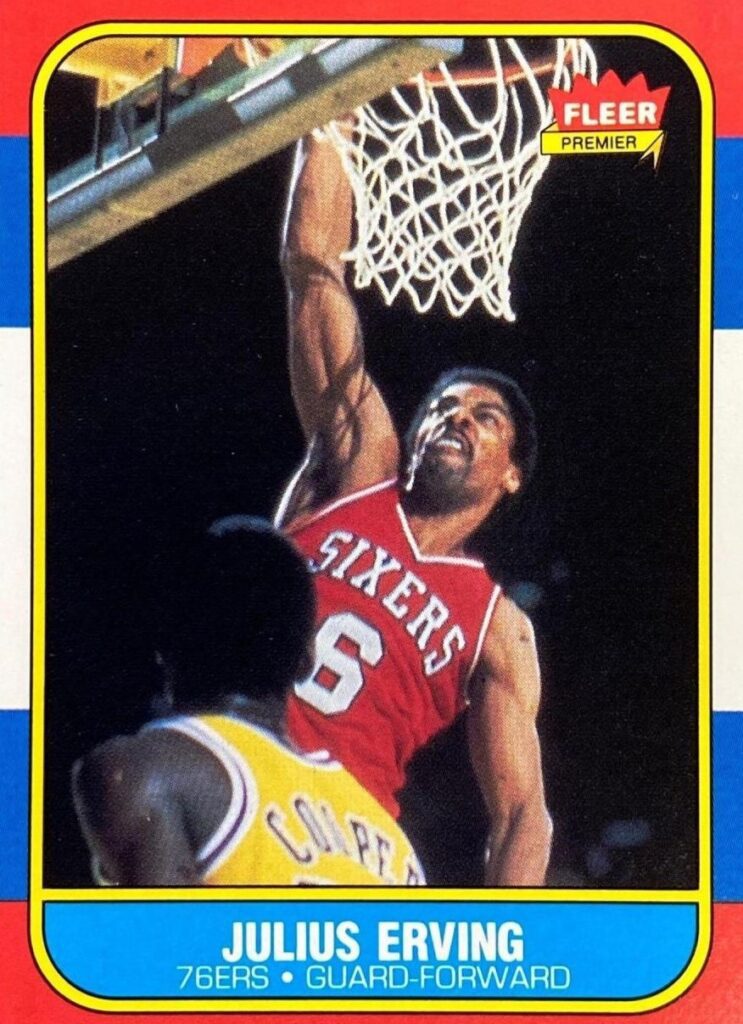 1986 Fleer Spud Webb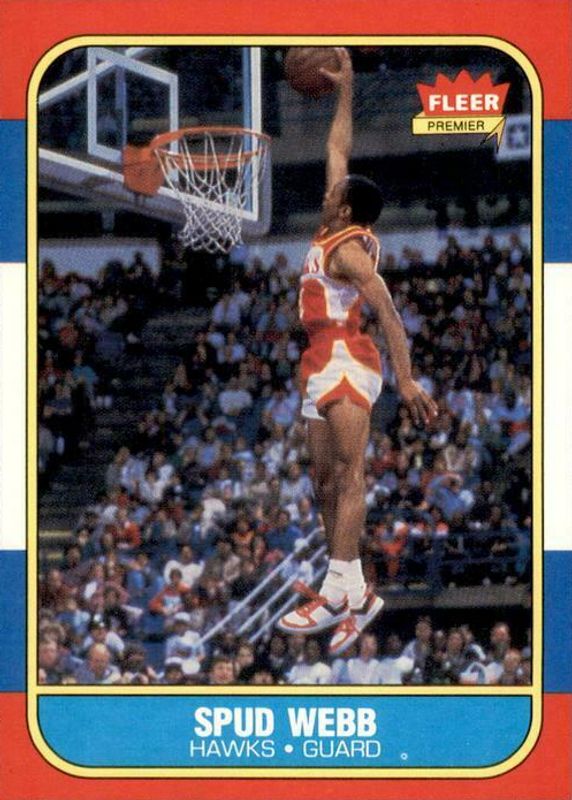 1986 Fleer Kevin McHale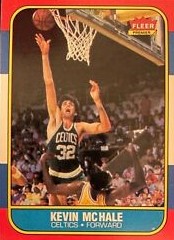 Robert Parrish, Boston Celtics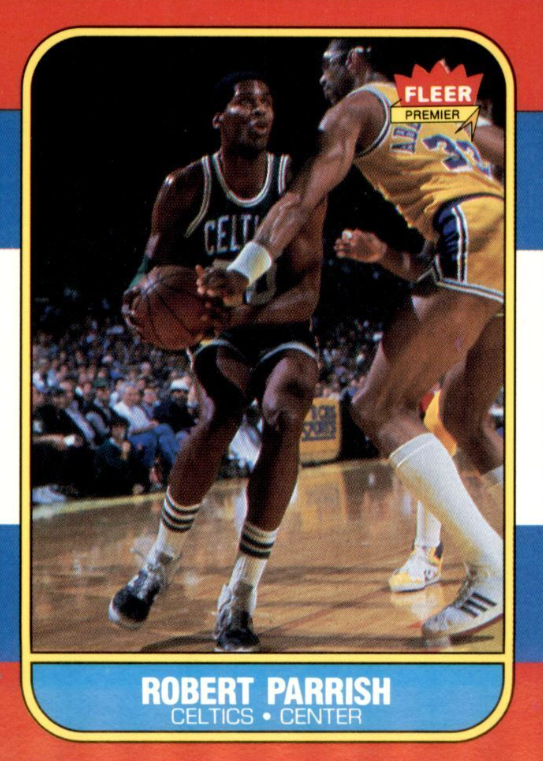 Even though John Stockton wasn't a rookie for another two years on the 1988 Fleer cards, several others were included in the amazing set.
Maurice Cheeks, Bill Laimbeer, and Alex English were a few other solid players who would go on to have stellar careers, making regular appearances in the All-Star Game, year after year.
Heritage Auctions and Goldin Auctions both regularly feature PSA 10 graded cards from the 1986 Fleer basketball set. If you're a fan of vintage cards, this is one of the premier years to collect.
---
Card Collectors –> Looking to Sell Baseball Cards? Here's How (and Where) To Do It