---
New fractional ownership companies are giving collectors options they've never had before.
From blue-chip real estate to collector cars, vintage watches, and rare books, new fractional ownership platforms are increasing their offerings of desirable assets for collectors.
It's not only the ultra-wealthy who can own the greatest assets on earth. Thanks to a few law changes, and dozens of new fractional ownership companies, collectors are able to own a piece of almost anything.
Reasons to Consider Fractional Ownership Platforms
Fractional ownership platforms offer diversification on a small scale. Just as the name would describe, owning a fraction of several assets provides a degree of diversification that otherwise wouldn't exist. Some financial experts recommend spreading your capital across multiple investments, rather than holding all your "eggs in one basket."
Fractional ownership companies provide accessibility to assets otherwise reserved for wealthy collectors. Don't have $3 million laying around for a Babe Ruth rookie card? Why not own a tiny piece of the action for $100? How cool is that?!
Liquidity. Some would argue fractional ownership shares offer greater liquidity. Now, you can always sell your Monet painting through Sotheby's, I guess. But owning a fraction of a famous painting through Masterworks allows collectors to sell the shares of the painting rather quickly and efficiently. As opposed to holding a grand New York City fine art auction event.
Here's a closer look at the 7 best fractional ownership companies to build your portfolio, and own a piece of the best assets in the world.
#1 – Rally
There was a time when the door was closed to the masses looking for alternative ways to invest. Recently it's become possible to buy pieces or fractions of almost anything you can think of.
Rally, or as some may know it as Rally Rd. is one of the top fractional investment companies out there today.
The World's Best Assets for Collectors
The list of all the fantastic things they are doing goes on and on. I gave a brief overview of the company a while back, but as you can imagine, things are changing rapidly at Rally.
What began with collector cars has expanded into virtually every type of asset under the sun. Too many to list here.
Amazing Collectibles – Totally Unique and Ultra-Rare
Just to give you an idea, with Rally, you can invest in fractional shares of game-worn Michael Jordan Nike sneakers, NFTs, or even first versions of an Apple iPod, still sealed in the original box.
This all might sound crazy to you, so I would recommend you journey over to the Rally app and see for yourself. The range and depth of unique collectible items is truly astounding.
I would consider Rally one of the top 7 fractional ownership companies to build your portfolio.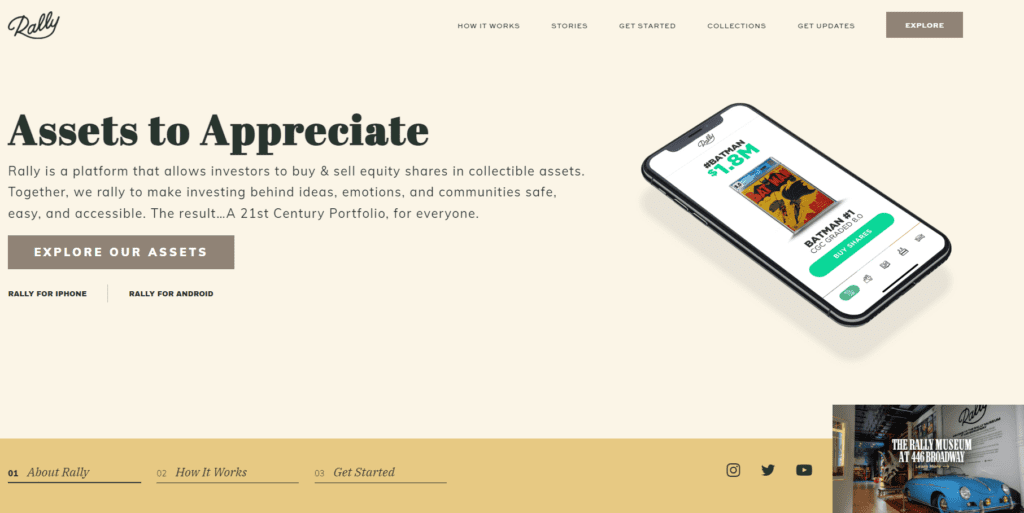 'Democratize Alternative Assets' With Rally Fractional Shares
Rally's mission from its website is to 'Democratize alternative investments.' They began offering collector cars and recently expanded into memorabilia, sports cards, watches, wine, and whiskey.
What began with offering over 40 collector cars to invest in for as little as $20, they have been consistently expanding their collectible categories and offerings steadily. (and rapidly)
The app is very well designed and contains a ton of information about each collectible asset. A full photo gallery, detailed description, and legal information are listed.
A cultural summary is included to highlight the significance of each car and the impact it made on the auto world when it was initially released.
Ferrari Testarossa Fractional Shares
For instance, the 1989 offering of the Ferrari Testarossa includes a quote from G.Q. Magazine.
They describe the car as, "The era's dream car, Don Johnson's wheels in Miami Vice and undisputed symbol of excess to a generation, the Testarossa, is feeling the liftoff of collectability right now…"
Each car is announced with a current value, the number of shares offered, and an offering date and time.
You select how many shares you want to purchase and wait a few minutes for a confirmation.
Funds are easily transferred to the app through a link to your bank account. You can quickly move money to the app for investment.
Move Funds To or From Your Bank With Ease
Also, moving funds rapidly back to your bank account if you need to use the cash. Once confirmed, you are now the owner of a share ( or more ) of a classic car.
Safely stored, maintained, insured, and ready for whatever price appreciation may come in the future.
I detailed my experience investing in the 1969 Ford Boss 302 Mustang. I purchased shares in the car for $57.50 per share. After a couple of rounds of open trading windows, the value rose steadily.
Shares traded hands back and forth while a new price was set. The current share price sits at $72.10. A nice gain of 25%.
---
#2 Fractional – Real Estate
Real estate investment hasn't always been fractional. In fact, it's historically been one of the most cash-intensive businesses and investments to venture into.
The nature of real estate investments has kept many on the sidelines. High fees. Expensive homes. Costly repairs. There's tons of reasons why most people don't own rental properties.
No access to large down payments and cash reserves that's required to buy both luxury, vacation, and rental income properties also limits many from this asset class.
Now that investing with fractional shares has taken off, so has the possibility of almost anyone building a portfolio with a quality real estate asset investment.
Fractional is a San Francisco-based fractional real estate investing platform with the goal of making real estate investment more accessible to retail investors.
Three Levels of Assistance
With Fractional, you now have the option to co-own investment real estate with friends and strangers. The platform has three options for prospective investors.
First, Fractional will match co-owners and friends to assist in the underwriting process. Secondly, the platform can help with property purchases and legal processes.
Finally, Fractional links co-owners with a property manager to assist operations of the asset. No more phone calls from tenants asking for repairs. With technology, you can own equity in homes without the hassle of a typical landlord.
Real estate investors now can share in ownership of rental properties through a fractional interest partner with platforms offering cutting-edge software and services. All the while, lowering the barrier of entry to a historically high-barrier-to-entry asset class.
---
#3 Masterworks
Another of the 7 best fractional ownership companies to build your portfolio is Masterworks.
I haven't checked-in on Masterworks in a while, but from the looks of it – they are thriving.
Their website boasts over 780,000 members investing in fractional artwork shares. And their assets under management is nearing $900 million.
Masterworks makes it possible for everyone to invest in blue-chip artwork. The artwork is researched by a team of art historians who set out to purchase the top names in the art world.
The purchasing team focuses on top artists to acquire at an 'attractive cost relative to value based on historical appreciation rates.'
These works of art are then offered for fractional investment on a per-share basis.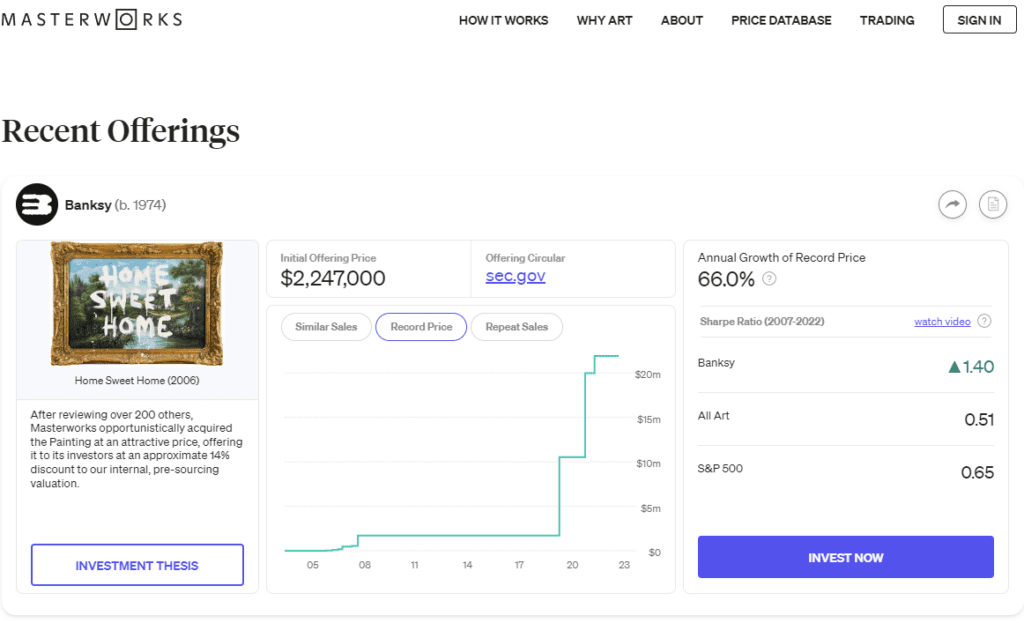 Fine Art Fractionalized
There are two ways an investor can profit on the platform once a share purchase is made. The first way is to sell shares to another investor on an approved trading platform.
The second way is an outside collector can make an offer to purchase a painting from investors, where they can vote on selling for a profit or not.
Current offerings include Andy Warhol's "1 Colored Marilyn," which was purchased by the company in November 2017 for $1,815,000.
Another offering by Masterworks includes Monet's "Coup de Vent" purchased in June 2018 for roughly $6.3 million.
Current estimates of Monet's work are approximately $8.5 million. Here's a closer look at the Warhol and Monet pieces.
The company plans to offer a new piece of art roughly every two months to allow investors to diversify their portfolios.
Superior Diversified Returns with Alternative Assets
The Masterworks website compares returns in the stock market to Contemporary Art over the last 25 years. Where the long-term S&P 500 returns 9.5%, fine art has returned over 13%.
Obviously, past performance is no guarantee of future returns, but the argument for diversification into alternative asset classes such as contemporary art has lots of benefits.
---
#4 – Otis
UPDATE: Otis has been acquired by Public.com. Not sure what the operational changes will be, but I'm sure changes will be on the way.
Otis has a mission to "democratize access to wealth." A marketplace for alternative assets to allow 'normal' people to invest and own equity in the same items as billionaires, such as real estate and art for as little as $10.
I would not compare Otis with Rally anymore. Rally has far surpassed anything that Otis has done, as far as quality offerings. But Otis is still in the game. They still offer tons of investment options and exposure to a broader variety of assets than almost any other platform.
Fractional Investing in Culture
The diversified and expanded lineup of offerings Otis has in store for users is one of the best features.
The company plans to bring a variety of assets such as sculptures, sneakers, street art, music albums, eSports, vertical farms, and renewable energy.
Otis, much like Rally, plans to retain an ownership interest in each asset, which means they have a vested interest by investing alongside users.
Otis does all the work of maintaining, storing, sourcing, analyzing, and securitizing each investment in-house.
All investments are stored in a museum-quality storage facility at UOVO Fine Art in Orangeburg, NY, and insured by Aspen American Insurance Company.
---
#5 – Fractional Real Estate Investing with Roofstock One
Passive real estate investment company Roofstock One is among the 7 best fractional ownership companies to build a portfolio.
For as little as $5,000, you can invest in residential rental real estate and access passive income as a fractional investor.
Purchase shares in an individual rental home to collect rent without operating responsibilities.
Fractional Real Estate Investing
Most people are familiar with the benefits of owning real estate, but few have a large down payment to get into the real estate investing game.
Roofstock One changes the game by offering a slice of a rental home to allow exposure to people not able or willing to buy an entire house.
One of the best features of Roofstock One is the ability to diversify your rental house investments across multiple geographic areas with small initial investments.
This concept is great because you gain access to a quality asset class without a significant financial commitment. And no hassle of property management and upkeep to boot.
---
#6 – Fundrise
Much like Roofstock One, Fundrise offers access to real estate investment. One of the ways it differs is by providing access to commercial buildings.
Their goal is to provide a way to invest, much like the most successful institutions. Fundrise democratizes access to a once unattainable asset class, providing investment regardless of income or net worth.
The Fundrise website gives an excellent overview of different investor levels and plans. For only $500, you can invest in the 'Starter Portfolio' and begin choosing your investments.
They have three different plans, Supplemental Income, Balanced Investing, and Log-Term Growth plan. These three plans are structured differently to offer varying degrees of dividends, appreciation, and total return.
Fractional Real Estate Investing in Commercial Properties
The company has invested over $2.5 billion in real estate and looks to have a strong track record. They've returned anywhere from 8 to 12 percent annually going back to 2014.
From apartments in Washington D.C. to office buildings in Santa Monica, CA, Fundrise has tons of options to diversify.
It would be almost impossible for a small investor to create this type of diversification on their own.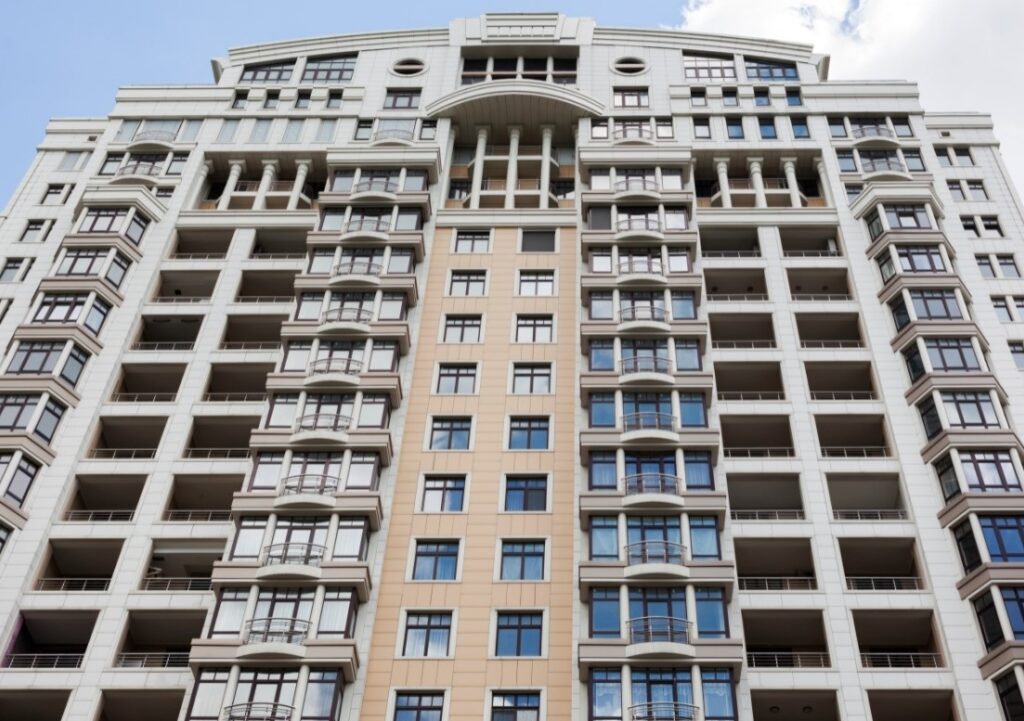 Fundrise is another option for traditional real estate investment trusts. Many REITs are publically traded, with the barrier to entry as low as the price is for one single share of the REIT.
Many fractional property and real estate investment platforms offer strictly residential properties. But Fundrise ventures into commercial properties and tenants as well.
By offering commercial real estate, Fundrise has a deeper level of diversification than many of its fractional real estate ownership competitors.
---
#7 – AcreTrader
If you've ever had the urge to buy farmland and didn't know where to start, AcreTrader has you covered. AcreTrader provides simplified access to farmland investing through an app on your phone.
The company lays out a few crucial points by saying land is one of the oldest investment classes in the world and has created massive wealth over generations.
AcreTrader believes farmland is an attractive, long-term investment. It provides relatively good capital preservation during downtimes in the economy.
Investors and buyers purchase shares in the entity that owns a farm. This is done in only minutes via the website. Each farm is divided into 1/10 of an acre. You have the ability buy as many pieces of each farm as you like.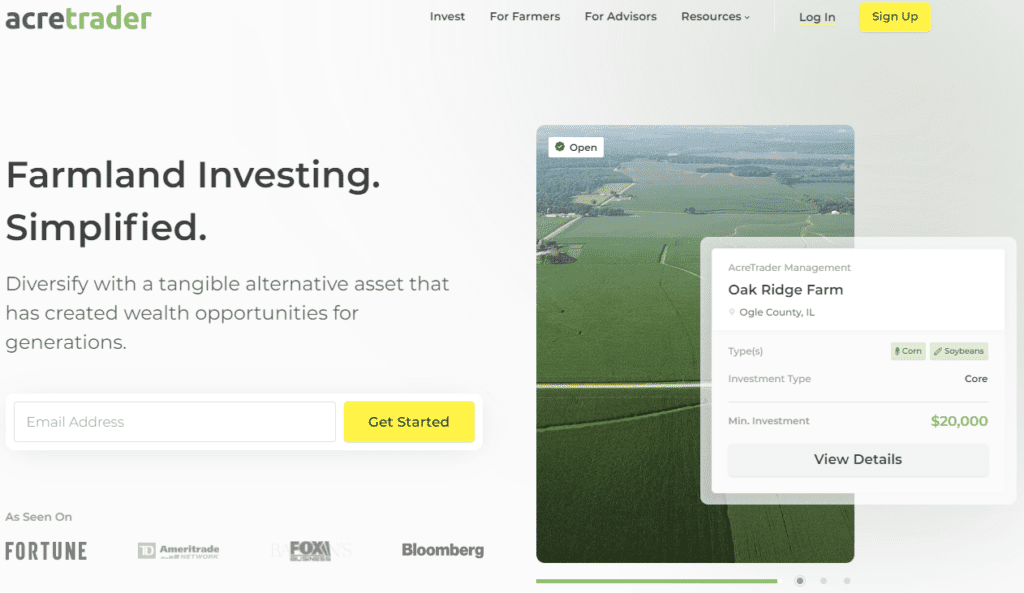 Fractional Investing in Farmland
A few key reasons AcreTrader is one of the 7 best fractional ownership companies to build your portfolio. First, farmland has historically been non-correlated to other assets.
Second, real assets that produce a commodity give investors an inflation hedge.
Finally, farmland has protected investors during economic downtimes with low volatility.
Farmland, through a fractional investment platform such as AcreTrader, gives access to a type of rental property that has seldom been accessed by the middle class until now.
---
BONUS #8 – Identity Fund
Identity Fund is one of the most exciting and thought-provoking fractional ownership companies I've come across. From their slogan, 'Invest in people, not companies,' the goal is to find people who will succeed and profit alongside them.
Buy and sell as demand for shares in the individual rises and falls with their performance.
On the Identity Fund website, they begin to make their case that it's human capital you want to expose your portfolio to.
Fractional Investment in Human Capital
They describe human capital as "an economic value quantification of a person's background and track record."
The goal is to help founders capitalize themselves by issuing shares and connecting those shares to individual investors.
Identity Fund shows a hypothetical portfolio of 15 individuals on its website. Investors select each person based on their background, experience, and goals.
You can view full profiles with detailed information about the person's past work experience, industry, and education.
I would rate this concept as one of the more high-risk investments out there but also has the potential for higher returns. Investing in individuals sounds like a volatile and risky venture, but Identity Fund aims to deliver a simplified approach.
---
Pros and Cons of Fractional Real Estate Investing
There are a few major benefits to fractional share real estate investing –
Diversification – Many investors want to diversify but don't have the ability to access certain asset classes. Fractional investing levels the playing field. With real estate being one of the best wealth-building passive investment vehicles, fractional investing offers a great way to participate in yet another diversified investment strategy.
Cash flow investments – Other than dividends from public stocks, passive cash-flowing investments can be difficult to find. Collecting rents through the real estate market is one of the oldest investment classes around. Not to mention exposure to price appreciation from a rising property value over the long term.
Wherever there's a reward, there's also risk lurking. A few of the downsides to fractional real estate investing include –
Liquidity – Many fractional ownership and investment platforms don't offer the same liquidity as a typical stock or bond investment. There may be limitations to getting your cash back if you change your mind after purchasing fractional shares, such as months, or even years before you can withdraw your funds.
Economic Downturns – Investment property, whether it's a single property or multiple apartment buildings, all carry the risk of lower rents, higher expenses, or higher vacancy rates during economic downturns. Even if you only own fractional shares through an online platform, there's still no escaping downturns in the overall real estate sector.
Bonus – RealT
Just when you thought you knew everything there was know about fractional ownership investing and real estate ownership models, you find platforms like Real T.
Powered by the blockchain, Real T offers investors around the world access to U.S. real estate investing and "fully-compliant, fractional, tokenized ownership."
Using the Ethereum blockchain, RealT provides unique tokens securing a portion of ownership in a single house, office space, and many other types of real estate properties.
---
The Future of Fractional Ownership Investing
Lately, there's a constantly changing landscape in fractional ownership and investing. More and more companies are looking to break down the barriers of traditional finance.
It will be exciting to see which investing platform company figures it out and which ones fail to deliver on investor expectations.
The one thing that seems to be constant is the desire to access investment options that were previously thought unattainable.
By selecting the very best platforms and diligently researching the fine print, I believe you can create a significant portfolio of exceptionally high-quality assets.
The Risk of Fractional Ownership Companies and Platforms
Ahh, yes. The risk. Let's not forget the most important part of this article. Risk and reward. Every collector must understand the risks involved in owning rare coins, sports cards, vintage watches, and collector cars.
The risk is the assets you own can lose value. Many people forget about risks when everything is rising in value. But everything does not always rise in value. Don't forget that point.
As much as you might want to believe YOUR assets won't decline, they could. They might. They will. Don't be suprised. Take full responsibility for your collecting management, and do your homework before buying fractional shares of anything. Please.
Here are a few more risks to consider –
Scammers, fraudsters, thieves, liars, and con-artists are waiting for you around every corner. Be aware. There are people out there who will take your last dollar from you – if you let them. Watch out!
Changing laws and regulations could alter the current fractional ownership environment. Stay up to date on current rules. Consult your financial advisor.
The platform you choose could go out of business. Without complete ownership of an asset, you are at the mercy of the company that holds it on your behalf. If that company goes out of business, how do you get your money back? Know the answer to this before buying shares.
Buying fractional shares is convenient, easy, and totally awesome, right? Maybe. But it's not free. Every fractional ownership platform has costs incurred by managing this entire process. Plus, they need to make a profit, eventually. So you are paying fees for those costs, one way or the other. Don't be fooled. Even with free transaction costs, you are paying for the overhead of the platform, one way or another. It might just be through a higher purchase valuation on the item itself. Understand this principle before buying fractional shares.
Financial institutions holding your personal banking information are always targets for data theft. Fractional ownership platforms should be as secure as any bank. If they don't take user information security seriously, then you are at risk. Only use fractional platforms that take user info security to the highest degree.
---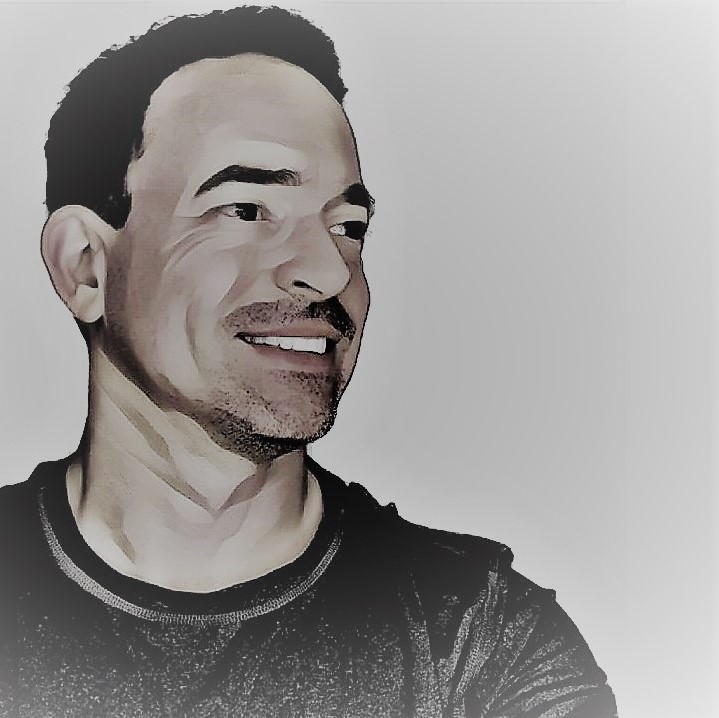 R.J. Bachman
Attic Capital – Writer, Editor, and Lifelong Collector
After many years of collecting rare coins, sports cards, and all types of collectibles, I began writing at Attic Capital to share my experience, knowledge, and passion.
I would love to connect with you, so don't hesitate to reach out and let me know more about your passion for collecting.