Beyond wall street brokers, there's a whole new world out there for Fractional Share Investing.
---
Many people hear the words "fractional shares" and assume it's associated with the stock market somehow. Not anymore.
The phrase fractional share investing now has a variety of connotations. It can become somewhat confusing to new investors trying to decide where to allocate their hard-earned dollar bills.
Fractional Share Investing
The idea behind buying fractional shares through public equity stockbrokers is to solve the problem that not everyone has enough money to purchase 1 single share of stock.
The stock price for a company you wish to invest in may be too high, making the investment for a whole share out of reach for some people. For example, if you want to invest in Berkshire Hathaway but only have $100 in your brokerage account, you would be out of luck.
The Berkshire stock price dollar amount for the B shares, ticker symbol BRK-B, is trading at $300 for one single share of stock. In the past, you would be forced to sit on the sidelines until you had the amount of money to purchase one full share of stock, or at least $300.
In the past, companies would do a stock split, reducing the share price and adding to the number of shares outstanding. This was the old-school way to keep smaller investors in the game. Now, with fractional shares, stock splits are not entirely necessary.
True Fractional Shares
Now, brokers offer the ability to purchase just a portion of the share, enabling investment in a $300 stock with as little as $5. Of course, you can still purchase any number of shares, but the option to add fractions of a share is a relatively new development. Even exchange-traded funds (ETFs) trade in fractional shares.
Many of the wall street brokerages have started their own fractional share investing platforms in recent years, with new brokers entering the market every year. Competition is fierce, and there's an incredibly huge fight for new fractional share investing accounts.
Growth in this form of stock investing has been swift, and brokers are eager to win over the next generation of investors in hopes they can retain them as their account balance grows.
There are so many fractional share investing platforms; it can be difficult to keep up to date with the latest platforms offering unique options for investing.
If you're interested in fractional share public equities for diversification of your portfolio, there are a handful of wall street brokers every investor should be aware of.
Charles Schwab Fractional Shares
With Charles Schwab fractional shares, anyone can own a portfolio of America's biggest companies included in the S&P 500 for a minimum investment of just $5.
The Schwab product, known as 'Schwab Stock Slices,' enables account holders to invest in a portion of a share of a company included in the S&P 500 index, giving investors more options when it comes to public equity investment.
The Zero Commission Trend
There are no commissions when buying fractional shares using Schwab Stock Slices. This is a trend that's spreading throughout the brokerage world over the last few years.
Previously, investors would be charged $5 to $15 for each buy and sell order of a company's stock they executed in their brokerage account.
Now, those fees are going away as brokers are attempting to incentivize new investors to not only use their platforms but trade shares often within their accounts, with zero commissions.

---
Ally Invest Fractional Shares
Another popular investment platform gaining attraction from investors recently is Ally Invest Fractional Shares.
Ally Invest is a full-service online platform offering both self-directed investment or "Robo-advised" managed accounts. Ally Invest features commission-free stock, ETF, bond, and mutual fund investments along with option purchases with a .50 cent per contract fee.
The platform also offers a fractional share investing app to monitor accounts from your mobile device.
Ally Invest brokerage services are part of the SIPC, or Securities Investor Protection Corporation, so your money is backed up to $500,000.

Ally Automated Investing
For as little as $100, investors can open a new account with Ally Invest and make fractional share purchases.
An interesting aspect of the Ally Invest platform is the automated investing service. Investors have the ability to select between four portfolio choices, Core, Income, Tax optimized, and Socially Responsible. The service is a way for smaller investors to use dollar-cost averaging, even with small deposit amounts.
Once a portfolio is selected, a Robo-advisor manages and monitors the portfolio with "smart technology" and rebalances the portfolio when necessary. Included in the dividend reinvestment plan, so your earnings are compounded automatically.

---
Robinhood Fractional Shares
Robinhood is a stock investing platform featuring fractional share investment for as little as $1. They offer stocks, options, and gold trading with zero commissions.
Robinhood differs from Ally Invest by offering zero commissions on stock options, whereas Ally Invest charges .50 cents per trade. One of their latest features is Robinhood Crypto, where investors can trade six different cryptocurrencies, including Bitcoin and Ethereum. NYSE, NASDAQ, and most other exchanges are available for share investing.
Another unique feature is Robinhood Gold, where investors can trade gold after-hours and pre-market with margin accounts for $5 per month subscription for the entire account.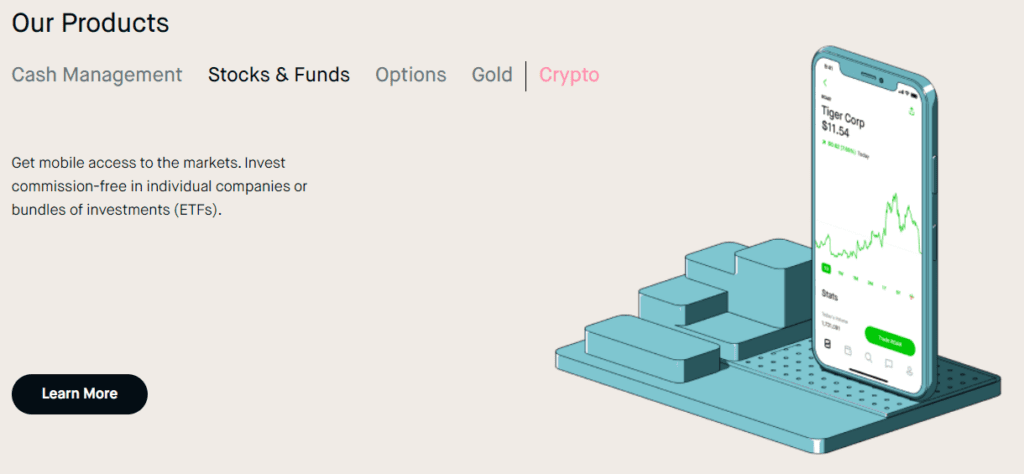 ---
Additional Fractional Share Investing Platforms
There are many more fractional share investing platforms to choose from beyond Ally, Robinhood, and Schwab. Fidelity has created Stocks by the Slice featuring fractional share investing for as little as $1 per trade.
Acorns offers a platform where fractional shares are accumulated by "rounding up" on credit card purchases and investing the remaining "loose change" in the stock market.
The list goes on, Stash, Stockpile, Bumped, RBC Direct, Capital One Etrade, and Chase You are a handful of other wall street online brokers offering fractional share investing. Most platforms offer IRA accounts as well as traditional brokerage accounts.
---
New Asset Classes for Fractional Share Investing
Almost as fast as fractional share investing in the stock market began catching on, fractional share investing in many other asset types were also created.
Investors are no longer stuck with the option of putting their money to work by only buying publicly traded companies listed on the stock exchange through brokerage firms.
There are now dozens, maybe even hundreds of companies offering fractional share investment and ownership of virtually every different asset type you could imagine. Many offering commission-free trading.
Any Asset, Any Time
From collector cars, sneakers, watches, fine wine, whisky, rare books, and comic books, new investing platforms have opened the door to ownership of world-class assets for just a fraction of the total value.
The concept is the same as fractional shares in the stock market. Remember that share of Amazon stock you couldn't afford because one share cost $1,000?
Just as Wall Street figured out how to slice up that single share into smaller pieces so you could own just a sliver of a great company, many other platforms figured out how to slice up other assets. Here's just a short list of fractional share platforms offering investment in alternative assets.
Investing in other assets beyond the stock market and public equities creates the same unique challenge.
I want to invest in a collector Ferrari but don't have the entire $200,000 to purchase the car outright. Fractional share ownership and investing platforms figured out a way to "slice-up" that Ferrari and sell shares to a group of interested owners.
Now, for as little as a $10 – $15 account minimum, you can own a fraction of an asset with a larger value. It's a basic concept, although it seems many people still misunderstand why this would be desirable. They will come around, just give them a little time.
---
Which Way Do I Go?
Some might argue that many alternative assets, such as a collectible car, don't produce income the way a publicly-traded company would; therefore, the risk is much greater investing in a collectible car.
I would argue that many publicly traded companies also do not pay dividends to investors or even make a profit within their company. Be careful when listening to advice from wall street.
As is the case with most advice, their argument will support what's in their best interest. Their interest is to attract your investment funds to their brokerage.
What about liquidity? How do I sell fractional shares and get my cash back if I choose to do so? The facts are, liquidity will be difficult for the smaller fractional share investing platforms, and easier for the larger platforms.
The more customer accounts, the more trading, the easier it will be to sell your shares. As fractional shares for alternative assets gain popularity, liquidity will get better. But it's a process. As always, don't invest money you can afford to lose.
---
Do Your Homework
Investing in any asset presents a risk to your capital. It's your job to make sound personal finance decisions to manage those risks to the best of your ability.
With so many options out there working hard to attract your attention, and your money, it's never been more important to educate yourself on the details of these choices.
But there's reason to be optimistic in this new investing landscape. Never before has so much information been available to make decisions.
This is not investment advice, and past performance does not equal future returns. You know the drill. Get educated and talk with your team of experts before investing. Check for FDIC, and SIPC protection, and FINRA compliance for any financial products.
---
Intense Competition
Middle-men continue to be eliminated, passing the value on to consumers – theoretically. Commissions are being vaporized, and intense competition incentivizes platforms to focus on the customer experience first and foremost.
These are all positive results from an ever-changing investing landscape.
---