---
At last count, Jay owns 286 vehicles in his collection. How much is Jay Leno's car collection worth? Over $50 million.
Some of the world's rarest and most unique vehicles in the world are included in his "Big Dog Garage," which is actually multiple airplane hangers at a nearby airport in Burbank, California.
Over the years, car enthusiasts around the world have taken notice of his exquisite – and massive collection.
Jay's Garage became so well-known for his car collection that he decided to start producing videos to share on his YouTube channel, "Jay Leno's Garage."
The show features Jay Leno's collection as well as featured vehicles from other classic car owners. The channel has over 3 million subscribers and also airs on CNBC.
It's pretty amazing to see yet another production from Leno, considering Leno is over 70 years old and has a net worth of $600 million.
What's In Jay Leno's Car Collection?
So what's in Jay Leno's Garage? His personal collection of classic cars includes a wide range of historically important, iconic, rare, and incredibly well-maintained vehicles.
Anything from a 100-year-old Mercer Raceabout to a 2017 Ford GT can be found in his vast collection. A 1967 Lamborghini Miura P400, Stutz Bearcat, American muscle cars, and even a 1951 Hudson Hornet valued at roughly $40,000.
Most Expensive Cars in Jay Leno's Collection
Here's a sampling of the most expensive cars in Jay Leno's collection. From Corvettes to BMWs, this car collection has it all.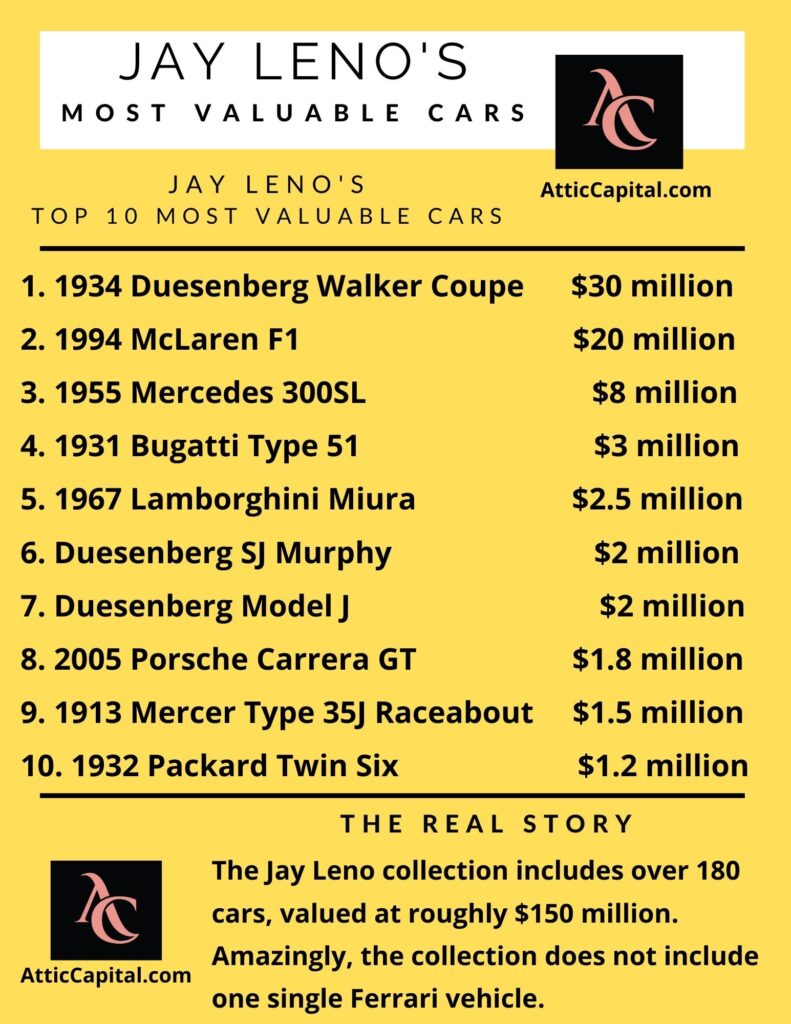 Jay Leno's 1955 Mercedes Benz 300SL Gullwing Coupe
You can tell from his video on the Gullwing Coupe that Jay has a fond connection with Mercedes Benz.
Not only did he work for the company as a kid growing up, but he's also been able to get to know some of the racing legends over the years, such as Sterling Moss, who drove Mercedes as a Formula One race car driver.
The classic 1955 Mercedes Benz 300SL Gullwing Coupe is valued anywhere between $2 and $3 million depending on the condition.
Leno's 1994 McLaren F1
Jay begins his video of his 1994 McLaren F1 by saying it's probably the greatest car of the 20th century. He adds that you will never see anything like it again, primarily because the rules have changed.
The car is featured in a video where he takes it for a drive around Los Angeles and explains that the luxury car does have a CD player.
He says if you're driving a McLaren to listen to the radio, "Get another car!" Jay also adds the McLaren has a rearview mirror, but you don't really need it because "the chances of someone passing you is quite slim."
Driving Jay's McLaren F1
The impressive thing to hear about Jay's McLaren F1 is the timeless aspect of the vehicle. The design still looks modern, even after 25 years.
While driving the car, Jay comments that it still feels like a modern sports car, which is pretty impressive.
If anyone could tell the difference between a new supercar and a 25-year-old McLaren, it would be Leno.
He drives virtually every make and model, including his 2017 Ford GT. To hear him comment that the McLaren still feels and drives like a new supercar is pretty amazing.
The 20-Year McLaren Extraction
Jay also features another video where he takes the engine out of his McLaren F1 for a regularly scheduled, 20-year "extraction."
He's definitely a worthy and dedicated caretaker of an incredible machine. Before asking, "how much is Jay Leno's car collection worth?" You need to understand the McLaren F1.
Jay Leno's McLaren P1
Not only does Jay own a McLaren F1, but he also owns a McLaren P1. The volcano yellow $1.4 million hypercar has state-of-the-art hybrid drive technology and features a top speed of 217 mph.
What is Jay Leno's favorite car company? During interviews, he said that McLaren is his favorite brand because of how the company leads in innovation.
Jay's Lamborghini Countach Quattrovalvole
Of course, Jay Leno's Garage is going to feature a 1986 Lamborghini Countach Quattrovalvole. His model is a carburated, red model with 70,000 miles.
Leno drives it often and is not afraid to stomp on the gas pedal. How tall is Jay Leno? And does he fit into the Lambo? At 5′ 11″, Leno easily slides into the Countach with ease.
1930 Bentley 27-Liter
Under the hood of this car is a 27-Liter Merlin aircraft engine made by Rolls-Royce. These are the same engines in the P-51 Mustang aircraft used in World War II to shoot down German fighter planes and eventually win the war.
Jay Leno's collection features the 1930 Bentley 27-Liter, where he describes not only the incredibly powerful engine but the craftsmanship that went into the details of the car, as only Bentley could do.
"Everything is oversized on the car; nothing seems it could fit on a regular Bentley except maybe the headlights," Jay describes his Bentley.
"You feel like your flying in the Battle of Britain every time you drive this thing," as Jay takes the Bentley for a test drive.
It's not a daily driver, but you can tell Jay loves to show off the 1930 Bentley any chance he gets.
1963 Chrysler Turbine
Of course, Jay Leno owns a 1963 Chrysler with a turbine engine never sold to the public. At the time, it was an engineering marvel.
But the Chrysler Turbine never took off, and out of the 55 cars assembled, all but nine were destroyed.
Of those nine turbine models, only two are owned privately. One of those owners is Leno. The price tag was roughly $415,000 for the Chrysler turbine car that never was.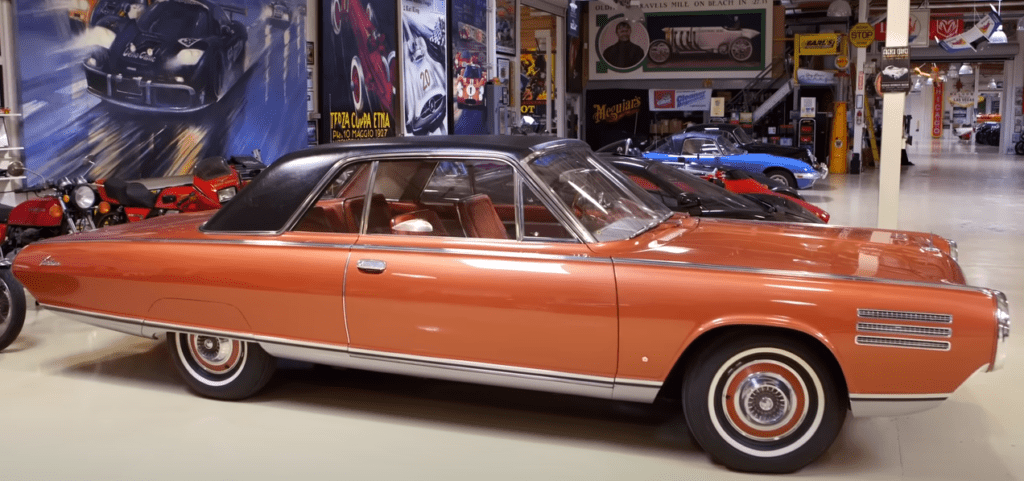 The Jay Leno Tank Car
Another amazing car featured in Jay Leno's Garage is the Blastolene Special, otherwise known as "The Jay Leno Tank Car." The vehicle was built by American craftsman Randy Grubb in 2001.
The Tank Car was created from an American military M47 Patton tank engine with a custom-built aluminum body.
The Blastolene produces 810 horsepower and weighs 9,500 pounds. There's no surprise the Tank Car gets only 5 miles per gallon.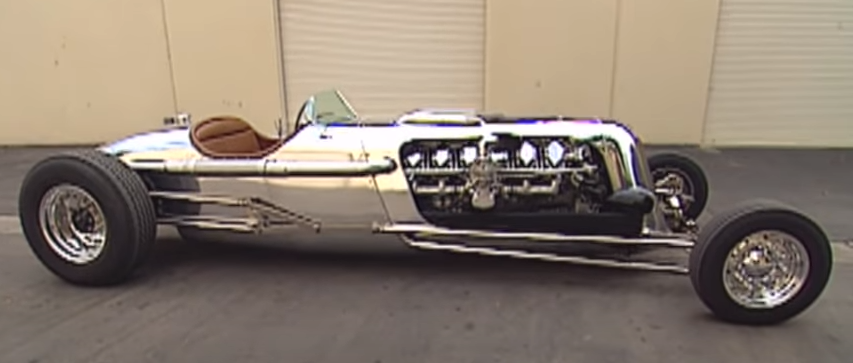 Jay Leno's EcoJet
You might be wondering what an EcoJet car is. Turns out, the EcoJet is a car built by Jay Leno and a team of auto enthusiasts with a jet engine running on biodiesel. Why? Just for fun.
When asked why he built the EcoJet, Jay answers simply, "I'm the president of the more-money-than-brains club." Meaning, the car wasn't meant to be built and sold for a profit. It was something he felt would be tons of fun. And I could imagine, expensive.
Made from mostly carbon fiber, the EcoJet reaches a top speed of 165 mph. Jay teamed up with Honeywell, Alcoa, General Motors, and BASF to turn his vision into reality.
Here's a few more amazing cars featured on Jay Leno's Garage. Some are from Jay's personal collection, and a few of them make special guest appearances on his YouTube show.
Either way, Jay is an amazing wealth of knowledge on almost any car make and model out there.

Jay Leno's Duesenberg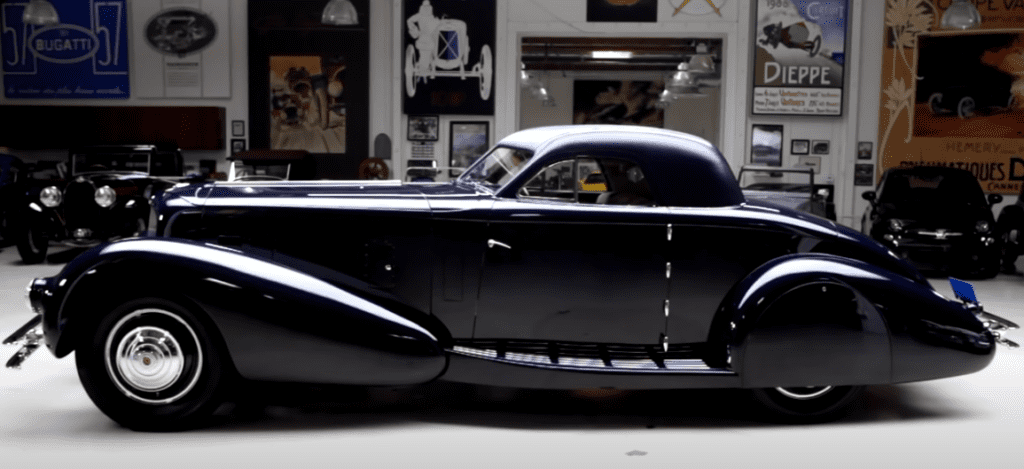 2018 Koenigsegg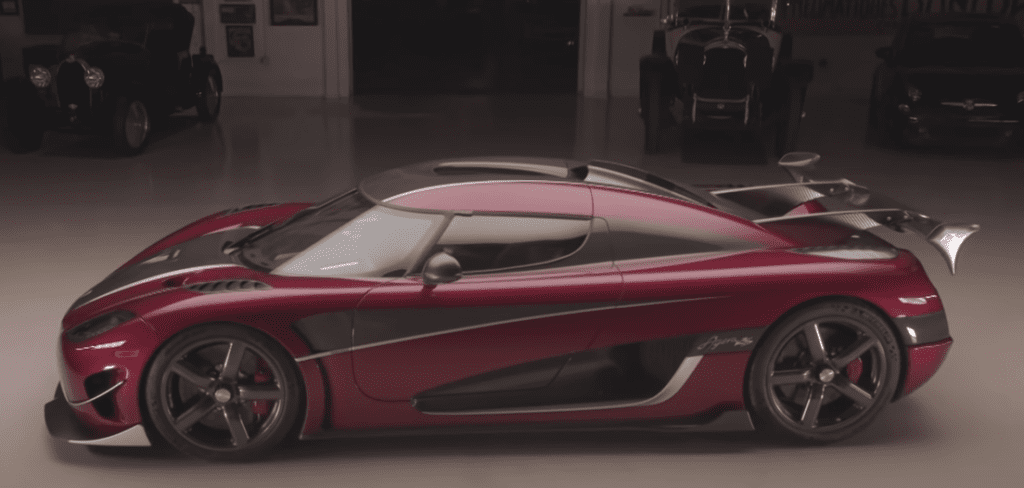 1939 Lagonda V12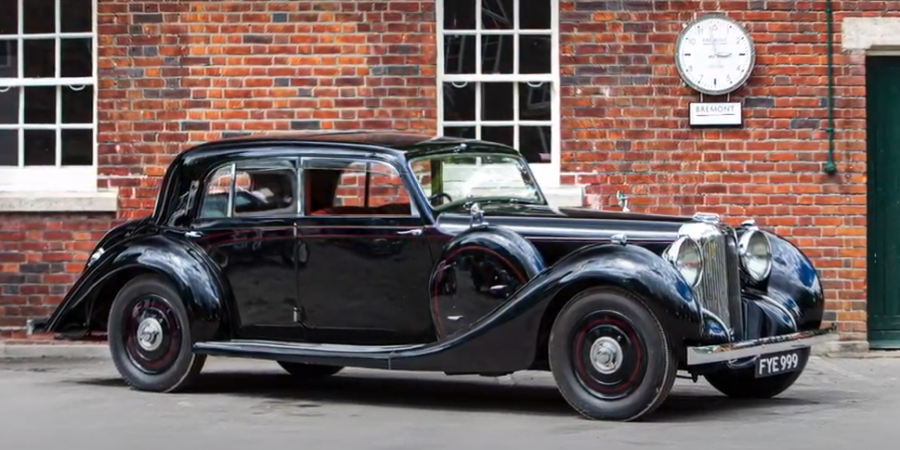 2019 Aston Martin DB11 AMR
This car will always catch my eye during Jay's garage tour. The 2019 Aston Martin DB11 AMR might be one of the most beautiful car designs of all time.
As part of Leno's collection, he calls Aston Martin the most "seductive" car brand.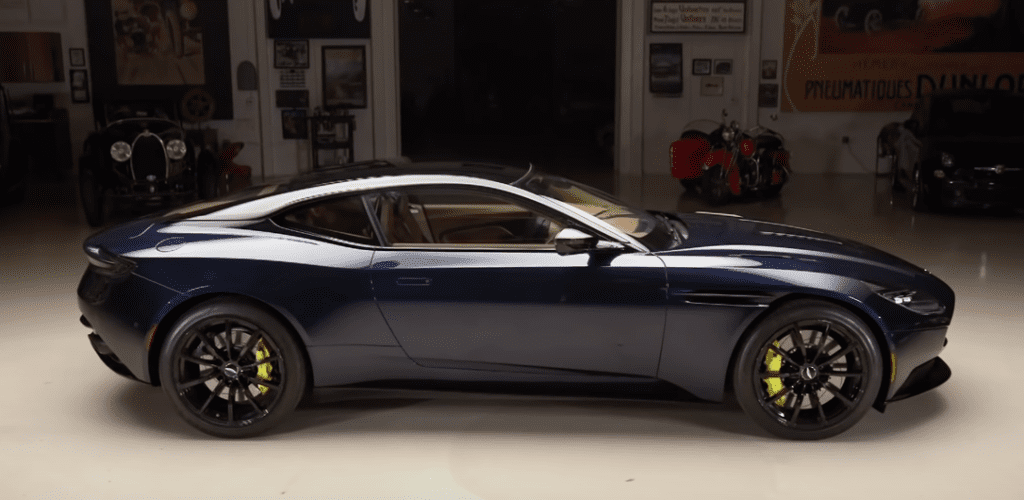 Nethercutt's 1930 Cadillac V-16
You can instantly recognize Jay is pleased with himself for owning the Nethercutt 1930 Cadillac in his automobile collection. He credits this car for establishing Cadillac as one of the premier luxury brands.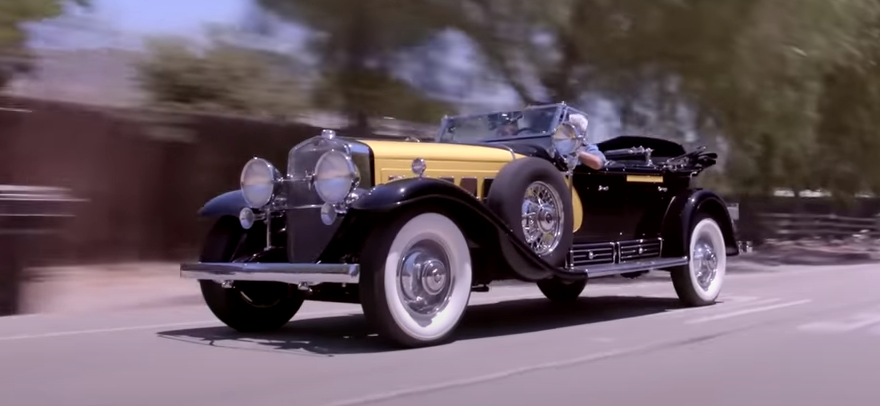 1922 Stanley Steamer
Of course Jay Leno's collection includes a 1922 Stanley Steamer. With about 450 vehicles produced each year, it was the last brand to produce a steam car.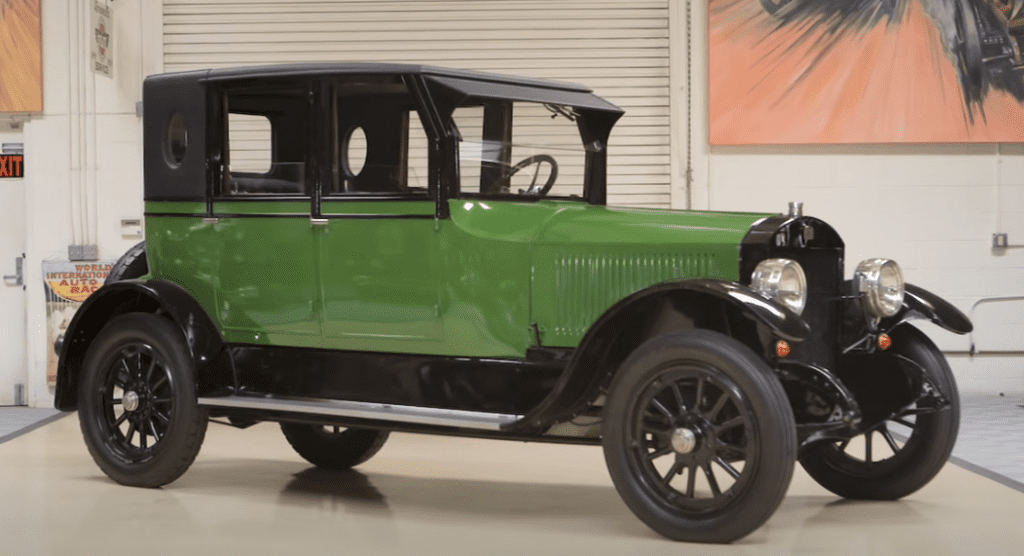 1966 Mazda Cosmo 110S
The Cosmo received it's name from the space race of the 1960s. Mazda wanted to show-off their modern technology and futuristic design. It was the first production car with a 2-rotor Wankel engine.
The Cosmo has sold for as much as $100,000 at recent auctions, with the average price hovering around $80,000.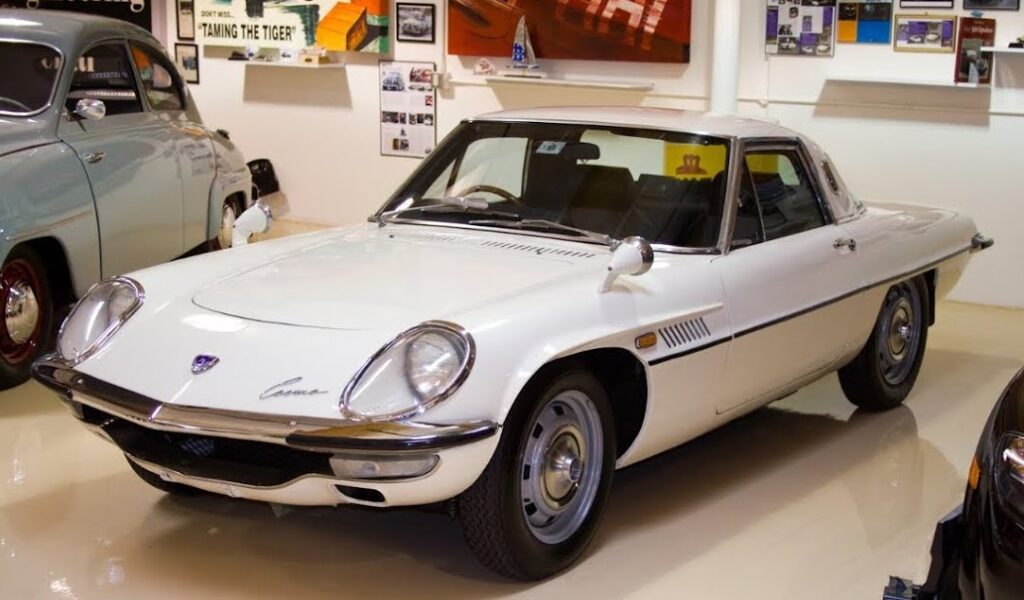 1957 Chevrolet 210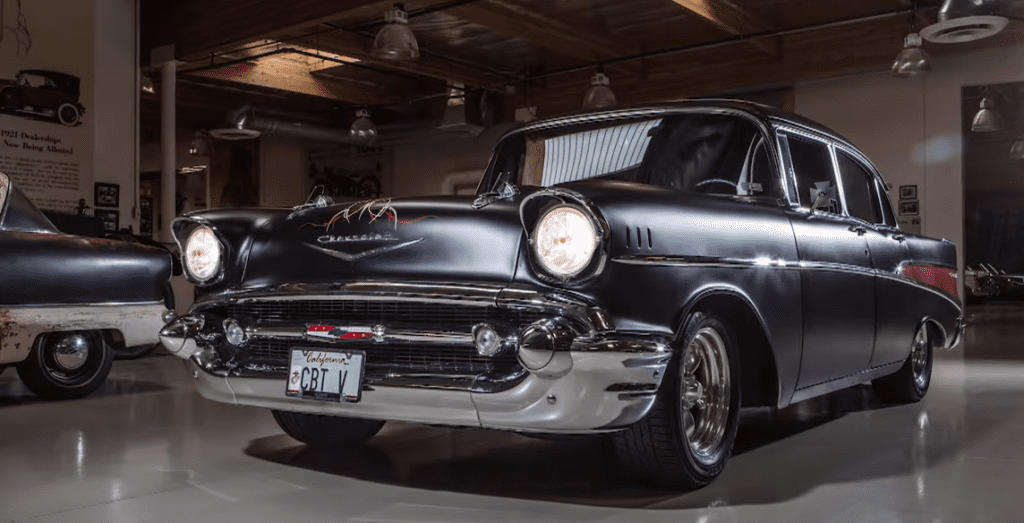 1934 Ford Roadster
It's no Tesla Model S, this is the Ford Roadster from the 1930s. Although lacking the modern day speed of an electric motor, the Roadster was a favorite for police and bank robbers back in the day. The V8 engine provided as much speed and performance as you could find in the 30s.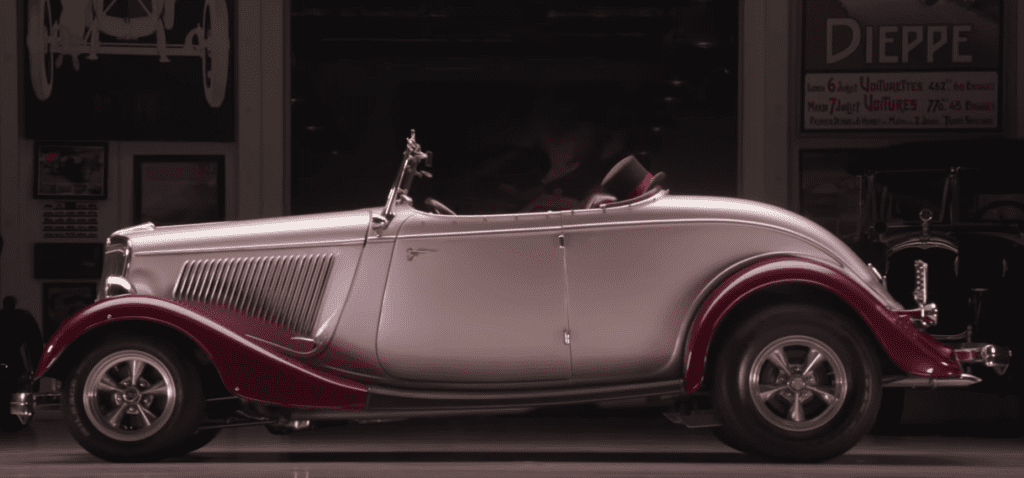 1962 Oldsmobile Jetfire
The very first production car with a turbo charger.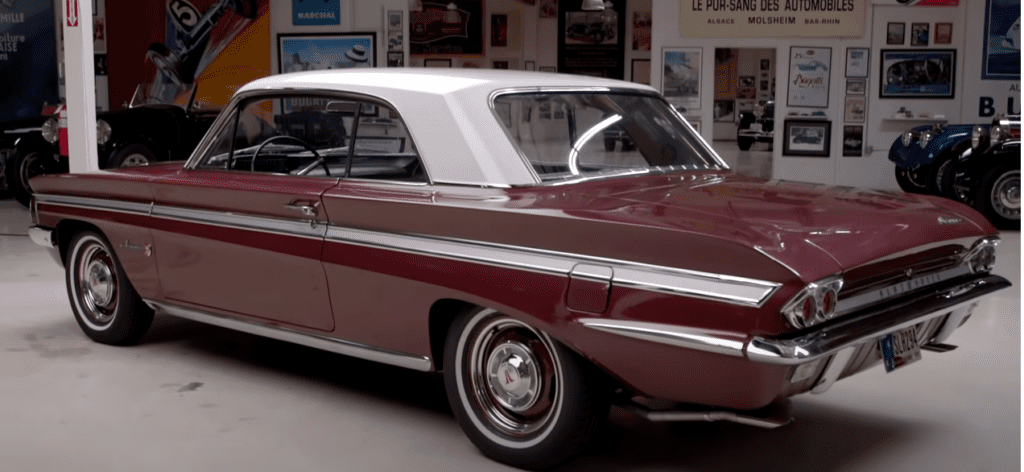 1967 Lamborghini Miura P400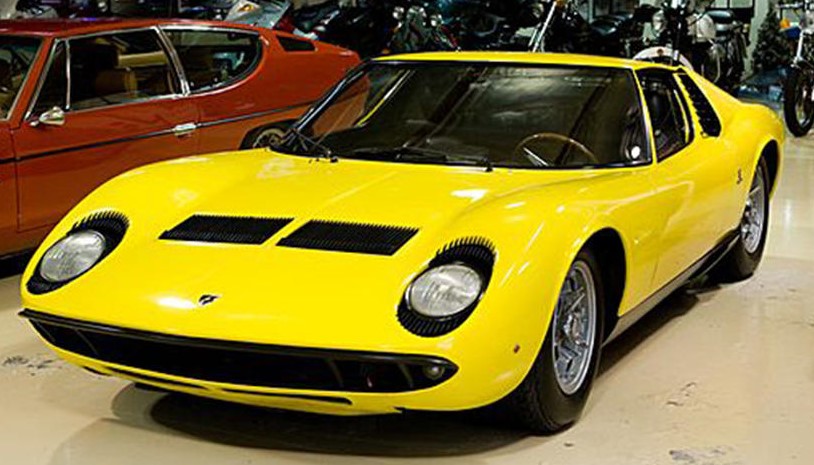 Leno's 1968 Pontiac Firebird Sprint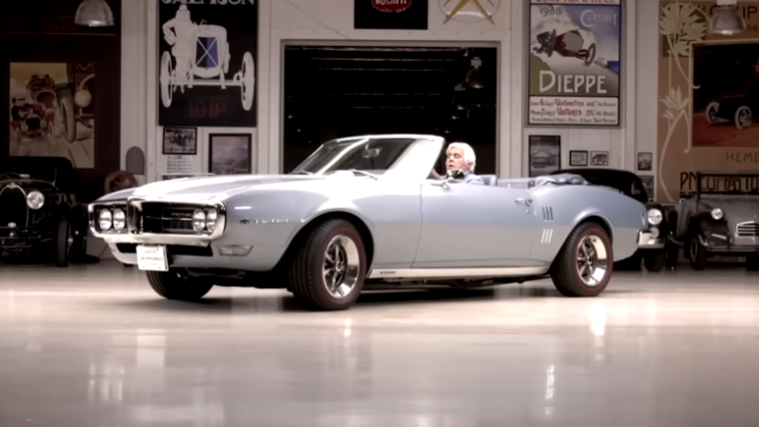 1967 Plymouth Hurst Barracuda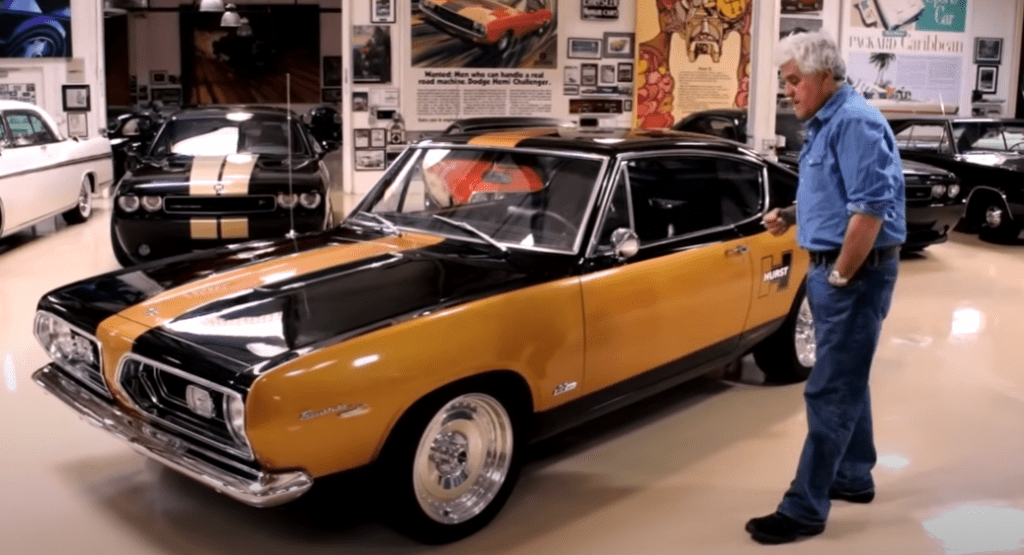 1999 Chevy Corvette C5
Jay was invited to drive the pace car at the Indy 500 back in 1999, and he ended up purchasing a demonstration Corvette C5 model soon after the race.
You can now buy a Corvette C5 series for $25,000 to $30,000, and Jay calls it one of the best bargains around. That's a whole lot of car for the price of a new Toyota Camry.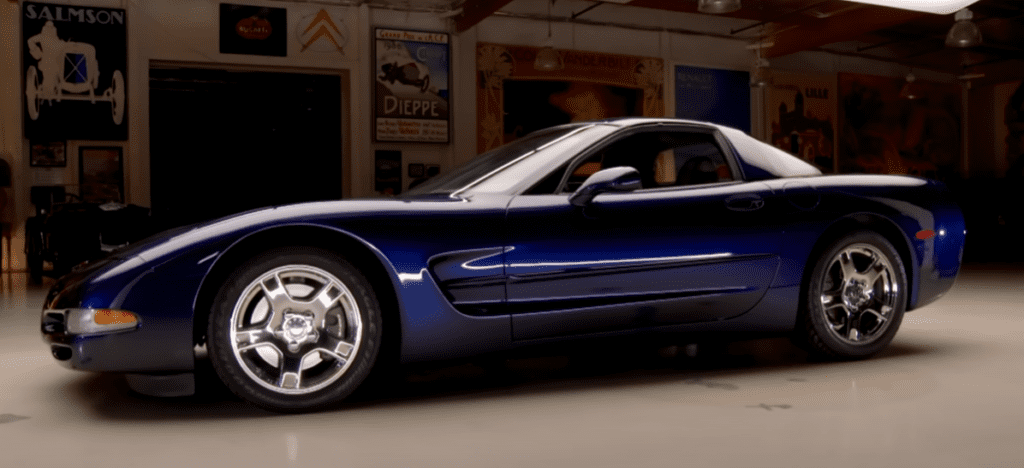 What is Jay Leno's Favorite Car?
You might be wondering, what's Jay Leno's favorite car? With such an extensive collection, how would someone like Jay pick out his all-time favorite? Is it his rarest vehicle? Or does Jay prefer Jeeps for the common man?
Maybe something driven by Enzo Ferrari himself? Or would his favorite be his most expensive supercar? If I had to bet, I would put my money on Jay's classic Jaguar E-Type being his favorite, but it wasn't.
It's not even a Shelby Cobra muscle car, Jay doesn't own one. Although he did temporarily host a 427 Shelby in his garage during the wildfires.
Another car you might think Jay loves more than any other is the Chevy Camaro. He hasn't admitted to this car being his favorite, but he was impressed with the ridiculous 1969 carbon fiber Camaro.
With a net worth of $600 million, Jay Leno could buy almost any car he wanted. But his favorite car might surprise you.
During various interviews, Jay has tipped his hand as to what his favorite car is. It's the 1972 Mercedes-Benz 600 Kompressor. The car features a giant supercharger and fuel injection to give it 525 horsepower.
Jay doesn't limit himself to cars only. He has an extensive collection of motorcycles and many other interesting motorized vehicles.
Not only that, but in Jay Leno's Garage Season 5, Jay takes flight with John Travolta to discuss airplanes and how they've influenced car design over the years.
---
Who owns the largest private car collection in the world?
It's tough to know for sure. The car collection of the 29th Sultan of Brunei is rumored to include more than 7,000 cars worth an estimated combined value of $5 billion.
But the legendary host of the Tonight Show is one of the most legit car collectors in the United States.
How Much is Jay Leno's Car Collection Worth?
Jay Leno's car collection is estimated to be worth over $50 million. But the greatest collections are the toughest to value. Since Jay purchased his first car, a 1934 Ford, he's assembled a collection with historical significance.
From the Oldsmobile Toronado to the Buick Roadmaster. A Chrysler Turbine to an old Renault. The collection is astounding and packed full of valuable cars.
Jay's massive car collection features a Bugatti Type 37a and an Audi R8 Spyder. Not many car collections can claim such a range of make and models.
Most Expensive Car Collection of All Time?
From original Ford Model Ts to the most modern cars, Jay's collection covers the spectrum. How many cars does Jay Leno have? At the moment, the count is 286, although I'm sure that number will increase in the near future.
He owns a Dodge Viper, a Fiat Topolino, late 1940s cars, and a Mercedes unrestored 300SL. Not only does he own a large number of antique cars, but also an extensive list of racers with the most futuristic design, even a few electric vehicle Teslas.
Jay owns great cars but also knows the details about every inch of each one. He's an esteemed car aficionado, to say the least.
So, how much is Jay Leno's car collection worth? His 286 vehicles are said to be worth an estimated $50 million.
But incredible collections include such unique pieces that are very difficult to place dollar values because of their originality, rarity, and quality.
Most Original and Unique Car Collection Ever?
You know you have a great collection when you cannot compare values to other similar items because nothing else like it exists.
This would be the case for many items in Jay Leno's Garage. The dedication and care he's taken to assemble a one-of-a-kind collection make it very difficult to give it a dollar value.
For someone who has spent his entire life crafting his personal car collection with his heart and soul, I'm sure he would argue that the collection is priceless.
---
Jay Leno's Incredible Work Ethic
In a recent interview on CNBC, Leno admitted he can't turn off his work ethic because he's afraid he'll become another "rich guy that sits in a pool." Leno explains that his parents influenced him at a young age to work hard and never take success for granted.
His parents grew up during the Great Depression, and I'm sure their financially conservative mindset had an impression on Jay.
Leno's Humble Persona
Although Leno has multiple homes with lavish pools, including a mansion in Beverly Hills, he admitted he hasn't taken a swim in his pool in over 30 years.
In the CNBC interview, he confessed, "every time I get near my pool, I'll get that Boston voice in my head going: 'Really? Is that what you are now? A rich guy that sits in a pool?' There must be something I could be doing besides this."
From Comedy to Cars
I absolutely love comedy, especially stand-up comedians. The amount of skill required to get up in front of a room full of people and make them laugh is mind-boggling.
You hear interviews with great comics, and they describe how they became hooked on performing stand-up comedy, "It was like an addiction, a rush," they would say.
Make People Laugh, Get Paid
Comedian Jerry Seinfeld has described his Four Levels of Comedy, "Make your friends laugh, Make strangers laugh, Get paid to make strangers laugh, and Make people talk like you because it's so much fun."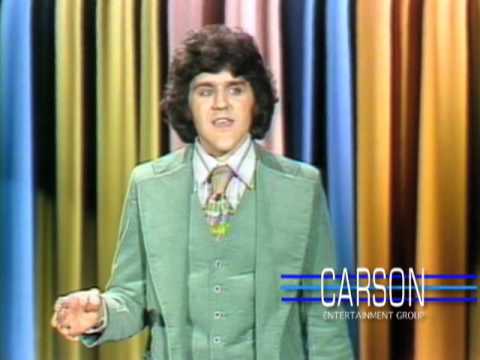 Like Jerry Seinfeld, Jay Leno began his career doing stand-up comedy, eventually becoming the host of The Tonight Show with Jay Leno.
He famously claimed that he never spent any of the money he made hosting The Tonight Show, living only off the money he made as a famous comedian doing stand-up routines.
Jay's Lifelong Passion
What he was really interested in were cars. For decades, the former tonight show host spent his free time building one of the most impressive car collections in the world.
It's not just a great collection of cars for a talk show host, but it's one of the best car collections in the world. It's an eclectic mix of vehicles to make all car collectors gasp.
New cars, old cars, rare cars, and exotic cars. There's a little bit of everything in Leno's collection.
---
Jay's Cars, The Early Days
Since his early days in college, working for Mercedes Benz changing oil, Jay has been a car enthusiast dedicated to learning about not only the fast cars people love but the stories and history of what makes them great.
Not only does Jay own a McLaren F1, but he also owns a McLaren P1. The volcano yellow $1.4 million hypercar has state-of-the-art hybrid drive technology and features a top speed of 217 mph.
The McLaren Brand
What is Jay Leno's favorite car company? During interviews, he said that McLaren is his favorite brand because of how the company leads in innovation.
Of course, Jay Leno's Garage is going to feature a 1986 Lamborghini Countach Quattrovalvole. His model is a carburated, red model with 70,000 miles.
Leno drives it often and is not afraid to stomp on the gas pedal. How tall is Jay Leno? And does he fit into the Lambo? At 5′ 11″, Leno easily slides into the Countach with ease.
---

Friends Chasing Laughs and Collecting Cars
There's another comedian who could be described as a car collector fanatic. Jerry Seinfeld owns an impressive collection of over one hundred vehicles valued at over $50 million.
There's a great episode of Jay Leno's Garage where Jerry Seinfeld makes an appearance to discuss a 1958 Porsche 356 and his love for car collecting.
Comedian Collectors, Leno and Seinfeld
Jerry Seinfeld published a new book titled "Is This Anything," describing his experience in the early days of trying to be successful doing stand-up comedy.
During a recent interview, he was asked if he was naturally funny or had to work hard for success. He answered –
"There has to be a certain spark of life. It's like the way a lighter works. You have the fluid, the friction, but the spark is what makes the alchemy of a bursting laugh. It's an unearthly phenomenon. To control it is, it's kind of like juggling fire. Like with baseball – what they do is try to get the percentages just slightly more in their favor. Choke up on the bat. Move just an inch. Lock my elbow up. Bring my hands down. Comedians are not risk-takers, they are risk eliminators."
I enjoy hearing people talk about things they are passionate about and what drives them to become great. It's clear people like Jerry Seinfeld and Jay Leno dedicated themselves to the craft of making people laugh through stand-up comedy.
They both went on to have amazing careers in television and made lots of money along the way.
But they never forgot their other passion, which was cars, and they've been generous in sharing their enjoyment for car collecting with others over the years.