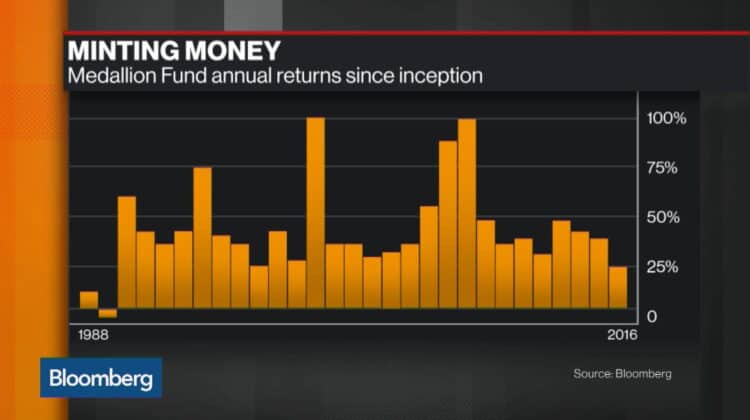 With a net worth of over $20 billion Jim Simons is known as one of the smartest investors to ever take on wall street. There's more to Simons beyond his net worth and astounding hedge fund track record. Jim Simons may be one of the most interesting people in business you will find. He's a mathematician who realized pattern recognition can be applied to trading in financial markets. A recently released book titled, 'The Man Who Solved the Market: How Jim Simons Launched the Quant Revolution' by author Gregory Zuckerman details how Simons transformed markets over the last 30-plus years.
RenTec
Renaissance Technologies, also known as 'RenTec', is a hedge fund based in New York founded by Jim Simons in 1982. By 1978 Simons grew tired of running the Department of Mathematics at Stony Brook University and began trading in the markets. He set up a hedge fund called Monemetrics in a Long Island strip mall and four years later changed the name of the firm to Renaissance Technologies.
The firm is known for it's incredible returns over the last three decades and the mystery of how it's obtained such outstanding performance. How do you get returns unlike any other hedge fund in existence? By doing things completely different than your competition. RenTec hires mathematicians, statisticians, physicists and signal processing experts without financial backgrounds. The company is run by scientists for quantitative research where Wall Street experience is frowned on. RenTec employees are believed to comment that the heard-like mentality among business school graduates is to blame for poor returns in the investment world.
The secrecy surrounding RenTec requires it's employees to sign lengthy non-disclosure agreements and non-compete documents. Their ability to attract the top scientific minds in the world is a known fact. Mathematician Isadore Singer commented on RenTec's headquarters as the best physics and mathematics department in the world. Not only does the firm attract brilliant minds but their turnover rate is nearly zero.
The Fund
The Medallion Fund is widely known as one of the best performing funds of all time. It trounces Warren Buffet over many decades. Peter Lynch, Ray Dalio and George Soros all trail in average annual returns. The funds worst year return was a 21 percent gain from 2001 to 2013. Extraordinary results over that long of a time period. Especially considering there was a global financial crisis in the middle of that 12 year period. Not only that but the fund has averaged a 71% return before fees from 1994 to 2014.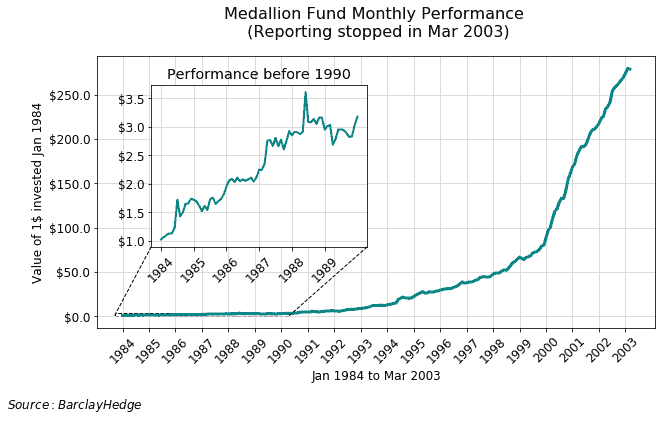 You might be asking yourself how to gain access to returns like this. The fact is that you can't. The Medallion Fund has been closed to new investors since 1993 and is only available to employees of the firm.
The fund is referred to as a printing press. Many on Wall Street have difficulty explaining how the enormous returns are accomplished. Studies show that Medallion's returns are uncorrelated with many major financial market indexes. Momentum, volatility, small caps, distressed debt, none of these categories indicate a relation to the funds returns.
Another factor to the success of the fund is the inability for any other fund to duplicate it's strategies. Often times when a hedge fund or hedge fund manager develops a successful track record the methods are quickly traced by competing firms and eventually kills the strategy. This has not happened yet and is a testament to the secrecy of the firms employees inside Renaissance Technologies Medallion Fund.