---
The story behind the AMC Javelin takes us back to an underdog American automaker who made an unexpected splash at the dawn of the muscle car era.
AMX American Motor Corporation, or AMC, sometimes feels like the little cousin to the other major US manufacturers General Motors, Ford, and Chrysler.
AMC Javelin Beginning
They were less prominent, less exciting, and less luxury. They were focused more on practical family-oriented vehicles while the other guys got all the glory. 
While this isn't entirely true, it certainly was the impression for a while, and perhaps even an impression some people have today when looking back.
The truth is that when it comes to classic cars and muscle cars, AMC can undoubtedly hold its own.
They've produced some of the most exciting performance vehicles, without losing comfort. They were practical and safe family-friendly models, and it isn't entirely fair to paint them only with a flat brush.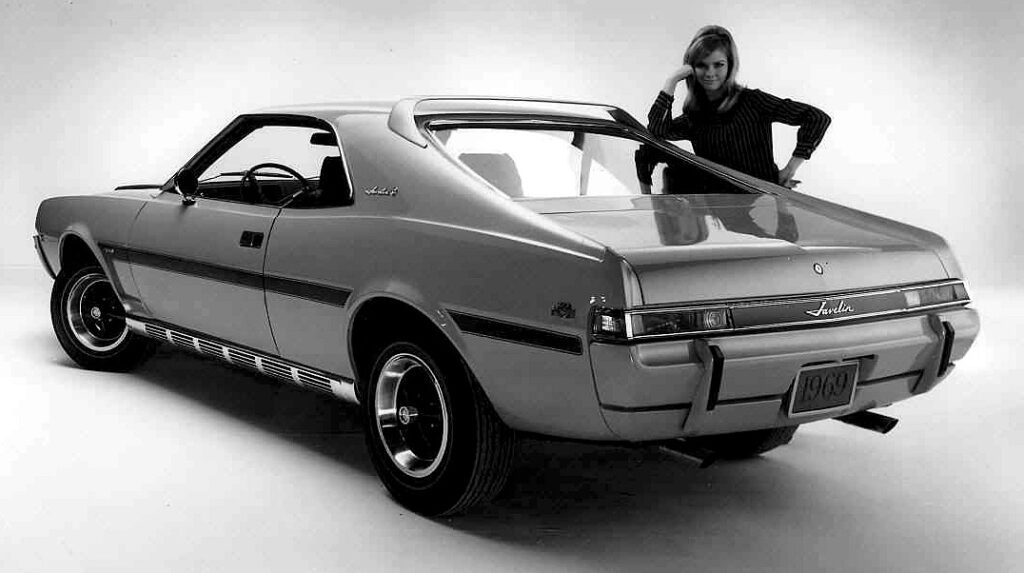 The most exciting and famous are undoubtedly the AMC Javelin and the AMC Javelin AMX. They were legends in their time, and today, they're highly coveted collectibles with high-profile fans such as uber car aficionado Jay Leno, amongst others.
So when exactly did the boring baby brother of the American auto industry go from zero to horsepower hero?
It might have technically started in 1968, but a particular event in 1965 was the catalyst for massive change within the American automobile industry.
The AMC Javelin Background
1965 saw the launch of a car that would change the industry and inspire a new direction for manufacturers.
The Ford Mustang was a compact, robust, desirable, and affordable muscle car that broke sales records on its initial release.
It continues to be an absolute legend today, and it also inspired other manufacturers to try and emulate the model's success.
It was the first of the pony cars – affordable, compact, highly-styled coupés or convertibles with a sporty, performance-oriented image. Think of the Chevy Camaro, Dodge Charger, and of course, the AMC Javelin.

Who Made the Javelin Car?
Before the Javelin, AMC was struggling. Their old-fashioned, safe, family-oriented vehicles struggled to do well in the lucrative and growing younger market segments emerging in the 1950s and 1960s.
However, this all changed when a wealthy investor named Robert Beverly Evans became the largest investor in AMC, with an equally significant influence in their new direction.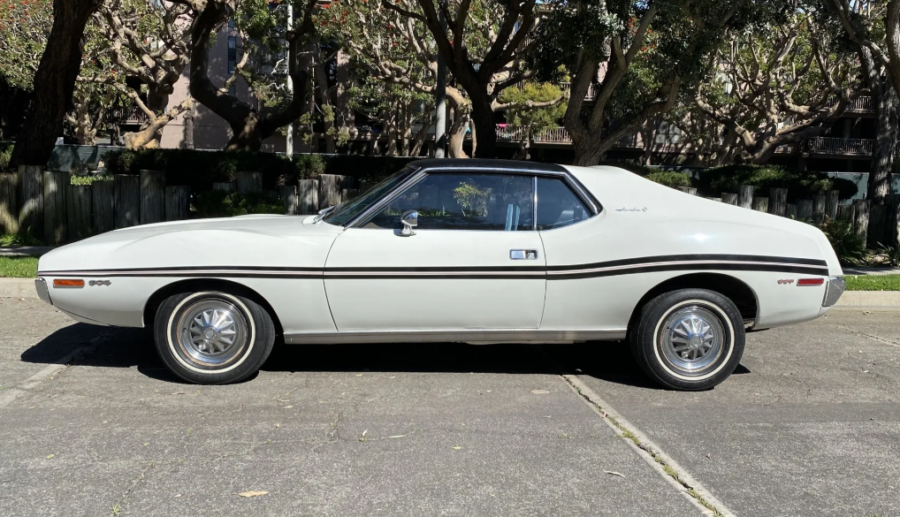 Concerned with AMC's frumpy image, Evans played a significant role in developing two vehicles that would enter the pony car market to compete with Detroit's Corvette and Camaro.
Sleek, sexy, and powerful, they would directly challenge the Mustang and drive AMC into a new and lucrative direction, making history and reigniting the American car company.
The AMC Javelin Kicks Off
These two vehicles were 1968's AMC AMX and AMC Javelin. The Javelin came first, and its design was based on two prototypes named AMX and AMX II. The AMX stood for American Motors Experimental. 
1968 AMC Javelin
These were racing car prototypes made of lightweight fiberglass and only two seats. The Javelin was designed and styled with a combination of sleek and sporty looks.
Built on the Rambler American platform, it was a hip and affordable pony car. The two prototypes were designed with more room inside, four doors, and a few other practical additions.
Due to limited resources at the time, AMC wasn't able to design fastback and notchback hardtop options that competitors like the Mustang and Plymouth Barracuda offered.
The design team headed up by auto-design legend Dick Teague, in response, created one style. Teague was brought in as Vice President of Design at AMC, after years of auto design experience at General Motors and Chrysler.
It was described at the time as "a smooth semi-fastback roofline that helped set the new car apart from other pony cars."
1969 American Motors Javelin SST Values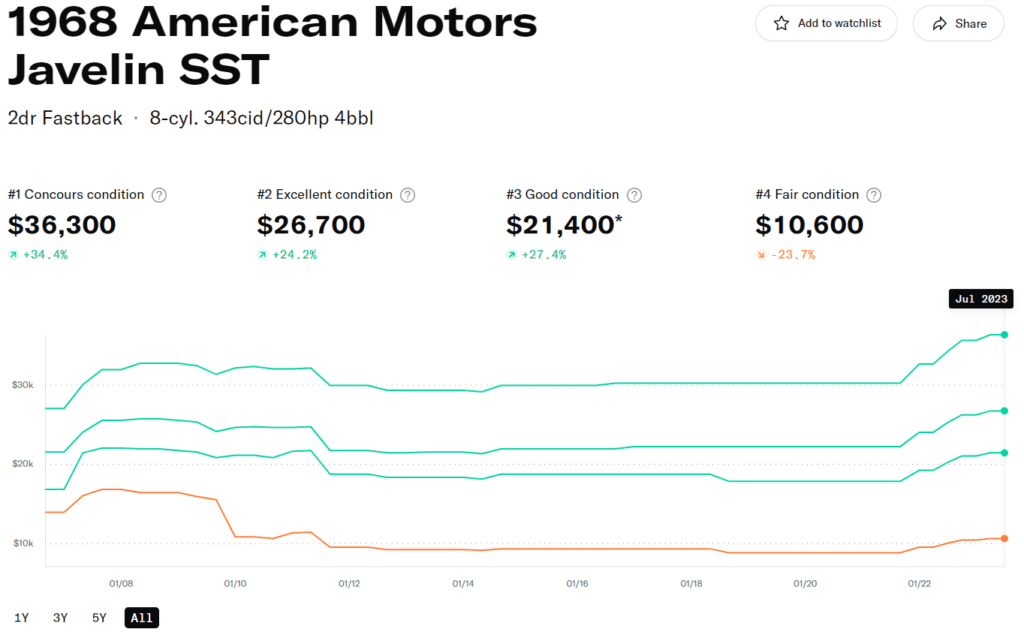 Bring on the AMX
The AMC AMX, the Javelin's sister model, was a sportier two-door option, more faithful to the AMX prototypes.
The AMX was introduced at the Daytona International Speedway on the 15th of February 1968, just over four months after the Javelin went on sale.
On the race track, the AMX sported larger engines and ran at speeds up to 130 mph (209 km/h). American Motors' group vice president Vic Raviolo described the AMX as "the Walter Mitty Ferrari."
The AMX was one of the first attempts to interest muscle car, race car, and sports car fans. But, most noteworthy, it was also the only American-built steel-bodied two-seater of its time and the first since the 1955–1957 Ford Thunderbird.
Over 8,000 AMX cars were built in 1969, including 52 Hurst Lightweight models. The Hurst models boasted a quarter mile speed of 127 mph using its 420 horsepower engine.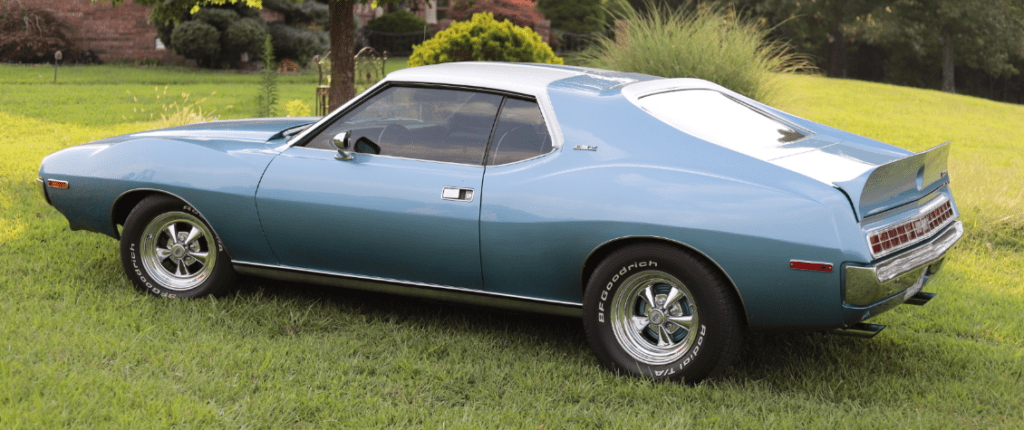 The AMC Javelin Production Models
The Javelin had two production runs. The first from 1968 – 1970 and the second from 1971 – 1974.
The First Generation AMC Javelin
Javelin debuted on 22 August 1967 for the 1968 model year. The prices started at around $2,743, which was excellent value for what you got.
In addition, there were several innovative safety features, including the first industry use of fiberglass safety padding, disc brakes, exterior side-marker lights, bucket seats, and three-point seat belts.
Buyers could choose from a range of powerplants, but the most popular was the AMC V-8 engine: a 258 cubic inch, 225hp unit in the base car, and a 343 cubic inch upgrade good for 235hp and a significant boost in torque.
---
1969 Javelin
The AMC Javelin was extremely popular for several reasons. Firstly, it was roomier and had more space than rivals in its class.
Secondly, the engines were potent for the price and could match entry-level and mid-range Mustangs and Camaros for a much lower cost.
1969 AMC Javelin Values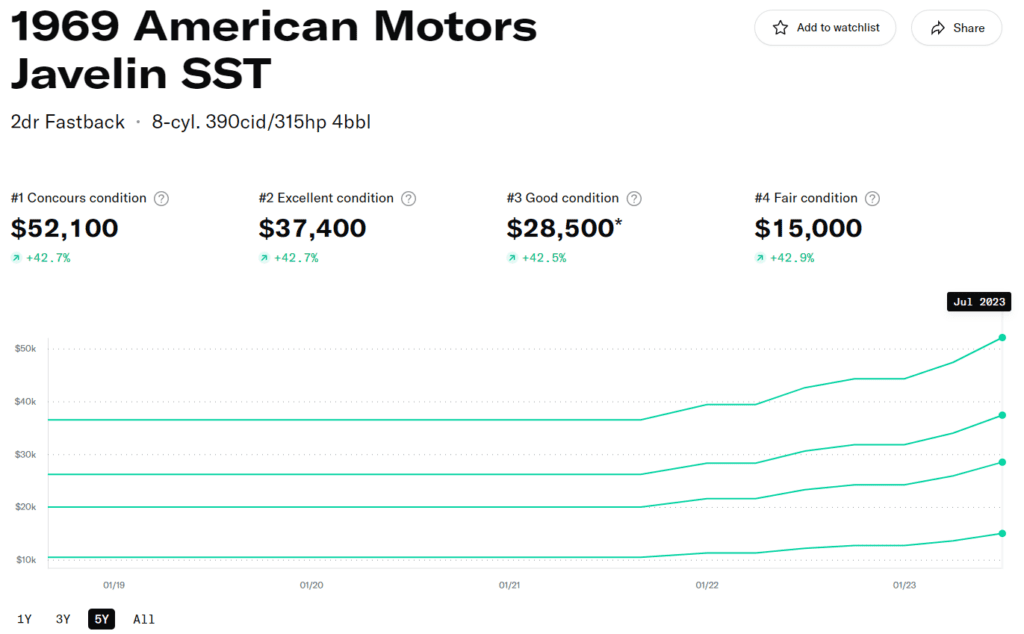 The Javelin also featured an optional three-speed automatic transmission with "Shift-Command" and a center console-mounted gear selector.
An optional Go Package was also released, including suspension upgrades, dual exhausts, power brakes, a four-barrel carburetor, and an optional 390 cubic inch motor that put out 315hp and 425 lb-ft of torque.
AMC sold over 12,000 Javelins during the first year of production. As the unique design gained popularity, its second year saw more than 56,000 Javelin's fly off the AMC assembly lines.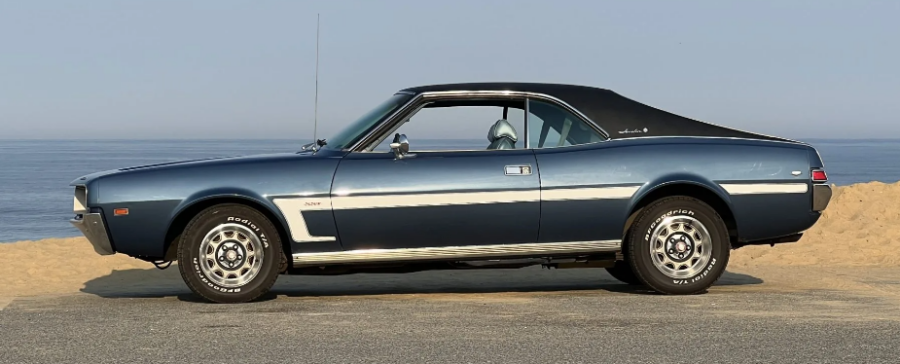 1970 Javelin
In 1970, AMC produced 2,501 special edition Mark Donohue Javelins to qualify for the Trans-Am Series.
A sudden rule change by the Sports Club of America required at least 2,500 production cars instead of just 100.
The special edition model was a thick-walled 360 V8 engine with 290 horsepower.
It also featured a ducktail spoiler and a Mark Donohue signature on the right rear end of the car.
1970 AMC Javelin Values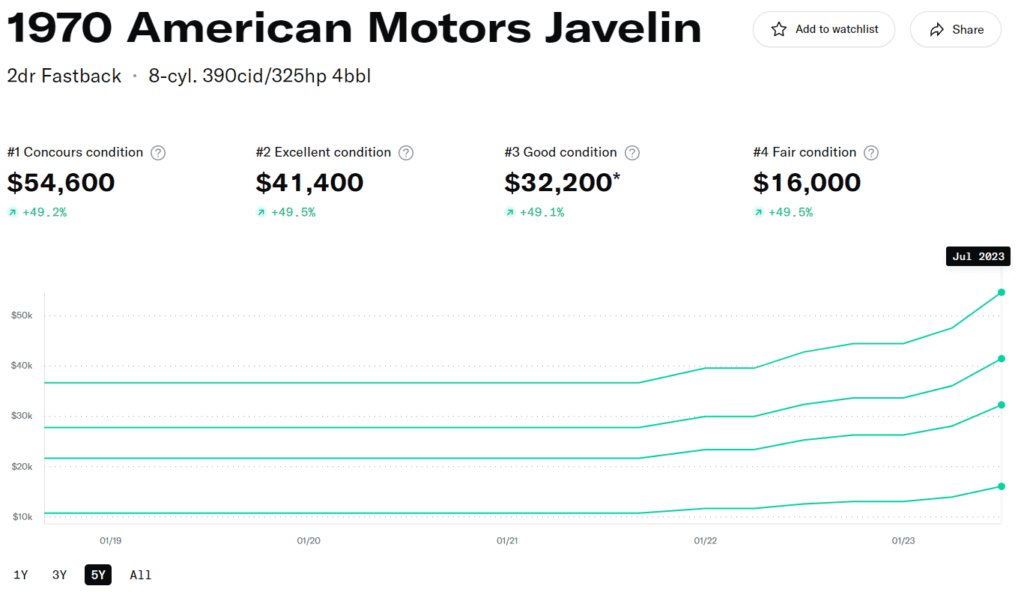 ---
The Second Generation AMC Javelin
The AMC Javelin had a style makeover for the 1971 model year. It was a relatively significant departure from the first generation, and many saw it as a risky move.
However, AMC wanted to give the vehicle individuality and ensure that it stood out even more from the crowd.
It was longer, lower, wider, and heavier than the first generation, with the wheelbase increasing by a full inch to measure at 110 inches, with a four-speed manual transmission and wider tires.

1971 Javelin
The new look also included an integral roof spoiler and sculpted fender bulges. There was also a departure from the gentle, tucked-in look of the first generation, giving the car a completely different look.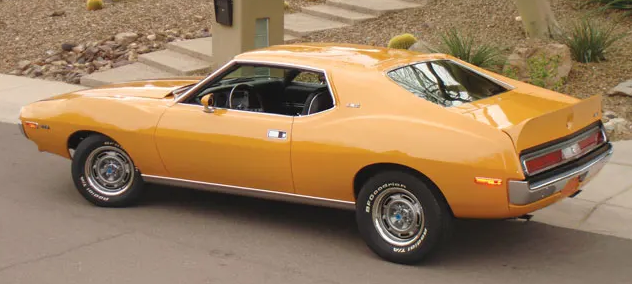 The Pierre Cardin AMX Edition
During the 1972 and 1973 model years, a limited run of Javelins came with a fashion-forward optional extra. Interiors by fashion designer Pierre Cardin.
Starting on the 1st of March, 1972, customers who selected this option would get multi-colored pleated stripes in red, plum, white, and silver on a black background.
These stripes ran from the front seats to the doors and over to the back seats, creating a striking and unique interior that proved to be a popular hudson option.

Trans Am Victory Edition
The second generation started in true style with 1971 and 1972 victories in the Trans Am Series race. The 1972 model slightly resembled the Chevrolet Camaro.
This SCCA-sanctioned event victory was celebrated in even truer style with 1973 Trans Am Victory edition Javelins.
1972 Javelin
This package option was available for Javelin SSTs built between October and December 1972. It was promoted by a classic single magazine advert featuring the winning race drivers George Follmer and Roy Woods.
The extras included additional price-point varying trim level elements, light groups, insulation groups, and a sporty race-style steering wheel.
Fender decals with "Javelin Winner Trans Am Championship 1971–1972 SCCA" emblazoned on them, 8-slot rally-styled steel wheels with E70X14 Polyglass raised white letter tires, and a "Space-Saver" spare tire was also included.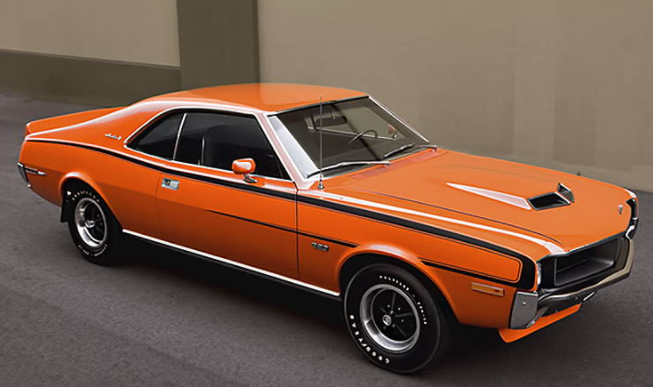 ---
AMC Javelin Production Numbers
1967 – 12,390
1968 – 56,444, 6,725 AMX's
1969 – 33,990, 5,784 AMX's
1970 – 31,090, 2,110 AMX's
1971 – 26,866, 2,054 AMX's
1972 – 22,964
1973 – 26,311
1974 – 17,555
Javelin Legacy and Collectibility
AMC moved on in 1975, creating the Pacer, Hornet, Concord, and several other models until the company was taken over by Chrysler in 1987.
But when it comes to AMC fans and collectors, Javelin's one of the most sought-after classic car collectibles.
AMC Values and Popularity
It is often mentioned among the most beautifully designed cars of the 1960s, and it has steadily increased its status amongst collectors. They have developed a newfound respect for AMC's Javelin in recent years.
Due to its fun and affordable beginnings, the car remains at a reasonable price for collectors today, which is one reason for its continuous popularity. Another reason is that it's truly unique.
While the Mustang and Camaro are beautiful motor cars, they have been saturated in attention and praise. The Javelin is a little different, more quirky, and is a massive hit with young collectors today.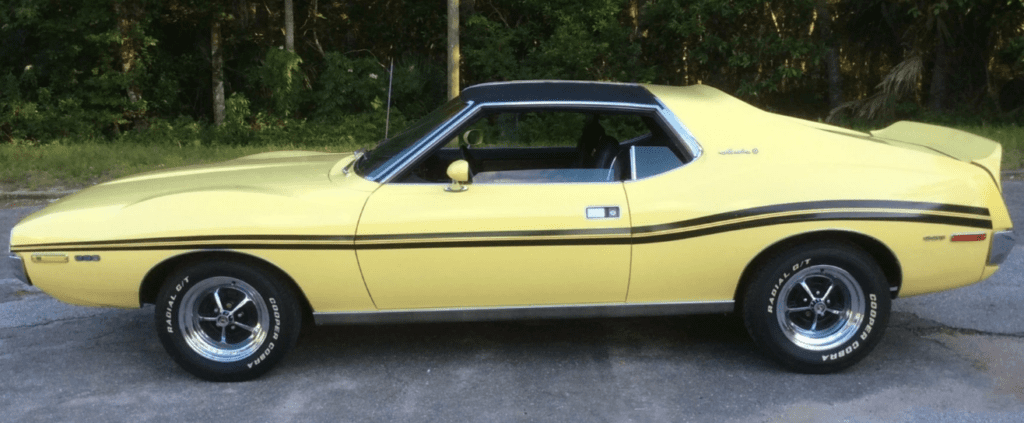 ---
The Antique Automobile Club of America (AACA) divides the "muscle" AMC Javelins into two categories:
Class 36-e for 1968–69 Javelin base and SST models equipped from the factory with 343 cu in (5.6 L) 4-barrel or larger V8 engines;
Class 36-j for 1970–74 Javelin, SST, and AMX models equipped from the factory with 360 cu in (5.9 L) four-barrel or larger V8 engines.
Sought-after extras in the collectibles market include the following features:
V8 engines, particularly the 390 and 401 versions, as well as the
"Go" package versions, as mentioned earlier
Pierre Cardin editions
Trans Am Victory editions
Generally, the second generation models receive higher prices, particularly the 1973 models.
Growing Respect for the AMC Javelin
The AMC Javelin hasn't always received the praise, respect, and adoration it truly deserved, but this is rapidly changing as collectors and enthusiasts gush over this true blue American classic.
"Make Javelins Cool Again!" isn't a phrase you hear every day. Mike Ring of Ringbrothers is a dedicated Javelin fan.
Not only does Mike Ring love the AMC Javelin, but along with his brother Jim, the founders of Ringbrothers rebuild and create custom Javelin cars that will blow your mind.
Mike and Jim Ring recently designed an insane 1,100 horsepower 1972 AMC Javelin AMX. The brothers swapped the 6.2-liter supercharged V-8 707 horsepower stock supercharger for a Hellcat 4.5-liter engine. You have to see this car to believe it. Long live the Javelin.
---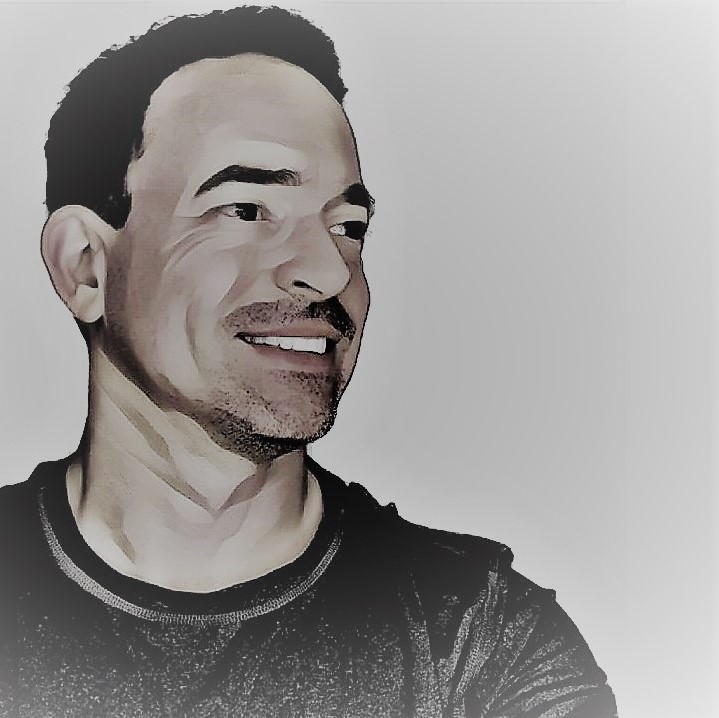 R.J. Bachman
Attic Capital – Writer, Editor, and Lifelong Collector
After many years of collecting rare coins, sports cards, and all types of collectibles, I began writing at Attic Capital to share my experience, knowledge, and passion.
I would love to connect with you, so don't hesitate to reach out and let me know more about your passion for collecting.