---
If you're thinking about how to sell coins online, I'm here to tell you it's never been easier. Transparent pricing, professional service, and speedy payments have made selling coins better than ever before.
The renewed interest in collecting coins has boosted values, and new platforms are springing up every day. If you have a rare coin collection to sell, keep reading – your choices for selling coins have never been better.
How to Sell Coins Online
Do you have a few valuable coins and looking to sell them? The good news is there are several ways to get top dollar for your coins. But there are just a few things to understand before you move forward.
It's important to know the value of your coin collection and the current demand for your coins. And if you own extremely rare coins, you should have a few options for a professional appraisal.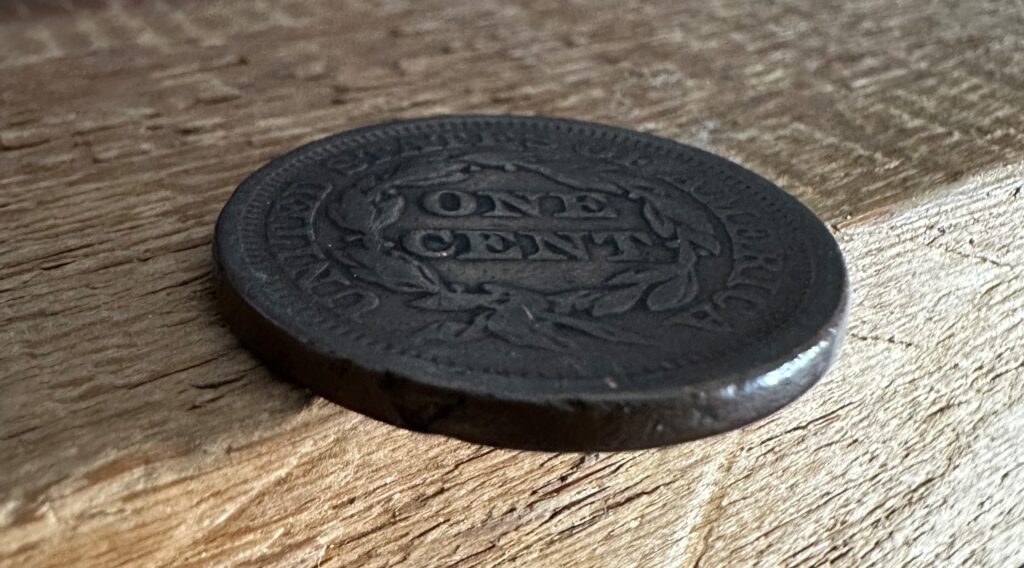 Valuing Coins to Sell Online
From gold and silver coins to old coins with historical significance, to extremely rare error coins, the first step to selling coins online is to know their value.
Online Price Comparisons
Coin collectors have more resources available at their fingertips today than ever before. My recommendation is to compare the value of your coin with a few resources.
Several websites offer extensive price guides, such as PCGS, Greysheet, and NGC. These price guides have been industry standards for numismatists around the world.
Offline, there are two books coin collectors have been referencing for over five decades. The Official Red Book is published by Whitman once per year, offering reliable pricing, historical information, and color photos.
Whitman also publishes The Official Blue Book. It's a softback book, and prices tend to be slightly lower and more conservative. Similar to prices you might receive if selling your coins to a coin dealer.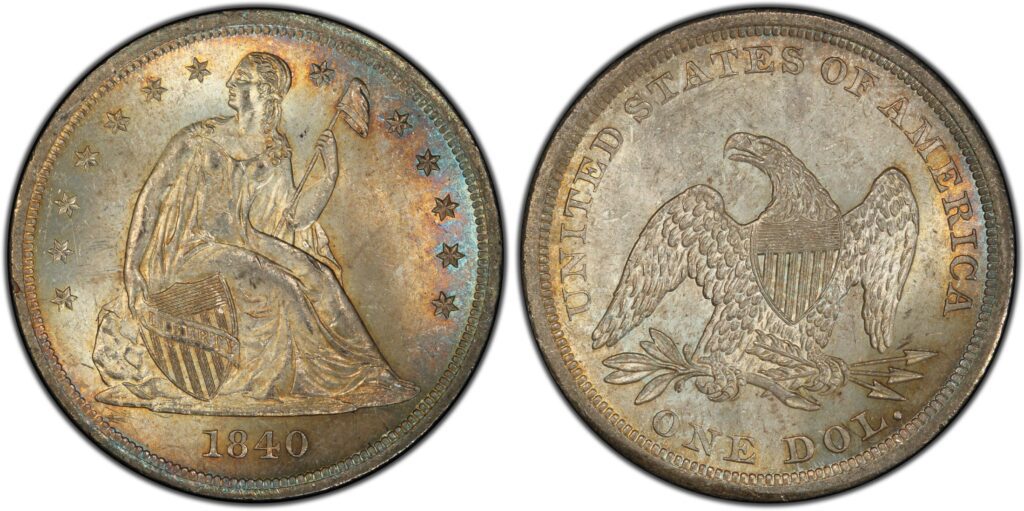 ---
What Coins Are in High Demand?
Before selling your coins online, it's vital to understand the current coin-collecting market trends. What types of coins are hot? And which coins are falling out of favor?
The best place to watch market trends play out is at top coin auction sites. You'll find the latest headline sales, such as the record-breaking 1933 Saint-Gaudens Double Eagle, which sold for nearly $19 million.
Morgan Silver Dollars and Flowing Hair Dollars are gaining popularity lately. And the 1960s Kennedy Half Dollars are seeing high interest from collectors. Some high-value double eagle coins have been described as nearly "impossible" to accurately price lately due to rapid price changes and record sales.
American Silver Eagle coins are the official silver bullion coin, with a face value of one U.S. dollar. It's easy to value common bullion coins, but it gets tougher with foreign coins and world coins.
PCGS reports strong collector demand is carrying over from last year, and auction houses are competing aggressively for consignment listings.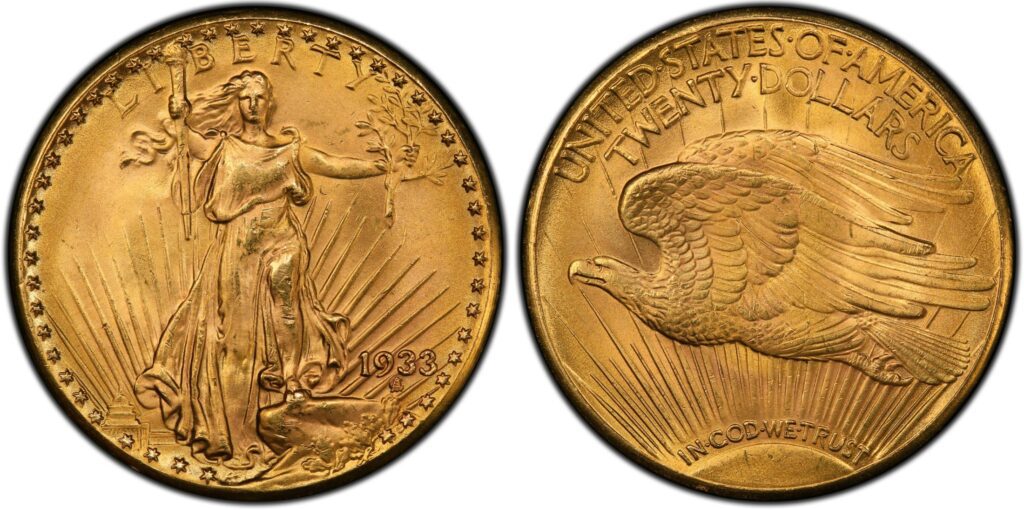 How Can I Get My Coins Appraised?
Local coin shops usually offer free appraisals, but small local coin shops are not always the best option. The coin industry has made several changes in an attempt to standardize the coin appraisal process.
Look for coin dealers who are members of the American Numismatic Association. They should also be authorized by PCGS.
If paying for coin appraisals, remember the value of the appraisal might be greater than the value of the coin.
Many online coin buyers offer free appraisals before you accept a sales offer. And online auction houses will appraise coins before accepting them to auction.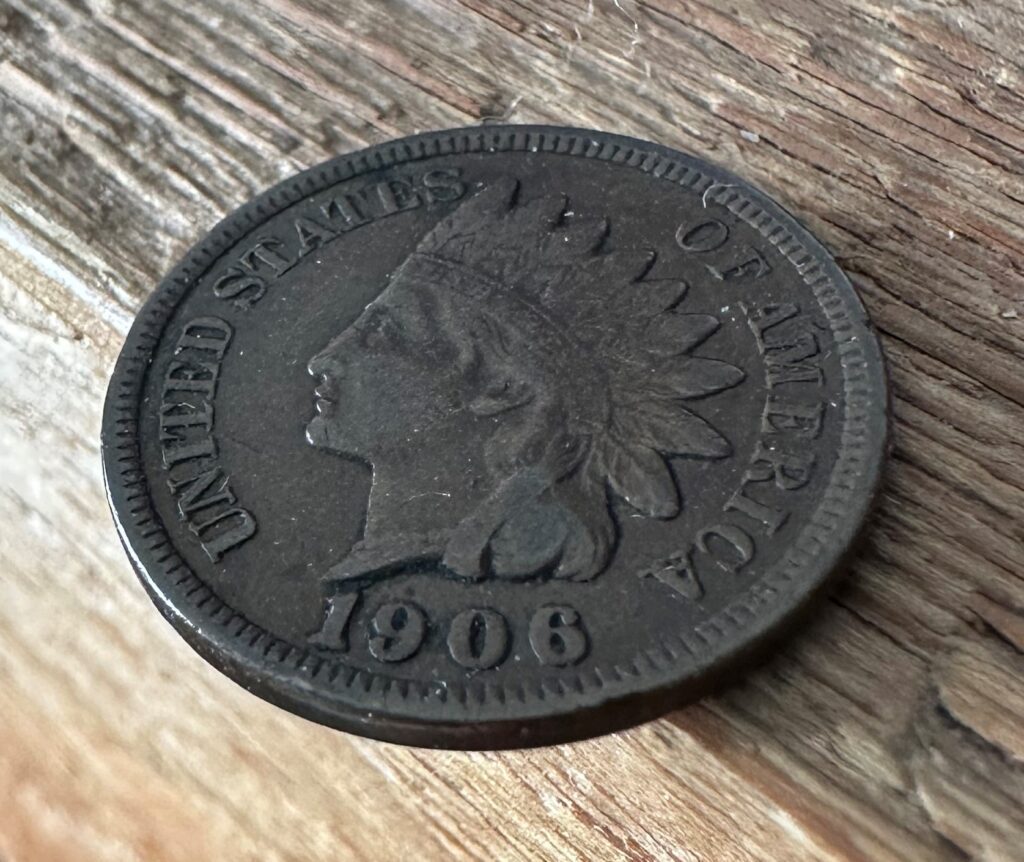 ---
Top 7 Best Places to Sell Coins Online
Let's get to the list of best places to sell coins online. With so many resources, it's important to filter out the noise and focus on the best coin-selling options.
Where to Sell Coins Online
1. Stack's Bowers
Since 1933, Stack's Bowers has been buying and selling some of the most famous and most valuable rare coins in world history. Their goal is to serve the buying and selling needs of coin collectors around the world with an unmatched list of services.
Even though Stack's Bowers Galleries has sold coins from the most famous collections of all-time, including the Louis E. Eliasberg, Sr. Collection, and the Harry W. Bass, Jr. Collection, they're also focused on the novice and hobby collectors looking to sell a single piece.
The features, services, and guides found on the Stack's Bowers website are too many to mention here. You'll have to visit them to see for yourself. The passion for coins, collecting, and serving the customer is clear with Stack's Bowers.
Question: "How have you kept your interest in coins after all these years?"
Answer: "Coins are infinitely interesting." – Q. David Bowers
With 90 years of coin expertise, a complete list of services, worldwide customer support, and top industry leading technology, Stack's Bowers is a no-brainer if you're looking to sell coins online.
So how do you get started?
Step 1 – It all starts with the online questionnaire submitted through the Stack's Bowers website.
Enter basic information, explain what you'd like to sell, and upload photos. Once you submit, a Stack's Bowers professional will contact you with your appraisal consultation, details for an outright purchase, or information on consignment.
Step 2 – Decide if you want to sell or consign your coins. You'll have your cash for your coins faster if you sell outright, but you could receive a higher offer with consignment.
Every coin seller will have different circumstances, so get trustworthy and industry-leading advice from Stack's Bowers professionals so you can make an informed decision.

Pros –
Backed by 90 years of trust built by one of the most renowned and respected numismatist you will find, Q. David Bowers.
Infrastructure and financial backing to support purchases of the most valuable coins, and entire collections in the world.
Your coins will be securely stored, professionally photographed, then marketed to a worldwide group of proven buyers during consignment. Options for a cash advance up to $5 million within 24 to 48 hours for qualified coin consignors.
Free walk-in appraisals at the Stack's Bowers New York and Philadelphia offices during the week, or make an appointment. For larger collections, schedule home, office, or bank visits by a Stack's Bowers representative.
Cons –
Consignment payout is 45 days after the sale, so you'll need to be patient until the process is complete.
The Stack's Bowers website is packed with information, guides, and historical sales data. You might end up researching your next purchase for hours, and completely forget you were supposed to sell your coins!
---
2. eBay
Selling coins on eBay can be easy if you know the basics. With over 1.7 billion items currently listed on eBay, it's the largest reselling marketplace in the world with over 160 million users.
Step 1 – Create an eBay account, and link a debit or credit card to your account. Next, create a listing. Include accurate descriptions and describe what makes your coin unique.
Be sure to include scratches and defects. An honest description will make you a trusted eBay seller, and you will avoid negative buyer feedback.
Step 2 – Create high-quality photos. It's one of the biggest factors in getting the best price for your coins on eBay. Investing in a camera that takes clear up-close photos might pay off. Be sure the photos are well-lit and in focus.
Step 3 – Buy-It-Now Vs. Auction. You have two options to sell your coins online through eBay. The Buy-It-Now listing type will allow you to set a price and will sell to the first person who attempts to purchase.
The auction option is what most people are familiar with. You simply set an auction end time, and anyone is allowed to bid on your coin.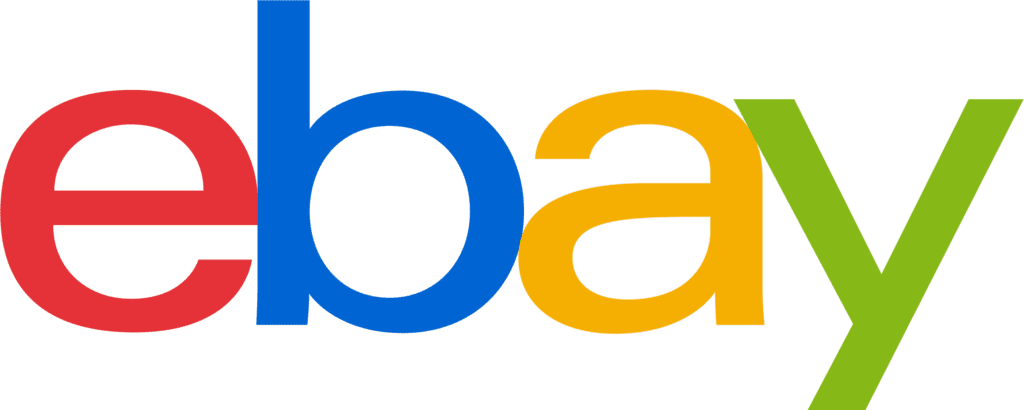 Pros –
Millions of users on a global marketplace.
Set your own price or use the auction option for a potentially higher sale amount.
Sell entire collections or just one single coin. It's all up to you.
Cons –
Lots of competition from millions of listings. Hard to sort quality listings from undesirable listings.
The seller fees can add up, and eat away at your profits. Up to $2.00 to list your item, and another 12% once your item sells.
---
3. Heritage Auctions
Heritage Auctions is one of the world's largest auction sites for rare and valuable coins.
Not only does Heritage sell some of the most valuable coins of all time, but they also have tons of resources for both expert and beginner coin collectors.
Step 1 – Online Evaluation. Selling coins online with Heritage Auctions is simple once you fill out the online evaluation.
By submitting a detailed description of your coins along with photos, Heritage will either recommend your coin for auction or give advice on why your coins are not approved.
Step 2 – If your coins are accepted for a Heritage auction, you will receive a specific valuation on your coin and details on when your items will be offered.

Pros –
You won't need to create listings with Heritage Auctions, they take care of everything.
Two options of consignment sales or selling outright.
Cons –
Consignment sales fees can be as high as 10%.
Coins must be sent before the auction and wait times could be long to receive payment.
---
4. JM Bullion
One of the largest online buyers and sellers of precious metals, silver, and gold coins is JM Bullion.
They offer a huge variety of gold, silver, copper, platinum, and palladium items, shipping over 60,000 items per month.
In addition, JM Bullion is an online buyer of bullion coins, bars, and many collectible coins.
Step 1 – On the 'Sell To Us' page, select the items you want to sell. Don't worry if you don't see your item, you can call or email JM Bullion direct for rare items not listed.
Step 2 – Lock in your price. JM Bullion offers a price for each item listed on their site. If you agree, lock in your price and quantity and you'll know the total amount you will collect.
Step 3 – Once you are locked in, you'll receive an email with shipping instructions.
Step 4 – JM Bullion will receive and inspect each item. Once approved, they will issue payment.

Pros –
One of the largest buyers of precious metals and coins online, with millions of purchases every month.
Purchase prices are listed and updated for nearly every popular item they buy.
Shipping labels are provided, and you can schedule a UPS home pick-up.
Fast payment, usually within 1-3 days after they authenticate your items.
Cons –
JM Bullion has a minimum value of $1,000 before they will buy.
'Market Loss Fees' if you cancel your order after it has been locked in.
If you want a paper check payment, there is a $30 fee deducted from your buyback amount.
---
5. Modern Coin Mart
Led by Barry McCarthy, a Precious Metals Trader with over 35 years of numismatic experience, MCM is one of the largest buyers of U.S. coins and precious metals.
Step 1 – Call Modern Coin Mart for a fast estimate over the phone, or email Barry details of your coins.
Step 2 – Once you agree on a price, Modern Coin Mart will email a purchase order. Print, and include the purchase order with your package.
Step 3 – Your package is received and inspected. Payments are received within seven business days.

Pros –
The personal touch of a phone call can be a reassurance that all your questions will be addressed.
Lead contact Barry McCarthy is a member of the American Numismatic Association and can be reached directly through his email address.
They offer an overnight payment option, but you will be charged a $25 convenience fee.
Cons –
Payments authorized within seven business days are longer than other online coin buyers.
All payments under $3,000 are issued with a check and sent through the mail which could slow the receipt of funds well beyond seven days.
---
6. APMEX
With over 20,000 products offered on the APMEX website, they have something for every coin collector. A true giant in the coin-collecting and rare metals industry.
Over $1 billion worth of rare coins and numismatic items have been purchased by APMEX. They pride themselves on super-fast shipping and payment terms.
Step 1 – Request a quote through the APMEX online form, or call them direct for expert consultation.
Step 2 – Once you have confirmed your items and their value with APMEX, lock in your price. There will be no risk of market swings changing the value of your sale after this point.
Step 3 – Follow shipping instructions carefully to receive the full benefits of using APMEX. They will email UPS shipping labels and instructions for packing your items in a new unmarked box. You can visit your nearest UPS store or schedule a home package pick-up.
Step 4 – APMEX verifies and authenticates your items with its proprietary system. APMEX guarantees payment by the next business day after your items have been processed.

Pros –
Multiple payment options – check, direct deposit, bank wire, or trade for another APMEX item.
Super fast payment – It's tough to beat the next business day payment guarantee from APMEX.
Both options of online submission and calling a representative directly over the phone give service to all different experience levels of coin collectors.
Cons –
The minimum purchase value is $1,000. Less than some competitors, but still might be a barrier for beginners.
Canceled orders will be charged a $35 cancellation fee plus any additional market loss fees.
---
7. Gainsville Coins
As an active member of the American Numismatic Association, Certified Coin Exchange, and Coin Net, Gainsville Coins has over a decade of experience buying and selling rare coins and bullion.
Like many of their competitors, they are an authorized distributor of the U.S. Mint, Royal Mint, Perth Mint, New Zealand Mint, and many others.
Step 1 – Find your coins on the Gainsville Coins website 'Sell List.' Current prices are updated for each item and will fluctuate depending on market conditions.
Step 2 – Complete a packing slip and detail the items you would like to sell along with the listed prices. If you would prefer to discuss this with a representative, Gainsville Coins offers phone consultations.
Step 3 – Ship your items to Gainsville Coins. Once received and verified, payment is issued with a check or bank wire.

Pros –
No minimum value requirement.
Free appraisals, even if you decide not to sell your coins.
Updated prices on many items for transparent decision-making.
Cons –
It's difficult to find details of when payment will be issued, and how fast payment is sent once items are received.
Payment options include check or bank wire only, with a fee added to any bank wires.
---
8. Littleton Coin Company
Since 1945, Littleton Coin Company has been serving the coin collecting community. They spend over $50 million each year buying rare coins, paper money, and even entire collections.
Step 1 – You can fill out the simple online form at the Littleton website, or call them directly. Include detailed descriptions and photos. The company also offers a personal coin appraisal kit for $30.
Step 2 – Once you submit your information, Littleton Coin Company will contact you with a complete assessment and offer for your coins. From the company website, this is usually within a few days.
Step 3 – Using the mailing kit provided, send your items and receive payment.

Pros –
They also buy rings, bracelets, chains, flatware, and earrings, which other competitors do not purchase.
Personal Appraisal Kit to help identify and value your coins. If a sale is made, they will reimburse the $30 cost of the kit.
Cons –
Not much detail about selling fees, shipping rates, or payment terms listed on the website.
Littleton Coin Company does not buy modern U.S. coins, or non-U.S. currency at this time.
---
Bonus – #9 Best Place to Sell Coins Online – Sell Them to Me!
If you've tried to sell your coins to the first eight recommendations above and you just can't find the right representation – sell them to me! I buy coins all the time. I'm always looking to invest in a rare coin or two.
Depending on what coin it is exactly, and how much it costs, of course.
Yes, I buy coins, so drop me a message on the 'About' page and let me know what you would like to sell – I just might be able to help. Looking forward to hearing from you!
Selling Coins Online Step by Step
To summarize, there are plenty of choices for selling rare and valuable coins online. But no matter what platform you decide on, the process remains to same for many of the steps.
1. Choose Your Platform
Online Store – eBay, Etsy, Craigslist, the choices go on and on. But the idea is the same. Create a custom listing with a detailed description and quality, high-resolution photos and pictures.
Show your quality listing to a massive audience and respond to any questions or comments. Wait for a lucky buyer to emerge. Collect payment right from your computer screen or mobile device.
Online Auction – For the most rare and valuable coins, this is probably the best choice. Heritage Auctions, Stack's Bowers, Sotheby's, Warwick and Warwick.
These are a few of the auction houses breaking records and making headlines in the rare coin industry.
Coin Dealer – Your local coin dealer down the street might be tempting, but with so many recognized online coin dealers buying online, you would be crazy not to use the power of the internet to sell your coins.
Online Marketplace – New platforms and services are emerging every day in the coin-collecting industry. Embrace the change and explore some of the new great online coin marketplaces.
Coinworld.Market is an interesting platform I'd like to profile in the near future.
Several other services are intriguing, and I'm learning more about them. Stay tuned!
2. Decide on a Price
Deciding on a listing or selling price for your rare coins might seem overwhelming. But using the online platforms outlined above can take much of the guesswork and stress out of deciding your coin value.
Many online coin-buying services offer a current listing price for thousands of coins. While it's always wise to verify and know the value of what you own, these prices are becoming more transparent every day.
Data from buyers and sellers around the world are compiled and shared instantaneously, creating fluid and up-to-date prices. The coin-selling process is greatly improved by the data that is shared.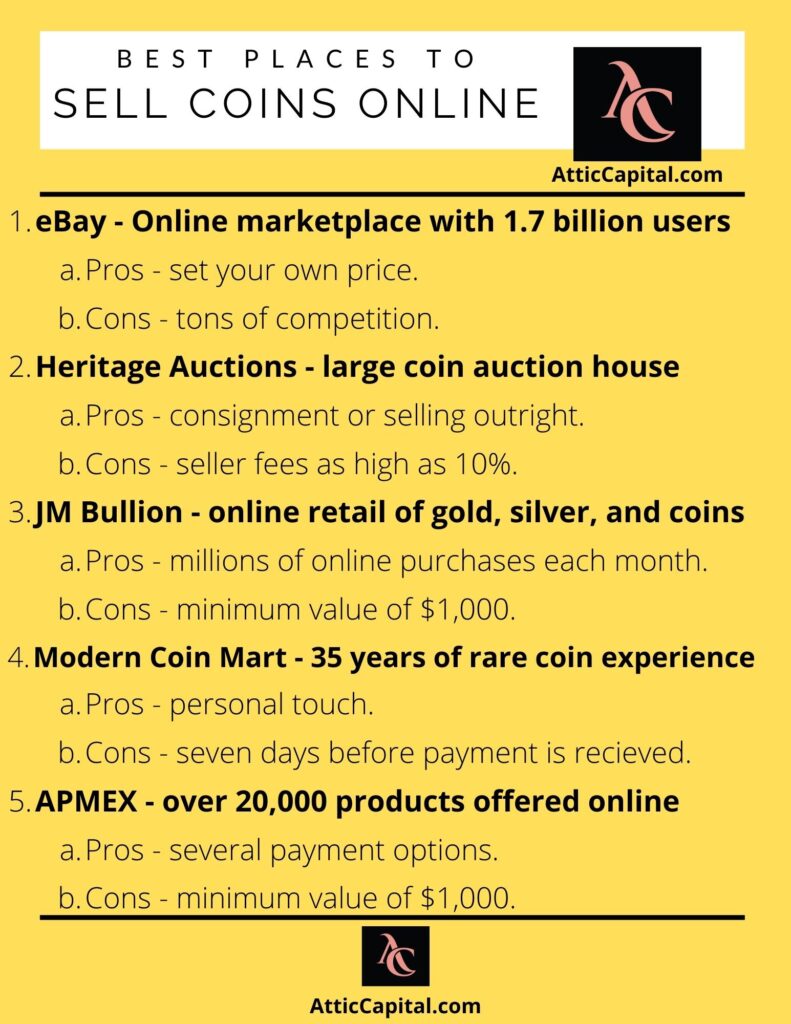 3. List Your Coins
If you have chosen the online store option for selling your coins online, fear not. While you might be tempted to walk down to the local pawn shop to escape listing your coins online, I'm here to tell you it's not as difficult as it might seem.
Your first time creating a listing might seem daunting, but every time you create a listing your knowledge will grow and it gets just a bit easier.
Using quality photos is a must, but there's another tip to always keep in mind. Describe your coin in the most detail possible. And don't be shy about documenting each scratch, ding, or mark.
Even the tiniest dime might have a blemish not visible in a photo. It's always worth pointing out. Potential buyers will appreciate it, and make them more likely to become a return customer and buy from you in the future.
4. Choose Your Shipping
This is when most online coin sellers lose their motivation for selling their coins online. The thought of shipping their valuable coins in the mail to some random place, stacked in a warehouse. That is IF it ever arrives at its destination.
Many sellers would rather not go through the hassle. Wouldn't an in-person sale be easier? I would make the argument that online coin sales have never been more convenient.
Online coin retailers such as APMEX and JM Bullion are looking to take the stress and hassle out of shipping coins.
Many online coin retailers offer overnight shipping, home package pickup, package tracking, and insurance coverage. APMEX even offers a video feed of your package arriving at the warehouse and being opened and inspected!
5. Market and Share Your Coins
Here's one more bonus tip you might not have considered. If you choose to go the online store route and list your rare coins for sale on eBay or Etsy, don't forget to market your coins.
Share the link to your coins through your social media channels. Some coin sellers even create social media profiles just for their coin sales.
As your following grows, you can become a trusted source. And the odds you will receive top-dollar for your coins will increase.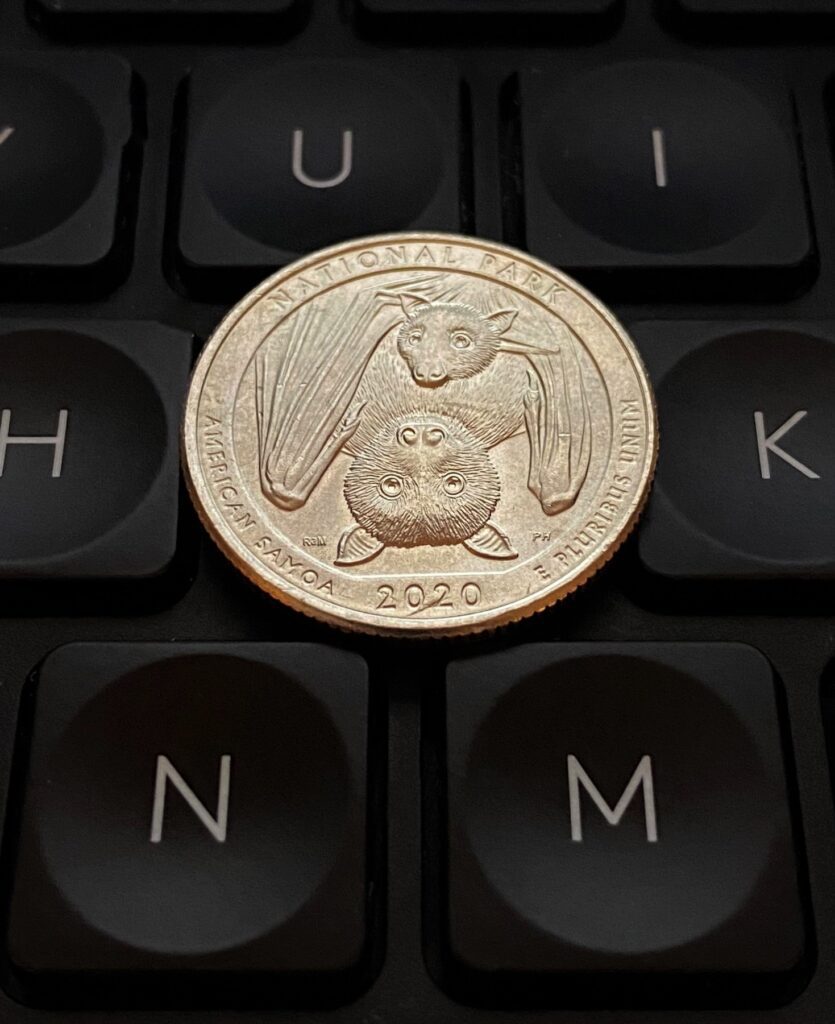 Mistakes to Avoid When Selling Coins Online
Selling anything online is full of danger and possible mistakes. It's no different from selling coins. Here are a few tips to hopefully help you avoid a costly mistake in your coin sales.
Take high-quality photos and give a complete accurate description of your coins. If a buyer can't see exactly what you are trying to sell through crystal-clear photos, you won't get a fair offer.
Don't stop with one high-resolution photo, take several pics. In fact, post as many photos as the online platform will allow. Submit photos from different angles, and different lighting, and use a plain white background for extra clarity.
Whatever platform you decide to use to sell your coins, read Google Reviews and do as much background screening as possible. Any additional recommendations you can receive from past sellers will help you in your decision.
Ask for details about the insurance policy for lost, damaged, or stolen coins sent through the mail. If you are sending it to a private buyer, check into insurance coverage through the postal carrier.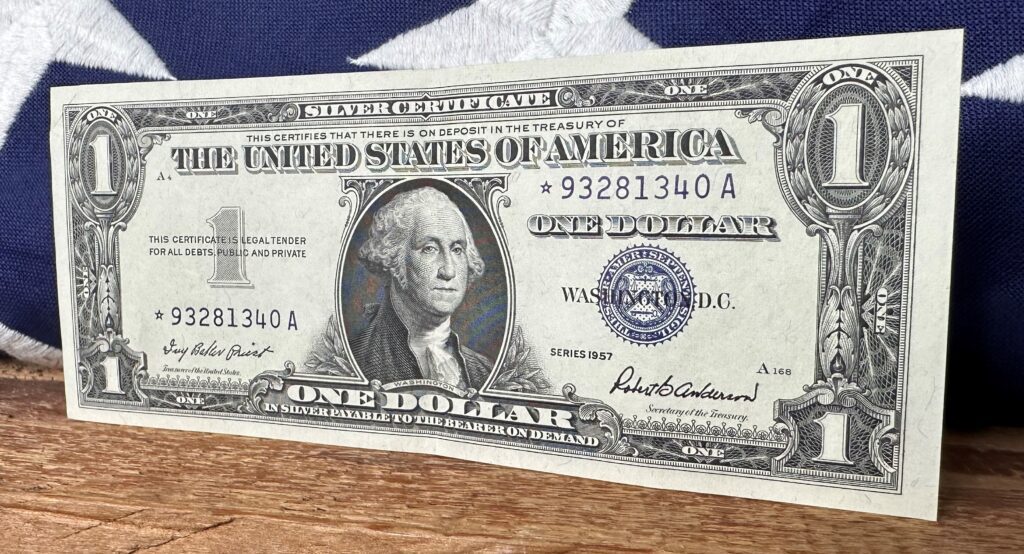 ---
Additional Resources –
Over 354,000 Current Coin Prices – PCGS
990,000 Coin Auction Results – Stack's Bowers Complete Coin Sales Archive
---