---
I get asked more than anything else: how much are my coins worth?
From the rarest old coin to the modern-day circulated coin,
People love to fire off the question – "How much is it worth?"
The quick and easy answer is always, "It depends."
But people hate hearing that answer.
They want an exact price!
For example,
"I found a 1986 Jefferson Nickel on the street near my house; what's it worth?"
Slow down there, big fella, before you get too excited about retiring to a tropical island after selling your discovered treasure; I'm afraid I have bad news for you.
I won't give you an estimated value for your Jefferson, as you asked. There's a better way.
I made this guide for you to reference instead.
Let's keep going.
---
Factors to "How Much Are My Coins Worth?"
Several factors combine to make the present value of your coin.
Coin condition, current market conditions, and the story behind the coin.
Let's look at each factor –
Coin Condition
Condition is an extremely important factor in determining the value of your coin.
And unless I'm holding the item in my hand or standing right next to it, inspecting the coin properly from a written description or fuzzy photos is tricky.
Even if I was up close and personal with the coin, I'm not a professional coin evaluator.
That's where grading services can come in handy.
I'm working on a separate guide to coin grading services and can't wait to share it.
Knowing the coin grading scales and how they relate to values is one of the foundations of coin collecting.
Current Coin Market Conditions
Current market conditions are another vital component to the price of your rare coins.
If you're selling, it depends on what's happening in the collector coin market overall.
Supply and demand forces will tell you whether you'll get your asking price with multiple offers or if your asking price is just a pipe dream, and you'll be forced to accept a lower offer.
The Story Behind the Coin
The story is always a factor in valuation.
Has your coin been to the moon and back in the Shuttle?
Maybe it was the only coin struck by a secret CIA Mint inside a Rocky Mountain bunker.
Was your coin part of Abraham Lincoln's personal collection and in his left pocket during the Gettysburg Address?
These details would be pertinent information when considering the value of your coin.
The story behind the coin, and if that matters to the current owner or potential buyer, is of the utmost importance.
Don't forget this point.
And also, remember, if your coin has a fantastic story, be ready to prove it to an interested buyer.
---
Resources
So, even though I can't give you an instant valuation via email for your rare coins, I can, in fact, point you in the right direction.
The internet is packed full of fantastic resources for valuing coins.
There are even phone apps where you simply snap a photo of the coin, and a value is instantly generated. (more on this later)
From monthly price indexes to individual price guides and auction sales results, the information is out there to value just about anything on earth.
Here are three categories to help you value any coin –
1. Price Guides
2. Price Indexes
3. Auctions and Sales Results (Comps)
But where do you start?
That's what I'm here for –
I made this guide for myself because I needed a place to compile all the amazing rare coin valuation resources to reference them when needed.
I also wanted a guide that I could edit and update over time.
And now I'm sharing it with you.
This is my attempt at the ultimate guide for answering the popular question:
"How much are my coins worth?"
And please add your favorite resources in the comments below I might have missed.
---
1. Price Guides
There are so many rare coin price guides and databases there might be as many coin price guides as coins themselves!
Some are great, others – not so great.
I'm not going to create yet another rare coin price guide database on this website – hundreds already exist.
And many of them are pretty damn good and should be used when valuing your own collection.
My 5 Favorite Coin Price Guides –
#1 – PCGS Price Guide
PCGS prices over 360,000 coins totally free, without requiring a user account or log in.
Their site is massive, and it's easy to get lost if you stumble onto their home page without a plan.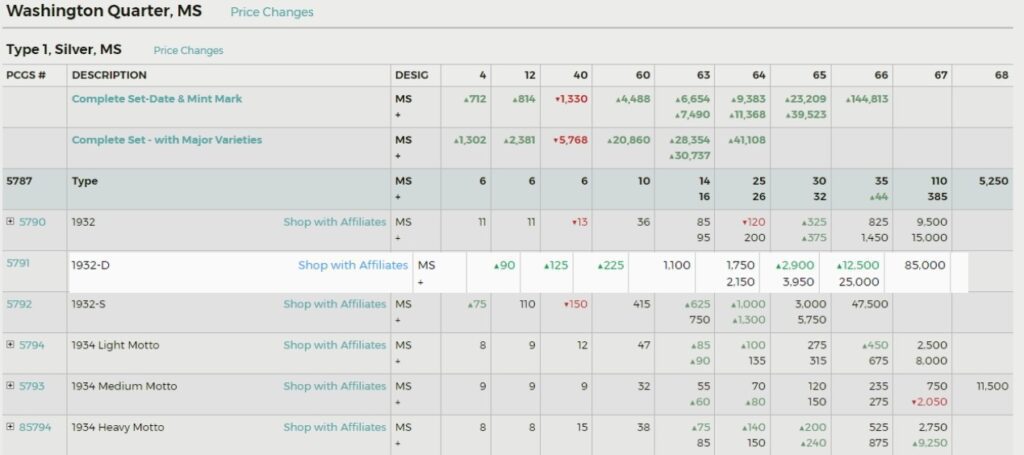 Start at the Price Guide. It can feel like the PCGS website goes in twenty different directions, so begin by moving through the type of coins you're interested in.
It's important to note the PCGS prices reflect PCGS-graded coins only.
If you have an ungraded coin, this will give you the potential value should you get your coin graded.
#2 – NGC Price Guide
NGC (Numismatic Guaranty Company) has an extensive database of all U.S. coins with prices for each grade.
Just like PCGS, NGC reports prices for NGC-certified-graded coins only.

In addition to prices per grade, they also link to eBay listings for each individual coin.
You can create a free account for full access to online data.
Greysheet features price guides for every U.S. coin and references auction sales with links to the auction house page.
For over 50 years, Greysheet has published coin prices and industry news.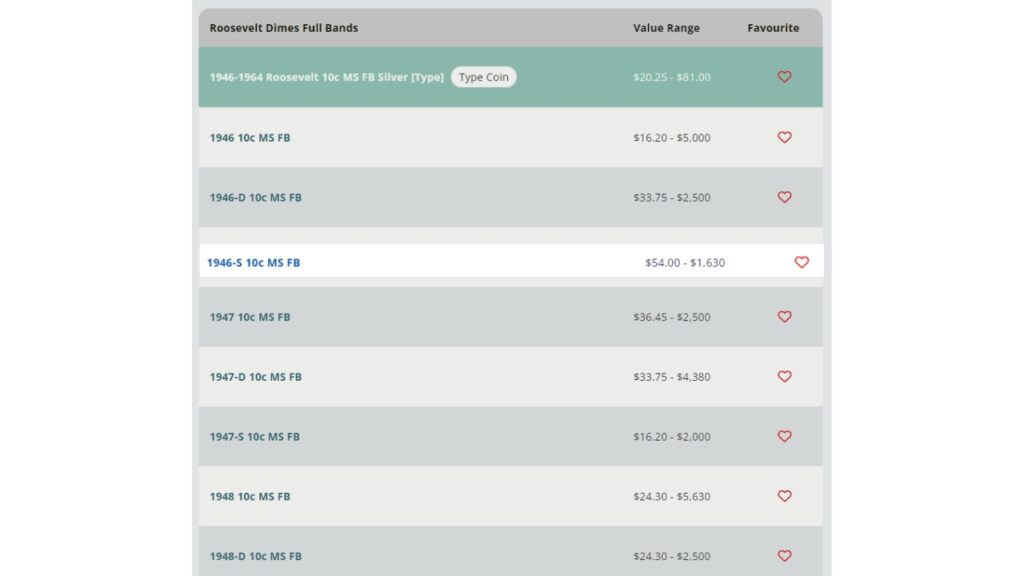 What began as the National Coin Broker's Bulletin, printed and distributed throughout southern California, is now owned by CDN Exchange, a dealer-to-dealer exchange in the coin industry.
Price Charting offers individual coin prices based on auction sales results.
Coin prices are divided by grade, with another section for ungraded coins.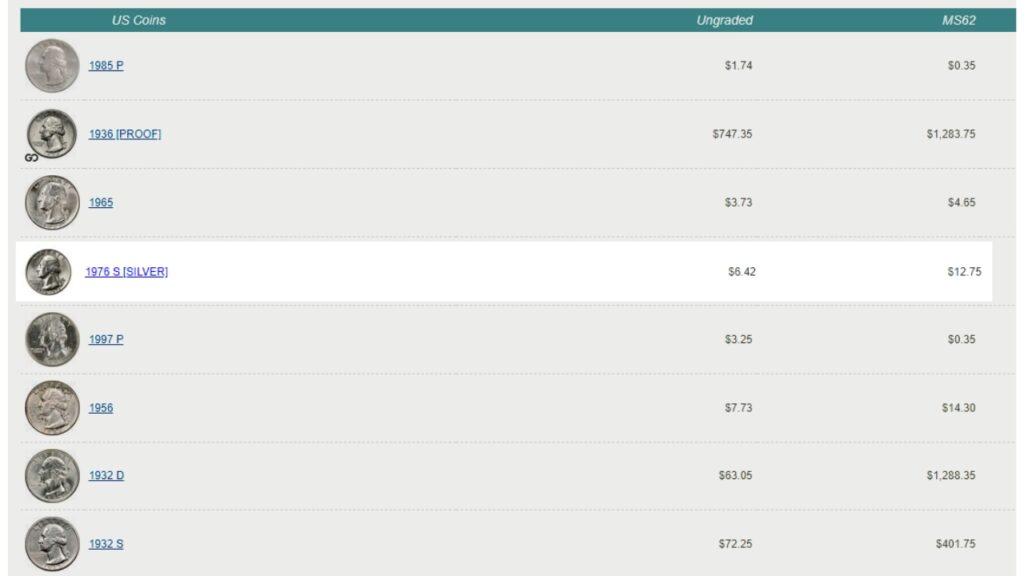 Price data is pulled from auction houses and linked directly back to each auction house's website.
I can't leave out The Official Red Book from the list.
For over 77 years, the price guide to United States coins has been published and distributed as the authority in coin pricing.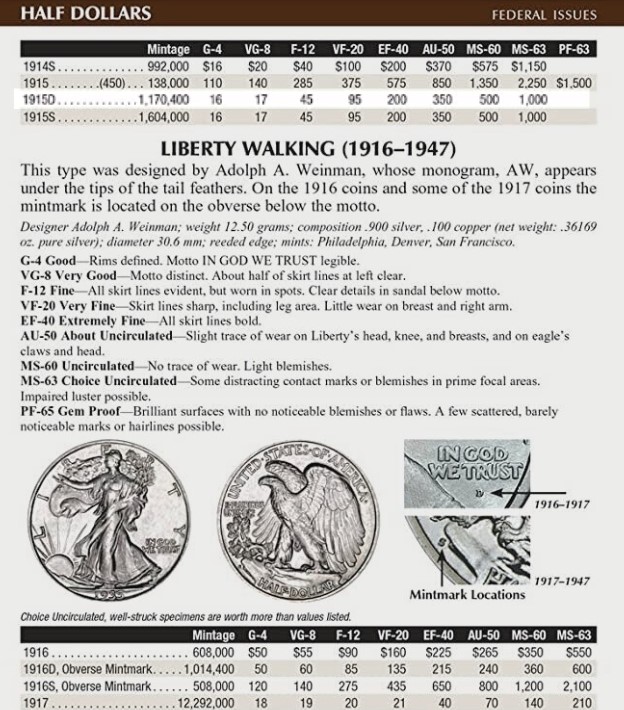 Now with a "spiral" edition for easy page flipping, the Red Book should be on any coin collector's list of pricing resources.
---
2. Coin Price Indexes
How do you know where you're going if you don't know where you've been?
Price indexes don't forecast the future; they simply tell a story of the past in a simple chart.
That's what I love about rare coin price indexes.
They tell a simple story. Nothing more, nothing less.
Rare coin price indexes are only as good as those who assemble and maintain them.
Here are a few helpful price indexes from credible sources.
PCGS3000 Price Index
Updated daily, the PCGS3000 Index is a monster maintained by coin experts across several coin categories.
The index includes 3,000 of the most important coins in the industry.
Note the PCGS3000 should be used as one opinion and not the only source when making buying and selling decisions.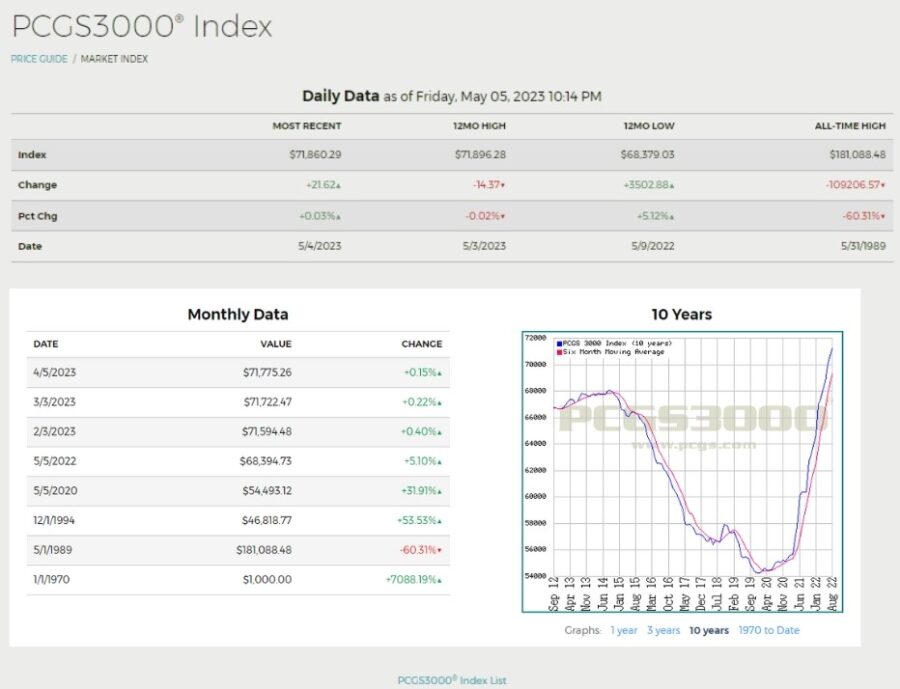 Rare Coin Value Index
The Rare Coin Values Index tracks 87 U.S. coins to show strength or weakness in the market.
Starting in the year 2000 with a score of 100, the index has moved steadily higher over the last 20-plus years, with noticeable strong gains over the last few years.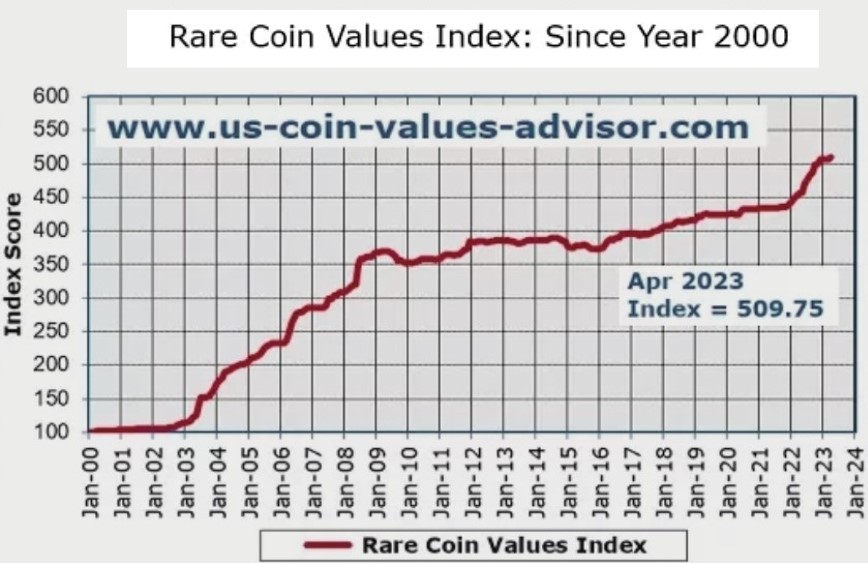 It's calculated monthly, with each of the 87 coins carrying equal weight.
---
3. Auctions and Sales Results
The biggest auction houses in the world sell rare coins constantly.
It's a great place to determine the value of a coin in your collection.
The more valuable the coin, the more helpful auction sales will be.
Claiming to be "The World's Largest Numismatic Auctioneer," Heritage Auctions definitely has the data to help you value your coins.
Search by coin type or by individual auction.
View past sale prices in chronological order.
With rare coin auctions running online almost daily, you might even find your coin in a real-time bidding war. Follow along and see the results.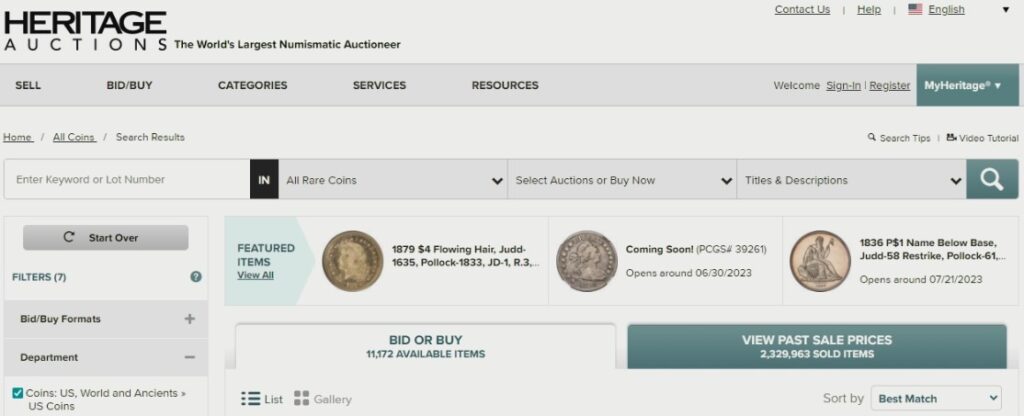 Create a login for a Heritage Auctions free account for access to even more data and features.
When comparing your coin with a coin from Heritage Auctions, remember to look at the grade.
If your coin is ungraded, it will most likely be worth significantly less than a highly graded coin in uncirculated condition.
But the value of a similar coin should indicate if it's worth submitting your coin for grading.
While Bonhams doesn't have coin auctions as often as Heritage, they do run about two live coin auctions per month.
Go to the 'Results' tab.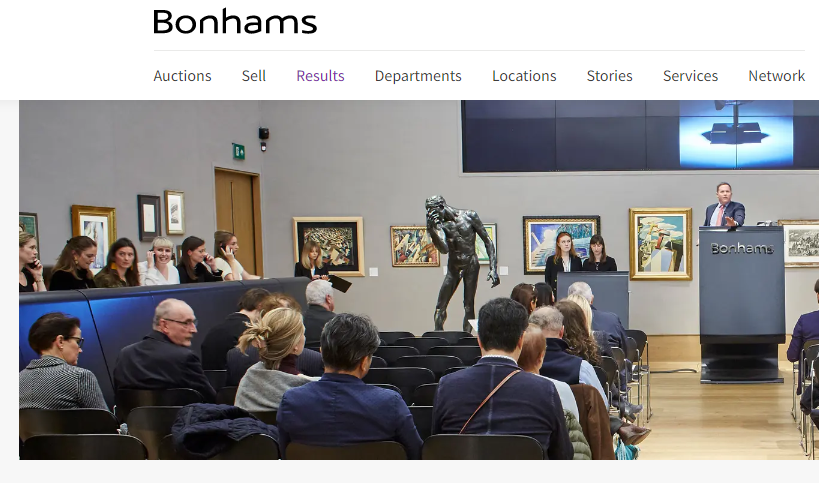 Bonhams don't have a separate 'Coin' category, so click the 'Category' button and type 'Coins' in the filter box.
Now you have every completed auction featuring coins in chronological order.
Since 1933, Stack's Bowers has auctioned rare coins and rare collectibles.
On the home page, you can search by category.
At the top left menu, go to 'Auctions' and drop down to 'Auction Archives.'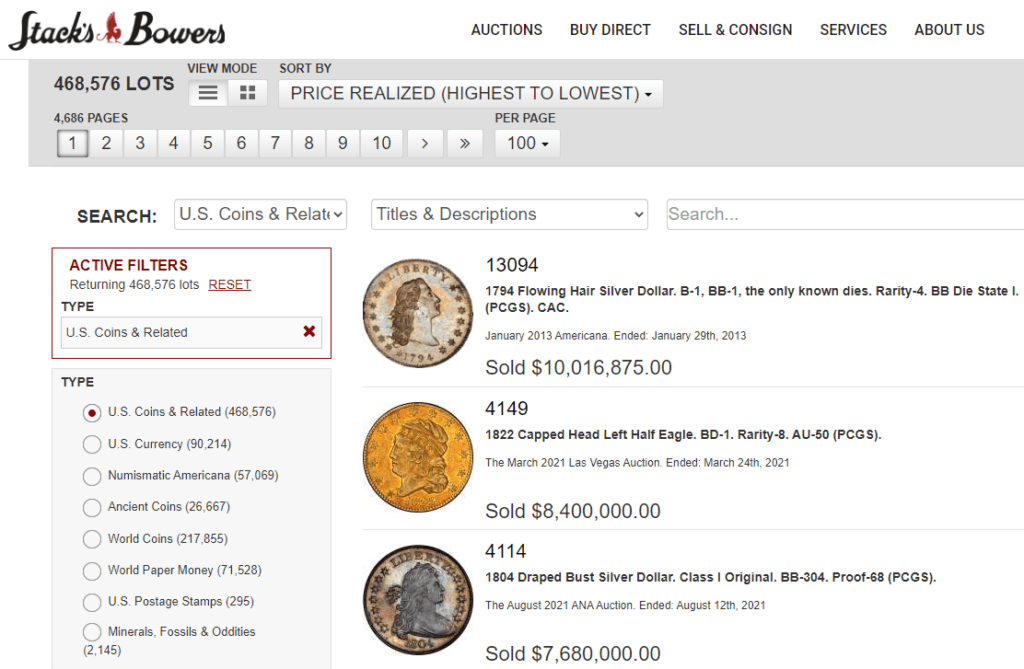 Filter by 'U.S. Coins & Related.'
You will now have results for over 468,000 U.S. coin auction sales.
Next, search for your individual coin by typing it in the 'Search' box.
The Great Collection auction house offers a massive database of auction archive coin sales.
Click on 'Auction Archive' on the top-right menu on the homepage.
Hundreds of thousands of auction results populate on the right side of the screen.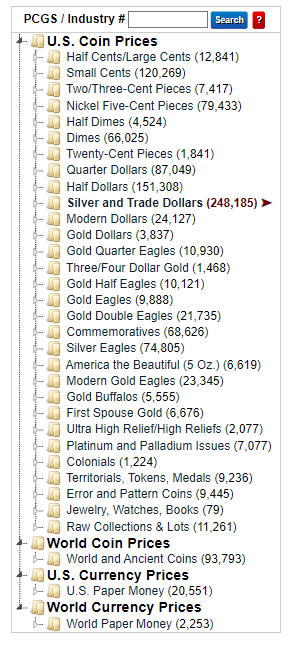 Dimes, Half Dollars, Buffalo Nickels, and Liberty silver dollars, it's all here.
Sort by coin and then by year and mintmark.
You'll find auction history with the winning bid amount, high res. photos, and a super-fast, responsive site.
---
How Much Are My Coins Worth? – There's More!
Still not convinced you've properly identified the value of your coin with the resources above?
There's another option.
Take a trip to your local coin shop.
Almost every city in the U.S. has a few collectible coin dealers around.
If you want an expert opinion, get to know a local coin shop near you.
Who knows, even if you find your coin to be worth face value, you might get hooked on the joys of coin collecting and start down the path to becoming an expert numismatist!
---
I want to sell my coins, but how? Top 7 Best Places to Sell Coins Online
So, what's your favorite place to check coin values?
Let's hear about it!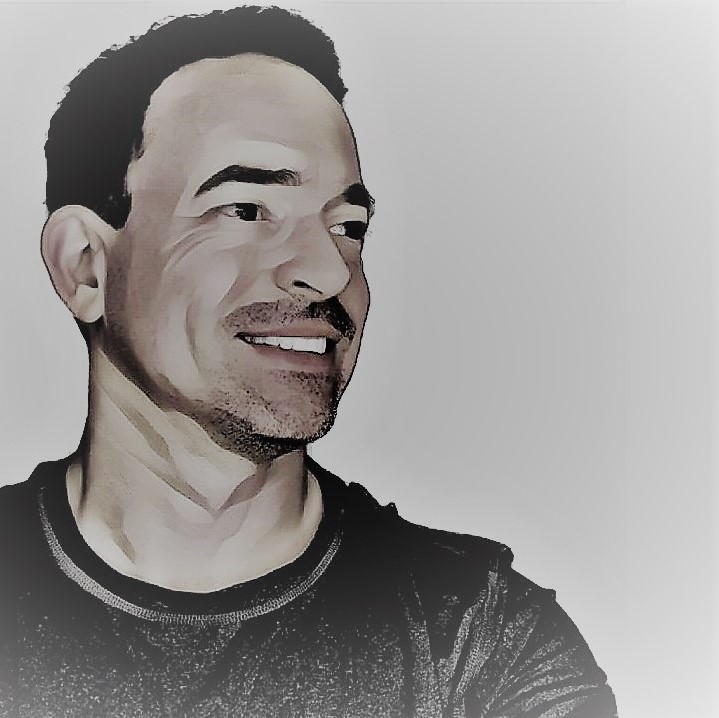 R.J. Bachman
Attic Capital – Writer, Editor, and Lifelong Collector
After many years of collecting rare coins, sports cards, and all types of collectibles, I began writing at Attic Capital to share my experience, knowledge, and passion.
I would love to connect with you, so don't hesitate to reach out and let me know more about your passion for collecting.