---
Who is Naval Ravikant? He's the co-founder of AngelList, an early-stage investor of several Silicon Valley unicorns like Twitter and Uber.
He was also an operator, advisor, and board member of countless other massive successes over the last two decades.
Naval has worn all these hats and has been simultaneously one of the greatest thinkers in technology, business, investing, and philosophy. He might be the most interesting man in the world today.
Naval Ravikant Net Worth?
Naval Ravikant has a net worth estimated at $60 million, so you'd think he has always had a knack for wealth creation, but you'd be surprised at his journey.
Naval is not a billionaire, yet. But the amount of value he creates for his readers and listeners is enormous. His wisdom has been guiding people around the world for decades.
And you would be wise to lend an ear to Naval's next soundbite. It just might guide you in a difficult decision leading to profits, or more importantly, avoid catastrophe lurking around the corner.
---
Early Days of Naval Ravikant
Naval was born in New Delhi, India, in 1974 and moved with his family to New York at the age of nine.
While his father was a pharmacist in India, he couldn't practice pharmacy in the United States and ended up working at a hardware store.
This was a difficult transition for his family, ultimately ending with his parents splitting up. Naval and his brother, Kamal Ravikant, were raised by his mother for the majority of their childhood.
Naval's mother worked multiple jobs and attended night school in an "immigrants trying to survive" situation.
It was here that Naval developed a love for a good book. Reading became part of his daily routine at a young age. In an interview on Farnam Street, The Knowledge Project, he says,
"Basically, the library was my after-school center. After I'd come back from school, I'd just go straight to the library, and I'd hang out there until they closed. Then I'd come home. That was my daily routine. I think even by that point in time I'd already loved books. I was reading books as a child."
---
Naval's Big Break, an Education
Coming from nothing, Naval attributes much of his career trajectory to attending Stuyvesant High School, which is known for its Alumni (including four Nobel laureates) and its STEM curriculum. As he mentions in an interview with Scott Adams,
"That saved my life because once I had the Stuyvesant brand, I got into an Ivy League college, which led me into tech. Stuyvesant is one of those intelligence lottery situations where you can break in with instant validation. You go from being blue collar to white collar in one move."
From Stuyvesant, he studied economics and computer science at Dartmouth.
He draws much of his investing principles from both fields, emphasizing that founders need to have a foundational knowledge of microeconomics and technical knowledge to survive.
"That said, microeconomics and game theory are fundamental. I don't think you can be successful in business or even navigating through most of our modern capitalist society without an extremely good understanding of supply and demand and labor versus capital and game theory and tit for tat and those kinds of things."
After completing his Bachelor's degree, he worked for several companies.
His last corporate job was at Boston Consulting Group, where he was known for teaching staff how to hijack the fax line for dial-up.
Naval founded Genoa Corp in 1998, his first start-up. It was later acquired by Finisar.
---
Founding Epinion, Vast.com, and Suing VCs
In 1999, Naval co-founded Epinions, an early version of companies like Quora. It was a forum for users to ask questions and post responses.
The company was, for the most part, a successful tech startup story: it rebranded as Shopping.com, went public in 2004, finished its first day at a value of $750 million, and was later acquired by eBay for more than $600 million.
Naval Ravikant the Founder and Operator
Unfortunately, it was this company that put Naval's name through radioactive mud.
In 2005, Ravikant and two other co-founders sued the Venture Capitalists (VCs) in Benchmark Capital and August Capital that backed their company, and one other co-founder for claiming that they cheated them out of millions of dollars.
"[Ravikant] had better win this suit, and he better hope he makes enough for life, because he'll never work as a VC again." – Conny Loizos, The PEHub Network
While the suit settled for an undisclosed sum, it ruined the reputation of the young entrepreneur. Suing your venture investors is not the way you'd like to exit your company.
So-called experts at the time were calling it career suicide.
---
The Building Blocks: Hit Forge and VentureHacks
While the legal battle for Epinions was a challenging time for Naval, it led him and his co-founder Babak Nivi to create Venture Hacks.
It was a blog founded in 2007 that explained how the venture capital industry works and provided advice to startup founders.
Naval's experience with VCs and Silicon Valley lawyers gave him insider knowledge in the Angel Investor funding space.
"No one can compete with you on being you. Most of life is a search for who and what needs you the most."

Naval Ravikant
As the author of Venture Hacks, Naval wanted to create a playbook to help level out the power dynamic between VCs and entrepreneurs.
The blog was highly successful in its time and was supported by the Kauffman Foundation in 2010.
Today, it still contains timeless principles that can be applied today for VC funding.
---
Venture Capital Blogging Pioneer
Naval was part of an early group of venture capital pioneers to begin blogging as a way to grow their network.
Other well-known venture capital investors like Fred Wilson and Brad Feld also begin writing publically about their industry and sharing explicit knowledge with potential entrepreneurs.
After going through a hard-fought legal battle with the Epinions saga, Naval gained real-life experience on the dynamic between start-up founders and venture capital investors.
He decided to share everything he learned in an attempt to level the playing field.
Game-Changer
It was a game-changer because now start-up founders were no longer in the dark. Naval shared his experiences of raising capital, structuring funding rounds, dealing with difficult board members and board meetings, and especially, how to exit a company sale.
Naval was shining a light into the darker side of the Venture Capital and Angel Investor world.
The message was loud and clear, with transparent communication and aligned interests, entrepreneurs could find the best deal and partner with VCs for mutually beneficial partnerships.
---
Building AngelList
In building wealth and investing, Naval talks about productizing yourself.
This means figuring out what you're uniquely good at and applying as much leverage as possible to do what you're great at while being accountable for the results. AngelList was the result of productizing the VentureHacks blog.
"We've been doing VentureHacks for three years. It wasn't a business but it's built our brands."
In 2010, AngelList was launched. Initially, it was an email list of angel and seed-stage investors screened by Naval and Nivi as part of the VentureHacks blog.
The email volume became overwhelming, leading them to develop AngelList into a fully developed platform with products aimed to help startups and investors.
"People ask why we rarely post on Venture Hacks anymore. These days, we build solutions instead of write about them"
AngelList
Today, AngelList is known as a platform that helps serve and match founders and investors to increase the number of successful startups in the world.
AngelList has over $3 billion in assets under management. It also has 77 unicorns (Companies valued at $1 billion +), 5,500 funds and syndicates, and participates in 51% of all top-tier US VC deals.
---
AngelList Ventures
AngelList Ventures is a platform that helps investors by streamlining the fundraising and operations for small funds.
Among its products, they have recently come out with the Rolling Funds, where investors can subscribe a fixed amount quarterly and invest alongside VCs.
This relieves the challenging job of fundraising for the fund managers and offers an end-to-end platform to run a fund.
AngelList Talent
AngelList Talent is a network that connects rising talent with startup jobs. If you're looking for a job, you create a standard profile that helps companies know who you are and how you can contribute to their team.
As a company looking to hire talent, AngelList Talent provides an end-to-end platform to showcase a profile that will attract incoming talent, including making job posts.
Additionally, companies can utilize features including starting a fundraising goal and contacting investors.
---
Naval Ravikant's Investment Portfolio
Today, Naval is now the chairman at AngelList, and he has invested in over 200 companies and has made over 85 exits, with at least 10 unicorns.
He started his Angel Investing known for investing in companies like Twitter, Uber, Postmates, Stack Overflow, Product Hunt, and Yammer. A larger portion of his investment portfolio can be found here.
That's not to say that Naval has hit home runs every time he's gone up to bat. He has stated publicly that he passed on companies like Twilio, Pinterest, and YouTube.
However, he is a top performer in his industry and continues to invest in startups with a high potential to become unicorns.
---
Cryptocurrency
Naval co-founded the cryptocurrency hedge fund MetaStable Capital in 2014. It was right around that same time when he was introduced to the creator of Ethereum, Vitalik Buterin.
The white paper for Ethereum was published in 2013 by Vitalik and was based on the idea of smart contracts.
Naval proceeded to discuss the idea of Ethereum with several computer scientists, who dismissed the idea. But Naval continued with his blockchain and crypto investing.
As Naval got further involved in cryptocurrency, it led him to a board seat with the Z-Cash foundation, a non-profit focused on financial privacy and blockchain technology.
---
Naval Ravikant Investing Advice
Naval has shared his investing knowledge in blogs, tweetstorms, and through his podcasts.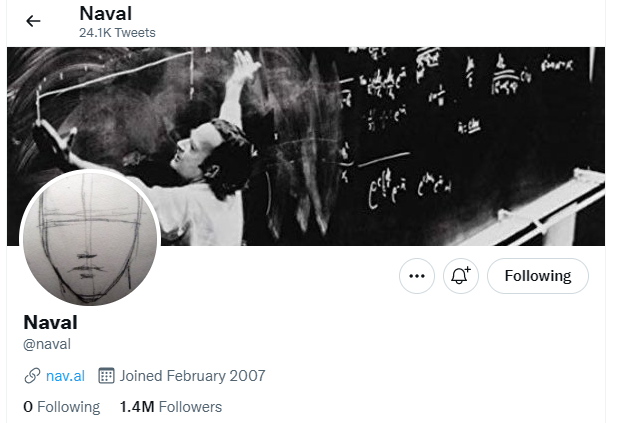 ---
Non-Consensus Right
The quote "non-consensus right" is taken from Mike Maples Jr, co-founder, and partner at Floodgate, but Naval expands on the idea further.
Basically, the key to investing is to bet against the crowd and be correct when everyone else is wrong.
"You get paid for being right first, and to be first, you can't wait for consensus."
While this may be a fundamental principle of investing and depends on having an information advantage against the general population (like being a cryptocurrency researcher), even the experts can be wrong.
There are cases where top VCs like Andreessen Horowitz pass on a startup, and Sequoia takes the deal, and vice-versa.
Additionally, there are also deals where all the top VCs agree and pile on, only to have the startup fail.
So even when the VCs are wrong, how can you make money investing in early-stage startups?
---
Diversification
This goes to Naval's other principles on investing, specifically with early-stage startups. As an Angel Investor, the key is to not only be correct but to throw a lot of darts on the board to eventually get a bullseye.
You can do all the due diligence you want, but you need to make many bets.
At the end of the day, some companies will fail due to other circumstances, and some will blow up to become unicorns.
Your goal is to identify around 20 startups with a high probability of success and have at least 1 that can make a 100x to 1000x return on investment.
If you get at least 1 winner out of 20, that should still overcome your losses from the other startups you invested in.
---
The Checklist for Investing in a Founder
Founders are the key to a startup's success in the beginning, and Naval has gone through vetting hundreds, if not thousands of deals.
The key indicators and important skills Naval looks for in a founder are intelligence, energy, and integrity.
1. Intelligence
This can be a fuzzy indicator, but it all comes down to whether the founders know what they are doing. Do they have specific knowledge or insights that others don't have that they can leverage?
Have they thought about the problem deeply? It's not just the smartest people, but the smartest people with specific knowledge and insight.
Naval has a high weight on specific knowledge, which tends to be either highly creative or technical.
It's on the bleeding edge of the field and is hard to copy because it is built up through hard work and compounded over time.
2. Energy
"Startups don't die when they run out of cash, they die when the founders run out of energy."
The key question to ask yourself before investing in a startup is, "can the founders last for the long haul, given that being a founder is extremely difficult and those who succeed are the ones that persevere?"
Naval adds that Elon Musk is an example of a "magical combination." Where most companies will have one builder and one seller, Elon is both. And that's "when you get true superpowers."
While Elon Musk slept on the factory floor while trying to ramp up production of the Tesla Model 3, he was showing the world his energy, passion, and his understanding of the technology to make contributions to the assembly line robots himself.
Naval summarizes by saying it's a rare breed for a founder to have an understanding of the product, how to build it, how to sell it, and the energy to break down the barriers that stand in the way.
These people will have investors lining up to give them their money.
3. Integrity
Are they a hardworking and smart crook? Your founders need to have integrity, otherwise, they will eventually screw you over.
---
Naval's Advice to Founders
Naval is known to share his thoughts and advice on pursuing wealth and happiness in the form of tweetstorms and his podcast Nav.ai.
Here are some of his notable pieces of advice from his "How to Get Rich Without Getting Lucky" Tweetstorm.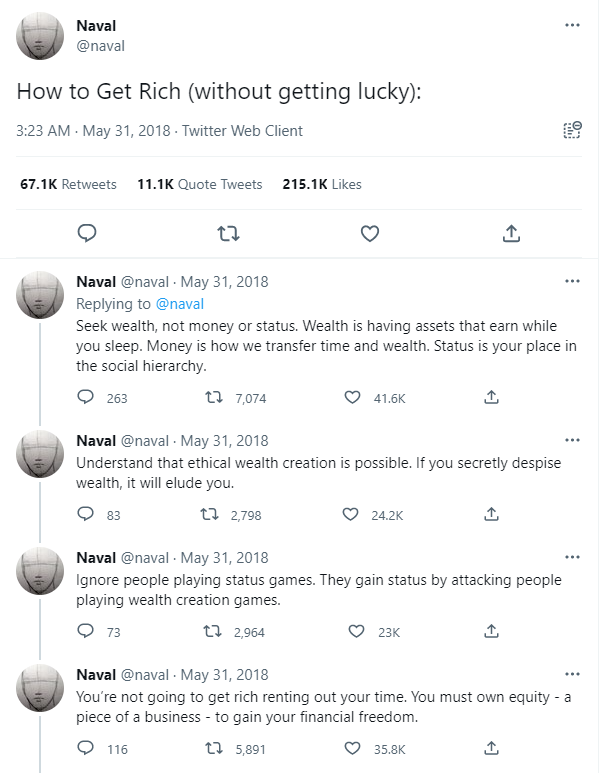 You Won't Get Rich Renting Your Time
According to Naval, the key to becoming wealthy is developing income streams that aren't dependent on you working. This is known as leverage. There are 3 general forms of leverage:
1. Labor
In other words, have other humans work for you. This is one of the oldest forms of leverage and is somewhat inefficient. You're in a position of power and you need to have excellent leadership and management skills.
2. Money
Having money allows you to compound your decisions, and work on the right things. But we don't have easy access to large amounts of money at a moment's notice.
However, it scales – throwing more money at the right problems is like watering a plant. It allows your business to thrive.
Spending capital on the most important things in your business keeps the compounding machine turning.

3. Products
The most accessible form of capital is our ability to develop products – specifically products that you only need to make once and that are easy to distribute.
This includes products like books, other forms of media like videos and movies, and computer code.
Whatever you decide to build, you will need to use your personal brand, along with leverage to grow your business.
---
How To Get Rich, Without Getting Lucky –
Play Long-Term Games with Long-Term People
Everything in investing returns to compound interest. Compound interest works most things in life, from relationships to having a fit body, to making money.
Naval's point here is that you need to think about the long-term game. Who are the people you want to work with and can trust over a long period of time?
By working with those people, it's easier to output great work and capitalize on daily successes.
Think about Charlie Munger and Warren Buffett working on Berkshire for a half-century or more. That long-term focus is what it takes for big success.
Positive-Sum Games
Naval also says it is crucial to avoid playing status games, which are multiplayer, zero-sum games. Positive-sum games will allow you to help people around you succeed, and vice versa.
Of all the incredible words of advice from Naval Ravikant, one of my favorites is this clear and simple recommendation. "Find three hobbies: one that makes you money, one that keeps you fit, and one that makes you smarter."
---
Naval Ravikant the Philosopher
Naval discusses life philosophy almost as much as entrepreneurship. He's one of the clearest thinkers when it comes to developing a calm mind, a healthy body, and a happy life.
Naval has much to say about ignoring critics, surrounding yourself with the right people, and focusing on personal health.
Another famous quote from Naval is "A busy mind can often rob you of peace of mind. The peace that we seek is not peace of mind, it's peace from mind."
---

Naval Ravikant on Books and Blogs
Naval is a voracious reader and continuously tweets about the best books he's read. This reading list is a shortened and subjective version of the one on his recommended reading list.
"Even back when I was broke and I had no money. I always spent money on books. I never viewed that as an expense. That's an investment to me."
It has been curated to have higher relevance for investing and entrepreneurship, in addition to having supporting quotes on why he recommends these books.
A few of Naval's favorite books are written by Nassim Taleb, Natt Ridley, and Charlie Munger.
Skin in the Game by Nassim Taleb
"The best book I've read in 2018, I highly recommend it. Lots of great ideas in there. Lots of good mental models and constructs. He has a bit of an attitude, but he has that because he's brilliant, and it's okay. So just look past the attitude and read the book, learn the concepts. It's one of the best business books I've ever read. And luckily, it doesn't masquerade as a business book."
The Rational Optimist by Matt Ridley
"The most brilliant and enlightening book I've read in years. He has written four of my top 20 books."
"Everything else written by Matt Ridley. Matt is a scientist, optimist, and forward thinker. One of my favorite authors. I've read everything of his, and reread everything of his."
Poor Charlie's Almanack by Charlie Munger
"This masquerades as a business book, but it's really just Charlie Munger's (of Berkshire Hathaway) advice on overcoming oneself to live a successful and virtuous life."
"Part biography and part collection of Charlie's speeches, this is the only book on Munger you need. (Naval quotes Munger often, and the quotes are all from this book.)"
---
Naval Ravikant is The Most Interesting Man in the World
Most brief descriptions about Naval Ravikant can't even scratch the surface of what he's accomplished over the last twenty-plus years.
He's been in the middle of the largest tech companies in the world. Started his own massive platform. And even changed the laws on how business entities are created and invested in through The Jobs Act during the Financial Crisis.
He's done all of this after coming to the United States as a kid with nothing.
But his biggest accomplishment of all might be the timeless advice he continues to give, almost on a daily basis through podcasts, interviews, and tweets.
The value he's created by helping others understand what it takes to become successful might be his largest win. When Naval Ravikant is talking, I always take notice and tune my ears in carefully.
---
Naval Ravikant Books, Podcasts, and Resources
The Almanack of Naval Ravikant: A Guide to Wealth and Happiness is a great book by Eric Jorgenson. It's a collection of Naval's thoughts from Twitter, podcasts, and other essays over the past decade.
How to get rich (without getting lucky) is Naval's famous Tweetstorm in a book format that explores the principles of investing and generating wealth. A PDF version is available and the kindle version is available on Amazon.
Nav.al is a podcast on life, philosophy, science, and various other topics that run parallel to investing, but don't quite dig into the weeds.
Spearhead is a podcast that teaches new angel investors the craft. In addition to the podcast, founders that are admitted into the program get $2M to start investing in companies.
Chris Dixon and Naval Ravikant – The wonders of Web3, How to pick the right hill to climb, finding the right amount of crypto regulation, friends with benefits, and the untapped potential of NFTs. – The Tim Ferriss Show Podcast
Naval Ravikant – The Angel Philosopher, A podcast episode from Farnam Street & The Knowledge Project, hosted by Shane Parrish. Link to the audio version.
The Joe Rogan Experience – Naval Ravikant, the meaning of life, making happiness a priority, and teaching everyone to be rich.
Naval Ravikant and Vitalik Buterin – understanding Ethereum, Bitcoin, NFTs, and life extension, on The Tim Ferriss Show.
Naval Ravikant on Clubhouse – The complete playlist, via YouTube.
---

Naval Ravikant and The Beginning of Infinity
Recently, Naval started a podcast with Brett Hall titled The Begining of Infinity, where the duo holds discussions about the book by David Deutsch.
The book, The Beginning of Infinity, and the Podcast focus on four subjects.
Theory of computation
Theory of knowledge (epistemology)
Theory of evolution
Quantum theory
When asked about book recommendations on Twitter, Naval has commented to forget every other book and just read 'The Beginning of Infinity' over and over again. Quite the high praise for David Deutsch's book indeed.
---
What Does Naval Ravikant Do Now?
After starting companies, building businesses, funding founders, and consulting investors, there's not much left for Naval to tackle. Today, he's an investor and tech entrepreneur.
While he might also admit to advising the companies he's investing in, I would say he's much more than an advisor. If you're lucky enough to have Naval as an investor in your business, I can imagine he's more like a sage.
When he's not recording videos, tweeting, or giving podcast interviews, Naval spends time with his wife and son.
"Cynicism is easy. Mimicry is easy. Optimistic contrarians are the rarest breed."

Naval
---