---
One of the most overlooked niches and biggest opportunities in the collecting world might be right in front of your face. There's a chance you've never even considered the possibility until now.
It was certainly off my radar screen until recently, and I'm ashamed I didn't "get it" sooner. No, I'm not talking about NFT's; we all know about these by now. I'm talking about collecting movies and physical media.
You might already have an entire closet full of the hottest future collectibles and not even know it. The more I learn, the more I'm convinced there's enormous potential for collecting movies in DVD and VHS format.
Collecting Movies, The Diminished Supply
It's amazing how things play out. World-famous artist Claude Monet worked on a painting for years, and then in a fit of frustration, he would take a knife to his creation and tear it apart. "My life has been nothing but a failure, and all that's left for me to do is to destroy my paintings before I disappear," he once said.
What Monet was actually doing to his collection of paintings was dramatically reducing the supply. Some estimate he destroyed over 500 of his own paintings due to his bouts of frustration and self-doubt.
I'm sure he didn't realize it at the time, but he was lighting a match under his artwork's future values.
Monet was arguably the greatest impressionist painter who ever lived, but by diminishing his artwork's supply, he exponentially increased the future values of what survived the slashing.
The Pattern of Supply Destruction
You see this pattern play out over and over in the collecting world. Baseball cards are a prime example.
Topps, the card producer that famously printed the 1952 Mickey Mantle rookie card, actually tossed unsold packs of '52 Topps cards into the Atlantic Ocean because the cards were taking up too much space in a Brooklyn warehouse.
And many of the cards that survived the Topps Atlantic Ocean massacre faced an eventual death by getting thrown in the trash by parents while cleaning the house. They were deemed worthless clutter at the time.
Limited Supply, Astronomical Demand
Now, Monet's paintings sell for $100 million. The 1952 Mickey Mantle rookie card was recently sold for over $5 million. Of course, a painting by Monet is perhaps the best example of the Impressionism artform to exist, and Mickey Mantle was one of the greatest baseball players to ever live.
Still, you must assume the diminished supply of these items played a part in the astronomical value increases over the years.
---
Pouring Gasoline On The Fire
Just as Moms and Dads tossed 1950s Topps baseball cards in the trash while cleaning out the garage, the grandkids of those same parents have been filling dumpsters with DVDs, VHS tapes, cassettes, and CDs for the last ten years. And I have no data of landfill records to back up this claim.
I only know from experience. I've personally filled trashcans heaping full with my own two hands.
As the trend of streaming movies and music engulfed the world over the last 15 years, most people looked at the drawer full of DVDs as unnecessary forevermore.
DVDs, VHS, and CDs, The Perfect Collectible
The disdain for DVDs, VHS tapes, and CDs reached an all-time high after realizing you will never need to wire your home living room entertainment system like a g-d Google data center.
$80 Monster cables with gold tips and platinum plugs and miles of speaker wire concealed behind the fireplace. This is now history. And good riddance.
There's no doubt the wireless and streaming age has been a blessing for the home entertainment system setup, maintenance, and semi-annual upgrading. You no longer need to become a master electrician to have a pleasant home movie-viewing experience.
Not to mention the actual cost savings of purchasing, say, five DVDs for $80 compared to a $15 monthly Netflix streaming account with thousands of unlimited views and thousands of your favorite movies and show titles. The move to streaming movies has made perfect sense.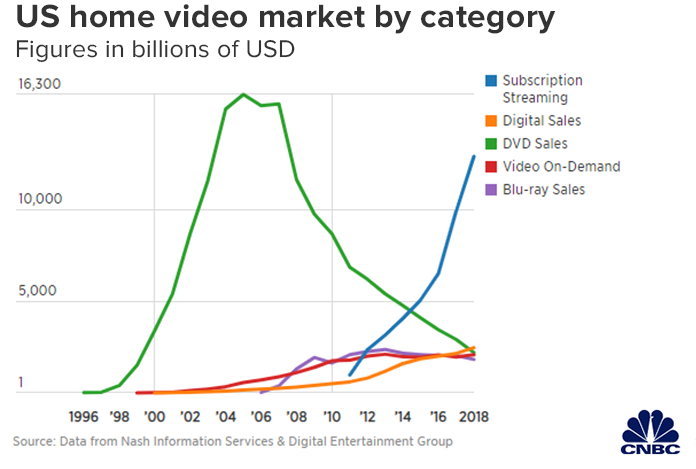 ---
What makes sense for consumption doesn't always make sense for collecting. In fact, usually, they are opposing forces. When you hear the masses say, "We no longer need these…" it's a great time for collectors to take notice.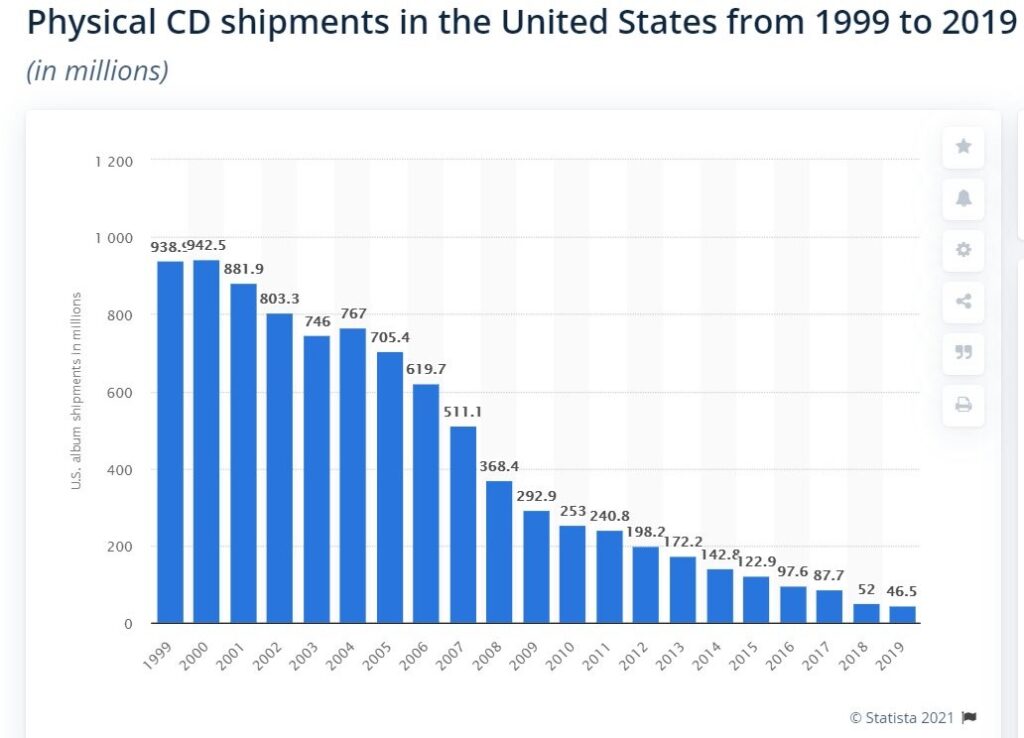 ---
If you've been collecting DVDs, VHS tapes, and CDs and kept them in great condition, you should look at these two charts above and smile.
The Perfect Collecting Plan
Your hypothesis has played out perfectly. A market that was once flooded with supply, much like the unopened 1952 Topps cards stacked in a Brooklyn warehouse, has just been decimated.
I admit to missing the boat on this one. After tossing so many DVDs, VHS tapes, and CDs in the trash, I couldn't see the light. I didn't see the trend like a true collector, but I do now.
---
Collecting VHS Movies
So you've decided movie collecting might deserve some further thought. As the Academy of Motion Picture Arts and Sciences would say, let me offer these ideas, "For Your Consideration."
There's increasing interest in collecting movies in VHS format. Not only the VHS movies themselves but the VHS players. History books identify these VHS players as 'VCRs,' for those who have never actually seen one in action.
Instead of explaining why people would want to collect VHS movies, I'd rather share this exchange I found from a Reddit post three years ago. It makes my point perfectly. Collecting movie titles on VHS is coming back in a big way, and these Redditors are right on top of it.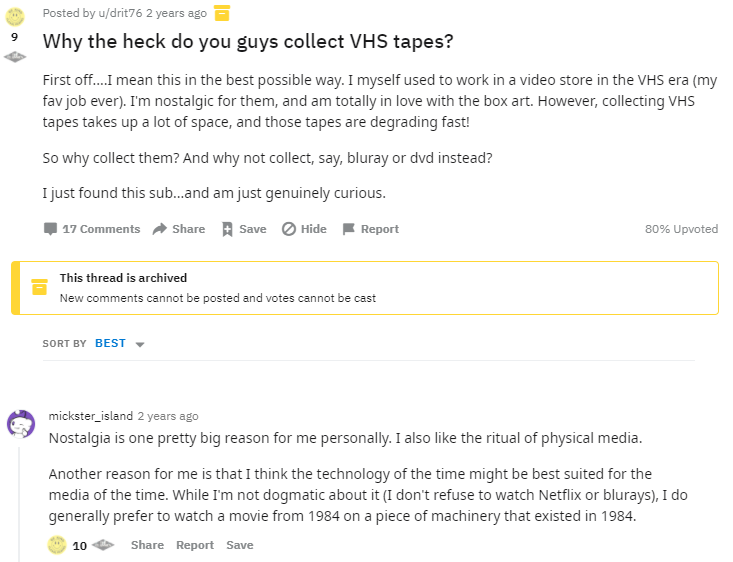 ---
The Retro Network podcast breaks down collecting movies in VHS format. There's endless nostalgia to discuss by combining 1980s culture, classic movies and cinema, and evolving technology.
Anyone who lived through these times will remember the stories, and if you were born after the 80s, it's your duty to familiarize yourself with one of the best decades in the history of the world. It's an entertaining podcast I'd recommend checking out.
Collecting Blueray DVDs
Like I said earlier, some people have been die-hard physical media collectors since day one.
While everyone laughed at them and thought they were crazy for buying DVDs and box sets you could easily watch with the tap of an iPhone through a streaming service, these collectors could see the long-term potential in a movie collection.
Collecting classic films and movies in Blueray DVD format is one of the best ways to begin your physical media collection.
The Blueray DVD is an incredibly crisp and clear viewing experience. So is streaming – you might say. The big drawback to streaming 4K is you need the right internet speed to enjoy those clear images. Blueray DVDs require zero bandwidth. It's always there for you, clear as can be.

---
Collecting Movies With The Criterion Collection
Since 1984, the Criterion Collection has been committed to presenting film history with state-of-the-art restorations and special features for a deeper appreciation of the art of filmmaking. Buying a Criterion Collection blu-ray movie is like immersing yourself in film school, a few hours at a time.
Purchasing DVDs from the Criterion Collection is a way to guarantee you are buying the movie the way the creators had wished it to be presented.
Criterion Collection, Since 1984
Since their first release of Citizen Kane and King Kong on laserdisc in 1984, the Criterion Collection has been working closely with filmmakers to preserve the movie's original intent and expression.
Naturally, famous movies in DVD format by the Criterion Collection are some of the most desirable by movie fans and collectors. But not every movie exists from Criterion. The process of getting the rights to release a new movie can take years.
Once film owners grant Criterion the rights to release a movie, they begin their work and eventually distribute the DVD. Buying great movies on Criterion DVDs, direct or through one of their distributor partners, is another excellent way to begin collecting movies.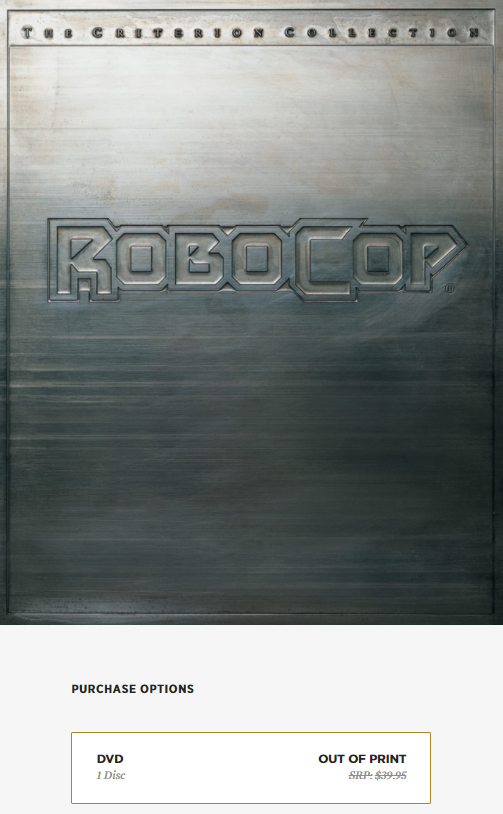 ---
What is a Steelbook?
A Steelbook is a Blu-ray DVD in a steel case with uniquely designed artwork. Sometimes a Steelbook will include a digital code for accessing the movie online.
The steel case is a major attraction to movie collectors, and when a movie is introduced in a steelbook for the first time, they usually sell out within a week of release to retailers. Steelbook movies are great for another reason. They usually include behind-the-scenes and never before seen footage not available anywhere else.
Best Buy offers hundreds of Steebook titles, from your favorite horror movie to many box office new releases and new titles. Not only does Best Buy offer Steelbook new releases, but they feature a Steelbook Collector Hub long-time movie fans might find interesting.
The Collector Hub allows visitors to vote for 4K movies you would like to see next in exclusive Steelbook packaging. In addition to iconic movie posters and famous film collectibles, Steelbooks make an incredible addition to any home theatre room.
---
What Inning Are We In?
While fractional ownership and investing platforms such as Rally have featured Nintendo and Playstation games for investment, they have yet to feature original DVDs or VHS special editions.
With values skyrocketing for certain rare titles, I wouldn't be surprised to see something like this offered on a fractional share platform in the near future.
There's a possibility that collecting movies is a wave that is just beginning to form and still miles from shore. Investors love to ask the question, "What inning are we in?" while contemplating a recent trend or phase in markets.
Don't panic; if you're interested in collecting movies, VHS, DVDs, cassettes, and compact disks, there are only two outs in the top of the first inning.
How to Start Collecting Movies
Film collectors of DVD discs and VHS tapes have been very generous over recent years. Some of the most knowledgeable collectors have been busy creating resources to help educate how to become epic movie collectors.
We no longer need to drive to Blockbuster to find videos. YouTube channels, websites, and collector forums are now available to understand how great physical media collections are assembled.
Not only are collectors busy sharing what they've learned collecting their favorite films, but they also seem to be having a great time doing it. Dive into the ocean of resources to begin your education on collecting movies, there's so much to find.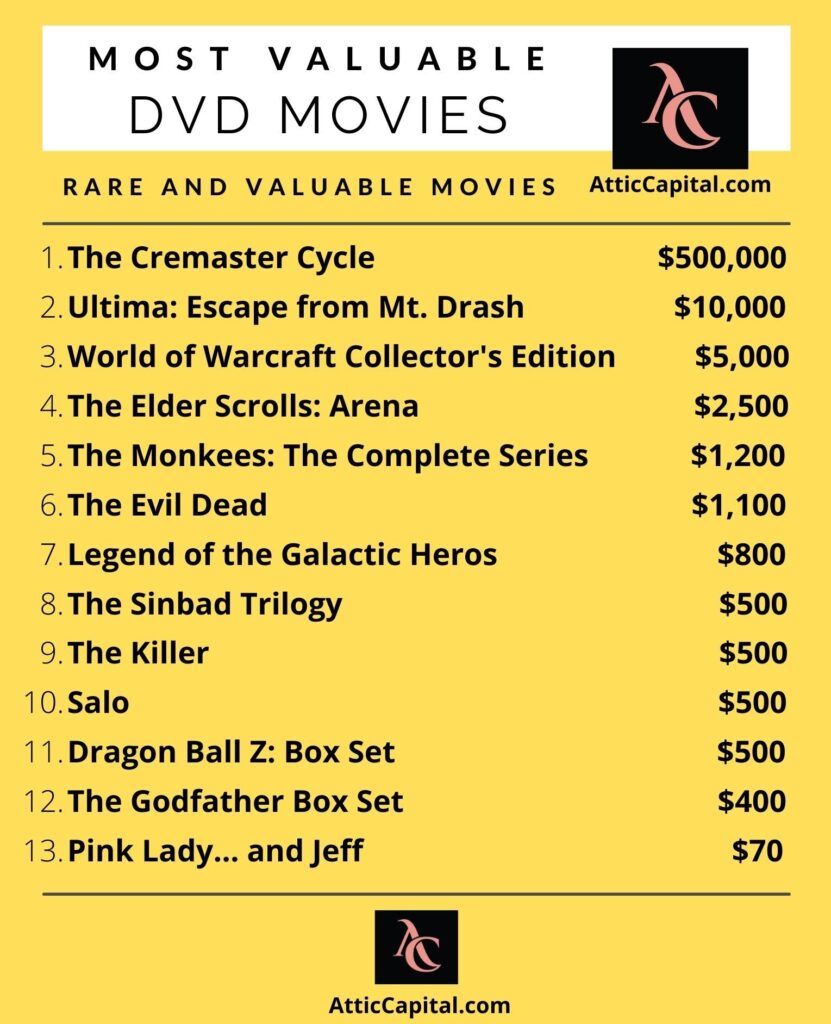 Online stores offer everything from contemporary films to movie posters. Even an entire collection of the best movies ever made can be bought and sold online.
From Star Wars to your favorite James Bond movie, to John Wayne or Martin Scorsese, there's something for everyone in the game of movie and physical media collecting.
---
The Biggest Movie Collections in the World
There are serious movie collectors out there, some of them own thousands of titles on DVD, VHS, Bluray, and Laser Disc.
One of the biggest movie collectors in the world is Theo Kalomirakis, founder of TK Theaters. He's not just a fan of movies, he's a passionate collector.
His collection holds over 16,000 movies, and is wide-ranging. From European independent films to Hollywood blockbusters.
He chooses to alphabetize each title on the shelf but also keeps an archive on his iPhone app.
Theo has taken his hobby to a whole new level. He's turned his passion for the movie classics he's loved over the years and became a legendary collector in the process.
Why Do People Collect Movies?
Ok, if you're still not convinced collecting movies and physical media is a no-brainer, I'll give you a few more reasons.
Movies are not always available online. You are at the mercy of the executives wearing suits, sitting in conference rooms, to decide which movies will stream, and which movies will lay in the movie graveyard for eternity. With physical media, you are sticking it to the man!
Internet Outages, Blackouts. I'm sure it will never happen to you. I just know you have a backup power storage system with solar panels on the roof and an unwavering 500 Mbps internet connection. But some of us common-folk deal with internet outages from time to time. Not with physical media and DVDs. It's always on.
The Best Movies "Canceled." The threat of cancel culture is real. No matter what side of the isle you vote, there's a real danger for any film to be instantly pulled from the streaming rotation without notice. One single Hollywood star goes on a maniacal rampage and your favorite movie could be erased from the record books for good. Preserve history, and prevent cancel culture with the hard copy!
Are you not convinced yet!? I could go on and on. But here's my final plea to you. Collecting physical media, DVDs, VHS tapes, and CDs is fun! Culture, memories, entertainment, art, it's all there for the taking. I dare you not to smile while you begin your physical media and movie collection!