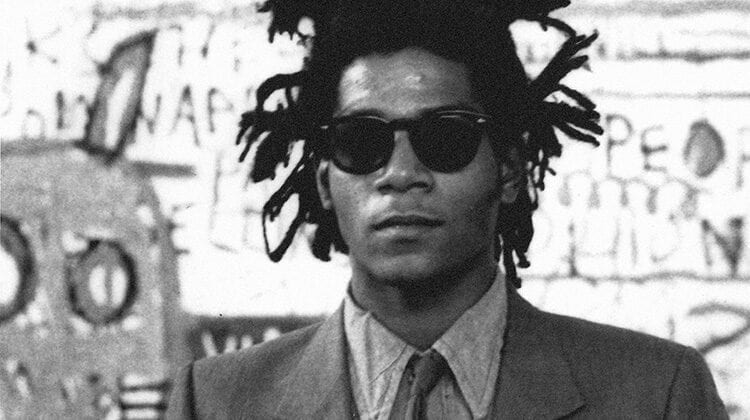 ---
One of the hottest burning flames of creativity roared through New York City during the 1980s. Although he's been gone for over thirty years, Jean Michel Basquiat has never been more relevant than he is today. He was an artist determined to make his mark on the world by any means necessary. And he achieved his goal as a legendary artist. His secretive and mysterious persona launched him to the top of the New York City art world in just a few short years. Some would call Jean Michel Basquiat an enigma, a renegade, or a savant. His time was short, but his impact on the art world and the people closest to him will last forever.
SAMO Basquiat
Basquiat began his art career with a can of spray paint and his friend Al Diaz. The duo would write thought-provoking slogans around Lower Manhattan and tag the writing with "SAMO," meaning, "same old shit." The graffiti caught the attention of a local newspaper, The Village Voice, who eventually featured a story about the mysterious SAMO artist. Jean Michel Basquiat discovered how powerful it could be to gain attention by creating mystery and intrigue with the press.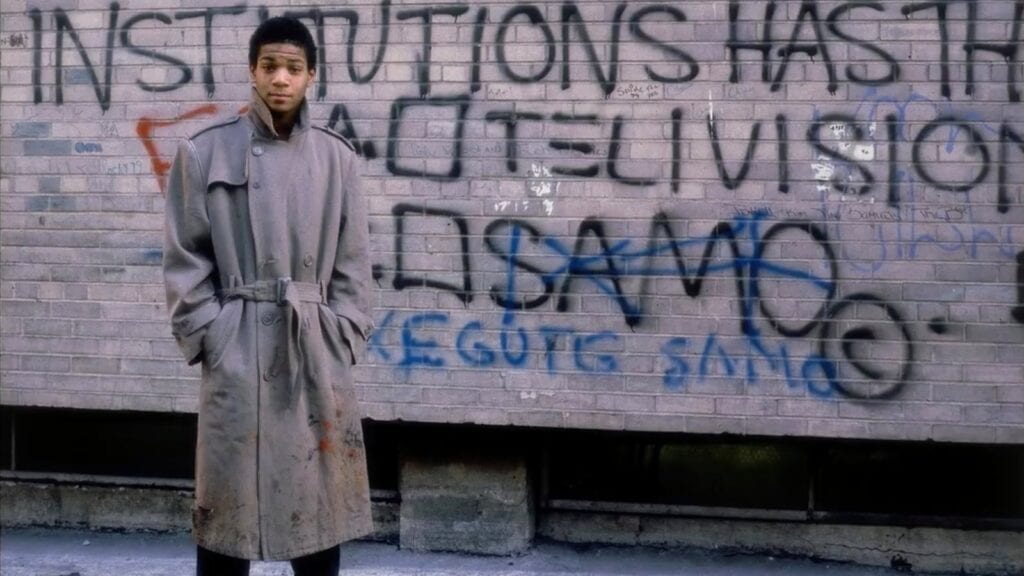 Basquiat Crown
Jean Michel wanted to become a legitimate artist instead of a graffiti artist but wasn't sure how to make it work. Initially, he lived in a Manhattan park or stayed with friends who allowed him to crash on their couch. He was broke and couldn't even afford a canvas to paint on. He was determined to make his way on his own terms. Although the option existed to go back to living with his Dad, Jean Michel stayed out on the streets of Manhattan by any means necessary.
It didn't take long for Basquiat to make friends with influential people who saw his gift of painting. He was given canvases to paint on and shortly after, a place to paint. It was all he needed to begin an epic career that seemed to take off like a rocket almost immediately.
Eventually, Jean Michel would begin to produce an epic amount of paintings catching the attention of many local art buyers. He would become a prolific painter over the next few years, creating over 1,000 paintings and drawings. A Basquiat crown began to appear in his creations, highlighting his knowledge of the history of fine art. Artist Francesco Clemente explained the Basquiat crown in this way, "Jean Michel's crown has three peaks, for his three royal lineages: the poet, the musician, the great boxing champion. Jean measured his skill against all he deemed strong, without prejudice as to their taste or age."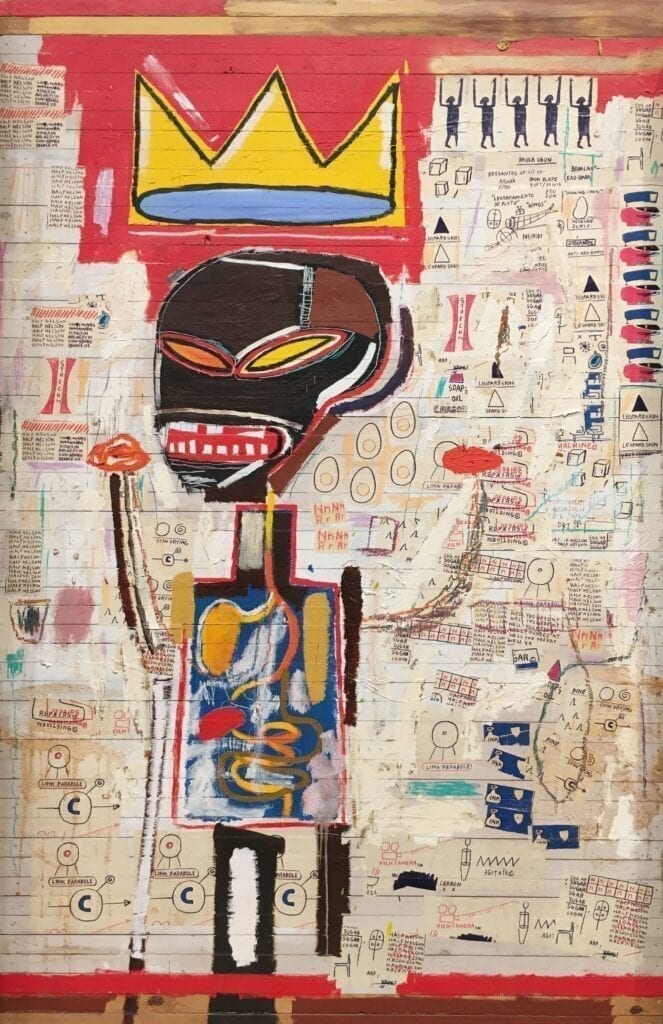 The Basquiat crown is a highly recognizable symbol in modern-day culture, almost gaining popularity by each passing year. Other interpretations of the crown say it portrays Basquiat himself as a king and his association with people he considers kings. It's also thought that that crown is an important symbol because of Jean Michel's incredible ambition to be great himself, constantly measuring himself to other artists and almost competing for his place on the podium of greatness.
One thing is certain about Basquiat; he recognized the incredible power of slogans, marketing, and making a lasting impression. From his early graffiti days of tagging Manhattan buildings with the "SAMO" designation along with a circled "C" for copyright, he was intent on making bold statements through his art. He recognized this again with the crown, where its powerful symbolism included so many different cultural meanings that he could apply, manipulate, and exploit in his works.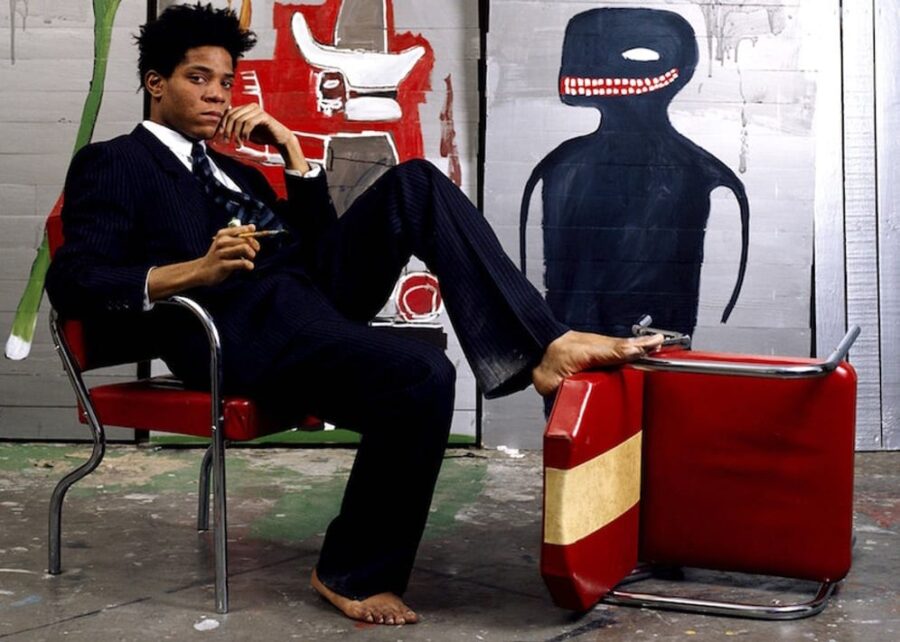 Basquiat Skull
When Basquiat was only twenty years old, he created one of his most famous works of art that portrays a vibrant human skull, which seems easy to understand at first glance. Like much of Basquiat's work, look closer at the untitled painting commonly referred to as the "Skull," and you will find much more obscured meaning. One theory behind the meaning of the piece is the intense pressure of becoming increasingly successful and the demands to produce great works. Basquiat presented no clear answers when questioned on the meaning behind the painting.
Many of his pieces were created featuring deconstructed human figures referencing the book he read as a child. He was given a copy of Gray's Anatomy by his mother while in the hospital recovering from getting hit by a car while playing in the street when he was eight years old. The book included detailed illustrations of the human body from the bones, tissue, muscles, and organs. Basquiat remarked many times how the book made a lasting impression on him for the rest of his life.
Jean Michel presented "Skull" at his debut solo gallery exhibition in New York City. People close to Basquiat have said how this particular piece was labored over for many months, while most of his other work was completed in only days or even hours.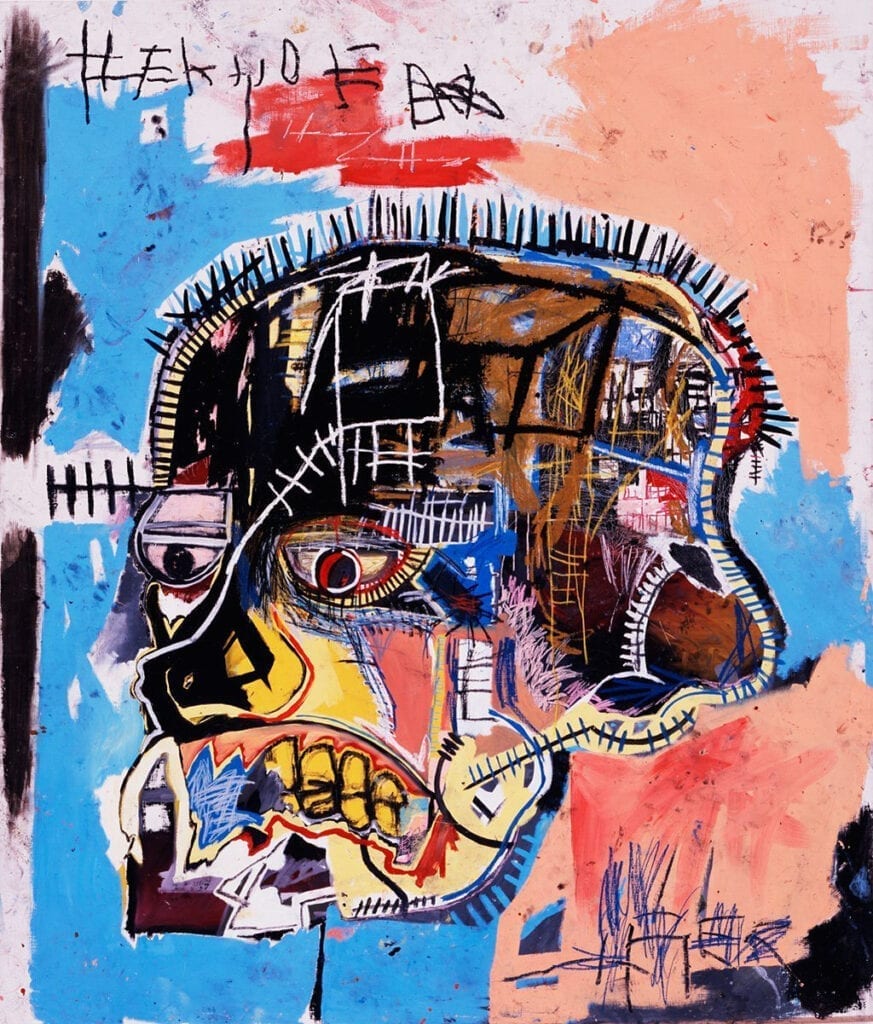 Record-Breaking 'Skull' Auctions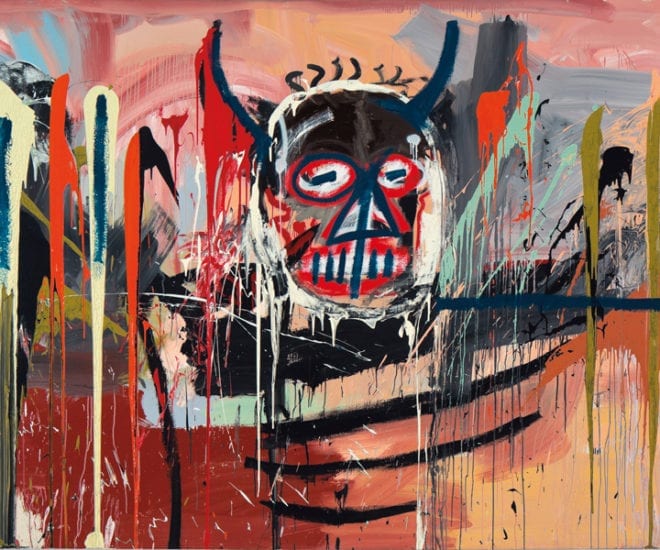 Created in 1982, this untitled piece broke a record for the highest price ever paid for a Basquiat when a bidder agreed to pay $57.3 million in 2016. Nearly one year later, a Basquiat painting would smash that record when a Japanese billionaire, Yusaku Maezawa, paid $110.5 million for another untitled, "Skull" painting. The purchase by Maezawa at the Sotheby's auction made the Jean-Michel Basquiat painting the most expensive by an American artist ever sold at auction.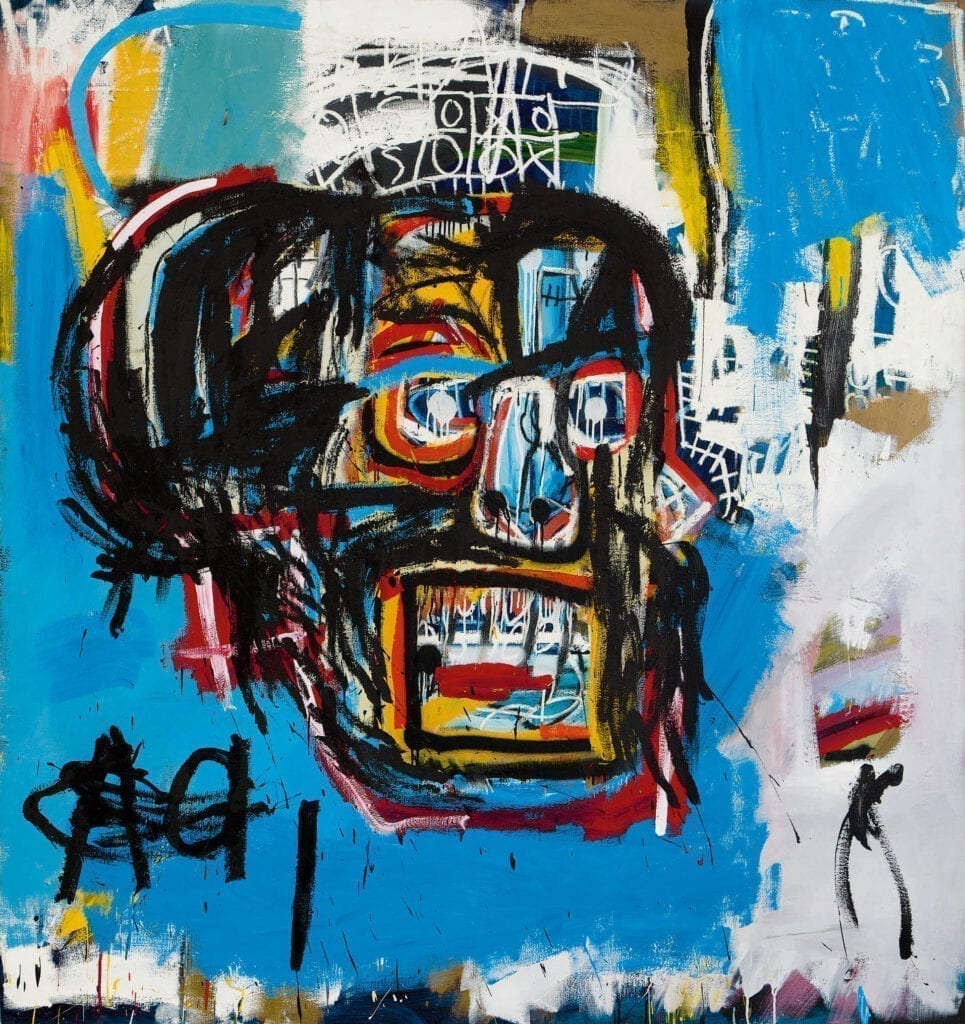 Jean Michel Basquiat Death
Jean Michel battled drug dependency through the final years before his death. Despite his attempts to overcome his addictions, Basquiat died on August 12, 1988, from a heroin overdose at his apartment in Manhattan. He was only 27 years old.
A Shooting Star
Jean Michel wanted to become a star, and he achieved his goal. If he were still alive today, I'm sure he would be both shocked and pleasantly surprised by the ever-increasing interest in his life and the works he produced. He marched to the beat of his own drummer, to say the least. Leaving over 1,000 drawings and paintings behind for so many to enjoy and remember his spirit.
Over the years, many art historians have debated the relevancy of his work. Some would say his works were overrated and they proclaimed how they couldn't understand the hype behind the young artist. Those critics have all been proven wrong and silenced once and for all. The passing years have only strengthened the legacy of Basquiat and cemented his name in history forever as a legendary artist.
---