---
The 80s art style and culture were one of the most fascinating eras in the art world.
Unique personalities, groundbreaking designs, and enormous financial growth due to increased investment in artwork laid the foundation for the art market to boom in the next three decades.
80s Art Style
A handful of charismatic personalities dominated the 80s art scene. From Andy Warhol, to Jeff Koons to Basquiat, the young and old joined forces to create a truly memorable period in the art world.
At the end of the 1970s, the most expensive painting on record was "Juan de Pareja" by Velazquez. At the time, it was valued at $5.5 million.
Just one decade later, by the end of the 1980s, Van Gogh's "Irises" sold for an incredible $53 million.
In only 10 short years, the most expensive painting of the time period increased 10-fold.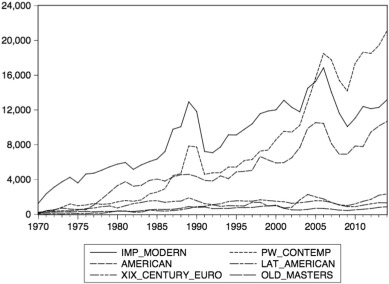 A few primary reasons for the significant rise in the art market during the 1980s were Japanese investors and collectors' huge art appetite.
As this international money poured into art collecting, the belief began to spread that paintings and fine art was a great investment with tremendous upside potential.
It was a perfect storm for the art market during the 80s. Changes in tax laws giving deductions to donated art boosted activity for the super-rich.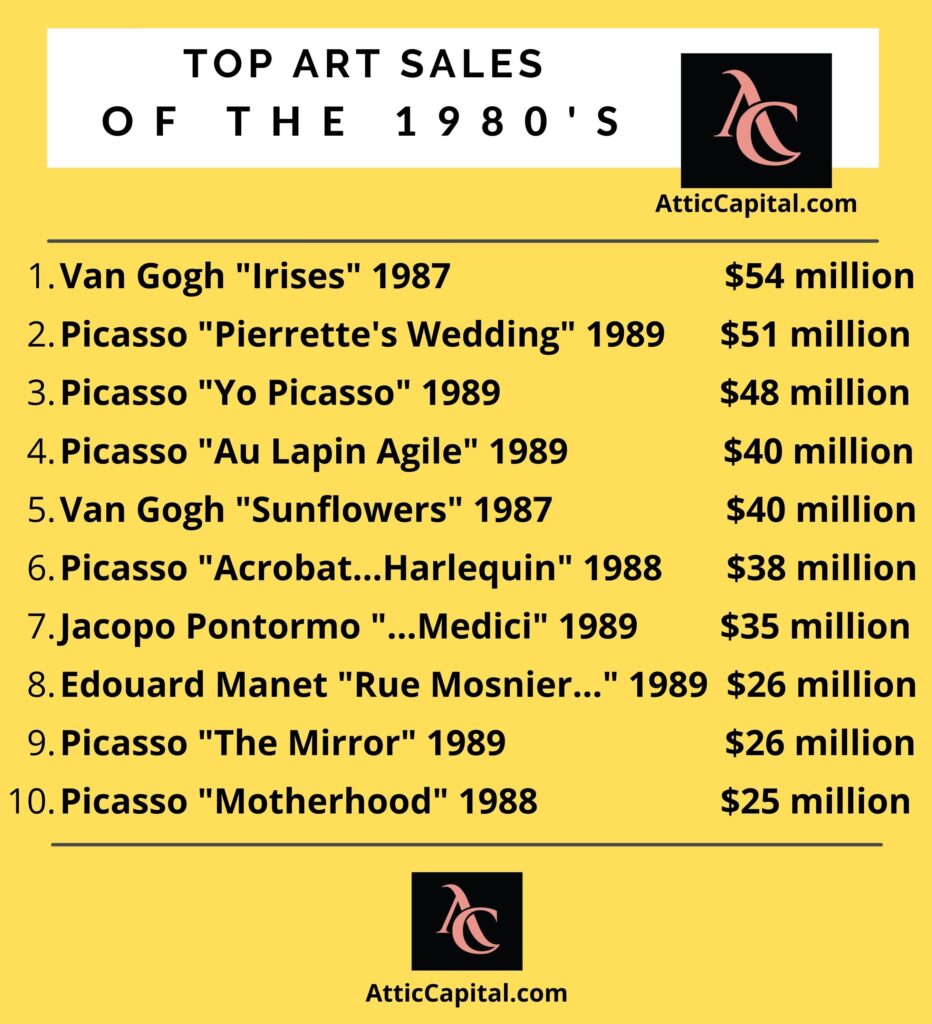 The growth of auction houses such as Sotheby's and Christie's, and their promotion of huge sale prices, increased awareness of the growing value of fine art.
Record-breaking prices for art continued beyond the 80s and haven't stopped. David Geffen sold a Willem de Kooning painting for $137 million in 2006.
Nearly topping the record at the time, which was $140 million for a Jackson Pollock piece.
Later, Geffen would sell another Kooning painting to hedge fund billionaire Ken Griffin for $300 million.
80s Aesthetic
Geometric shapes and colorful bright patterns created the 80s style and aesthetic. There was another influence for the 80s aesthetic that many are not aware of.
The Memphis design began in 1981 by an Italian design and architecture group called the Memphis Group.
They were a group of artists eager to form more radical art from the modern era. Their influence helped shape the 80s aesthetic.
Ettore Sottsass led the Memphis Group, where a song from Bob Dylan influenced the name and set the tone for the groups' aspirations.
The group displayed their first works at the Salone del Mobile Milano design fair, including furniture credited for a "faux chic" look.
It was a memorable opening for the Memphis Group, and hype intensified after the exhibition setting the stage for the growth of the 80s aesthetic. the Memphis style was inspired by Art Deco and the 50s Kitsch interior style.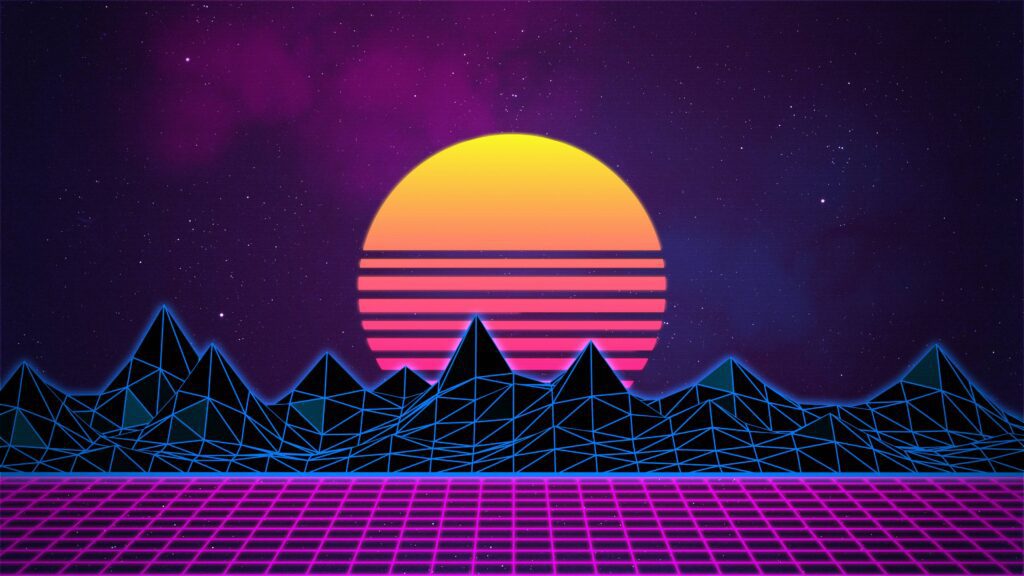 ---
Synthwave
The 80s style art aesthetic was a huge influence in synthwave. Also known as Outrun, a few examples of synthwave include music genres coming from film scores from the 80s movies like Blade Runner.
Stylish sunset graphics and funky bright neon colors on a black background pay tribute to 80s culture.
Graphic design featured musical notes drawing inspiration from science-fiction, horror, and action films of the 1980s. Designers are now using the same contrast illustration prints in nearly everything and everywhere. Synthwave is coming back in a big way.
80s Style
80s jewelry trends were fueled by celebrities and pop culture personalities. Madonna wore big earrings and colorful bracelets, so everyone else followed suit to stay trendy and cool.
Animal print and geometric shapes spread into 80s fashion. It was funky, and totally awesome.
Along with aerobics gear in neon-colored legwarmers, Jane Fonda became one of the most recognizable faces in living rooms around the country with her workout videos.
Suddenly, everyone wanted to look like Fonda with legwarmers over their tights or jeans.
Outrageous 80s Art Style
Bold make-up, polka dot dresses, mini skirts, go-go boots, bright colors, neon lights, and tattoos. 80s style was wide, varied, bold, and outrageous.
Some consider the 80s style as the time that fashion forgot. Others just look back and laugh.
It was a time when the rules were broken in every way imaginable. Avant-garde in paintings, artworks, and ideas.
Edgy, imaginative, and expressive ruled the 80s. Now, you can find retro 80s art print popping up all around you. Many look fondly on that time period and reach to be reminded of the 80s era.
Biggest 1980s Artists
The most prominent 80s artists were not exactly painters or sculptors. In many ways, the 80s were defined by larger-than-life musical artists who transformed the way people became their own personal brand through art.
Michael Jackson, Prince, Madonna, and Bruce Springsteen were four of the most iconic 80s musical artists.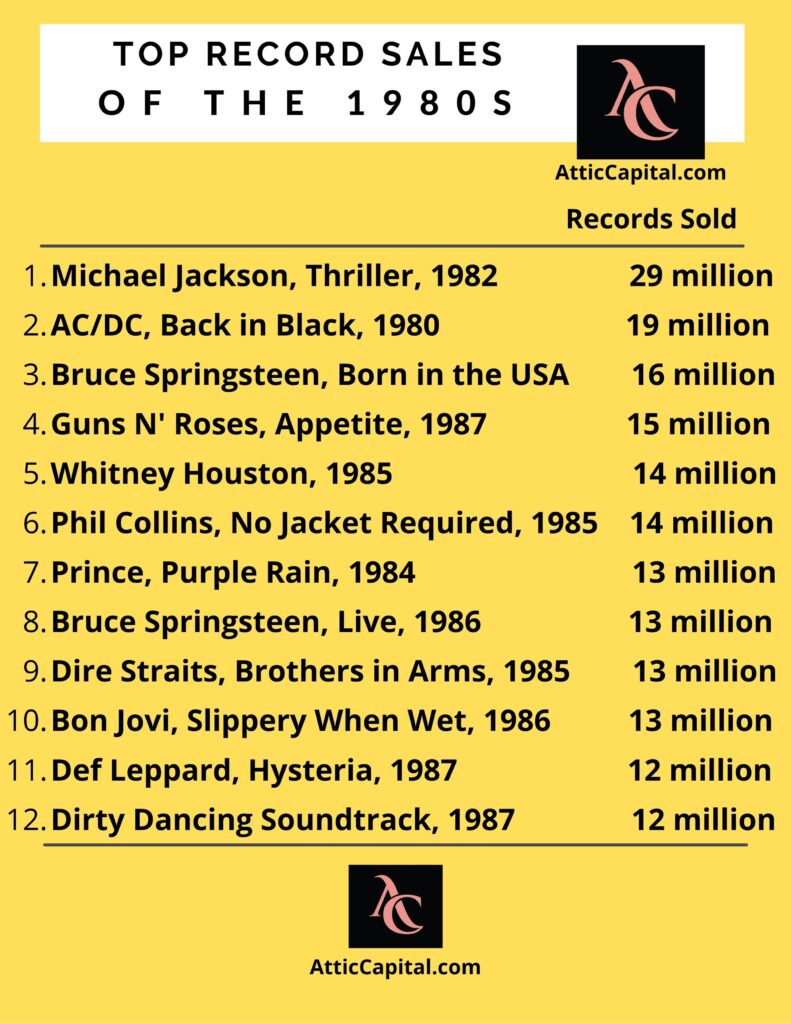 Each had their own musical genre and persona but figured out a way to capture their audience with a completely original style never seen before.
Many pop culture icons of the 80s were not just great stage performers, but visionary, edgy, daring, and totally creative in how they presented fresh entertainment style.
Maybe traits were borrowed from the past influences, but these mega-creators took what inspired them and made it their own to captivate an entire generation.
Andy Warhol
Known as one of the top visual arts creators, Andy Warhol dominated the 80s art scene by combining artistic expression with celebrity culture.
Some of his best-known works were done in the previous decades, but Warhol reached superstar status in the 80s by inspiring a new generation to be outrageously original and authentic.
His influence on Jean-Michel Basquiat is well known. But Warhol didn't just influence a few artists; he created a movement. Warhol heavily influenced Julian Schnabel, David Salle, and Francesco Clemente.
Jeff Koons
Jeff Koons rose to superstar status in the 1980s as he combined sculpture art with the Neo-pop movement of the 80s. His sculptures take everyday objects and relate them with pop culture featuring stainless steel finishes.
In 1986, Koons created Rabbit, one of the most expensive works sold by a living artist at auction. In 2019, it was purchased by billionaire hedge fund manager Steven A. Cohen for $91 million.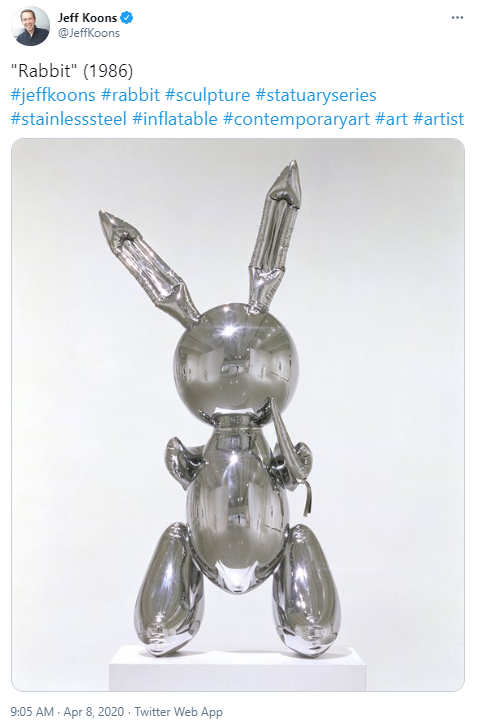 Keith Haring
Pop art and graffiti street art would never be the same after Keith Haring brought them to prominence in the 1980s. He began gaining pubic notoriety with his graffiti art in New York City subways.
Haring was part of the 80s New York City art culture, including rising stars Jean-Michel Basquiat, Futura 2000, and Madonna.
Friendships With Warhol and Jean-Michel
Of course, this also included a friendship with Andy Warhol during the 80s. His friend, popular American artist Jean-Michel Basquiat, died of a drug overdose in 1988.
Haring created a painting depicting a towering stack of crowns, Basquiat's trademark, to memorialize his lost friend. A famous nightclub at the time, The Mudd Club, featured a gallery curated by Haring on the fourth floor.
Keith Haring Wall of Honor
But with his growing stardom, he also used his art fame to advocate for awareness of the AIDS epidemic.
He produced over 50 large-scale murals, many voluntarily for hospitals, schools, and daycare centers. In 1990, AIDS would take Haring's own life and was later inducted into the National LGBTQ Wall of Honor in New York City's Stonewall Inn.
Basquiat
Filmmaker and artist Julian Schnabel directed the movie "Basquiat," which highlights the life of the famous 80s painter and gives great insight into the 80s art scene in the East Village of Manhattan.
The movie shows Basquiat as a struggling artist living in Tompkins Square Park and working his way up the New York City art world.
Museum of Modern Art
Not only did the 80s art movement have fresh, new personalities looking to show their first work to the world, they also had a place to feature it. In 1983, the Museum of Modern Art more than doubled its gallery by 30 percent.
Argentinian-American architect Cesar Pelli brought the museum's new addition to life, coinciding with its 50th birthday.
Not only did MoMA expand its floor space, but it also increased its curation department, added an auditorium, two restaurants, and a 56-story Museum Tower connected to the art museum.
The Popularity of MoMA
MoMA wasn't finished with the 80s yet. A few years later, in 1987, it underwent a second major renovation, spending nearly $900 million.
With a design by Japanese architect Yoshio Taniguchi, the project doubled the exhibition space.
MoMA now featured the Peggy and David Rockefeller Building on the western side full of galleries. On the other side, the Lewis B. and Dorthy Cullman Education and Research Building for classrooms, auditoriums, and expanded storage archives.
Retro Art
Retro art is generally known as the two decades roughly 20-30 years before the current one.
Vintage and retro art imitates the lifestyles and trends during a specific time period, including music, artwork, fashion, and general attitudes.
In the late 1990s, a revival began, which embraced the 80s retro style and culture. Vaporwave, future funk, lo-fi music, and retro wave music began to emerge that mimicked 80s aesthetics.
A common theme among graphic art was palm trees and neon grid backgrounds. VHS scanlines also appeared as an influential retro pattern.
80s Art Deco
80s art deco was full of a bright and bold color palette. As the economy gained momentum through the early 1980s, status and luxury became a focus through design and marketing.
TV shows featured storylines with excess and over-the-top extravagance. Movies showcased financial markets like "Wall Street," where tycoons wielded their power and showed their greatness with monetary accomplishments.
Miami Vice was a hit TV show of the 80s, and South Beach embraced the Art Deco District somewhat resembling the roaring 1920s era. Vibrant colors and over-the-top luxury clashed. 1980s art deco was a time when pop art, pop culture, consumerism, and exploration combined.
1980s Culture
80s culture shifted to more futuristic technology and an optimistic outlook for the possibilities of what lies ahead. The DeLorean was featured in "Back to the Future," where it would be used as a time machine.
The Star Wars craze launched in the 1980s, creating dreams of fantasy worlds and Jedi knights.
The hit TV show Magnum P.I. featured a private detective speeding around Hawaii in what is now one of the most iconic Ferrari classic sports cars ever made.
Music stars were cultural icons from MTV featuring their music videos. Sports stars were gaining recognition with endorsement deals and multi-million dollar contracts.
Other movies released in the mid-80s, such as Ferris Bueller and Breakfast Club, featured high school students looking to break loose from their power-hungry authorities.
80s movie culture was clearly influenced by the punk rock, anti-establishment tone set by young artists from the early 80s.
80s Art Style in Pop Culture
In the 1980s, brands grew into influential culture icons. Nike said to "Just Do It," creating the fitness craze along with Adidas and other sportswear companies.
Hip hop stars helped the cause, growing the trend of cultural icons wearing sponsored brand name apparel.
80s Art Style in Gaming
Even though Atari was launched in 1972, they didn't release their home console gaming system until the late 70s. Once kids were able to play Space Invaders from their own living rooms, video games took off.
Nintendo followed right behind Atari, releasing their own home gaming system in 1981. Soon everyone was talking about Donkey Kong and Super Mario Brothers.
Nowadays, people crave the retro 80s video game style that was planted in those earliest games.
Home gaming and unforgettable titles like Pac-Man, Space Invaders, Centipede, and Frogger opened up a whole new world for an entire generation.
80s Appropriation Art
The 80s art style saw a renewed interest in appropriation art. While not a new concept in the 80s, appropriation art uses existing objects as art with little or no transformation applied.
Andy Warhol perfected the practice by using pop culture and subtle design elements to create recognizable images with a personal twist. Warhol brilliantly used appropriation art numerously with his Campbell Soup cans, Elvis, and Grace Kelly creations.
1980s Investment
Some of what influenced the 1980s was due to increased investment returns from the stock market. After lingering inflation concerns of the 1970s, the 1980s were full of optimistic investors looking to park their cash in new vehicles.
Even the stock market crash of 1987 couldn't stop the 1980s. In September of 1989, the market was back at all-time highs just two years later.
Increased investment in the art world and all parts of 80s culture set the stage for the 90s and 2000s growth.
Individuals showcased their uniqueness and built entire brands based on their personal identity. The 1980s culture was the beginning stages of what is still prevalent today in the art world and beyond.
---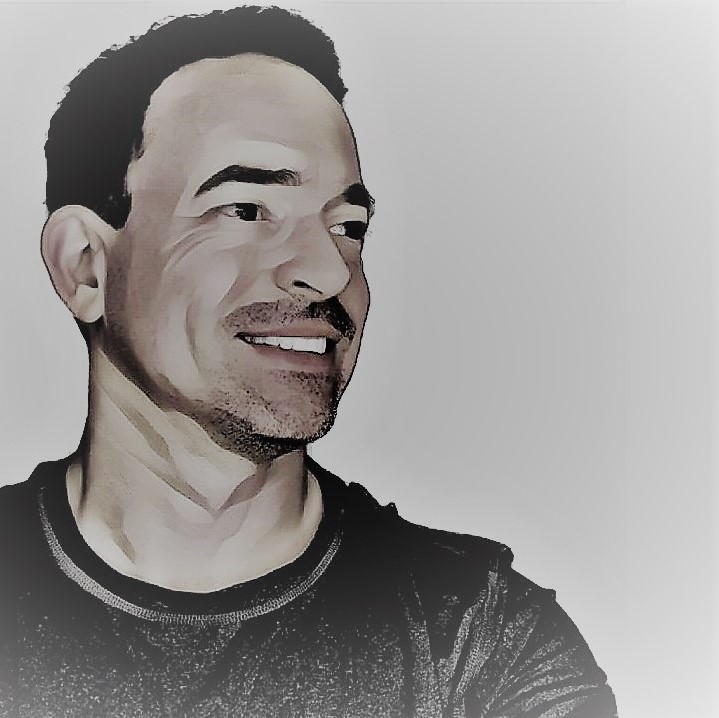 R.J. Bachman
Attic Capital – Writer, Editor, and Lifelong Collector
After many years of collecting rare coins, sports cards, and all types of collectibles, I began writing at Attic Capital to share my experience, knowledge, and passion.
I would love to connect with you, so don't hesitate to reach out and let me know more about your passion for collecting.