---
The world of Michael Jordan collectibles has steadily risen for several years. and sale prices realized for the top 10 Michael Jordan collectibles have been rapidly rising recently.
Jordan basketball cards, game-worn shoes, jerseys, and all types of memorabilia have been in enormous demand.
Is there any opportunity left to find truly great Jordan collectibles at reasonable prices? That is highly dependent on your collecting goals and your available budget.
But what caused Michael Jordan collectibles to skyrocket in value?
Other than the fact that he's arguably one of the greatest athletes ever to live, a recent T.V. series might have played a part.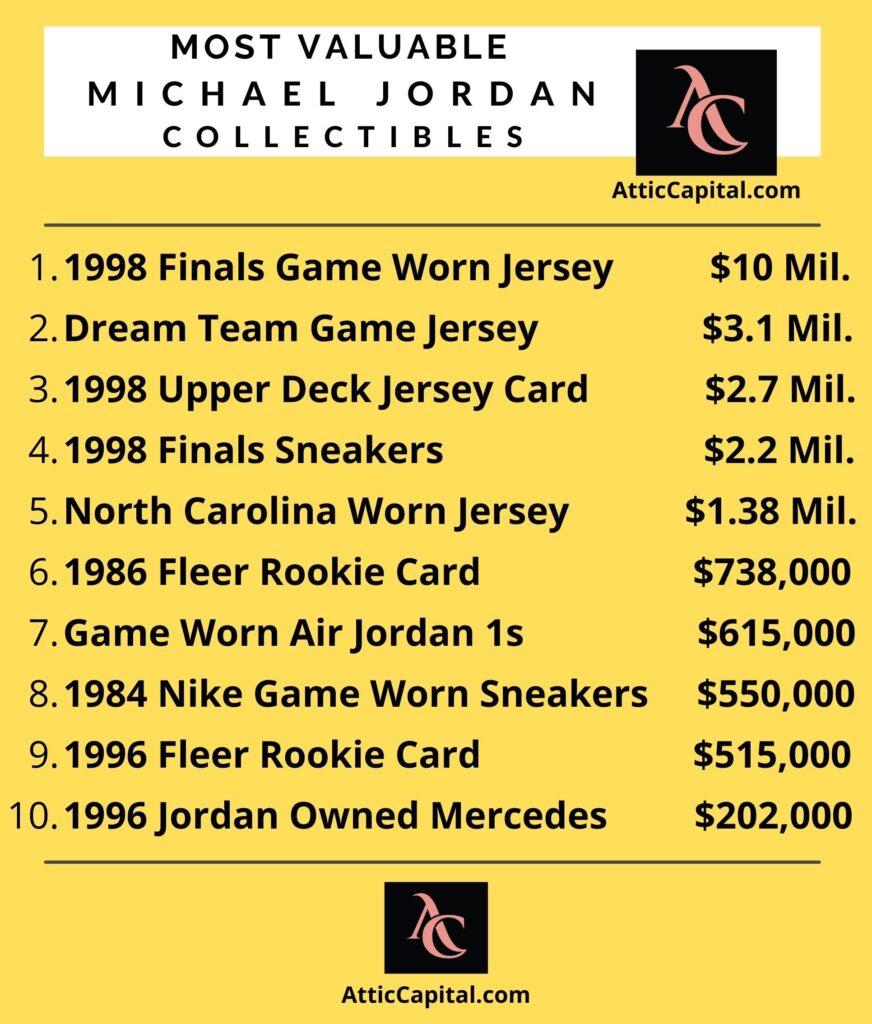 ---
Michael Jordan Game Worn Jersey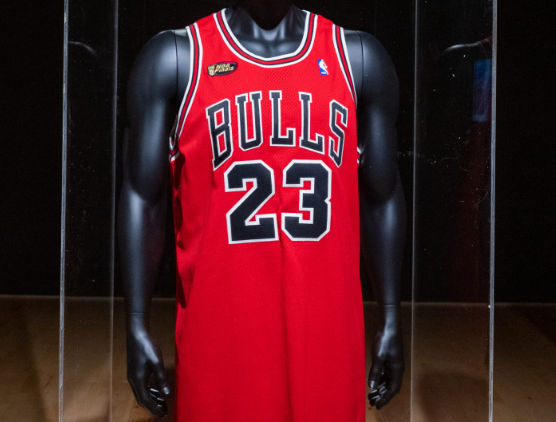 A Jordan game-worn jersey shattered a Sotheby's record recently when it sold for $10.1 million.
It was the jersey worn by Mike during game 1 of the 1998 NBA Finals, and also featured in the ESPN series, "The Last Dance."
---
The Last Dance
If there was one event to pinpoint an acceleration in the values of Michael Jordan collectibles, it would be The Last Dance.
The miniseries co-produced by ESPN Films and Netflix, directed by Jason Hehir, debuted last while the country was preparing for lockdown due to the pandemic.
Over five weeks, from mid-April to mid-May in 2020, The Last Dance aired every Sunday night, with never-before-seen footage and interviews from the Michael Jordan Chicago Bulls days.
---
Sports fans and many who remember the "Air Jordan" era were glued to each episode, where the legend seemed to grow all over again.
Incredible commentary documenting every twist and turn throughout MJ's career made the series a smash hit.
Jordan gave us insight into the most memorable moments of his career and pulled the curtain back on an era many can vividly remember.
It also may have been the first introduction to younger collectors who never witnessed firsthand the cultural influence Jordan had on the 80s and 90s.
Many believe Jordan was the greatest basketball player of all time. The never-before-seen footage from The Last Dance strengthened that argument.
Someday, Lebron James might release his own rendition of 'LeBron's Last Dance,' and maybe that convinces us he was the GOAT, but as of now, Jordan wears the GOAT crown, and The Last Dance made the argument ironclad.
1991 Upper Deck Michael Jordan Baseball Card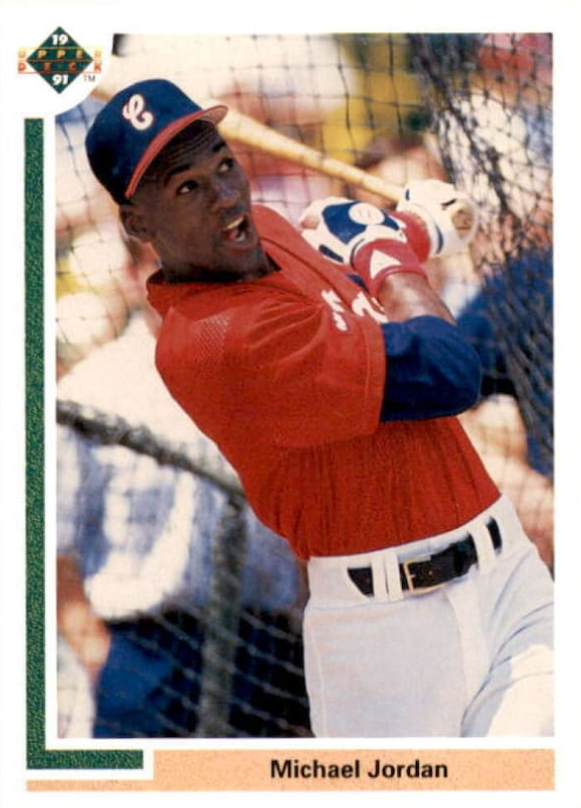 ---
1986 Fleer Michael Jordan Rookie Card
Let's start by looking at what is happening to the most valuable Michael Jordan items lately.
The 1986 Fleer Michael Jordan rookie card has been making news over the last several months.
Each time the card sold at auction, it seemed to break new records for the highest price ever realized for the Jordan rookie.
But recently, prices have cooled for the 1986 Fleer Jordan. I wouldn't say Jordan cards have fallen drastically, but the record sales seem to have peaked, at least for now.
Things can change quickly in a hot market. For example, recently, a Lebron James rookie card sold for $5.2 million.
You never know when the momentum will shift to the next legendary player. After all, that's what makes collecting so much fun.
PSA 10 Jordan Rookie Sales
Maybe it was only a coincidence, or possibly due to the entire globe locking down in their homes due to the pandemic.
Still, sports cards in general, and especially the Jordan basketball card values, began to take off into the stratosphere.
Here's a look at a few of the 1986 Fleer Michael Jordan rookie card sales in GEM MINT PSA 10 condition throughout the year. The first sale came before 'The Last Dance' aired, and then each sale thereafter.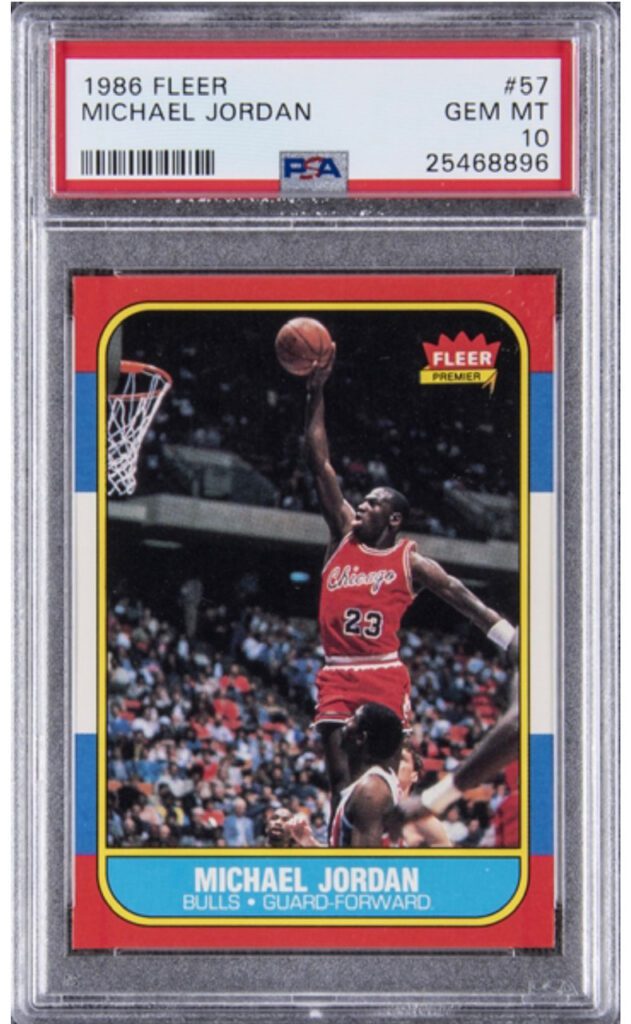 Recent Auction Sales of the 1986 Fleer Jordan Rookie Card in PSA 10 Condition
March 22nd 2020 $48,000
April 19th 2020 $51,600
May 8th 2020 $96,000
May 21st 2020 $97,200
August 30th 2020 $420,000
December 5th 2020 $150,000
December 6th 2020 $151,200
January 30th 2021 $738,000
March 1st 2021 $588,000
---
Another great comparison is the final sale prices for the same 1986 Fleer Jordan rookies in PSA 9 and PSA 8 condition.
A breakdown between various card rating companies would also be informative. Does a PSA-rated Jordan Fleer rookie card hold more value than a comparable Beckett Grading Service (BGS) rated card?
PSA 9 Jordan Rookie Sales
The big question is, can the huge price jump in the Fleer card hold over the long term, or was this a one-time pandemic/Last Dance price surge?
Will other Jordan trading cards from later years continue to "take off," or will the strong prices and value increases only apply to the highest-rated Jordan rookie cards?
Recent Auction Sales of the 1986 Fleer Jordan Rookie Card in PSA 9 Condition
2014 $2,000
Feburary 2020 $11,200
April 9th 2020 $12,500
July 20th 2020 $12,300
October 8th 2020 $15,500
January 29th 2021 $66,123
Febuary 26th 2021 $66,766
March 3rd 2021 $32,000
March 15rd 2021 $53,100
May 22nd 2021 $90,000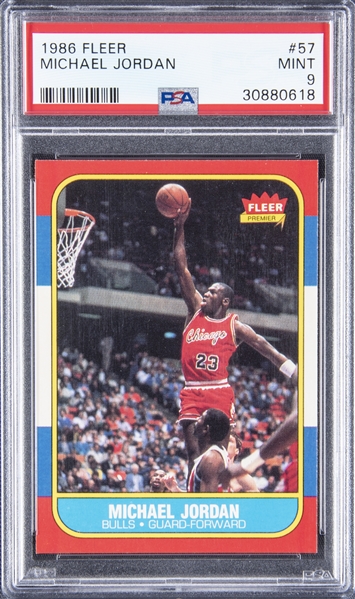 ---
With so many sales occurring in the lower-rated cards, it's easy to pick and choose certain sales data to support a given argument.
One of the things I realized searching PSA 9 Michael Jordan rookie sales over the last year is the huge range in sales price, even within a given month.
Pricing seems very inconsistent, depending on which auction results you are looking at.
For smaller budgets searching for the iconic 1986 Fleer Michael Jordan rookie card, Goldin Auctions offers a PSA 8-rated card with the current bid sitting at $9,500 with 13 hours remaining in the auction.
What's great about collecting sports cards is there's almost always something for every budget size.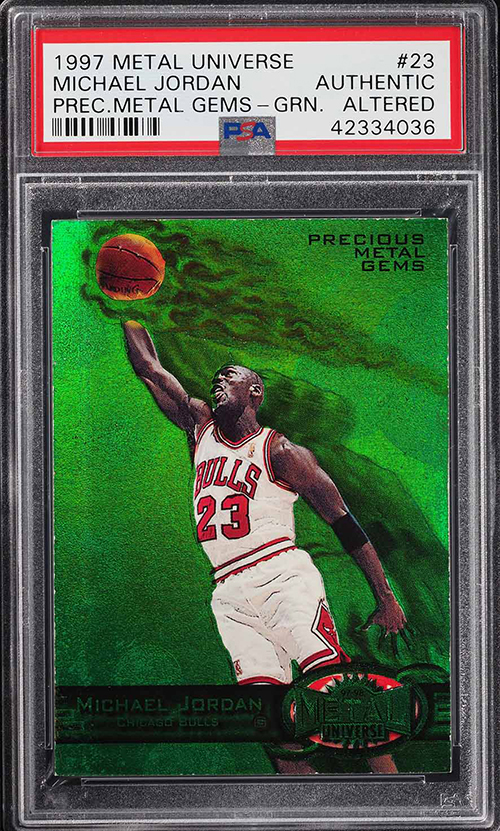 The Michael Jordan 1997 Metal Universe
The 1997 Metal Universe Green Jordan card is possibly the second most coveted Michael Jordan card out there.
Only 100 Precious Metal Gem cards are produced each year, with the first 10 cards labeled "Green," making it one of the rarest Jordan cards in existence.
In February 2019, a 1997-98 Metal Universe Precious Metal Gems Green Michael Jordan card was sold for $350,000.
---
1997-98 Upper Deck Game Jersey Michael Jordan Card
The limited-edition Upper Deck Game Jersey card featuring a swatch of a Michael Jordan jersey recently sold for $2.7 million.
The private sale was arranged by Goldin Auctions, which was the highest price ever for a Jordan item. Only 23 "Jersey" Jordan cards exist. Record-breaking sales have been a common occurrence in the trading card industry.
A similar Michael Jordan Jersey card sold for $2.1 million just a few months ago with a PSA 8 rating.
Collectors are betting on authentic Michael Jordan autographed jerseys, and limited edition sports cards as the winning combination for ultra-valuable items.
In addition, he's a six-time NBA Champion and the greatest basketball player of all time. Prices for Michael Jordan sports collectibles have been on fire.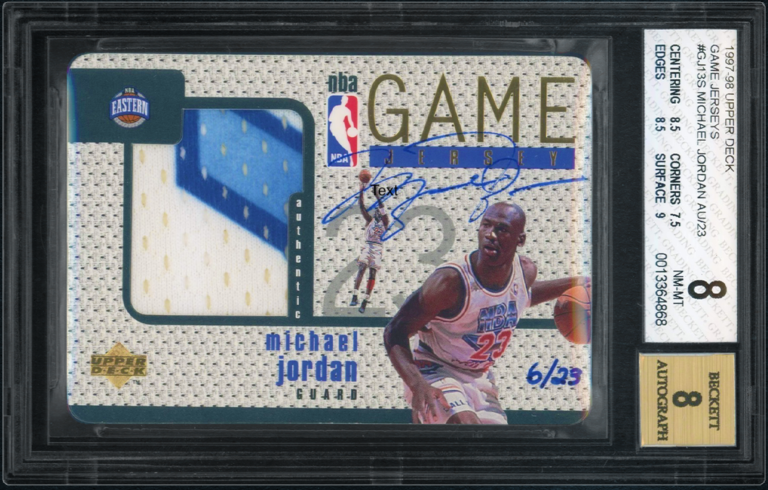 ---
Michael Jordan Game Worn Sneakers
In the world of game-worn shoes, jerseys, basketballs, gear and equipment, there's no bigger name than Michael Jordan. Jordan sneakers worn in NBA games during his MVP career have sold for mid-six figures.
Before the Nike Air Jordan 1 was released, the Nike 'Air Ship' was released for Mike's preseason and early games in his rookie year.
A pair of the Air Ship Nikes is scarce given the short time Jordan wore them. Nike wasted little time replacing the Air Ships and creating the official 'Air Jordan' lineup of sneakers midway through his rookie season.
The sneaker and apparel market would never be the same.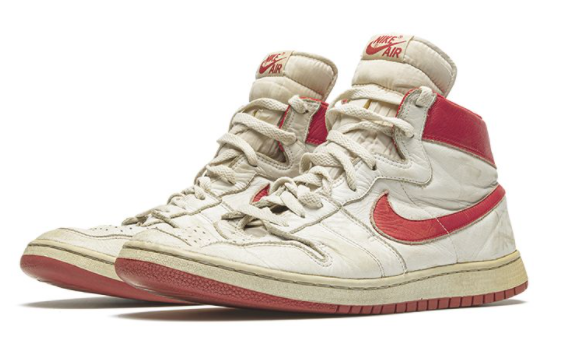 ---
Air Jordan 1
If you thought the Nike Air Ship sneakers seemed expensive, we already have proof there's incredible demand for an item such as this.
In August 2020 (just a few months after 'The Last Dance'), Christie's auction house sold a pair of signed, game-worn Jordan 1's for $615,000. At the time, this was the highest price ever paid for a pair of sneakers at auction.
A month before the sale, a similar pair of Air Jordan 1s sold for $560,000, more than three times the estimate for the shoes.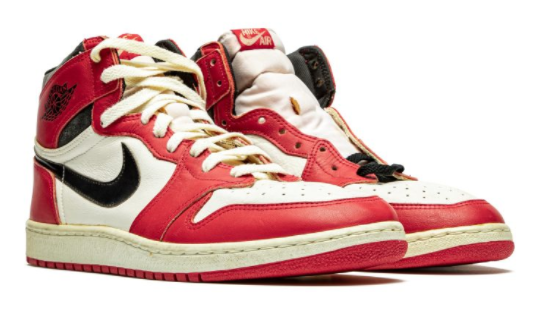 ---
Nike Air Jordan 1 "Player Sample" Sneakers
Another pair of rare Air Jordan 1 sneakers sold for over $200,000 at auction recently. The "Player Sample" sneakers include an autograph on the right tongue.
Another factor driving the value of the shoes was the size. The left shoe is a size 13, and the right shoe is a size 13 1/2.
Nike customized the sizes for Jordan during his playing career. Certainly, the Player Samples are a piece of history.
Michael Jordan Collectibles and Game Worn Jerseys
One of the most expensive Michael Jordan collectibles to ever sell at auction is a jersey he wore while playing at the University of North Carolina, which sold for $1.38 million.
Collectible clothing and game worn jerseys are extremely valuable, and Jordan is at the top of the list in this category.
Worn during Mike's sophomore season, the sale price was over three times more than the previous record sale for a Jordan game-worn jersey.
It was his final season of college basketball, one year after hitting the game-winning shot to win the national title as a freshman.
After his sophomore year, Jordan would leave the Tar Heels and join the Chicago Bulls in the NBA when he was the third overall pick in the draft.
For some perspective on this particular jersey, it sold in 1999 for a record (at the time) of $63,500.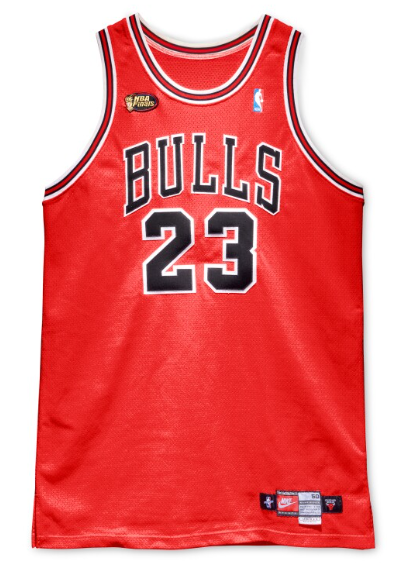 ---
Other Michael Jordan Collectibles
If a pair of game-worn Jordan 1 sneakers is out of your budget, there are plenty of options for more Michael Jordan collectibles for your bookshelf.
Autographed NBA basketballs are much more affordable, where you can pick up a Jordan-signed ball for around $5,000 – $9,000.
The item shown below is authenticated by Upper Deck, (UDA) and includes an individually numbered tamper-evident hologram and certificate of authenticity.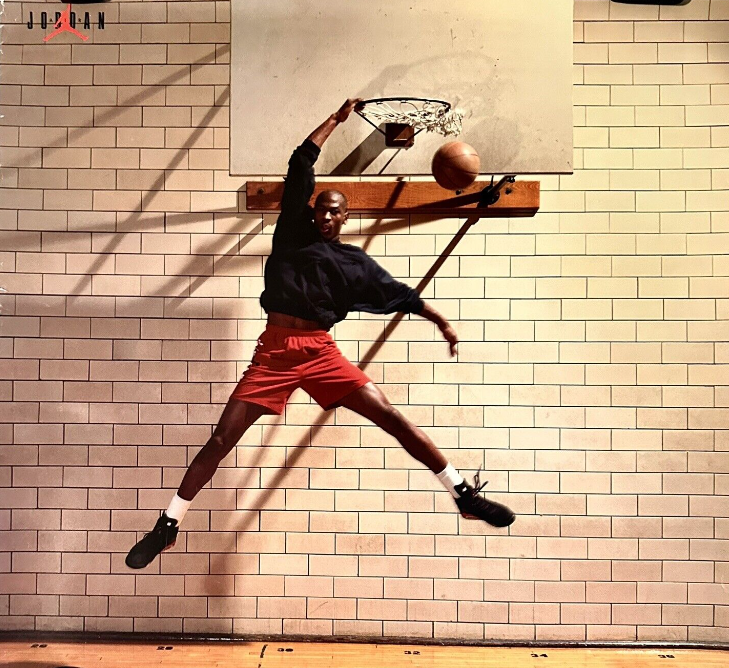 ---
Drive Like Mike – in His Mercedes
Can't get enough Michael Jordan memorabilia and looking for something truly original? I have the perfect slam-dunk solution.
Buy the car his airness drove during the 1997-1998 season, also featured in The Last Dance episodes.
Mike's 1996 Mercedes-Benz S600 Lorinser was recently sold by the Los Angeles-based, Beverly Hills Car Club.
The Benz S600 features medium gray leather upholstery, a navy exterior paint job, and of course, a V-12 engine. The final selling price was $202,000.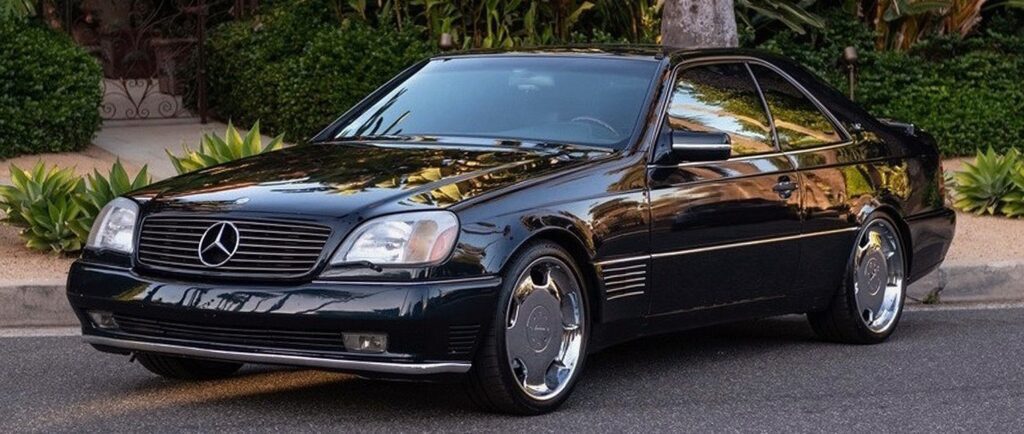 ---
The Dream Team
There are numerous collectibles from Michael Jordan's time as a member of The Dream Team. Jerseys, basketball cards, and autographed photos are selling virtually every single day on eBay.
Heritage Auctions featured a 1992 Team USA Basketball "Dream Team" signed photo, including every member of the squad.
Auction results date back to 2018 when sales were in the $9,000 range; today, I would expect an item like this to sell for at least double that price.
The summer Olympics photo includes Larry Bird, Magic Johnson, Scottie Pippen, and every other Dream Team member, who are all now in the Hall of Fame. (yes, Christian Lattner is in the HOF)
The Dream Team would go on to win the gold medal, easily crushing every team they played.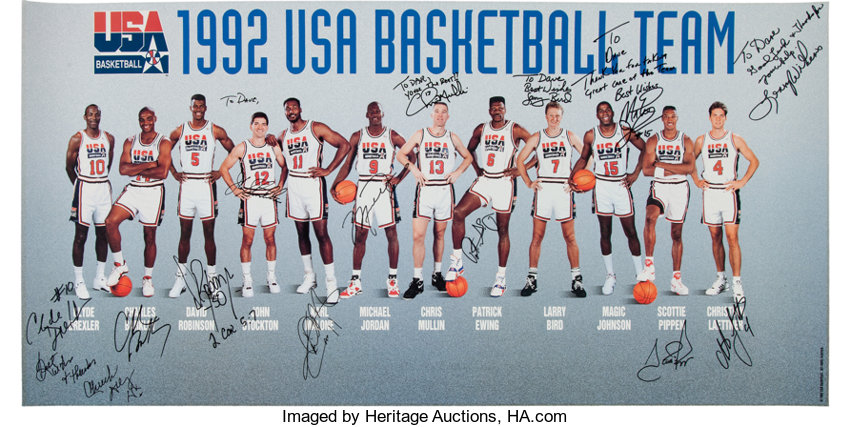 ---
Laney High School Michael Jordan Collectibles
One Michael Jordan collectible you don't see every day is the jersey he wore while attending Laney High School.
Selling for $7,500 on Amazon, this signed jersey is framed with photos of Mike playing for his high school back in the early 80s. It's not a game-worn model, but it's signed, framed, and Upper Deck certified.
---
Michael Jordan's All-Star game and NBA Finals game memorabilia are also featured throughout auction sites.
Some include autographs, but my favorite items are the old-school Mitchell & Ness or Fanatics brand All-Star Jordan jerseys without the autograph. You can find All-Star game jerseys for $40 – $50 bucks through eBay.
Personally, I'm always suspect of signed memorabilia.
Autographed basketballs and sports memorabilia seem to be ground zero for fraudsters and scam artists, so I always assume an autograph is fake unless I actually see Air Jordan himself pull out a sharpie and sign on the dotted line.
That being said, this jersey is certified and authenticated by Upper Deck if that makes you feel better. Just be careful out there – is all I'm saying. Anyway, it's a great item to hang on the walls of any Michael Jordan fan.
Michael Jordan Collectibles, Game Used Louisville Slugger
What's better than holding a game-used Louisville Slugger from a former hall-of-fame player?
My favorite game-used bats are not autographed; the Louisville Slugger name stamped on the barrel is a worthy enough signature for me.
Verifying a bat was actually used in a game by a hall-of-fame player is nearly impossible, as MLB ballplayers go through hundreds or even thousands of bats per season. But the lumber pictured below is a beauty, nonetheless.
Game-used bats by some of the greatest athletes of all time are a perfect addition to any memorabilia collection.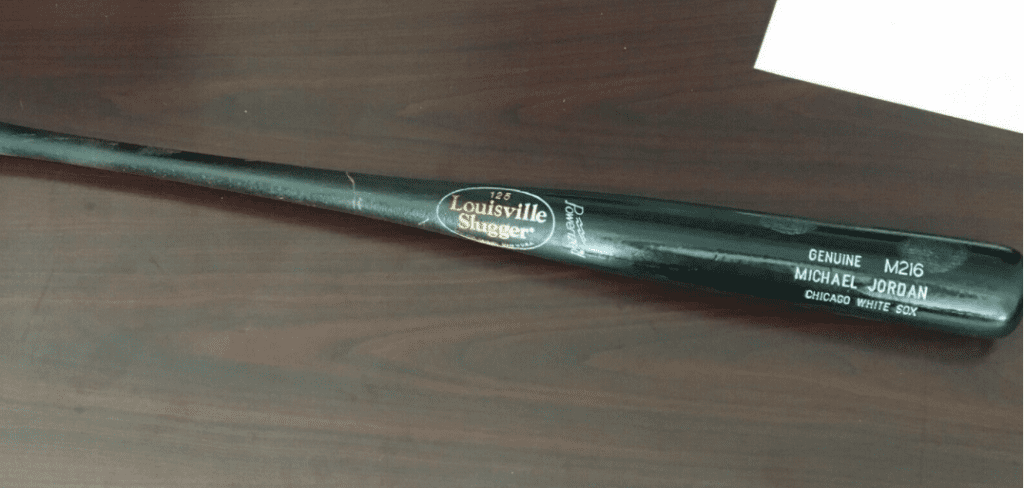 ---
As you can see in the Youtube vid below, Michael Jordan was a larger-than-life sports icon who cemented his legacy as one of the greatest competitors to play professional sports.
I'm not sure if the values of Michael Jordan collectibles can keep up their pace from the previous couple of years.
But what makes collecting and investing so interesting is that nobody really knows what will happen to even the best and most exclusive assets in the world.
1992 Topps Archives Michael Jordan Gold Card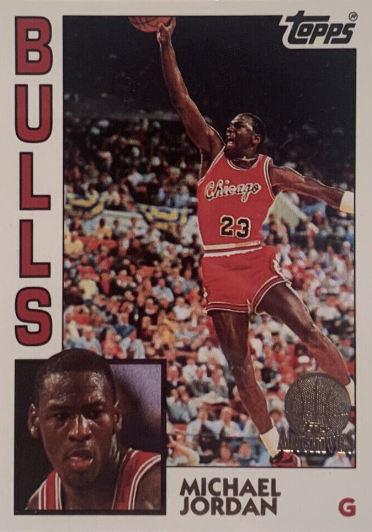 1994 Upper Deck Star Rookies Baseball Michael Jordan Card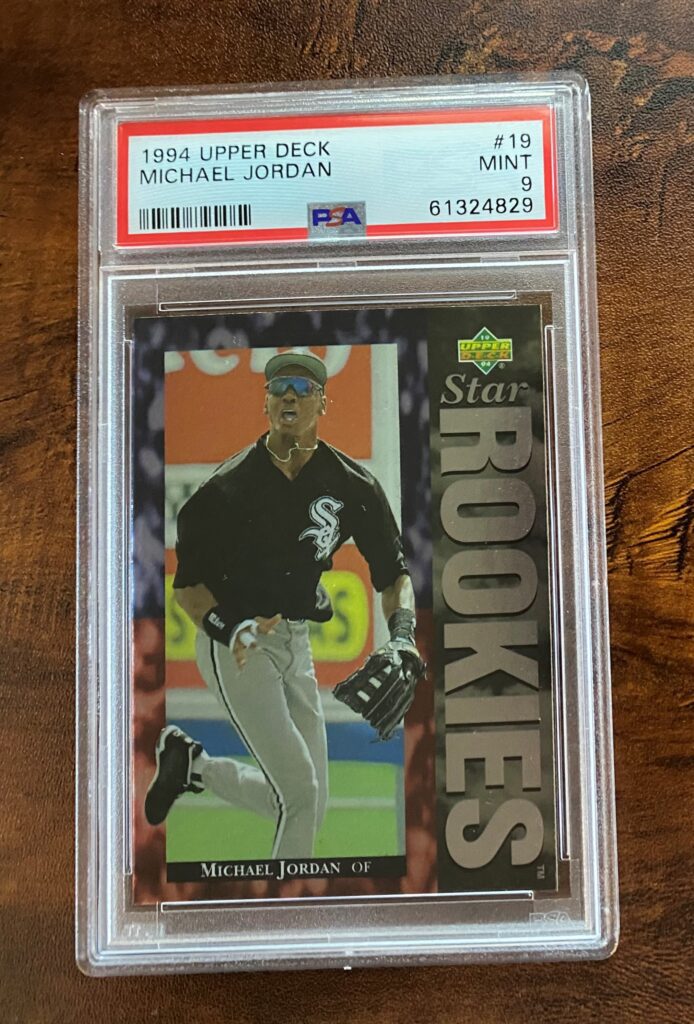 Kobe Bryant & Michael Jordan Signed Basketball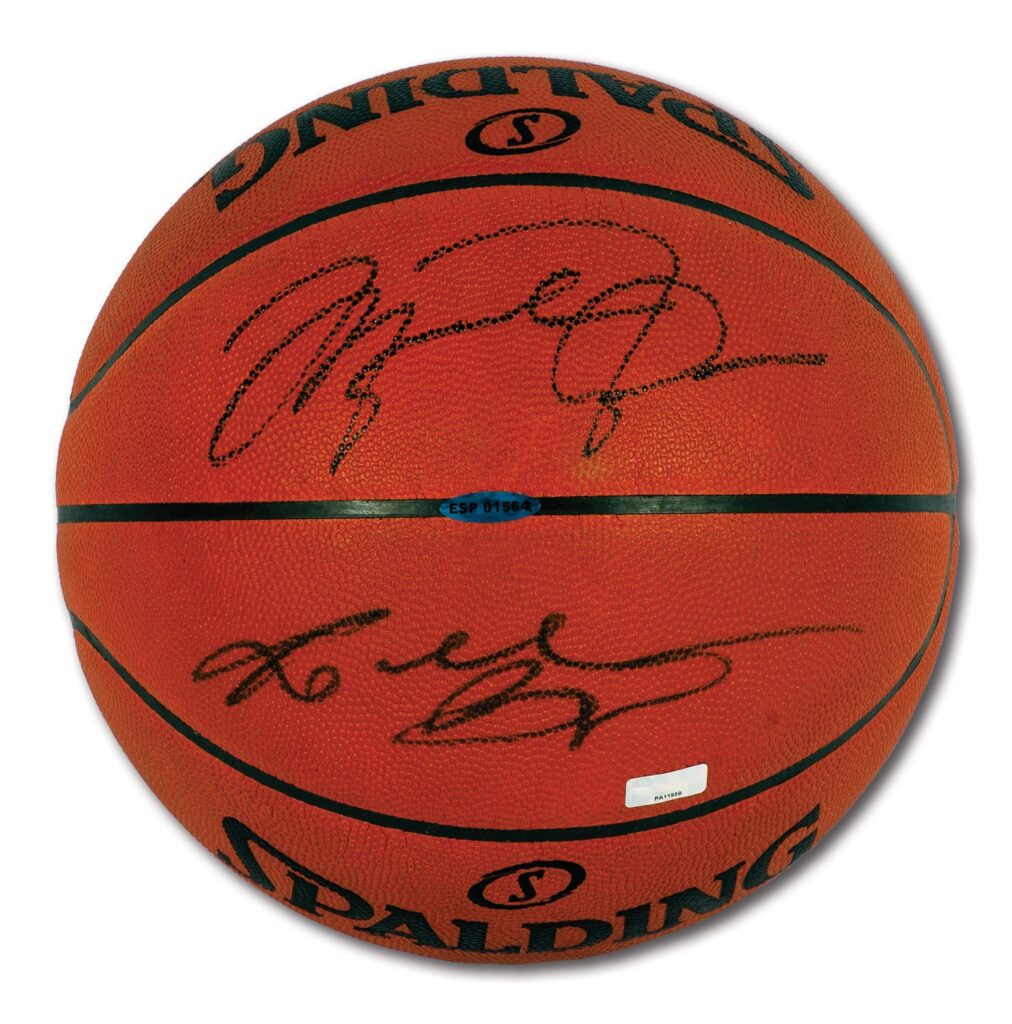 1992-92 Michael Jordan Panini Sticker Card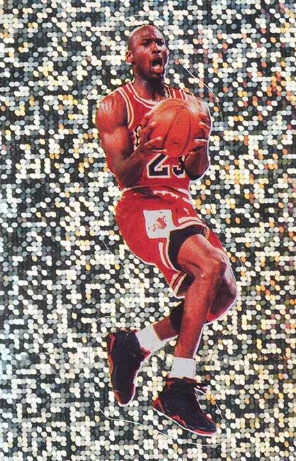 Jordan Game Used Wristband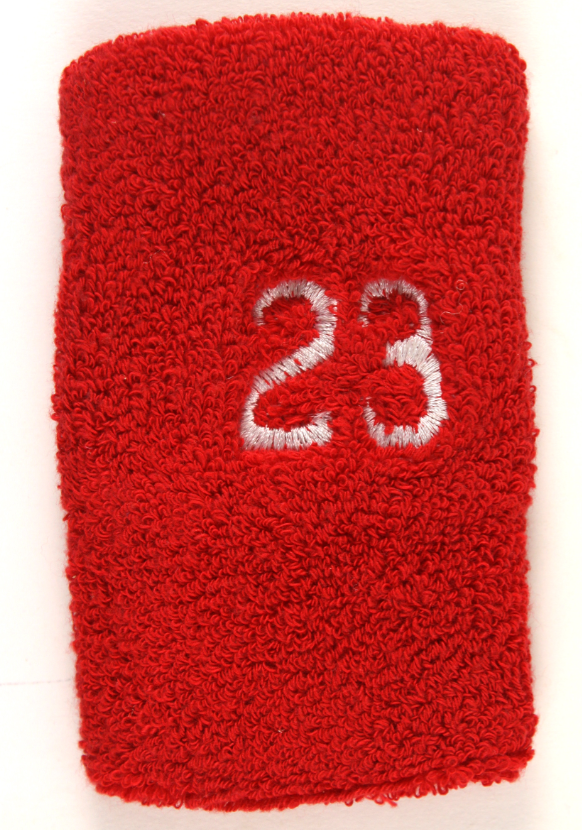 Michael Jordan Autographed Chicago Bulls "Last Shot"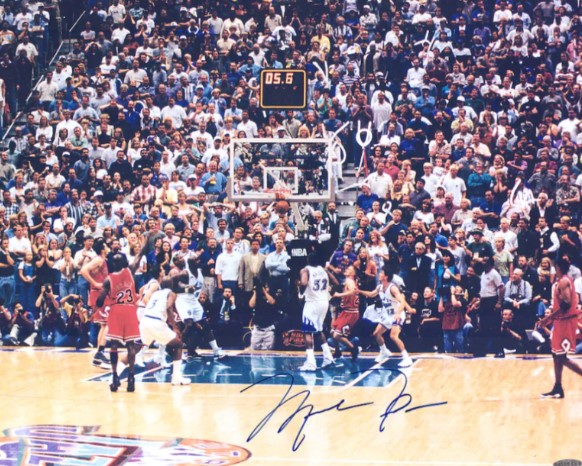 Magic Johnson Los Angeles Lakers and Michael Jordan Chicago Bulls Autographed Photo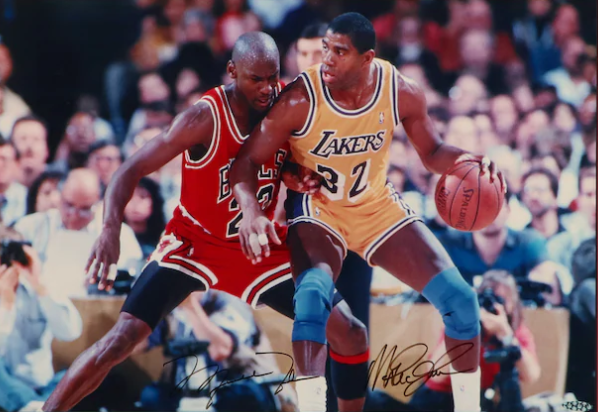 ---
The Best Michael Jordan Commercials Ever
A Few of My Favorite Michael Jordan Basketball Cards
So these aren't the most valuable Michael Jordan collectibles, but I've owned them since I was a kid.
Anything that makes it through the decades and remains in my possession some how, some way, earns a special place in my heart.
You can tell by the condition of a few of these cards, they've been around the world a few times.
Not to mention that they are collector cards of the greatest basketball player to ever walk the earth.
Let's take a look at a few of my favorite Jordan cards – if you see one you like, make me an offer!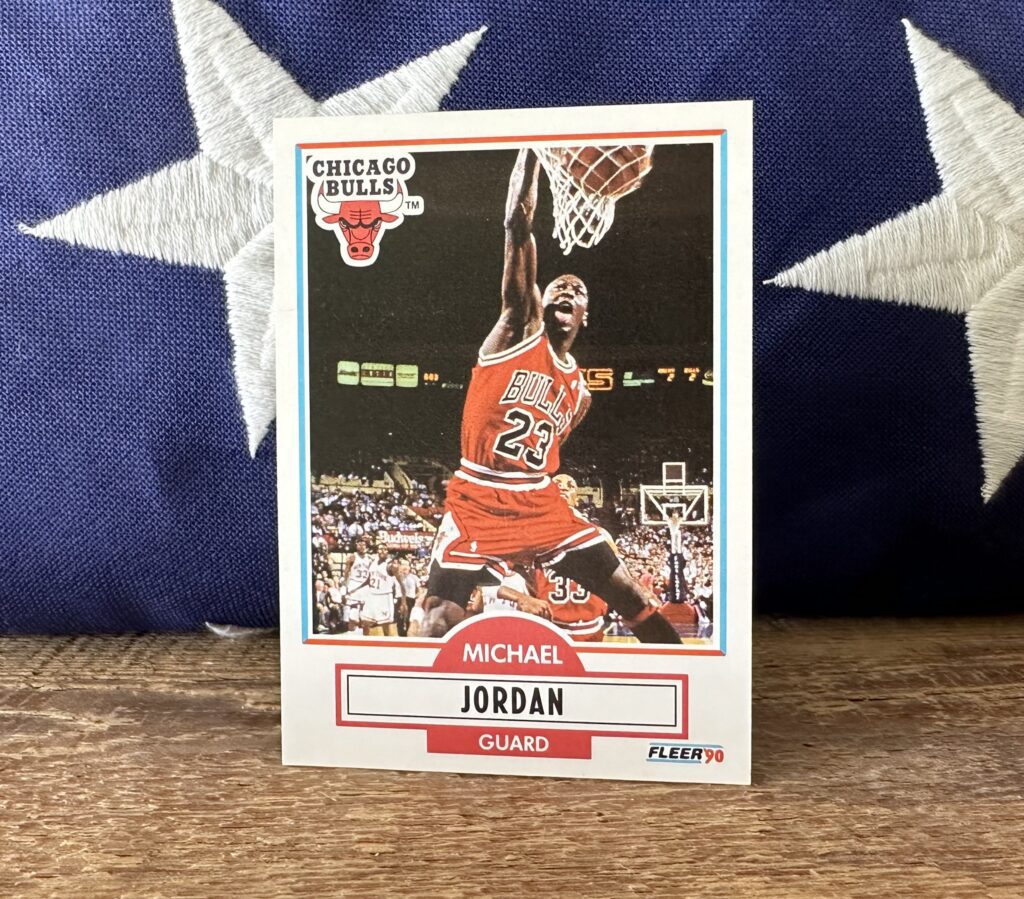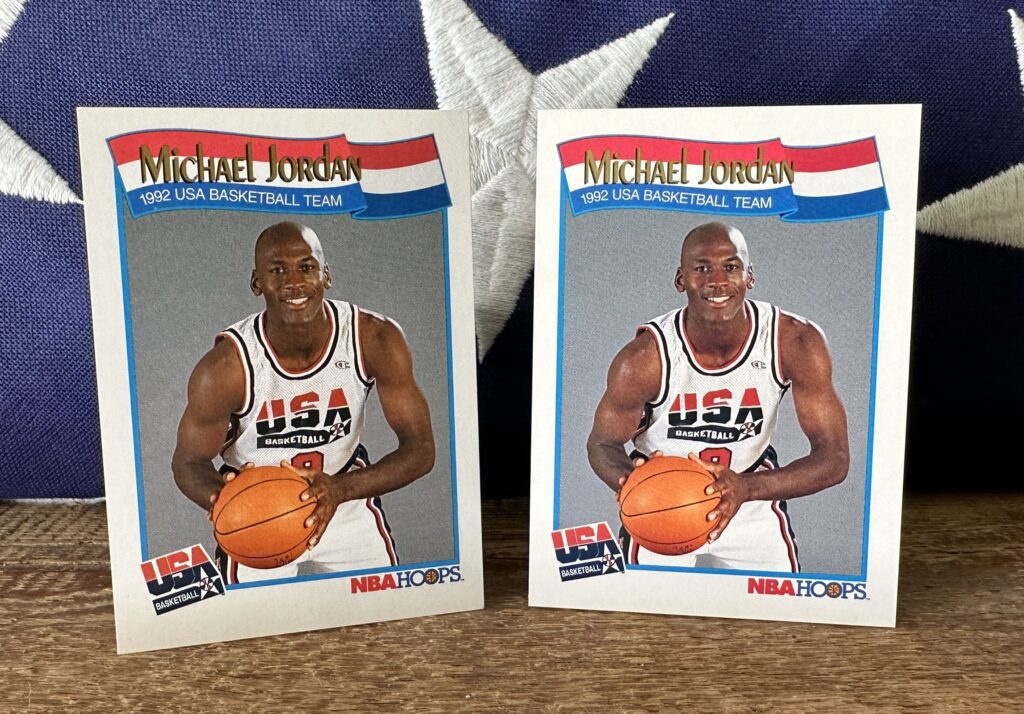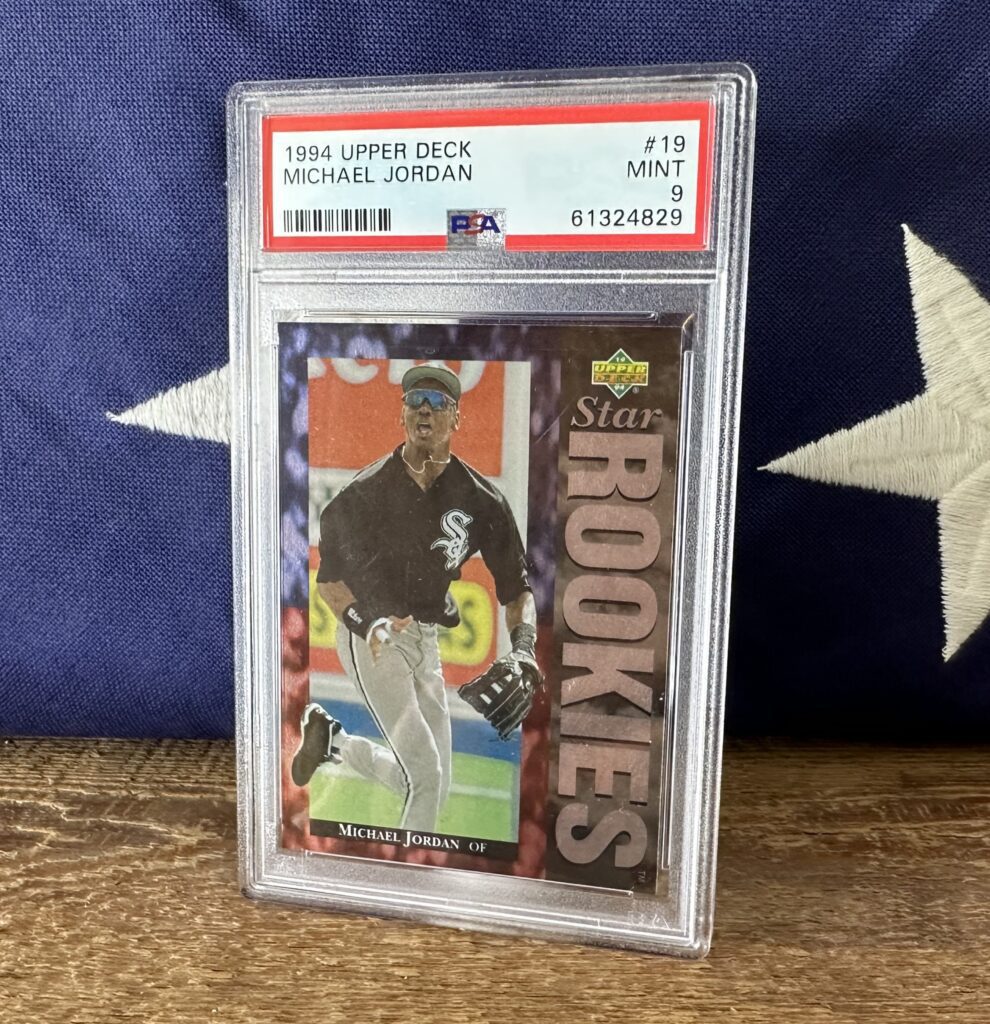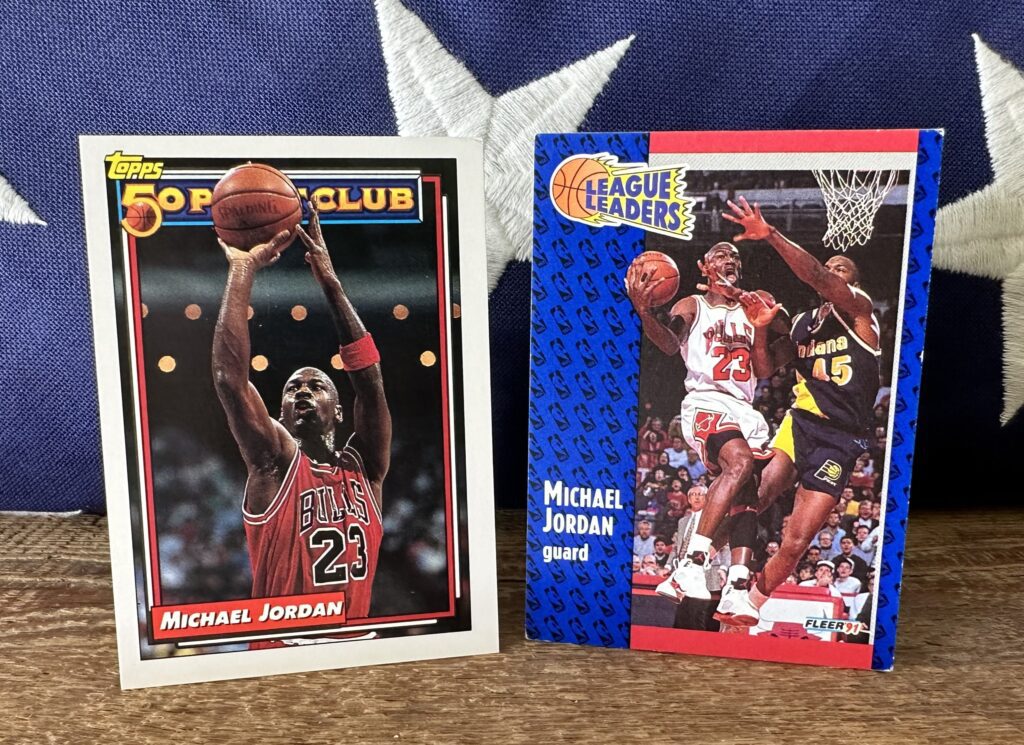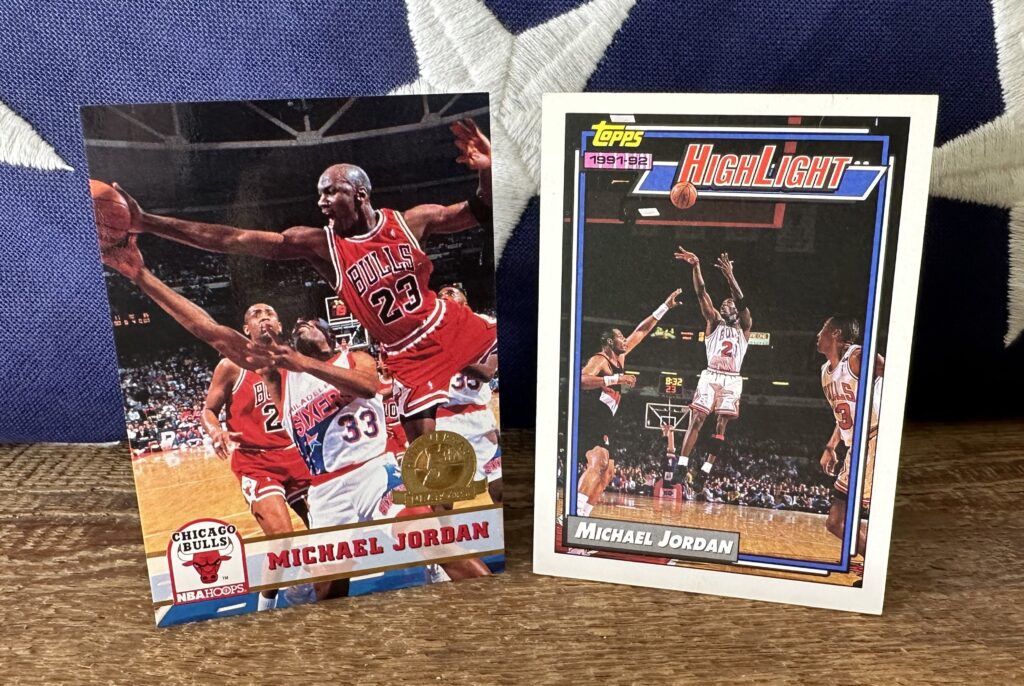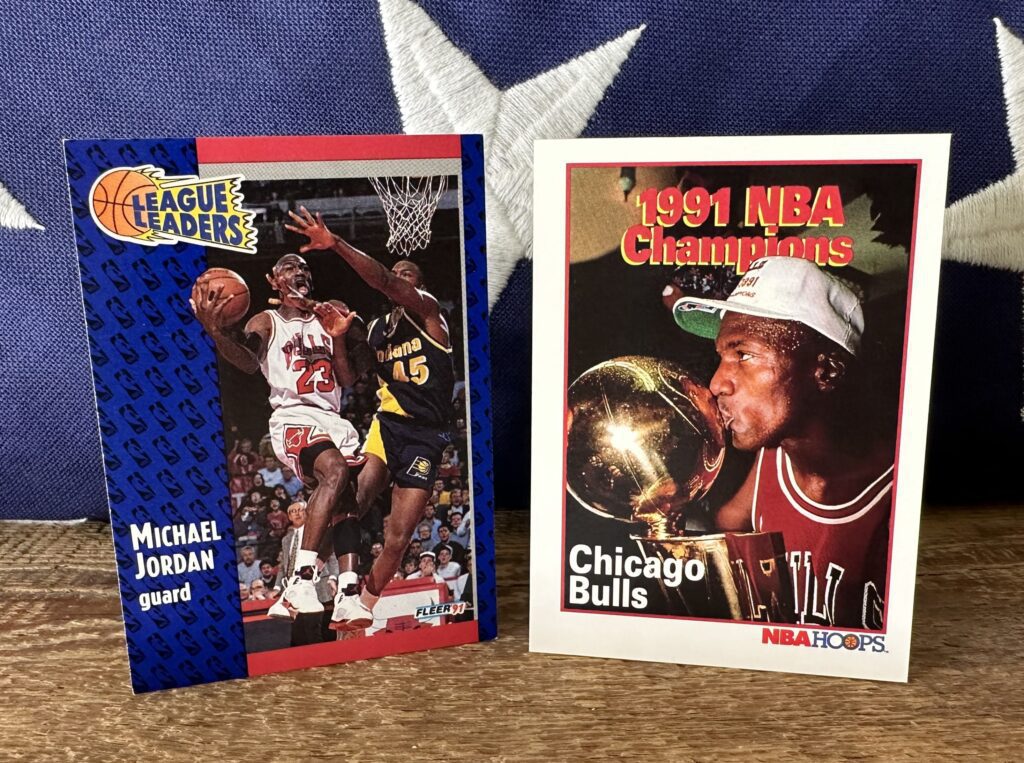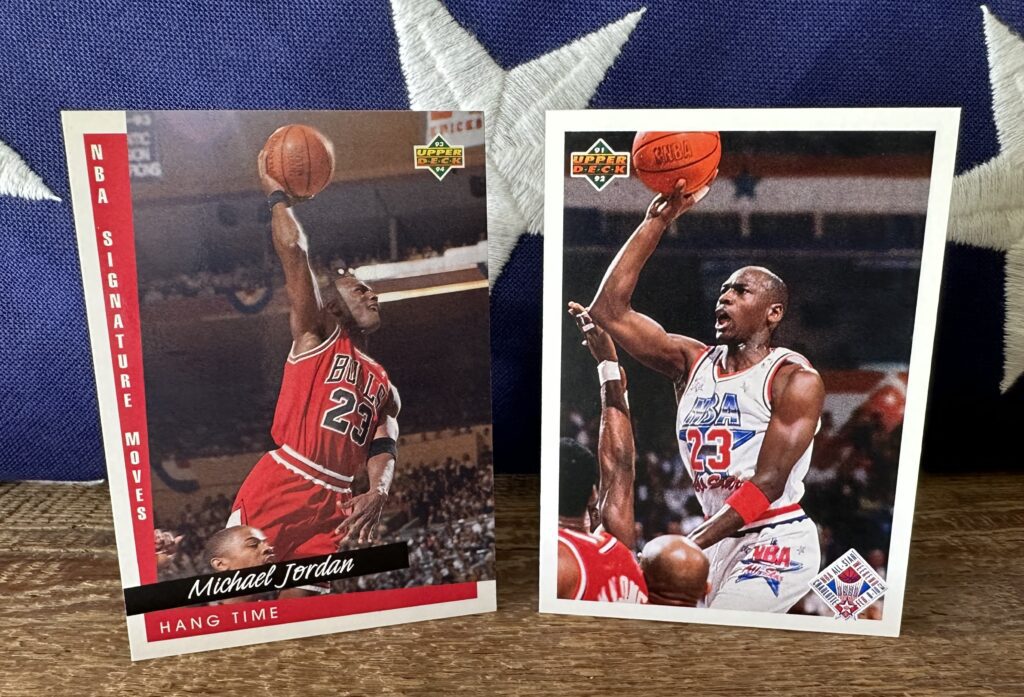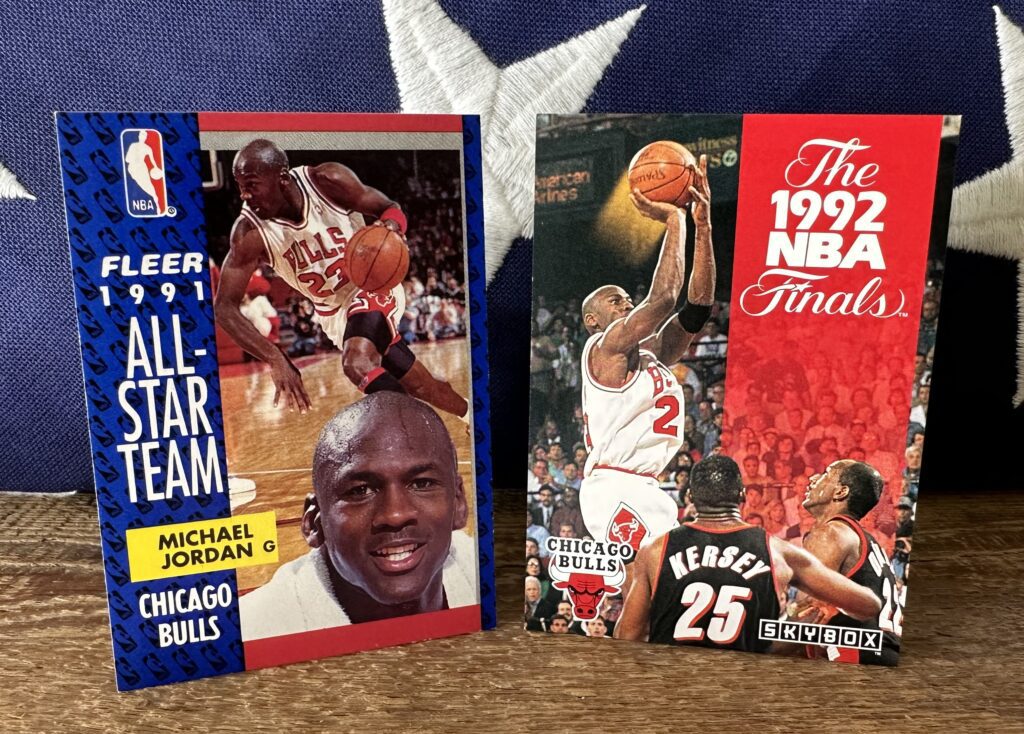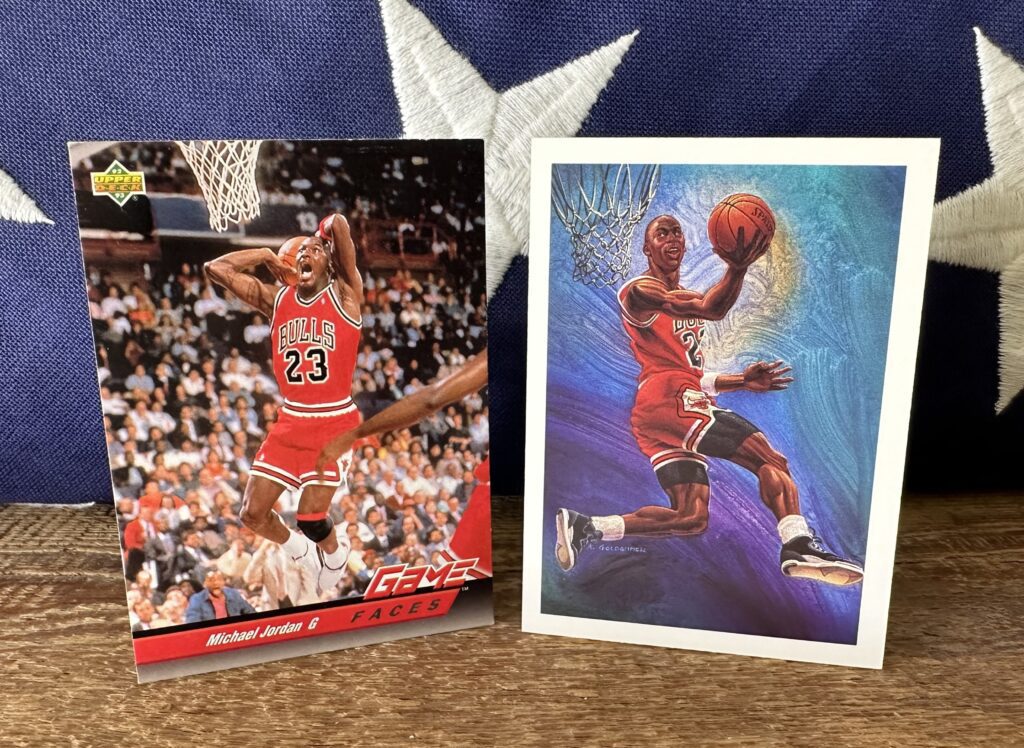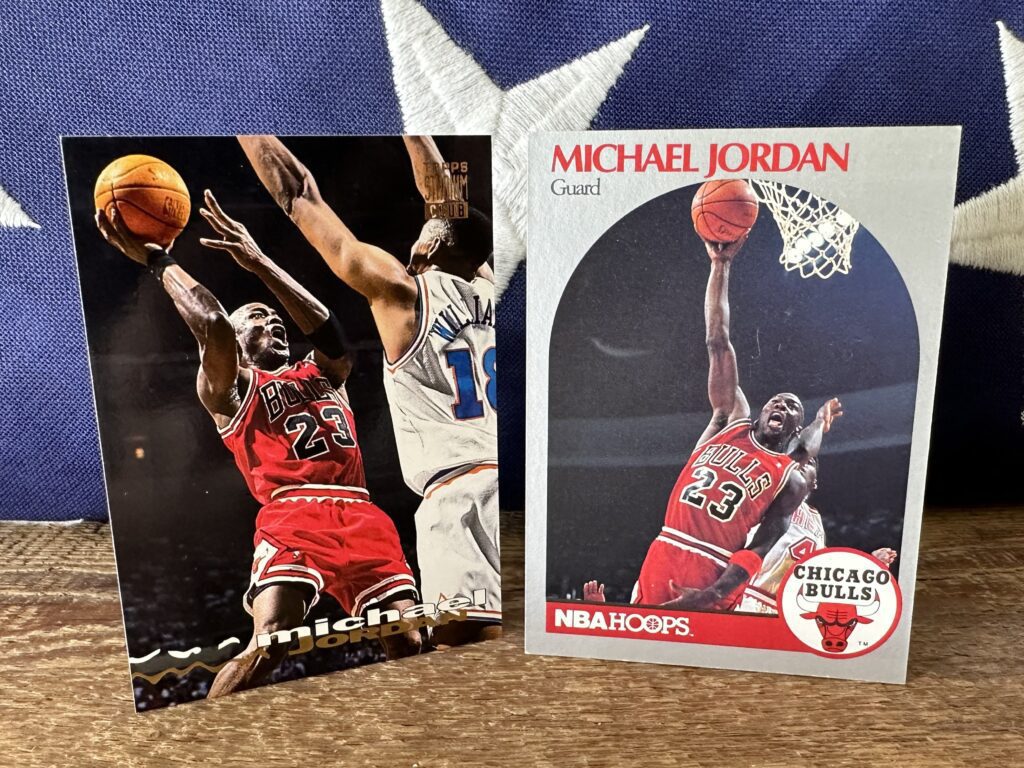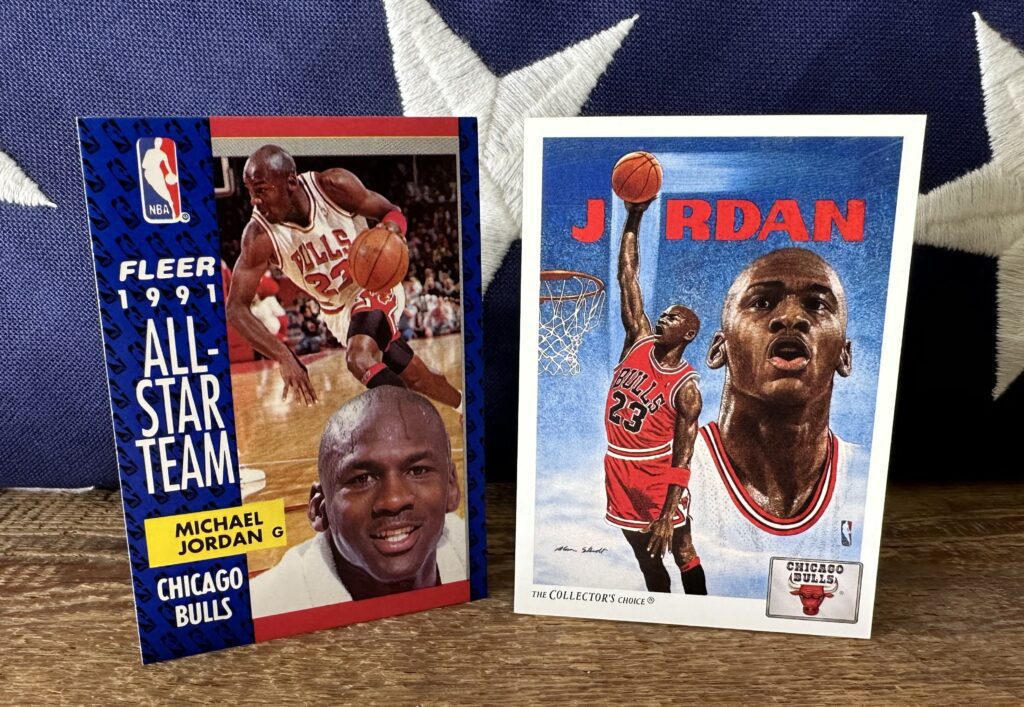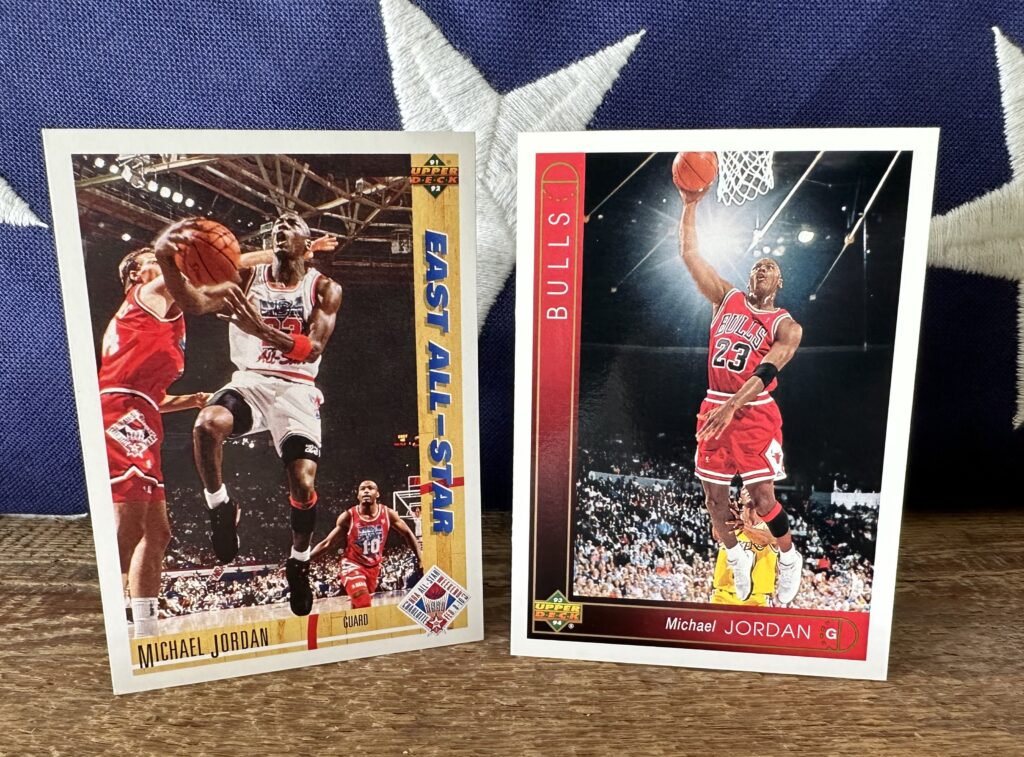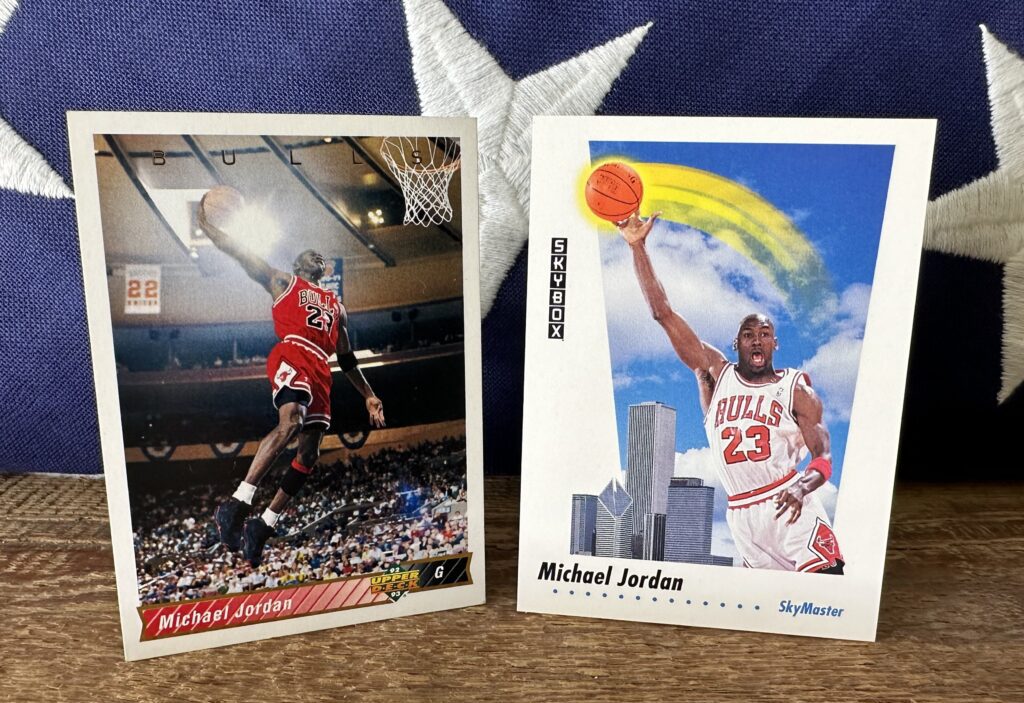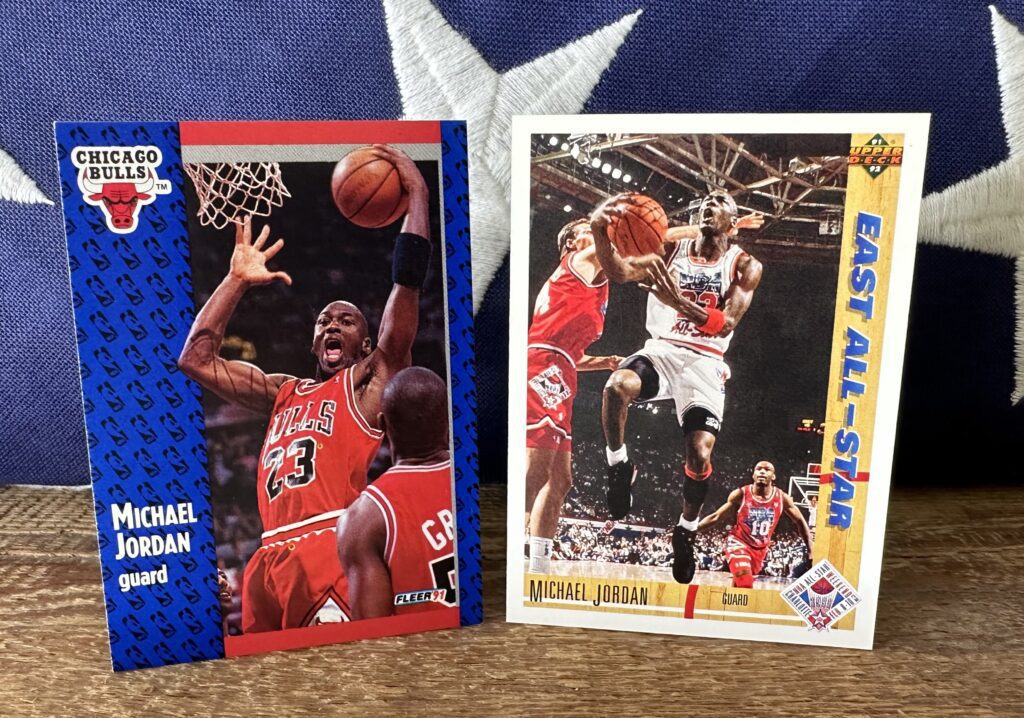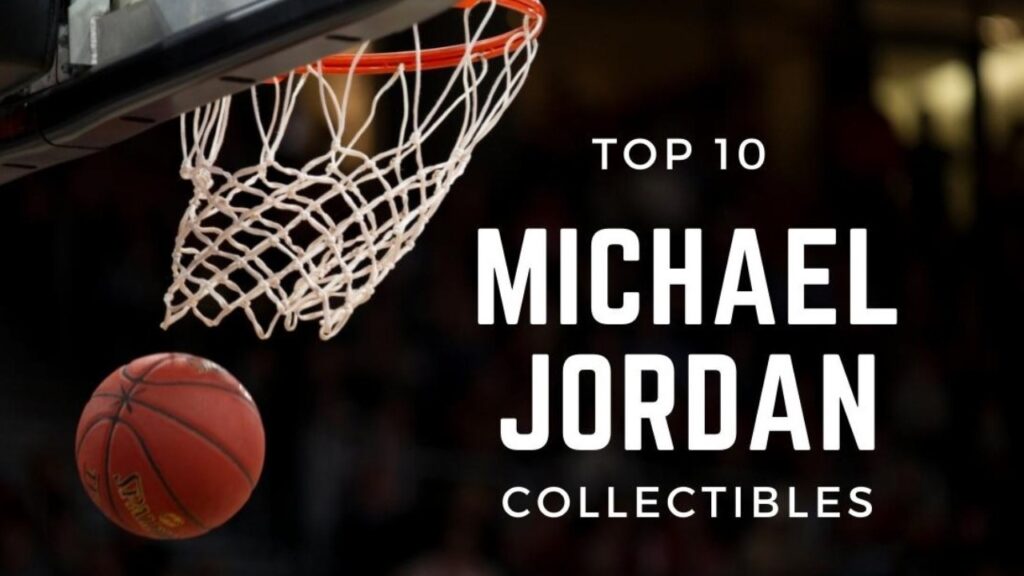 Card Collectors –> Looking to Sell Baseball Cards? Here's How (and Where) To Do It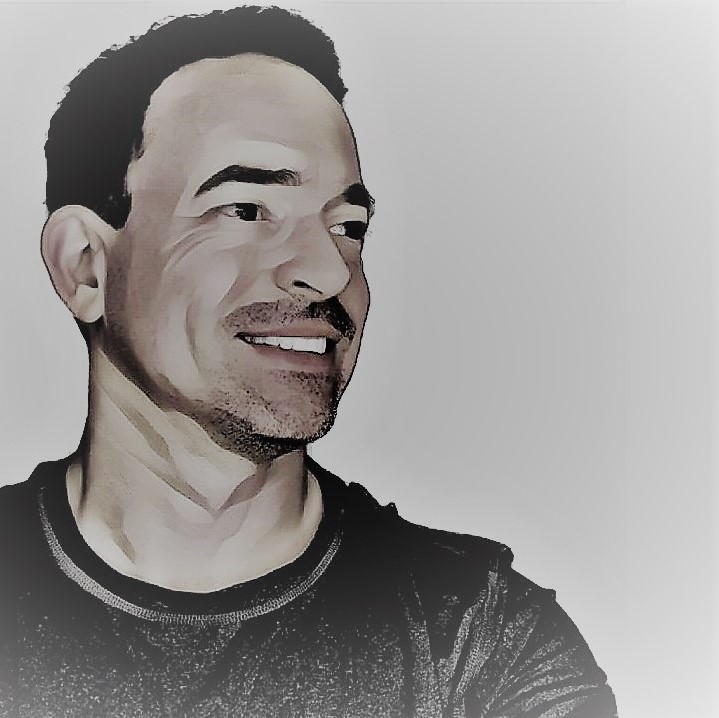 R.J. Bachman
Attic Capital – Writer, Editor, and Lifelong Collector
After many years of collecting rare coins, sports cards, and all types of collectibles, I began writing at Attic Capital to share my experience, knowledge, and passion.
I would love to connect with you, so don't hesitate to reach out and let me know more about your passion for collecting.