---
What's the attraction of Louisville Slugger Wood Bats? How did a woodworking shop in Louisville, Kentucky become one of the most iconic names in America's pastime over the last 135 years?
Some of the most expensive sports memorabilia to ever sell at auctions are game-used Louisville Slugger wood bats. The brand is synonymous with the game of baseball. So how did Louisville Slugger become so popular?
Louisville Slugger Wood Bats
If you do a Google Image search right now for any baseball Hall of Fame slugger who played over the last 100 years, all you will find are photos of him holding a Louisville Slugger. Sometimes they are holding three or four at a time!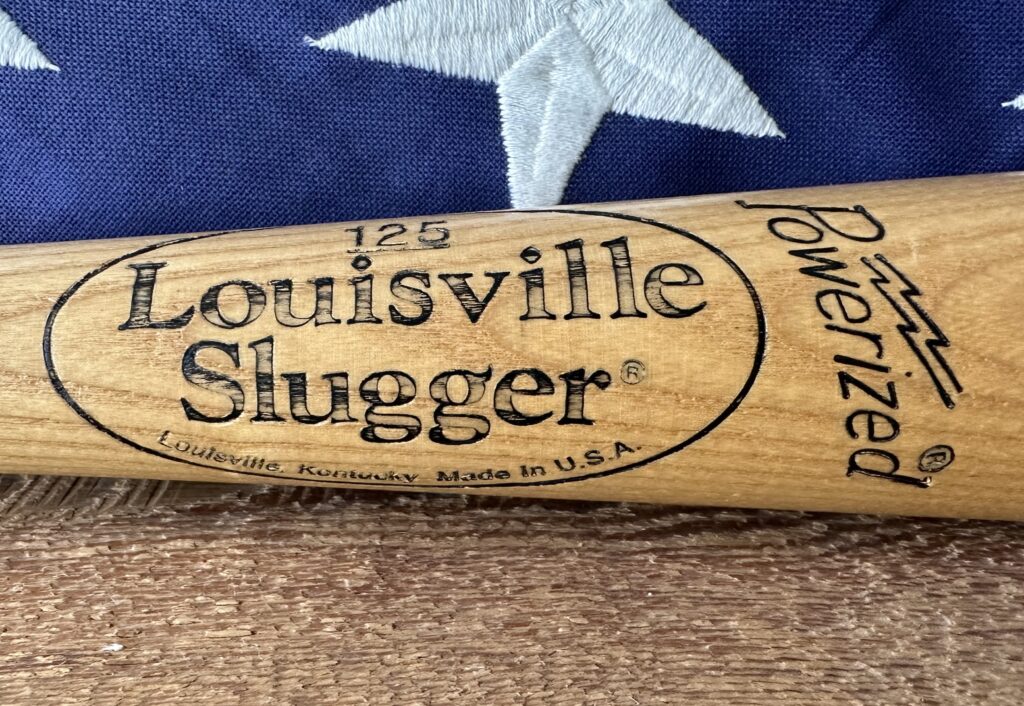 You ask any great baseball player how he wants to pose in a photograph, and you will see him first reach for a Louisville Slugger.
Louisville Slugger Wood Bats for Everyone
Starting from a tiny shop in Louisville, Kentucky, in 1855, J.F. Hillerich hired his son, John Hillerich, "Bud," to help with the family woodworking business.
As the story goes, seventeen-year-old Bud was a baseball player himself and would skip out of work in the afternoons to attend games of the Louisville Eclipse major league baseball team.
Pete "Louisville Slugger" Browning
The star of the Eclipse was Pete "Louisville Slugger" Browning, who was in a hitting slump and broke his bat.
Bud invited Pete Browning to his father's shop to craft a new bat to his liking, and the "Louisville Slugger" got three hits in the first game he used it. His teammates noticed, and followed Browning's lead.
The new bat venture was called "Falls City Slugger," and many other local ballplayers began using Bud's bats.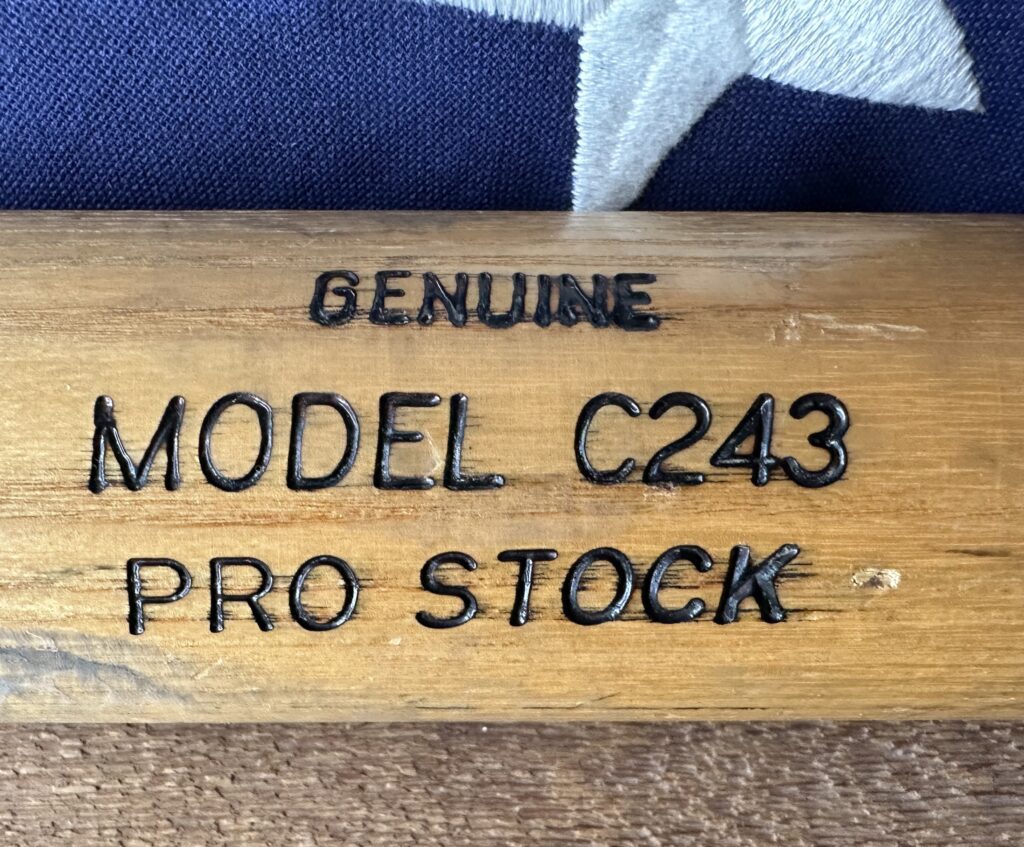 The Beginning of Louisville Slugger
Later, when Bud took over the family business in 1894, he would register the name "Louisville Slugger" with the US Patent Office, and the rest, as they say, is history.
A few years later, Bud would file U.S. Pat number 716,541 for his J.A. Hillerich Bat. His process struck a chord. The new business model of making a great baseball bat for sluggers across the country would catch on quickly.
Signing Honus Wagner
Amazingly, in 1905, Honus Wagner, who was one of the most prominent players of that time, was the first baseball player to sign a deal to endorse the bat officially.
Just 11 years of its existence as "Louisville Slugger," Bud had signed the best pro ballplayer in the country to an exclusive contract.
Other pro players and baseball stars would follow behind Honus "The Flying Dutchman" Wagner, signing exclusive contracts to only swing Louisville Slugger wood bats.
Bud would hire salesman Frank Bradsby to the company and offer him a partnership in 1916.
A Whole New Level of Bat Making
The company changed its name to "The Hillerich and Bradsby Co." and experienced enormous growth over the next ten years. Now, the Hillerich & Bradsby Co.
H&B would begin to pursue the legends of the game to be sure each one of them had a Hillerich & Bradsby Co. made bat in their hands.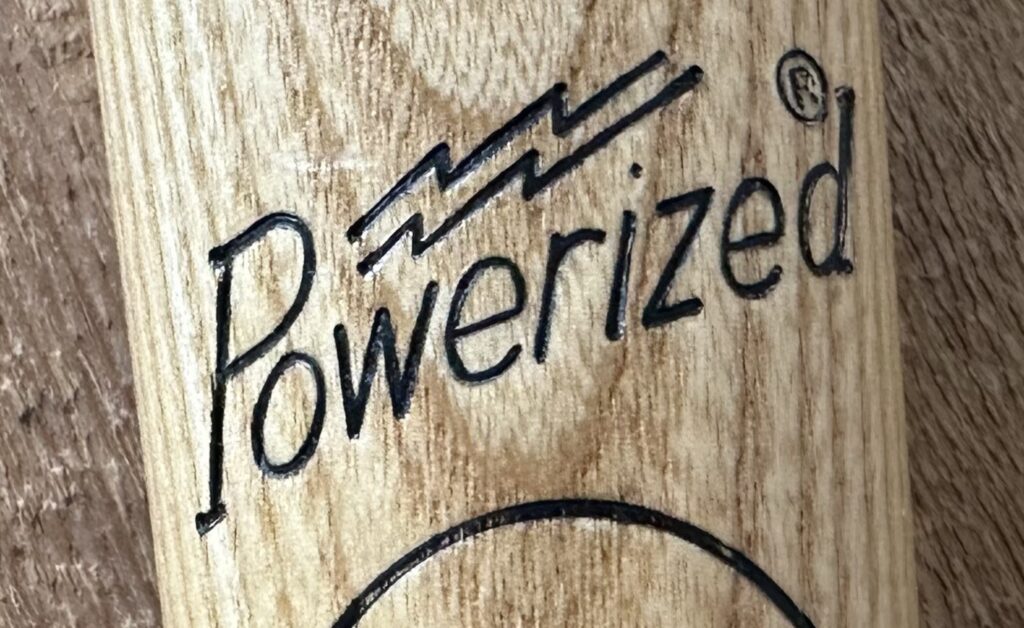 Hall of Fame Customers
By 1923, Hillerich and Bradsby Company was the largest seller of baseball bats in the country. The Louisville Slugger brand became synonymous with home run slugging, all-star players.
Baseball legends like Babe Ruth, Ty Cobb, and Lou Gehrig were all swinging Louisville Sluggers.
Throughout the rest of the 20th century, Louisville Slugger wood bats would become the bat of choice for Major League Players, and most other ballplayers throughout the United States.
Known as the best wood baseball bats, the brand grew beyond the U.S. and become a global brand. From a kid in little league to the most powerful slugger of all time, ballplayers around the world continue to reach for the Louisville Slugger.
From Bats to Golf Clubs
Big bat sales led to opportunities for brand expansion. The company began manufacturing golf clubs in 1916 under the PowerBilt golf brand.
The new stand-alone brand produced equally solid results. Louisville Slugger proved it's innovation and research abilities. Success quickly followed with the brand providing the golf clubs used by players winning the Masters Tournament in four different years.
Doing Its Part During The War
It's impossible to describe the amount of sacrifice made by Americans during World War II. Leading up to the war, most people preferred neutrality and hoped the European conflict would soon dissipate.
In 1940, President Roosevelt enacted the draft to increase the defense of the nation.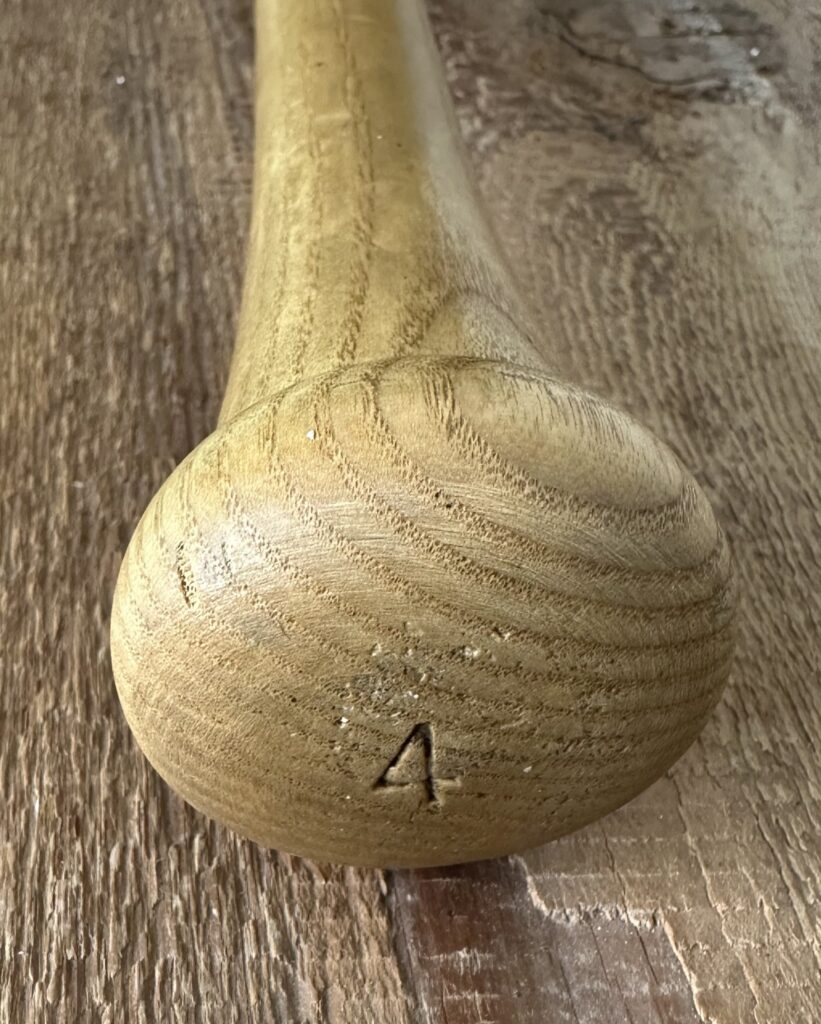 Professional baseball players were no exception. 1941 was a huge year for baseball. Ted Williams hit .406, and Joe DiMaggio had a hit in 56 straight games.
But after the 41′ season in early December, Pearl Harbor was hit by a surprise attack from Japan, and baseball, along with the rest of the country, rose to the challenge.
Stepping Up to the Plate for the War Effort
Immediately after the December 7th attack on Pearl Harbor, "Hammerin' Hank" Greenberg re-enlisted on December 9th.
It was clear that American manufacturing would need to support the war effort, and Louisville Slugger found a way to contribute.
Pitching In for America
From baseball bats to wood gunstocks for the M1 carbine rifle, the company quickly switched gears, and created products to support the incredible Armed Forces build-up.
It also produced track pins for tanks, billy clubs for troops, and even baseball and softball bats for troops during downtime baseball games.
Opportunities for Growth and Expansion
In 1954, Hillerich and Bradsby Co. decided to lock in their supply of hardwood for their manufacturing by purchasing Larimer and Norton, a Pennsylvania lumber company.
A smart move, guaranteeing not only the supply and availability of wood but ensuring the highest quality standards could continue to be served.
Constant Change for the Bat Brand
The brand navigated one hundred years of economic ups and downs. Changing technology, methods, and supply chains to deliver performance to ballplayers around the world.
And not only delivering performance, but maintaining the tradition, values, and strength of the brand name all the way through.
In 2015, Hillerich and Bradsby sold their wooden bat-making division to Wilson Sporting Goods Co. A decision CEO John A. Hillerich IV did not take lightly, but H&B shareholders eventually approved the deal.
The Same Great Louisville Slugger Name Lives On
As much as he wanted to keep the Louisville Slugger business in the family, he realized by partnering with Wilson; the company would have access to more financial resources to compete in the global marketplace.
Led by Wilson president Mike Dowse, the acquisition of Louisville Slugger has significantly boosted Wilson's baseball presence around the world.
From ash to birch bats to maple bats and MLB prime bats, there's a reason Louisville Slugger has been the official bat of Major League Baseball. The Louisville Slugger name lives on.
Wilson would be purchased by ANTA Sports, a Chinese sporting goods company, in 2019.
Louisville Slugger Model Numbers
You will recognize the two-digit number stamped on the knob on a Louisville Slugger baseball bat. But this is not the model number; it's simply the length of the bat in inches. Even aluminum bats have the same marking on the knob.
It's important information for ballplayers to see quickly as they grab their bat and head to the batter's box.
Louisville Slugger began printing model numbers on the knobs of pro ballplayer bats in 1943. They developed a system based on the first letter of the player's last name.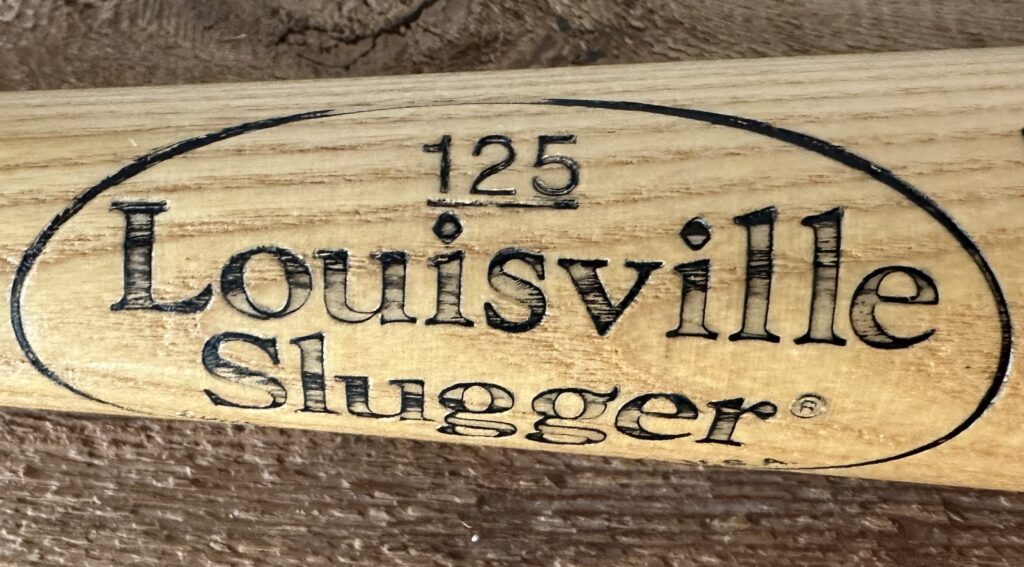 For example, Hank Aaron would have "A-99" for his model number. The "A" for Aaron and the "99" meant he was the 99th player with a name beginning with A to have a model from Louisville Slugger.
Most Popular Models of Louisville Slugger Wood Bats
MLB players had their own Louisville Slugger model number, but a common practice was to request a bat made popular by a different player.
Mickey Mantle used a version of the K-55 bat, which was actually a Chuck Klien model from 1929.
In 1954, Leslie Pinkham used his P72, and it became one of the most popular models over the next several decades.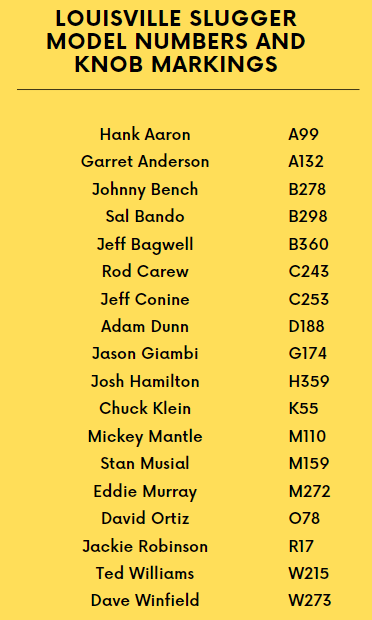 The Jeter 'DJ2' Louisville Slugger
Players such as Robin Yount, Cal Ripken Jr., and Derek Jeter all used the P72. The P72 was later renamed the DJ2 in honor of Jeter, the first time a bat model number had been retired.
Louisville Slugger moved the model number from the knob to the barrel in 1976. It also began stamping "Genuine" on bats made for professional players.
The store model bat would continue to have a stamped number on the knob, but this number was the length of the bat in inches. Pro player bats had no markings on the knob after 1976.
The Louisville Slugger Museum
There are some amazing private collections of historic, game-used, vintage Hillerich Louisville Slugger baseball bats. If you ever have the chance to tour the factory, I would highly recommend it.
The Louisville Slugger Museum on Main Street in downtown Louisville KY is one of the most amazing collections of baseball bats in the world.
But there are a few private collectors who have also amassed an astonishing display of baseball history.
---
Irresistible, and Worth a Fortune
The game-used bat segment of the memorabilia market has been especially active over the last five years. 16 of the 25 most expensive baseball bats to ever sell at auction have traded hands in this time period.
Over the last decade, game-used Louisville Slugger wood bats have sold for hundreds of thousands of dollars.
A recent transaction saw a Babe Ruth game-used bat sell for $930,000. The same bat was sold in 2005 for $220,000, showing the strength of the game-used memorabilia market we are currently experiencing.
Most Valuable Louisville Slugger Wood Bats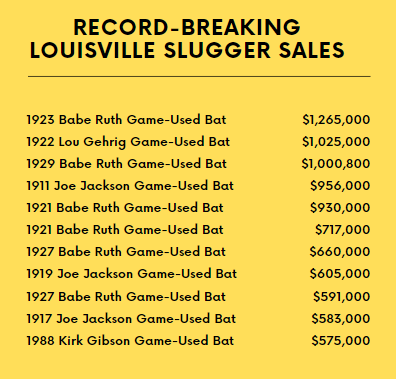 Another sale of a Babe Ruth game-used Louisville Slugger sold for $717,000 in 2015. That same lumber slab brought in $462,000 in 2006 during an auction, a nice return on investment over those nine years.
And if the same bat would be offered today, it would surely crush the 2015 sale price.
The Most Valuable Louisville Slugger of All-Time
The most valuable baseball bat of all time was sold in 2004 for $1,265,000 at Sotheby's auction house.
This was the bat Babe Ruth used in the opening game of the 1923 season and the very first game ever played at the new Yankee Stadium. If that same bat was to hit the market today, it's estimated to sell for $10 million or more.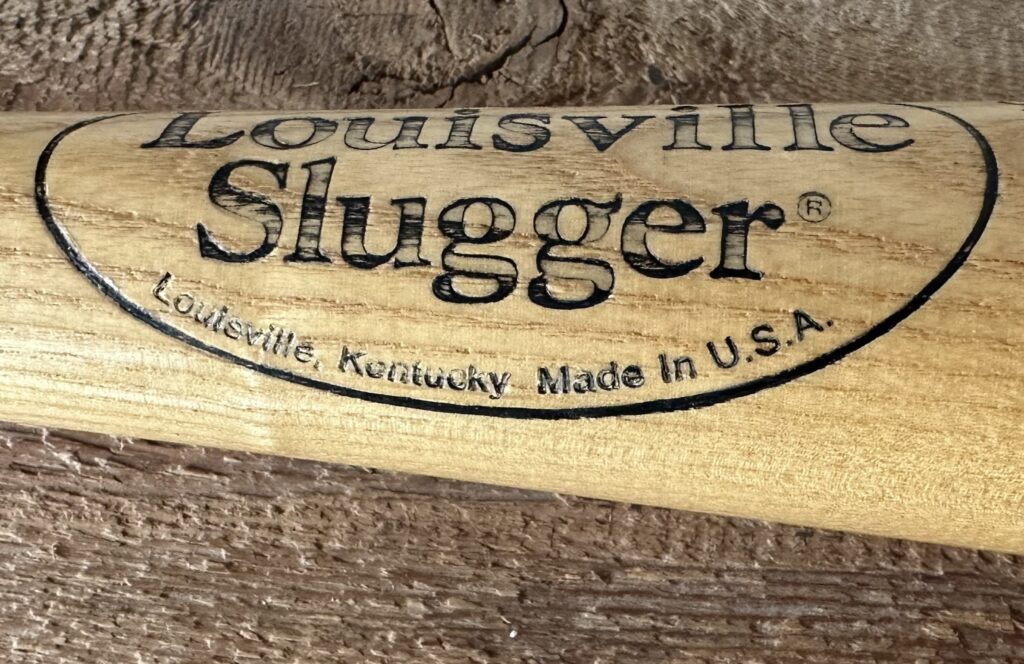 ---
The Bats of Lou Gehrig, The Iron Horse
Babe Ruth has a handful of game-used Louisville Slugger bats worth millions. In fact, 6 of the top 10 most expensive game-used bats to ever sell were Babe Ruth bats.
But Lou Gehrig and Mickey Mantle also have a few bats that collectors have paid incredible prices for over the years.
Recently, one of the earliest Lou Gehrig game-used Louisville Slugger bats to exist sold at a Heritage auction for $1,025,000. It was a bat that dates back to his days before becoming a Yankee great alongside the Babe.
The 40 Ounce Gehrig Bat
The bat has "40 oz., Lou Gehrig, 4-22-25." inscribed along the side, straight from the Hillerich & Bradsby Lousiville Slugger factory.
There's also a block letter, "GEHRIG." stamped on the barrel of the bat. The Hillerich & Bradsby bat company did this for players who were not signed to an exclusive contract to use their bats yet.
Gehrig used this particular bat while he played ball at Columbia University and on to the Harford Senators, and then eventually getting called up to the major leagues with the New York Yankees.
Gehrig Stamp of Approval
The date stamped on the side of the bat, 4-22-25, represents the day that Hillerich & Bradsby received the bat back from Gehrig. It was the day the young slugger's satisfactory stamp of approval gave the "ok" to produce many more Louisville Slugger wood bats just like it.
Lou would then be under contract and have his signature stamped on the bat barrel.
It's truly a remarkable piece of history and the first bat, which would act as a key – to unlock the hundreds of Louisville Slugger Lou Gehrig bats that would follow.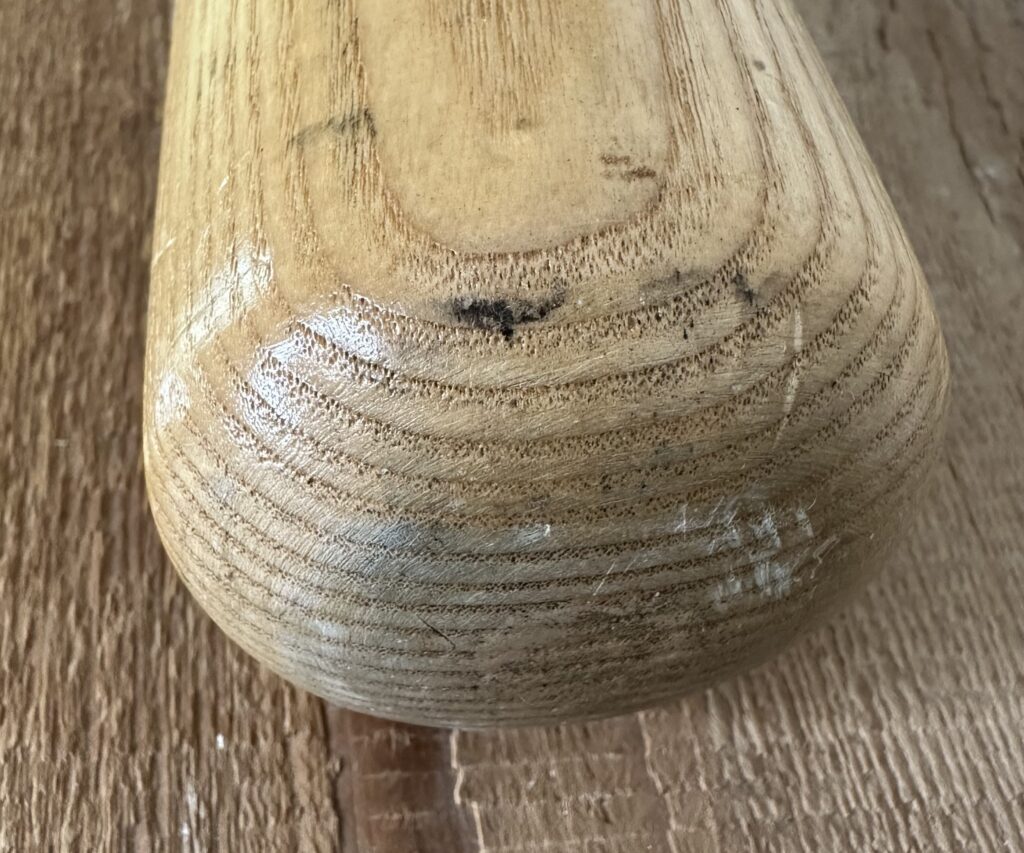 The Bats of Mickey Mantle, The Commerce Comet
Possibly the most exciting athlete to ever play the game, Mickey Mantle has a few game-used bats that have recently sold for hundreds of thousands of dollars.
The Commerce Comet's game-used Louisville Slugger from 1956 sold at an auction for $430,000. Another 1956 game-used bat by The Mick sold for $384,000.
The Very First Mickey Mantle Louisville Slugger
There's also a 1950 Mickey Mantle Louisville Slugger game-used bat made by Hillerich & Bradsby believed to be the first bat ordered by the young slugger when he was only 18.
As soon as Mantle arrived in New York to report to the Yankees, this is believed to be the first bat The Mick reached for during his debut in 1951.
The bat was sold at SCP Auctions in 2015 for $242,000. One can only guess as to the price it would fetch if offered today.
Do You Want In The Game? Rally Has You Covered
You might be thinking you missed the boat. Maybe you believe that you will never own such an incredible piece of baseball history.
With prices in the hundreds of thousands of dollars for the most valuable game-used bats, prices show no signs of cooling off any time soon.
You may be feeling like the ship has sailed on dreams of owning a game-used Mickey Mantle Louisville Slugger. Well, I'm here to tell you there's a new way to own a piece of baseball history.
Louisville Slugger Wood Bats by Rally
Fractional ownership and investment platform Rally has been offering game-used bats, where you can purchase individual shares in some of the most amazing pieces of baseball memorabilia in the world.
So far, Rally has offered a 1924 Babe Ruth bat valued at $330,000 and a 1968 Willie Mays bat valued at $39,000. They will soon have a 1959 Roberto Clemente vintage bat valued at $70,000 and a 1962 Mickey Mantle bat valued at $150,000.
---
Nobody Can Resist Louisville Slugger Wood Bats
I've been doing a psychology experiment over the last decade or so at my work office. My extensive decade-long study concludes that nobody can resist picking up and holding a Louisville Slugger wood baseball bat. Inside my office doorway, leaning on the door trim, sat a Louisville Slugger wood bat.
A friend I grew up with gave it to me when he played in the minor leagues – back in the day. The double-A minor league level was as far as he made it toward his dream of the big leagues.
Every Louisville Slugger Tells a Story
But once he received the news he was being released by his team; he was sure to grab his Louisville Slugger wood bats out of his locker and drive them back to his hometown, where he would give one to me. Louisville Sluggers are not to be left behind, even when your dreams are crushed.
A few years later, I was able to get a job with my own private office. After a couple of days of getting settled in at my new company, I brought the bat – something to talk about, I guess, when the chit-chat was running dry.
It leaned up against the inside of the trim on my office door, waiting for someone to grab it. And guess what happened?
The Irresistible Louisville Slugger Wood Bats
Almost every single person who would walk through my office doorway over the next ten years would pick up that Louisville Slugger bat. It was astounding. Just walking down the hallway past my office would cause people to veer off, directly into my office, because they caught a glimpse of the bat leaning inside my doorway.
It became one of the best conversation pieces I could have ever come up with, especially when I was a new employee and just getting to know the rest of the office staff. And it wasn't only the ex-ballplayers who dreamt of playing in the Big Leagues who would pick up that Louisville; it was all sizes, makes, and models of people.
Tall, wide, short. Any nationality, creed, religion, gender, or ethnicity. They all did the same thing. Didn't matter. Folks who might have been holding a piece of sporting equipment for the very first time in their life would grab that bat and do their best impersonation of a "Slugger" they once saw on T.V.
Greatness of Louisville Slugger Wood Bats
If you've never held a Louisville Slugger wood baseball bat, then you've never walked past one.
Because if you had, you definitely would have snatched up that bat and taken a few quick "cuts" before setting it back down with a grin and continuing on your way.
---