---
What's the attraction of Louisville Slugger Wood Bats? How did a woodworking shop in Louisville, Kentucky become one of the most iconic names in America's pastime over the last 135 years? Some of the most expensive sports memorabilia to ever sell at auctions are game-used Louisville Slugger wood bats. If you do a Google Image search right now for any baseball Hall of Fame slugger who played over the last 100 years, all you will find are photos of him holding a Louisville Slugger. Sometimes they are holding three or four at a time! You ask a great baseball player how he wants to pose in a photograph, and you will see him first reach for a Louisville Slugger.
Louisville Slugger Wood Bats for Everyone
Starting from a tiny shop in Louisville, Kentucky, in 1855, J.F. Hillerich hired his son, Bud, to help with the family business. As the story goes, seventeen-year-old Bud was a baseball player himself and would skip out of work in the afternoons to attend games of the Louisville Eclipse major league baseball team. The star of the Eclipse was Pete "Louisville Slugger" Browning, who was in a hitting slump and broke his bat.
Bud invited Browing to his father's shop to craft a new bat to his liking, and the "Louisville Slugger" got three hits in the first game he used it. The new bat venture was called "Falls City Slugger," and many other local ballplayers began using Bud's bats. Later, when Bud took over his father's company in 1894, he would register the name "Louisville Slugger with the US Patent Office, and the rest, as they say, is history.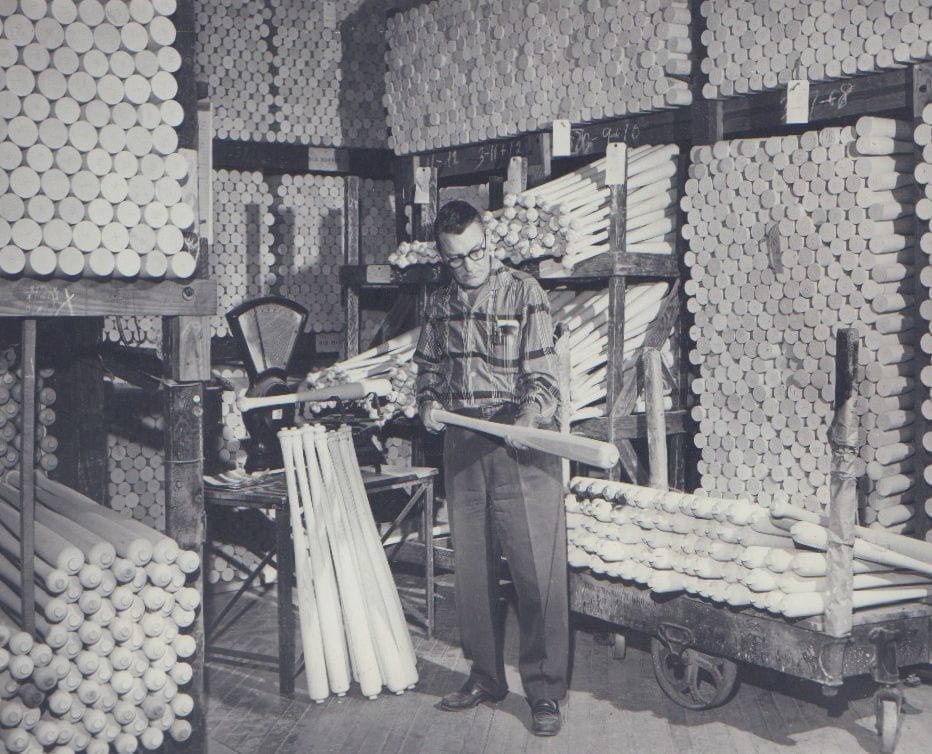 Amazingly, in 1905, Honus Wagner, who was one of the most prominent players of that time, was the first baseball player to sign a deal to endorse the bat officially. Other baseball stars would follow behind Wagner, using only Louisville Slugger bats. Bud would hire salesman Frank Bradsby to the company and offer him a partnership in 1916. The company changed its name to "The Hillerich and Bradsby Co." and experienced enormous growth over the next ten years.
By 1923, Hillerich and Bradsby Co. was the largest seller of baseball bats in the country. Baseball legends like Babe Ruth, Ty Cobb, and Lou Gehrig were all swinging Louisville Sluggers. Throughout the rest of the 20th century, Louisville Slugger would become the bat of choice for most ballplayers, whether in little league or the big leagues.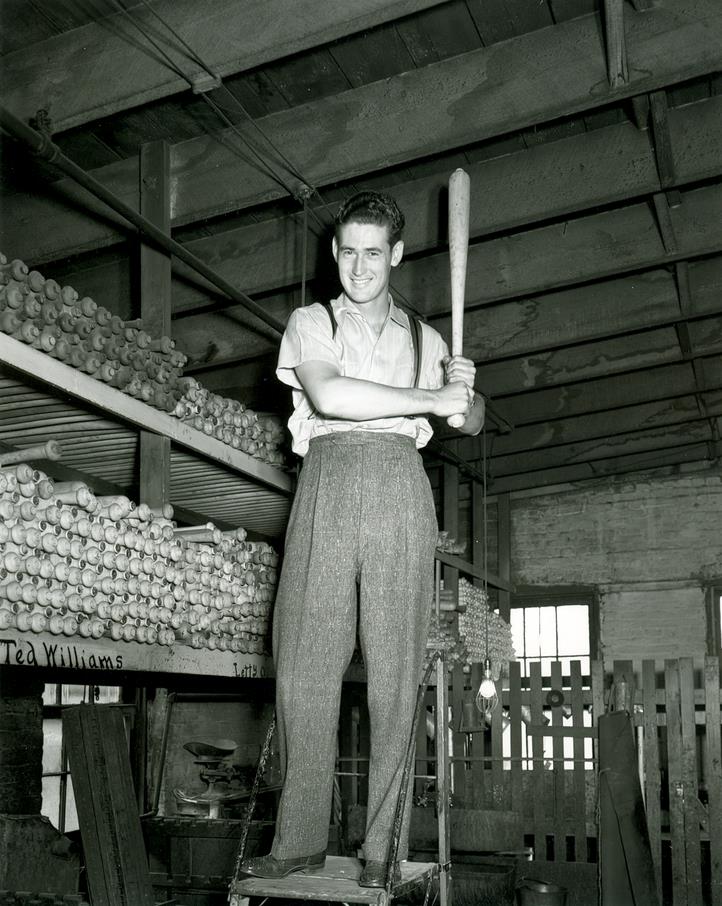 Nobody Can Resist a Louisville Slugger Wood Bat – I Know This for a Fact
I've been doing a psychology experiment over the last decade or so at my work office. My extensive decade-long study concludes that nobody can resist picking up and holding a Louisville Slugger wood baseball bat. Inside my office doorway, leaning on the door trim, sat a Louisville Slugger wood bat. A friend I grew up with gave it to me when he played in the minor leagues – back in the day. The double-A minor league level was as far as he made it toward his dream of the big leagues. But once he received the news he was being released by his team; he was sure to grab his Louisville Slugger wood bats out of his locker and drive them back to his hometown, where he would give one to me. Louisville Sluggers are not to be left behind, even when your dreams are crushed.
A few years later, I was able to get a job with my own private office. After a couple of days of getting settled in at my new company, I brought the bat – something to talk about, I guess, when the chit-chat was running dry. It leaned up against the inside of the trim on my office door, waiting for someone to grab it. And guess what happened. Almost every single person who would walk through my office doorway over the next ten years would pick up that Louisville Slugger bat. It was astounding. Just walking down the hallway past my office would cause people to veer-off, directly into my office, because they caught a glimpse of the bat leaning inside my doorway.
It became one of the best conversation pieces I could have ever come up with, especially when I was a new employee and just getting to know the rest of the office staff. And it wasn't only the ex-ballplayers who dreamt of playing in the Big Leagues who would pick up that Louisville; it was all sizes, makes, and models of people. Tall, wide, short. Any nationality, creed, religion, gender, or ethnicity. They all did the same thing. Didn't matter. Folks who might have been holding a piece of sporting equipment for the very first time in their life would grab that bat and do their best impersonation of a "Slugger" they once saw on T.V.
If you've never held a Louisville Slugger wood baseball bat, then you've never walked past one. Because if you had, you definitely would have snatched up that bat and took a few quick "cuts" before setting it back down with a grin and continued on your way. I know this because I've seen the indisputable evidence.
Irresistible, and Worth a Fortune
The game-used bat segment of the memorabilia market has been especially active over the last five years. 16 of the 25 most expensive baseball bats to ever sell at auction have traded hands in this time period.
Over the last decade, game-used Louisville Slugger wood bats have sold for hundreds of thousands of dollars. A recent transaction saw a Babe Ruth game-used bat sell for $930,000. The same bat was sold in 2005 for $220,000, showing the strength of the game-used memorabilia market we are currently experiencing.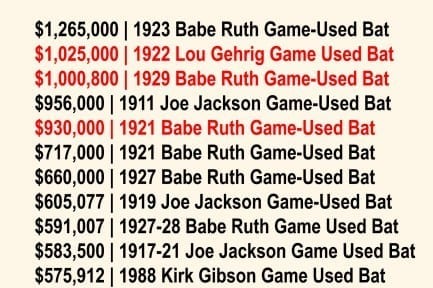 Another sale of a Babe Ruth game-used Louisville Slugger sold for $717,000 in 2015. That same lumber slab brought in $462,000 in 2006 during an auction, a nice return on investment over those nine years. And if the same bat would be offered today, it would surely crush the 2015 sale price.
The most valuable baseball bat of all time was sold in 2004 for $1,265,000 at a Sotheby's auction. This was the bat Babe Ruth used in the opening game of the 1923 season, and the very first game ever played at the new Yankee Stadium. If that same bat was to hit the market today, it's estimated to sell for $10 million or more.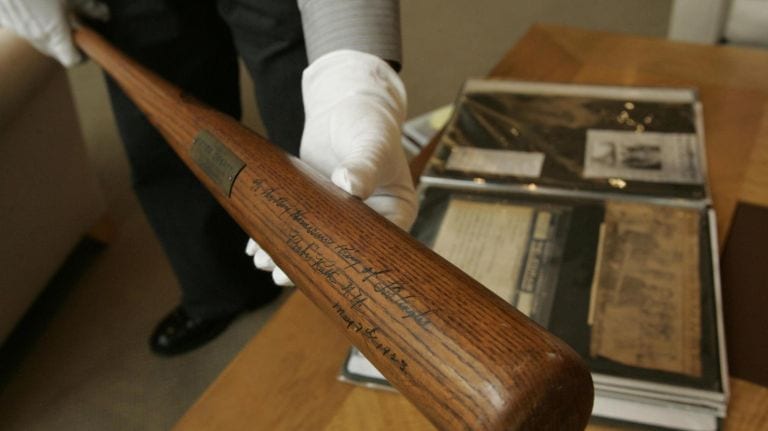 Lou Gehrig, The Iron Horse
Babe Ruth has a handful of game-used Louisville Slugger bats worth millions. In fact, 6 of the top 10 most expensive game-used bats to ever sell were Babe Ruth bats. But Lou Gehrig and Mickey Mantle also have a few bats that collectors have paid incredible prices for over the years.
Recently, one of the earliest Lou Gehrig game-used Louisville Slugger bats to exist sold at a Heritage auction for $1,025,000. It was a bat that dates back to his days before becoming a Yankee great alongside the Babe. The bat has "40 oz., Lou Gehrig, 4-22-25." inscribed along the side, straight from the Hillerich & Bradsby Lousiville Slugger factory. There's also a block letter, "GEHRIG." stamped on the barrel of the bat. The Hillerich & Bradsby bat company did this for players who were not signed to an exclusive contract to use their bats yet.
Gehrig used this particular bat while he played ball at Columbia University and on to the Harford Senators, and then eventually getting called up to the major leagues with the New York Yankees. The date stamped on the side of the bat, 4-22-25, represents the day that Hillerich & Bradsby received the bat back from Gehrig with the young slugger's satisfactory stamp of approval giving the "ok" to produce many more Louisville Sluggers just like it.
Lou would then be under contract and have his signature stamped on the bat barrel. It's truly a remarkable piece of history and the first bat, which would act as a key – to unlock the hundreds of Louisville Slugger Lou Gehrig bats that would follow.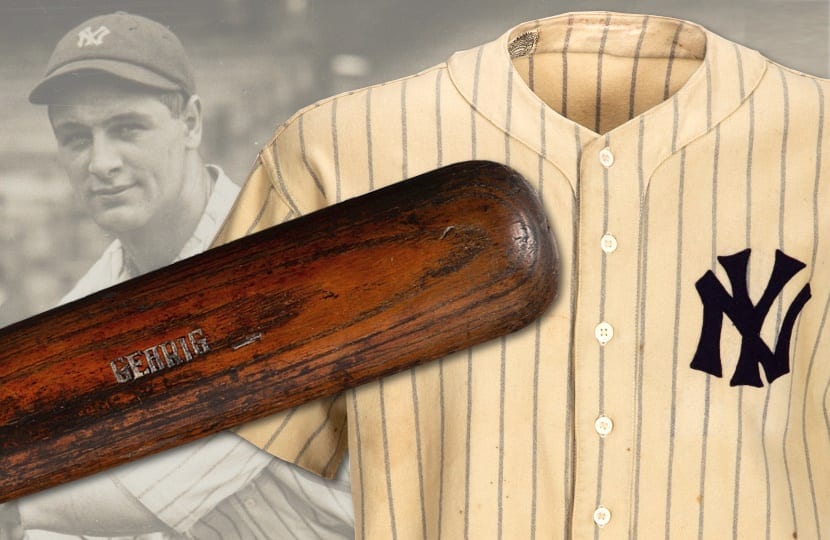 Mickey Mantle, The Commerce Comet
One of the most exciting players to ever play the game, Mickey Mantle has a few game-used bats that have recently sold for hundreds of thousands of dollars. The Commerce Comet's game-used Louisville Slugger from 1956 sold at an auction for $430,000. Another 1956 game-used bat by The Mick sold for $384,000.
There's also a 1950 Mickey Mantle Louisville Slugger game-used bat made by Hillerich & Bradsby believed to be the first bat ordered by the young slugger when he was only 18. As soon as Mantle arrived in New York to report to the Yankees, this is believed to be the first bat The Mick reached for during his debut in 1951. The bat sold at SCP Auctions in 2015 for $242,000. One can only guess as to the price it would fetch if offered today.
Do You Want In? Rally Has You Covered
You might be thinking you missed the boat. Maybe you believe that you will never own such an incredible piece of baseball history. With prices in the hundreds of thousands of dollars for the most valuable game-used bats, and prices showing no signs of cooling off any time soon, you may be feeling like the ship has sailed on dreams of owning a game-used Mickey Mantle Louisville Slugger. Well, I'm here to tell you there's a new way to own a piece of baseball history.
Fractional ownership and investment platform Rally has been offering game-used bats, where you can purchase individual shares in some of the most amazing pieces of baseball memorabilia in the world. So far, Rally has offered a 1924 Babe Ruth bat valued at $330,000 and a 1968 Willie Mays bat valued at $39,000. They will soon have a 1959 Roberto Clemente bat valued at $70,000 and a 1962 Mickey Mantle bat valued at $150,000.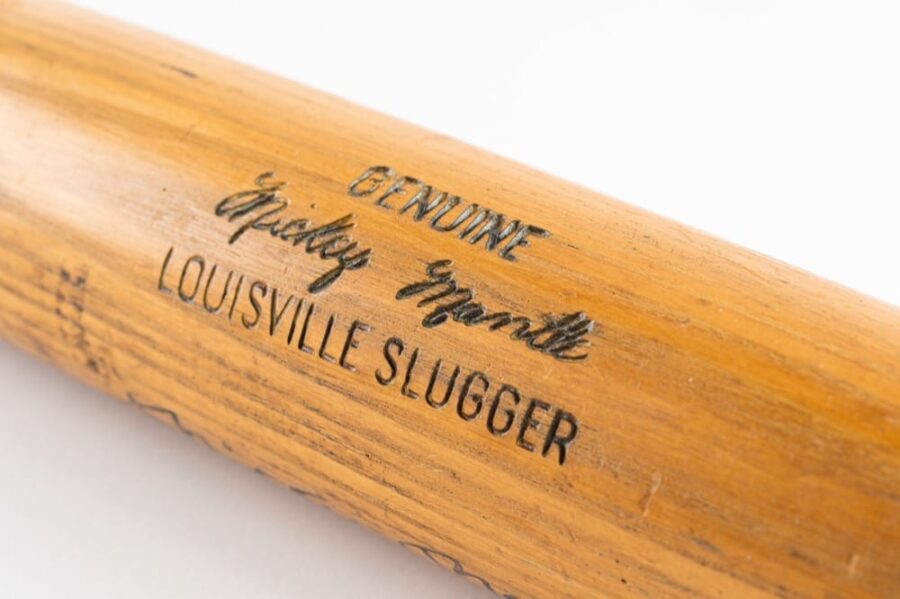 ---