---
A Cal Ripken Jr rookie card will take you back to a time when hard work and perseverance paid off. By applying his craft, day in and day out, over several decades, Cal Ripken Jr. rose to iconic status as a baseball legend.
Cal Riken Jr. rookie cards have climbed in value over the decades. Let's take a look at why the worth of these amazing cards continues to rise.
Cal Ripken Jr. Rookie Cards Value – Old School
He's a throwback player from the old school where you never complained and never quit – You just played.
His unbreakable record of most games played in a row give him elite status among the games best.
His grit and determination earned him the coolest nickname in all of baseball – The Iron Man- and he has lived up to it.
We'll be paying tribute to this legend by looking at the equally legendary Cal Ripken Jr. rookie card, one of the most iconic sets of cards in the baseball card world.
Cal Ripken Jr. Rookie Card
Cal Ripken Jr. baseball cards are extremely popular and are among the most iconic cards in the collecting world.
Rare mint condition Ripken cards can be pretty valuable and, therefore significant investments, but of all his cards, the Cal Ripken Jr. rookie cards are the most valuable.
When it comes to old-school vintage baseball card collecting, most players have only one rookie card because Topps was the only major company printing cards in the 1970s.
But the 1980s saw new card producers and a growing interest in collecting.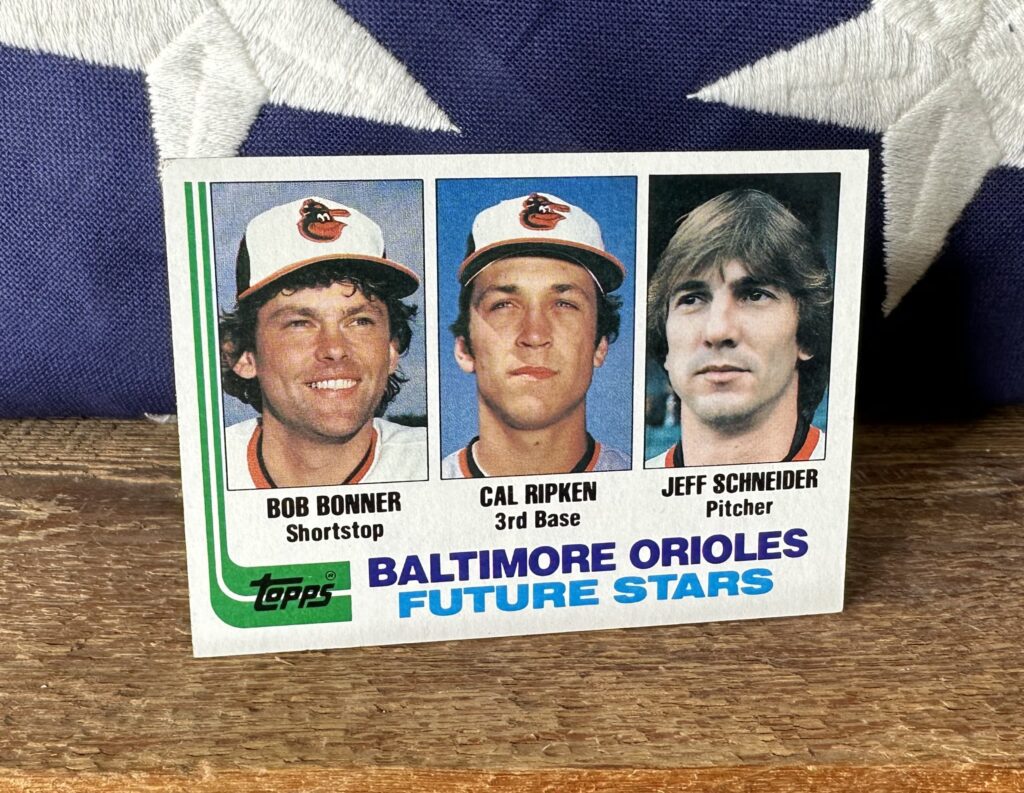 Rare but Modern Rookie Cards
Interest would slowly build through the decade, leading to the peak of the baseball card industry in the late 80s.
But Cal Ripken Jr.'s rookie cards were still early in the sports card craze, keeping the production levels relatively low.
1981, Donruss and Fleer entered the baseball card market to give the long-dominant Topps some competition.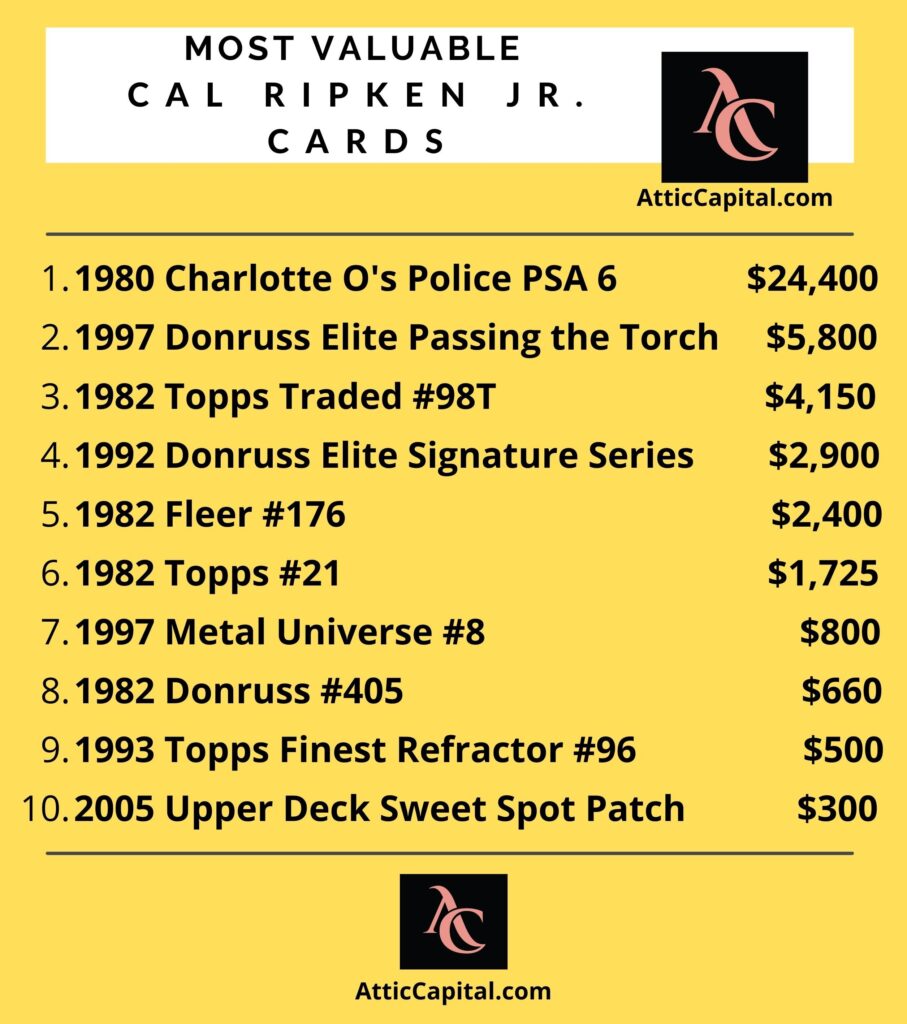 The timing couldn't be better because, in 1982, all three card companies produced Cal Ripken Jr.'s rookie card.
Rookie cards of the Ironman would become massively popular for many years to come.
Today, they are prized possessions for card collectors of all ages, and all four Cal Ripken Jr. RC rookie cards have unique characteristics and value to collectors.
Let's look at each one of the Cal Ripken Jr. rookie cards.
1980 Charlottle O's WBTV Cal Ripken Jr Rookie Card
The 1980 WBTV Cal Ripken Jr. rookie card from the Charlotte O's minor league team is impressive. A PSA 5 graded card was recently sold on eBay for $4,160. Let me repeat; this was a PSA 5.
What seems like a high price for a PSA 5-graded Cal Ripken rookie RC trading card needs more investigation.
The reason for the in-demand "five" is that there's a population of ZERO for a PSA 10 and not even a single PSA 9 NR-MT graded card.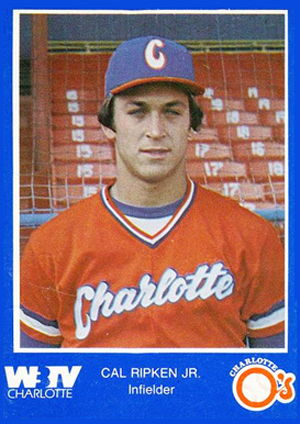 Only 13 PSA 8's
That leaves 13 PSA 8-graded Ripken "WBTV" minor league cards in the wild. Of those 13 cards, one sold in 2019 for $9,600.
I would go out on a limb and say that Ripken PSA 8 would have appreciated quite a bit over the last three years if it was brought to auction again.
The card was part of a Charlotte O's minor league promotional night at the ballpark, where all fans under 14 years old were given a free pack of cards featuring all the O's players.
The game must have had a smaller-than-usual crowd because several boxes of player cards were left over.
Eventually, the cards found their way to the dumpster, not knowing a future hall-of-famer was wrapped inside the packs.
1980 Charlotte O's Police Cal Ripken Jr Rookie Card
The local police department gave out another card featuring Cal in his Charlotte O's uniform. The card now sells for thousands of dollars.
Beware of fakes. I recommend buying only certified, graded cards. Scammers and con artists love these minor league cards.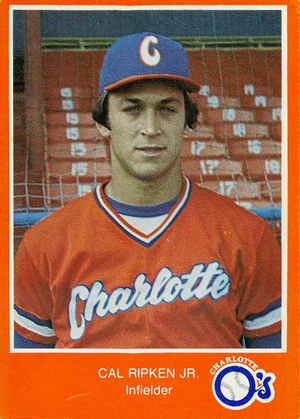 1982 Donruss #405 Cal Ripken Jr. Rookie Card
The Donruss Ripken card might be the lowest-priced of the four, but it is considered by many as the best-looking in the set.
The lower price PSA 10 graded card might be because the Donruss cards weren't very condition-sensitive out of the pack, so there are more cards in excellent condition, which lowers the value.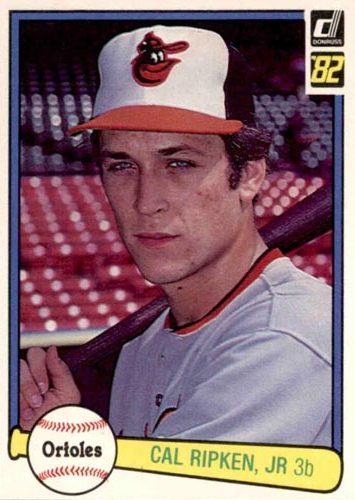 Design
As mentioned, it's considered the most aesthetically pleasing of all four cards. The front includes the Donruss logo and "82" in the upper right segment.
The classic bat and ball logo on the bottom gives it that old-school charm. 
The reverse side is printed horizontally and includes the usual personal bio stuff and a section highlighting his success in the minors.
The 1982 Donruss set is a popular choice for many baseball card collectors. It contains some iconic players from that era, such as Cal Ripken Jr., Dale Murphy, and George Brett.
Among these cards, the most widely sought-after is the 1982 Donruss Diamond Kings card featuring Pete Rose.
Condition
There are often condition issues with centering, but Ripken's rookie card with high grades are worth several hundred dollars.
As mentioned, there are more GEM Mt PSA 10 condition cards than others, which hurts the value somewhat and makes it the cheapest rookie card of the Cal Ripken collection. Still, it's a worthy addition to any collection.
1982 Fleer Cal Ripken Jr. Rookie Card #176
With the fewest PSA 10 graded population cards of all four, the Fleer Ripken Rookie card is highly sought-after amongst collectors.
It is also the most desired 1982 Fleer set, perhaps with Pete Rose and Lee Smith a close 2nd and 3rd.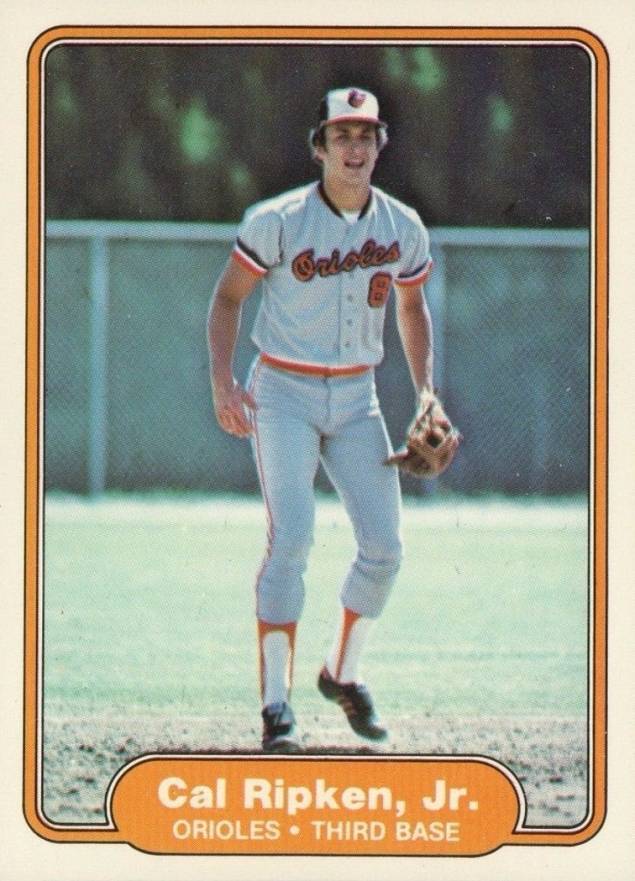 Design
One of the blandest front sides, with many people seeing the image as slightly out of focus. It's a fielding shot with an orange image border and a nameplate at the bottom.
This era's Fleer cards were known for their understated design and imagery.
The reverse side is multi-colored with the usual bio info and the addition of Ripken's stats from way back in 1978, the beginning of his Minor League career.
The best baseball card from the 1982 Fleer set is widely considered to be the Cal Ripken, Jr. rookie card. This iconic card features a great image of Ripken as a rookie and showcases his signature on the front.
This card is also one of the first to feature a photo of a player's authentic signature, making it particularly unique. The card has been praised for its design and color scheme and is often seen as one of the best cards to come out of Fleer.
Condition
Again, centering can be an issue that hurts value and prevents a PSA 10 rating. Besides that, there are no other apparent issues with the condition of the sets.
The value of a Fleer Cal Ripken rookie card in good condition could be around $100.
1982 Topps Cal Ripken Jr. Rookie Card #21 – Orioles Future Stars with Bob Bonner, Jeff Schneider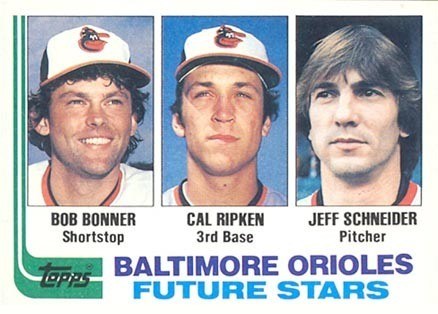 This is one of two Ripken rookie cards that Topps produced in 1982.
How Much is a Cal Ripken 1982 Topps Rookie Card Worth?
It's number 21 in an extensive set of 792, and quite a few of these are in circulation.
Unfortunately, the common centering problems mean that very few Mint condition PSA 10's are around, dramatically increasing the value of mint condition versions.
Recent PSA 10 sales according to PSACard.com value the card at $1,725.
Design
On the front, Ripken is pictured in the middle of fellow Orioles rookies Bob Bonner and Jeff Schneider, who was also described as 'future stars.'
As it turns out, Ripken was the only eventual star of all three, with Bonner's career spanning four years and Schnieder only playing for one season.
By the luck of the draw, Bonner and Schnieder go down in baseball lore as the two companions to the Cal Ripken Jr. Baltimore Orioles debut card.
The backside features all three players' card numbers, team, and bio info, with insufficient space to include all three stats.
Perhaps the most desirable cards in the Topps baseball card set is the rookie card of Cal Ripken Jr. His card is considered the best card in the set and one of the most valuable cards in all of baseball.
The value of a PSA 10 GEM Mint copy of the card can easily reach thousands of dollars. Other valuable cards in the set include Robin Yount, George Brett, and Dale Murphy.
Condition
As mentioned, centering issues have meant that very few cards are a 10, and there are also issues with print marks and bubbles.
1982 Topps Traded Cal Ripken Jr. Baseball Card 98T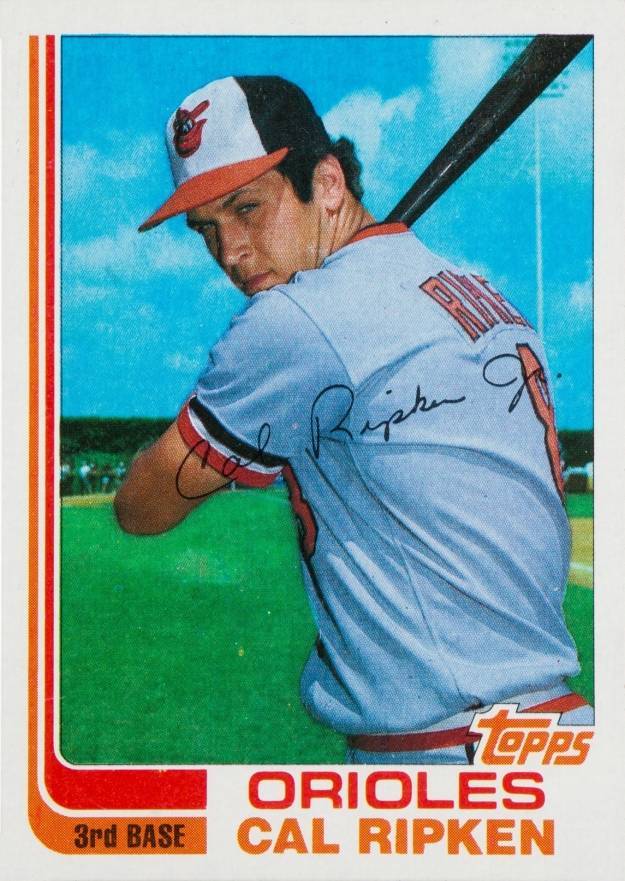 Ripken's Topps Traded rookie card is the most desirable of the two Topps Ripken rookie cards. The 'traded' refers to Topps introducing new players via a team trade or the minors.
Since there are two Topps Ripken' Rookie' cards, and one includes two other players, this card has become the more sought-after of the two because it only features Ripken.
In addition, there are only a few PSA 10 GEM Mint-rated cards, making them quite valuable. The Topps traded card is one of the most valuable collectibles of the early 1980s Topps cards for anyone investing in the hobby.
How much is a Topps Traded Cal Ripken Jr. rookie card worth? A top-condition PSA 10 graded sale on eBay was just recorded at $4,100.
How Much is a 1982 Topps Traded Cal Ripken Jr Rookie Card Worth?
The most recent sale of a PSA 10 graded card show a value of $4,150.
Design
The front features the most iconic Ripken image, which adds a lot of appeal to the card. A proud and serious-looking Ripken is holding his bat, ready with the blue skies in the background. 
The classic Topps orange and red frame adds to the classic feel. It's a great Ripken card and one of the most aesthetically pleasing cards of the era.
The back of the card is dark, as was customary for many Topps cards of the period, and includes stats and bio.
Condition
As mentioned, the cardboard could be of better quality; other than that, centering might affect value.
One thing to keep in mind. Beware of the Topps rookie reprint card. It appears identical to the 1982 Topps Traded card but was reprinted in 2001.
Cal Ripken Jr. Rookie Card Worth
Cal Ripken Jr. is one of the most legendary baseball players of all time, and his influence in the baseball world and American popular culture is undeniable.
He was a durable player who tried to play the game the way it was meant to be played. Unsurprisingly, his cards have remained massively popular and always a highlight in any collection.
He was one of the classic 80s baseball stars. Along with Tony Gwynn, Ryne Sandberg, Ken Griffey Jr., and even Gary Sheffield, they all played hard but also carried a soft-spoken and quiet persona.
Great rookie cards of Hall of Fame players can be great investments, but that's not what makes them intriguing collectible items.
My favorite part about collecting great rookie cards is simply owning a small piece of baseball history. Values will rise and fall, but the memories of America's Pastime will never fade away.
A Few More Great Cal Ripken Jr. Cards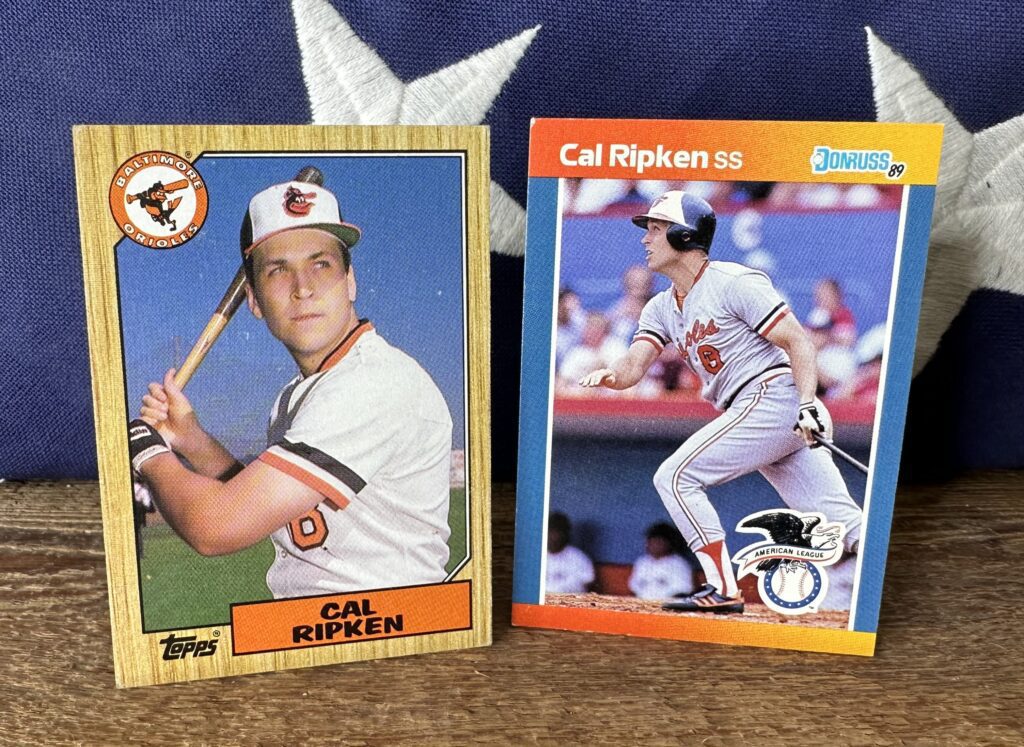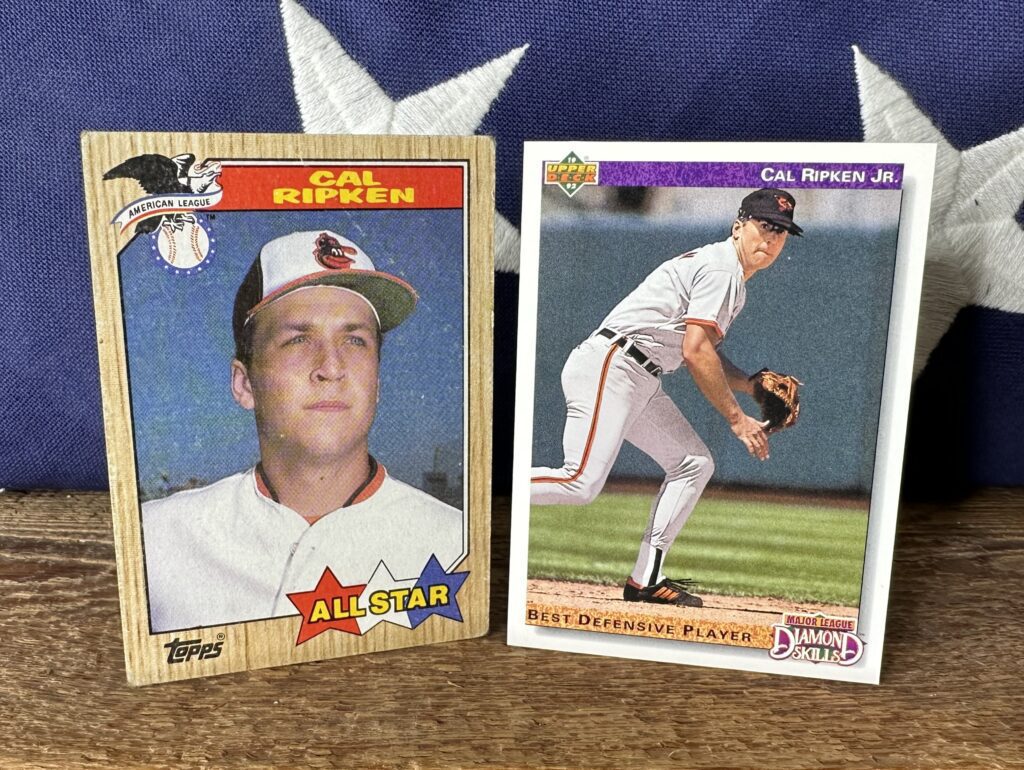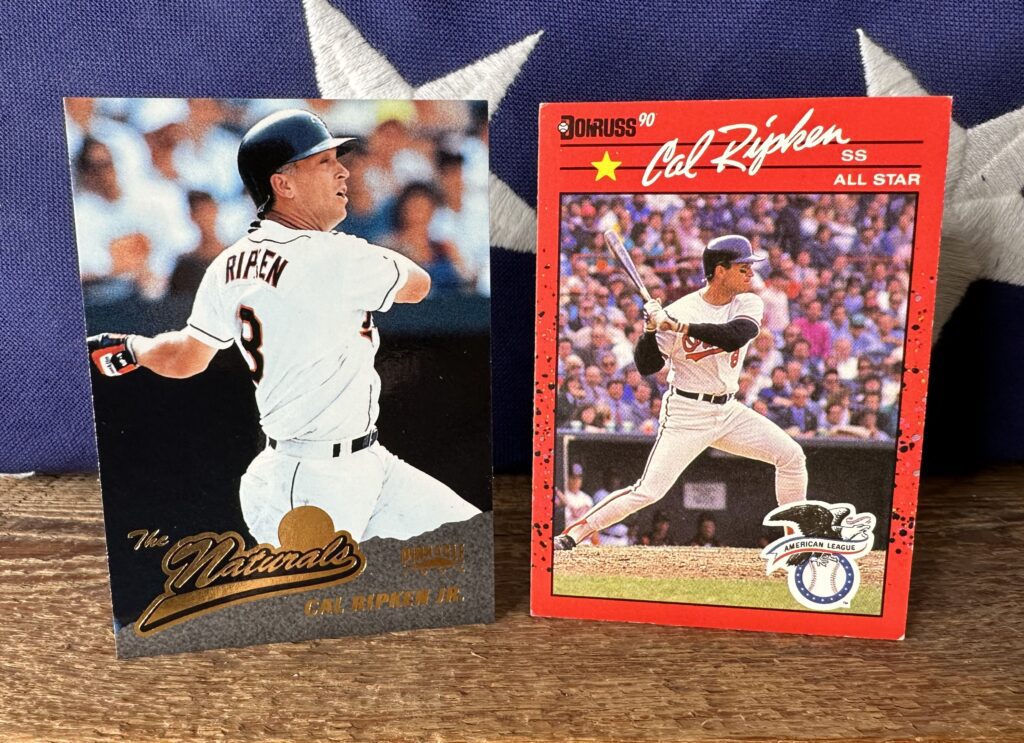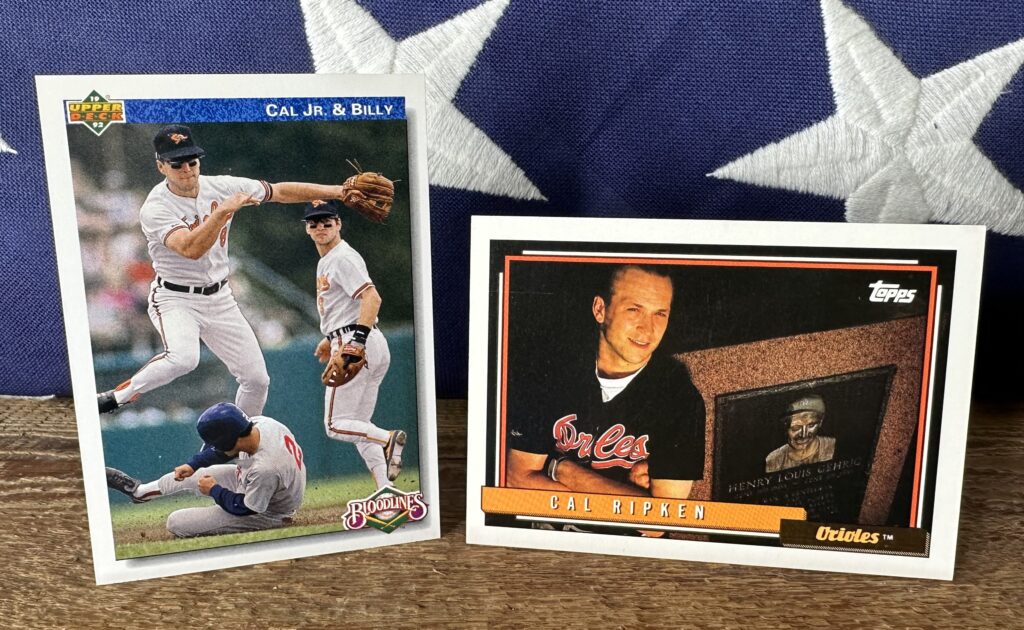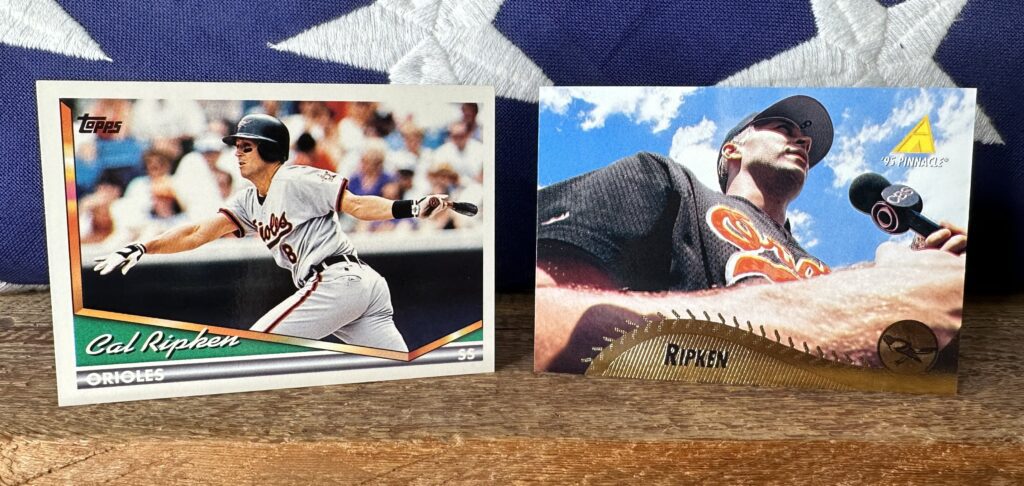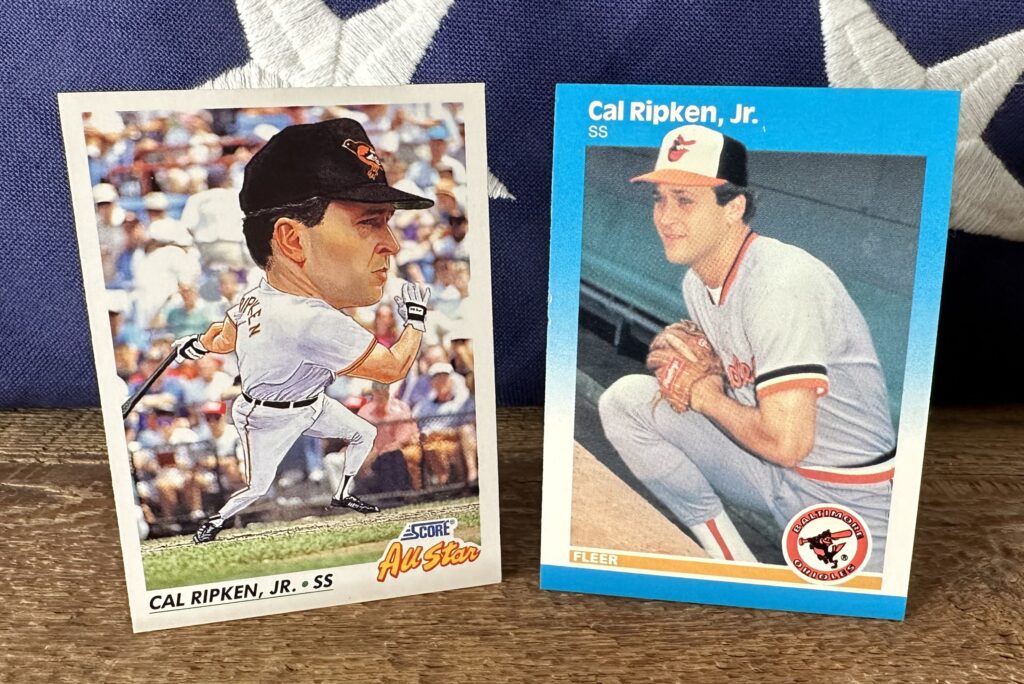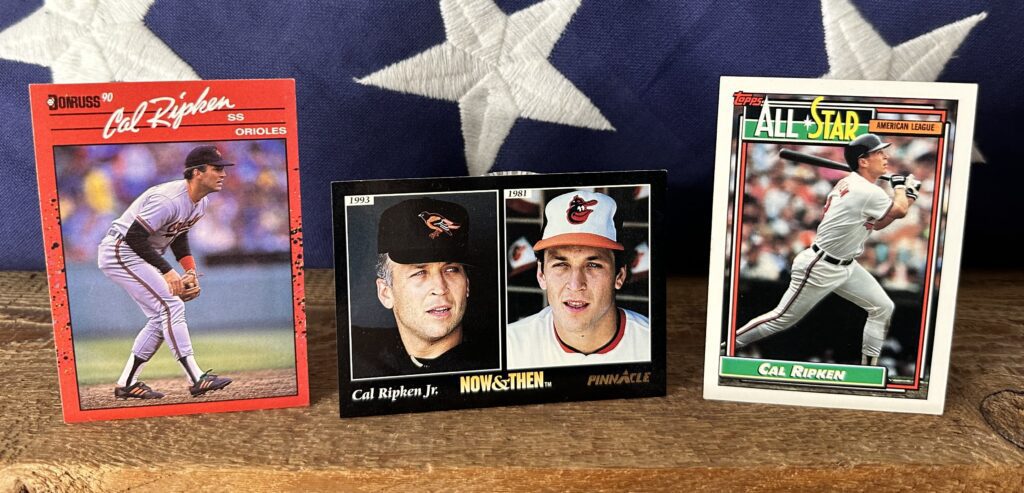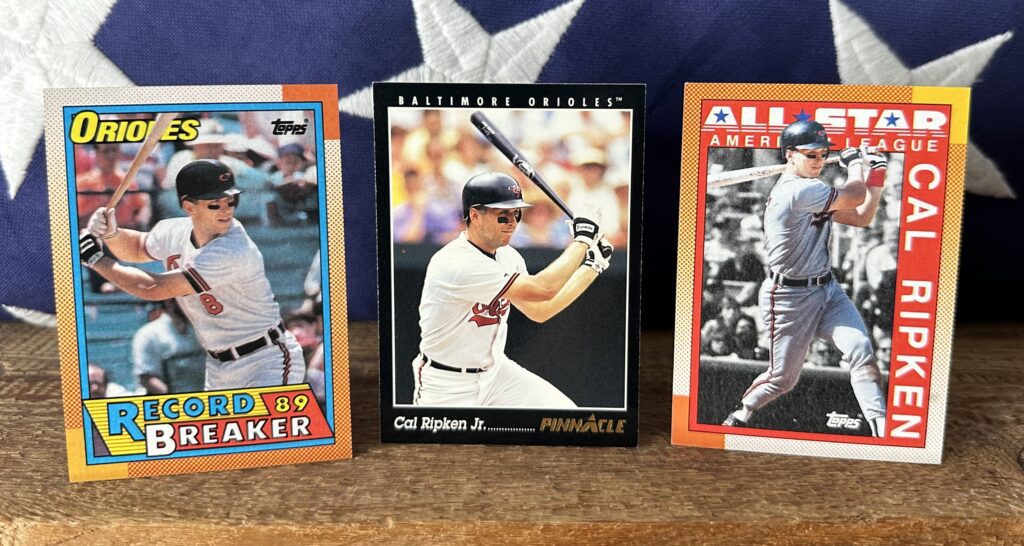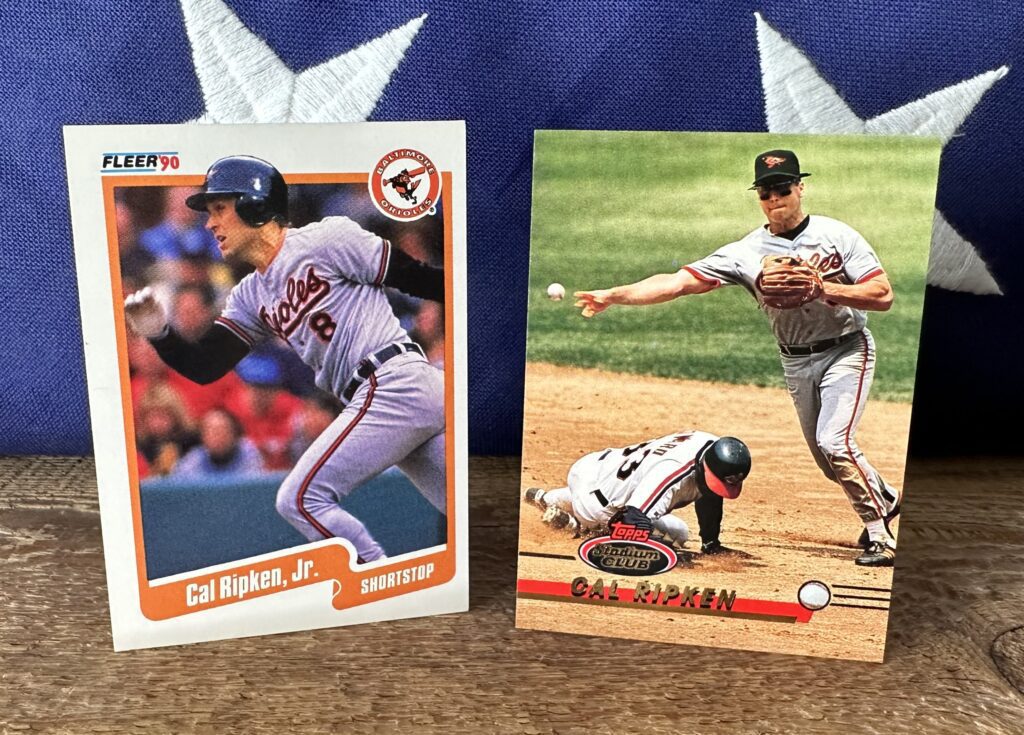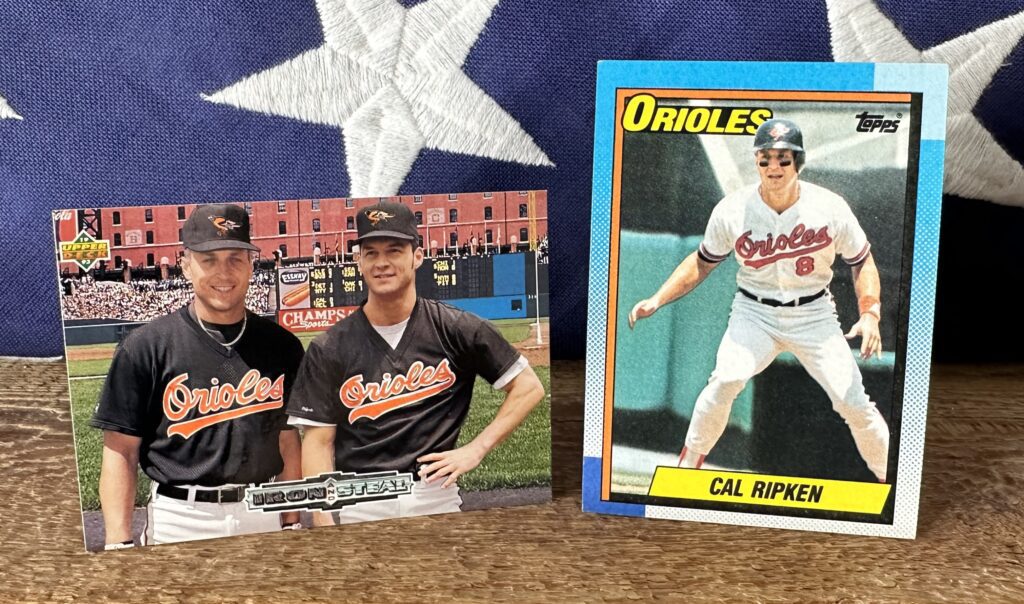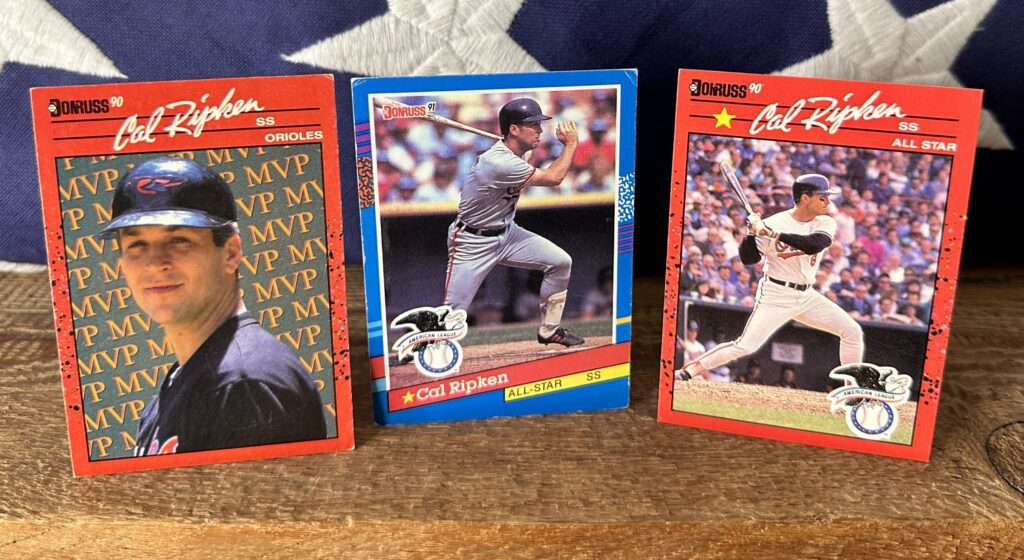 Young Cal Ripken Jr.
When Cal was growing up, he traveled with his father, who played and coached with the Baltimore Orioles.
The family called Aberdeen, Maryland home, but Cal Ripken Sr. had them moving around the country because of his professional baseball career.
You can imagine growing up with a professional baseball player as a father; young Cal was a standout ballplayer as a kid.
He was eventually drafted in the second round of the 1978 Major League Baseball draft by the Baltimore Orioles.
Cal Ripken Jr. – The Pro Ballplayer
As the 48th pick overall, Ripken started his professional baseball career with the Bluefield Orioles.
Then on to the Miami Orioles, and soon to the Double-A Charlotte Orioles. Next, Cal made a quick stop with the Triple-A Rochester Red Wings.
One of the biggest highlights of Cal's career came in Rochester, where he played in the longest baseball game in history, a 33-inning game against the Pawtucket Red Sox.
Ripken played in all 33 innings of the record-breaking game.
The game took three days to finish and featured future All-Star and Hall of Famer Wade Boggs.
Cal Ripken Jr. to the Big Leagues
After being named International Rookie of the Year in Triple-A, Cal would make his major league debut with the Baltimore Orioles in 1981.
Cal entered a game on August 10th as a pinch-runner in the 12th inning, and the rest is history.
Just a few days later, Cal would rack up his first major league hit, the first of 3,184 hits he collected over his 21-year career.
Cal Ripken Jr. Background & Stats
Calvin Edwin Ripken Jr. had a fantastic career, playing 21 seasons in Major League Baseball from 1981 to 2001 for the Baltimore Orioles.
His valuable baseball rookie cards are nothing to sneeze at. It could be worth a small fortune if you have one in graded PSA 10 GEM Mint condition.
What Made Cal Ripken Jr. Great?
Cal Ripken Jr. was an iconic figure in baseball, and his greatness on the field can be attributed to various traits. He was a leader who earned the respect of teammates, coaches, and fans.
Ripken was an incredibly consistent player who lived up to his moniker of "Iron Man." He played in a record 2,632 consecutive games over his 21-year career, breaking the record held by Lou Gehrig. An incredible feat that may never be broken.
Number eight was a brilliant player who recognized pitch patterns and could always find ways to make adjustments to be successful.
Cal could also hit for both power and average, finishing his career with 3,184 hits, 431 home runs, and a .276 batting average. He was also an excellent shortstop, winning two Gold Gloves.
All of these attributes contributed to making Cal Ripken Jr. one of the greatest players in baseball history.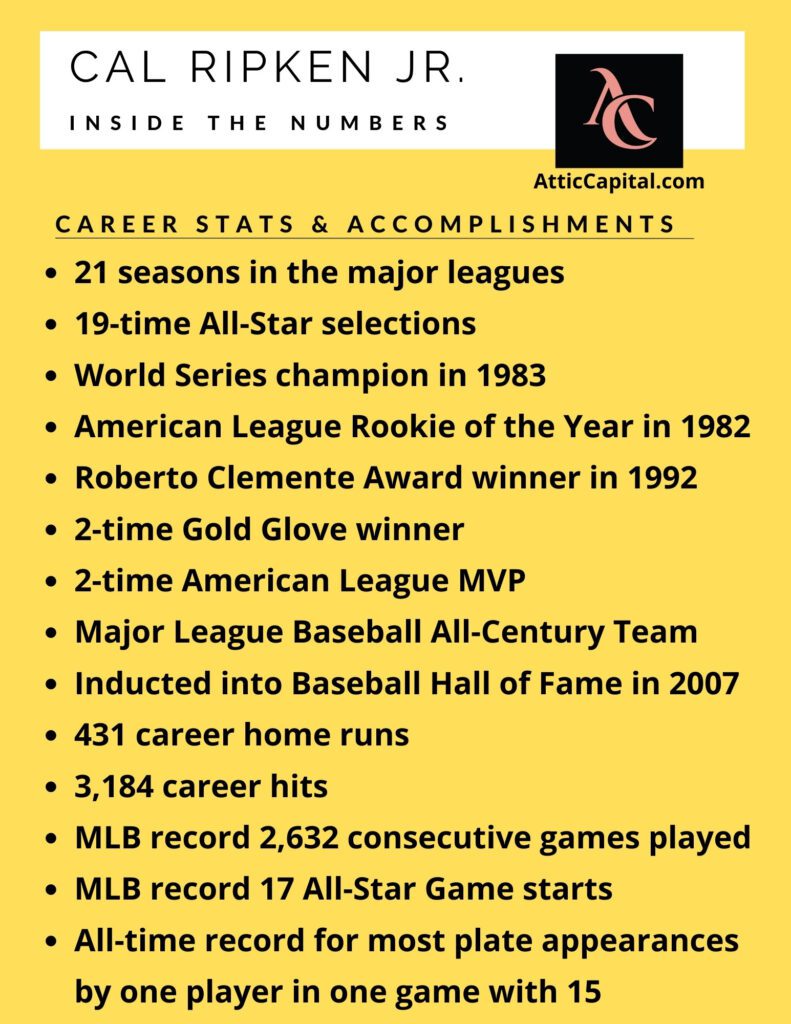 Ripken's greatness was not only limited to the field. He was a model citizen, always promoting good values and sportsmanship to youth baseball players.
Cal was also an excellent ambassador for the game, always humble and gracious in the wake of his success.
He also gave back, setting up the Cal Ripken Sr. Foundation, which has positively impacted millions of kids through baseball and softball initiatives.
All of these characteristics are what made Cal Ripken Jr. such a great player and an even greater person. Unsurprisingly, he remains one of the most beloved figures in baseball history.
Little Known Facts About Cal Ripken Jr.
One of the lesser-known facts about Cal Ripken Jr. is that he was part of a three-generation baseball family.
His father, Cal Sr., was a professional baseball coach, and his brother Billy played in the Major Leagues.
Cal's son Ryan also played in the minor leagues, making them the first three-generation family in Major League Baseball history.
It's a testament to their passion for the game of baseball that they could keep the tradition alive for so long. The Ripken family truly is a baseball dynasty.
Most Consecutive Innings Without an Error
Cal Ripken Jr. achieved many impressive feats throughout his baseball career.
Still, one lesser-known accomplishment of note is that Cal holds the record for playing the most consecutive innings without an error.
This streak of 95 straight games without an error broke the record held by Eddie Brinkman.
The record was later broken after Cal retired by his replacement, Mike Bordick, when he went 110 games without an error.
Ripken Jr. was known for his consistency on the field and at the plate, making him one of the greatest players to ever take the field.
He's on the Board of Directors for Baseball-Related Foundations
Since retiring from baseball, Cal Ripken Jr. has remained involved in the sport through various activities. He is currently a special advisor to the Baltimore Orioles.
Also, he sits on the board of directors for several baseball-related organizations, such as Major League Baseball Players Alumni Association and the Cal Ripken Sr. Foundation.
Cal also remains active in the community and founded The Ripken Foundation, which funds youth-oriented programs that promote education, health and wellness, and character development.
Additionally, he is a weekly contributor to the MLB Network's television program "Clubhouse Confidential."
He also has written several books on baseball and his career, including "Play Baseball the Ripken Way" and "Get in the Game: 8 Elements of Perseverance That Make the Difference."
Finally, Ripken serves as a spokesman for several commercial brands and charitable causes. He dedicates time to the Cal Ripken Sr. Foundation, which he founded in 2001 in honor of his late father.
The foundation works to build character and teach life lessons to disadvantaged youth through sports-based programming.
Through it, he has helped provide over 4 million underserved kids with the opportunity to play baseball.
What Does Cal Ripken Jr. Do Now?
Even though his days of playing professional baseball are over, Cal Ripken Jr. continues to stay connected with the sport he loves.
In 2016, he joined the NBC Sports Network as a special analyst for MLB Thursday Night Baseball and other major league games on NBC.
He is also the head of Ripken Baseball, which runs instructional camps and tournaments for young players throughout North America.
Plus, Cal works in corporate America with Heavy Hitter Inc., presenting speeches and appearances tailored to businesses across the country.
On top of that, he serves as chairman of the Cal Ripken Sr. Foundation, which is dedicated to helping vulnerable youth worldwide achieve their goals through academic success, sports, and play-based initiatives.
It's easy to see why some consider him one of the most regarded athletes in the game of baseball today.
Cal Ripken Jr., Baseball Legend
Cal Ripken Jr., the Hall of Fame baseball player, has been an icon of the sport for over three decades. His rookie card, released in 1982, has become a prized piece of memorabilia and is highly sought after by collectors.
Recognized as one of the most significant rookie cards from any era, it often commands a very high price.
Its designation by Beckett Grading Service, which specializes in grading sports cards, as MVP (Most Valuable Player) says much about its significance and rarity.
Further, it remains one of only two complete sets ever produced, making it an extremely collectible item. Its status as the hall-of-fame slugger's first card will ensure its place in history.
---
Card Collectors –> Looking to Sell Baseball Cards? Here's How (and Where) To Do It
Find a Great Card Shop Near You, Here's How to Do It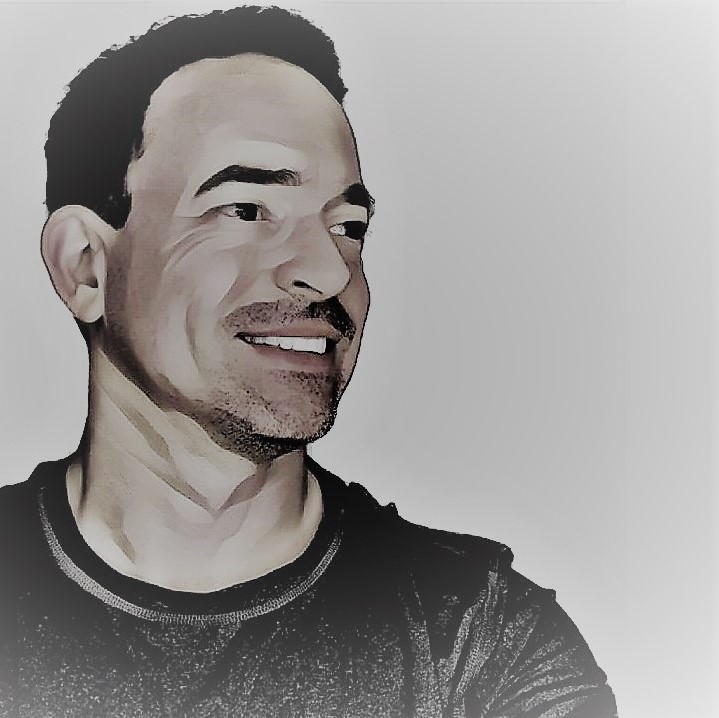 R.J. Bachman
Attic Capital – Writer, Editor, and Lifelong Collector
After many years of collecting rare coins, sports cards, and all types of collectibles, I began writing at Attic Capital to share my experience, knowledge, and passion.
I would love to connect with you, so don't hesitate to reach out and let me know more about your passion for collecting.