---
The David Robinson rookie card provokes images of strength. Known as The Admiral, Robinson was one of the toughest but quietest and most widely respected big-man centers in NBA basketball history.
If you haven't already, you should seriously consider adding a few David Robinson rookie cards to your collection. Let me tell you why –
His legacy shares the floor with incredible HOF centers such as Patrick Ewing, Shaquille O'Neal, and Hakeem Olajuwon. 
The Admiral was a 10-time NBA All-Star, a two-time NBA champion, a two-time Olympic Gold Medal winner.
The awards don't stop there. He was also a two-time Naismith Memorial Basketball Hall of Fame inductee, and a two-time U.S. Olympic Hall of Fame inductee.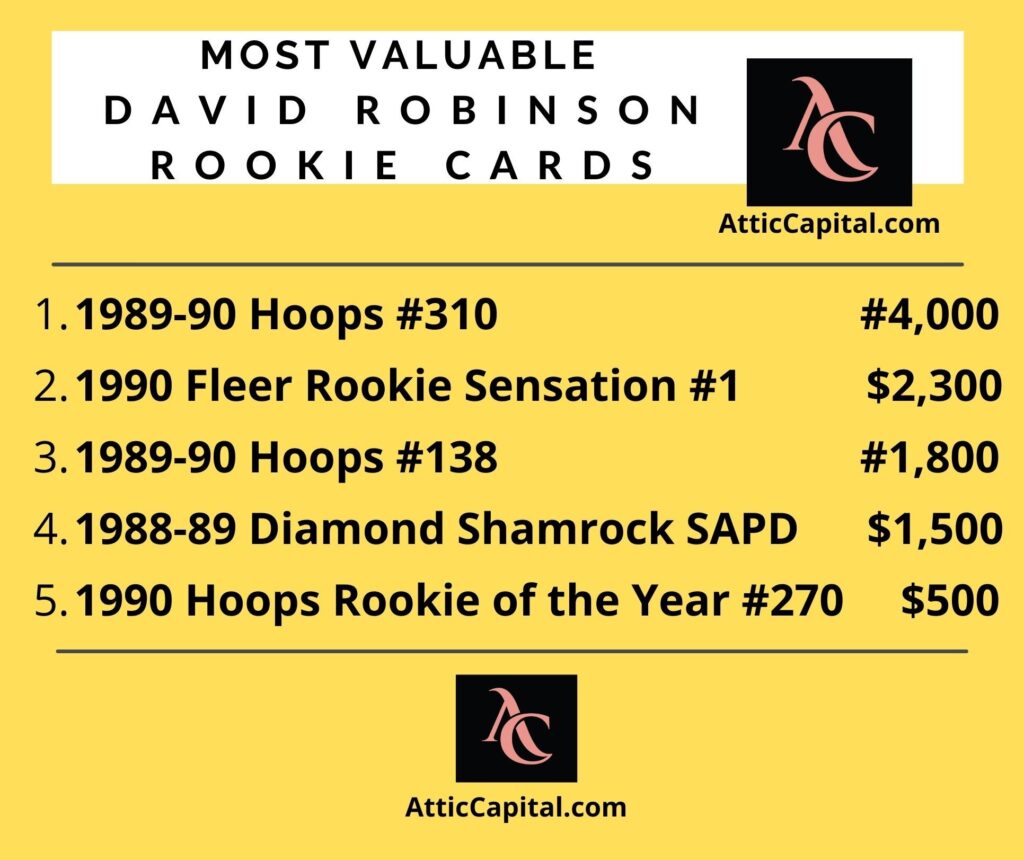 Not to mention, he was honored by being named to the NBA 50th Anniversary and 75th Anniversary Teams.
---
David Robinson Rookie Cards
David Robinson's fantastic performance as the San Antonio Spurs center makes his sports cards desirable for any card collection, even after all these years.
From historical sales data of the Admiral's cards, values have been rising consistently over the decades.
It's clear David Robinson rookies make an excellent addition for collectors of baseball cards, football cards, hockey, or basketball cards.

1989-90 NBA Hoops David Robinson Rookie Card Series 1
The 1989-90 NBA Hoops card #138 is David Robinson's trademark card. A David Robinson, PSA 10 Gem Mint Hoops card is estimated to have an average selling price on eBay of around $1,500.
David Robinson 1989-90 Hoops PSA 9 Value – $100
David Robinson 1989-90 Hoops PSA 8 NM-MT Value – $50
The David Robinson rookie card was printed in the first year of NBA Hoops cards. The first series included 300 cards, with a 53-card update released a few months later.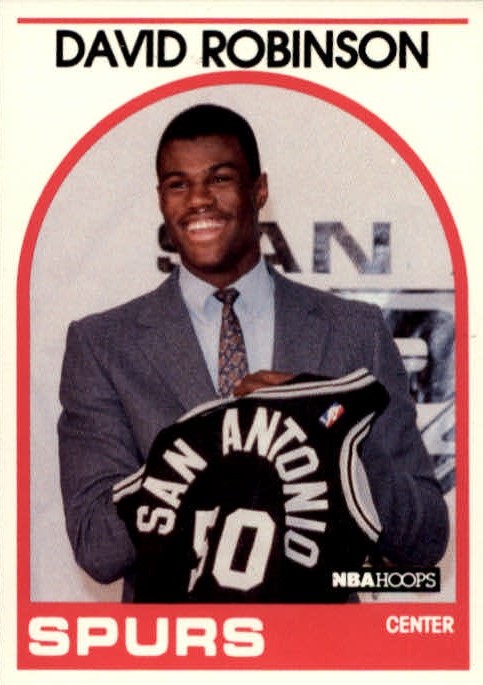 One interesting fact about the 1989-90 Hoops David Robinson card is it was the first time a card featured a player in his rookie year since the 1970-71 Pete Maravich and Calvin Murphy rookies.
Since David Robinson was drafted in 1987 but needed to serve two years in the Navy before playing in the NBA, the 89-90 Hoops card was ready to print featuring the much-hyped star rookie.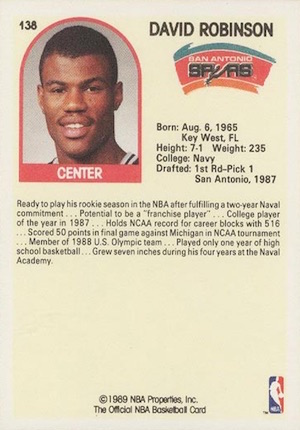 ---
1989-90 Hoops David Robinson Rookie Card Series 2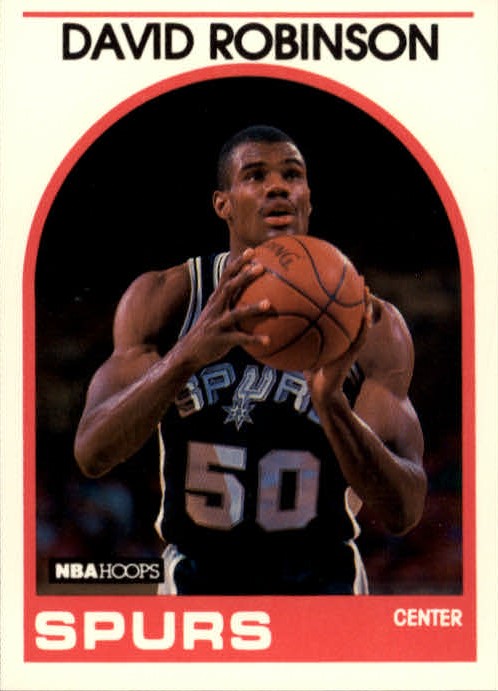 ---
1990-91 NBA Hoops David Robinson #270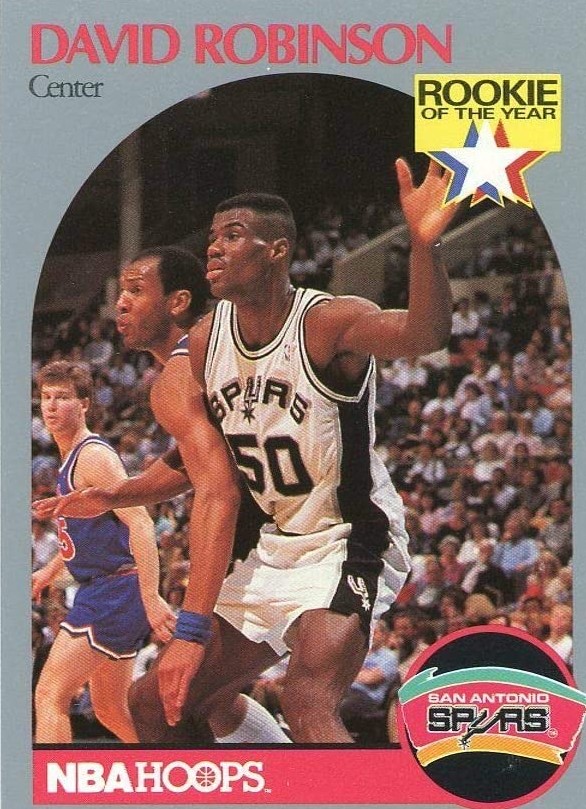 On the other end of David Robinson's well-known official rookie card is the 1990-91 Hoops basketball David Robinson All-Rookie Team card.
The NBA Hoops rookie card David Robinson San Antonio Spurs card is a classic. It features Robinson winning the 1990 Rookie of the Year award.
A high-grade card in PSA 10 Gem Mint condition can be found on eBay, worth about $500.
---
1988-89 Diamond Shamrock San Antonio Police David Robinson Rookie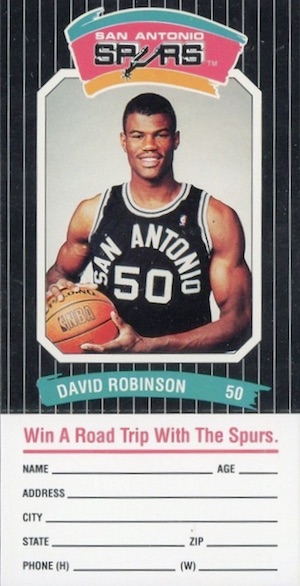 ---
Fleer David Robinson Rookie Cards
The 1990-91 Fleer set contains several hobby-favorite rookie trading cards belonging to legends like Tim Hardaway, Vlade Divac, and Glen Rice.
The back of this fleer rookie card also includes his biography and accomplishments. A high-grade David Robinson rookie PSA 10 Gem Mint card is valued at around $50.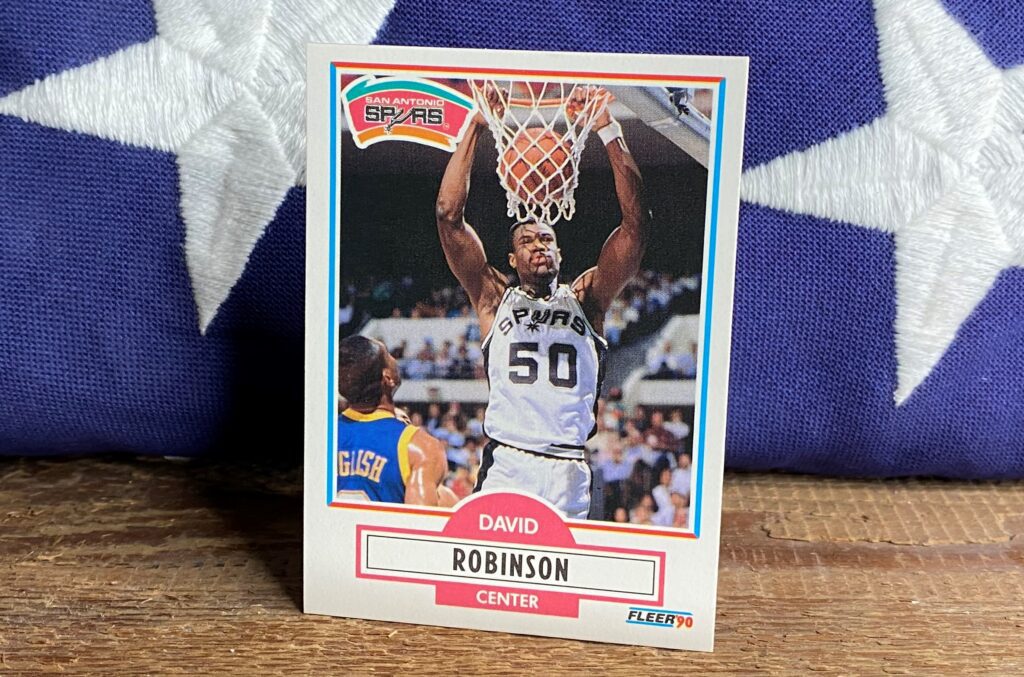 ---
1990 Fleer Rookie Sensations David Robinson #1
The 1990 Fleer Rookie Sensations David Robinson #1 is a stellar card valued at around $2,300 in PSA 10 condition.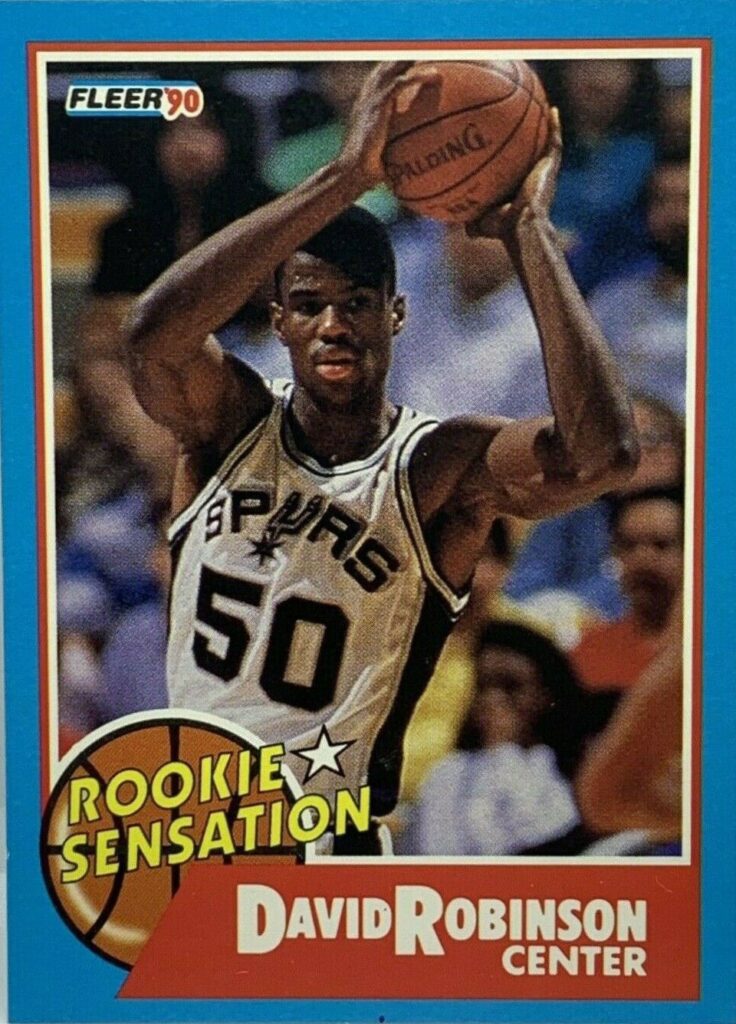 ---
Other Great David Robinson Cards
1990 Fleer All-Stars David Robinson #10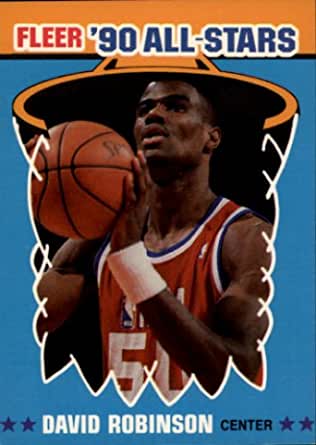 1992-93 Topps Archives David Robinson #7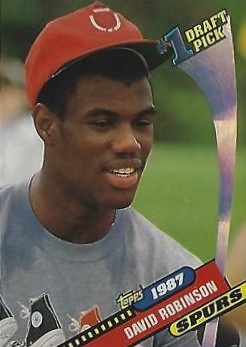 ---
Topps David Robinson Cards
The 1995 David Robinson Topps Finest REFRACTOR #245, when Robinson earned the NBA Most Valuable Player award.
A PSA 10 Gem Mint perfect condition card is priced on eBay around $700 to $800.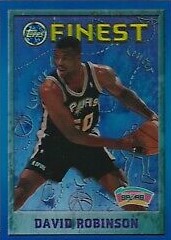 The 1996 Topps Chrome REFRACTOR David Robinson card is an iconic card that features Robinson trying to block Michael Jordan. This fantastic card with a high-grade range from $400 to $1,000.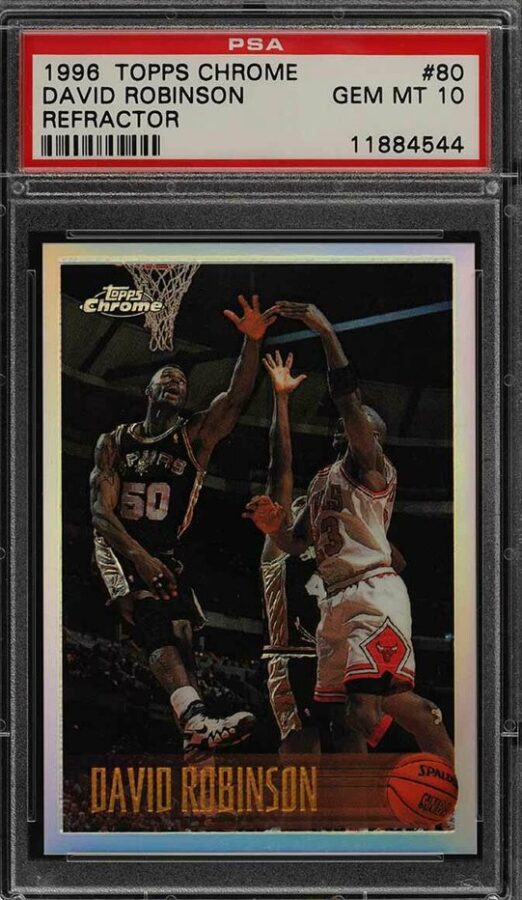 ---
1990-91 Skybox David Robinson
Here's a fun thought, buy an entire box of unopened 1990-91 Skybox basketball cards. For about $80, you can relive the excitement of pulling a Robinson or Jordan card from a pack.
Although the Skybox cards were memorable, they produced a huge quantity, so unopened packs can still be found for reasonable prices.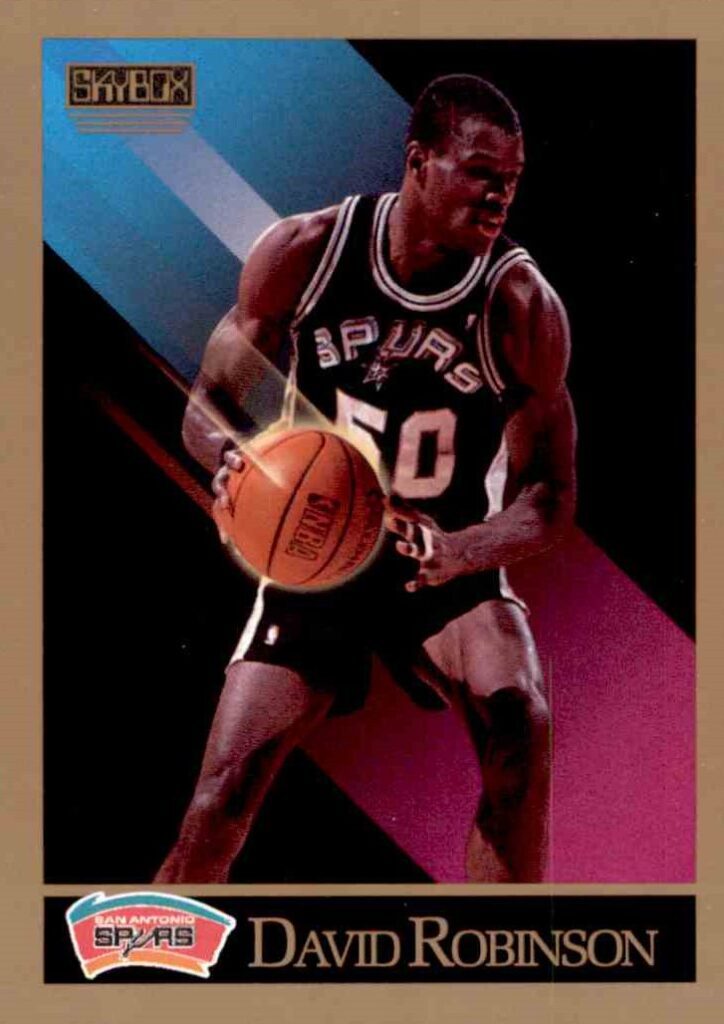 ---
1992 Stadium Club David Robinson Beam Team – $70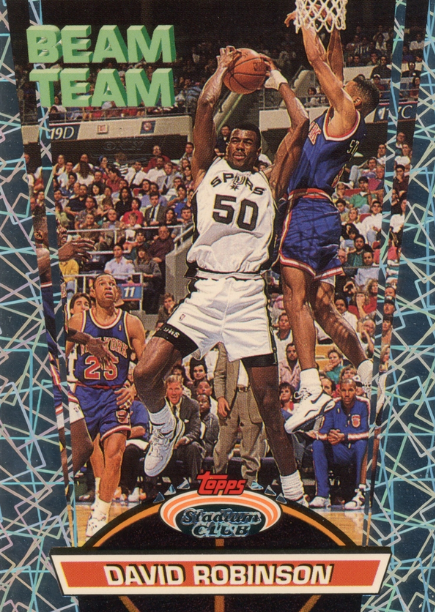 1998-99 Skybox Autographics David Robinson #50 Black & Blue Ink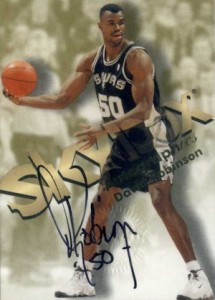 2019-2020 Panini Immaculate Patch Autograph David Robinson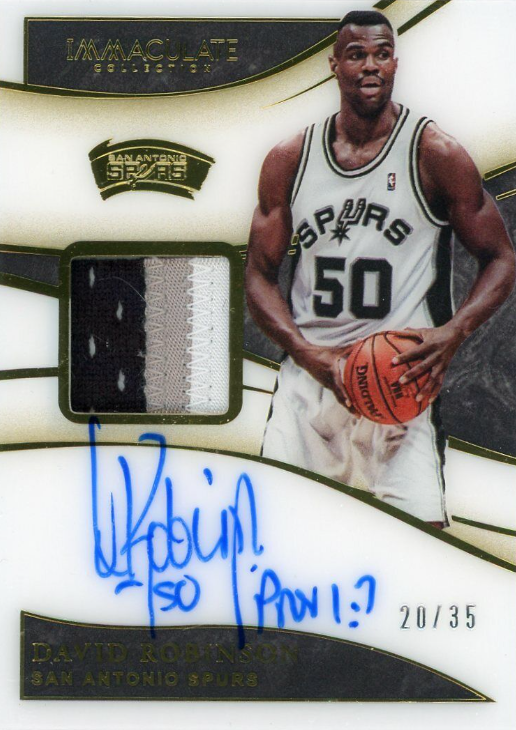 1997 TSC Triumvirate David Robinson – PSA 8 Value – $1,300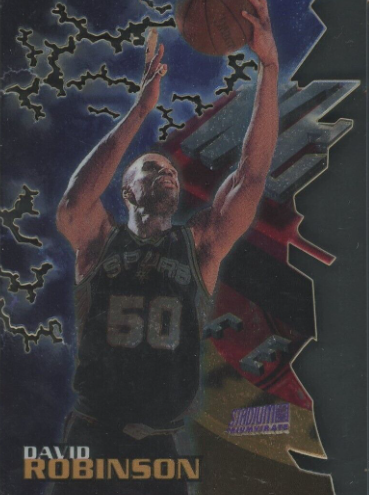 2019-20 Panini Prizm David Robinson #9 – $20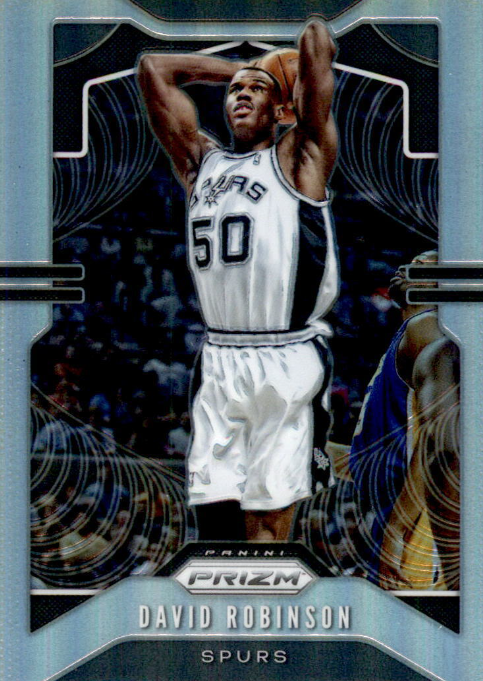 1998-99 Skybox Premium David Robinson #221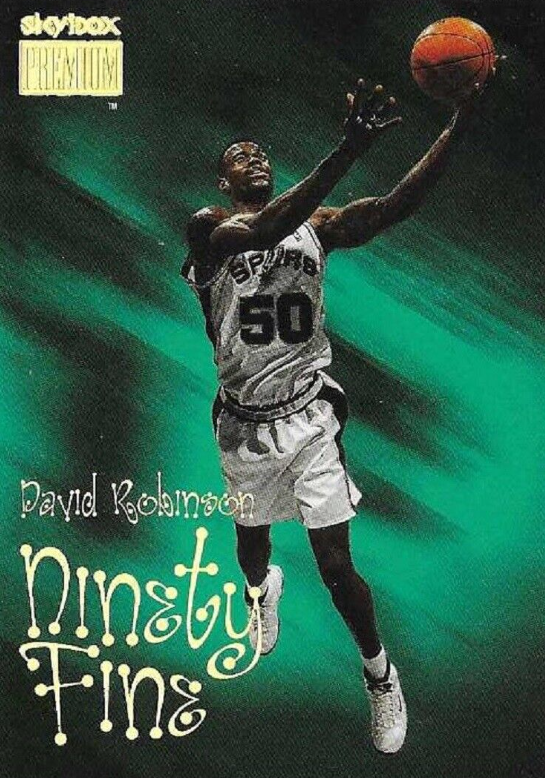 ---
David Robinson Memorabilia
If you're venturing into the autographed and game-used memorabilia world, at least find items certified with authentication by Upper Deck.
Otherwise, I'm afraid to tell you the items claimed to be game-used are suspect.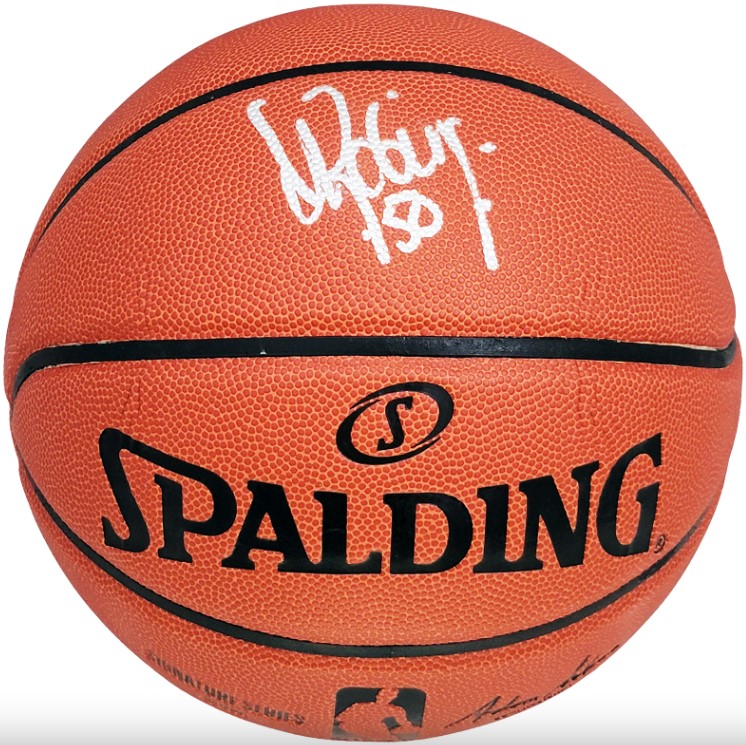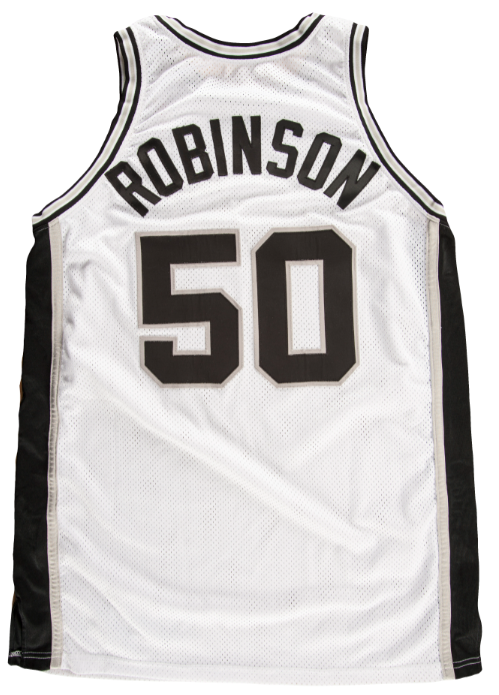 ---
David Robinson's Early Years
David Robinson was born in Key West, Florida. While the Robinson family frequently moved during his father's work in the U.S. Navy, they settled in Virginia, where David excelled in school and sports.
Basketball was not on Robinson's radar in high school until his senior year, when he experienced a growth spurt from five foot nine inches to six foot six inches.
Robinson earned all-area and all-district honors but did not generate interest among college basketball coaches or recruiters.
College Basketball and the Navy Academy
After graduating high school, Robinson attended the United States Naval Academy, majoring in mathematics and playing on the basketball team.
All-American
Robinson was nominated for the All-American team in the final two years and won the Naismith and Wooden Awards as a Naval Academy first classman.
His service in the Navy would lead to his nickname, "The Admiral," although his final rank was Lieutenant.
When he graduated, he became eligible for the 1987 NBA draft. The San Antonio Spurs, with the first overall pick, selected him.
The Spurs would have to wait two years for Robinson to fulfill his active-duty obligation with the Navy.
---
David Robinson in the NBA
Robinson's rookie season with the Spurs in 1989-1990 was a massive turnaround for the team. The Spurs were recovering from the worst record season in franchise history at the time.
Robinson brought the Spurs to the second round of the Western Conference, where they lost to the Portland Trail Blazers.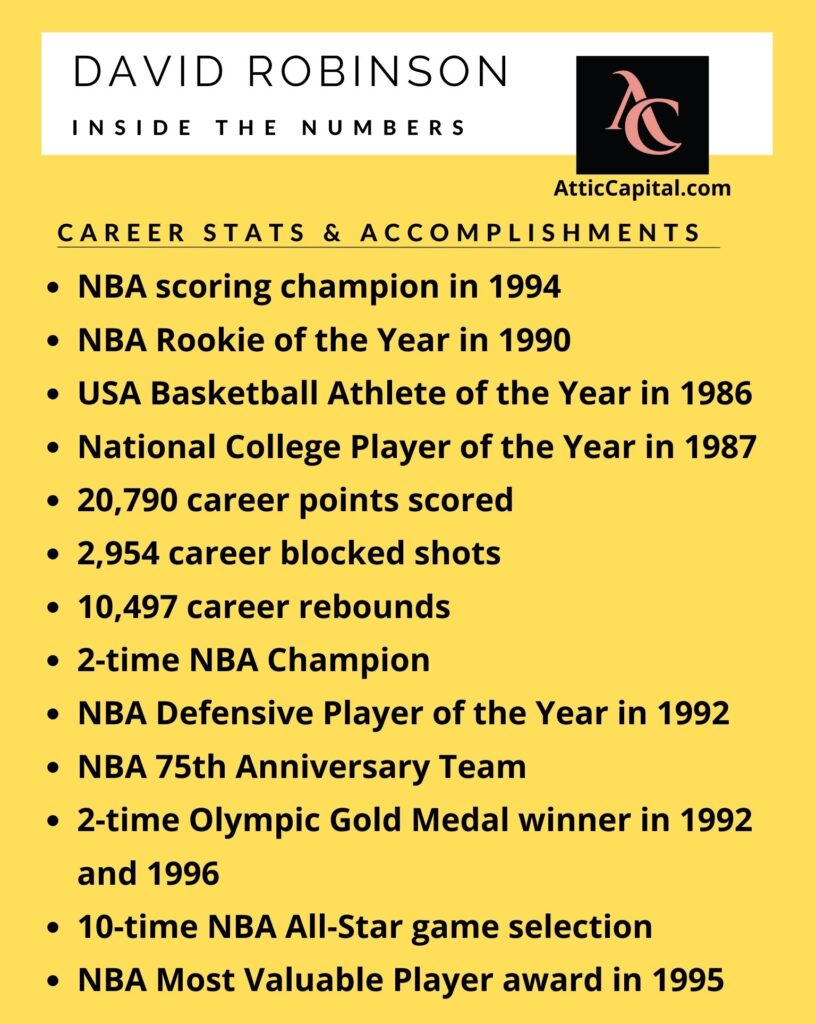 However, his performance allowed him to be named NBA Rookie of the Year, and the Spurs made the playoffs seven more seasons in a row.
During the early part of Robinson's NBA career, he made the 1992 U.S. Olympic Dream Team, where they won the gold medal.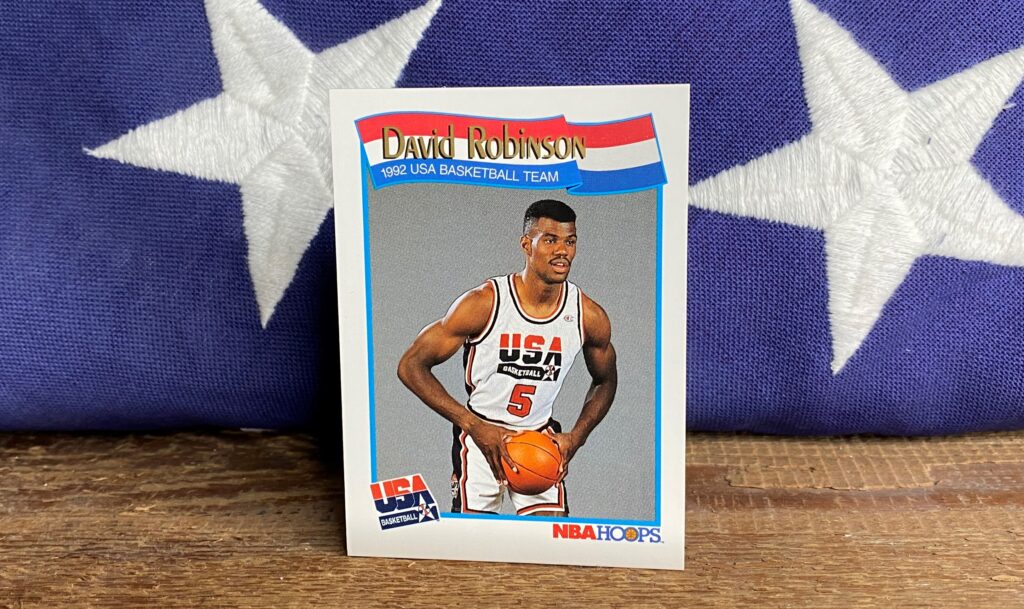 Additionally, he would win the NBA MVP in 1995, and in 1996, he was chosen to be in the NBA's 50th Anniversary All-Time Team. Yet, from 1991 to 1997, the Spurs could not win the NBA title.
In 1994, Robinson was one of the first to record a quadruple-double, scoring 34 points, 10 rebounds, 10 assists, and 10 blocked shots.
---
David Robinson, The World Champion
The Spurs would have their championship season in the 1998-1999 season. They beat the Minnesota Timberwolves, Portland Trail Blazers, and Los Angeles Lakers to reach the NBA finals.
During the NBA draft, they picked Tim Duncan, who worked with Robinson to beat the New York Nicks, winning the NBA title.
Stacking Up Championships
In 2003, the Spurs won the NBA Finals against the New Jersey Nets, and he shared (with NBA Final MVP Tim Duncan) the Sports Illustrated 2003 Sportsmen of the Year award.
The Admiral David Robinson announced his retirement from the NBA in 2003. He became a member of the Spurs HOF and the NBA Hall of Fame in 2009.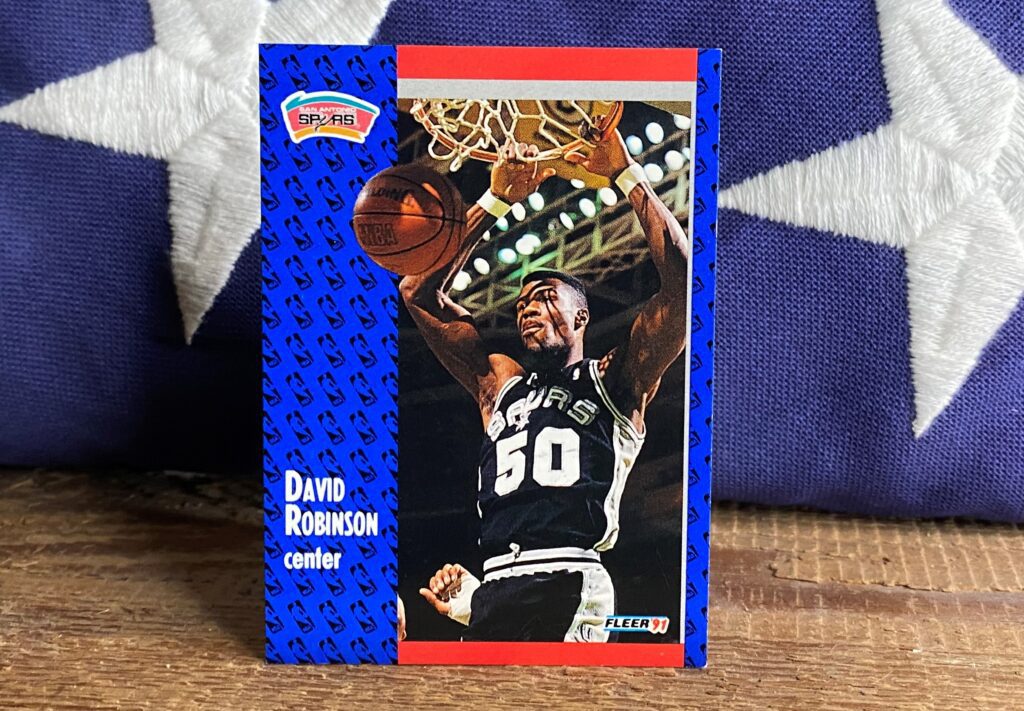 ---
Robinson's Retirement
After Robinson retired from the NBA, he invested earnings from his career into lucrative business opportunities.
In 2004, the Admiral invested in the Spurs, purchasing a 2% stake. Since his investment, the Spurs' value has significantly increased to about $1.8 billion.
In 2007, Robinson co-founded a private equity fund, Admiral Capital Group, which invests in several companies and real estate across the United States.
He also founded Living Cities, which aims to work with local governments and address problems related to racial and economic inequalities in America.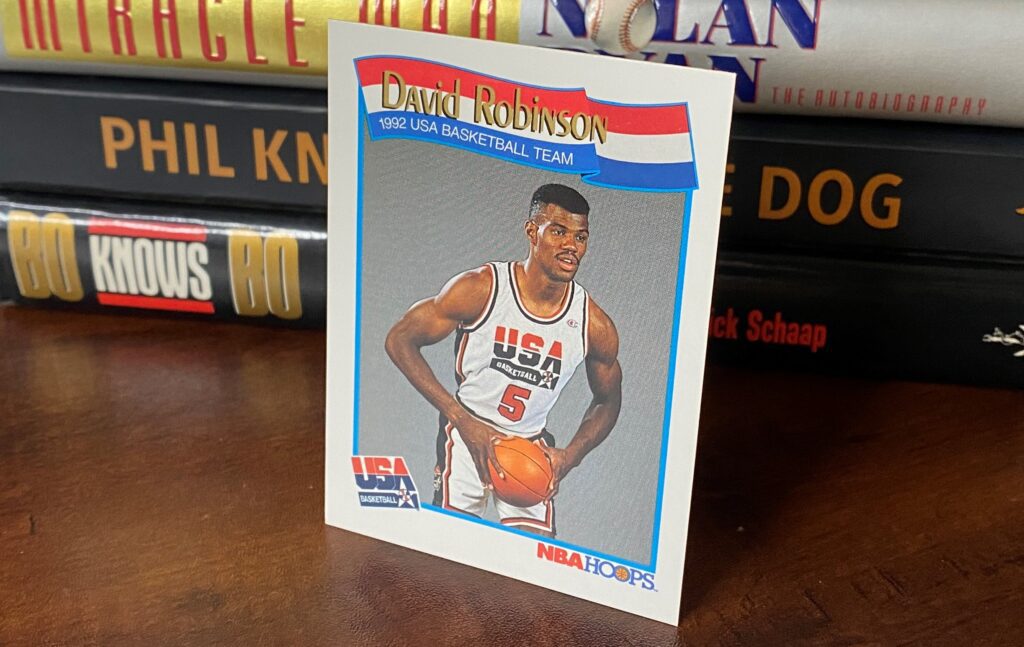 ---
David Robinson Rookie Card Value
David Robinson will be forever known as one of the NBA's best centers for his potent offense and defense. Fans and collectors will remember David Robinson's basketball cards, too.
His relationship with Tim Duncan would eventually pay off, leading to two NBA titles while mentoring a rising star.
The Admiral, David Robinson, will go down in NBA history next to Karl Malone, Kobe Bryant, Shaquille O'Neal, and the other game greats.
The Michael Jordan rookie card might get all the attention. Still, David Robinson's rookie cards bring back memories of the steady professional racking up big stats and leading his team to victory night after night.
A Few of My Favorite David Robinson Cards
Not only was The Admiral dominant on the court, his cards bring back memories of the early 1990s.
Back to the thrill of collecting cards, and figuring out how you were going to land the next great card. You had to get creative back in those days!
So maybe these cards are not the most valuable Robinson's, but they are still classic, in my mind.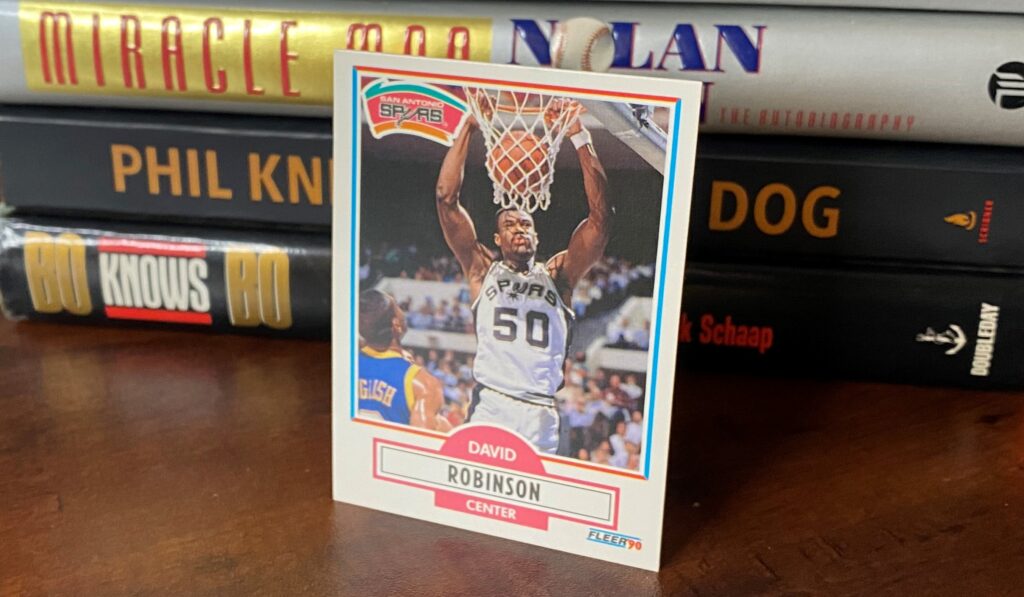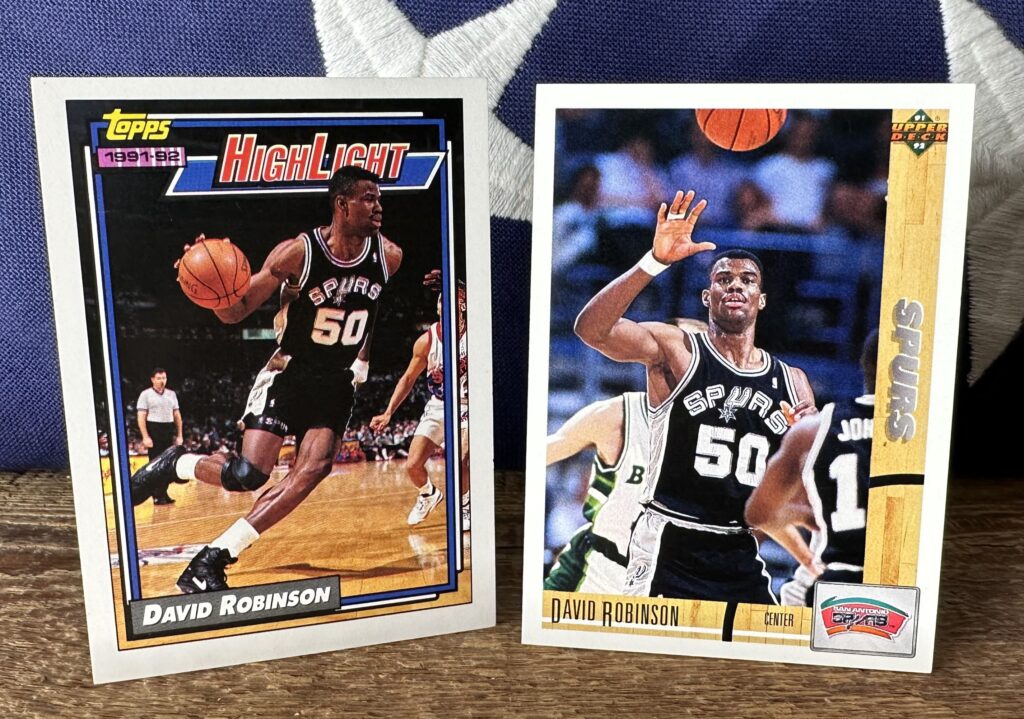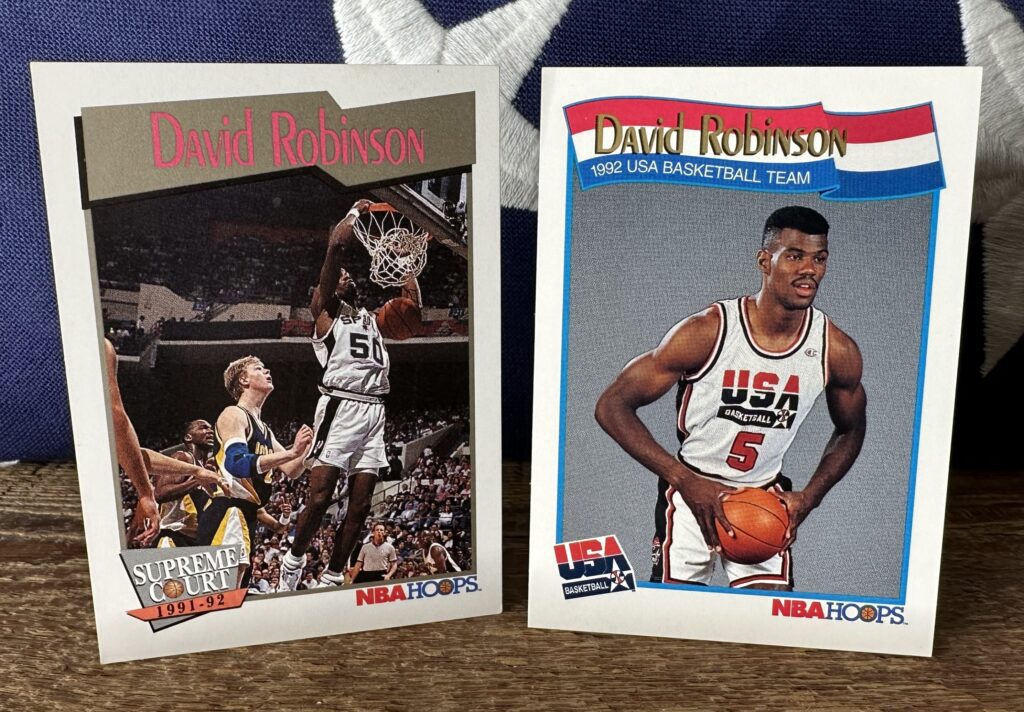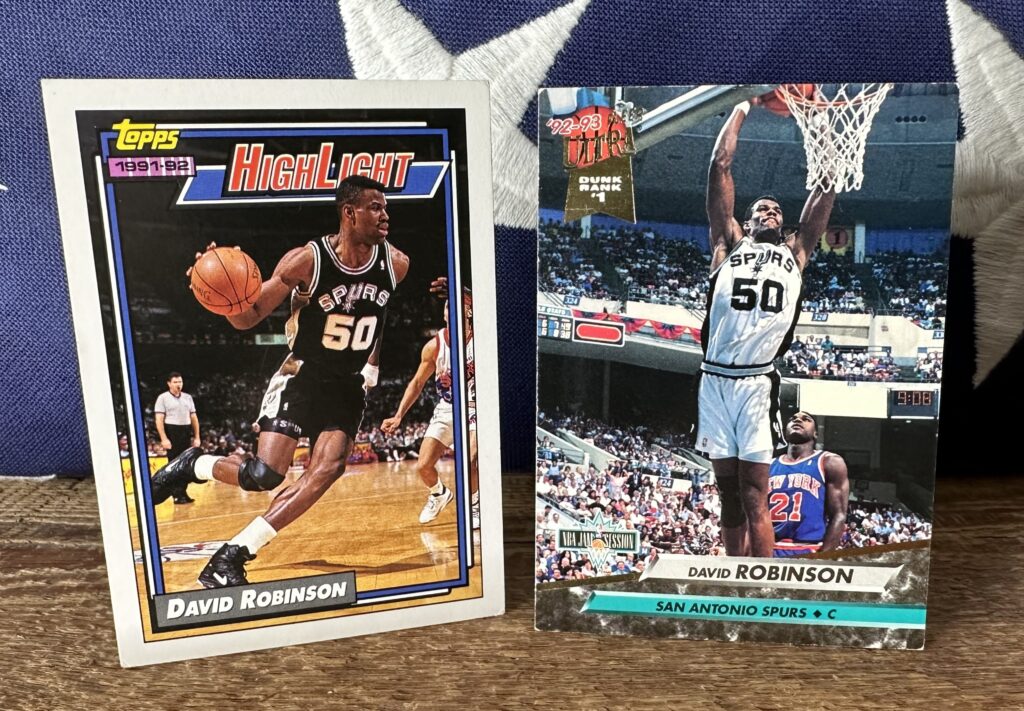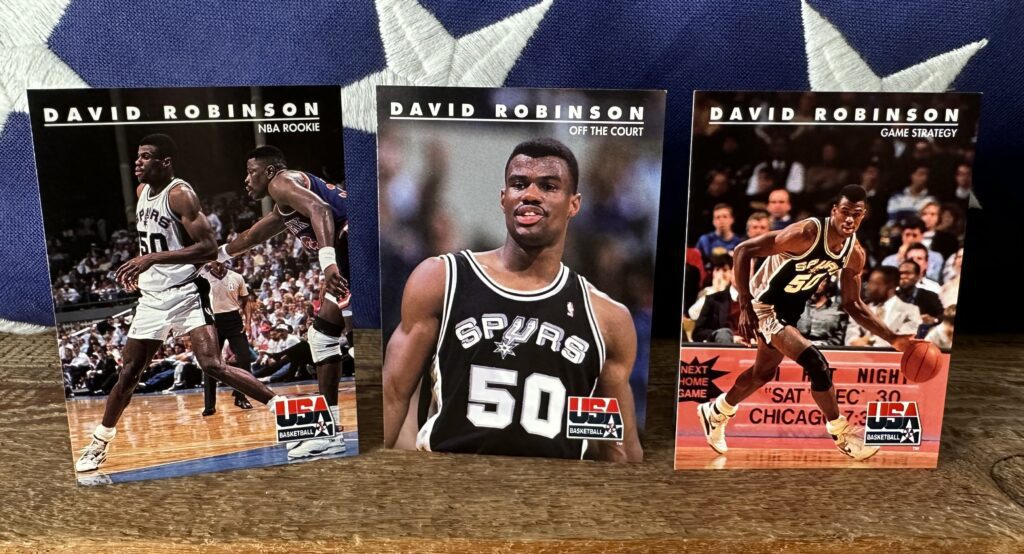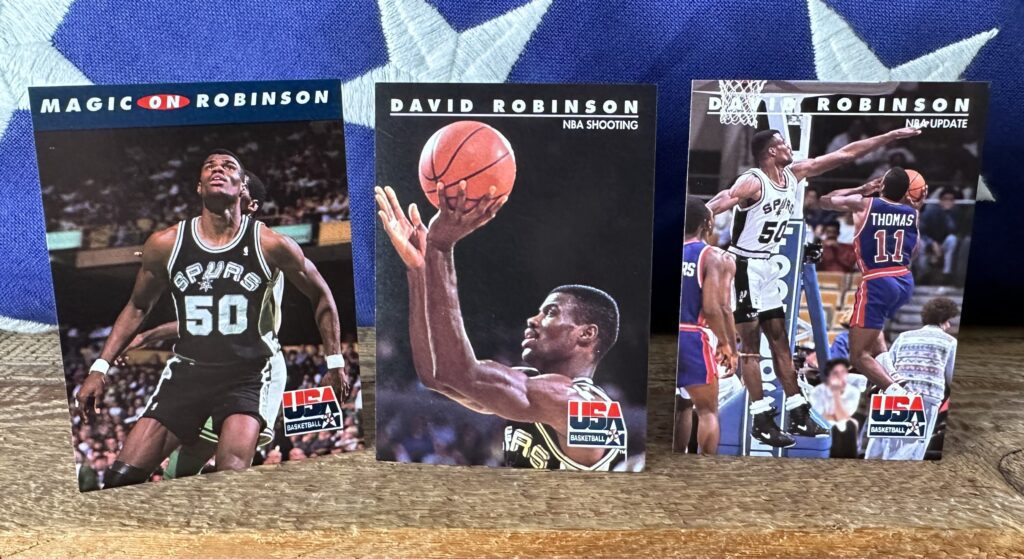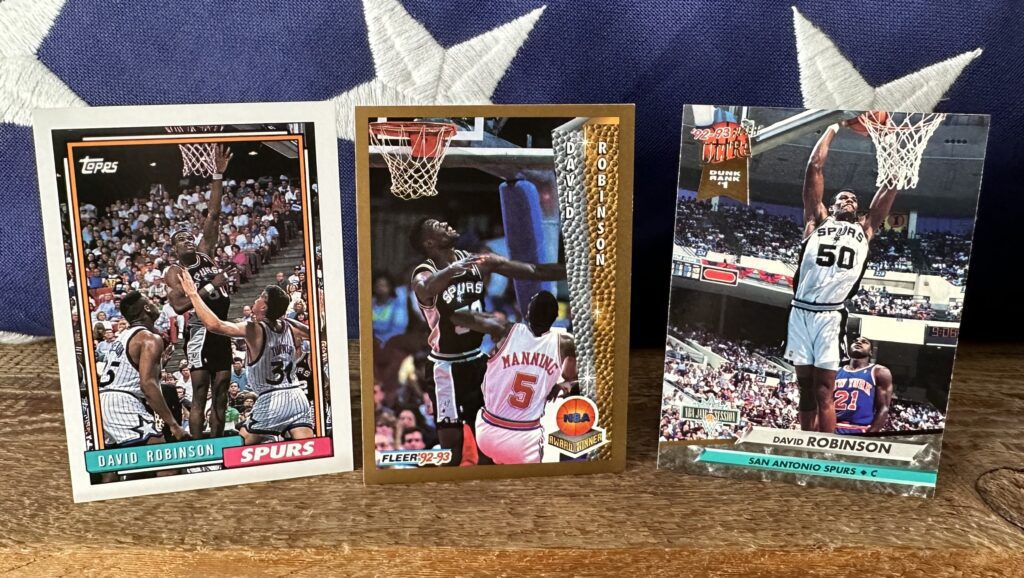 ---
Card Collectors –> Looking to Sell Baseball Cards? Here's How (and Where) To Do It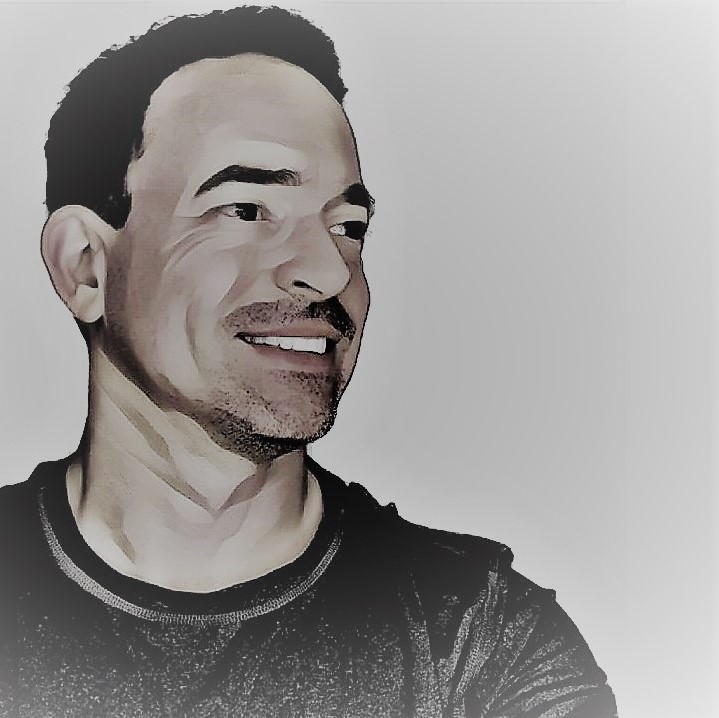 R.J. Bachman
Attic Capital – Writer, Editor, and Lifelong Collector
After many years of collecting rare coins, sports cards, and all types of collectibles, I began writing at Attic Capital to share my experience, knowledge, and passion.
I would love to connect with you, so don't hesitate to reach out and let me know more about your passion for collecting.