---
The Topps Tom Glavine rookie card is not the most valuable card of all time. But for baseball fans, and Atlanta Braves fans especially, Tom Glavine will be remembered as one of the coolest, calmest, and craftiest pitchers in the game.
During his 21 years in the major leagues, he was a 10-time all-star and became etched in the hearts of Atlanta Braves fans when he won them their first World Series title in 1995.
The Hall-of-Famer also racked up 164 victories during the 1990s and earned the second-highest number of wins as a pitcher in the National League.
Cy Young Winner, First Ballot Hall of Famer
A five-time 20-game winner, a two-time Cy Young Award winner, and a Hall of Famer.
Glavine was also one of only 24 pitchers in Major League history to earn 300 career wins. He was also the MVP of the 1995 World Series when the Braves beat the Cleveland Indians.
As Glavine neared his Senior year of high school, he had a big problem. He was just as good at ice hockey as he was on the pitcher's mound.
Glavine was drafted by both the Los Angeles Kings in the 1984 NHL Entry Draft and the Atlanta Braves Major League Baseball organization in the 2nd round of the 1984 amateur baseball draft.
He chose Baseball, and the Brave's fans couldn't be more grateful for his choice.
---
Hall of Fame Career
It's fitting Tom Glavine was inducted into the Baseball Hall of Fame in 2014 alongside former Braves teammate Greg Maddux and Braves manager Bobby Cox.
As a member of a baseball dynasty in the 1990s, Glavine and his teammates advanced to the world series five times in that decade. 1991, 1992, 1995, 1996, and 1999.
Tom Glavine "The Head-Hunter"
One of the most hilarious scenes in baseball history occurred back in the 1980s when Tom Glavine was ordered to intentionally hit Philadelphia Phillies legend, Dale Murphy.
As one of the most soft-spoken baseball stars from back in the day, you wouldn't see Tom Glavine playing "bean-ball" very often.
Here's a video of possibly the worst attempt to bean a player in baseball history. Obviously, Glavine wasn't trying to hurt Dale Murphy, as he threw four straight balls in his general direction.
"I think one of them was a change-up." Even the announcers were confused with Glavine's attempt to play "hardball."
Tom Glavine was not known for "head-hunting." But he wasn't afraid to intimidate hitters when called upon to do so… if you want to be generous and call what you see in the video below – intimidation.
What Glavine was best known for, other than being an all-around great teammate and cool dude, was carving up the strike zone with deadly accuracy for 22 years.
---
Tom Glavine Rookie Cards
Glavine had dozens of cool collectible baseball cards over the years. But, of course, his rookie cards are most desirable for collectors.
Even though it took him a few years to find his footing in the big leagues when he joined in the late 1980s, his first cards from his rookie year make great additions to any card collection.
1986 ProCards Greenville Braves Tom Glavine Rookie Card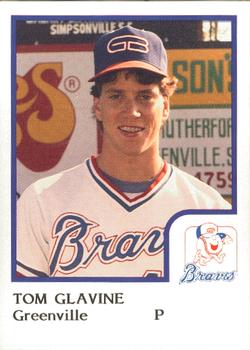 The ProCards Greenville Braves Tom Glavine PSA 10 card sells for $650.
1987 Bob's Camera Richmond Braves Tom Glavine Rookie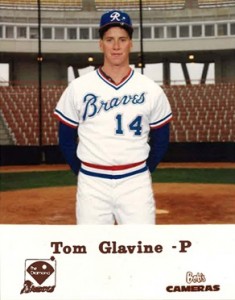 Only about 500 Bob's Camera Glavine rookie cards were printed. Graded cards are tough to find, so values hold up well. Even ungraded sales on eBay are rare, with an asking price of $65.
1988 Topps Tom Glavine #779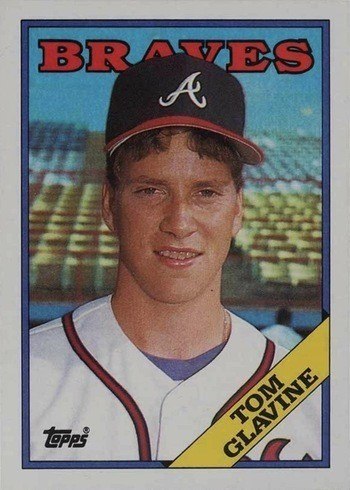 Topps cards were the biggest brand in the 1980s, and Tom Glavine was one of the most exciting rookies to enter the league.
The Topps baseball cards of the late 80s had a classic look. Maybe that's because everyone remembers the cards from the card collecting boom of that era.
The classic Topps yellow name ribbon and the usual styling and vital stats on the back make this a classic 80s Topps rookie card.
As for the values of the Tom Glavine Topps rookie cards, they won't break any auction records anytime soon. The PSA 10 Gem Mint versions of the card will only fetch around $70.
1988 Topps Tiffany Tom Glavine Rookie Card #779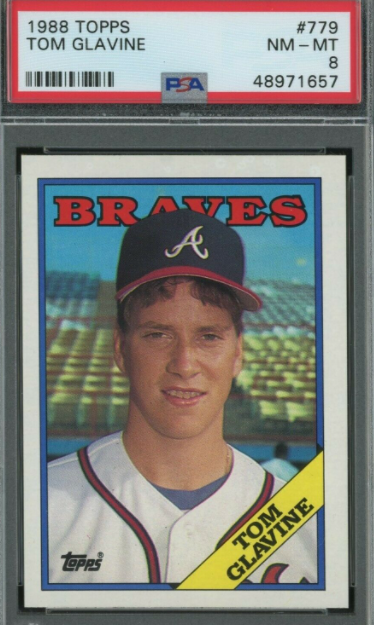 Tiffany versions are essentially just better versions of the base cards. They were made in smaller quantities and had a higher quality too.
Firstly, they are noticeably glossier due to a thin film applied during production. This film makes the colors brighter and the card shinier; it also preserves it well.
The Tiffany versions are tougher to find than the base cards, which is part of their appeal and higher value for resale.
The 1988 Topps Tiffany Tom Glavine card is the most valuable of his rookie cards, but that isn't saying much.
Despite Tom Glavine's legendary Hall-of-Famer status, his Topps Tiffany rookie card is under the radar and won't break the bank if you're thinking about buying one.
1988 Fleer Tom Glavine Rookie #539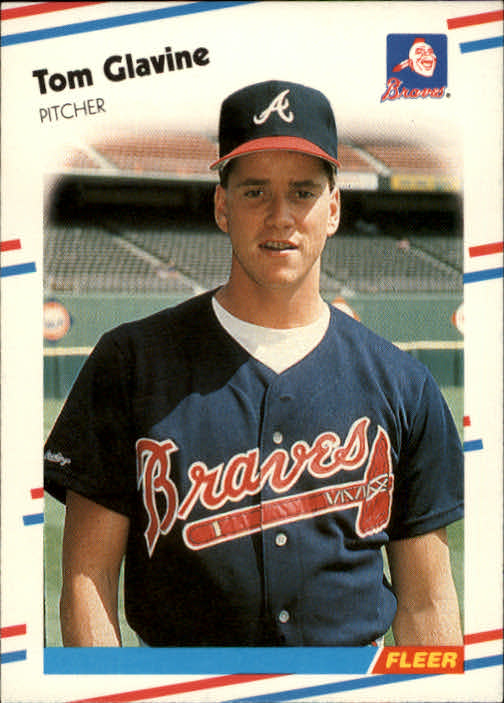 Fleer was a very popular card brand in the late 80s. It captures the late 1980s perfectly with the red, white, and blue striped effects and the white border.
You can find the entire Fleer factory set selling for $25 – $30, including the Glavine card.
The Fleer Glavine RC is an excellent choice for fans of the player because it's a beautiful card with a very reasonable price tag.
1988 Donruss Tom Glavine #644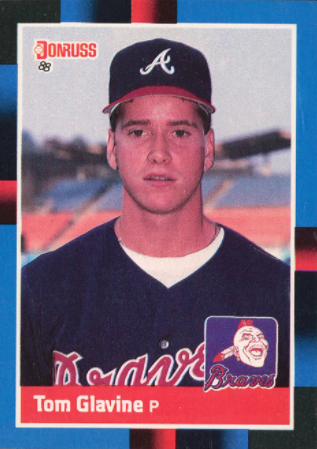 Donruss was another massively popular card brand from the 1980s, and the Glavine Donruss rookie is a classic-looking card.
The blue, black, and red patterns, the white frame, and the iconic logo in the top left corner. The Donruss doesn't have much value either.
One of the reasons Donruss Tom Glavine rookies don't have as much value as some other players is the massive supply of these cards in the 80s.
This high production numbers of the 1988 Donruss means a surplus, and as we all know, scarcity is the primary determiner of value in the baseball card world.
The low value might put the profit-hunting collectors off, but it's an excellent opportunity to add a Hall of Famer to your collection.
1988 Score Tom Glavine Rookie Card #638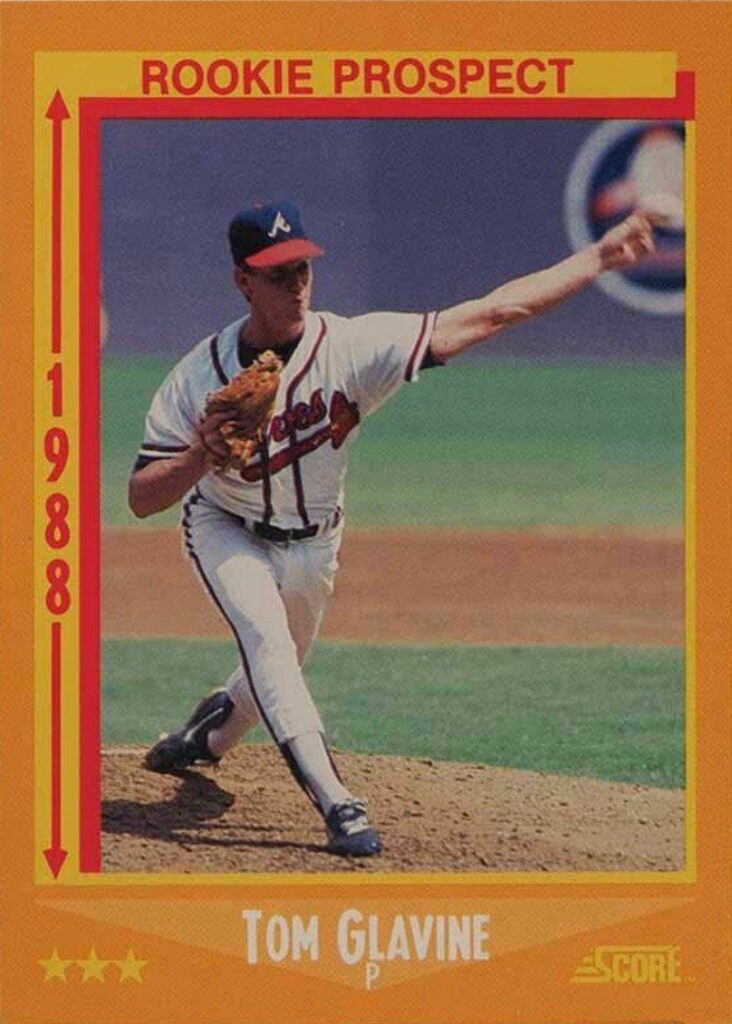 The 1988 Score baseball card has the coolest image of the pitcher by far – A live-action unposed picture of Glavine doing what he does best! The Score brand had fantastic imagery, and the mustard and red colorway screamed out of the eighties.
This was another card with very high production numbers. So it's a great bargain, even in gem mint condition.
The back of the card is classic Score, with a full-on short-story bio, the vital stats, and a summary at the top.
1988 Score Glossy Tom Glavine #638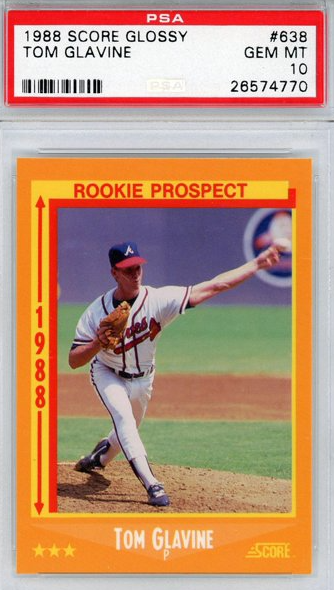 Score's "Glossy" range chose a rather literal title to describe the significant aesthetic difference between this and the base card version. The Glossy range was Score's answer to Topps Tiffany ranges.
Like the Topps Tiffany versions, the Glossy versions have better quality cardboard and glossy veneer, and they last much longer than the base card.
They were also produced in smaller quantities, making them a little more valuable for resale.
Again, you won't need to break the bank to get your hands on one, which is excellent for Glavine fans that want to start a collection.
1989 Bowman Tom Glavine Rookie #267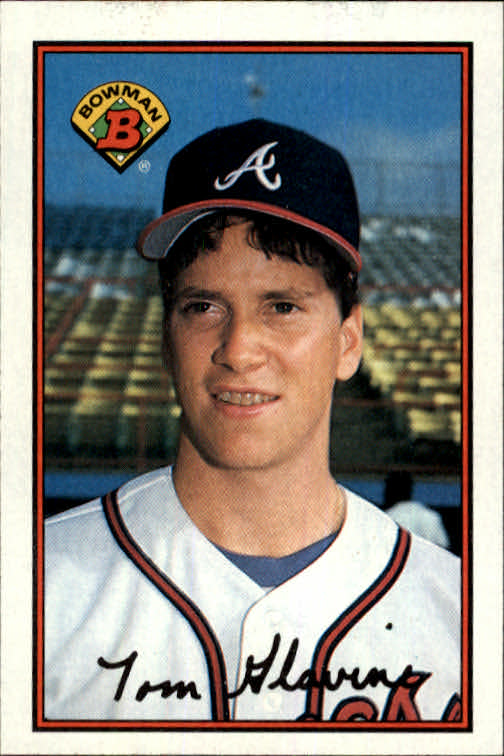 This is contentious for some collectors who don't consider it a rookie card. You'll notice that it's dated 1989, unlike the rest of the bunch, from 1988.
This is because it's the first Tom Glavine Bowman card produced, and they were a year late in production.
Technically, 1989 is not Glavine's rookie year, but since it's the first Glavine card made by Bowman, we'll include it in the rookie card list.
The Bowman designs were a lot classier and understated, making them a popular choice.
The classic red and black pencil-thin border and white frame design is a timeless look that could've come from any decade.
1989 Bowman Tiffany Tom Glavine #267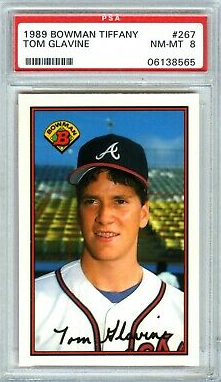 The first Bowman card also had a Tiffany version, as you already know, with better quality, better longevity, and slightly higher value. But, again, the Tiffany version is an excellent bargain for fans and collectors.
Tom Glavine Atlanta Braves rookie cards are classic 1980s items. Glavine's soft-spoken, easy-going persona fit in well with the Braves teams of the 90s.
They won a lot of ball games in that era, and Glavine was at the heart of the team.
Where is Tom Glavine Now?
So what happened to Tom Glavine? After a 22-year career as one of the game's best pitchers, Glavine retired in 2010 and started his new career as Atlanta Braves broadcast team special assistant.
His new role with the Braves includes spring training coaching, minor league talent evaluation, TV broadcasting, and some front office work.
He stepped away from Braves broadcasts recently. He is now spending his time in Johns Creek, Georgia, with his wife and family and coaching his sons' hockey and baseball teams.
---
READ more about amazing athletes and their valuable rookie cards –
Mr. November, the Ultimate Derek Jeter Rookie Card Guide
The Greatness of the Barry Sanders Rookie Card
Barry Bonds Rookie Card, How Many Should I Have?
Rickey Henderson Rookie Card and the Man of Steal
---
Card Collectors –> Looking to Sell Baseball Cards? Here's How (and Where) To Do It