---
What's the best Barry Bonds rookie card to own? If you consider yourself a sports card collector, I'm afraid you're asking the wrong question entirely. The correct question would be, "how many Barry Bonds rookie cards should I have?"
I would answer the latter question with a simple statement. You can't have enough rookie cards of the greatest hitter to ever walk the face of the earth.
Barry Bonds Untouchable Career Numbers
For those of you who forget, let me remind you that Barry Bonds is the all-time leader in home runs.
In fact, he's the only member of the 500-500 club, having over 500 home runs and 500 stolen bases over his career. Not only that, but he's the only member of the 400-400 club as well.
Barry Lamar Bonds is arguably one of the greatest athletes to ever live. He is, in fact, the greatest hitter to ever play the game. Period. Point Blank.
Bonds won eight Gold Glove awards, 12 Silver Slugger awards, seven National League MVP awards, and was selected to the All-Star game 14 times.
The stats go on and on, but let's look at one of the favorite modern-day stats-to-end-all-stats, the WaR number.
WaR Numbers
In the hallowed "Wins Above Replacement" category, Bonds is ranked second all-time by position players. Babe Ruth is ranked first.
And if you're not familiar with W.A.R., it's where nerds try to quantify every aspect of a ballplayer and compile it into one single number.
This sabermetric statistic is used to measure a player's total contribution to his team. For all the Bonds haters, which there are a few, I'm sure they have no idea that he's second all-time in WAR ranking behind big Babe Ruth.

---
---
The Legacy of Barry Bonds
I already told you what the legacy of Barry Bond is. The greatest hitter to ever walk the face of the earth. I can repeat stat after stat, but I'll save you the hassle. Go look it up for yourself if you insist on digging into the numbers again.
There are many great hitters out there, past and present, but do I really need to make a case for Barry Bonds again? The case is closed.
Ok, I'll make the case one more time. I'll even number the top five reasons for you so that you can keep track.
1. 762 Career Home Runs
Bonds hit 762 home runs over 22 seasons. That's an average of 34 home runs per season for more than two decades. The Sultan of Swat, Babe Ruth, averaged 32 home runs per season.
And who knows what Giant Babe Ruth was "on," he could have been drinking Rhinosaurous horn extract before every at-bat for all we know.
2. Most Electric Hitter to Ever Step in the Box
When I say "greatest" hitter, I mean you have the best hitting numbers. I'm also saying you stop people in their tracks when you step to the plate.
Everyone wants to see what will happen next. When was the last time you sprinted to the T.V. screen to watch Mike Trout dig in?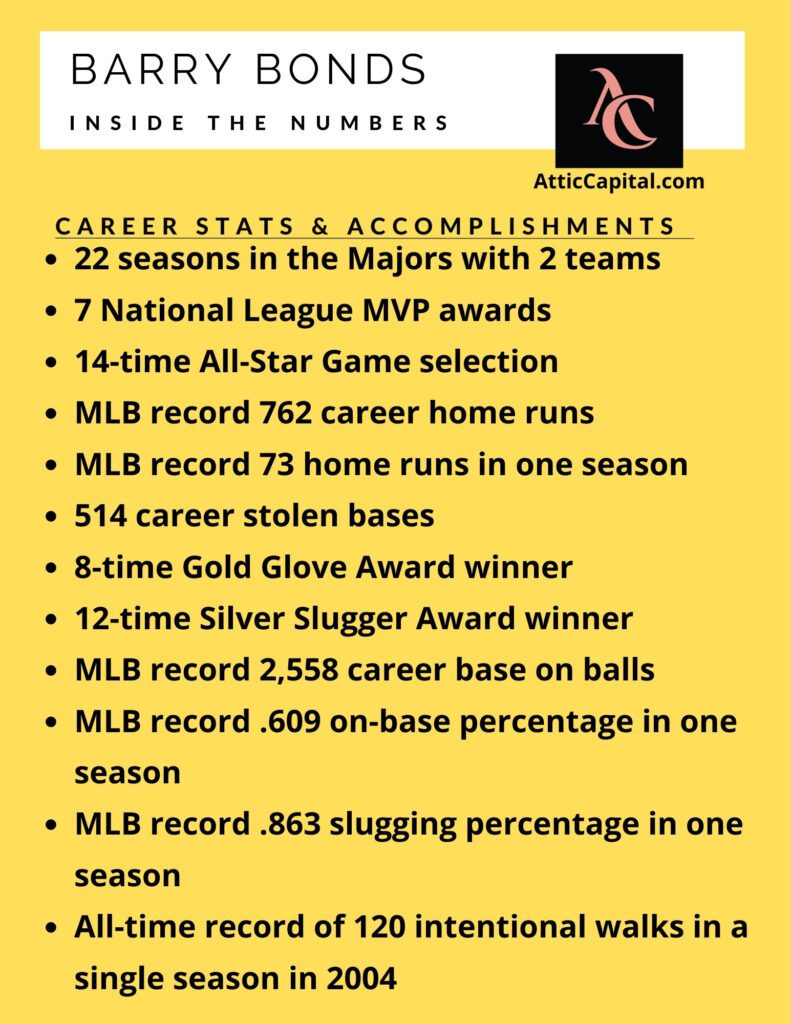 3. He Never Played With a Hall of Famer
Bonds spent 22 years in The Bigs and never had a Hall of Fame teammate. He played with Will Clark during his San Francisco Giants career, which is pretty damn close to a Hall of Famer in my mind, but "The Natural" is not in the Hall.
Meanwhile, The Babe had Gehrig and nearly half of the entire Hall of Fame as teammates while winning his 7 championships. The only thing Bonds could do was win 7 MVP awards, while The Babe was league MVP once.
4. He Faced Pitchers Who Were Roided Out of Their Minds
I don't care what anyone says; the second the first hitter in the Majors popped a performance-enhancing pill, the pro pitchers were immediately following behind them. It's no secret steroids help pitchers throw harder fastballs.
Their curve balls curved a bit tighter, and their sliders dropped a bit sharper. Whatever substance Bonds is guilty of taking, many of the opposing pitchers he was launching 900-foot home runs from were also taking similar juice.
Bonds didn't care. He just dropped roided-out sliders into the Pacific Ocean via McCovey Cove – over, and over, and over.
5. He's Left Handed
Somewhere between 10 and 12 percent of the world's population is left-handed. Yet, 100% of the top greatest hitters in baseball are left-handed. It's a strange phenomenon, but sure as the day is long, you must be left-handed to be eligible as the greatest hitter of all time.
And the math works out – starting with Barry Bonds. Then Ruth, Ted Williams, then Gehrig, then Ty Cobb. And Willie Mays was a switch hitter in little league, so that counts.
Controversy?
Writers like to write about controversy, but there is no controversy to be found here. I've heard people say Barry Bonds is "controversial," but these people must be confused.
The dictionary defines controversy as "a state of prolonged public dispute, debate, or contention…" Barry Bonds is just a guy.
Just a guy who would smash baseballs out of stadiums like no other human in history. Hardly anything to dispute except the fact that Major League Baseball should have moved the fences back 100 feet every time Bonds stepped to the plate.
There is no controversy around Barry Bonds. Watch his highlight reel at the end of this post, and tell me if there's any controversy in it.
The only controversy you'll find is whether Bonds is liable for 20 years of psychiatric treatment of opposing pitchers he faced after they were left with insomnia and night terrors after facing him.
Barry Bonds Rookie Cards
Now that we have established why you should be stacking Barry Bonds rookie cards to the ceiling let's figure out which Barry Bonds rookie card to buy next.
How much is a Barry Bonds rookie card worth? They can range from over $10,000 to only $100, depending on which one you're looking at.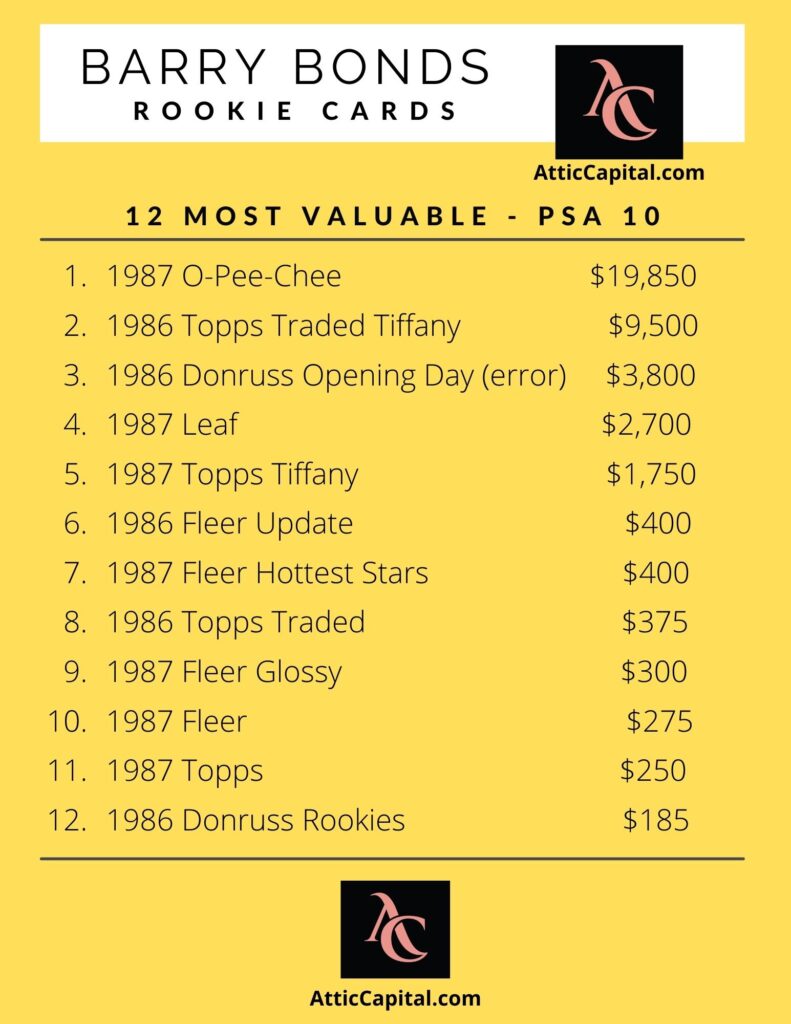 These values are for cards that have actually sold through eBay auctions, not just listings. The limited-production O-Pee-Chee and Topps Traded Tiffany versions are the most valuable at the moment.
The years vary, depending on the card, but the Barry Bonds rookie cards spanned the 1986 and 1987 sets for most card producers.
1987 O-Pee-Chee Barry Bonds Rookie Card – $19,850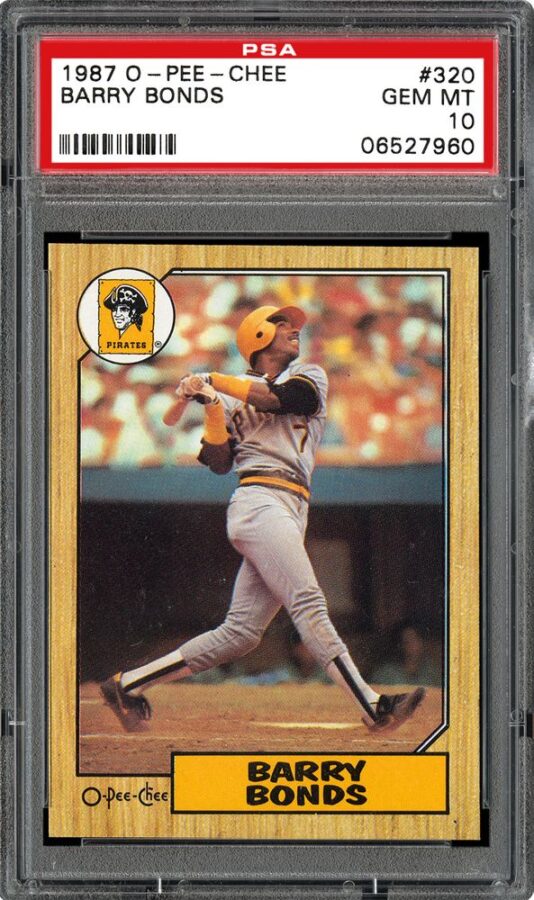 This extremely rare PSA 10-rated 1987 O-Pee-Chee Barry Bonds rookie baseball card sold for $10,000 recently on eBay.
If your budget doesn't allow for the PSA 10, you can find BGS 9.5's and PSA 9's for just around $1,000 currently.
The 1987 O-Pee-Chee baseball set was printed including 396 cards. The Bonds rookie from this set has a population of only 36 PSA 10-rated cards.

---
1986 Topps Traded Tiffany Barry Bonds Rookie Card – $9,500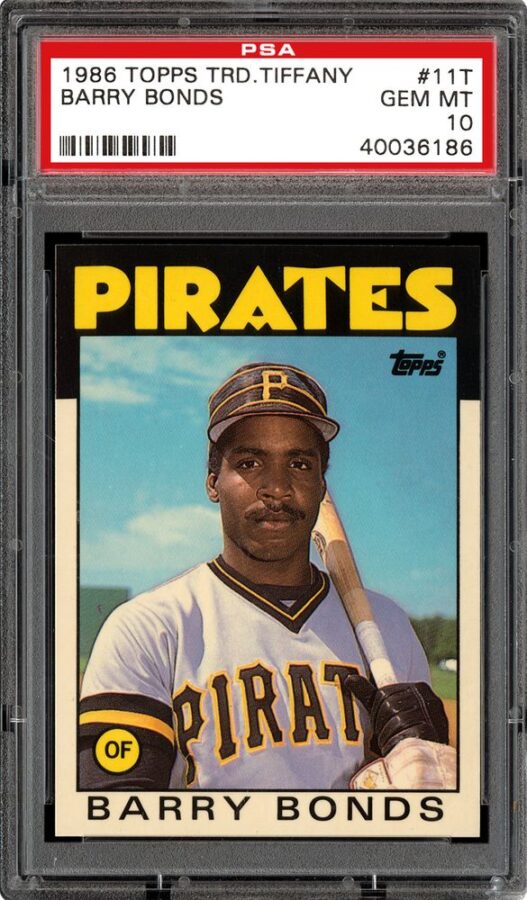 PSA shows a population of 443 graded GEM-MT PSA 10 Topps Traded Tiffany cards from 1986.
The card is probably one of the most popular Barry Bonds rookies, and if you're looking for a PSA 9 or near-mint condition card, you can still find them for under $1,000.
The PSA 10 baseball cards are currently selling on eBay for just around $9,000.

---
1987 Fleer Glossy Barry Bonds Rookie Card – $300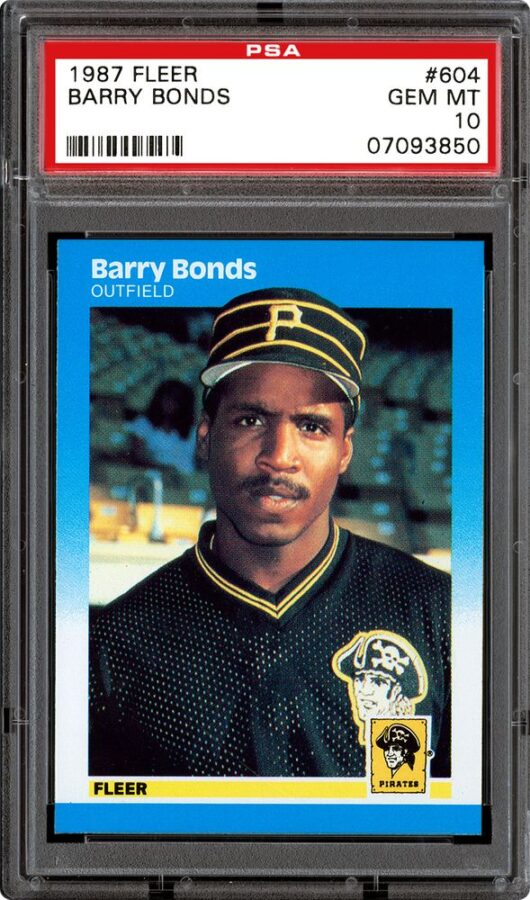 Before there was Upper Deck, there were the 1987 Fleer Glossy cards. Well, they weren't exactly the most premium-looking card, but they were "Glossy."
This is a great card, and I'm not sure why it's not worth more. Perhaps it's the high population of over 1,200 PSA 10s graded.
Perhaps it's the high population of over 10,000 PSA 9s. I love the card's simple layout and the amazing Pittsburgh Pirates cap.
Numerous PSA 10 graded cards are currently listed on eBay for about $500. PSA 9s for under $100. It seems like a great deal for a rookie card of the greatest hitter to ever live.

---
1987 Leaf Barry Bonds Rookie Card – $2,700
The 1987 Leaf Barry Bonds RC is another rare card that would make a great addition to any collection. The 264 card set was similar to the Donruss cards but printed for the Canadian market.
The card is currently selling on eBay for around $2,000 for a PSA 10, while the PSA 9s are selling for just $160.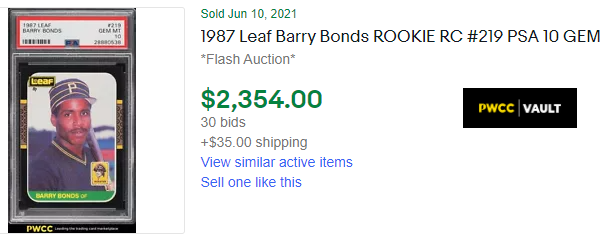 ---
1987 Topps Tiffany Barry Bonds – $1,750
The 1987 Topps baseball cards were an all-time classic design. The wood grain borders are unforgettable.
The Tiffany versions are much rarer and can be identified by a glossy front and a much lighter color scheme on the back.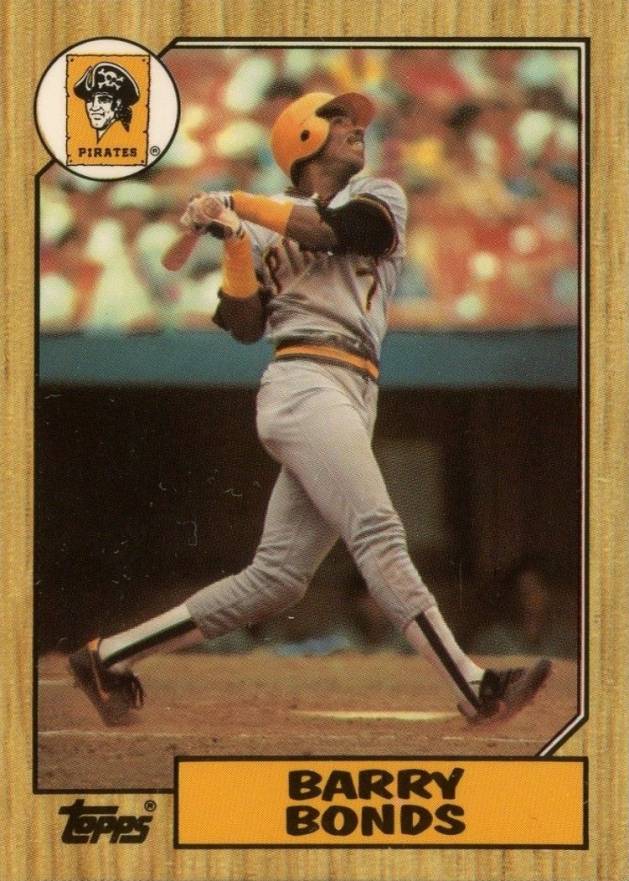 ---
1986 Donruss Opening Day (Error) – $3,800
An error card usually has a tiny detail requiring careful inspection to identify. Not this one.
Donruss printed the Barry Bonds RC rookie card with the wrong person on the front of the card.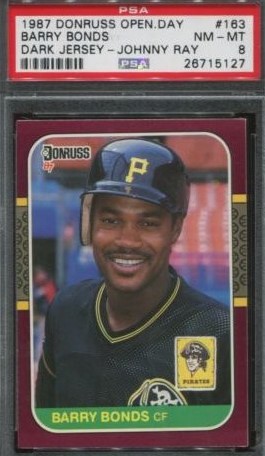 Pittsburgh Pirates second baseman Johnny Ray is pictured with Barry Bonds' name printed on the bottom.
The printing mistake was caught fairly quickly and corrected, but not before almost 1% of cards rolled off the printing press featuring Ray instead of Bonds.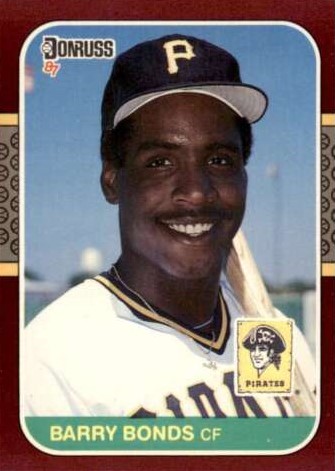 ---

1986 Fleer Update Barry Bonds Rookie – $400
The 1986 Fleer Update complete set included 132 cards. Along with the Will Clark rookie card, the Fleer Barry Bonds rookie is the top card in the set.
There are over 1,300 PSA 10 GEM Mint Fleer Update Bonds rookie cards currently. But it's one of my favorites, showing the left-handed slugger taking batting practice in his mid-80s classic Pittsburgh Pirates uniform.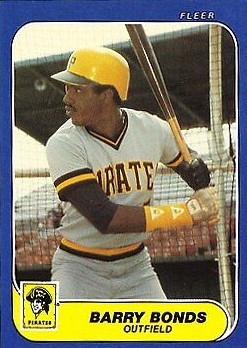 ---
1987 Fleer Hottest Stars Barry Bonds – $400
1987 Fleer baseball cards featured a 44-card special edition 'Hottest Stars' set. Barry Bonds Pittsburgh Pirates cards are all amazing, including this one.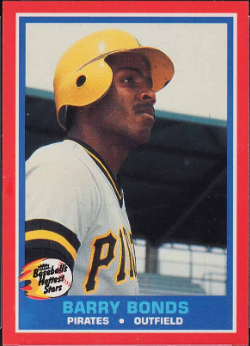 ---
1986 Barry Bonds Topps Traded Rookie Card – $375
The base factory set of 1986 Topps cards didn't include many stars, so the Traded set aimed to feature several players quickly emerging as household names.
There's the Bo Jackson, Jose Canseco, and of course, the Barry Bonds.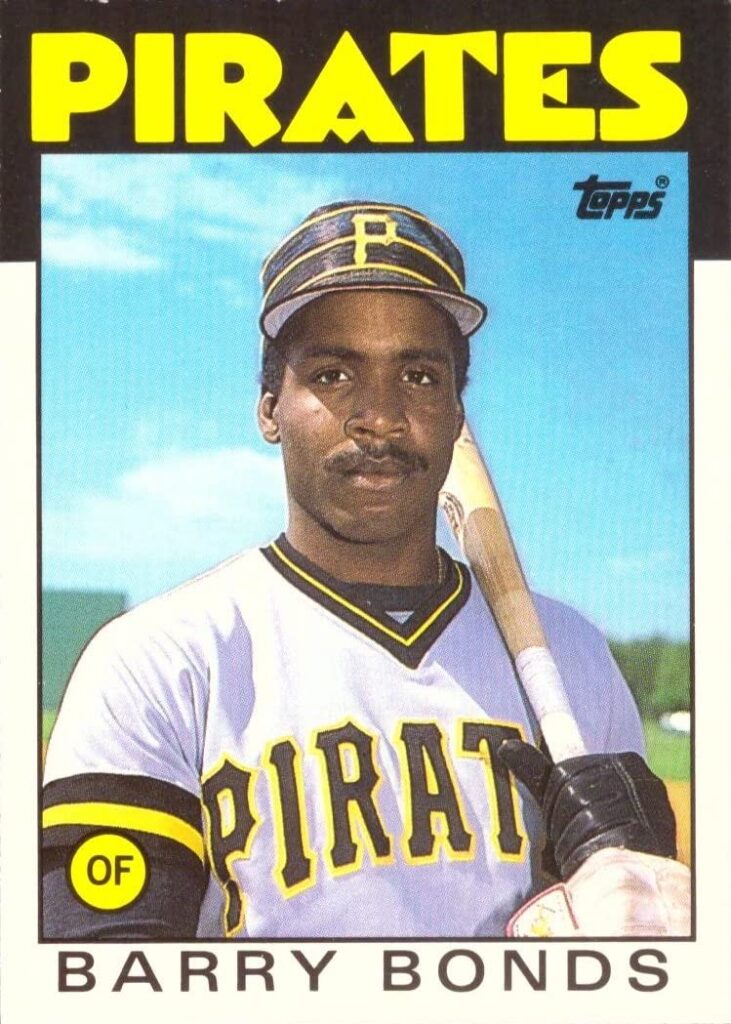 ---
1987 Fleer Barry Bonds – $275
The 1987 Fleer set again included the Bo Jackson rookie and the Barry Bonds rookie, along with Barry Larkin's rookie card.
You can still find 1987 Fleer unopened wax packs selling online for just a couple of bucks each. Who knows, maybe there's a Bonds in there somewhere.
The 1987 Barry Bonds Fleer #604 has a PSA 10 population of only 1,200 cards, and a PSA 7 nm-mt population of 1,300.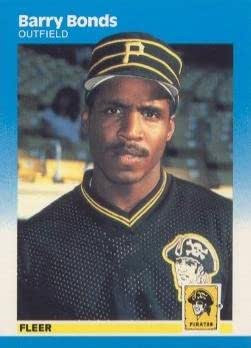 ---
1987 Topps #320 Barry Bonds – $250
The standard set of Topps wood-grained beauties were plentiful, nobody really knows how many were printed. Maybe a billion?
Nonetheless, the 1987 Topps Barry Bonds baseball cards graded PSA 8, 9, or 10 condition trading cards still hold their value nicely.
You might remember flipping open your Beckett price guide to check your latest 1987 Topps values.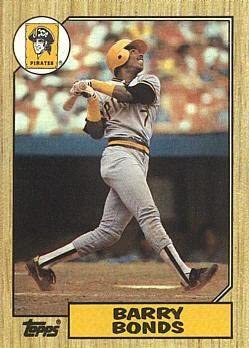 ---
1986 Donruss Rookies Barry Bonds – $185
The 1986 Donruss Barry Bonds 'The Rookies' is another classic mid-80s card. Actually, any mid-80s Pittsburg Pirates card is pretty incredible. The amazing Pirates hats alone deserved their own featured card.
Barry Bonds cards in the Pirates uniform are timeless memorabilia. Just let him in the HOF already!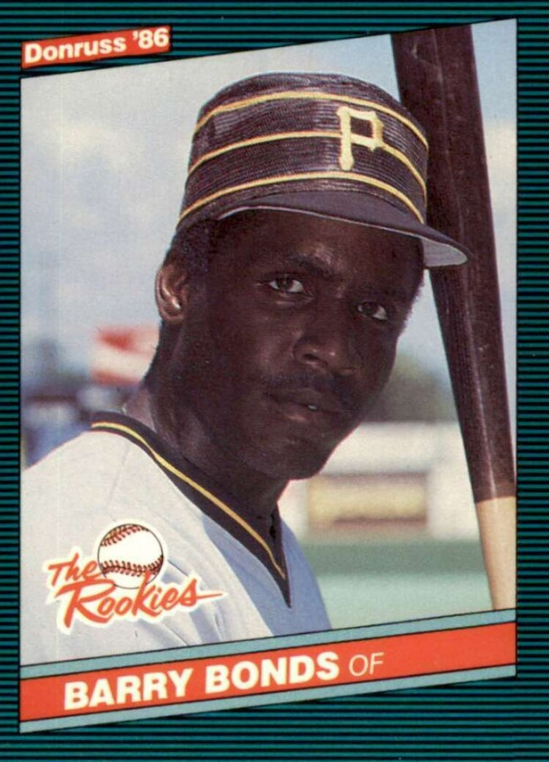 ---
My Favorite Barry Bonds Baseball Cards
These cards are not his rookie cards, and most of them hold almost zero monetary value, but they are awesome to look at.
If you were around back in the late 80s and early 90s, you remember when Bonds was catching his stride.
Suddenly, he was gaining recognition as one of the premier sluggers in the game.
By the late 90s, he was primed, jacked, zero'ed in, and ready to make his run at the all-time home run record.
Sure, there were at least 10 trillion Barry Bonds cards printed in the early 90s, but I need to show them off in style, just like a Bonds blast into McCovey Cove.
Here are a few of my favorite Barry Bonds cards – make me an offer if you see one you like!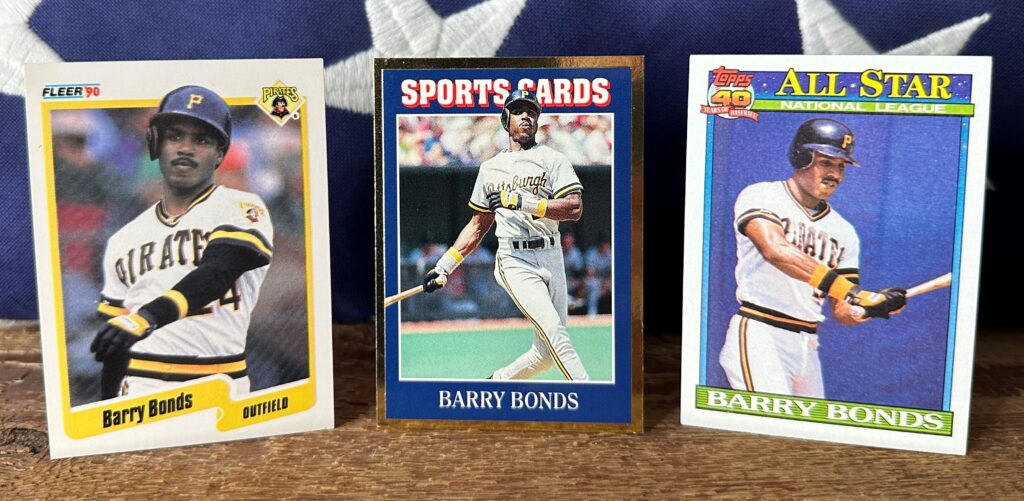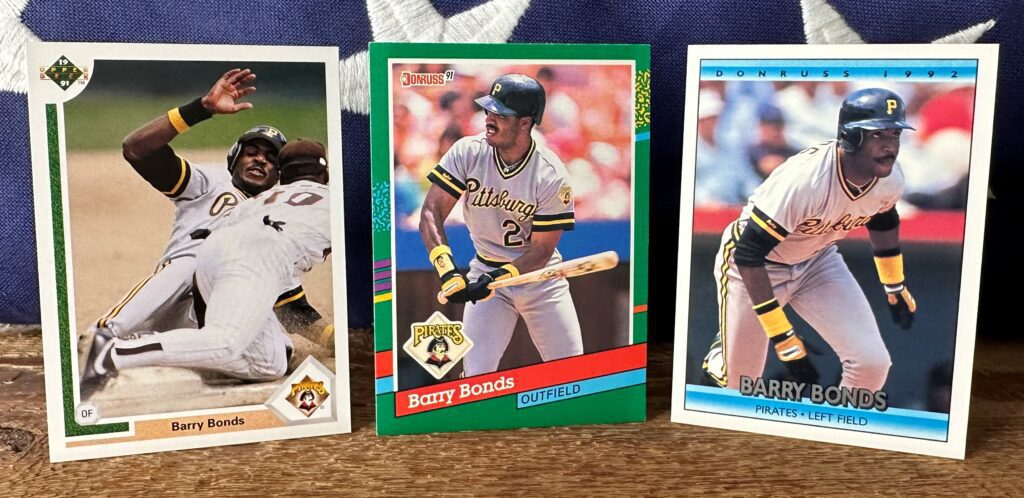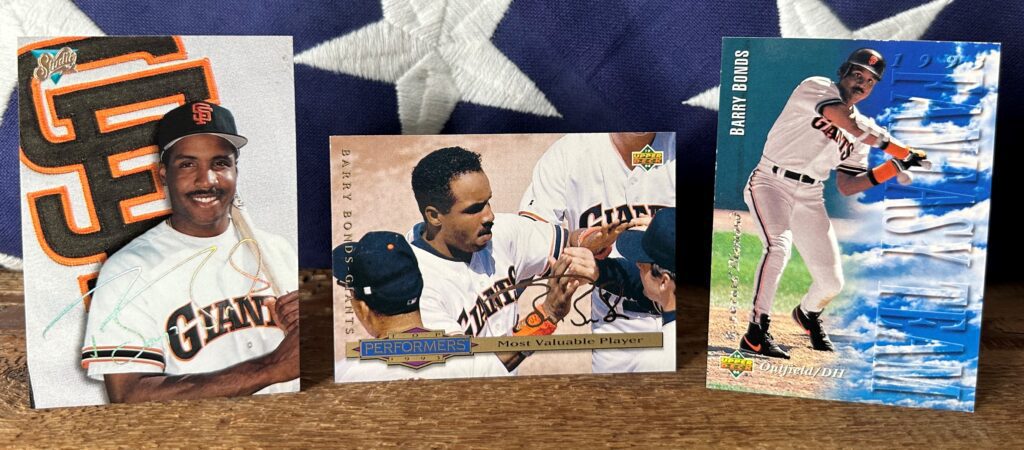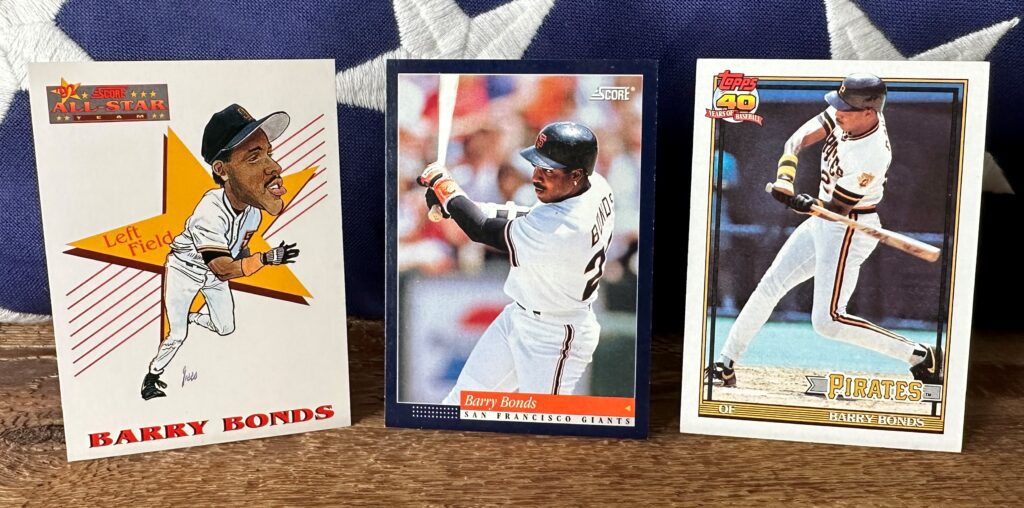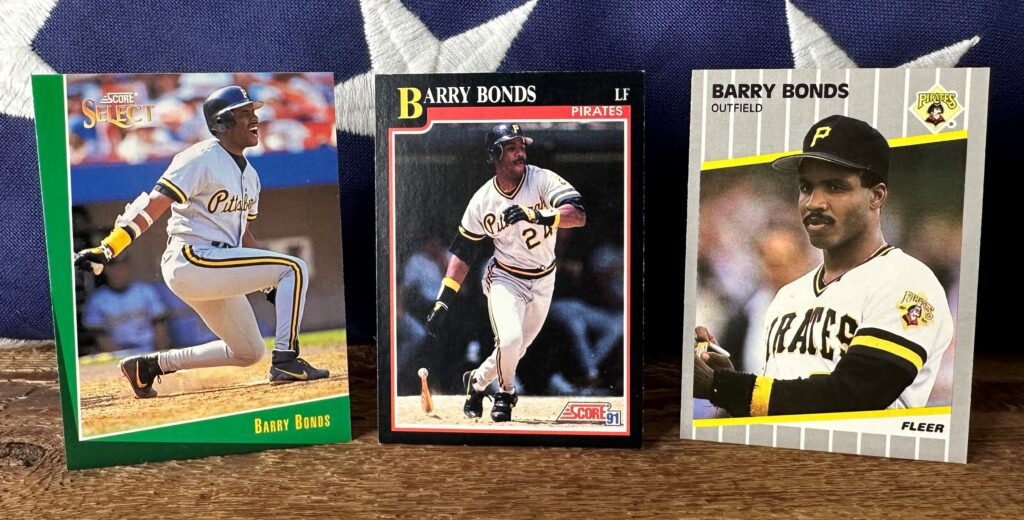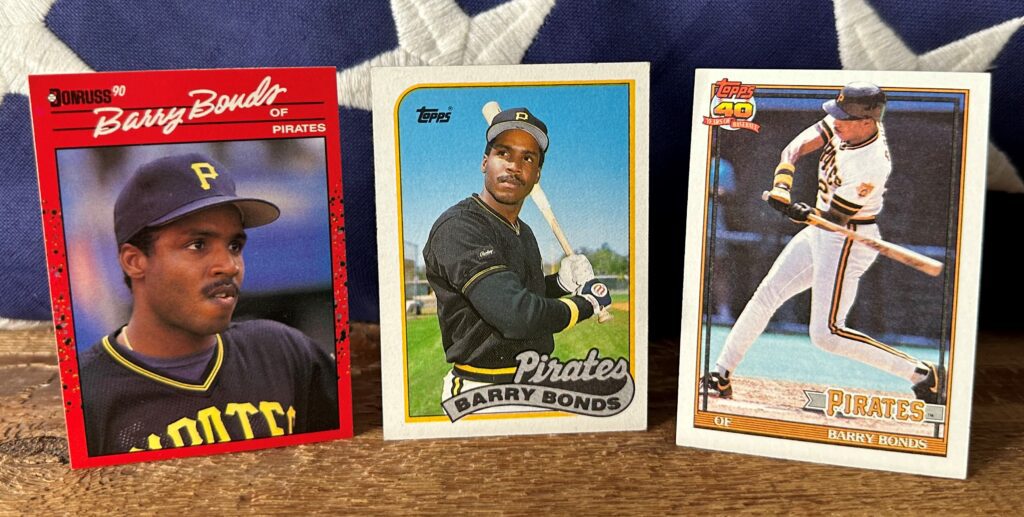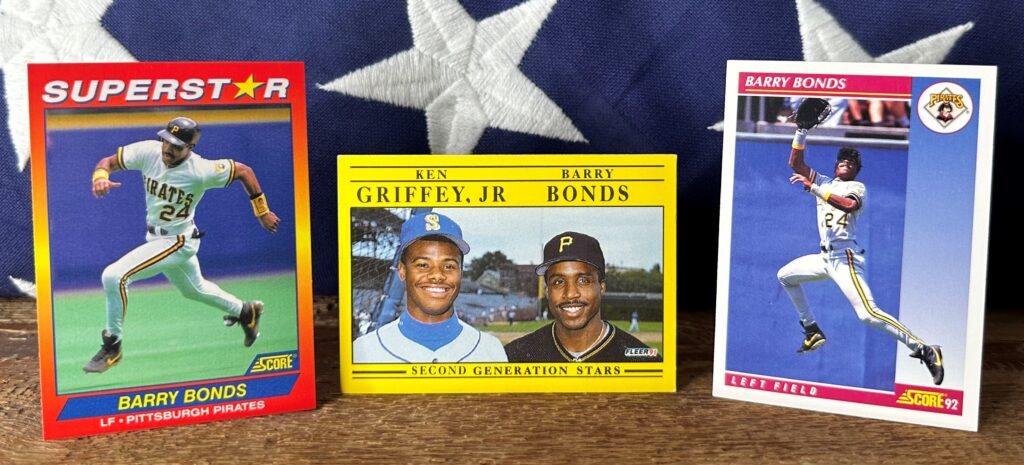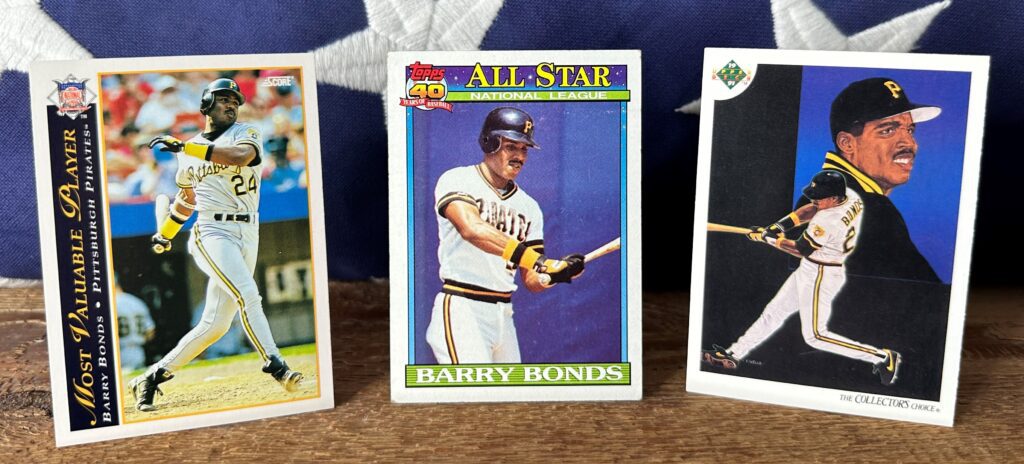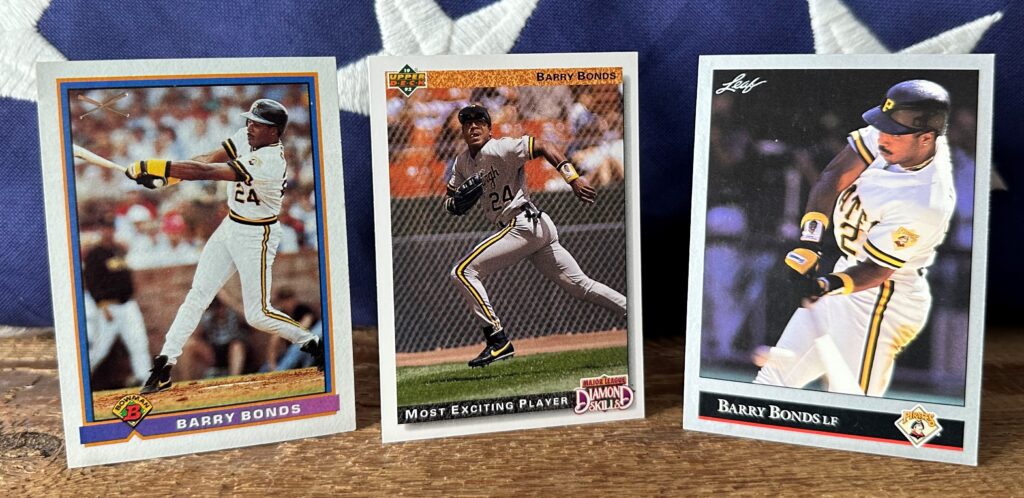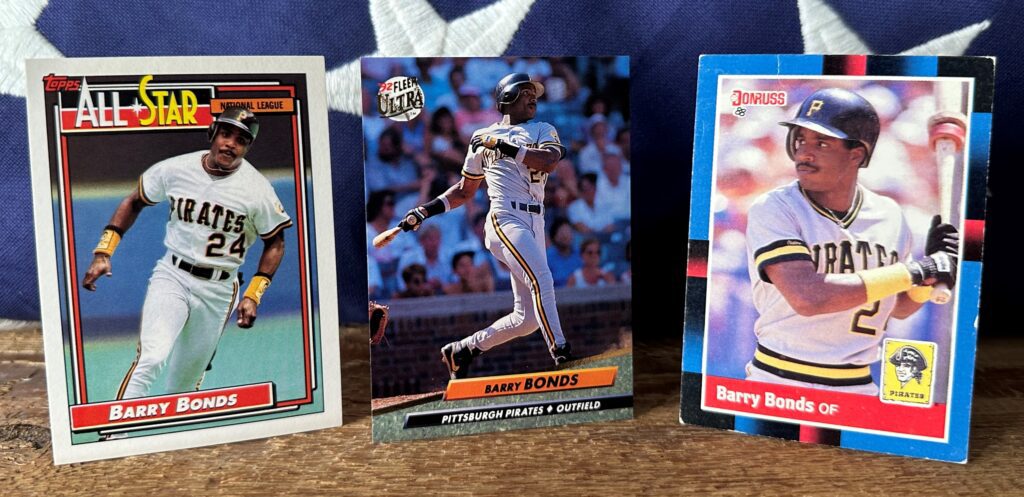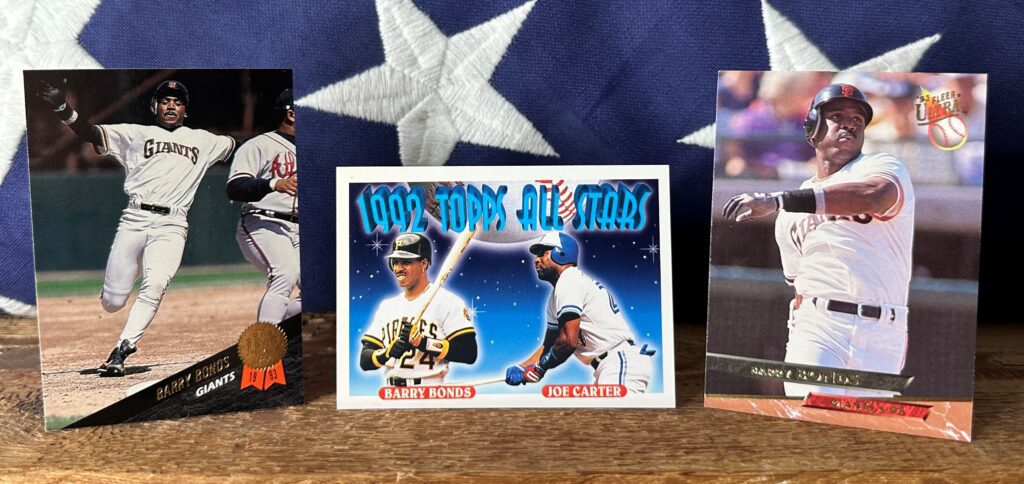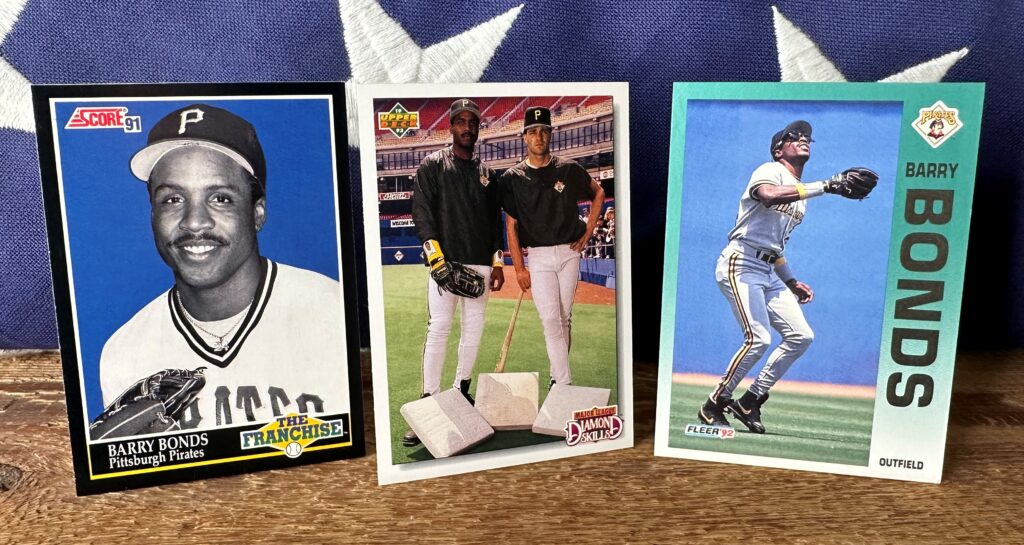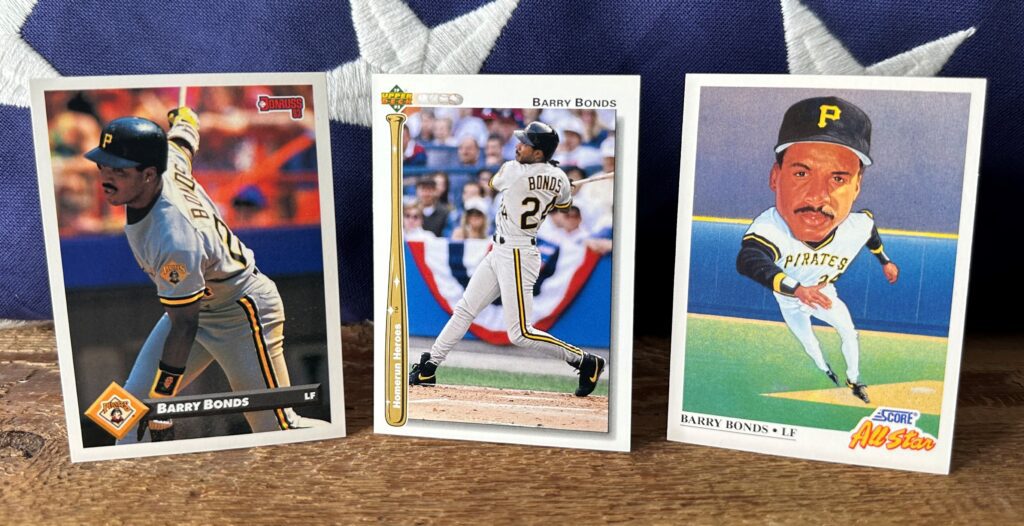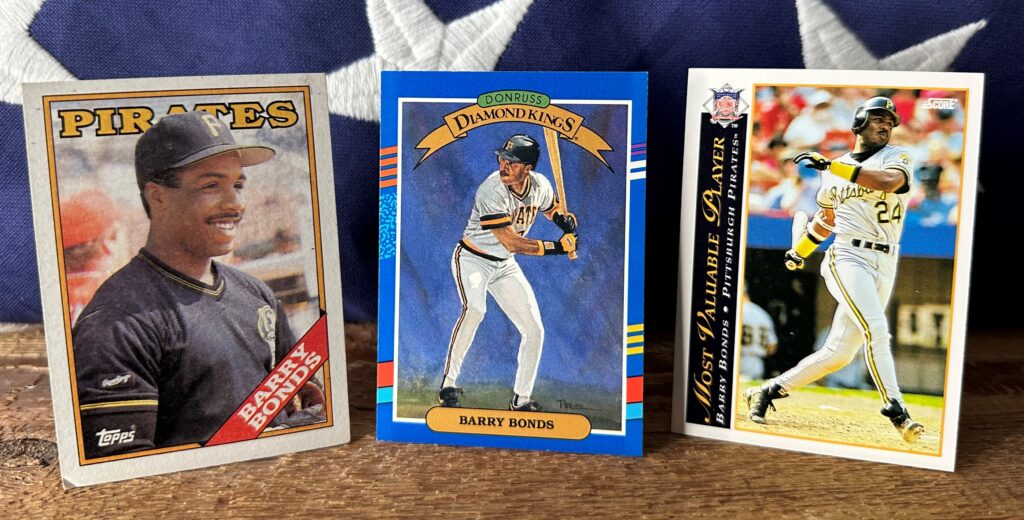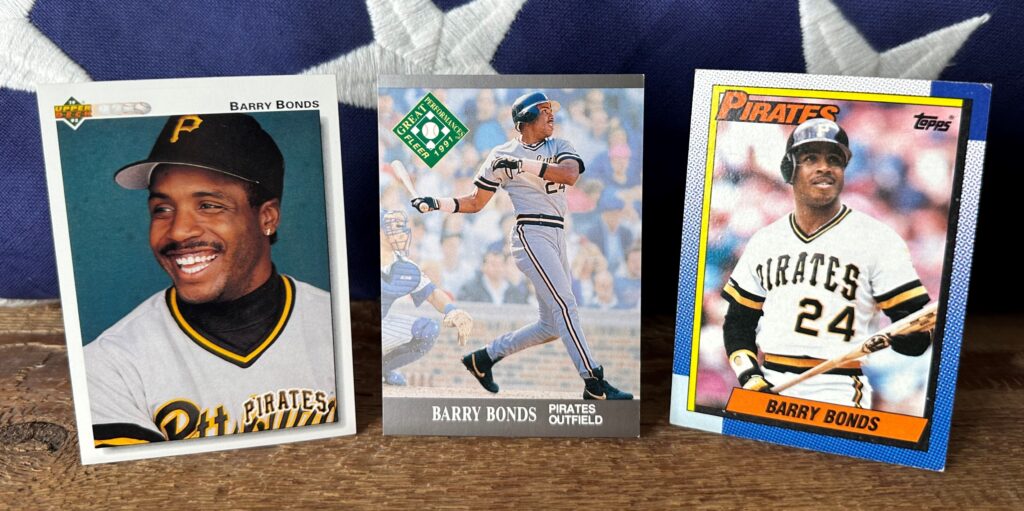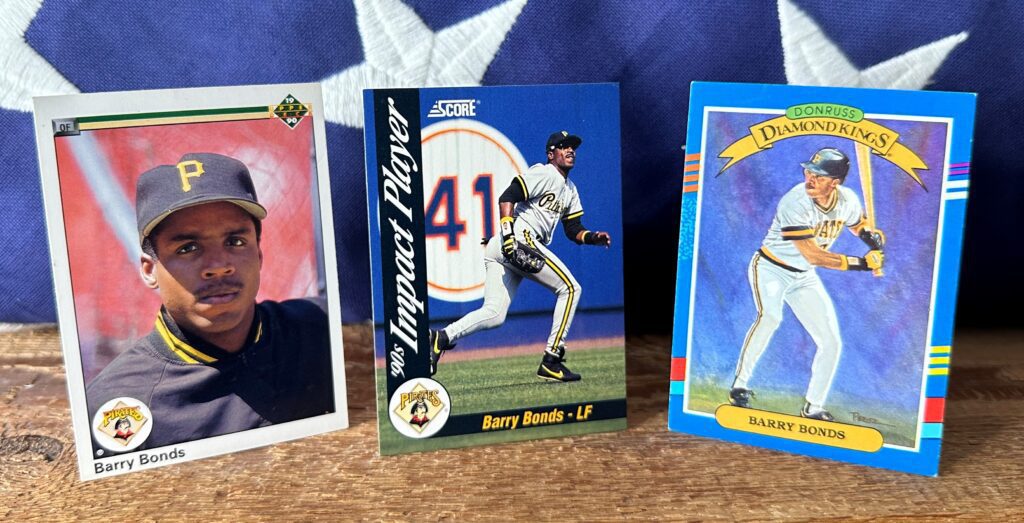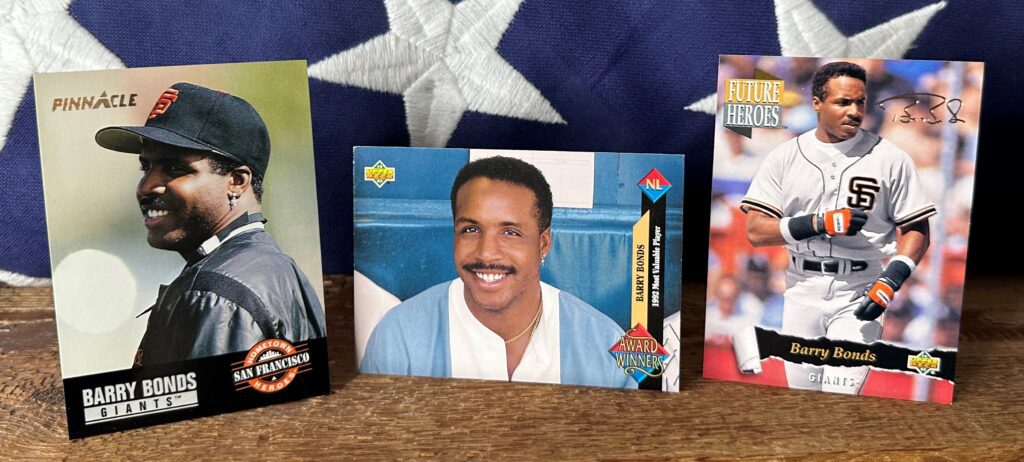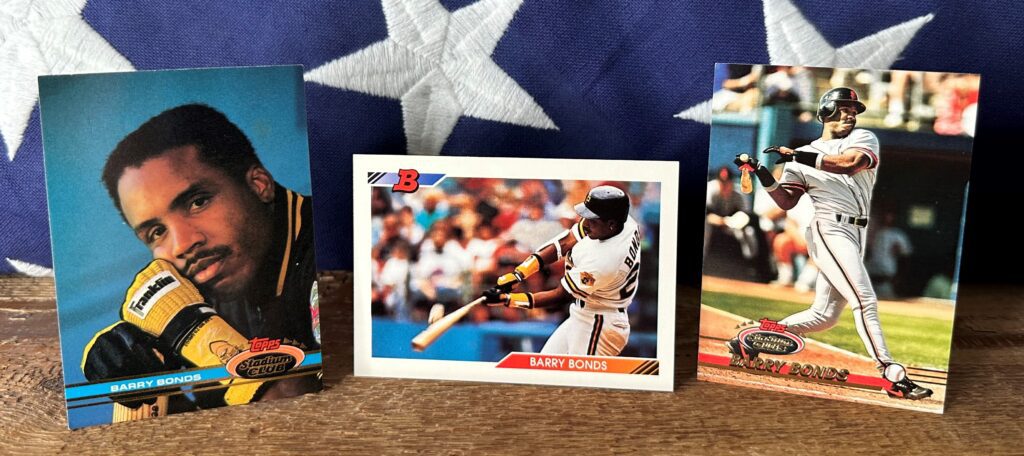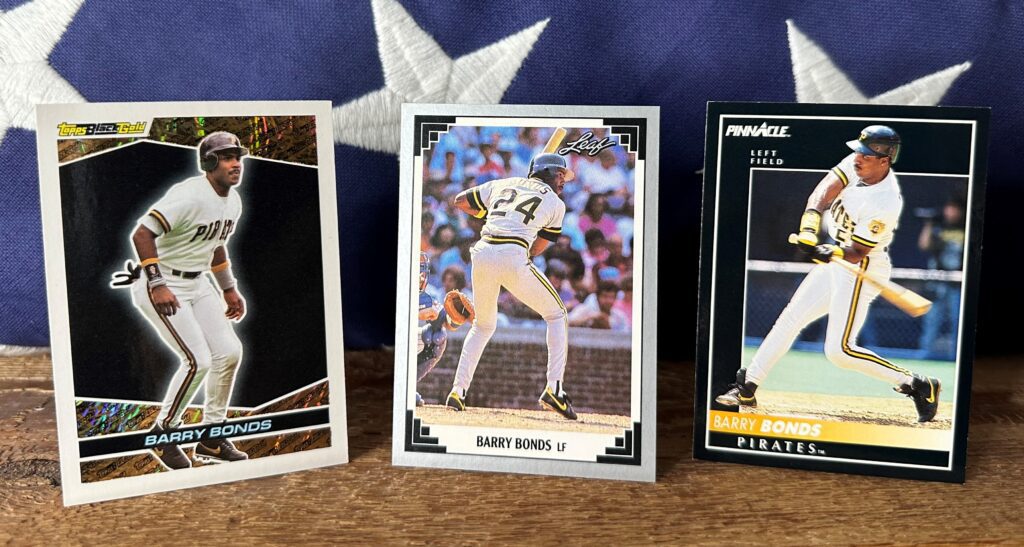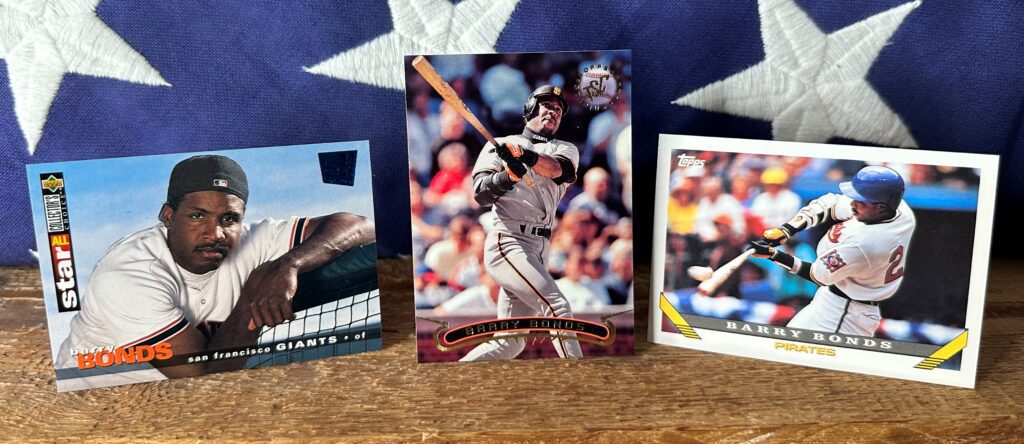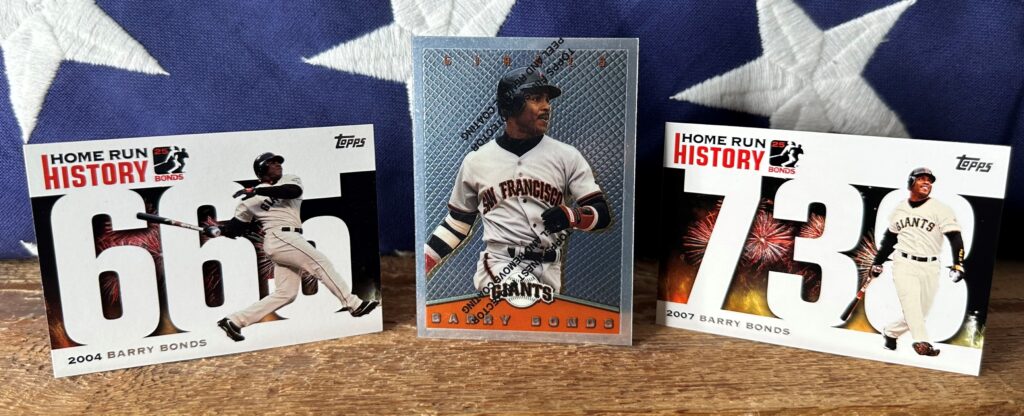 Card Collectors –> Looking to Sell Baseball Cards? Here's How (and Where) To Do It
Just Do Me This One Favor – Go To A Local Card Shop This Weekend!
---
Additional Resources –
Card Facts – PSA Cards
Barry Bonds Hall of Fame Debate – ESPN
---
Tell Us What You Think –
What's your favorite Barry Bonds rookie card?
What's your favorite Barry Bonds highlights? Should he be in The Hall??