---
When Lou Gehrig was 17 years old, his High School team from New York traveled to Chicago to play Lane Tech High School at what is now Wrigley Field. Ten thousand people filled the major league stadium to watch two high school teams play. Little did the crowd know they were watching one of the greatest baseball players who ever lived.
With Gehrig's team leading 8-6 in the ninth inning, Lou hit a grand slam home run out of the stadium, and the legend was born. Lou would become one of the all time greats ever to play the game.
Nicknamed "The Iron Horse" for his durability and toughness, Lou Gehrig had a fantastic 17-year professional baseball career. He was an all-star seven years in a row, won the triple crown and league MVP twice, and hit 493 home runs. Not only that, but he had a career batting average of .340 and a six-time world series champion as a member of the New York Yankees.
Hall of Fame Career, All Century Team Player
He played in 2,130 consecutive games and hit 23 grand slams. Both were records for nearly 50 years. He was known as a mild-mannered and soft-spoken intellectual. Often attending operas and Broadway shows with his wife. Every year the Lou Gehrig Memorial Award is given to the major leaguer who best exemplifies Gehrig's character and integrity both on and off the field.
If you're interested in collecting sports cards or just a baseball fan in general, there are 5 great Lou Gehrig baseball cards to know about. If you've been lucky enough to own some of these great cards, then you are well aware of the rapid price increases in recent years.
Looking back only 10 or 20 years ago, some of these cards were available in decent conditions for meager prices compared to what they are going for today.
1933 Goudey Lou Gehrig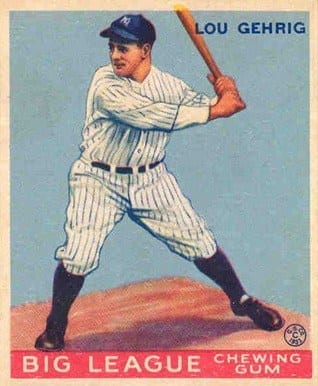 ---
The 1933 Goudey is one of my all-time favorite Lou Gehrig baseball cards. I love the simplistic layout showing nothing but the left-handed slugger getting ready to unleash his swing. The entire 1933 Goudey set is known for its colorful and distinct design, making the cards easily recognizable. In this 1933 Goudey set, Lou Gehrig is featured twice.
There's a card #160 and a card #92, which are rarely found in mint or near-mint condition. A 1933 Goudey Gehrig #160 with a PSA rating of 9 or mint condition sold recently for $576,000 at Heritage Auctions.
Professional Sports Authenticator, otherwise known as PSA, reports only five 1933 Goudey Lou Gehrig cards graded at a MINT 9 rating. While there's only one single card with a PSA GEM MT 10 rating.
The Goudey Gum Company was founded in 1919 by Enos Goudey. Opening the first factory in Boston, Enos was an up-and-coming businessman who decided to enter the baseball card world in 1933 when he debuted Goudey Baseball. Goudey began by producing a 239 card set in 1933, which marked the beginning of sports cards packaged with bubble gum in every pack.
1932 U.S. Caramel Lou Gehrig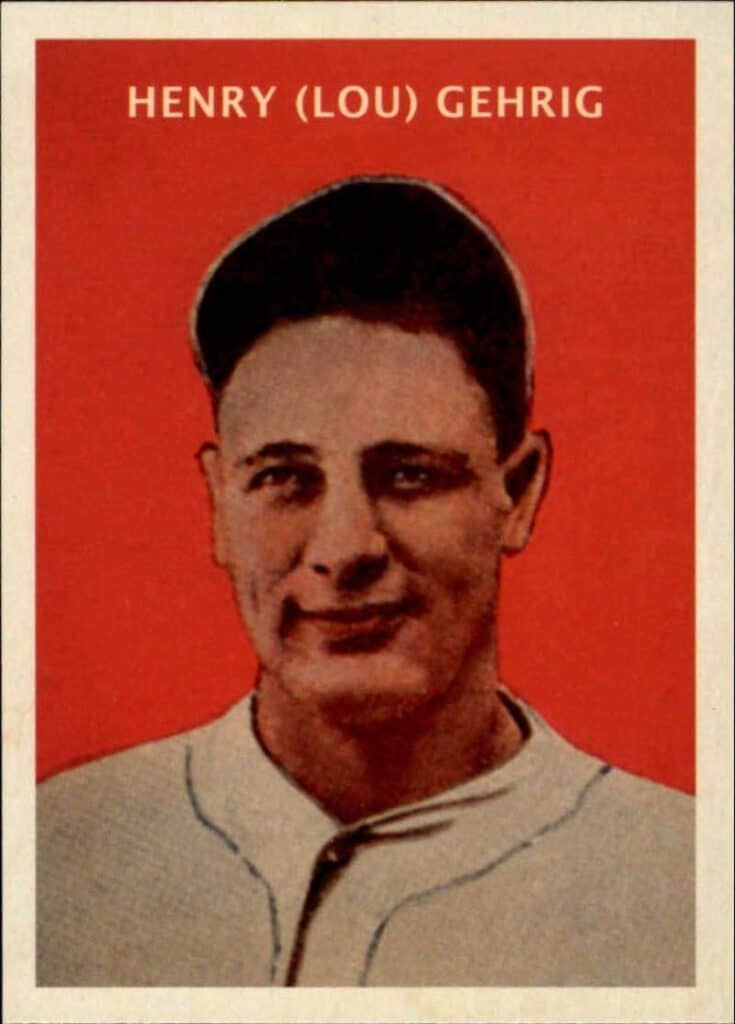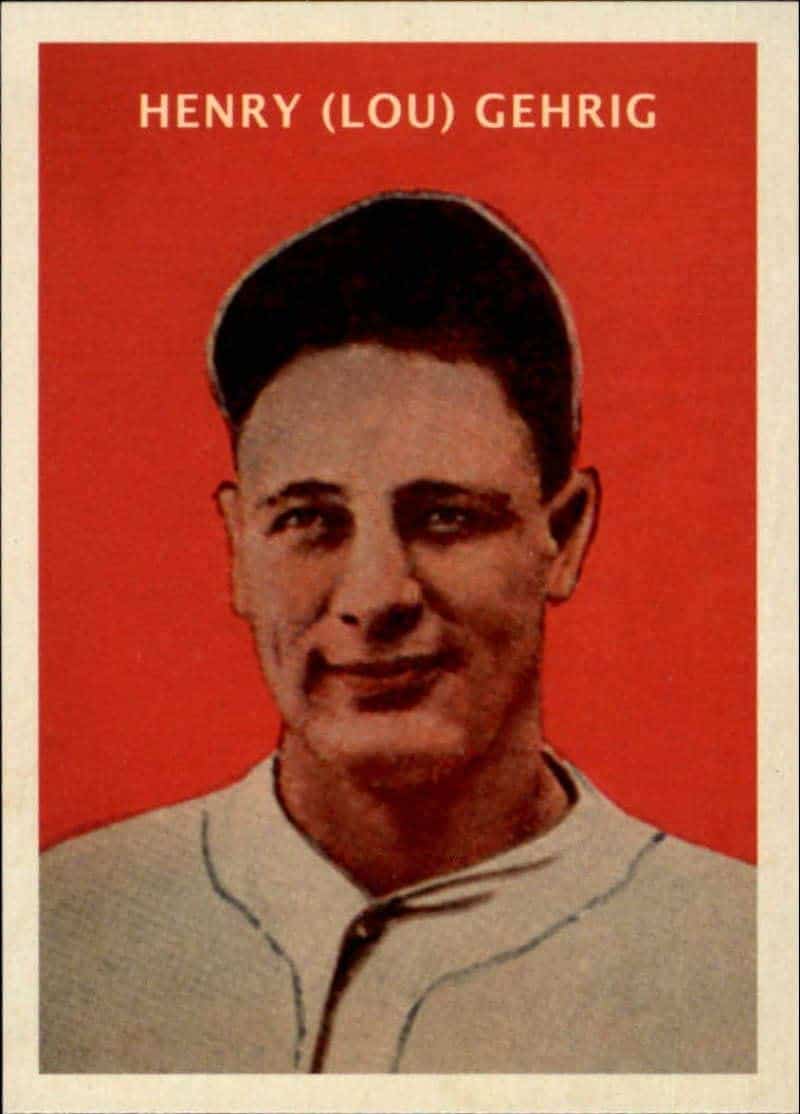 ---
Many would consider the 1932 U.S. Caramel card to be the closest thing to a Gehrig rookie card. Although there were a few cards in the 1920s like the Exhibits card shown below featuring Gehrig, this was the first mainstream card.
Back in the day when these cards were issued, they could be redeemed for baseball equipment. This is definitely one of my favorites of the 5 great Lou Gehrig baseball cards.
1925 Exhibits Lou Gehrig Baseball Card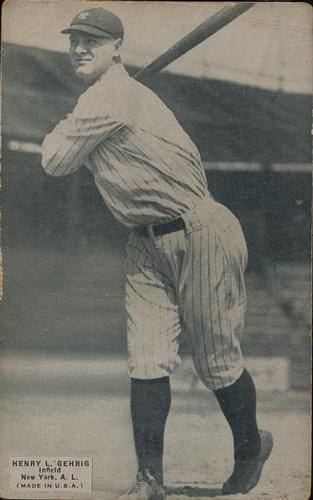 ---
The 1925 Exhibits card is one of the earliest Gehrig cards to have been produced. It's extremely rare, and cards in the best condition can be incredibly valuable. From the first full year Gehrig played for the Yankees, this card might be the most prominent of all Exhibits cards produced.
The Exhibit Supply Co from Chicago began producing baseball cards in 1921. They were distributed from vending machines making the Exhibit cards the first cards that weren't meant for the advertisement of an add-on product such as gum, caramel, or tobacco. The earliest cards could be purchased for one penny and were usually found in arcades.
1933 DeLong Lou Gehrig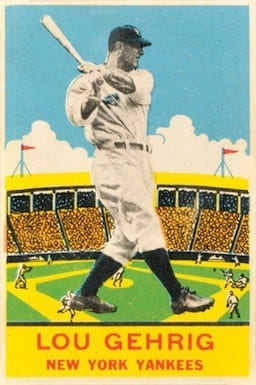 ---
Harold DeLong started the DeLong Gum Company in 1932 after working as an engineer, chemist, and treasurer for the Goudey Gum Company until 1928. Harold developed confectionery and chewing gum machinery that would later be acquired by Gum Products Inc. In 1933, DeLong decided to try their hand at baseball cards to compete with Goudey.
The hard-to-find Delong Lou Gehrig card from 1933 includes population reports of only eight known cards graded by PSA at an 8 rating.
1934 Goudey Lou Gehrig Baseball Cards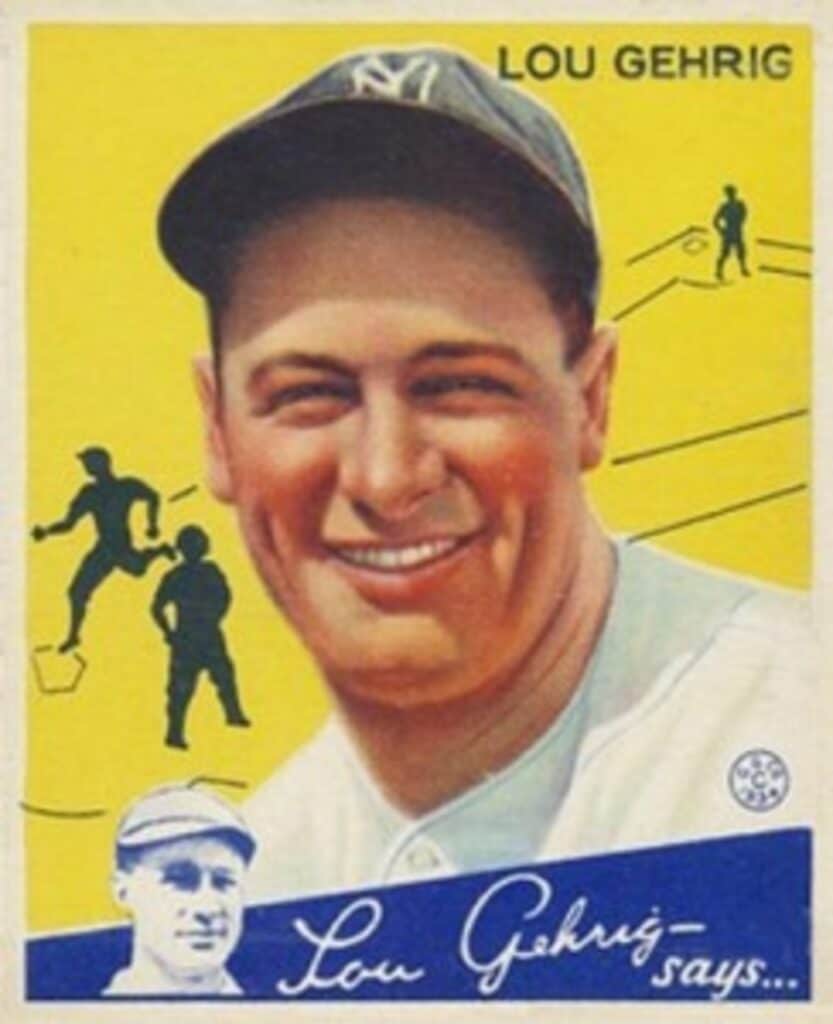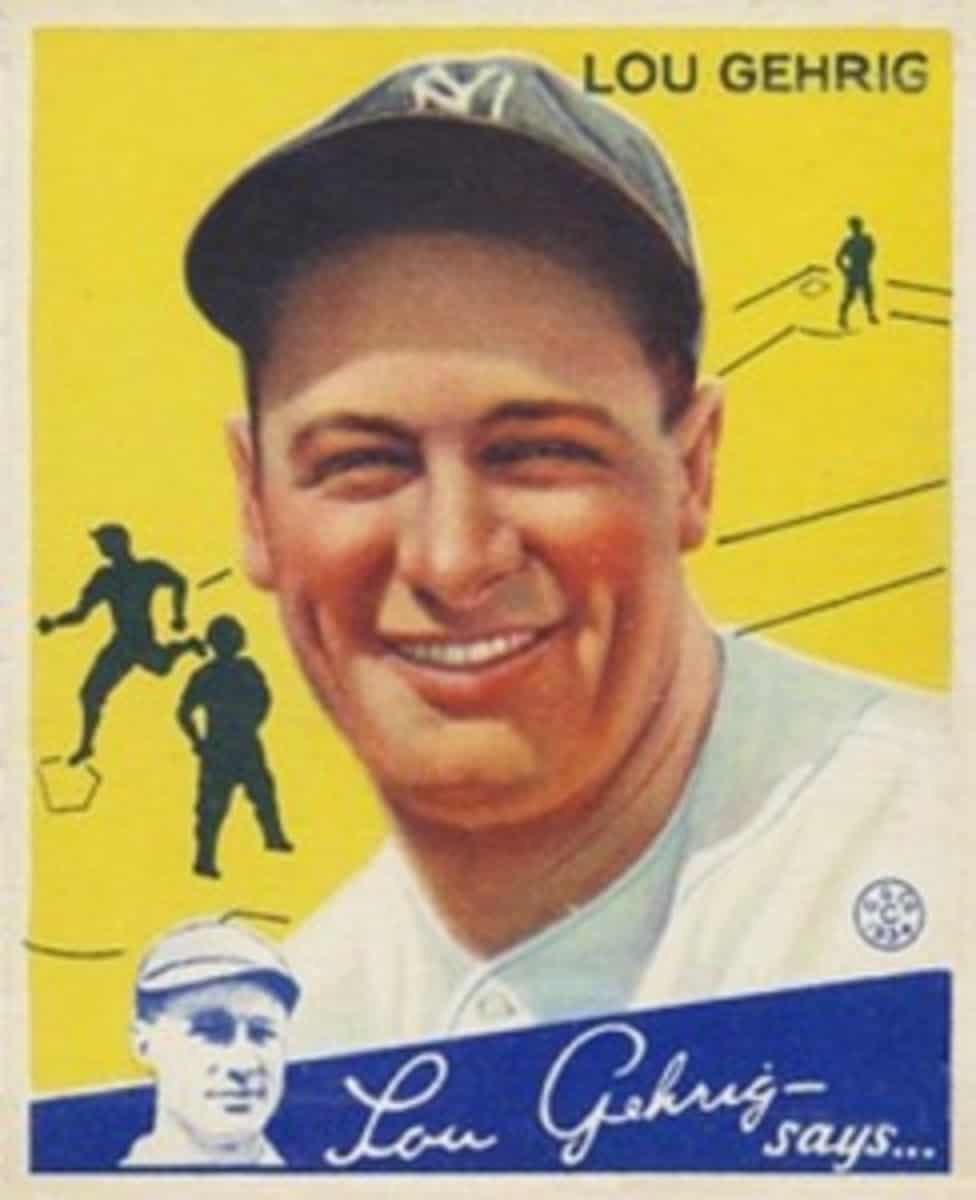 ---
In 1934, Goudey featured a classic Lou Gehrig card where the slugger hit .363 and won the triple crown. The back of the card features a quote from Gehrig that says, "I love the game of baseball and hope to be in there batting them out for many years to come, fortune has been kind to me."
There were two Gehrig cards from the 1934 Goudey set, a #37 and a #61 card, showing the slugger in a batting pose. Card #37 is reported to have only three PSA 9 graded cards with zero PSA 10 cards. The value for a PSA 9 card is roughly $200,000.
For comparison, the 1933 Goudey Babe Ruth cards have only one PSA 9 rating in existence – so far. This card is valued at nearly $900,000. It's amazing what happens when supply goes from three to only one. You can try to compare Babe Ruth to Lou Gehrig all day long, but in my opinion, there could be incredible value in purchasing low-grade PSA Lou Gehrig cards for the long term.
Other Great Lou Gehrig Cards
Upper Deck featured Lou Gehrig on a card in 2008 called the Upper Deck Premier Legendary Remnants series. The card is a limited edition series, including a sample of an authentic game-used jersey. This card can be found for $300 – $400, depending on the grade.
Halfway through the 1938 season, Gehrig reported physical challenges. After the season, he was quoted saying, "I was tired mid-season. I don't know why, but I just couldn't get going again." By spring training the following year in early 1939, Gehrig was having difficulty running the bases and had lost the explosive power at the plate.
The Sudden Demise of The Iron Horse
Gehrig would struggle early in the regular season before taking himself out of the lineup, where his consecutive games played streak would end at 2,130. A record that would stand for nearly fifty years before Cal Ripken passed the mark. A few months later, after a trip to the Mayo Clinic in Rochester, Minnesota, he was diagnosed with amyotrophic lateral sclerosis ( ALS ) on June 19, 1939. Gehrig would turn 36 years old that same day.
Less than a month later, on July 4th, 1939, Gehrig would deliver his retirement speech at Yankee Stadium, where he would famously say he was "the luckiest man on the face of the earth." He was a legendary ballplayer who shattered many records, which some still stand to this day. If you're lucky enough to own a few of these 5 great Lou Gehrig baseball cards or just a fan of collecting, you can understand how they are such an important piece of baseball history.
He ended his epic retirement speech by saying, "…I might have been given a bad break, but I've got an awful lot to live for. Thank you." His retirement speech is one of the most remembered moments in baseball history.
In a Class All His Own
There were so many incredible ball players over the years. Roberto Clemente, Ty Cobb, Joe Dimaggio, Ted Williams, Mickey Mantle, Honus Wagner. But I'm not sure there was anyone like Lou Gehrig. The amount of success Gehrig had on the ball field was second to none.
His rapid decline from a brutal disease made his career even more amazing. His much-to-early, untimely, and some would say tragic death spread sadness throughout the game of baseball and left a void that nobody could fill.
Amyotrophic lateral sclerosis, otherwise known as Lou Gehrig's disease, still has no cure. Its cause is unknown, but researchers continue to study treatment and possible prevention.
---