---
Mike Piazza rookie cards bring back memories of the 1990s like few other sports cards. He started his big league career as a high draft pick and fought hard to earn his way into the big leagues.
Eventually, after much hard work and determination, Mike Piazza's career path led him to center stage in the 2000 World Series.
From riding the bench in college and transferring just to get playing time, to being drafted and earning a spot in the big leagues, Piazza's career had plenty of twists and turns.
Mike Piazza's baseball trading card is a trip down modern baseball history.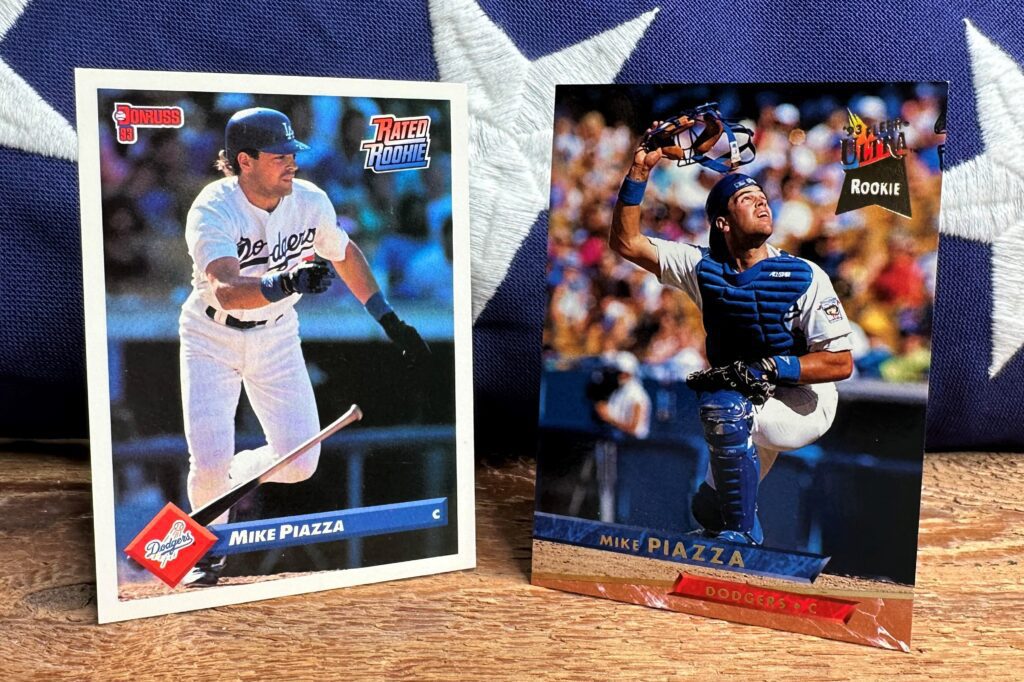 As one of the greatest hitting catchers in major league history, Piazza's career was full of excitement, as he became a favorite with the fans on several different teams.
He played for five different big-league teams. The New York Mets and the Los Angeles Dodgers while briefly playing with the Florida Marlins, San Diego Padres, and Oakland Athletics.
In his 16-season career from 1992 to 2007, he slugged 427 home runs with 396 as a catcher, a .308 batting average, and 1,335 RBI.
Always a tough matchup for the competition, Piazza earned 12 All-Star game appearances and won 10 Silver Slugger awards. In 2013, he was inducted into the New York Mets Hall of Fame.
Later, in 2016, after several years of just missing a Hall of Fame induction, he was nominated into the Baseball Hall of Fame in Cooperstown with 83% of votes.
The Young Mike Piazza
Mike Piazza was born in Norristown, PA, in 1968. Piazza's father, Vince, had dreams of playing baseball. However, those hopes were dashed when he had to leave school to support his family.
He saw that Mike had potential in baseball and encouraged his son by playing catch at an early age.
After graduating high school, Piazza went to South Florida and joined the Miami Hurricanes but transferred to Miami-Dade Community College after not touching the field much as a Hurricane.
---
Mike Piazza's Baseball Career
Mike caught a lucky break when a close family friend was none other than manager Tommy Lasorda with the Los Angeles Dodgers.
Lasorda said he would draft Mike into the minor leagues as a favor to Mike's dad. Lasorda was true to his word, and in the 62nd round of the 1988 major league draft, Mike Piazza was officially a pro ballplayer.
Gaining Confidence and Power at the Plate
It took a couple of seasons for Mike to get the repetitions he needed to move up to the big leagues, but just as he was gaining experience, he was also getting stronger and maturing physically.
It was a perfect storm. As Mike says in the Howard Stern interview clip above, he was just a late bloomer. Once he gained strength and confidence at the plate, it was all over.
He shot up the ranks as one of the premier sluggers in the game.
Piazza won the National League Rookie of the Year in 1993 and was selected to the 1993 MLB All-Star Game. Mike would go on to play in 11 more All-Star games.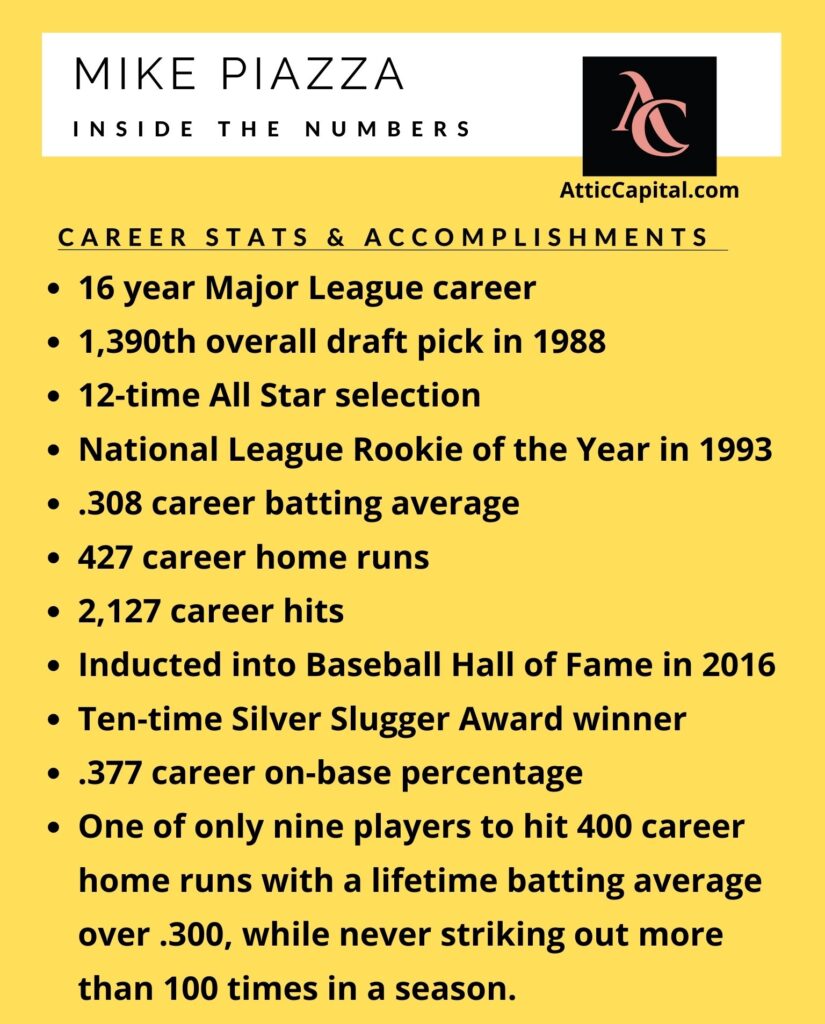 Los Angeles Dodgers
He played seven seasons for the Dodgers until he was traded to the Florida Marlins in 1998. The trade only lasted five games before he was traded from the Marlins to the New York Mets.
The year following, the Mets won the National League pennant and played in the 2000 World Series. Mike played with the Mets until 2005.
As one of the best-hitting catchers to ever play the game, Piazza's efforts brought the New York Mets to the brink of a World Series championship in 2000.
---
Retirement
In 2006, he signed a one-year contract with the San Diego Padres as a free agent, then with the Oakland Athletics the following year. He announced his retirement in 2008.
Mike Piazza Rookie Cards
With Piazza's rookie season occurring during the baseball card boom of the early 1990s, there's no shortage of supply.
The hobby was loaded with dozens of trading card manufacturers cranking out cards as fast as the printers could print, and Piazza was included in nearly every set.
Even when rarity is not exactly a primary trait of his rookie cards, Mike Piazza's rookie cards bring back great memories of a tough competitor and highly skilled baseball slugger who brought the fans to their feet with excitement on a regular basis.
1989 Salem Dodgers Mike Piazza #25
1991 Cal League All-Stars Mike Piazza Rookie Card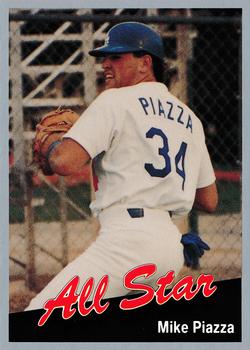 1992 Classic Best #345 Mike Piazza Rookie Card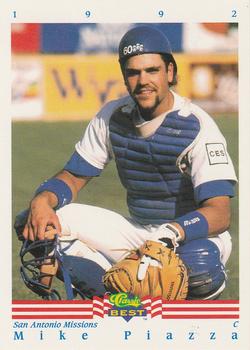 Fleer 1992 ProCards #723 Rookie Card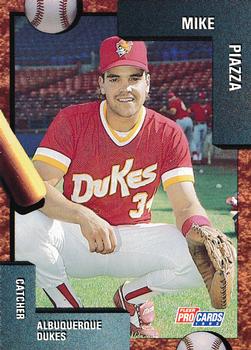 1992 SkyBox AA #251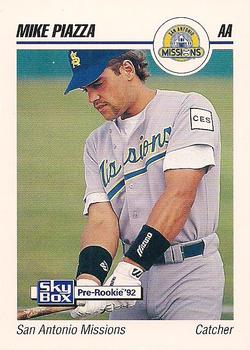 1990 Star Vero Beach Dodgers #24 Mike Piazza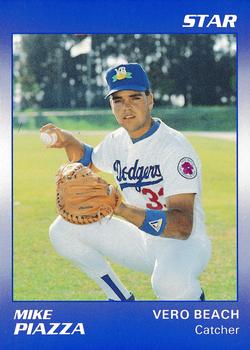 1991 Cal League Bakersfield Dodgers #7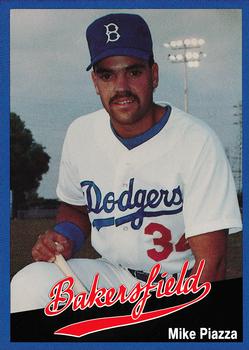 1992 Cartwrights Players Choice Silver #26 Mike Piazza Rookie Card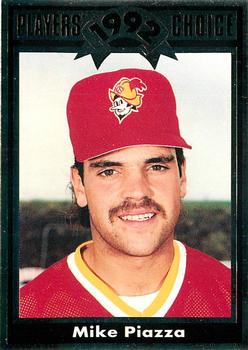 1992-93 Pocket Pages Cards #47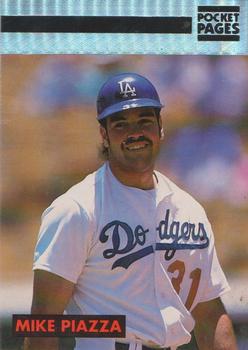 1993 Topps Mike Piazza, Carlos Delgado #701 Rookie Card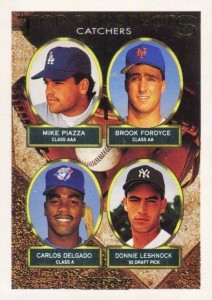 Upper Deck Star Rookie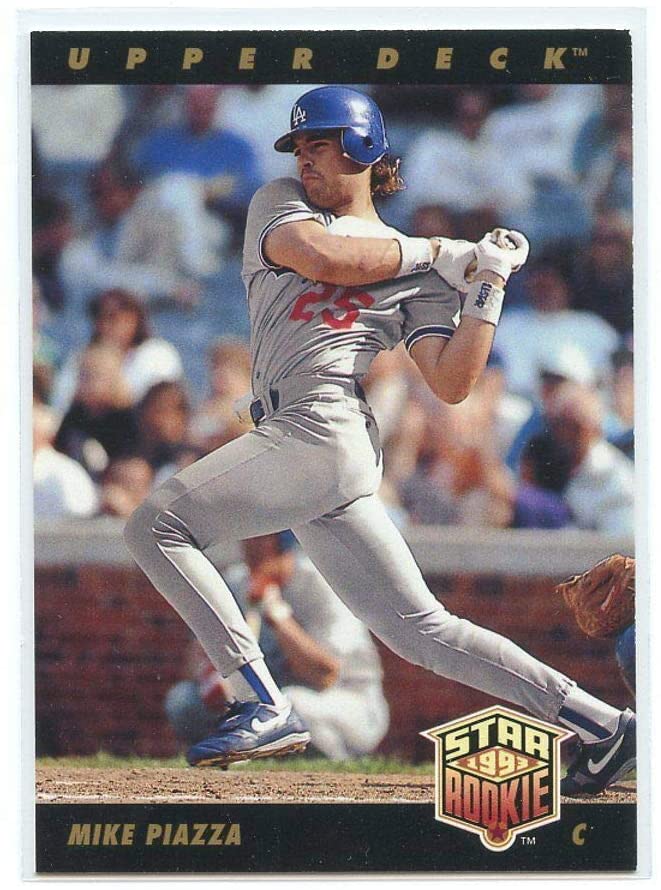 1993 Fleer #13 Prospects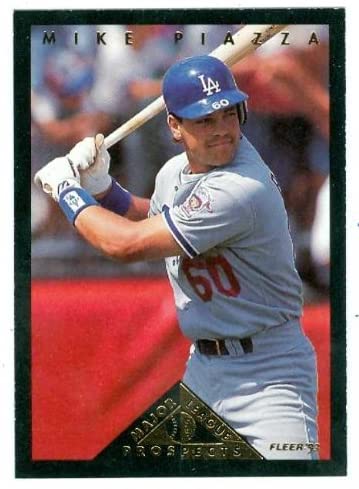 1993 Donruss Rated Rookie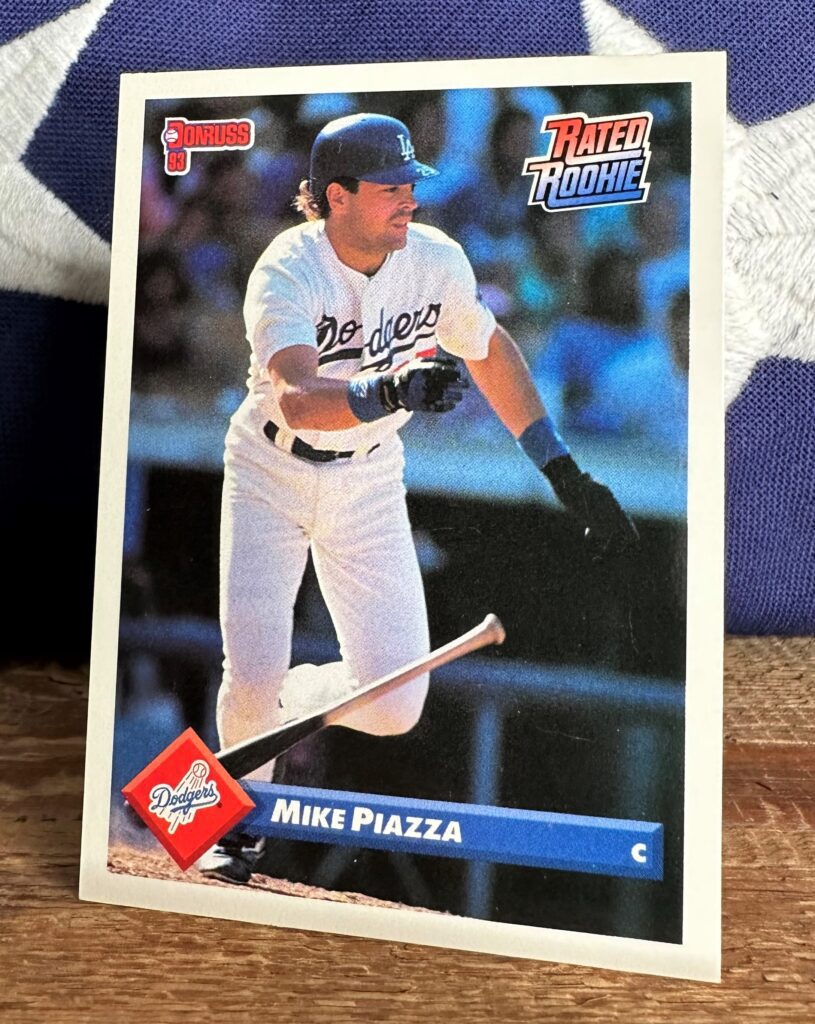 1993 Pinnacle Rookie Prospect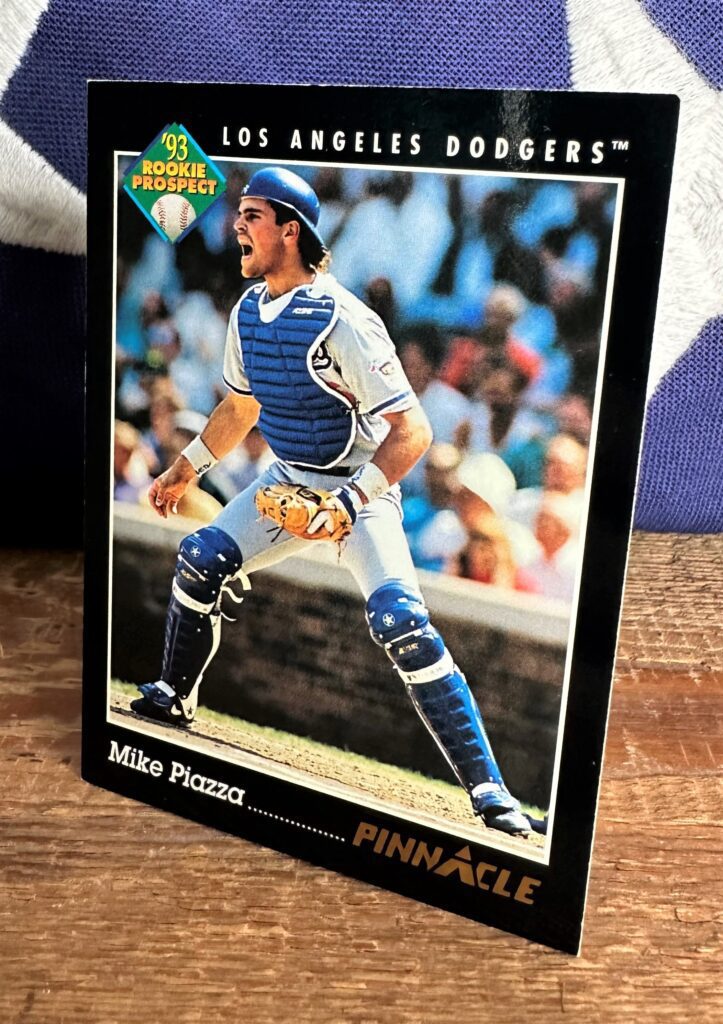 Fleer Ultra 1993 Rookie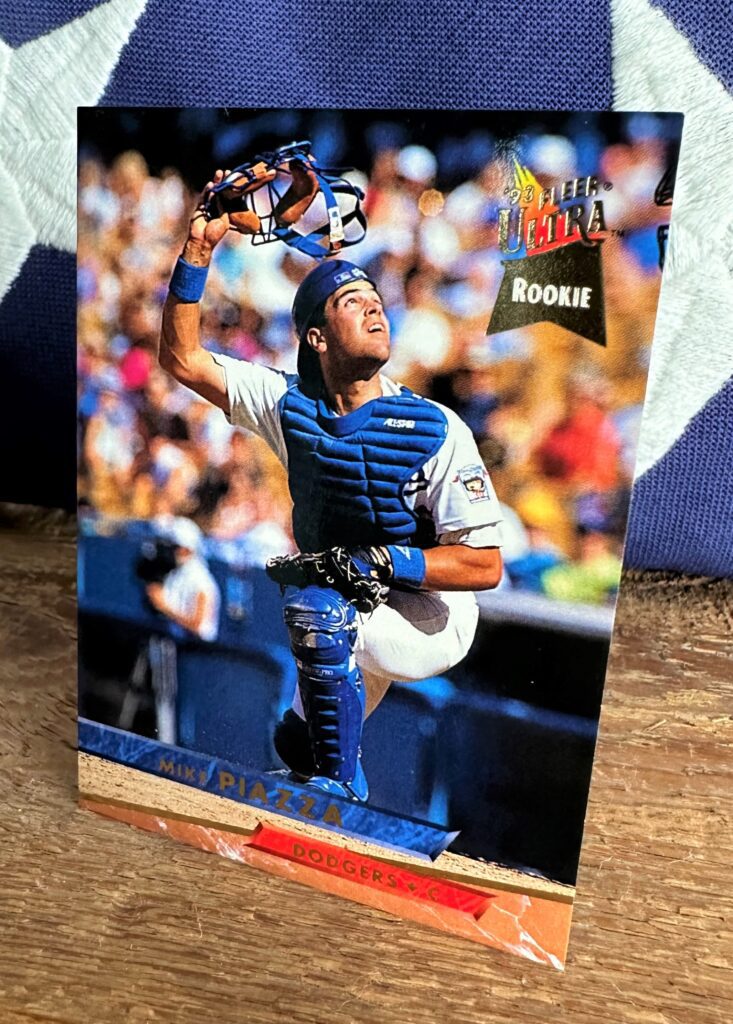 1992 Score Select Rookie Prospect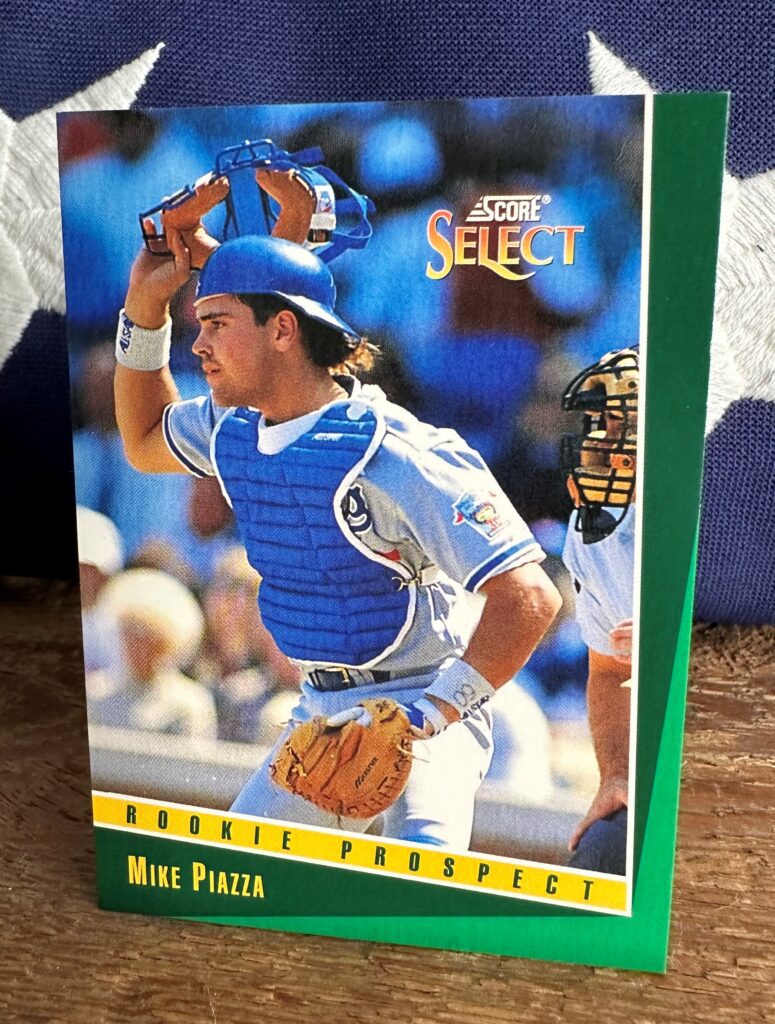 1994 Rembrandt Ultra-Pro Limited Edition
1992 Donruss The Rookies Phenoms Rookie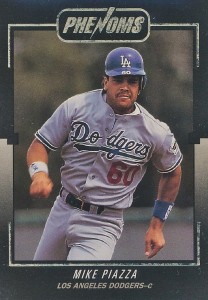 Fleer
The 1992 Fleer Update Mike Piazza card features Piazza dashing across the field in his LA Dodgers uniform. This set appeals to sports card collectors because the 1992 Fleer Update card had a limited, short print run.
1992 Fleer Update Mike Piazza RC #92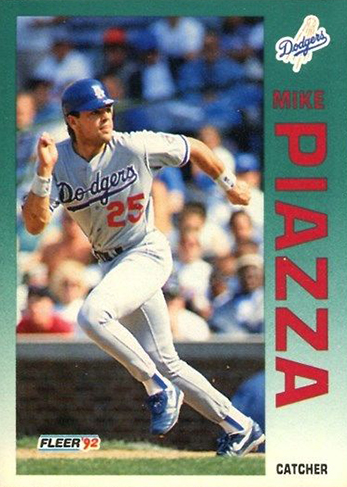 The scarcity of these cards enhances the value of the Piazza card. Excellent condition versions of the card are valued between $65.00 and $600.00 for gem mint PSA 10 versions.
Another great Piazza card to hold onto from Fleer is the 1994 Fleer #14 Rookie Sensations card. A high PSA-rated card can range anywhere from $100.00 to $400.00.
1994 Fleer #14 Rookie Sensations
Topps
The 1993 Topps Stadium Club set contains 750 cards, with 12,000 members only factor sets produced. The #585 Mike Piazza rookie card is a popular card for collectors.
PSA Mint cards and BGS 9 graded cards can be found anywhere between $140 to $400.
1993 Topps Stadium Club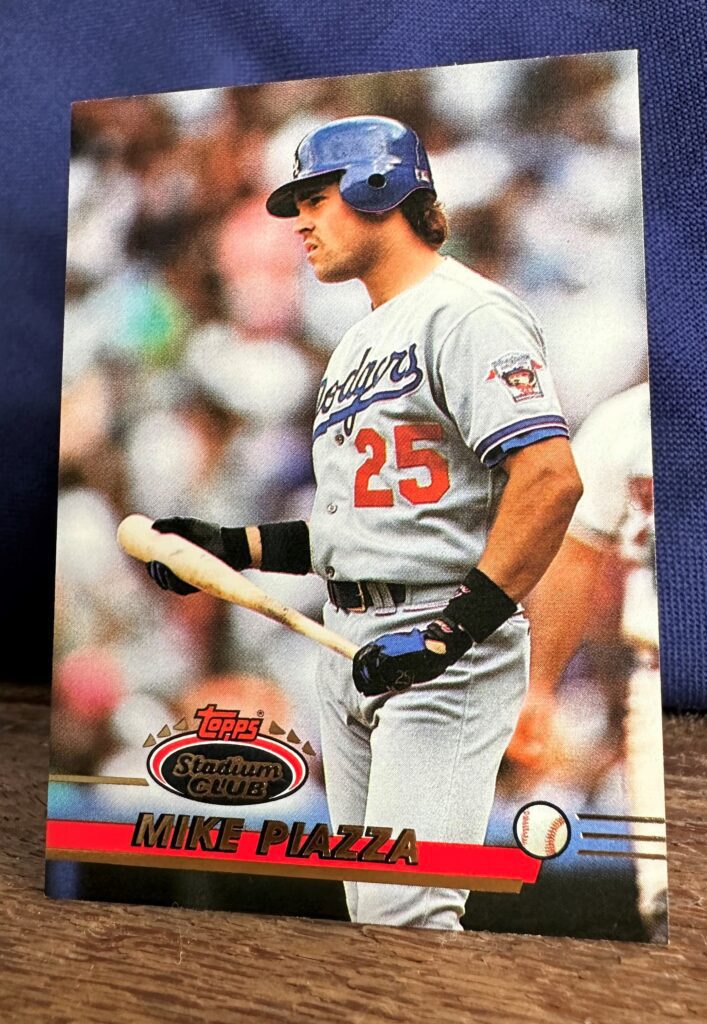 Another great card from Topps is the 1993 Topps Traded Mike Piazza #24T. PSA 10 and mint cards can be worth anywhere between $130.00 to $500.00, depending on the condition.
1993 Topps Traded #24T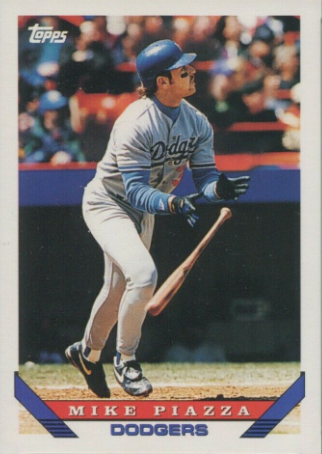 You can't go wrong with the 1994 Topps Mike Piazza #1. PSA 10 cards are valued between $320.00 to $500.00.
1994 Topps #1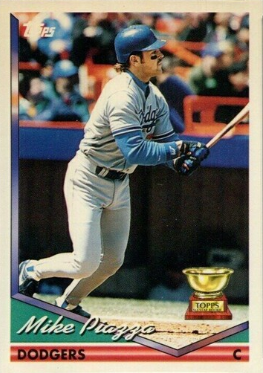 The 1992 Bowman baseball set showcased more rookies and pre-rookies than any other set before its time. It became, and still is, the place to find baseball rookie trading cards.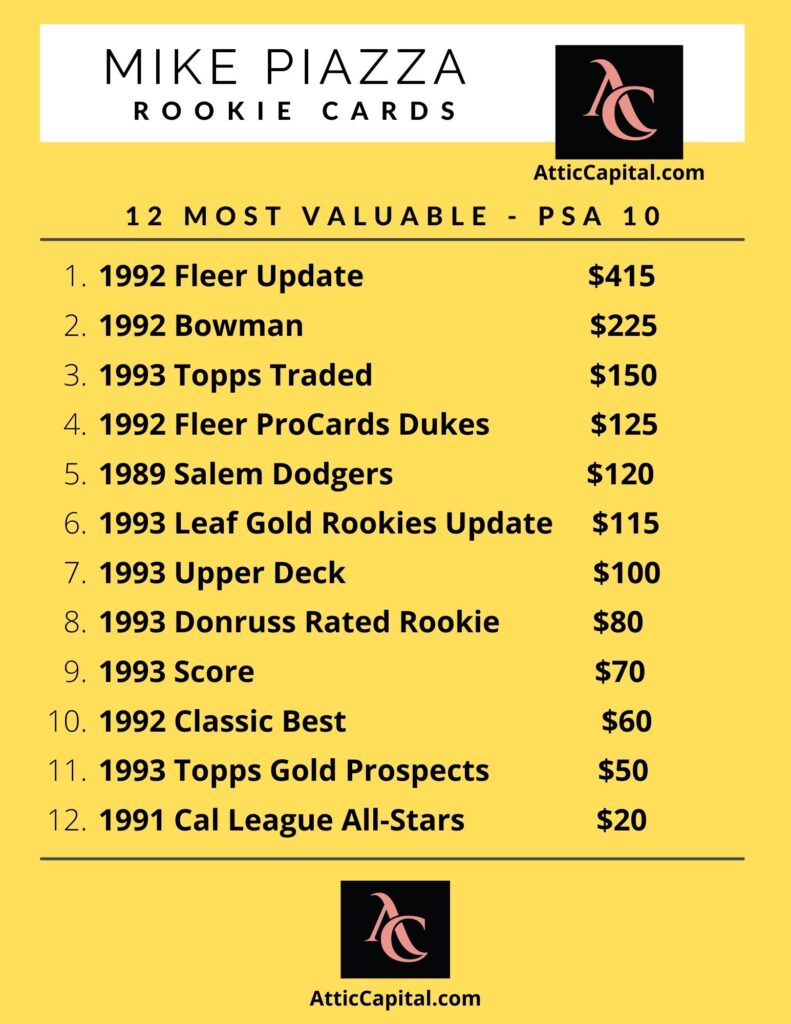 In the 1992 factory set, you can find other high-valued cards in the Junk Wax era, including the 1992 Mike Piazza Bowman card #461.
Despite its high print numbers, a PSA 10 gem mint card can still be around $200 to $300 due to Piazza's popularity with the fans.
Shop for the Bowman rookie card on eBay, where you can find a PSA 10-graded card selling for about $350.
1992 Bowman Rookie Card #461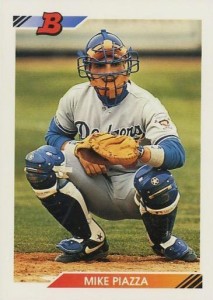 Other Great Mike Piazza Baseball Cards
The 1993 Upper Deck Diamond Gallery set includes 36 hologram cards.
The #34 Mike Piazza Card is one such example, a PSA 9-mint card is worth about $30.00. The card shows Piazza signing a baseball for a fan.
1993 Upper Deck Diamond Gallery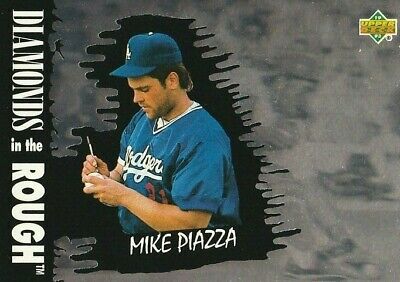 The 1993 Donruss Triple Play is a 264-card set that is not necessarily known for its popularity but has some gems. The 1993 Donruss Triple Play Mike Piazza Card #55 is valued at around $35 to $50.
1993 Donruss Triple Play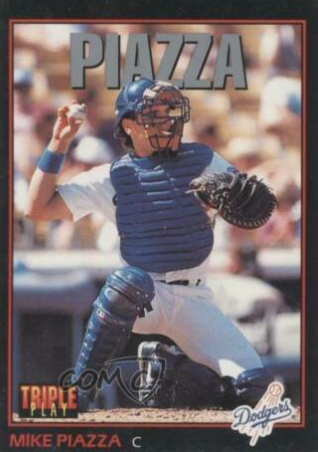 The 1998 Pacific Aurora Kings of the Major League baseball card set consisted of 10 cards featuring seven players that eventually became Hall of Famers.
1998 Pacific Aurora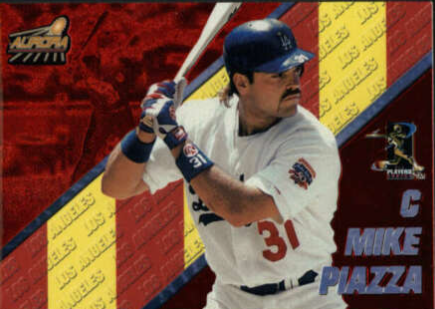 1994 Score #476 Dodgers Card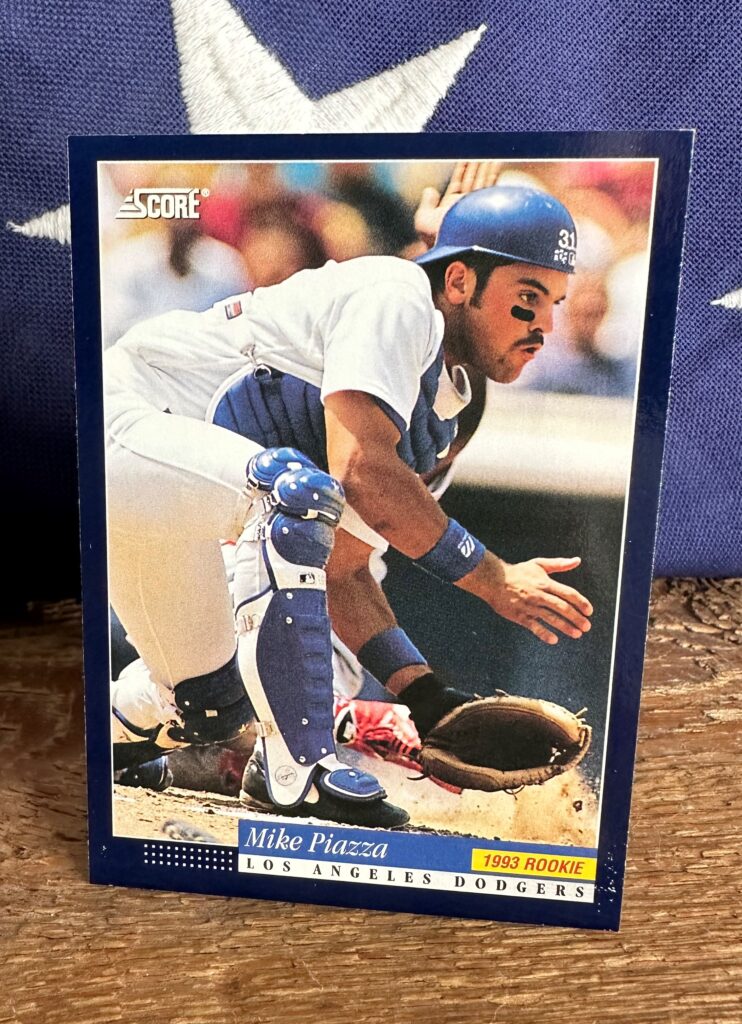 Rembrandt 1994 Ultra Pro baseball cards Rookie Promo cards #1 & # 4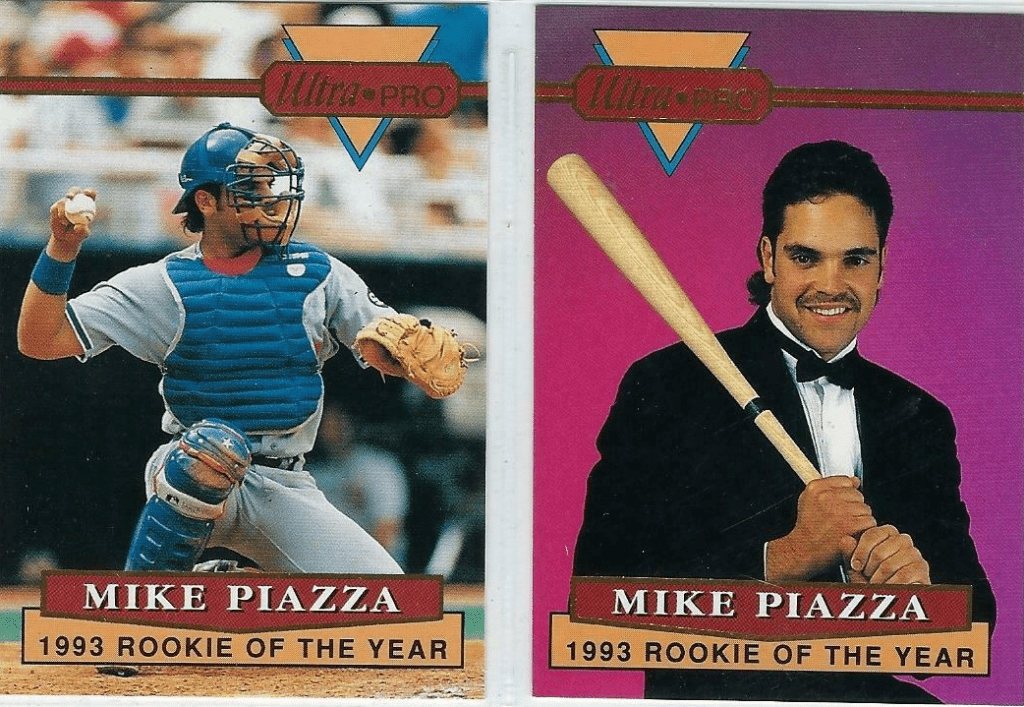 1994 SP Holoview Red Die Cuts #29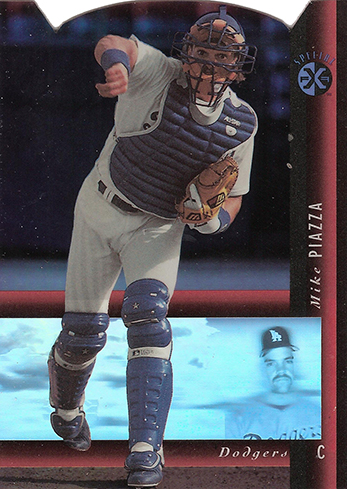 1995 Topps #466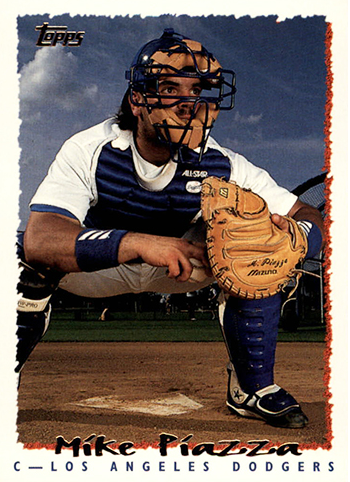 1994 Topps
1994 Mother's Cookies National League '93 R.O.Y.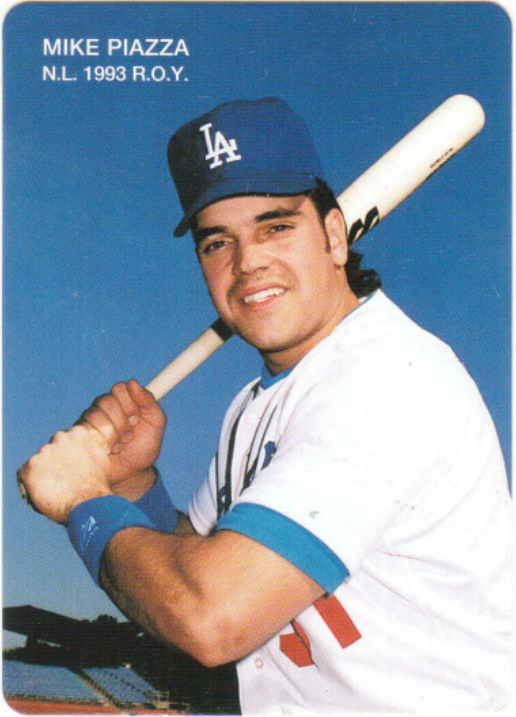 1996 Select Certified Mirror Gold #30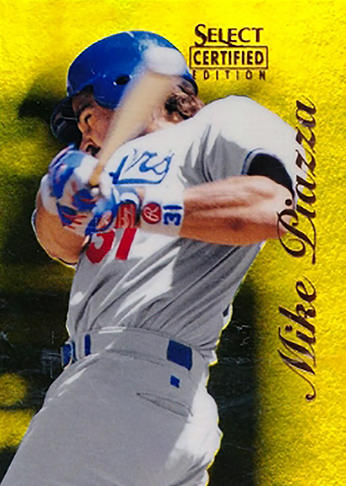 1996 Topps Stadium Club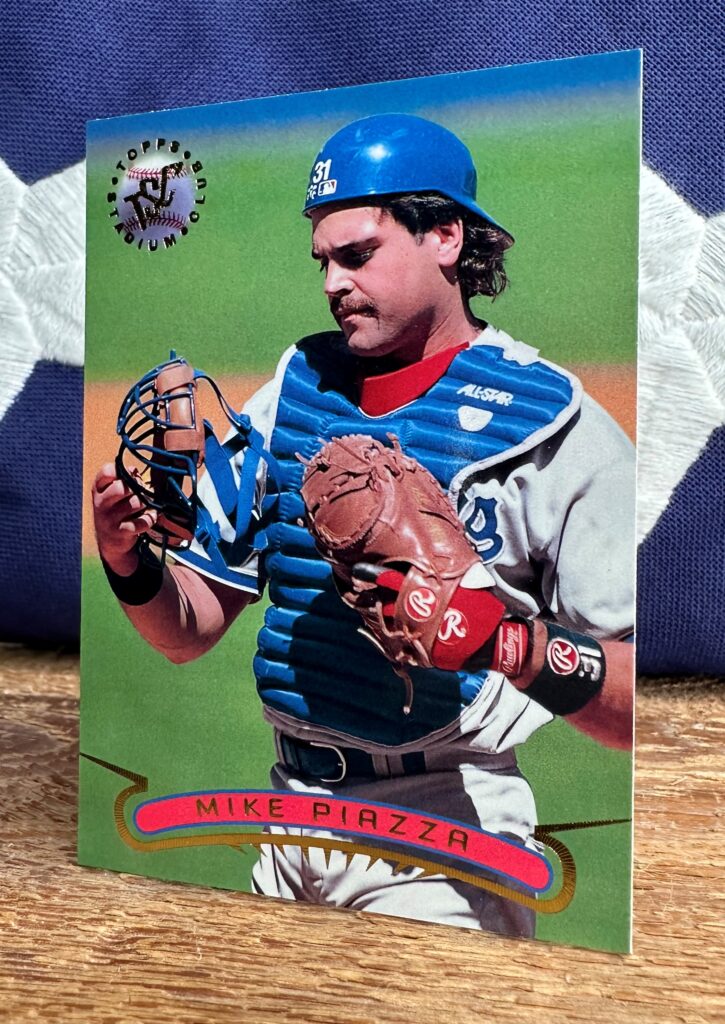 1996 Pinnacle Dynamic Dodgers – Rookie of the Year Winners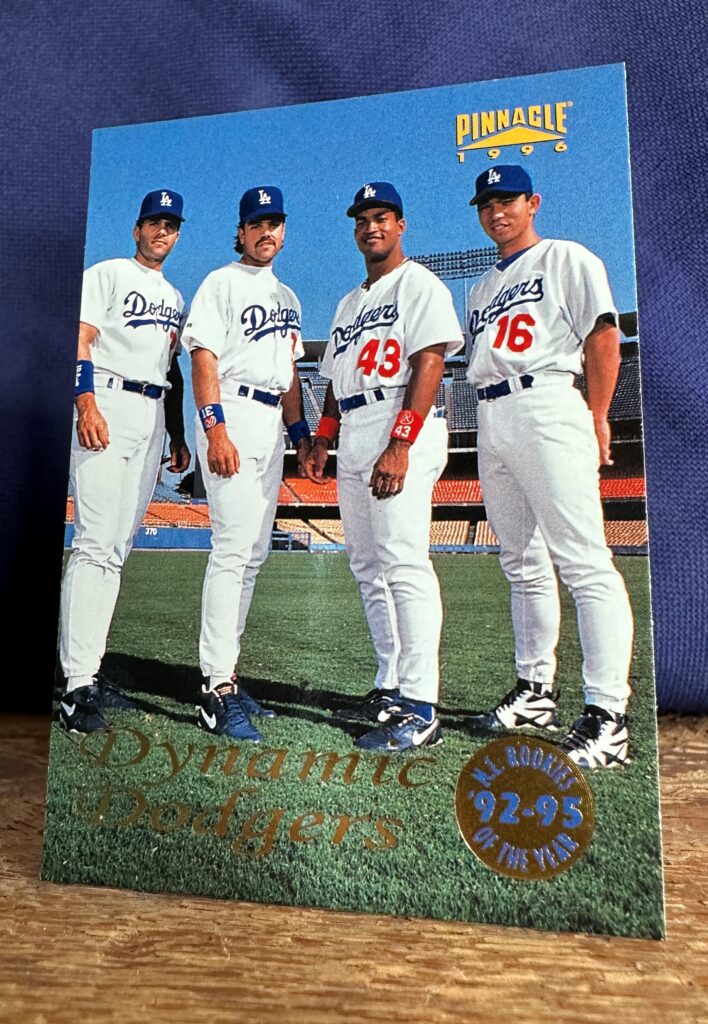 1997 Collector's Choice Big Shots Mike Piazza #18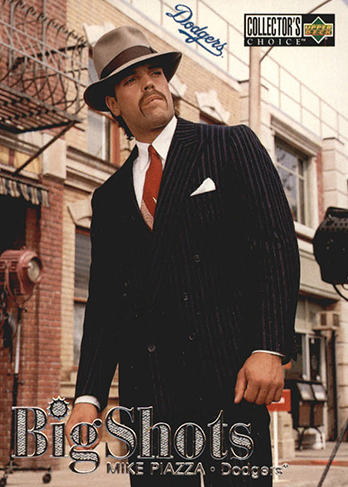 2004 EX Clearly Authentics Signature Tan Patch MP1 31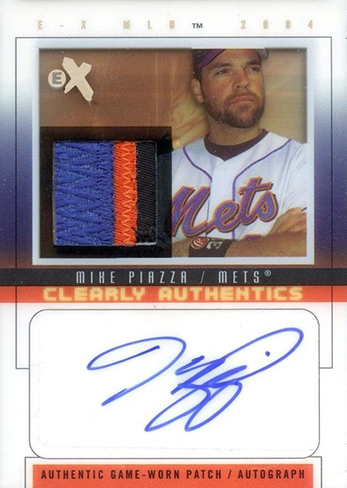 2000 Upper Deck Legends Mike Piazza Autograph Trading Card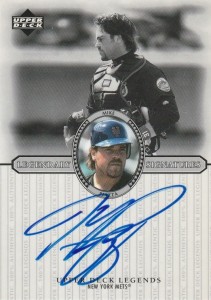 2005 Upper Deck Bound for Glory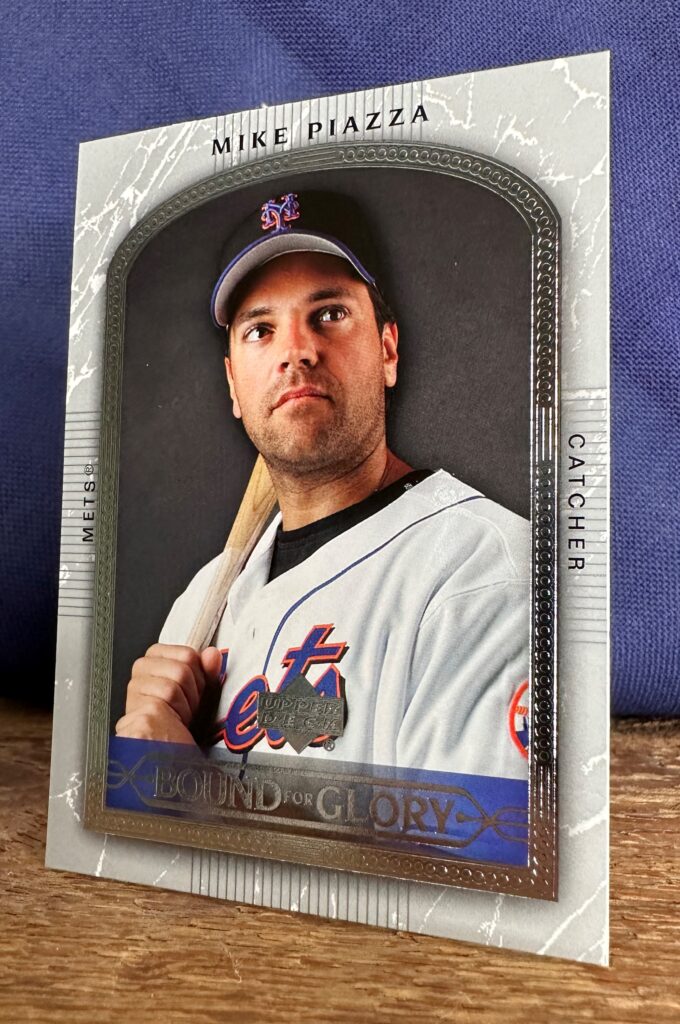 2019 Topps 150 Years of Professional Baseball #15070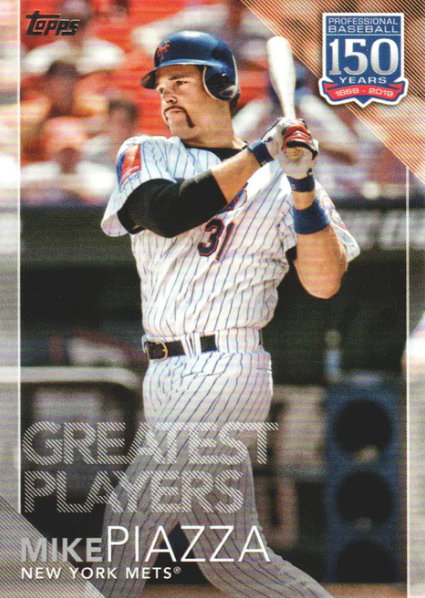 1992 ProMint #8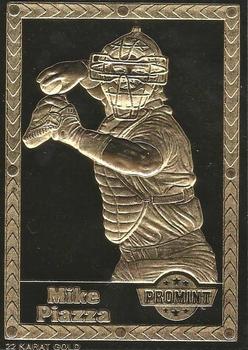 1993 Barry Colla All-Star Game #24 Mike Piazza Trading Card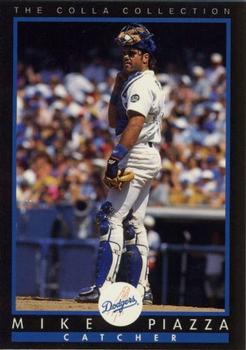 2015 Topps Strata Signature Patches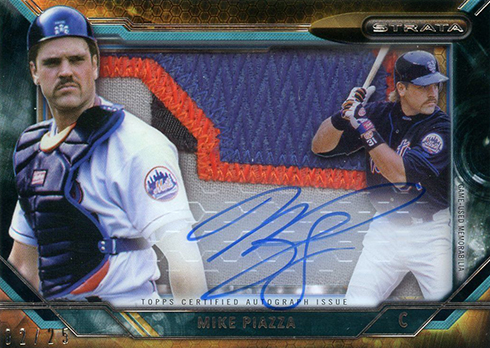 What Does Mike Piazza Do Now?
Mike Piazza has stayed connected to the game of baseball since his retirement. He also put his net worth of $70 million to work when he decided to purchase an Italian soccer team, the A.C. Reggiana, from the third-tier Italian league.
After a brief stint as an Italian soccer team owner, Mike would also agree to manage an Italian baseball team for the 2020 European Baseball Championship and 2021 World Baseball Classic.
Piazza lives in Italy and Florida, was married in 2005, and has a son and two daughters.
Even in retirement, Mike Piazza continues to be a fan favorite as one of the MLB's greatest-hitting catchers.
As a twelve-time All-Star, a ten-time Silver Slugger winner, and a Hall of Famer, his popularity and legacy make his rookie cards excellent collectibles.
Top 20 Frank Thomas Rookie Cards
Mr. November, the Ultimate Derek Jeter Rookie Card Guide
---
Piazza Memorabilia and Autographs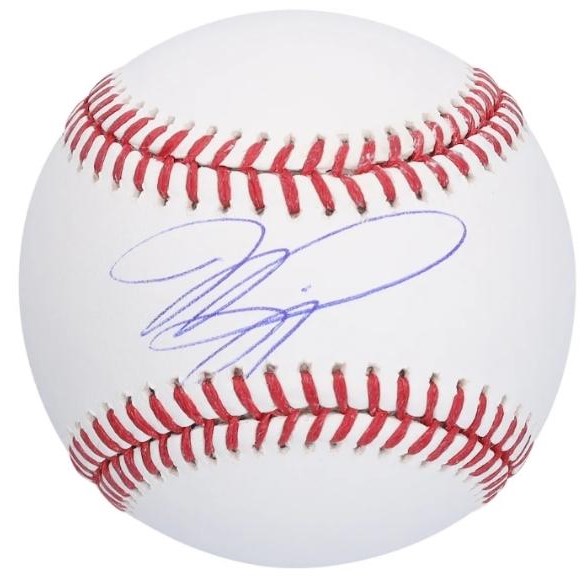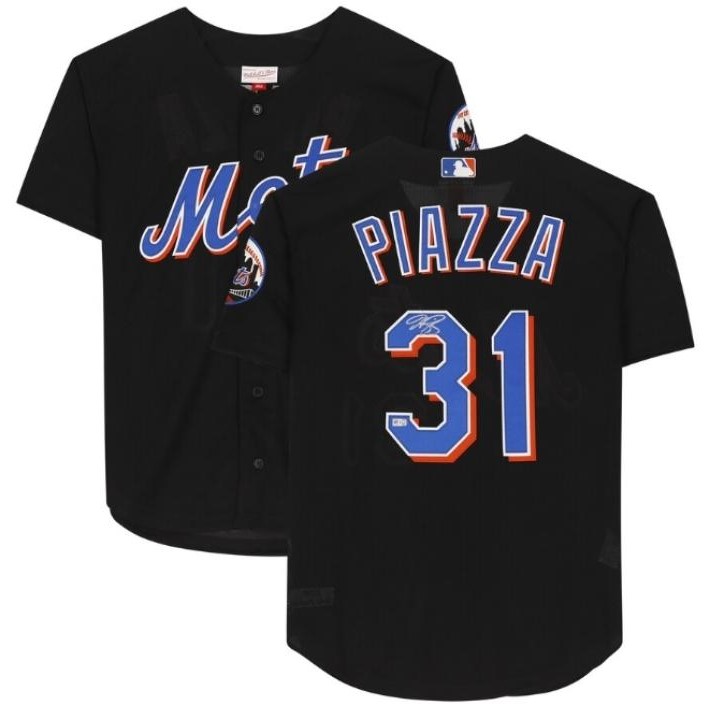 ---
Card Collectors –> Looking to Sell Baseball Cards? Here's How (and Where) To Do It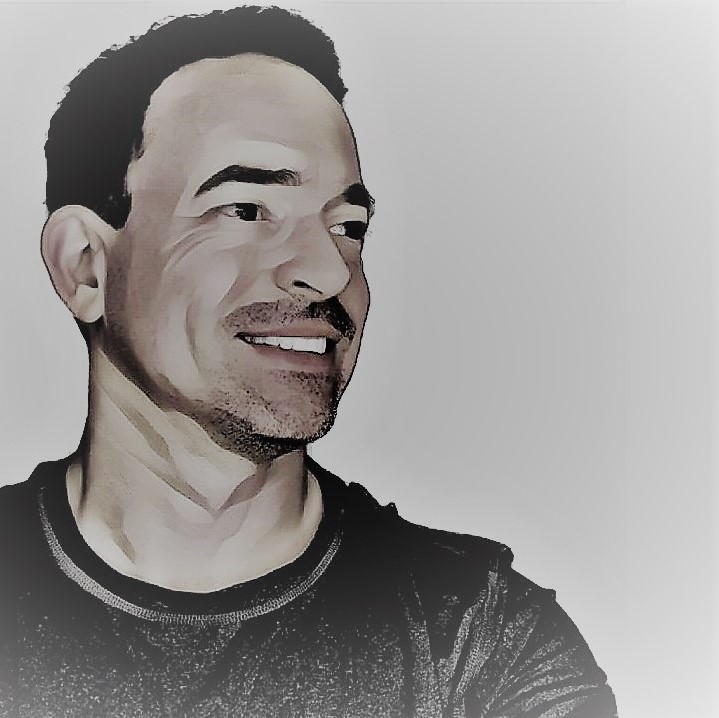 R.J. Bachman
Attic Capital – Writer, Editor, and Lifelong Collector
After many years of collecting rare coins, sports cards, and all types of collectibles, I began writing at Attic Capital to share my experience, knowledge, and passion.
I would love to connect with you, so don't hesitate to reach out and let me know more about your passion for collecting.