---
The Derek Jeter rookie card has been a favorite for Yankee fans and card collectors around the world. His soft-spoken persona and clutch performance on the field has made Derek Jeter a baseball legend and one of the most popular players in baseball for decades.
Since he debuted on the diamond, Jeter's baseball cards have steadily increased in popularity and value. It might be time to consider adding a few Derek Jeter rookie cards to the card collection vault.
Who is Derek Jeter?
Derek Jeter is a former shortstop who spent his 20-year MLB career with the New York Yankees.
Jeter is a five-time World Series champion and is regarded as a star contributor to the Yankee's success in the 1990s to 2000s for hitting, base-running, fielding, and leadership.
He has won dozens of awards, including 14 All-Star selections, five Gold Glove Awards, five Silver Slugger Awards, two Hank Aaron Awards, and a Roberto Clemente Award.
He holds many postseason records and amazing highlights, earning him the iconic nickname Mr. November. Jeter was elected to the National Baseball Hall of Fame in 2020.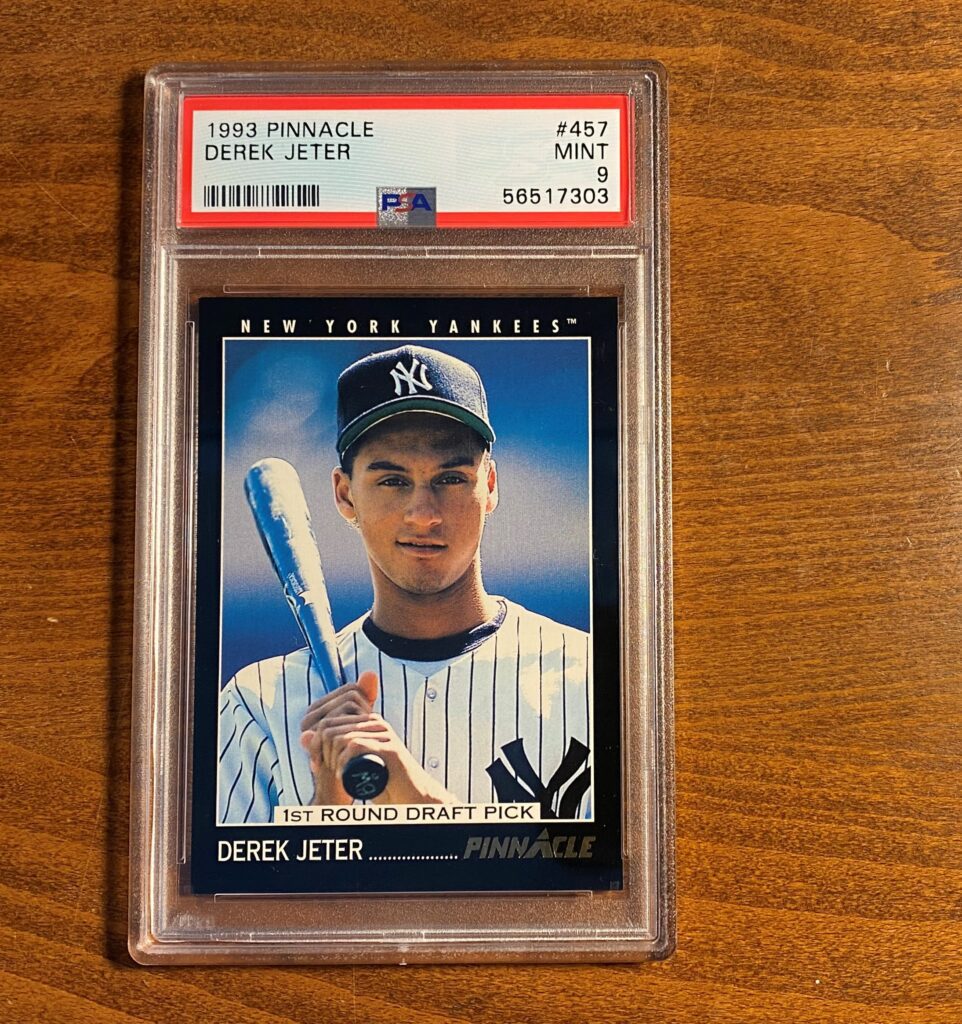 ---
Young Jeter's Early History
Derek Jeter was born in Pequannock Township, New Jersey, on June 26, 1974, but moved to Kalamazoo, Michigan, when he was four years old.
He and his sister would spend their summers with their grandparents in New Jersey, attending New York Yankees games. Jeter became a passionate fan, and watching Dave Winfield inspired him to become a baseball player.
In his high school days, Jeter was a star baseball player, receiving several honors, including the 1992 Gatorade High School Player of the Year Award and USA Today's High School Player of the Year.
Jeter earned a baseball scholarship at the University of Michigan to play college baseball for the Michigan Wolverines. However, he was drafted to the New York Yankees before attending college.
---
Jeter's Professional Baseball Career
Jeter played four seasons in the Minor Leagues with the Greensboro Hornets and struggled to find his stride early in his career.
However, he recovered and had a strong 1993 season, being named the South Atlantic League's Best Defensive Shortstop, Most Exciting Player, and Best Infield Arm by Baseball America.
Jeter made his MLB debut in 1995. In 1996, Jeter had a stellar year and won the American League Rookie of the Year award.
Jeter would have a great postseason, batting .361, and the Yankees would defeat the Atlanta Braves in the 1996 World Series.
In 1998, Jeter would be selected for his first All-Star Game, and the Yankees would go on to win the World Series against the San Diego Padres.
---
Throughout the early 2000s, Jeter would continue to sign multi-year contracts with the Yankees worth hundreds of millions of dollars.
In 2000, the Yankees won the World Series against the New York Mets, and Jeter became the first person to win the All-Star Game MVP and the World Series MVP awards in the same season.
Shattering Records
Jeter shattered numerous MLB records in his career. In 2009 against the Seattle Mariners, Jeter broke Luis Aparicio's league record of 2675 hits as a shortstop.
He became the all-time NY Yankees hits leader the same year, passing Lou Gehrig.
In 2011, Jeter broke Mickey Mantle's record for most games played as a Yankee. He also broke Rickey Henderson's record for Yankee stolen bases in 2011.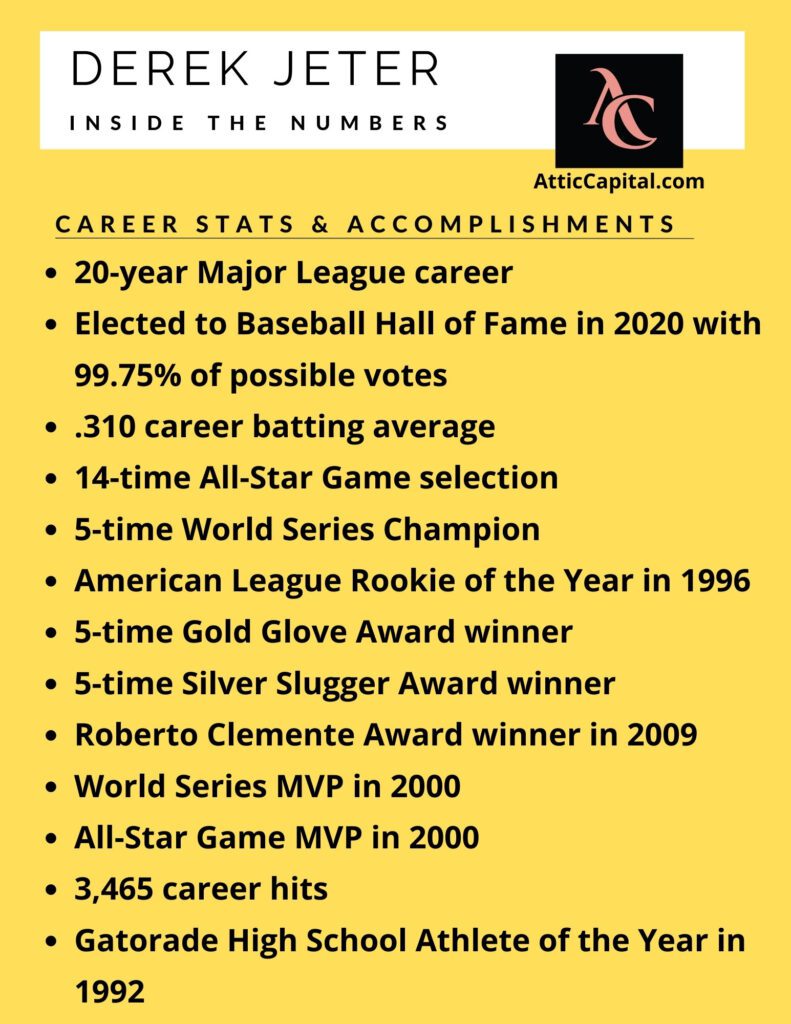 Jeter retired in 2014, ending his final season with his 1,000th career multi-hit game. He scored over 1,900 runs and broke MLB records for games started at shortstop.
Retirement from MLB
In his post-baseball career, Jeter is a successful businessman. In 2014, he started ThePayersTribune.com, a media platform that features first-person stories from professional athletes. In 2017, he became CEO of the Miami Marlins and owned a 4% stake in the franchise.
---
Derek Jeter Rookie Card Values
Ok, let's get to the cards, finally.
Derek Jeter's epic HOF baseball career makes his cards an excellent addition to any card collection. Several highly valuable Derek Jeter rookie cards and a couple that could be considered undervalued, making them great additions to any card collection.
Topps Derek Jeter Rookie Card
The 1993 Topps Baseball Wax Box 1st Series included a Gold #98 Derek Jeter rookie card. These cards can be valued as high as $5,000. Step down to a PSA 9, or a PSA 8 Topps Gold Jeter card, and you can buy one for just a few hundred dollars.
If you're feeling lucky and can spend $100 for an entire wax box, you can try your luck at pulling one of these rookie baseball cards. The Topps Gold Derek Jeter rookie is also in rack packs of the same year, a packaging variation containing 54 cards.

1993 Jeter Topps Rookie Card #98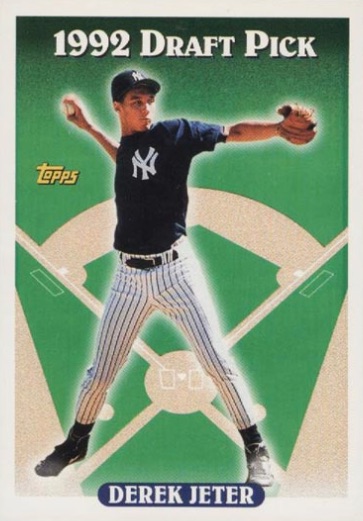 1993 Topps Gold Derek Jeter #98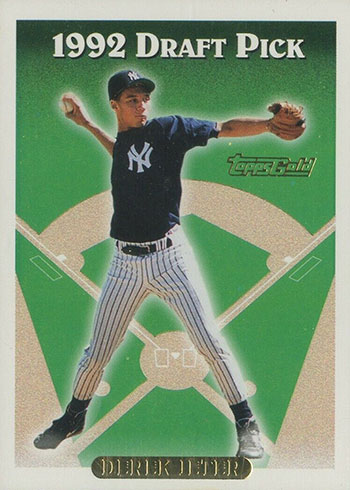 1993 Topps #98 Florida Marlins Inaugural Year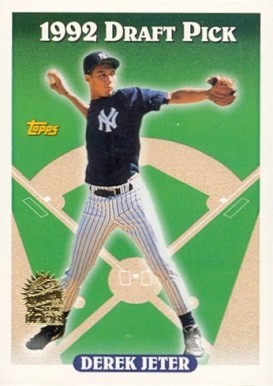 1993 Topps Inaugural Colorado Rockies Derek Jeter #98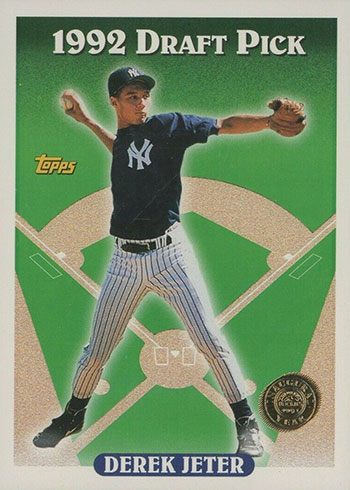 1992 Derek Jeter Little Sun High School Prospects Autograph
One of the most important Derek Jeter rookie cards is the 1992 Little Sun Autograph. Only 250 copies were printed, making this one of the most valuable Jeter rookie cards.
Many still consider the Little Sun Autographed version the Holy Grail of Jeter rookie baseball cards. The value of these cards varies depending on graded condition, with higher-valued cards selling around $20K-30K.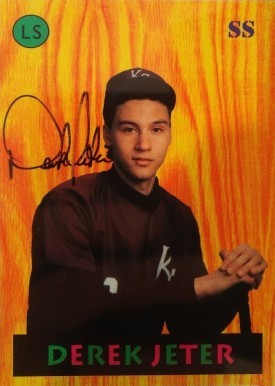 1992 Derek Jeter Little Sun High School Proof

Another popular rookie card is the Little Sun proof card, which didn't have an autograph, just extra copies left behind without Jeter's signature.
One thing to watch out for – the missing autograph on the proof cards tempted scammers to forge an autograph on the card, creating a much more valuable Little Sun "autograph" card. Be on the lookout for fake Little Sun Derek Jeter signed cards.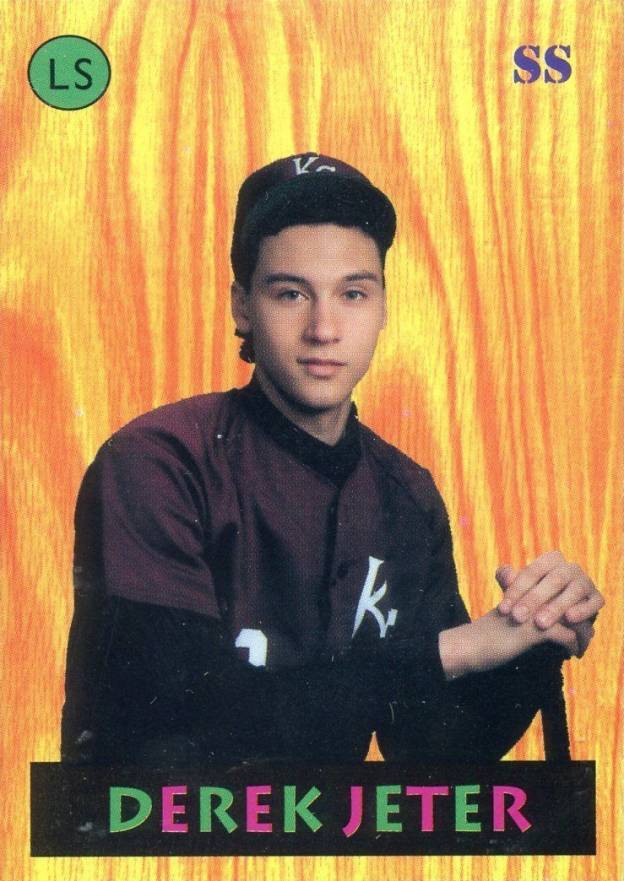 1992 Derek Jeter Fleer Excel Gold Foil
Here's a great Jeter rookie card, and one that even the most astute card collectors might not be aware of. The card was printed in extremely low numbers, with only 101 PSA 10 cards known.
The card features Jeter during his brief time with the Greensboro Hornets minor league squad. Like Griffey, A-Rod, and Clemens, even though Jeter was destined for the big leagues, he needed to put in some time in the minors first.
1993 Upper Deck SP Foil Derek Jeter Rookie RC #279
The 1993 Upper Deck Sp Derek Jeter rookie card is extremely popular and hard to find in a high grade. Only 1,300 PSA 10 cards exist.
Values for the PSA 10 GEM Mint card reached over $300,000 just a few years ago due to the easily damaged dark edges and foil coating. The PSA 9 NM-MT card has recently sold on eBay for around $5,000 USD.
1993 Upper Deck baseball cards were mostly overproduced, and not highly desirable. But there are a few gems in the 840 card set to watch out for. This is the feature card from this set.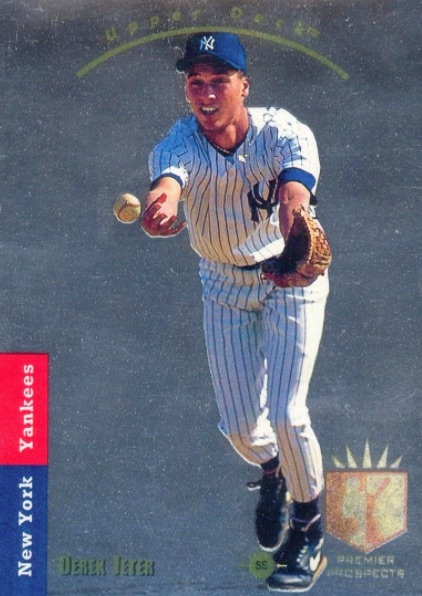 1993 Upper Deck Derek Jeter Rookie Card RC Gold Hologram
The gold hologram Jeter rookie card wasn't available in packs. The card was only included in Upper Deck factory sets. A Derek Jeter PSA 10 Upper Deck Gold Hologram is valued at around $10,000.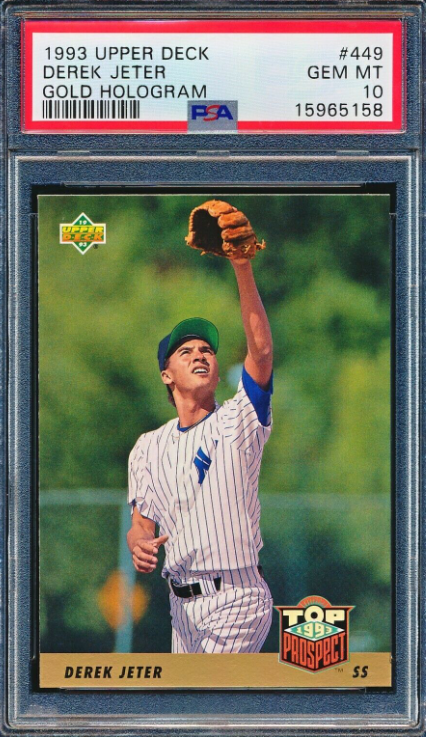 1993 Upper Deck Derek Jeter RC Top Prospect #449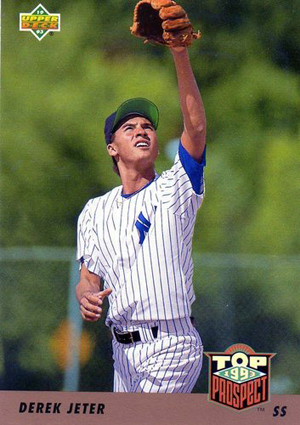 1993 Score Derek Jeter RC #489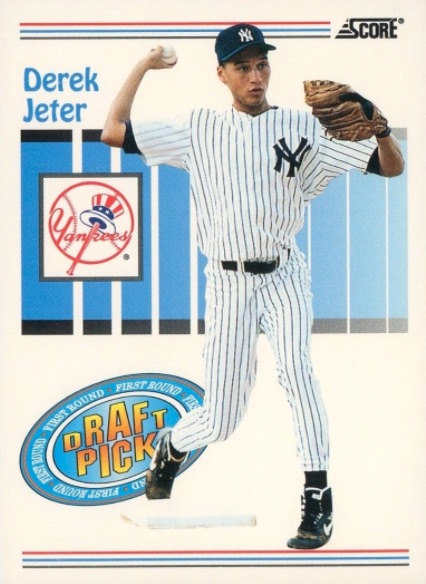 1993 Stadium Club Murphy Derek Jeter Rookie #117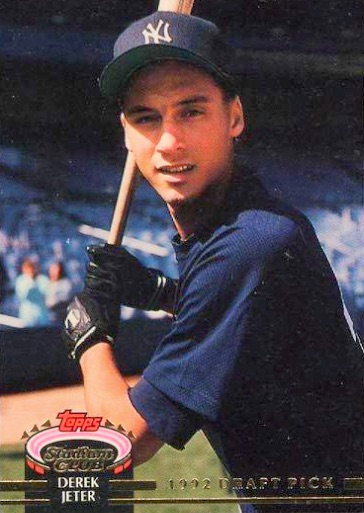 1992 Derek Jeter Little Sun High School Prospects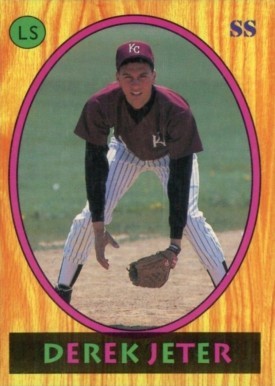 1992 Classic Derek Jeter C3 #4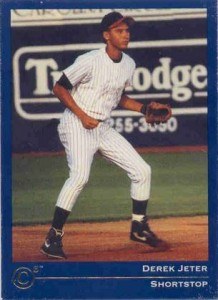 1993 Select Derek Jeter RC #360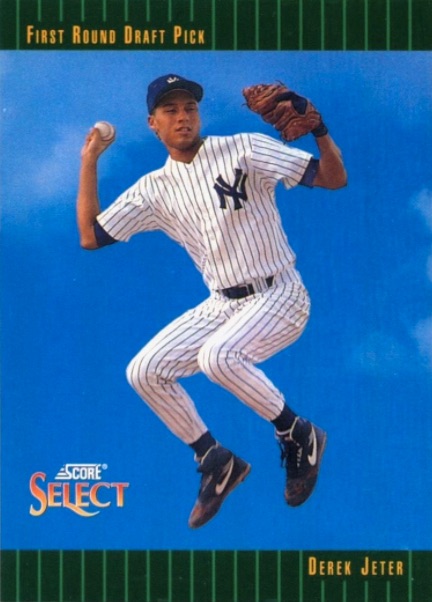 1992 Derek Jeter Rookie Card Front Row Silver #55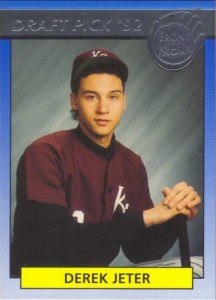 1993 Derek Jeter Front Row Gold #2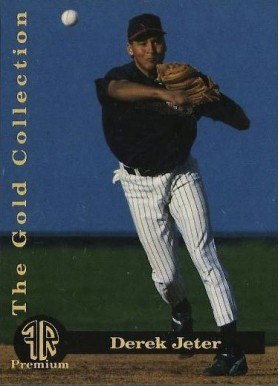 1992 Derek Jeter Fleer Pro Cards Gulf Coast Yankees RC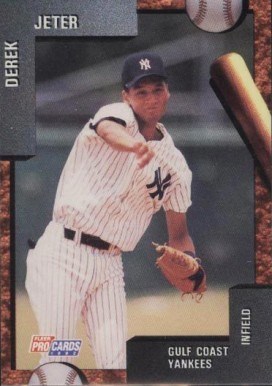 1993 Derek Jeter Classic Best #1 Greensboro Hornets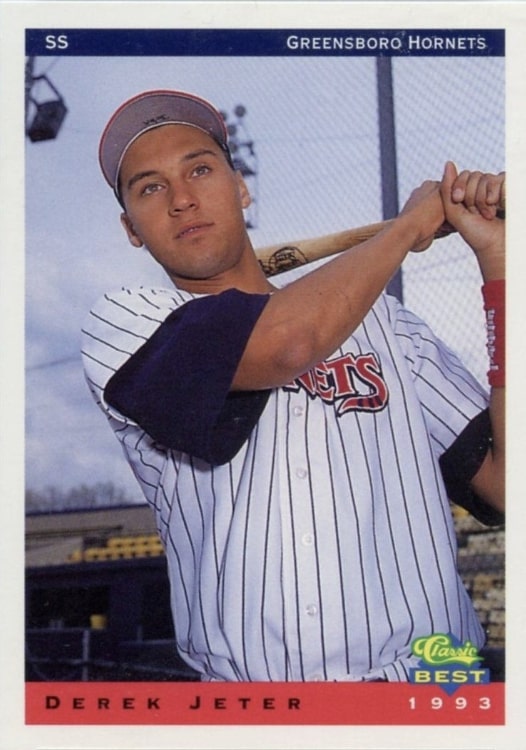 1993 Derek Jeter Fleer Pro Cards All-Star #21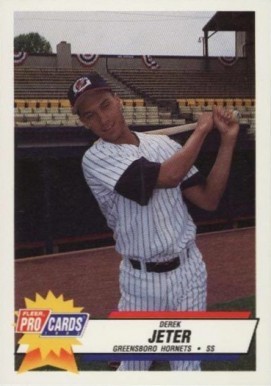 1993 Derek Jeter Classic Best Auto #AU4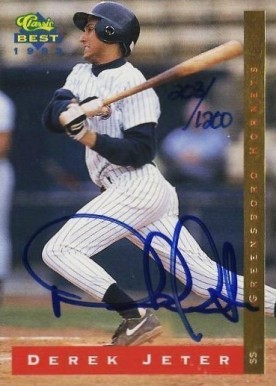 1993 Bowman Derek Jeter RC #511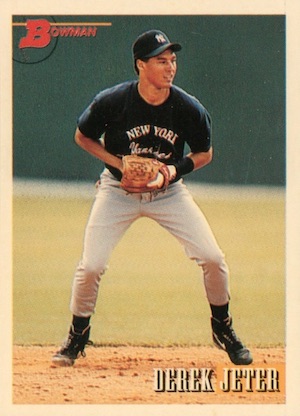 1993 Pinnacle Derek Jeter RC #457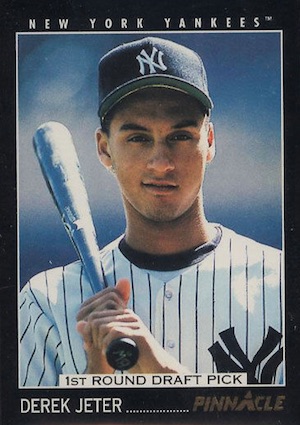 1992 Derek Jeter Front Row Gold #55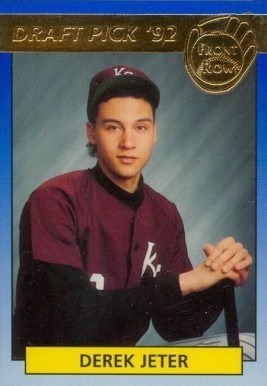 1992 Derek Jeter Rookie Card Classic Four Sport Autographs #231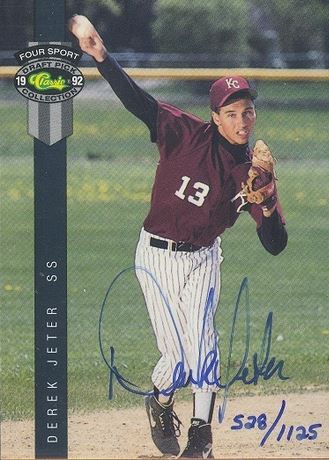 Other Derek Jeter Sports Cards
The 1992 Derek Jeter Classic Draft Picks Foil Bonus is one of the first cards produced. This card is a low pop card out of 103, and a Gem Mint RC PSA 10 can be worth around $2,000. SGC 9 graded cards are valued at around $200, while a BGS 9.5

1995 Derek Jeter Topps Finest Refractor
1996 Derek Jeter Topps Chrome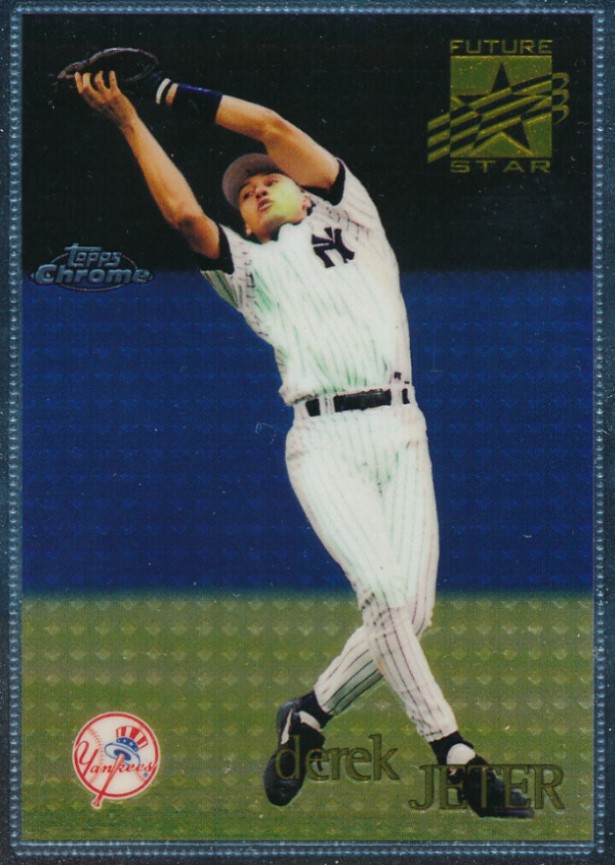 2022 Topps Derek Jeter Call of the Captain Collection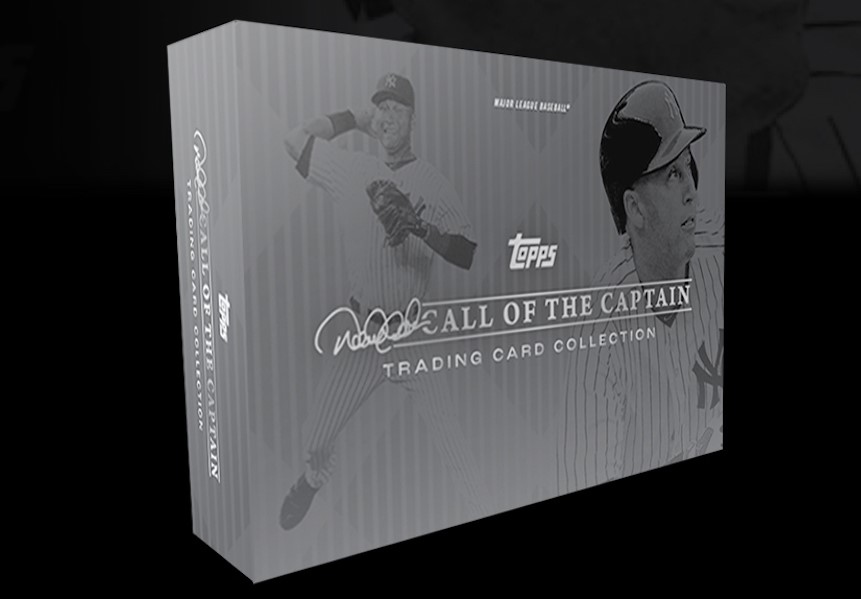 1996 Leaf Signature Derek Jeter
The 1996 Leaf Signature Derek Jeter trading cards are extremely difficult to find. It's not a Jeter rookie, but the card is low population and is autographed by Jeter himself.
The value of these cards in PSA 10 condition range from thousands to tens of thousands of dollars.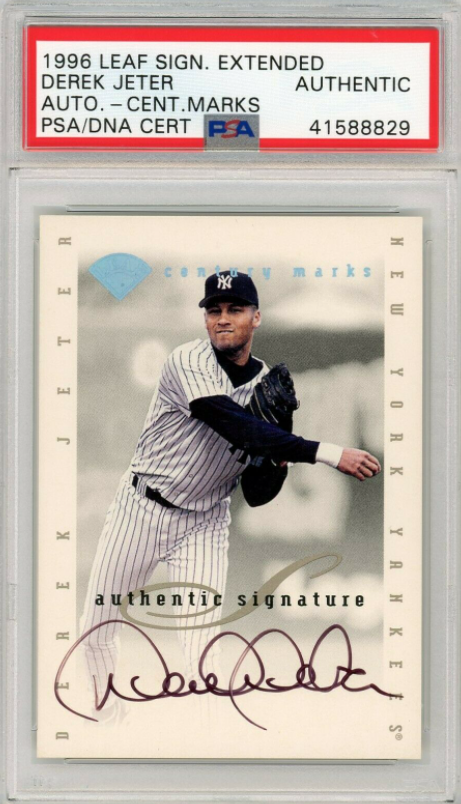 ---
Valuable Derek Jeter Memorabilia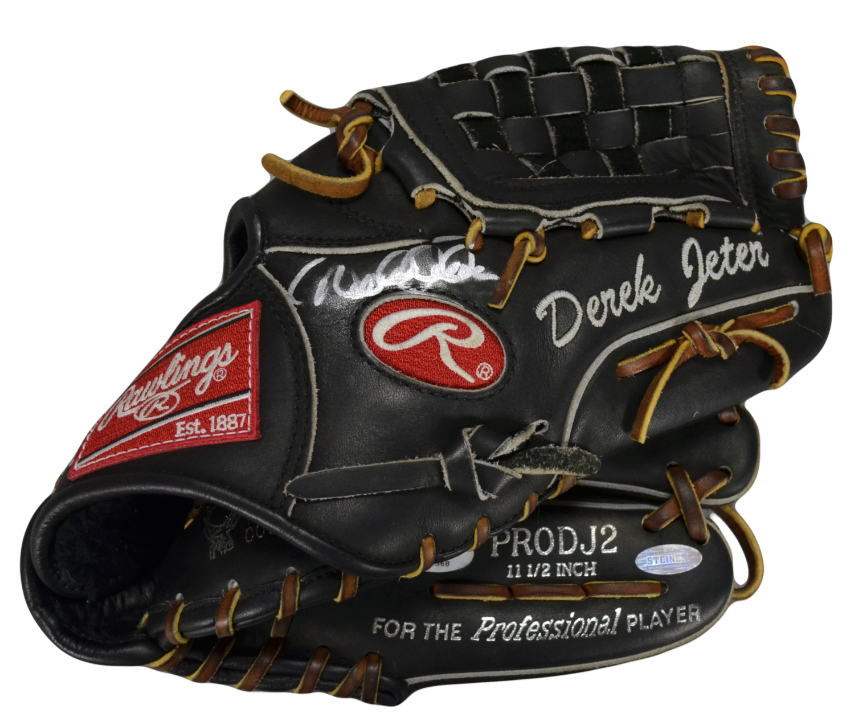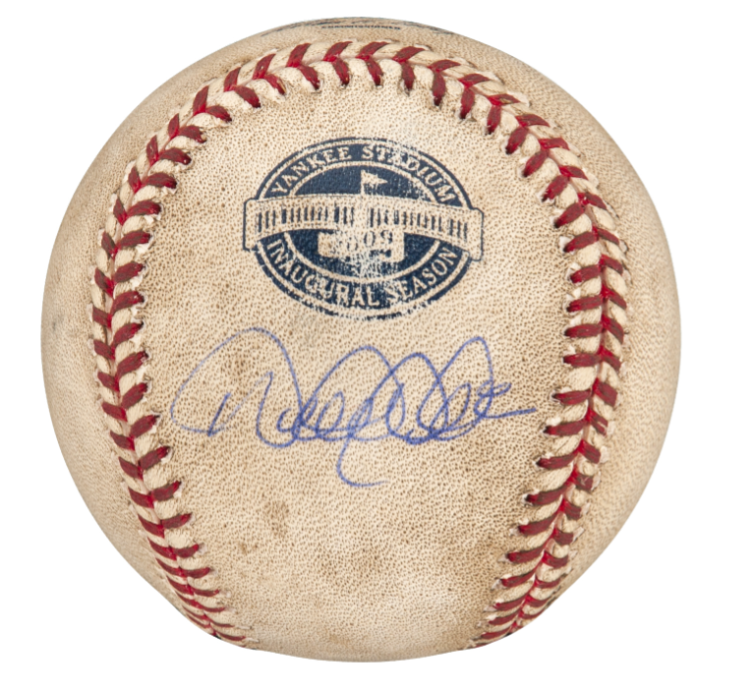 ---
Mr. November and the Derek Jeter Rookie Card
Derek Jeter's legendary status as a baseball hero will inspire fans for years to come. The greatest moments of the Jeter Yankees HOF career are still debated to this day.
The Derek Jeter baseball card is highly collectible, and adding a Jeter rookie card to your collection could make for a great long-term piece of baseball history. Or at the very least, a great reminder of a clutch performer.
---
Card Collectors –> Looking to Sell Baseball Cards? Here's How (and Where) To Do It