---
A skilled mechanic decides to critique the maker of his luxury sports car and ignites a rivalry that would produce some of the most beautiful and high performing automobiles in history. The tale of two Italian super-sports car makers is a testament to the determination of hard-working, dedicated, and proud pioneers. Here's a look behind the Lamborghini and Ferrari feud.
The Love of Ferrari
Enzo Ferrari grew up with love for racing. Born in 1898, he was passionate about cars and shared this passion with his father and brother. When Enzo was ten years old, he attended a race on the Bologna circuit, where he would begin to dream about working for the FIAT car company. His application was rejected at FIAT, so he began working for a smaller company as a tester.
Enzo would eventually start racing in 1919, he debuted in an uphill race from Parma to Poggio di Berceto. After working for Alfa Romeo and a successful racing career building a superstar team of drivers, he started an auto supply and manufacturing company that was eventually forced into war production under Mussolini's fascist government during the outbreak of World War II. Allied bombers bombed his factory, and he relocated his operations when, at the end of the war, he would decide to make cars bearing his name, and Ferrari car company was born.
The car company founded in 1939 by Enzo Ferrari is one of the most influential brands in the world, according to Brand Finance. Over time it had produced some of the most expensive cars in history. Iconic cars such as the 1962 250 GTO, which became the top car sale in history when it sold in 2014 for $38 Million to businessman Craig McCaw. Later in 2018, the same model sold for a new record $52 Million at a Sothebys auction.
Throughout its history, Ferrari has been a symbol of power, luxury, speed, and wealth. It's no surprise that successful entertainers, entrepreneurs, and business people enjoy owning and driving the highest quality cars in the world. Ferruccio Lamborghini wanted the best, and he began purchasing Ferrari's when his tractor manufacturing company began to flourish.
From Tractors to Super Cars
Ferruccio Lamborghini grew up in a family of grape farmers, but he was raised with interest in mechanics and engineering. After his service in the air force in World War II, the young businessman noticed a shortage of agricultural equipment for farmers. Hence, he began re-purposing military vehicles into tractors, and his venture took off.
Ferruccio started to accumulate expensive luxury cars as a result of his profitable enterprise. He bought two Ferraris, a black one for his wife and a white one for himself. He would take valuable customers for drives in the expensive cars and be sometimes known to 'burn the clutch,' which meant repeated trips to the Ferrari factory to replace the parts.
Frustrated by the recurring problem with the clutch, Ferruccio had his tractor mechanic look at the problem and discovered the clutch in the Ferrari was the same part Ferruccio used in his tractors. He not only replaced the Ferrari clutch with a clutch from his tractor company, but he also decided to venture to the Ferrari factory and present his findings with the founder of the company, Enzo Ferrari. It was the first encounter that would later ignite into the great Lamborghini and Ferrari feud.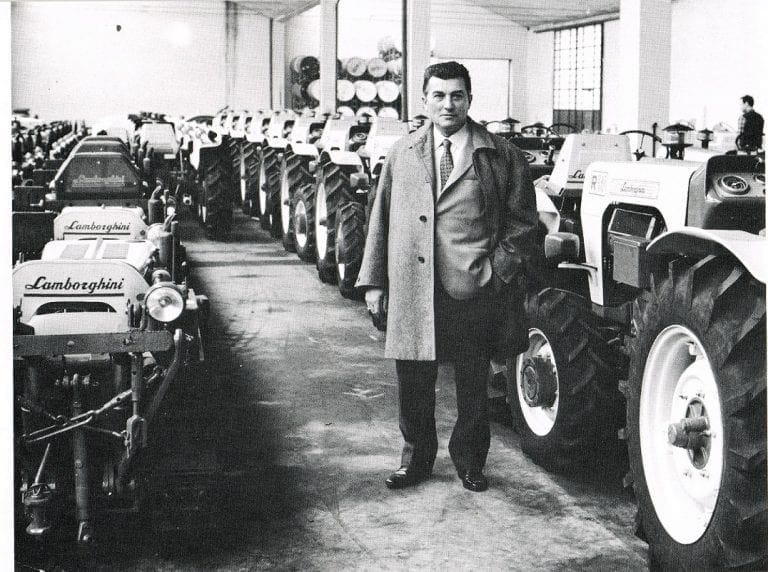 The Meeting
Many versions of the story have been retold from the meeting of Enzo and Ferruccio. The poorly performing clutch was discovered to be the same part in Ferruccio's tractors, and Ferruccio wanted to discuss it. Enzo saw things from a different point of view. Whatever ended up happening that day, one thing was clear. The meeting between the two businessmen didn't go over well. A few insults were exchanged, and a rivalry was born.
Valentino Balboni, who was a long time test driver who worked directly for Ferruccio and had a first had account behind the Lamborghini – Ferrari Feud. He was quoted in this Car and Driver interview, "Ferruccio… started yelling, he was so mad because he said, 'I pay for my tractor 10 lire, and I paid Ferrari 1000 lire for the same part.' So, one day, when he met Enzo Ferrari, the two started talking. During the discussion, Ferruccio Lamborghini had the bad idea to tell Enzo Ferrari, 'You build your beautiful cars with my tractor parts.' "
"Enzo Ferrari told him: 'You are a tractor driver, you are a farmer. You shouldn't complain driving my cars because they're the best cars in the world.' " This only infuriated Lamborghini, who became equally agitated and animated.
"Lamborghini told him, 'Oh, yes, I am a farmer! I'll show you how to make a sports car and I will do a sports car by myself . . . to show you how a sports car has to be.'

caranddriver.com interview with Valentino Balboni
There's some speculation on where precisely this confrontation took place, but Balboni insists this was the actual exchange between the two as the story has been retold hundreds of times.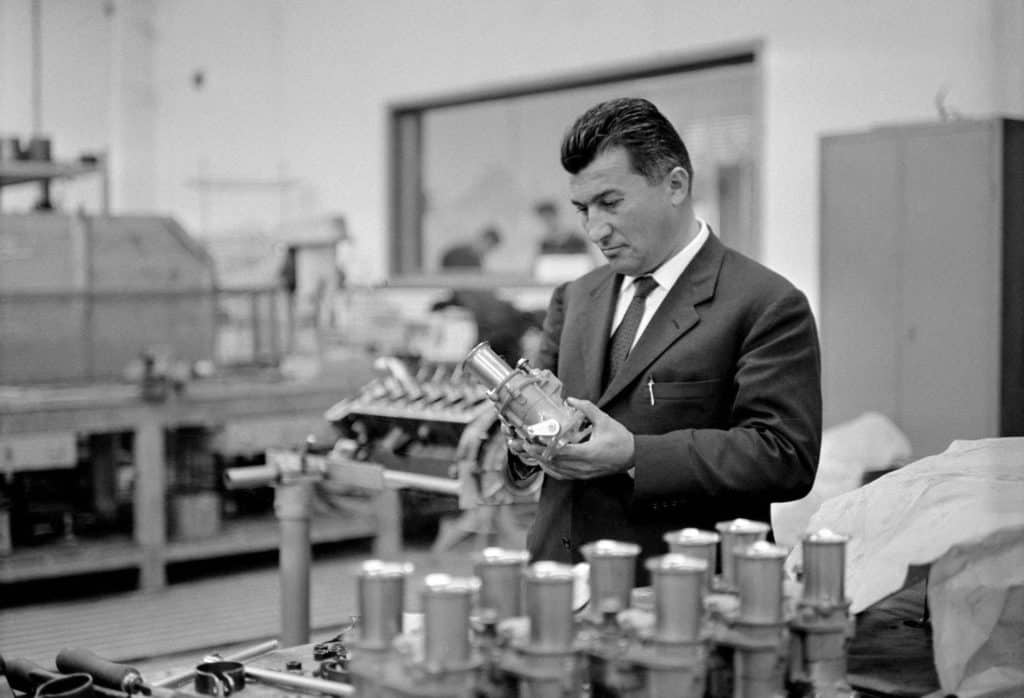 By 1963 Lamborghini had officially founded his auto company and began recruiting the best team he could find to take on his newly acquired business rival. At the time, many people criticized Ferruccio for attempting to build a sports car that would compete directly with such a powerful brand like Ferrari. After all, he was already a successful businessman and quite wealthy from his tractor company, which had also successfully moved into other manufacturing ventures such as air conditioning systems. Behind the Lamborghini and Ferrari feud, it looked as though the fight was over before it even started.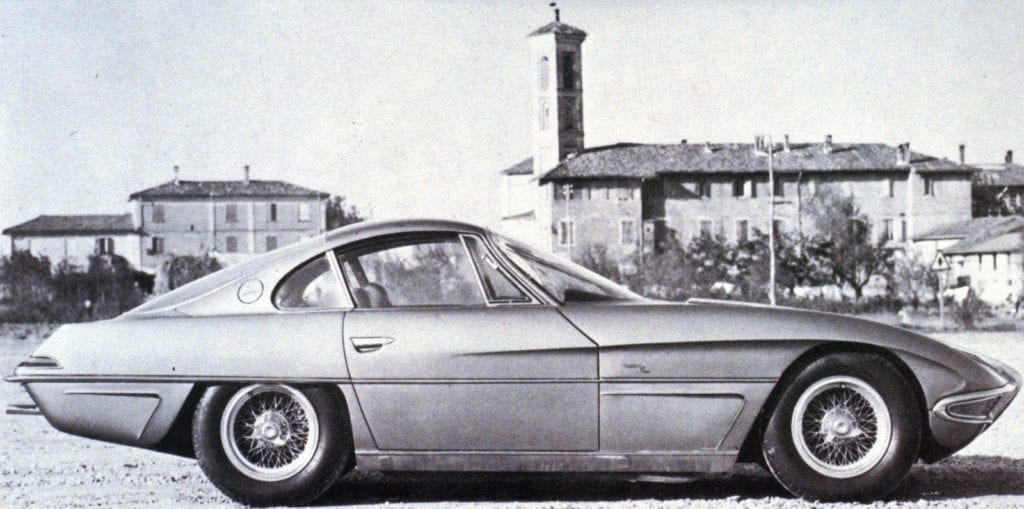 If you could imagine walking around the 1963 Turin Auto Show and stumble on a car made by a tractor company, you'd know what many attendees were thinking at that time. Not only was the car made by a tractor company, but the car was actually a fantastic design built for the highest performance and ready to take on the most expensive supercars in existence, such as Ferrari and Maserati.
The design for the 350 GTV prototype came from Giorgio Prevedi. It was an immediate hit among car critics and caught the eye of much of the auto industry at the time. Giotto Bizzarrini was recruited to do the engineering work on the 350 GTV and was a pretty great choice because he was the one who did the engine work on the Ferrari 250 GTO, which had over time developed a rocky relationship with founder Enzo Ferrari.
Ferruccio Lamborghini and his team developed an all-aluminum alloy quad-cam V-12 engine, which produced 342 horsepower and 250 pounds of torque. By the end of 1964, Lamborghini sold his first 13 cars. His harshest critics silenced for the time being. The Lamborghini brand began to be known for its power, comfort, luxury, and refinement.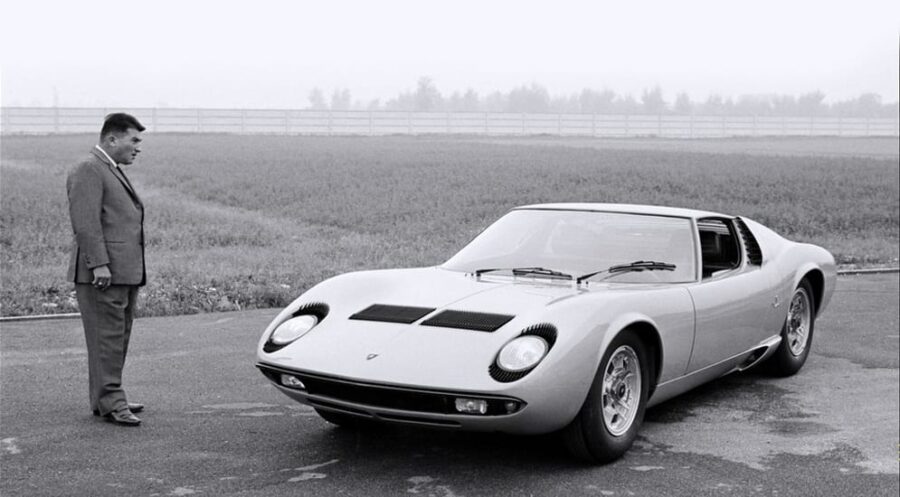 ---