---
For many baseball fans and card collectors, the Mark McGwire rookie card brings up a mix of emotions and memories.
Some remember the monster home runs and the incredible power at the plate. Others remember the scandal, cries of cheating, and congressional testimony.
Make no mistake; Mark McGwire is not without his share of controversy. But he sure could crush a baseball.
Why are Mark McGwire Rookie Cards Valuable?
Mark McGwire had an impressive major league baseball career. But the role he played in baseball history makes his rookie cards an intriguing addition for any collector.
Nicknamed Big Mac, he played in the MLB from 1986 to 2001 for the Oakland Athletics and St. Louis Cardinals as a first baseman.
He was also a part of the United States Baseball Team and a silver medalist in the Olympics. A prolific power hitter, he's broken and set many records for home runs and numerous other categories.
While his career wasn't without controversy, he remains a fan favorite and a revered baseball legend.
Unsurprisingly, his baseball cards are legendary too. His rookie cards are widely sought-after by card collectors and baseball fans alike.
---
Mark McGwire Rookie Cards
Like his career, Mark McGwire's baseball cards have had quite a few ups and downs.
First, values were extraordinarily high, and then they came down in average value over the late 1990s.
Mint condition versions of his rookie cards still command high prices on eBay and other auction sites.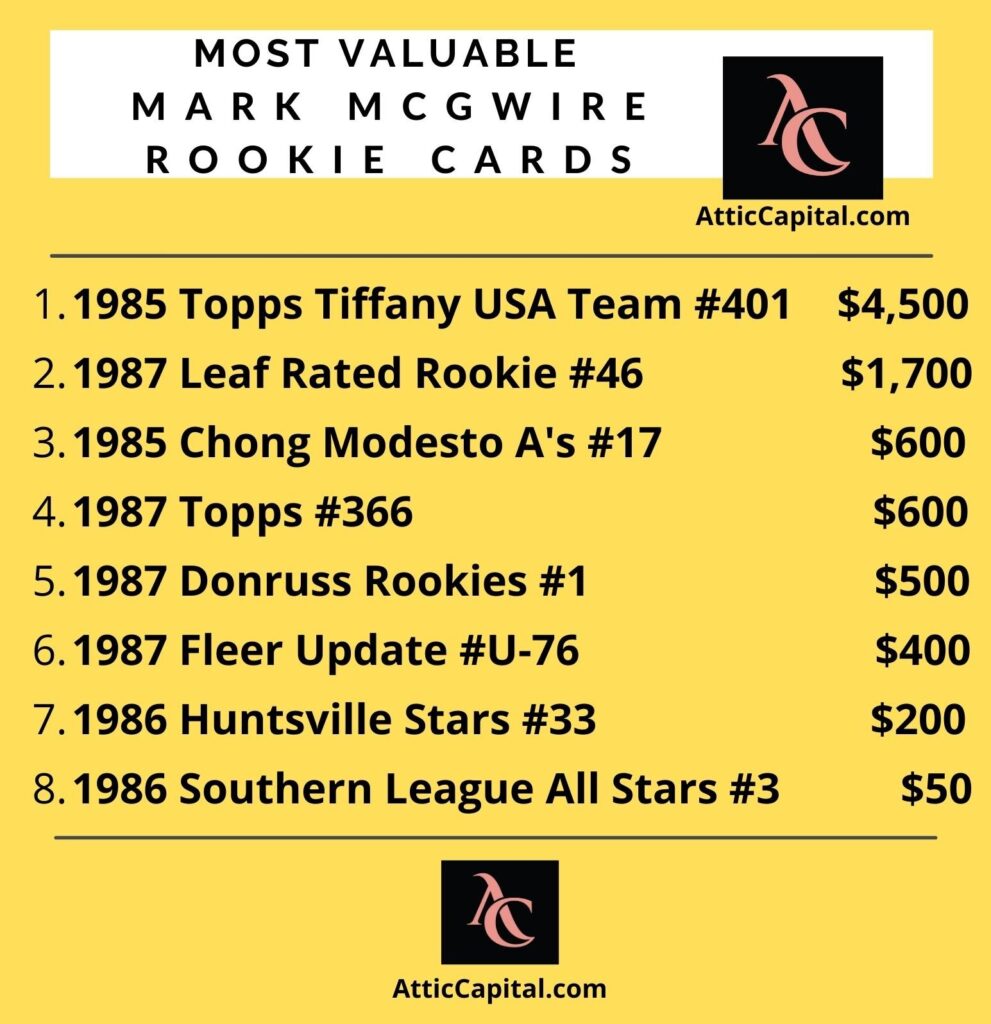 Let's take a look at each Mark McGwire Rookie card.
1985 Topps Mark McGwire Rookie #401
The 1985 Topps baseball card is the first Mark McGwire rookie card, with Mark wearing his USA Baseball Olympic Team uniform.
The Topps Mark McGwire rookie card #401 is part of the 792 card set.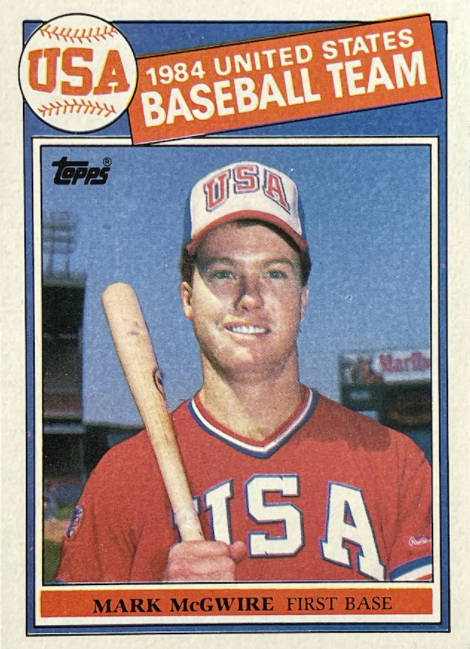 Topps #401 Rookie Card Design
The USA Baseball Team Olympic cards, which ran from cards #389 to #404, featured a baseball in the upper left corner with "USA" in bold. Also included was a banner titled "1984 United States Baseball Team".
Back of the Card
The reverse side has the usual horizontal format and includes Big Mac's bio and College stats.
---
Real-Time Google Trends Chart
Here's a real-time google trends chart of Mark McGwire's search activity since 2004.
You can see the increase in search volume over the last few years as the sports card market has gained momentum.
---
1985 Topps Tiffany Mark McGwire RC #401
As with many Topps sports cards of that era, there is a Tiffany version of the Topps Rookie Card.
From 1984 to 1991, Topps included limited-edition Tiffany cards for many players.
Fewer were produced, and the quality was higher, making these cards much more valuable than the regular versions.
Visually, the Tiffany cards have a whiter finish and are much glossier due to a particular treatment in production. The goal was to preserve the card longer, and it worked.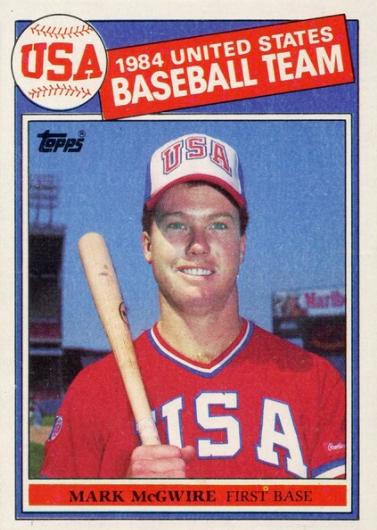 When comparing the two cards almost 40 years later, the Tiffany version has retained its looks and shape better than the original, especially as a PSA card with a 9 or 10 rating.
Because of the rarity of the Tiffany version, Gem Mint PSA 10 cards have sold for $4,000 to $5,000 over the last few years on eBay.
There is also a significant difference on the reverse side of the Tiffany version of this card, with the 1980s lime coloring being much more prolific.
This changes the color scheme significantly, and as a result, the Tiffany version of the card is much easier to read.
There is also a series of 1987 cards that some would consider to be rookie cards based on the first appearance of Mark McGwire in an Oakland A's MLB uniform.
---
1987 Donruss Rated Rookie #46
The 1987 Donruss Mark McGwire Rated Rookie range from Donruss is a fan favorite, and the 1987 versions are prevalent.
The design, including colored borders, gives the cards a unique look and feel, although the colored borders vividly show their age and often appear faded and cracked.
The estimated PSA 10 value on these cards is $500.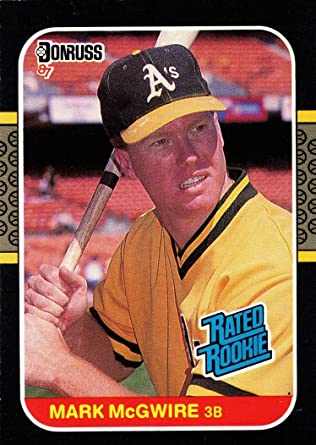 ---
1987 Donruss Rookies #1
The Donruss Rookies set in 1987 had Mark McGwire as their very first version.
It has the same look and feel as the Donruss Rated Rookie card, except for a slightly different picture and a "The Rookies" logo on the bottom.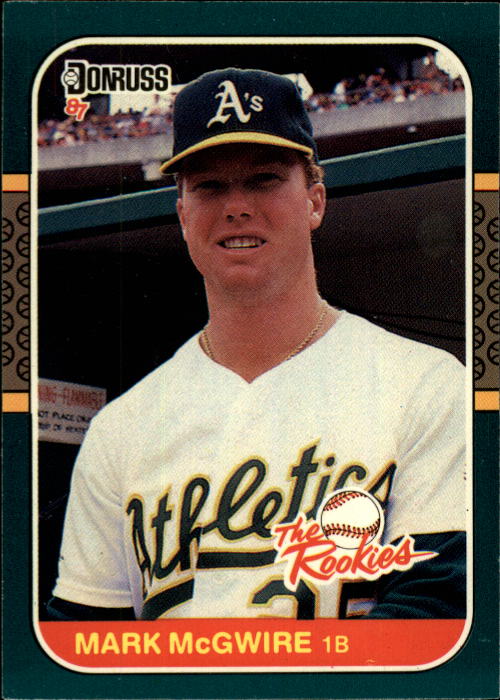 ---
1987 Fleer Update Mark McGwire Rookie Card RC #U-76
The 1987 Fleer Update Rookie cards are instantly recognizable with their blue borders.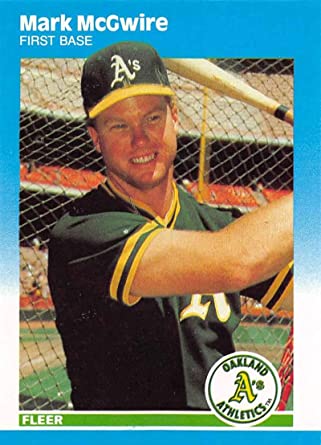 ---
1987 Leaf Mark McGwire Rated Rookie #46
Leaf was the Canadian version of the US-only Donruss cards. As such, they also released a Rated Rookie card for Mark McGwire.
The look and feel of the two cards are virtually identical, with the only difference being the Leaf logo on the top left of the Leaf version.
Since they are scarcer than the Donruss version, the Leaf cards are more expensive on resale.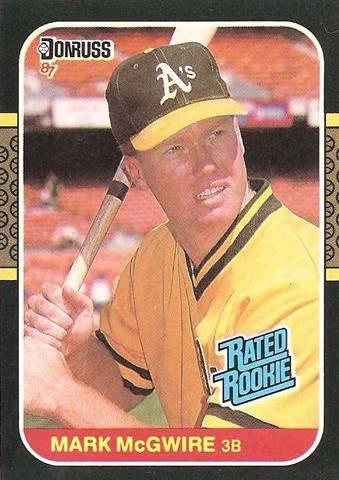 ---
1987 Topps Mark McGwire #366
The 1987 Topps McGwire rookie card is the second most popular besides the 1985 Topps version.
It was the first Topps McGwire Rookie Card featuring him in his Oakland Athletics uniform and was also a significantly popular card when it came out in 1987.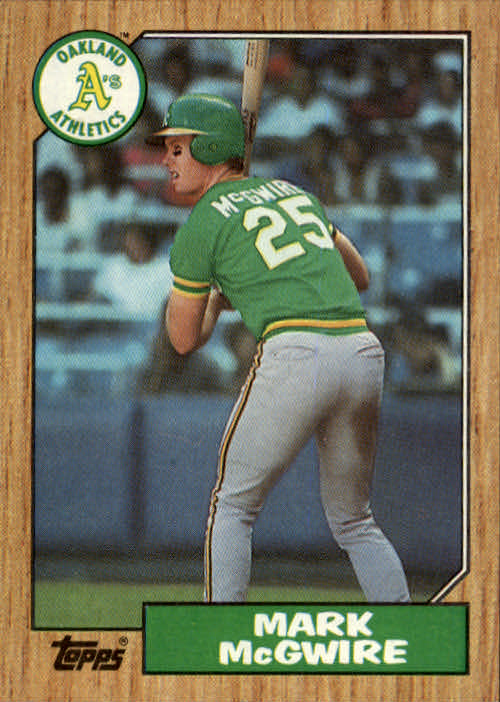 ---
1986 Mark McGwire Southern League All-Stars Donn Jennings Minor League Card
Graded PSA Southern League McGwire cards from 1986 sell on eBay for $50. This card is really unique, and I don't think the price reflects just how cool this card is.
Minor league rookie cards don't get the respect I believe they deserve. The production numbers for most of these beauties were not as high as the major league cards. A graded PSA 10 minor league card makes a great addition to any collection.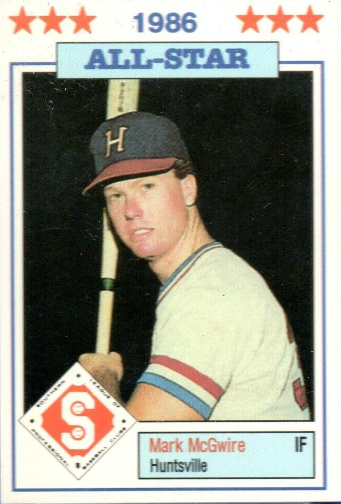 ---
Other Valuable Mark McGwire Cards
There are other valuable Mark McGwire trading cards beyond his baseball rookie cards.
While the regular card from any random 1990s year won't be worth much, there are a few special edition cards to familiarize yourself with.
Of the modern cards, there are several valuable McGwire's that you should keep your eye on.
Topps Project 2020 Mark McGwire
The Topps Project 2020 includes 20 iconic baseball cards from 20 different cultural artists.
For the McGwire card, the 1987 Topps baseball series was selected. And who could blame them? The wood-grained boarders are unforgettable.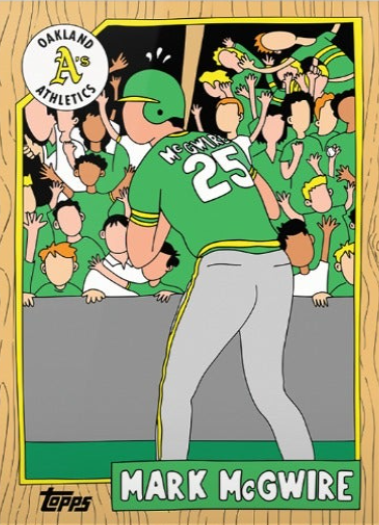 1989 Upper Deck Mark McGwire
Of all the hobbies you could have in the late 1980s, baseball card collecting was one of the most popular. And growing every year leading into 1989.
Every kid was suddenly collecting baseball cards, and the 1989 Upper Deck set was the biggest thing to hit the collecting scene.
Here's a fun idea, for just $30, you can buy an unopened, sealed 1989 Upper Deck pack on eBay.
With 15 cards in every pack, there's a chance to pull a McGwire, Bo Jackson, Rickey Henderson, Randy Johnson rookie card, or even the world-famous Ken Griffey Jr. rookie.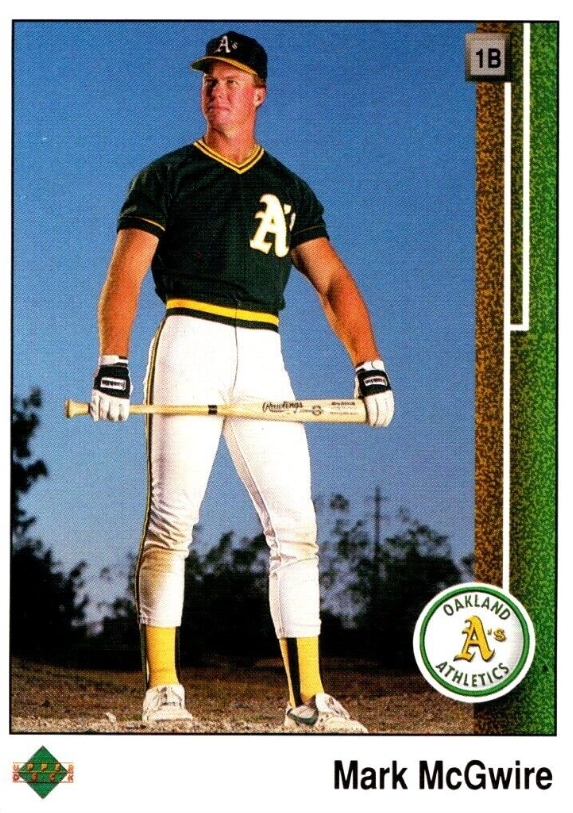 2000 Topps Chrome Mark McGwire Power Players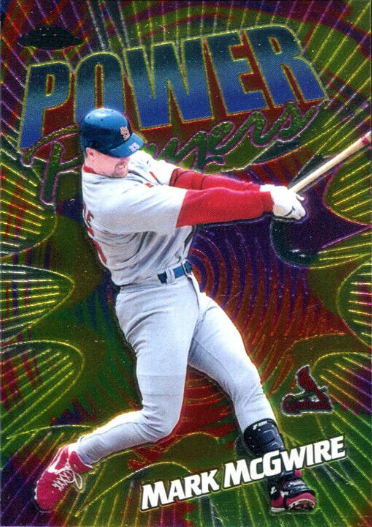 2022 Panini Flawless Mark McGwire Sammy Sosa Dual Autograph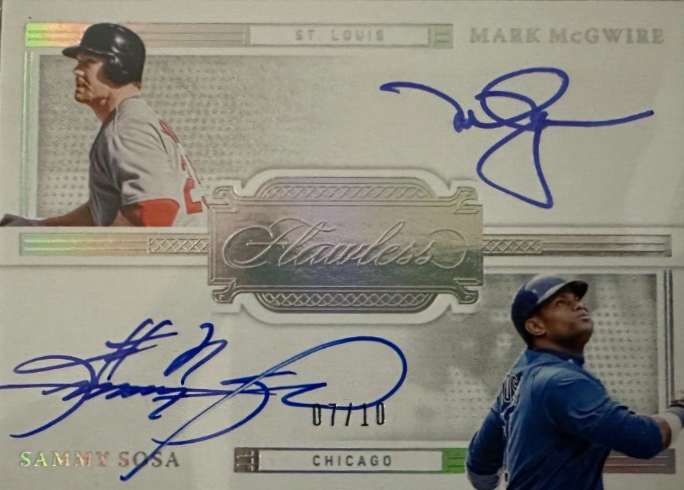 Mark McGwire Autograph Memorabilia
As one of the most popular athletes in the game of baseball through the 1990s, McGwire autographed memorabilia holds plenty of value.
You'll want to be sure any autograph is certified by Upper Deck, or a similar authentication service. And even then, beware. Signature and game-used items are ground-zero for fraud, and scammers. Don't assume the collectibles are legit. Be careful!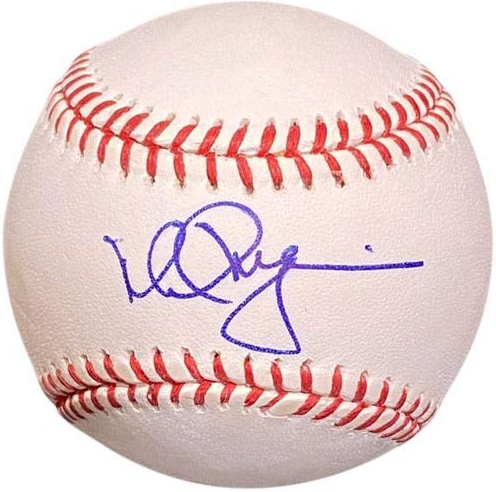 Game used bats are some of my favorite collectibles of all-time. But just know that the chance of fraud is still very high. Teams had no way to officially stamp or brand game-used bats, so don't just take the sellers word for it.
---
Mark McGwire Background and Stats
Big Mac was significant in many ways. He stood at 6'5″ and played like a giant. Out of all his talents, he was best known as one of baseball's greatest power hitters.
As part of the "Bash-Brothers" duo, along with Jose Canseco, Big Mac set a record in his rookie season with 49 home runs.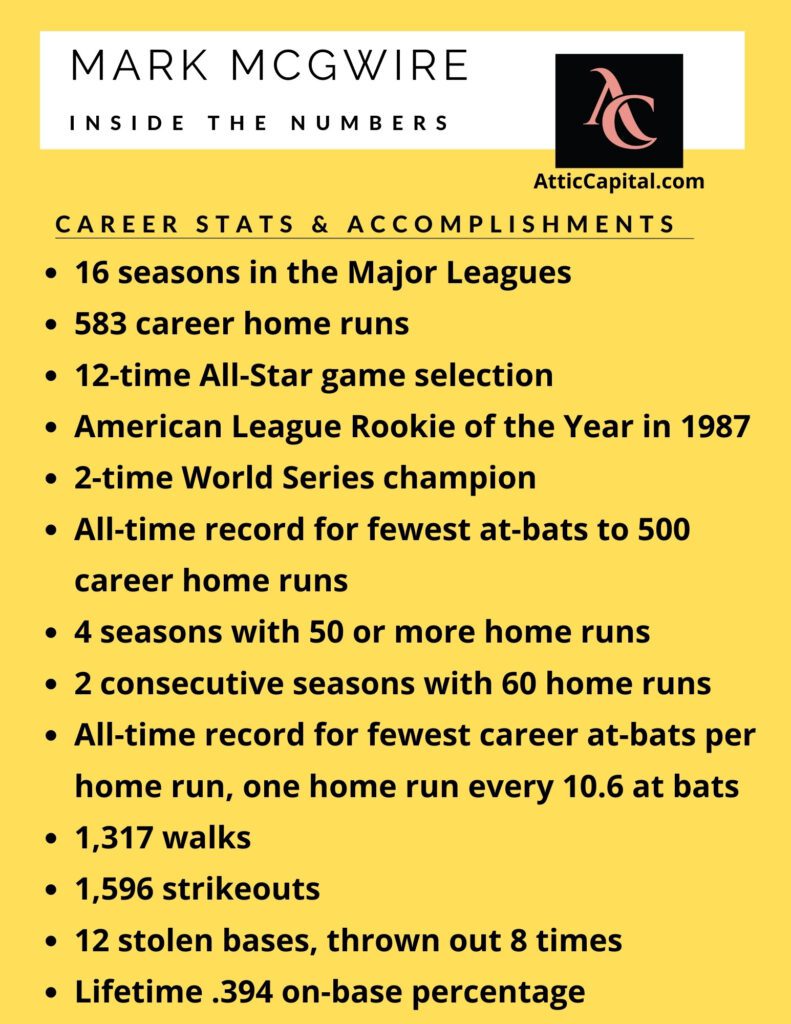 The 1993-94 season was not good for Mark "Big Mac" McGwire, and he sat out most of the season with injuries. He found his form again in 1996, though, and he was a man possessed for the next couple of seasons.
Big Mac became one of the most popular players in the Big Leagues. He became the first player to have four consecutive 50+ home run seasons, hitting 245 home runs in that period.
One of his little-known records is Big Mac's 'One home run per 10.6 at-bats ratio.' Roids or no roids, that's a very impressive number.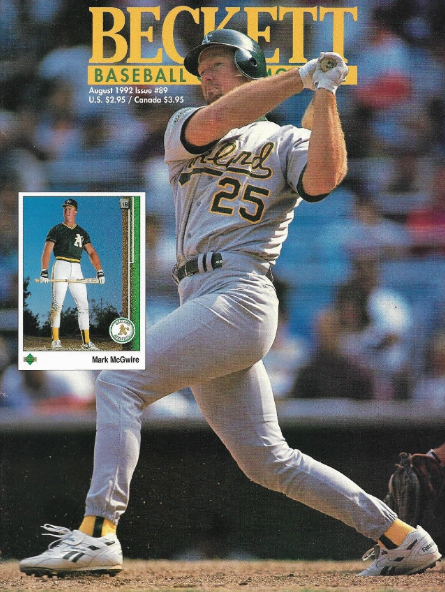 ---
Steroid Scandal
For all of his many accomplishments, being a Hall of Famer isn't one of them. Like Roger Clemens, Barry Bonds, Sammy Sosa, A-Rod, and many other baseball stars of the 1990s, he succumbed to steroid use.
In 2010, after many years of speculation and accusations, he admitted that he used steroids during the 1990s to recover from injuries quickly.
Juiced
The significant allegations began in 2005, when his name, among many other prominent stars of that era, in Jose Canseco's tell-all biography, Juiced: Wild Times, Rampant Roids, Smash Hits & How Baseball Got Big.
In the book, he made various claims about McGwire's steroid use. Among them, that McGwire had used performance-enhancing drugs since the 1980s and that Canseco had personally injected him with roids.
---
McGwire's Statement
In 2005, McGwire and Canseco were among 11 baseball players and executives who were subpoenaed to testify at a congressional hearing on steroids.
During McGwire's testimony on March 17, 2005, he declined to answer any questions but made the following statement:
"Asking me or any other player to answer questions about who took steroids in front of television cameras will not solve the problem. If a player answers 'No,' he will not be believed; if he answers 'Yes,' he risks public scorn and endless government investigations. My lawyers have advised me that I cannot answer these questions without jeopardizing my friends, family, and myself. I will say, however, that it remains a fact in this country that a man, any man, should be regarded as innocent unless proven guilty."
The National Baseball Hall of Fame voters have not voted to include him to this day, although many fans are hopeful for his inclusion one day.
McGwire Comes Clean
Later, in 2010, McGwire would admit to using human growth hormone on and off for a decade or so.
My baseball steroid take remains in effect for McGwire. As soon as the first hitter began taking performance-enhancing drugs, the major league pitchers were right behind them.
Don't forget that Big Mac had to launch home runs off of roided-out pitchers day in and day out.
And if you don't think HGH can add five mph to a major league fastball and help the slider drop an extra 4 inches, you might be out of your mind. Long story short – let him in the hall of fame already!
---
What Does Mark McGwire Do Now?
McGwire currently sits at number 11 on the all-time home run list with 583. That's fewer than Barry Bonds, A-Rod, Ken Griffey Jr., and even Sammy Sosa.
But what does the slugger do with his time now that he's left his mark on baseball?
After his playing days, McGwire spent time during his retirement as a hitting coach for the St. Louis Cardinals and Los Angeles Dodgers.
He also worked as a bench coach with the San Diego Padres until the 2018 season.
Big Mac now focuses on helping his two sons become better baseball players.
The brothers are teammates on the ballfield, playing baseball for Capistrano Valley High School in Orange County, California.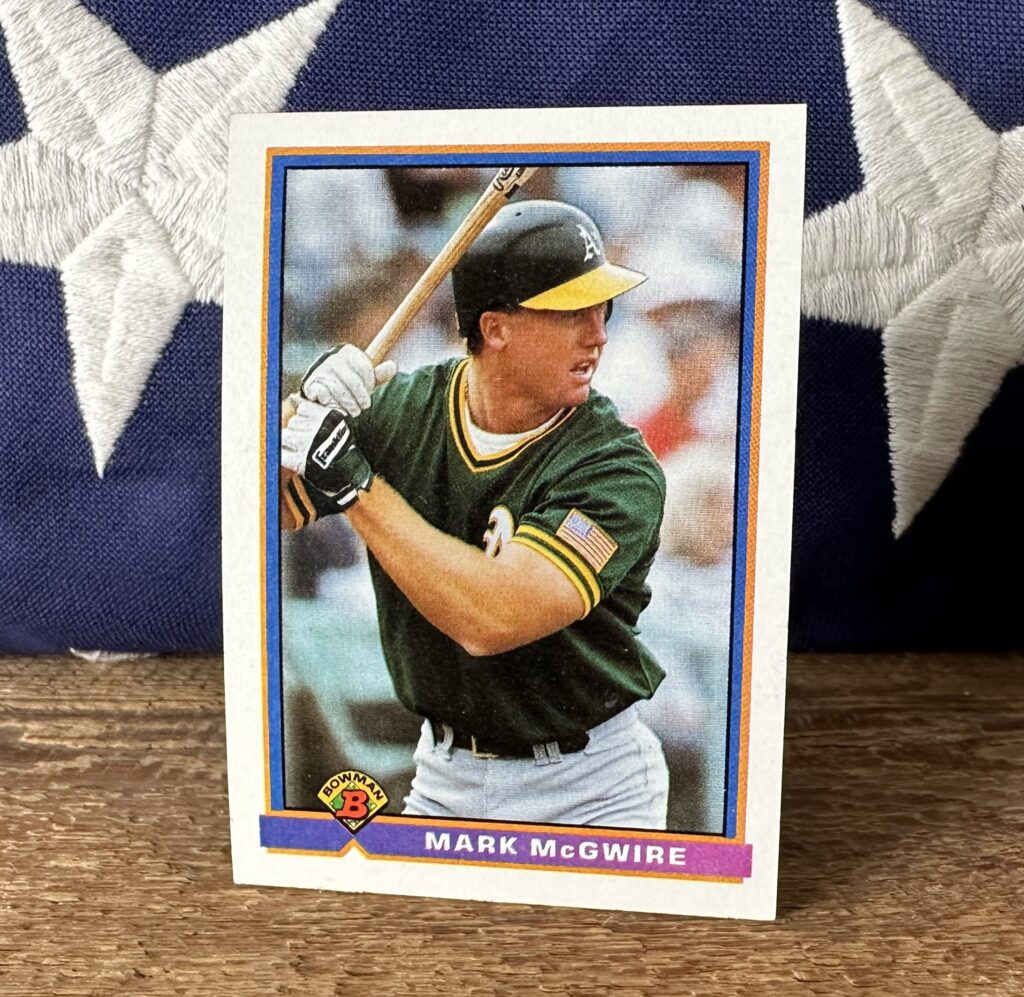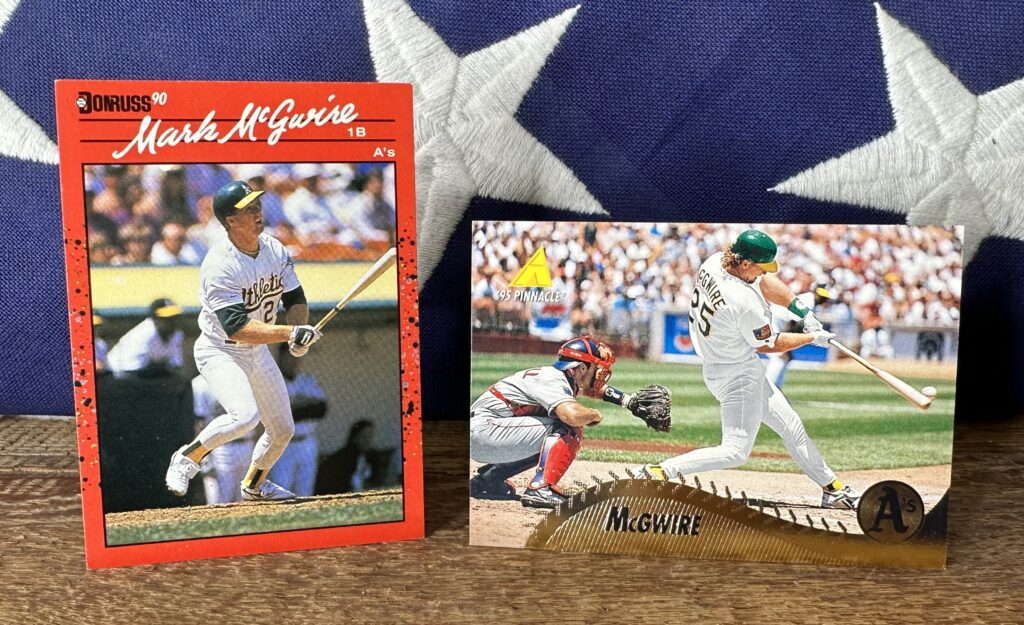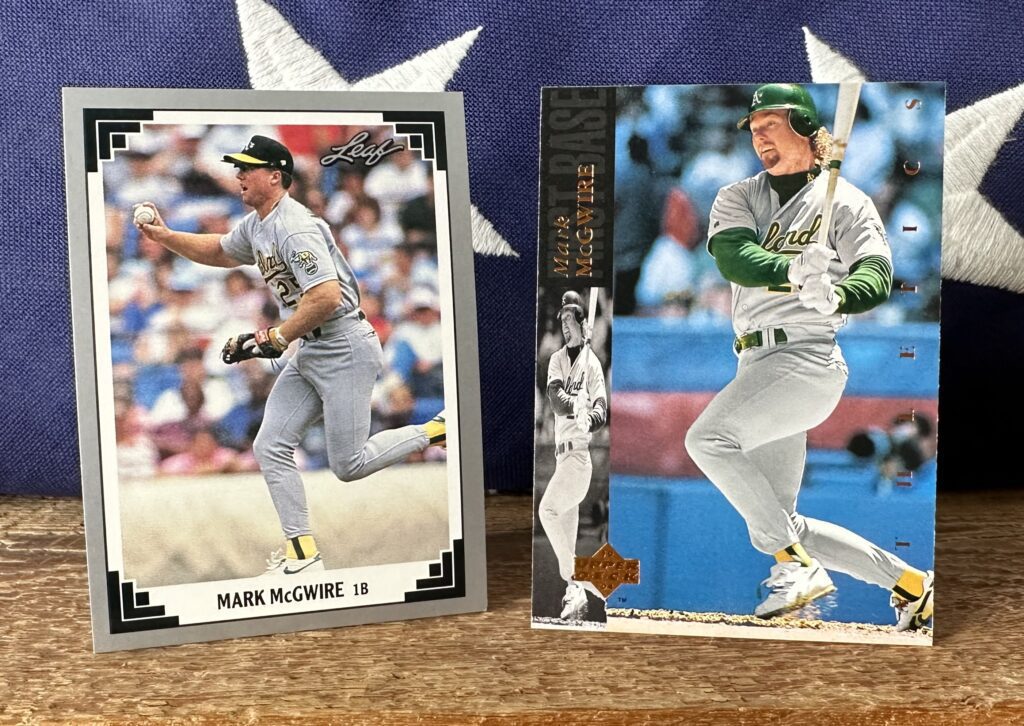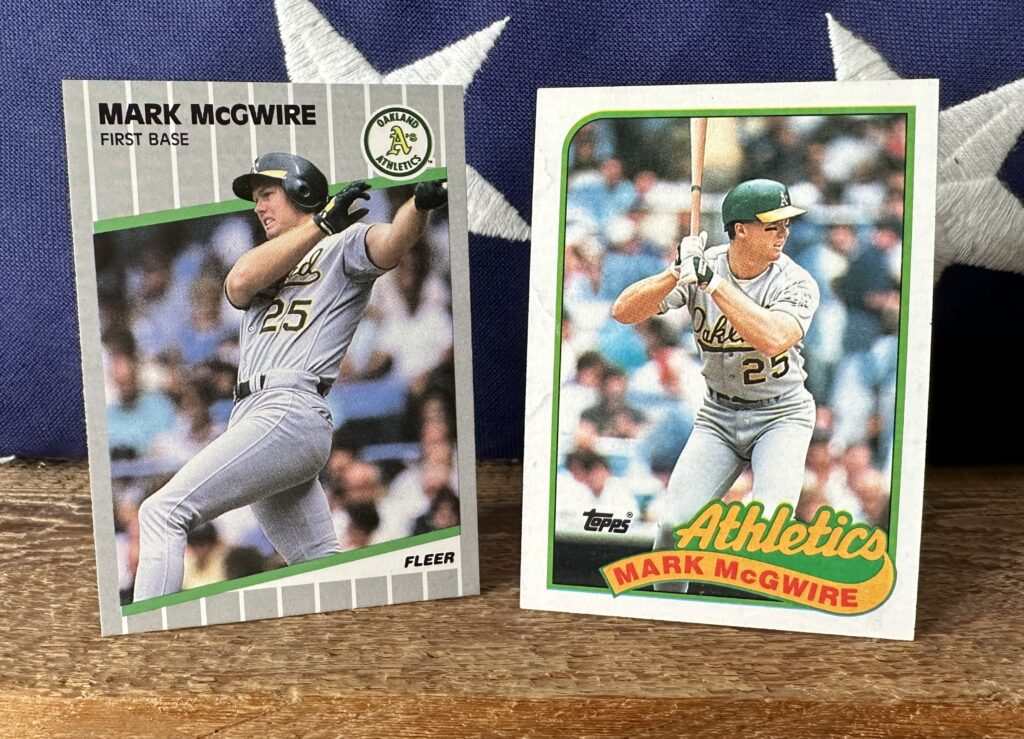 ---
Card Collectors –> Looking to Sell Baseball Cards? Here's How (and Where) To Do It
Looking for a great local card shop? Here's how to find them.