---
Baseball card collectors from the 1980s and 1990s will undoubtedly have at least one Roger Clemens rookie card in their collection. The electrifying pitcher is one of the statistical greats of the game, and a Roger Clemens rookie in great condition is still highly regarded and valued.
PSA gem mint and near-mint Roger Clemens cards can be worth thousands, as we'll see shortly. He played for four MLB teams, twice with the Yankees, but is probably most famous for the Boston Red Sox's first-team.
Let's take a look at the legend of Roger Clemens, AKA The Rocket, and a full breakdown of his legendary rookie cards.
Roger Clemens Professional Career
If you're talking numbers, the Rocket is one of the greatest pitchers in baseball history. But unfortunately, much like Barry Bonds, his reputation has been tainted by performance-enhancing drug allegations in The Mitchell Report.
Both Clemens and Bonds haven't been inducted into the Hall of Fame – yet.
Controversies aside, some of his career highlights include a mind-blowing number of awards and records:
11 time All-Star (1986, 1988, 1990–1992, 1997, 1998, 2001, 2003–2005)
2 time World Series champion (1999, 2000)
7-time Cy Young Awards (1986, 1987, 1991, 1997, 1998, 2001, 2004)
AL MVP (1986)
2 time Triple Crown (1997, 1998)
4 time MLB wins leader (1986, 1987, 1997, 1998)
7-time ERA leader (1986, 1990–1992, 1997, 1998, 2005)
Led the league in victories four times
Led the league in ERA seven times
Led the league in strikeouts five times
4,672 Strikeouts – The third best of all time
---
He started as a Rookie with the Boston Red Sox, and in his first seven full seasons with the Red Sox, he averaged:
19 victories
34 stars
257 innings
239 strikeouts
Incredible numbers and accolades for one of the game's exceptional players. Let's take a closer look at Clemens' cards and the value of each.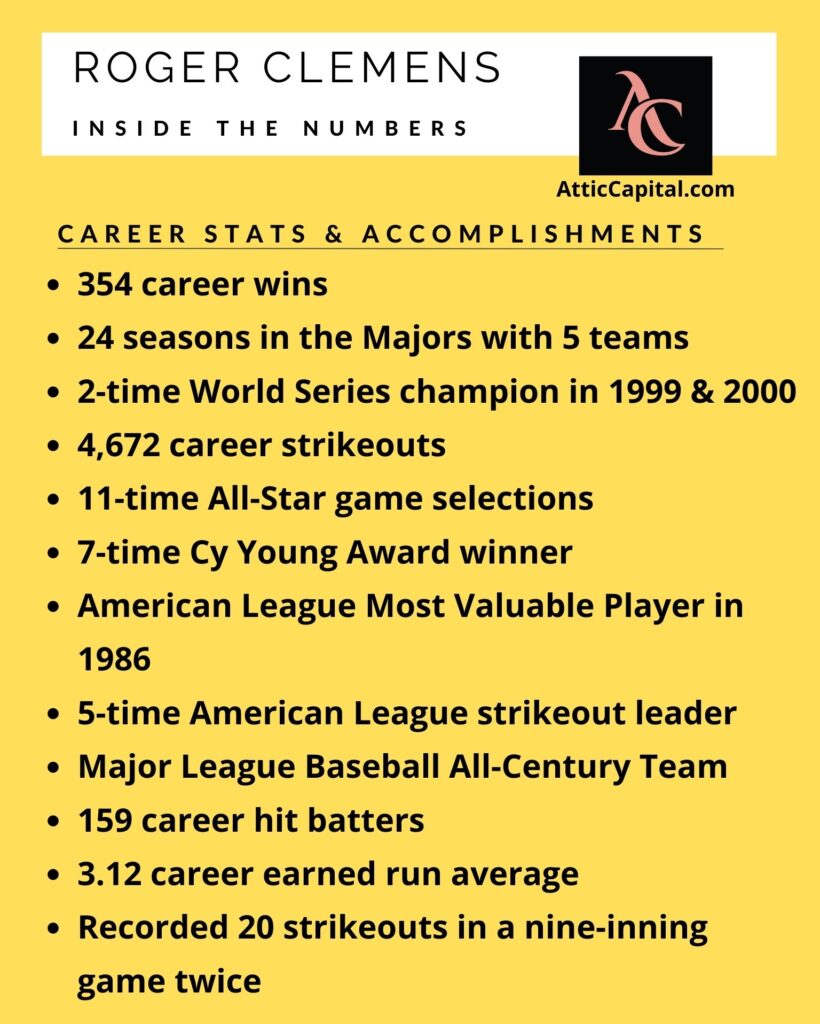 Roger Clemens Rookie Cards
Roger Clemens started his career in the mid-1980s, a pivotal time for Baseball Cards.
You could call it the golden era, as Donruss and Fleer entered the card arena just a couple of years before to give the dominant Topps some much-needed competition.
As a result, players in this era had more than one or two rookie cards, with Roger Clemens having five rookie cards in total.
Roger Clemens rookie cards have performed admirably over the years, with top-condition cards maintaining a solid value despite controversies surrounding the player.
Let's take a detailed look at all of Roger Clemens' rookie cards.
1984 TCMA Pawtucket Red Sox Roger Clemens #22
Clemens played for the AAA minor league Pawtucket Red Sox for seven games. He was quickly called up to the Big Leagues and added to the Red Sox rotation, and the rest is history.
TCMA, the card company that produced minor league cards in the 1970s and 80s, was named for its founders, Tom Collier and Michael Aronstein.
Interestingly, there's not one single PSA 10-graded TCMA Clemens card. Of the 43 PSA 9 graded cards, recent sales indicate a value of roughly $500.
1984 TCMA Pawtucket Red Sox Roger Clemens #22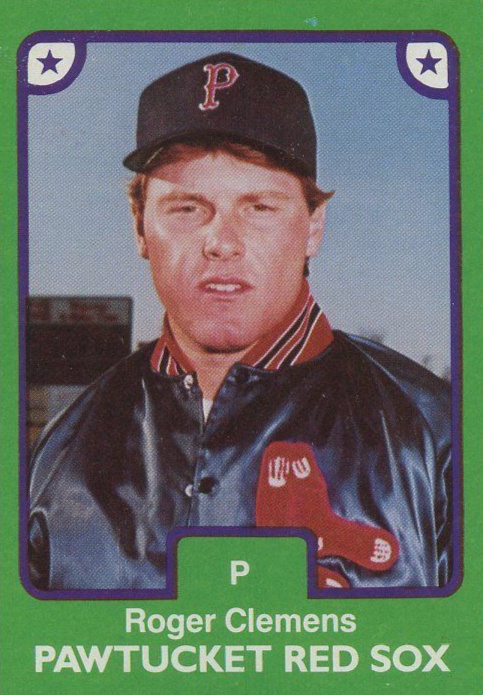 1984 Fleer Update Roger Clemens Rookie Card #27
Fleer's 'Update' range was their version of Topps Traded, and they included players who were either traded or were promoted from the Minors during any given season.
Roger Clemens was called up on May 15th, 1984, and he is therefore included in this 1984 Fleer Update card.
This one, along with the Topps Tiffany Roger Clemens rookie card, are the two most valuable and expensive Roger Clemens cards.
1984 Fleer Update Roger Clemens RC #U27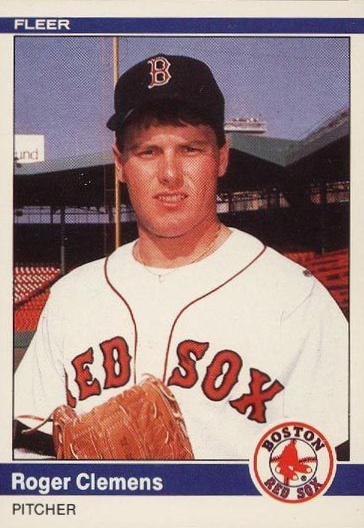 Approximate PSA 10 Value
$600
Design Elements
This front design is considered by many to be the most appealing. With a relatively standard set design but a very engaging and classic blue sky background, the imagery has become synonymous with The Rocket.
At the back, it's classic Fleer from the mid-eighties – Primary colors, the usual stripes through the stats lines, and a trivia section at the bottom.
The stats from his minor league career are truly impressive, and reading them on the card is a reminder of his incredible talent.
Condition
Card centering is the only drawback to potential value here, and it's a common issue with pretty much all sets from the 80s.
1985 Donruss Roger Clemens Baseball Card #273
The famous 1985 Donruss set featuring Clemens, Kirby Puckett, and Doc Gooden is legendary, and the Clemens rookie card is the feature card of the set.
1985 Donruss Roger Clemens Rookie Card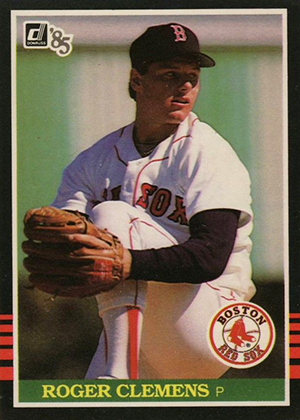 Approximate PSA 10 Card Value
$180
Design Elements
Donruss often receives unfavorable treatment from some segments of the baseball card community. Still, there's no denying that they had some of the most unique and memorable designs during the eighties.
The white or black borders were standard for most designs, Donruss liked to mix it up with some color, and this set was a great example.
A classic action shot of the legend himself about to throw another strike makes the front imagery an absolute classic.
The reverse is also vintage Donruss – From the horizontal format to the font choice and the colors in the background. In addition, there's an elongated stat box without any abbreviations. As usual with Donruss, you also see some extra info about players' contracts and backstories.
Condition
Centering can be a problem, but the colored borders have also not aged well, and they can show quite a bit of wear and tear.
These are the only two issues that might get in the way of a Roger Clemens PSA Gem Mint rating. The 1985 Donruss Clemens rookie card could be a popular option for the budget-conscious collector looking for a great card with the lowest prices.
1985 Fleer Roger Clemens RC Baseball Card #155
This is another excellent Fleer year and set featuring Doc Gooden and Kirby Puckett, and once again, Roger Clemens' rookie cards make this set memorable.
1985 Fleer Roger Clemens Rookie Card #155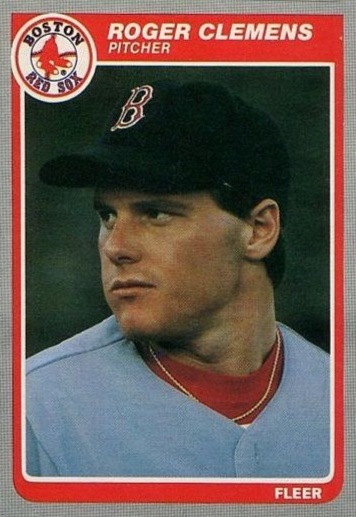 Approximate PSA 10 Value
$400
Design Elements
Fleer also experimented with non-white borders during the 80s, but unfortunately, the gray borders seem dull and haven't aged well.
The red borders look amazing, though, and the Red Sox logo goes perfectly with them. The highlight here is the look on Roger Clemens' face – Intense and focused, which makes this a great front design.
You'll find a classic Fleer look at the back, very similar to the Fleer Update set.
Condition
As always, centering comes into play, and as mentioned, the gray borders look a bit worse for wear if the card hasn't been preserved.
1985 Fleer Star Stickers Roger Clemens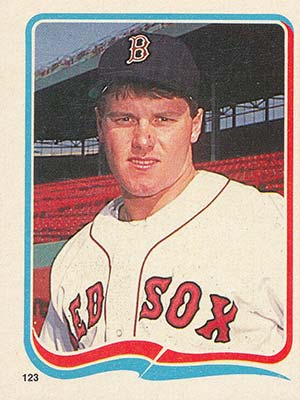 The 1985 Fleer Star sticker series included 126 pro ballplayers featuring Eddie Murray, Mike Schmidt, Kirby Puckett, and of course, Roger Clemens.
PSA 9 graded Clemens stickers are currently selling for $30 – $40 on eBay. One recent PSA 10 sale on Goldin Auctions for nearly $200.
1985 Leaf Roger Clemens Baseball Card #99
Leaf cards have a fascinating history, with Leaf Inc. formed after a merger that included Donruss.
While the Donruss brand continued after the merger, there was a range of cards in the Canadian market called Leaf, and this Clemens card is one of their most famous 1985 releases.
This Leaf card is virtually identical to the 1985 Donruss version, except for the other Leaf logo, the number, and of course, the fact that this was the Canadian release.
1985 Leaf Roger Clemens Rookie Card #99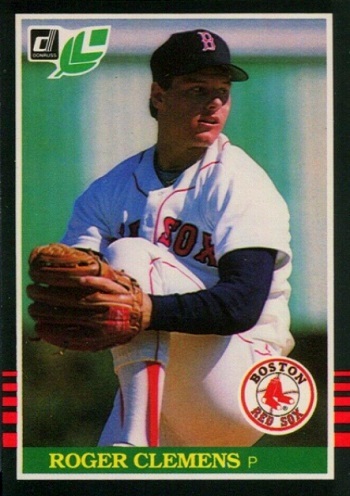 Approximate PSA 10 Value
$350
Design Elements
Virtually identical to the Donruss besides the logo and the number. The Other exception is English and French wording for the Canadian market.
Condition
There was a significant difference in the quality of cardboard used between the Leaf and Donruss cards, and the Leaf cards were inferior. Unfortunately, there are very few high-grade Leaf cards for this reason.
1985 Topps Roger Clemens Rookie Card #181
The Topps baseball card manufacturer is the original and still the most recognized name in the card collector market.
The Clemens Topps rookie card ranks near the top of the list of most notable trading cards.
1985 Topps Roger Clemens Rookie Card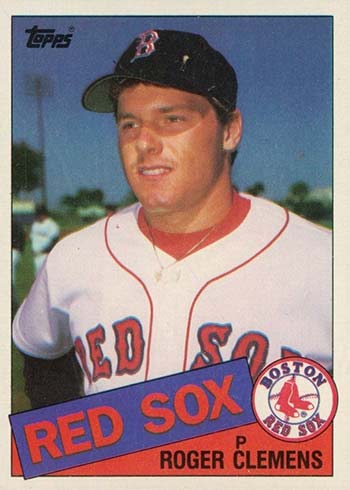 While the base version isn't as valuable as the Fleer Update card, Topps baseball cards initiated a stroke of marketing genius between 1984 and 1991 with the "Tiffany" sets.
The Topps Tiffany cards were of higher quality, including a glossy protective finish and superior cardboard. The Topps Tiffany cards featured a limited print run, making the cards rare and valuable.
1985 Topps Tiffany Roger Clemens Rookie Card #181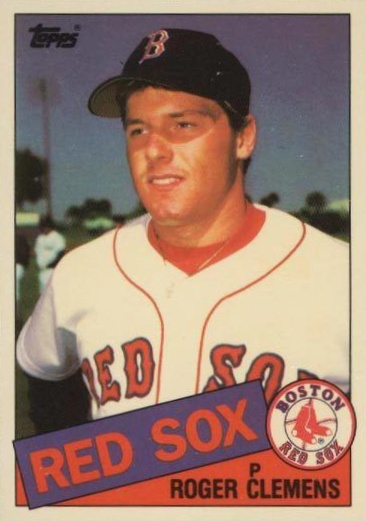 Today, the Tiffany versions are much more expensive cards. Auction sites sell the Tiffany Clemens rookie for thousands of dollars in PSA 10 GEM MT grade. You can pick up a near mint for just a few hundred dollars.
Approximate Base PSA 10 Value
$450
Approximate Tiffany PSA 10 Value
$3,500
Design Elements
A classic mid-eighties Topps design with a well-balanced color scheme and tilted nameplates on the bottom.
The reverse side features a horizontal perspective and an unusual color scheme that became synonymous with Topps during that time. The usual bio info and stats are included.
Condition
The usual centering issues and the occasional print bubbles can diminish the value of these cards.
Other Valuable Roger Clemens Cards
Topps only printed 5,000 Tiffany sets in 1986, making it the last exclusive year. The sets were packed in boxes specially designed for the limited edition cards, which were sent directly to card dealers.
An interesting fact about the Topps "Tiffany" is they were titled "Collectors Edition" but only referred to as Tiffany cards because of their high-end glossy finish.
The Clemens 1986 Topps Tiffany card in PSA GEM Mint condition has recently sold for $80 – $100.
1986 Topps Tiffany Roger Clemens #661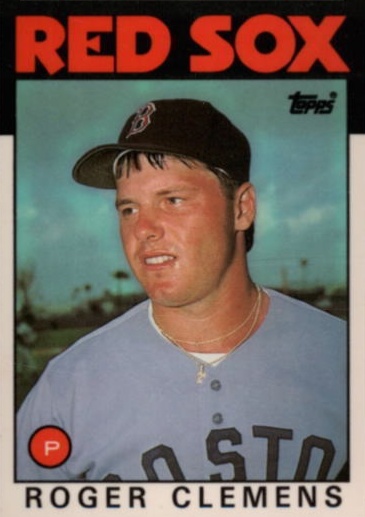 1991 Topps Desert Shield Roger Clemens #530
Old school card collectors will recognize the 1991 Clemens card. It was everywhere you turned back in the early 90s. I think Topps printed at least 1 trillion copies of the 1991 cards.
Nonetheless, it's a great photo. Clemens is leaning beside the "Strike Out" indicator on the Green Monster outfield wall at Fenway Park.
To get past the oversupply of 1991 Topps cards, collectors can search for the "Desert Shield" edition of your favorite card.
These were prepared with a gold foil Desert Shield logo on the front top corner and produced as a complete set of 792 cards.
Topps used the same photos as the regular set, the only difference being the gold-stamped logo; otherwise, the cards are identical.
1991 Topps Desert Shield Roger Clemens #530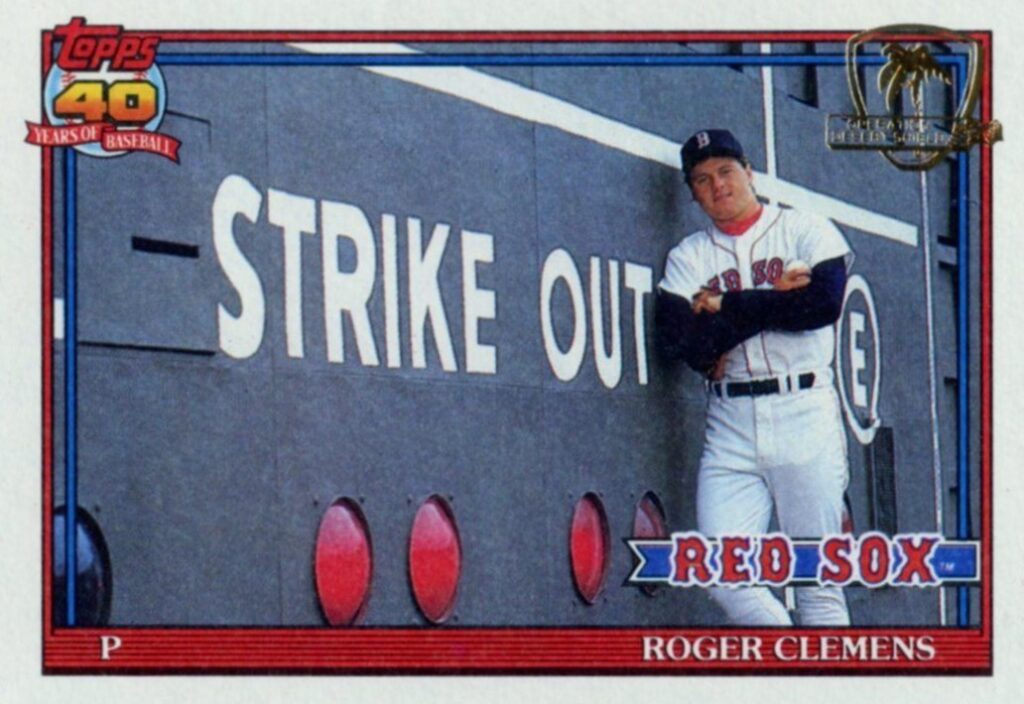 Only an estimated 7,000 cards of each player were printed for the Desert Shield set. They were specifically made for U.S. military personnel and troops stationed in the Middle East.
Values remain high for the Desert Shield cards, as they were only produced in individual packs and not in full sets.
Recent sales of the Roger Clemens 1991 Topps Desert Shield in PSA 10 condition show a value of roughly $1,000.
---
Barry Bonds Rookie Card, How Many Should I Have?
Rickey Henderson Rookie Card and the Man of Steal
---
What's the Best Roger Clemens Rookie Card?
So what are the best Roger Clemens rookie cards? It's still up for debate. Personally, I'll take the 1985 Topps Tiffany version rookie card. In PSA 10 condition, it's worth well over $10,000, and I love the classic 85′ Topps design.
Any way you slice it, The Rocket's rookie cards are a staple for any baseball card collection. As one of the most dominating pitchers of the last 30 years, The Rocket deserves a spot in your card vault.
---
READ more about amazing athletes and their valuable rookie cards –
Mr. November, the Ultimate Derek Jeter Rookie Card Guide
Top 20 Frank Thomas Rookie Cards
---
Card Collectors –> Looking to Sell Baseball Cards? Here's How (and Where) To Do It