---
You might not have a Randy Johnson rookie card in your collection yet, but as time passes, you'll most likely realize two things.
First, Randy Johnson was one of the most dominating pitchers in MLB history. And secondly, you need a Randy Johnson rookie card.
Randy Johnson, also known as "The Big Unit," was a 10-time All-Star, and won 5 Cy Young Awards.
He was also a Triple Crown winner in 2002, a 2001 World Series Champion, and a first-ballot HOF member.
As a pitcher, he defeated every major-league team at least once—a stunning accomplishment of skill and longevity.
The Young Randy Johnson
Randy Johnson was born in Walnut Creek, California, on September 10, 1963, and was a star baseball and basketball athlete in high school.
While the Atlanta Braves selected him in the 4th round of the 1982 Major League Baseball draft, Johnson took a full athletic scholarship to play baseball at USC.
The following year Johnson was drafted by the Montreal Expos in the second round of the 1985 MLB draft and reported to the minor league Jamestown Expos single-A team.
Randy Johnson's Professional Baseball Career
Johnson had a rough start to his pro career with the Montreal Expos and was soon traded to the Seattle Mariners. He showed a lack of control at the beginning of his career.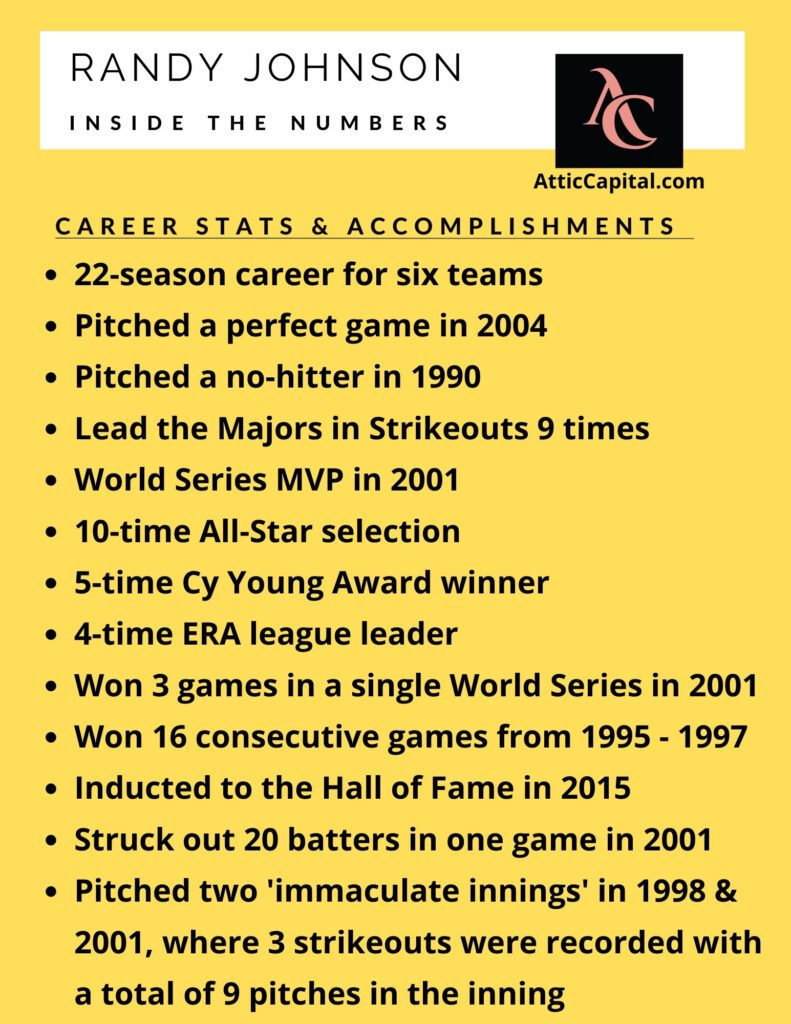 But soon he would begin to show his talents, and guide his fastball back into the strike zone. In 1990, when he became the first left-hander to strike out Wade Boggs three times in one game. 
In 1993, he broke out, posting a 19-8 record, 3.24 Earned Running Average (ERA), getting his first of six 300-plus strikeout seasons, and was the first Seattle Mariners pitcher to reach 300 strikeouts in a single season.
Additionally, he recorded his 1,000th career strikeout against the Minnesota Twins.
---
Randy Johnson Rookie Cards
1986 ProCards West Palm Beach Randy Johnson Rookie Card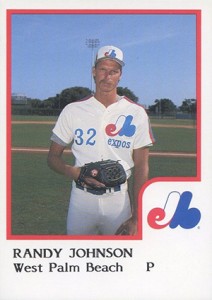 1989 Classic Randy Johnson Rookie Card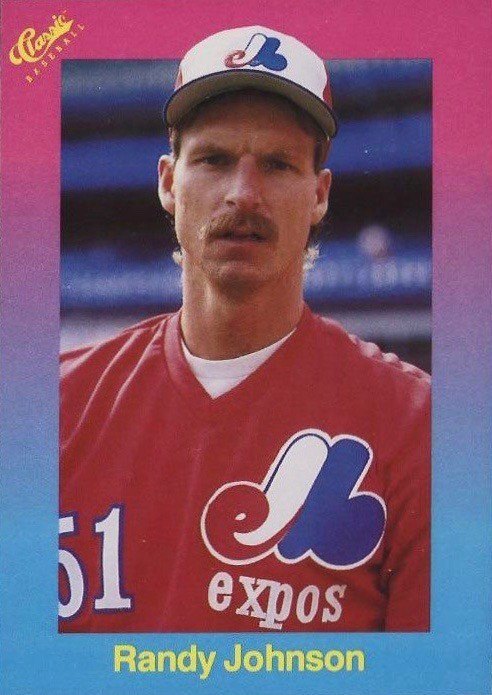 1989 Upper Deck Randy Johnson Rookie Card
The 1989 Upper Deck baseball Randy Johnson card is valued at around $250 for a BCCG 10 grade.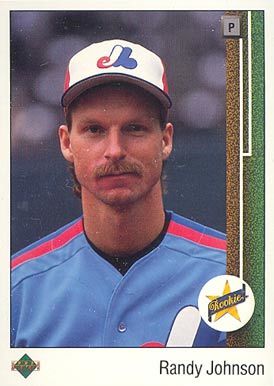 1989 Fleer Update Randy Johnson Baseball Card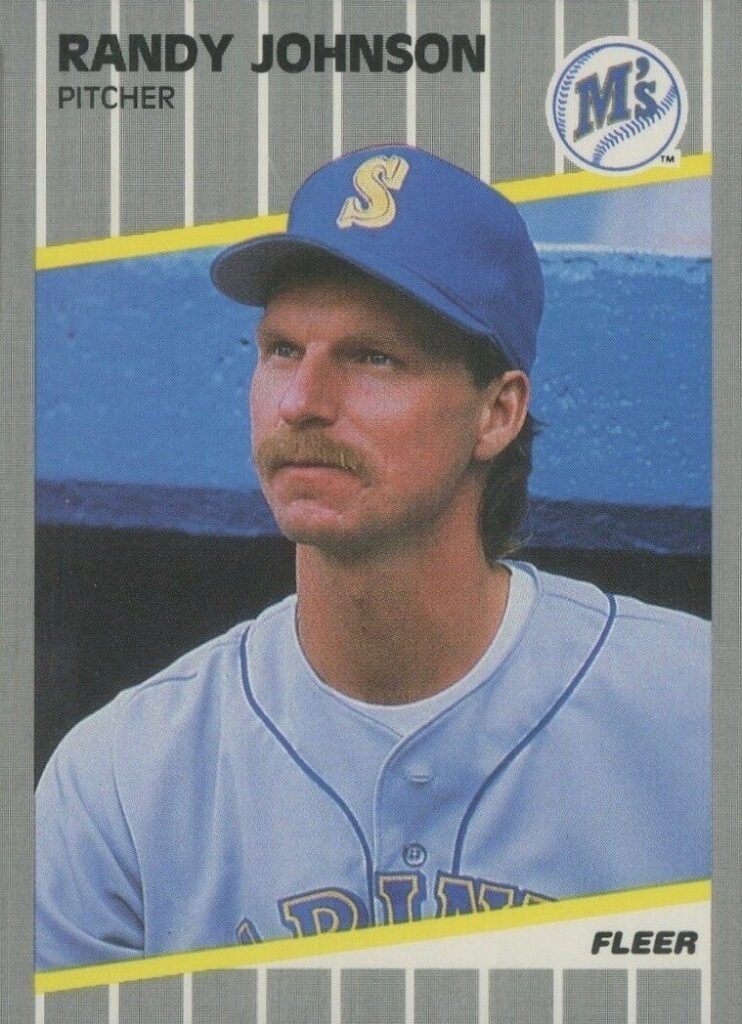 1989 Score Young Superstars Series Randy Johnson Rookie Card
Here's a classic Randy Johnson card. The card is rarer than some of his other high-production rookie cards.
In addition to the rarity, this card has two other things going for it. His unorthodox delivery, and the amazing Montreal Expo's logo on the cap.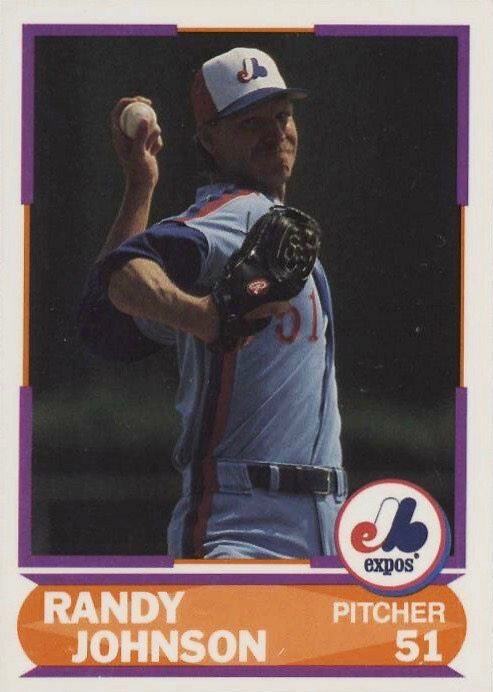 Topps Randy Johnson Rookie
The 1989 Topps Tiffany Randy Johnson rookie card is one of The Big Unit's most valuable due to the limited print run and higher quality card material.
These cards in pristine PSA 10 condition will sell on eBay for around $500, while the base PSA 9 value is closer to $30.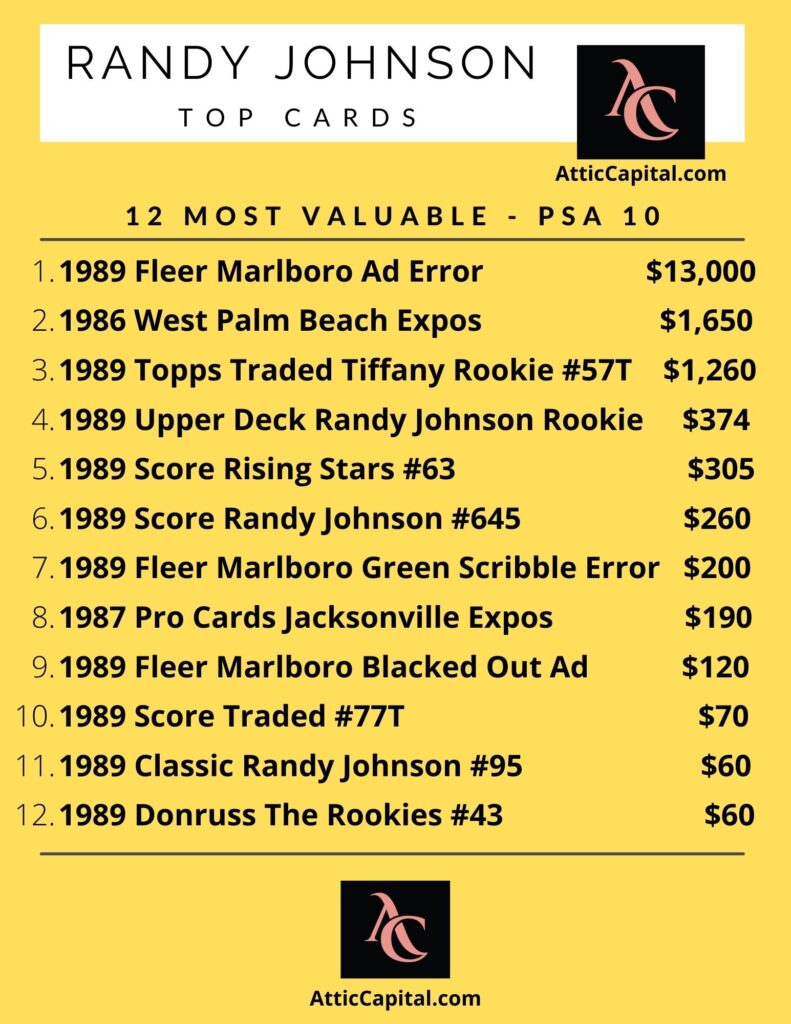 Because Johnson's career got off to a slow start, the Expos traded him to the Seattle Mariners. The Topps Traded set features rookies who changed teams during the season.
1989 Topps Traded #57T Randy Johnson Baseball Card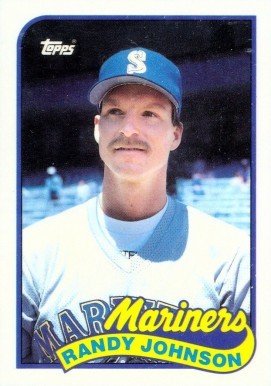 The Topps Traded Tiffany #57T Randy Johnson sports cards in mint condition have a PSA 10 value of $250. Investing in the PSA 9 NM-MT graded card will cost about $50.
1989 Topps #647 Randy Johnson Rookie Card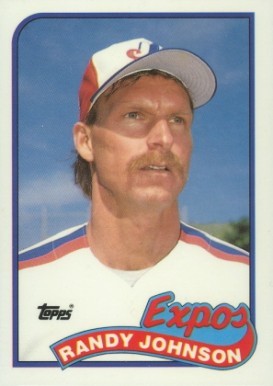 Donruss Randy Johnson RC Rookie
The Junk Wax Era in the late 80s to early 90s flooded the baseball card industry and market with different sets of rookie baseball cards. Despite the overproduction, Randy Johnson's Donruss rookie cards have seen prices appreciated over the years. 
The 1989 Donruss baseball #42 rookie card has a unique purple and black border and showcases Johnson's somewhat confusing profile. Interestingly, there are versions of the card that have the wrong birthdate.
These cards have a worth priced close to $700 in PSA 10 graded mint condition. A BGS 9 graded card is valued a nearly $50.
1989 Donruss Randy Johnson Rated Rookie Baseball Card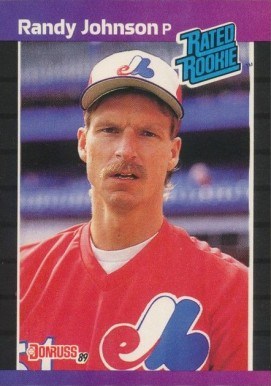 In the same year, Donruss released their 1989 Baseball's Best 336 card set, which features Randy Johnson (#80) with a green and yellow border.
A PSA 10 mint condition card is valued at somewhere around $100.
1989 Donruss Baseballs Best Randy Johnson Rookie Card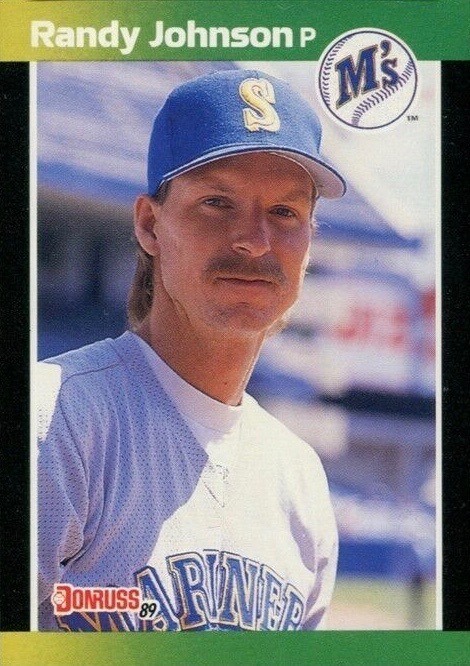 The 1989 Donruss Rookies #43 Randy Johnson rookie card features an excellent photo of Johnson in motion. A trading card in PSA 10 condition values at around $100.
1989 Donruss Rookies Randy Johnson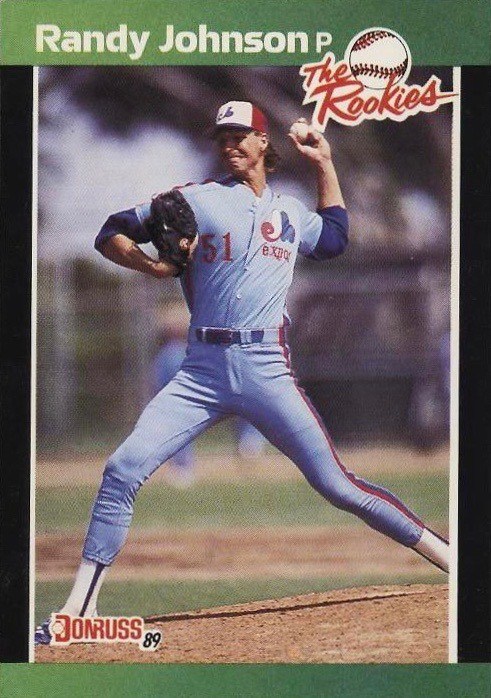 1989 Woolworth Randy Johnson Rookie Card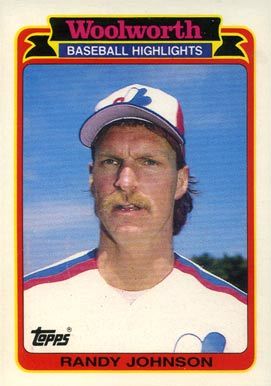 1989 O-Pee-Chee Randy Johnson Rookie Card
1989 Fleer #381 Randy Johnson Rookie Card With Marlboro Ad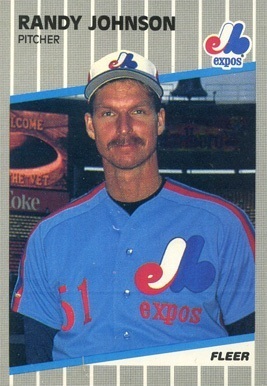 The 1989 Fleer Randy Johnson Rookie Card is controversial due to the Marlboro ad in the background. Later prints increased the exposure in the photo, blocking out the Marlboro ad partially or entirely.
Rookie cards showing the ad in top condition are valued at nearly $300, while a PSA 8 grade card is valued at around $15.
Other rookie cards from the 1989 Fleer set include Ken Griffey Jr., Craig Biggio, John Smoltz, and Gary Sheffield. There's also a 1989 Fleer Update Deion Sanders rookie card that I love.
1989 Fleer #381 Randy Johson Rookie Card With Marlboro Ad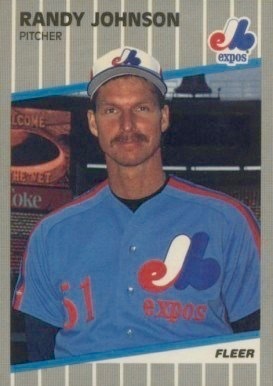 1989 Fleer #381 Randy Johson With Marlboro Ad Completely Blocked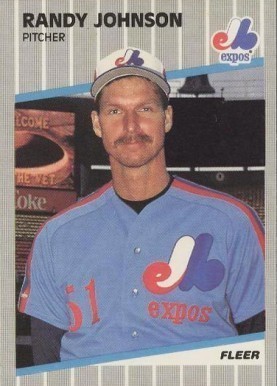 1989 Score Rookies Traded #77T Randy Johnson Rookie Card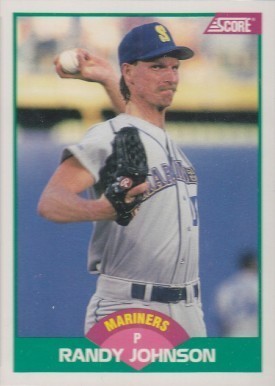 1989 Score Rising Stars #63 Randy Johnson Rookie Card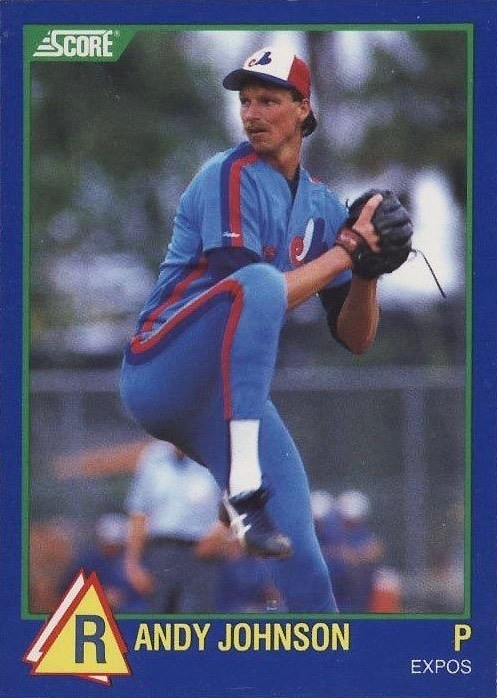 1989 Score #645 Randy Johnson Rookie Card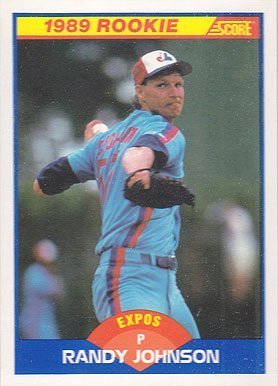 1989 Panini Stickers Randy Johnson Card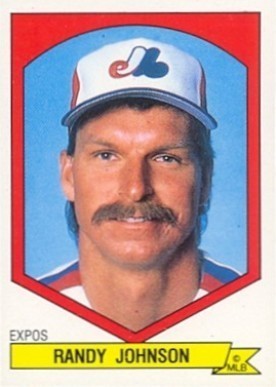 1989 Topps Baseball Big Baseball Randy Johnson Card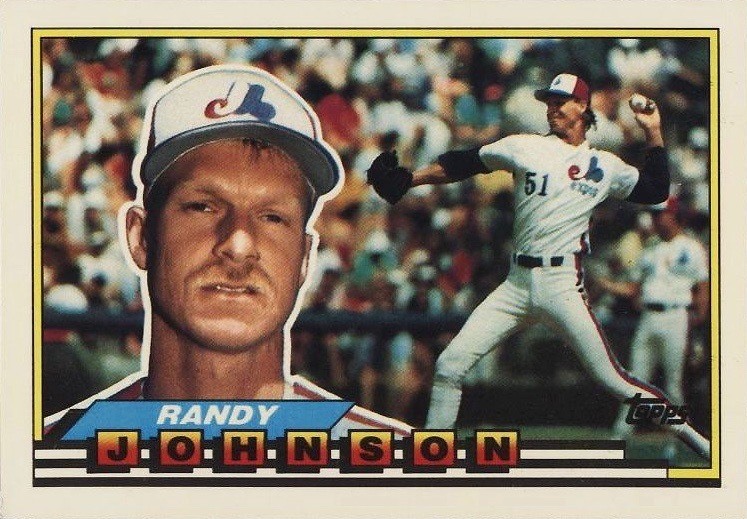 1989 Sportflics Randy Johnson Rookie Card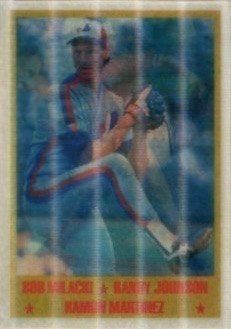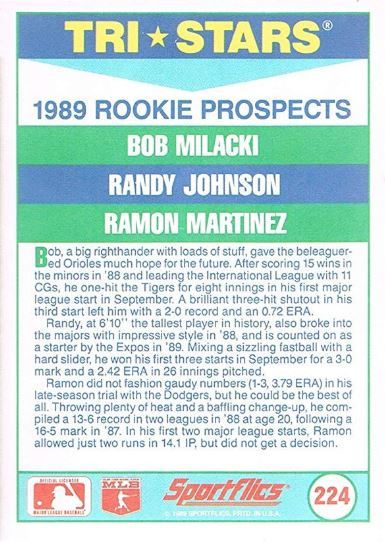 ---
Other Great Randy Johnson Baseball Cards
1990 Randy Johnson Bowman Tiffany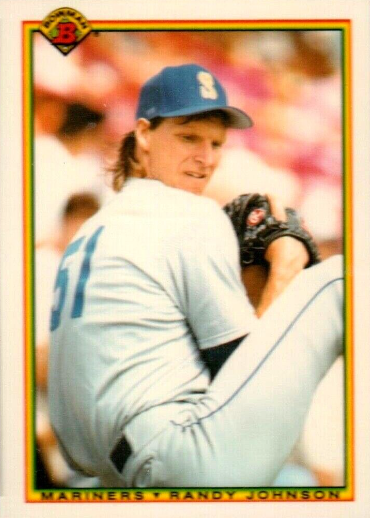 The 1990 Randy Johnson Bowman Tiffany is a low pop card with less than 6,000 cards produced. A Gem Mint PSA 10 version is valued at roughly $225 and features Johnson about to throw a pitch.
1991 Donruss Randy Johnson Diamond Kings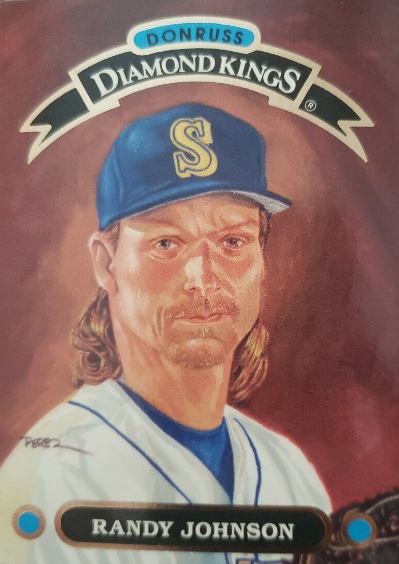 1993 Finest Refractor Randy Johnson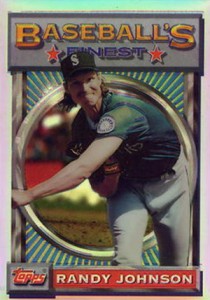 1996 Leaf Signature Series Extended Autograph Randy Johnson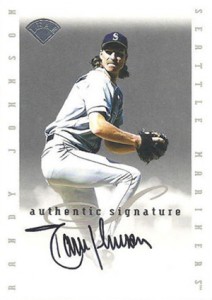 1999 Topps Opening Day Randy Johnson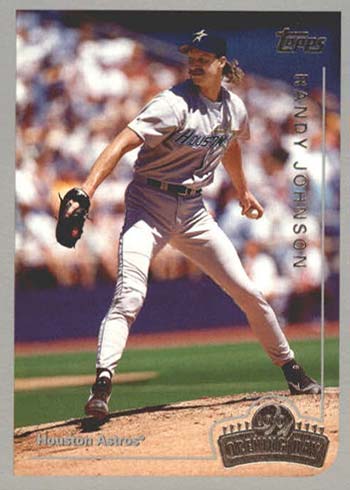 2022 Topps Update Randy Johnson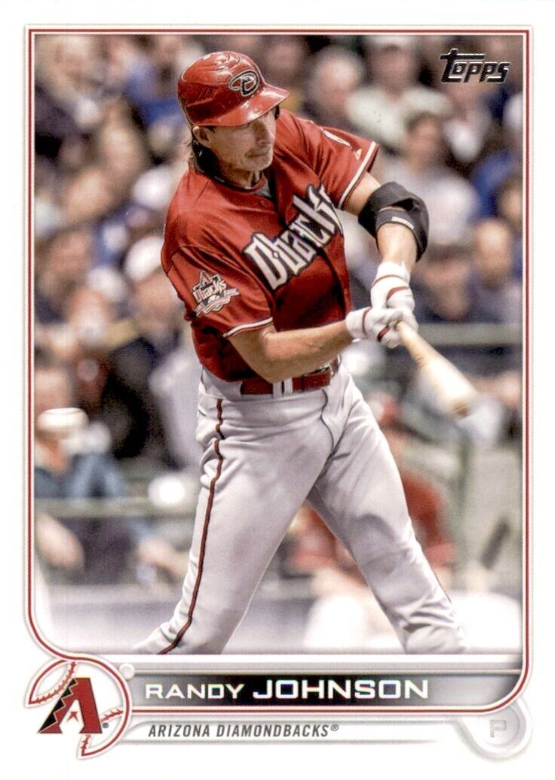 ---
Randy Johnson Memorabilia
Randy Johnson collectibles and autograph memorabilia can make an interesting investment. Understand that their are risks of fraud and scams in the game-used and autograph market.
In fact, I like to give this advice with sports autographs. If you didn't see the Big Unit sign your baseball with your own two eyes, then just assume it's fake.
I hate to be a downer, but unfortunately that's the world we live in. The autograph sports collectible market is ground-zero for fraudsters. Before you fork over your hard-earned cash – beware!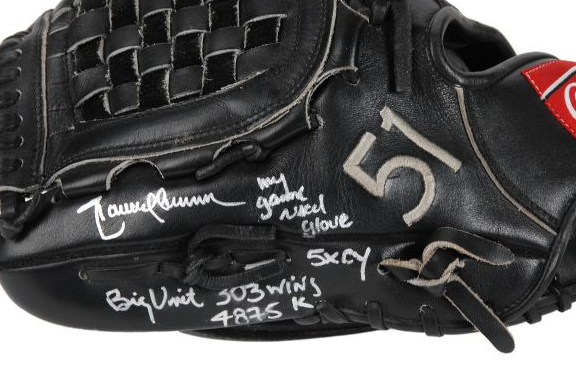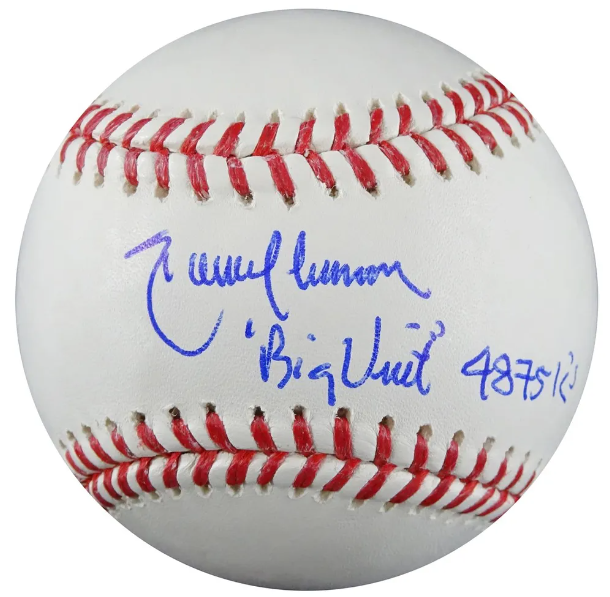 ---
A Dominating Career
In 2001, Randy Johnson and Curt Schilling carried the Diamondbacks to victory in the World Series against the New York Yankees.
Johnson and Schilling shared the World Series MVP award, the Babe Ruth Award. The duo was named Sports Illustrated magazine's 2001 Sportsmen of the Year. He also won his third consecutive Warren Spahn Award and Cy Young Award.
In 2002, Johnson won the Triple Crown – and led the National League in wins, ERA, and strikeouts.
That year, he led the league with 24 wins, and won his fourth consecutive Cy Young and Warren Spahn Awards.
Later in his career, he played for the New York Yankees and the San Francisco Giants, solidifying his status as one of the most intimidating, most dominant, strikeout pitchers in big league history. 
---
Retirement from Major League Baseball
In 2010, Johnson announced his retirement. Johnson was inducted into the Mariners HOF in 2012 and elected to the Baseball Hall of Fame in 2015.
Today, Johnson is a successful photographer, a hobby he picked up when he was a child. Additionally, he maintains a bond with the Arizona Diamondbacks and has worked as an assistant coach.
Randy Johnson Net Worth
If anyone ever asked me, I would say it's none of their damn business. However, some people like to speculate on the net worth of a 6-foot-10 inch, dominating left-handed pitcher with a storied career in the big leagues.
Randy Johnson's net worth is estimated at $95 million. After earning about $175 million over his impressive career, The Big Unit has done very well for himself financially.
But come on, he's not knocking on your door asking you how much money you made in your career, is he? Let's give the celebrity and athlete "net worth" talk a rest for a while, agreed?
The Randy Johnson Rookie Card
Randy Johnson is one of the MLB's iconic pitchers. His performance on the field will keep his rookie cards maintaining solid value, and hopefully appreciating over time.
Johnson's cards are an excellent addition to any card collection, and could even be a solid investment over the very long term.
Hold them, buy more of them, and keep your eyes out for great deals on Randy Johnson cards, you never know when a great deal might present itself.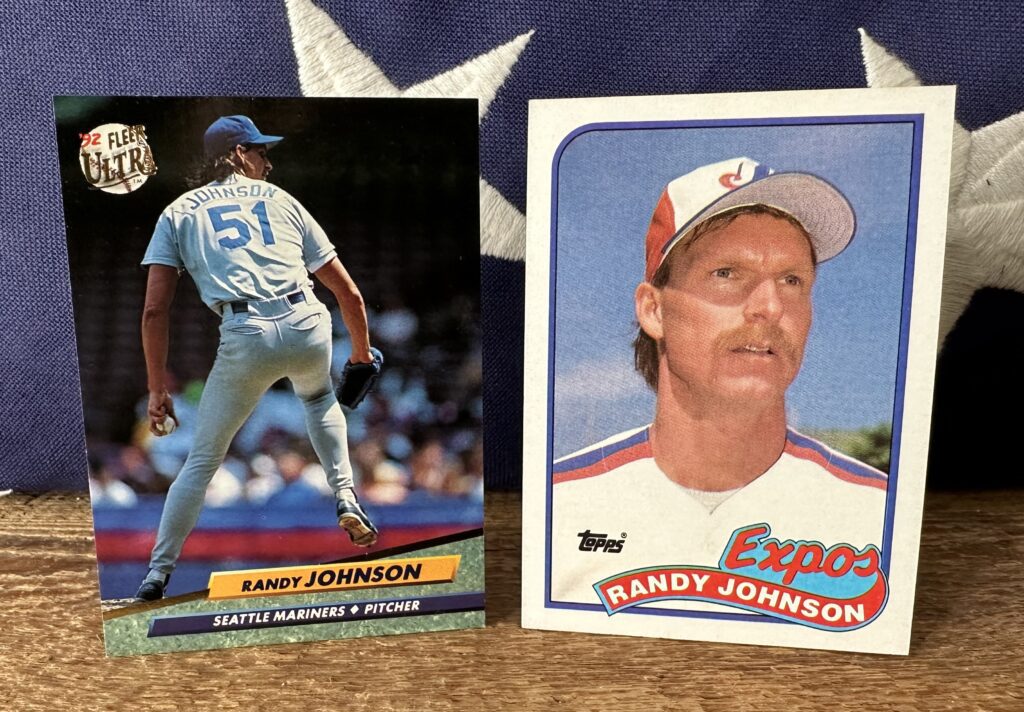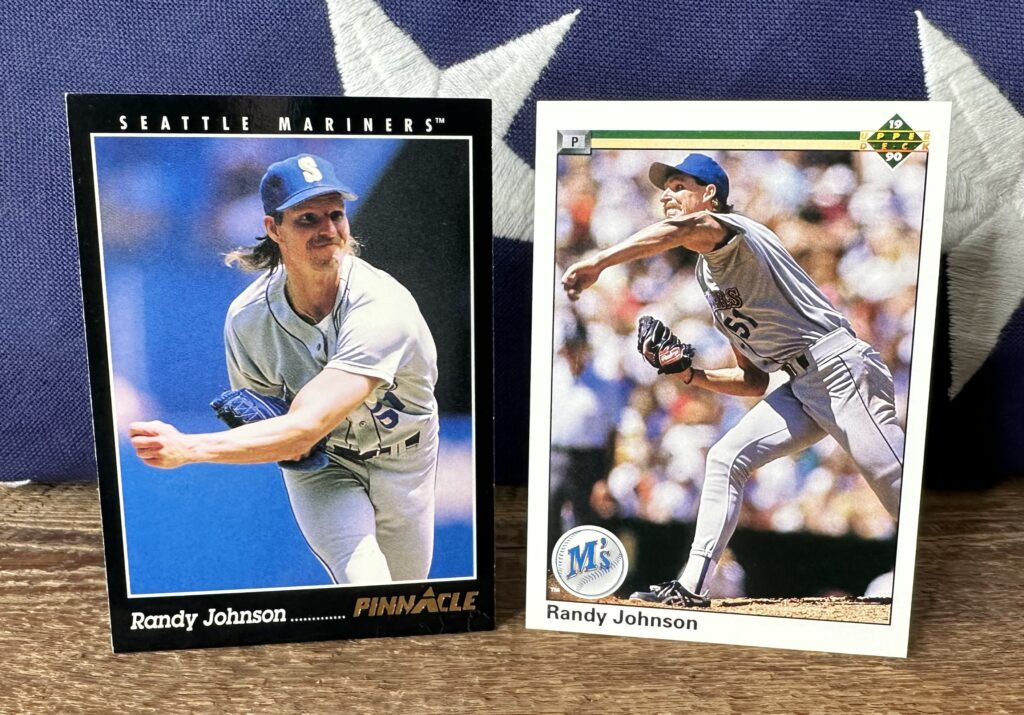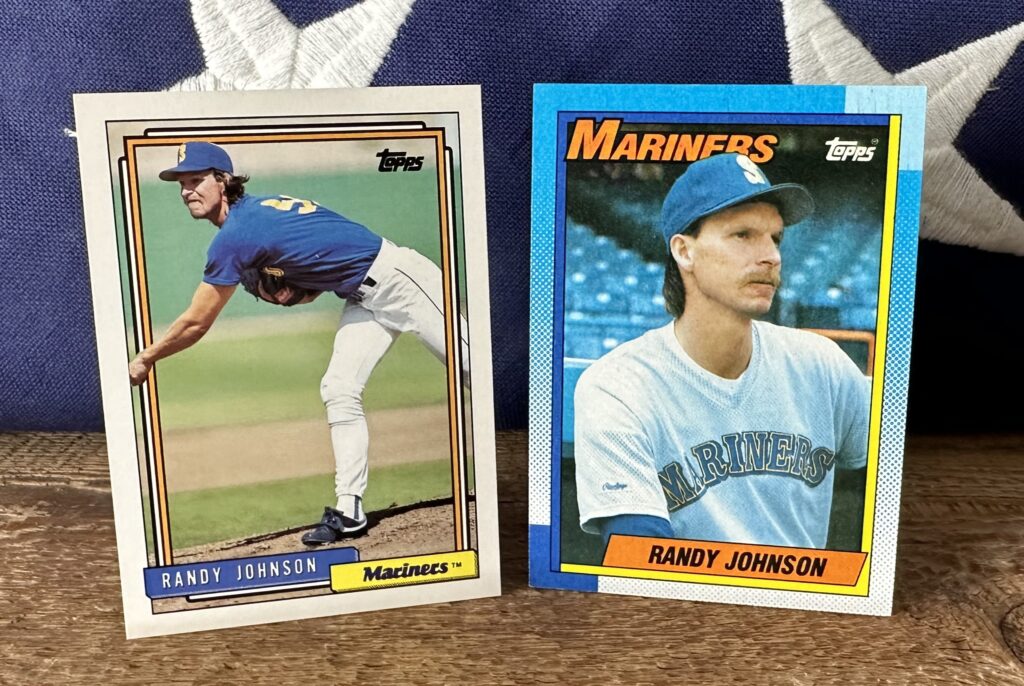 ---
Card Collectors –> Looking to Sell Baseball Cards? Here's How (and Where) To Do It
Advice –> Find a Great Local Card Shop Nearby, And Get to Know Them!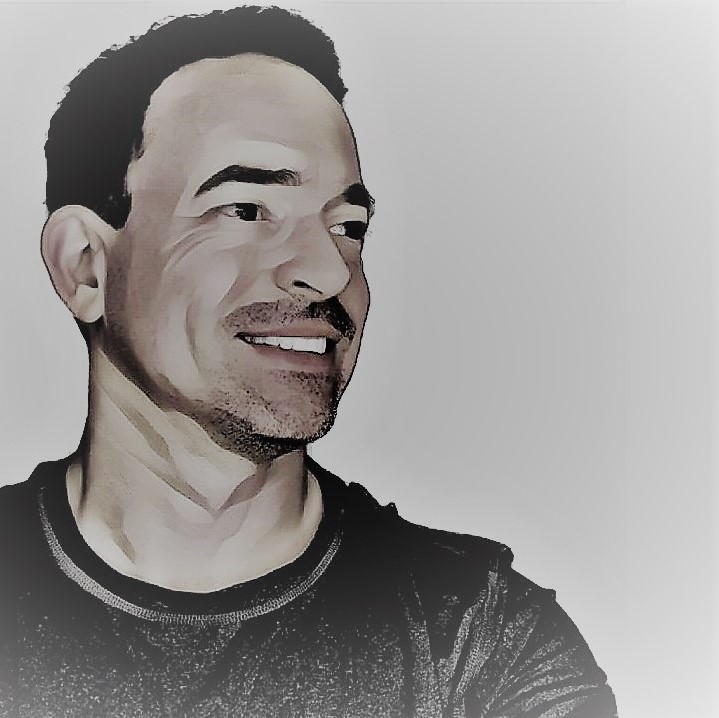 R.J. Bachman
Attic Capital – Writer, Editor, and Lifelong Collector
After many years of collecting rare coins, sports cards, and all types of collectibles, I began writing at Attic Capital to share my experience, knowledge, and passion.
I would love to connect with you, so don't hesitate to reach out and let me know more about your passion for collecting.