---
Bo Jackson rookie cards are the most underrated sports cards in the world today. Without a doubt in my mind, there's never been a more undervalued rookie card.
I'm going to make the case for Bo Jackson rookie cards.
Although Bo Jackson is the greatest athlete of all time, the phrase doesn't really capture the full impact that Bo has made on the sports world. Here's a better way to say it,
"There are stars, there are superstars, and then there's Bo Jackson." – Opening line to ESPN Flims 30 for 30 'You Don't Know Bo.'
The Greatest Athlete of All Time
Some of the most notable accomplishments leave Bo Jackson in a league of his own.
The only athlete to ever make the All-Star game in both football and baseball.
His speed qualified him for the U.S. Olympic Track and Field Team, but he chose baseball and football instead.
His 4.12 second 40-yard dash time at the 1986 NFL combine is still the fastest time on record.
Bo was a two-time state champion in the decathlon. He won the Heisman Trophy award for best college football player.
His list of sports accomplishments goes on and on, but there's more to the story.
The greatest athlete of all time doesn't just accumulate record after record, they become a legend.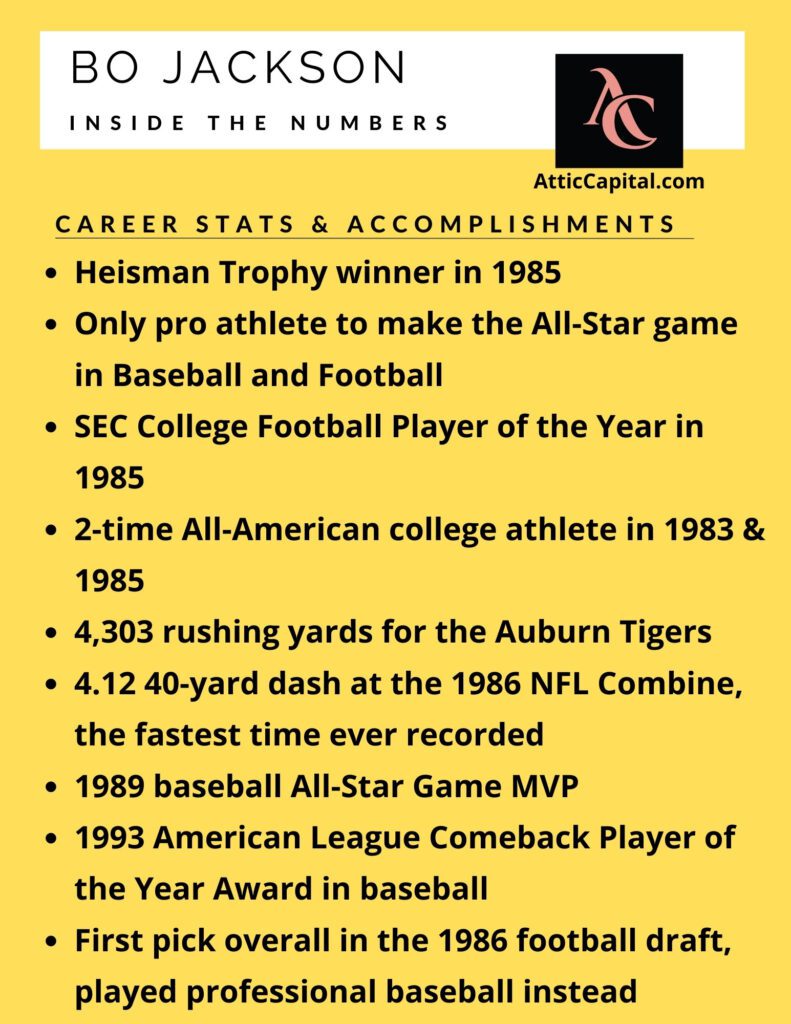 Bo Jackson the Kid
Young Vincent Edward "Bo" Jackson was constantly in trouble.
Growing up, he had a speech impediment, and when other kids would laugh at him, he would get mad.
He's talked about his early years during interviews, and young Bo was constantly getting in fights with other kids.
If it wasn't for the strict discipline he received from his mother, he's not sure where he would be today.
He grew up with nine brothers and sisters in a tiny house in Bessemer, Alabama.
He recalls going to school without shoes. Not because he refused to wear them, but because he didn't have any.
The hard work of Bo's mother, sometimes working two or three jobs at a time, kept the family afloat.
Bo never forgot the priceless lessons he learned from his mother – how to treat people, and how to be thankful and grateful for what you have, even if it isn't very much.
Bo Jackson Highlights
Bo Jackson has so many career highlights it would be impossible to run through each one.
But there's something I noticed while digging through dozens and dozens of amazing video clips. Bo highlights just seem different.
Totally unique and ridiculous displays of athleticism, power, speed, and ability.
He was in a league of his own, doing things nobody else could dream of.
His first major league at-bat was one of the most anticipated events of the year.
Everyone wanted to see just how good this guy was. And he did not disappoint.
Bo Hits the Scene
His first major league hit was a ground ball to the second baseman.
But as the fielder turned to throw to first base, he was introduced to possibly the fastest player ever to run the bases.
Bo beat the throw to first base for his first hit in the pros, and the hometown Kansas City Royals fans went absolutely nuts.
Cheering and standing on their feet, the stadium full of Royals fans knew immediately they were in for a treat.
They realized they might get to watch the greatest athlete of all time play for the hometown team.
---
Running Down the Best Bo Jackson Rookie Cards
In 2013, a team of sports scientists at ESPN conferred to decide who the greatest athlete of all time was.
They evaluated several of the top athletes in history against a deep set of metrics. Bo Jackson edged Michael Jordan and came out on top.
Bo Jackson was one of the very few athletes who played in two professional sports leagues — the NFL and Major League Baseball — at the same time.
Nobody Did it Like Bo
Deion Sanders and Brian Jordan are a few other athletes to play both pro baseball and pro football.
But neither was able to captivate the country quite like Bo. He was in a league of his own.
Jackson's football career was comparatively short.
He spent just four years with the Los Angeles Raiders until a hip injury forced him to pursue baseball full-time.
But his Raiders career resulted in several appearances in highlight reels, including a 1987 Monday night game in which he rumbled for 221 yards against the Seattle Seahawks — a Monday night football record that still stands.
---
Bo spent eight years in the big leagues, five of which were with the Kansas City Royals.
His best season came in 1989 when he clubbed 32 home runs, drove in 105 runs, and finished 10th in the MLB Most Valuable Player vote.
But all the Bo Jackson baseball stats and football feats don't really explain his mystique. Nothing does.
Being a multi-sport athlete at the time was unheard of, and playing both baseball and football gave Jackson maybe a month off every year.
More Than Just an Athlete
Jackson was also beloved for his characteristic humbleness and heads-down work ethic.
From his high school days in Alabama to his epic Auburn Tigers college career, there was no telling how great Bo would become.
Although he only played professionally for eight years, Bo Jackson remains a truly legendary figure in American sports.
And to this day, Bo Jackson rookie cards are some of the coolest card collectibles you could own.
They are also overlooked by the new generation of card collectors, in my opinion.
Creating a huge opportunity for the informed collector looking to add value to their card stash.
Bo Jackson Rookie Cards
Prices for Bo Jackson rookie cards fall into a wide price range. Some are worth thousands of dollars while others are worth very little.
Let's look at each one and compare a few recent sales of the finest condition PSA 10 Gem Mint cards.
After going through the list, you most likely will agree, there have never been more undervalued rookie cards than Bo's.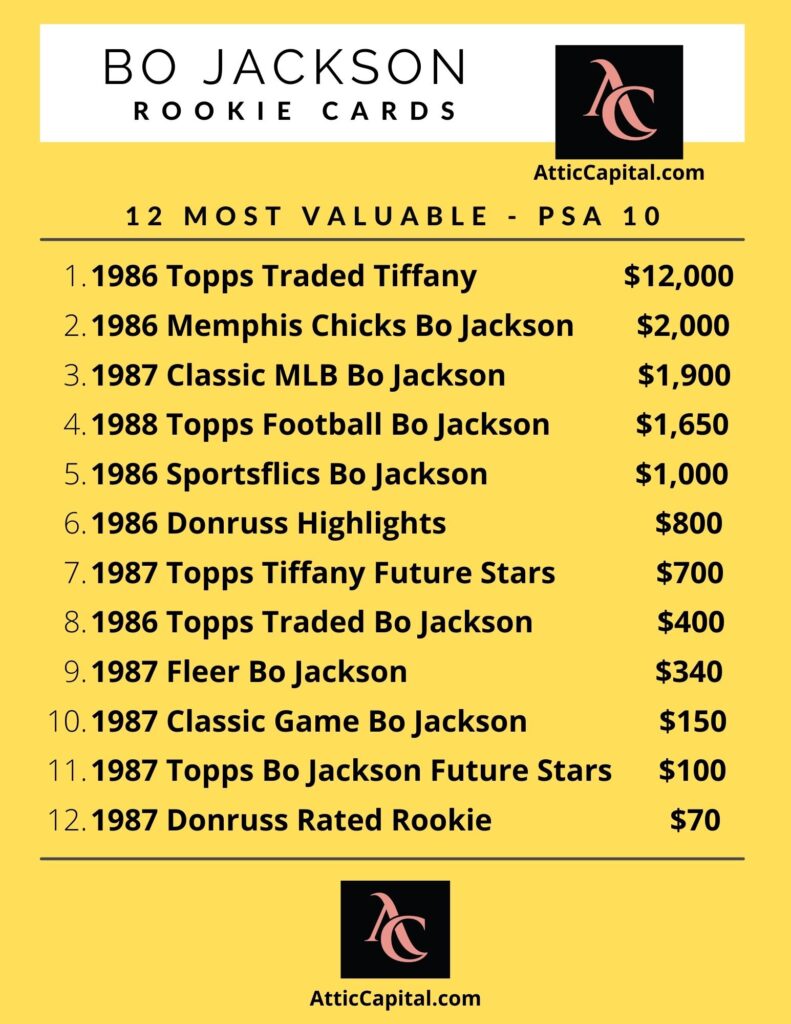 Even the most valuable football trading cards are worth a fraction of the value of the most expensive baseball cards, no matter how great the football player is or was.
Nonetheless, we've included one Bo Jackson rookie card from his NFL career.
Here are some of the most notable and valuable Bo Jackson rookie cards.
1986 Topps Traded Tiffany Bo Jackson Rookie Card #50T
Bo Jackson's 1986 Topps Tiffany is the most valuable of the Bo baseball rookie cards.
Recent sales show an average selling price of over $12,000 for the Gem Mint PSA 10-rated card.
Part of the reason for the high price tag is the Topps Tiffany series itself.
Between 1984 and 1991, Topps produced two versions of its baseball cards. The Tiffany series is considered the more premium of the two, mainly because the overall quality is superior.
Topps Tiffany Bo Jackson Rookie Card
The cardboard is stronger, and the backside with Bo Jackson baseball stats uses a stark white background instead of the standard dark grey.
Factory runs of the Tiffany series were also limited — only 5,000 Bo Jackson rookie cards were printed — and that comparative undersupply adds to its value.
Bo Jackson's '86 Topps series also features one of the superstar's most iconic images in the main photograph.
If you're just starting your Bo Jackson rookie card collection, this is the one you should pursue first.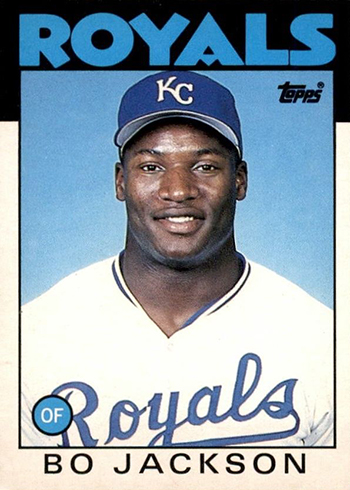 ---
1986 Memphis Chicks Bo Jackson Rookie Card
The Memphis Chicks (now the West Tennessee Diamond Jaxx) were the Kansas City Royals' affiliate minor league team.
Like most baseball rookies, Jackson spent some time in the minors before playing at the major league level.
But he wasn't there long: Jackson played only 53 games for Memphis before the Royals called him up.
That makes this minor-league card especially valuable — the estimated value of a PSA 10 Gem Mint condition Jackson Chicks card is about $2,000.
It was initially run with gold and silver backgrounds; collectors prefer the gold version, though it's not scarcer than the silver version.
Only One PSA 10
As far as collectors know, there is only one '86 Memphis Chicks Bo Jackson rookie card in existence with a perfect PSA 10 rating, which adds to the mystique of the card.
With the all-gold border, it's one of the most difficult Bo cards to find in good condition or a highly rated PSA 8 or 9.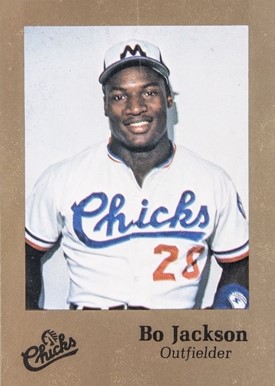 ---
1986 Donruss Highlights Bo Jackson #43 with White Letters
One thing that makes the trading card phenomenon so quirky is that errors can add almost as much value to a card as quality.
It's like that famous trading stamp in which an airplane was accidentally printed upside-down — one of the most valuable stamps ever sold on the secondary market.
That's the case with this Donruss Bo Jackson baseball card, one of the trading card maker's Highlights series.
The Donruss Error
As far as we can tell, the sole reason this particular card is worth more is that a few were run with the Highlights logo printed in white letters.
This was a mistake on the printer's part; the logo was supposed to be gold.
The correct Donruss Highlights Bo Jackson card with gold lettering still has some trade value on the collectibles market, but not nearly as much as the rarer, white-lettered version.
A PSA-10-rated copy of the incorrect card is worth around $800.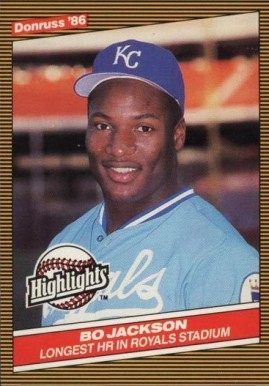 ---
1986 Donruss "The Rookies" Bo Jackson Rookie Card #38
Some Bo Jackson baseball card collectors might consider the 1986 Donruss The Rookies card as their favorite trading card
Bo Jackson Kansas City Royals Donruss rookie cards are easy to find because of their high production.
But if you're a true Bo Jackson sentimentalist, it's worth having this card in your possession, especially since it's so inexpensive. This is my favorite card from the Donruss Rookies series.
Donruss baseball cards were just starting to catch on in 1986, but The Rookies Bo Jackson caught everyone's eye.
We found one on eBay for just $20. We also found a perfect PSA-10 Gem Mint on the same site for $180.00.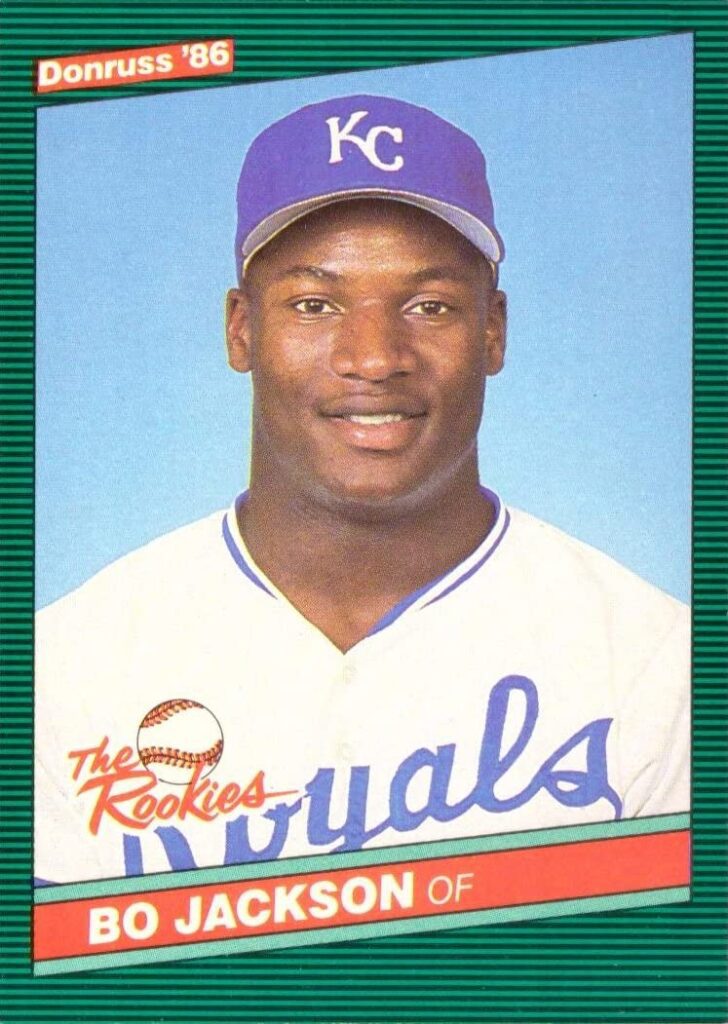 ---
1987 Fleer Bo Jackson Rookie Card #369
The 1987 Fleer Bo Jackson is a perfect card. Currently, the PSA 10 is selling for $340 on eBay.
For such a great card selling at only a few hundred dollars, there must be a million PSA 10s out there.
Wrong.
This card only has a PSA 10 population of 585. And the card was also released in a Fleer Glossy version, which is extra-rare.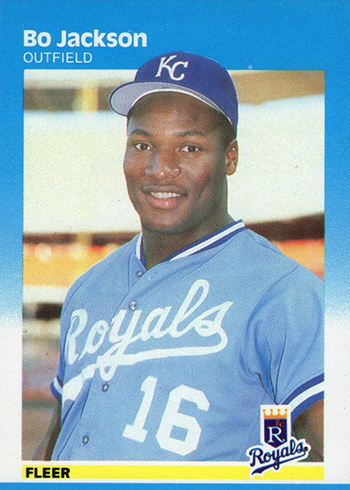 ---
1986 Sportflics Rookies Bo Jackson RC #40
Like Bo Jackson, the Sportflics company was also a rookie in 1986, as they entered the trading card marketplace for the first time.
Their trading cards were a little controversial because of Sportflics' "lenticular printing" process — what some more commonly call "3D printing," though that's not entirely accurate.
Topps experimented with lenticular printing first, with a series of 3D baseball cards for the Kellogg cereal company in the 1970s.
Sportflics
The picture on the front of the card changes as you rotate it. On Bo Jackson's 1986 Sportflics card, you get two different action shots of Bo swinging a baseball bat and one headshot, depending on the angle you view it from.
The reason this card is somewhat controversial is that some collectors just really dislike the picture effect.
Still, a PSA-10 copy of the Sportflics Bo Jackson rookie card with the light blue border is extremely valuable and can potentially fetch upwards of $1,000.
Any less-than-perfect copies, however, are nowhere near as likely to provide a return on the investment.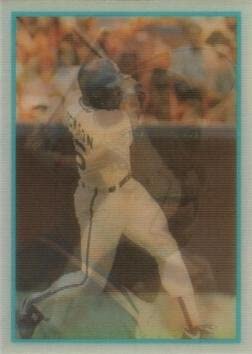 ---
1988 Bo Jackson Topps Football Rookie Card #327
Bo Jackson's 1988 Topps football rookie cards are currently valued at over $1,200 for Gem Mint PSA 10s.
This card, featuring an iconic Jackson pose in the silver-and-black Raider uniform, is especially valuable if it's in PSA-10 Gem Mint condition.
1988 Topps Bo Jackson football rookie cards in mint condition still command prices in the mid-hundred dollar range.
Many sellers offer them for less than a hundred if the card is not yet graded, but my suggestion is to load up on Bo Jackson football cards whenever possible.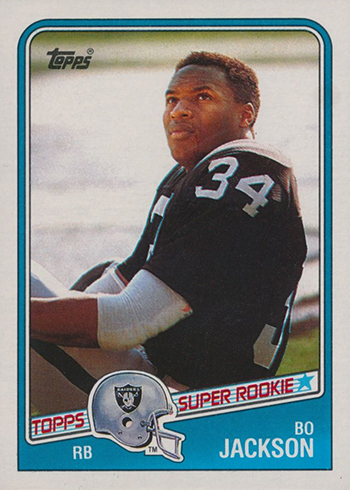 ---
1987 Topps Bo Jackson Rookie Card #170
With the woodgrain border and the Future Stars lettering across the bottom, the 1987 Topps Bo Jackson rookie card is maybe one of the most popular cards from the 1980s.
It's also maybe the cheapest rookie card of the Bo collection. The production numbers were off the charts for the 1987 Topps baseball set.
Nearly everyone had a few boxes of 1987 Topps baseball cards lying around the house back in the day.
So as cool as the woodgrain border looks, there's not much rarity happening here. Even for the star Bo Jackson.
The PSA 10 Bo
The PSA 10 1987 Topps Bo Jackson card has sold recently for around $100.
An important distinction to make is this card is the regular Topps card and not the "Tiffany" card, which is much rarer.
PSA lists a population of 1,456 PSA 10 Topps Bo Jackson rookie cards from the 1987 set. That's a relatively high population number, but still a great card for any collection.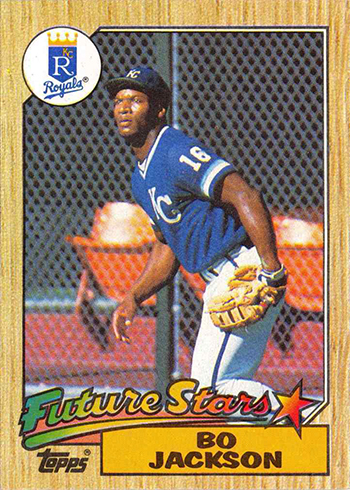 ---
1987 Topps Tiffany Bo Jackson Rookie Card
If you want that classic 1980s wood-grain border but a much more rare card, you'll need to go to the Topps Tiffany Future Stars Bo Jackson rookie.
PSA currently reports a population of just 325 GEM Mint PSA 10 1987 Topps Tiffany Bo Rookies.
Values for the PSA 10 Tiffany card are about 6 to 7 times higher than the regular Topps Bo card.
A recent sale on eBay for almost $700 for the 1987 Bo Topps rookie card, Tiffany, shows the rarity and value of the "Tiffany" cards.
As a friendly reminder, just be absolutely certain you know whether the card is a "Tiffany" version or not, before you purchase.
As you can see below, card grading services clearly identify this on the nameplate.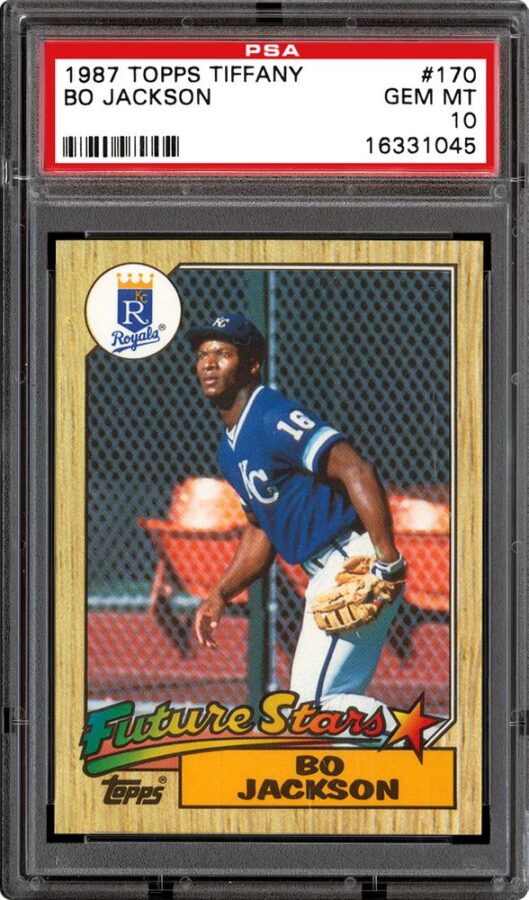 ---
1987 Donruss Bo Jackson Rated Rookie
To say that Bo Jackson was a "Rated Rookie" in 1987 was possibly the most obvious statement in all of sports.
I love this 87′ Donruss card, and with current prices showing PSA 10-graded versions selling for $70, I like it a whole lot more.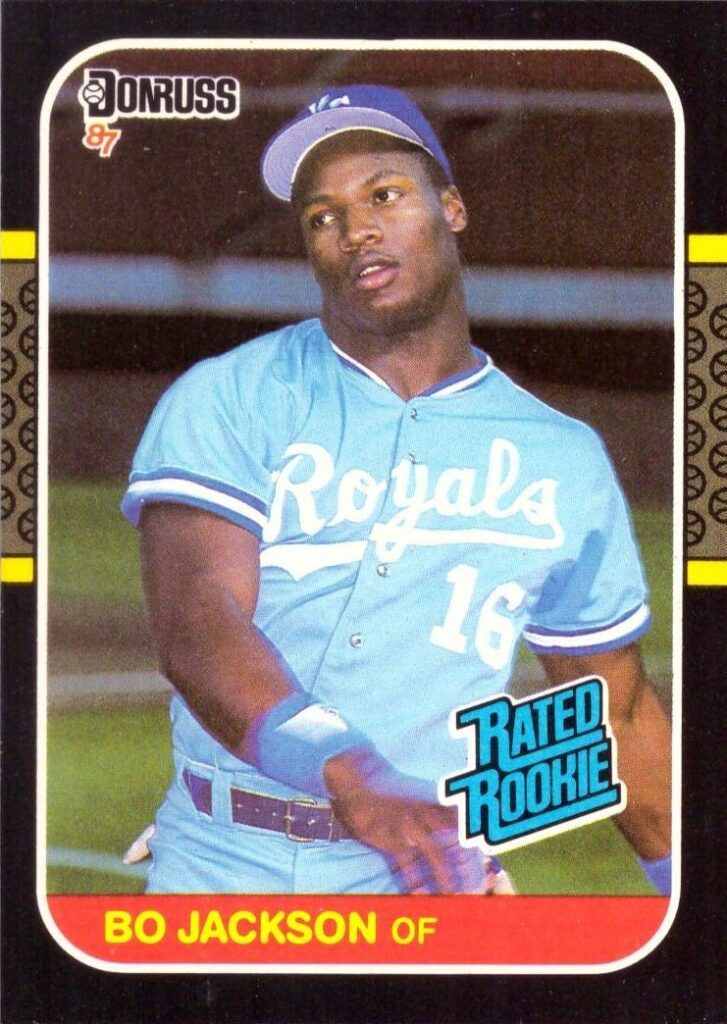 ---
1987 Classic Game Bo Jackson Rookie Card
The Classic card features Bo wearing his Auburn football uniform while holding his baseball bat toward the camera.
A PSA 9 graded card recently sold for $150. I'm not sure how this card is not more valuable, but nonetheless, it's a great card to add to any collection.
Tons of ungraded examples of this card are listed for sale on eBay for under 50 bucks.
If you want to roll the dice and pick one out, submit it for grading and see if you can get lucky.
Or just hold the ungraded card, certainly nothing wrong with that.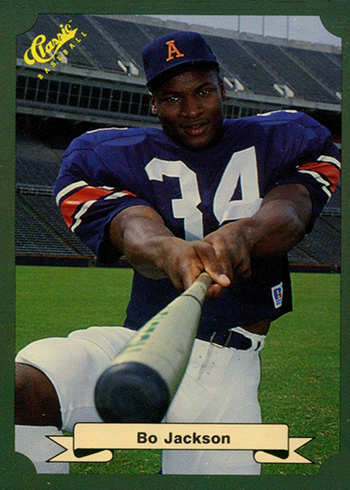 ---
1990 Bo Jackson Upper Deck
No, this isn't a Bo Jackson rookie card, but it's a personal all-time favorite, so I had to include this item on the list.
The first year of Upper Deck was breathtaking if you experienced it firsthand. Nobody had ever seen such crisp, clear images on a baseball card before Upper Deck hit the scene.
Of course, we all know the 1989 Ken Griffey Jr. Upper Deck rookie card, but how great is this 1990 Bo Jackson card?
Just a perfect shot of Bo being Bo, and doing Bo things. Do yourself a favor and buy a graded PSA 10 Bo Jackson 1990 Upper Deck card, and thank me later.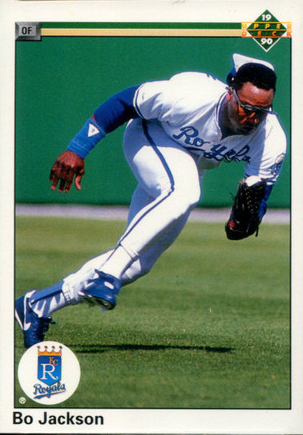 ---
1990 Bowman Tiffany Bo Jackson
Another great Bo card. No, not a Bo rookie card, but relax. This is an ultra-low population card that you should think hard about adding to your collection. Sought after by the most astute card collectors.
PSA 10 Bowman Tiffany Bo Jackson cards sell for $700. And that's a steal. There are only 47 PSA 10-graded cards out there. I'm buying this card.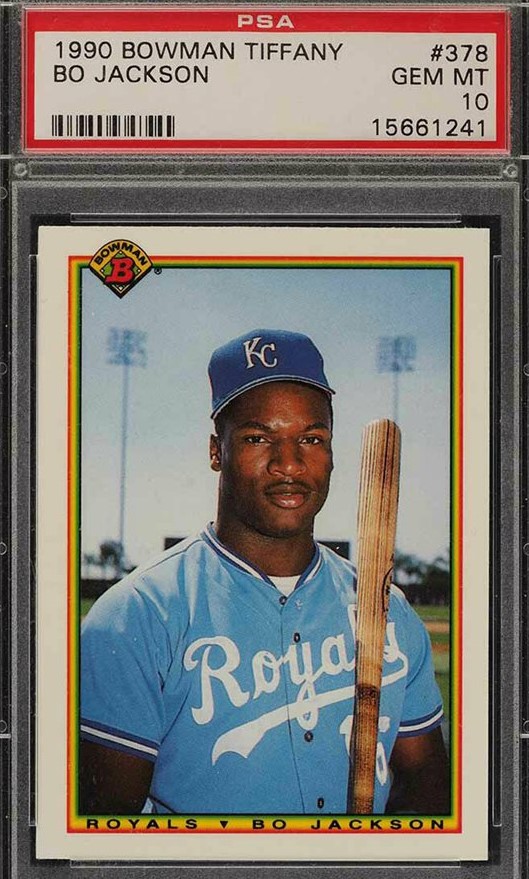 ---
Why Bo Jackson Rookie Cards Should Be More Valuable
Bo's legend grows with every passing year. He's somehow remained one of the most likable celebrity personalities out there.
Bo Jackson rookie cards are unquestionably some of the most undervalued sports cards ever produced.
Bo hit the professional sports scene with a ferocity nobody has ever matched.
He became a household name around the country almost overnight. Memorabilia flew off the shelves. Sportscard autograph, t-shirt, or Nike Cross-Trainers, everyone wanted to be like Bo.
Football, baseball, basketball, golf, hockey, tennis, biking… it didn't matter what sport you were interested in, you knew Bo.
---
My Favorite Bo Jackson Cards
Other than Bo Jackson's rookie cards, there are several simply awesome cards I want to highlight.
Who am I kidding, every one of Bo Jackson's cards are epic.
With his shortened career, there weren't hundreds of different cards Bo Jackson was featured in. Which made every card that much more special.
Here are my favorite Bo Jackson non-rookie cards, let me know if you see one you like!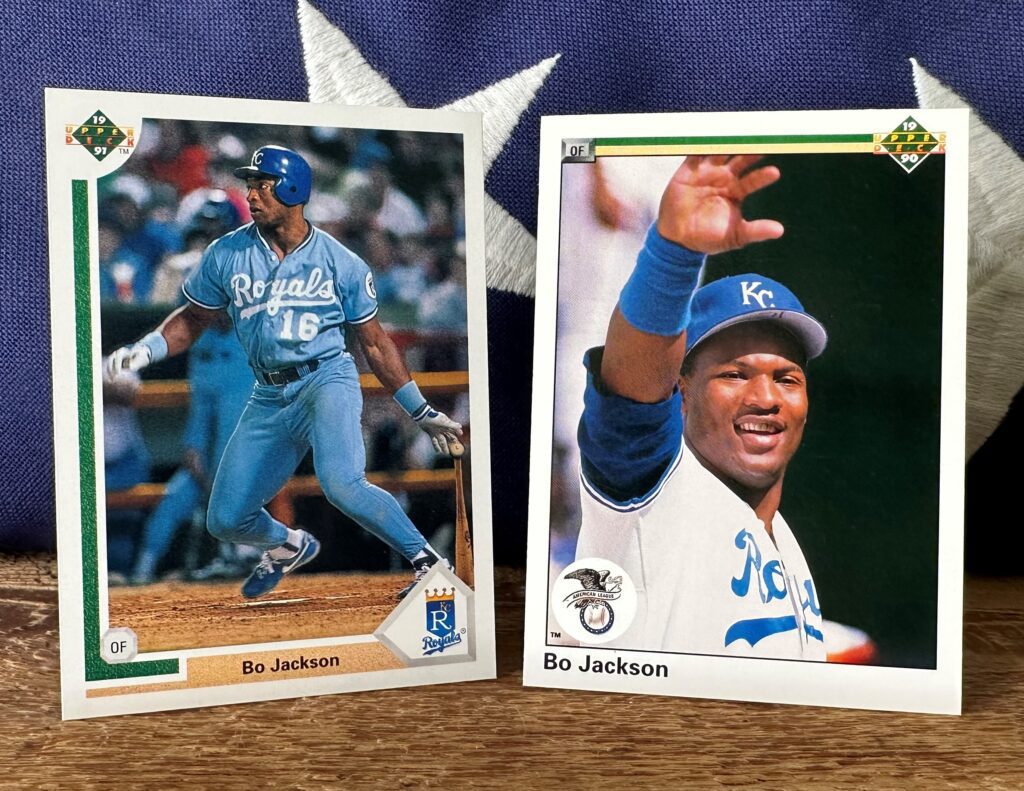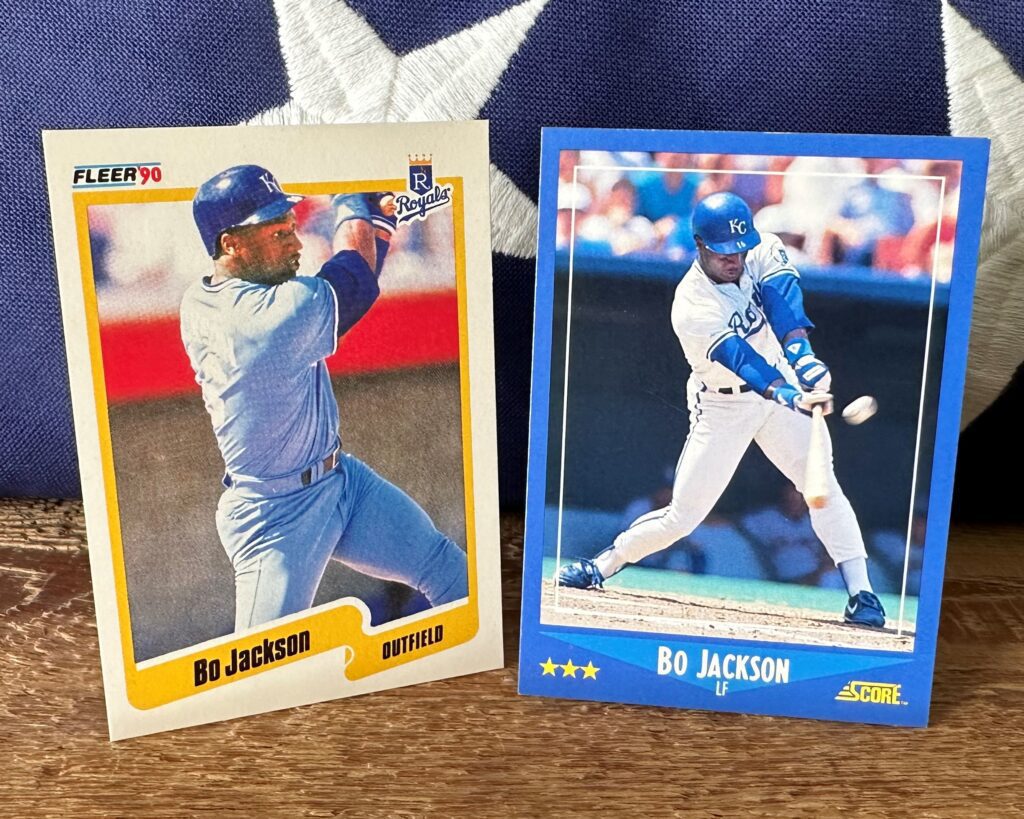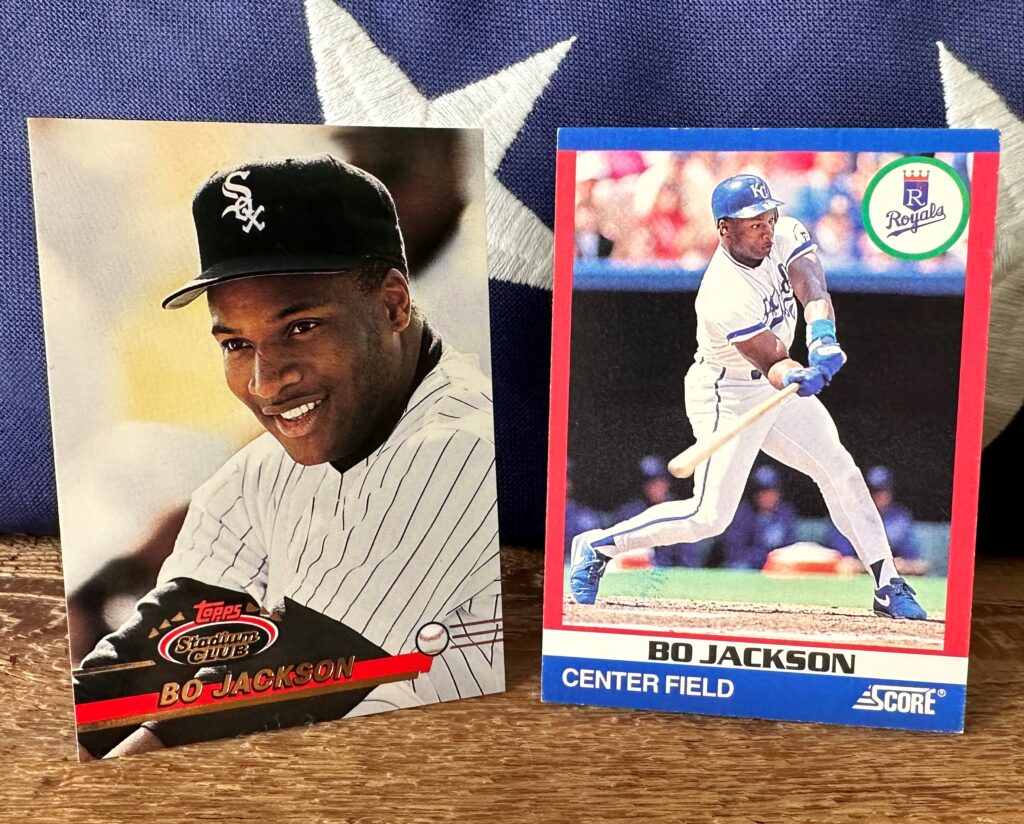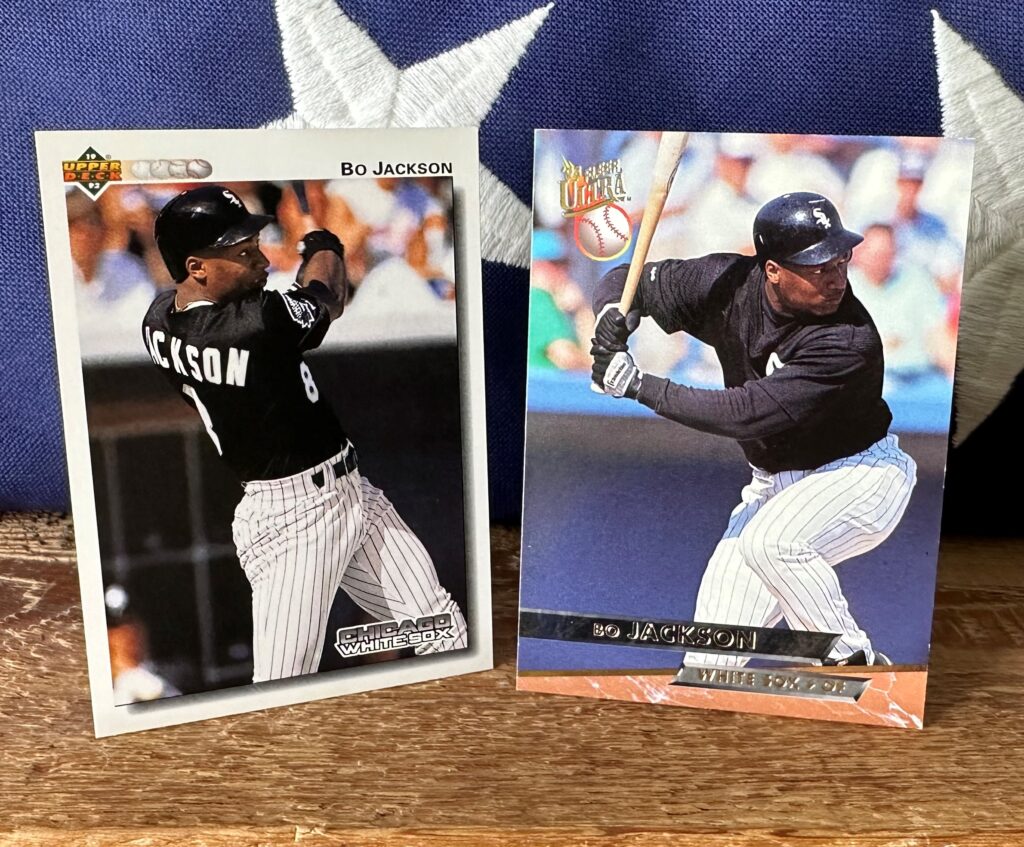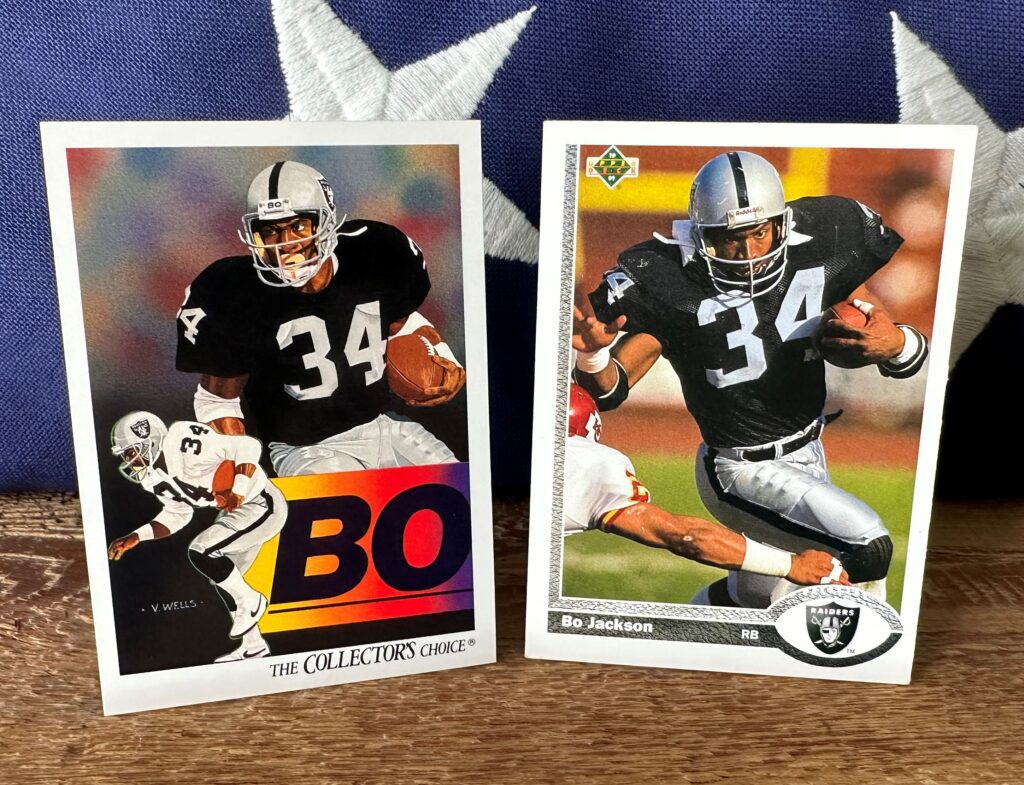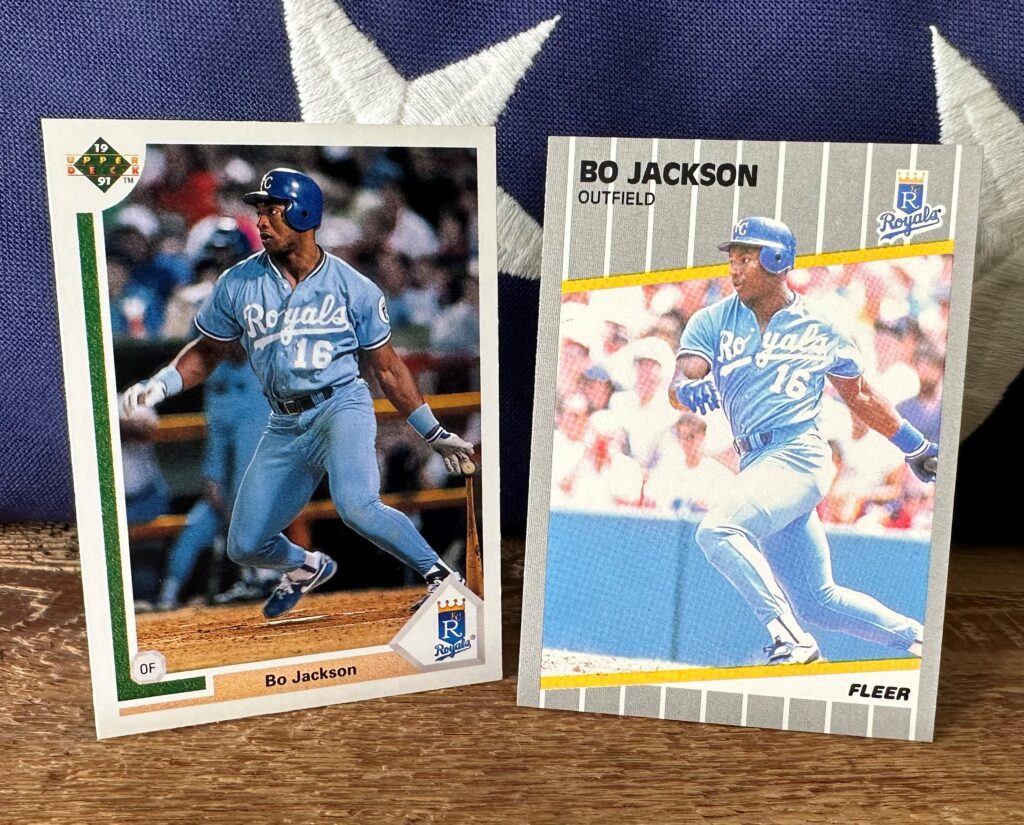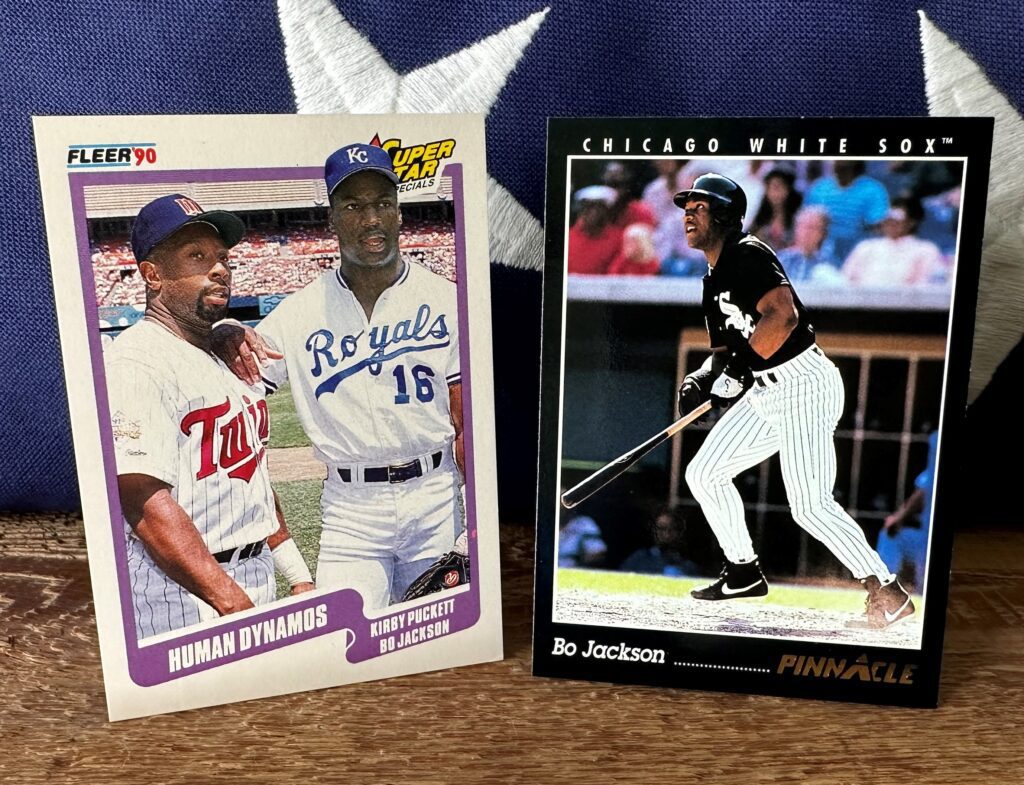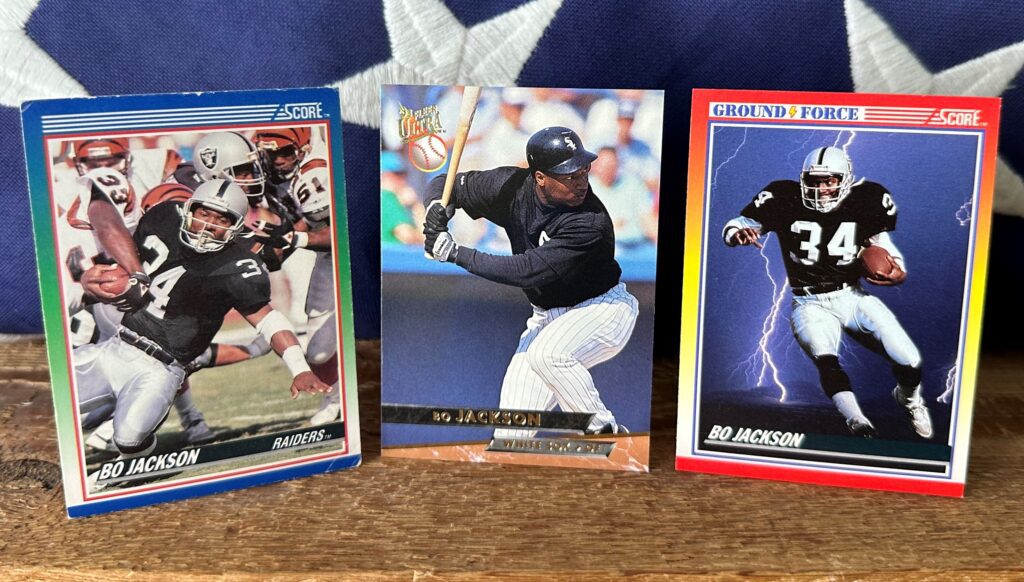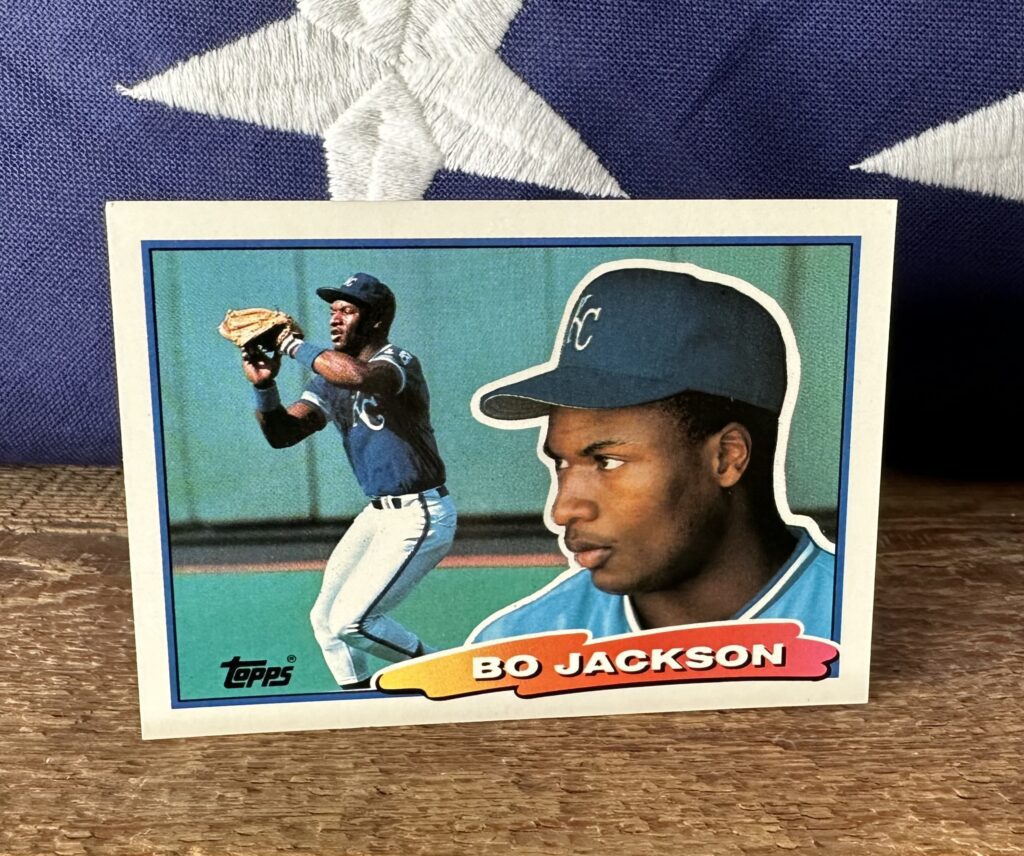 ---
'You Don't Know Bo'
The intro to ESPN Films 30 for 30, 'You Don't Know Bo' identifies another important aspect to what made Bo Jackson not just a legend but a myth.
"All we saw, was a man doing things that we had no idea were humanly possible. Then out of nowhere – he was gone."
The football injury Bo suffered in just his 4th season cut his career short. He underwent hip replacement surgery and retired from football.
His baseball comeback was incredible. Just for the simple fact that he was again hitting home runs with an artificial hip. A home run in his very first at-bat after his hip replacement surgery.
But it didn't last long.
He played just two seasons for the Chicago White Sox, and one with the California Angels. The baseball strike of 1995 cut the season short, and Bo decided to retire.
His retirement words, "I got to know my family. That looks better to me than any $10 million contract." – Classic Bo.
The Impact of Bo
It's incredible the impact Bo made on the sports world in just a few years' time.
When Bo's playing career was over, it took a while for people to put into words exactly what they had witnessed.
Watching people reflect on, and try to explain the legend, the myth, and the phenomenon of Bo Jackson is a lot of fun. They are just not sure how to explain it.
A legend or a myth is indescribable, or at least, very difficult to describe. Here's a sample of how commentators struggle to define and summarize Bo Jackson.
Quotes on Bo Jackson
"I was like, I'm fast, he's faster, then there's Bo Jackson."
"To me, he was the greatest athlete of the 20th century, and there's not even an argument there."
"Every two or three days, he would do something, and make you just scratch your head and say, man, I don't know if I just saw that right."
"Bo Jackson was the first superhero of my generation."
"There was something mythical about everything that he did."
"He was like a rocket ship that was fired out of a cannon."
"Bo was just better than everybody else."
---
If you haven't watched the "30 for 30" on Bo, you really need to spend 30 minutes and watch it right now.
The Last Hero of the 80s Card Boom
Bo Jackson rookie cards have a little something extra. Maybe it's that he was the last hero of the 80s trading card boom.
Perhaps he was, for many people, the last reliable superman before the electronic age changed sports forever.
Bo Jackson's professional career launched in the 1980s. At the time, sports trading cards were still items that young people eagerly hunted down.
The Most Popular Athlete of All Time?
Bo Jackson was especially popular among the kids in his day, more so than other athletes with bigger stats and championship trophies.
Part of this was due to his two-sport career. He was one of the best players in two major sports at the same time.
Joe Montana, Barry Bonds, Wayne Gretzky? They were great, there is no doubt. But the kids of the late 1980s had never seen anything like Jackson.
He was viewed as a modern-day superhero for that reason alone.
Tecmo Bo
In 2013, ESPN named Bo Jackson the Greatest Athlete of All Time based on a group of metrics by the Sports Science team.
Even among some of the most famous professional sports figures in history, such as Michael Jordan, Muhammad Ali, Roger Federer, and Jim Brown, Bo Jackson stands above them all.
In 1989, Nintendo released Tecmo Bowl, a football video game featuring real National Football League players.
Unstoppable Tecmo-Bo
This was in the prime of Bo's two-sport athletic achievements. When you chose your team for a game of Techmo Bowl, there was one obvious choice – Bo.
He was almost unstoppable. The video game programmers made Bo faster than anyone else on the field, which was pretty much accurate to real-life conditions.
If you've never played the game, the video below accurately represents "Tecmo Bo" in action.
---
Amazing Bo Jackson Interviews
Although Bo rarely does interviews and does his best to avoid the spotlight, some incredible interviews are out there. Most of them exist for fundraising purposes.
Bo has a charity called "Bo Bikes Bama," where he hosts a bike ride every year to raise money for a community in Alabama devastated by tornados.
Here's a great interview with Bo Jackson. It just happens to be Lance Armstrong who catches Bo for an hour and a half interview with so many great stories I can't even count them all.
If you're not a Bo Jackson fan yet, listen to this interview, and you'll understand why he's so unique. From his college days and getting drafted by the Tampa Bay Buccaneers, to his retirement decision, I love listening to Bo say it like it is.
Not only is he a living legend, but he's also possibly one of the best storytellers I've ever heard.
---
Additional Resources –
Card Grading Standards – BGS
Buy Bo Jackson Rookie Cards – eBay
---
Card Collectors –> Looking to Sell Baseball Cards? Here's How (and Where) To Do It
Looking for a local sports card shop, here's how to find them.
Let's hear your thoughts – What's your favorite Bo Jackson rookie card? What's your favorite Bo Jackson highlight?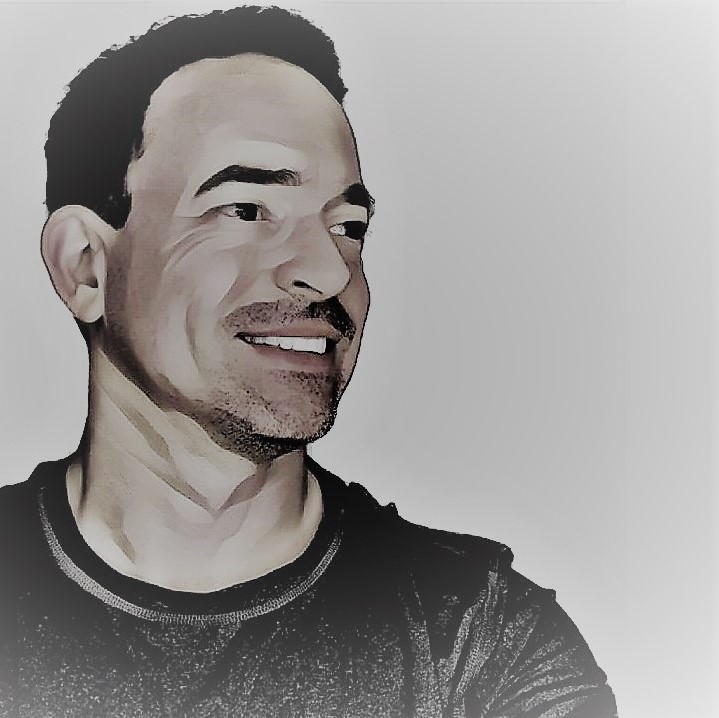 R.J. Bachman
Attic Capital – Writer, Editor, and Lifelong Collector
After many years of collecting rare coins, sports cards, and all types of collectibles, I began writing at Attic Capital to share my experience, knowledge, and passion.
I would love to connect with you, so don't hesitate to reach out and let me know more about your passion for collecting.