---
There's nothing cooler than a PSA 10 Joe Montana rookie card. Who wouldn't want The Comeback Kid, in perfect condition, in their collection?
Joe Montana football cards bring back great memories. As one of the greatest players of all time, Joe left his mark on the game of football.
But he was also a soft-spoken and cool gentleman off the field. He always does his best to give thoughtful and respectful interviews. Montana's rookie card is an excellent addition to your collection.
Joe Cool, The Comeback Kid
Joe Montana, AKA "Joe Cool" and "The Comeback Kid," is a former NFL quarterback that played with the San Francisco 49ers and the Kansas City Chiefs for 16 seasons from 1979 to 1994.
Among his several accolades and records he set in the NFL, he has won four Super Bowls and was the first player to be named Super Bowl MVP three times.
He was selected to the Pro Bowl eight times and was nominated to the All-Pro games six times. In 2000, he was inducted into the Pro Football Hall of Fame.
Montana is known for remaining calm under pressure and helping teams with clutch victories.
He did 3409 completions on 5391 passing attempts, 273 touchdowns, 139 interceptions, and 40,551 yards passing. Montana continues to hold several postseason records.
Joe Montana's Early Years
On June 11, 1956, Joe Montana was born in New Eagle, Pennsylvania. As a child, Montana showed interest in sports, specifically football, baseball, and basketball.
In fact, while attending Ringgold High School, Monta became an all-state basketball player and won a basketball scholarship with North Carolina State. He would decline this offer.
During his junior year of high school, Montana garnered the attention of college recruiters and accepted a scholarship from Notre Dame.
---
Montana would have a fantastic career as a member of the Notre Dame Fighting Irish, helping them win a national championship game in 1977. Despite his performance, Montana was not highly rated by scouts.
NFL Career
In the 1979 NFL Draft, the San Francisco 49ers selected Montana at the end of the third round.
In Joe Montana's rookie season, he didn't get much playing time in 1979. He spent most of his first season in the NFL as a backup.
It wasn't until 1981 that Montana began as the starting quarterback and helped the 49ers with their most successful season up to that point.
San Francisco 49ers (1979-1992)
The SF 49ers faced the Dallas Cowboys in the National Football Conference Championship Game.
In this series, Montana led one of the most notable plays in NFL history that would later be known as The Catch.
With 4:54 left in play, Dallas was leading 27-21. Defying all odds, Montana drove the team down and helped the 49ers win with a last-second pass to wide receiver Dwight Clark, putting SF into Super Bowl XVI.
The 49ers would win against the Cincinnati Bengals, and Montana won the Super Bowl MVP that year for his performance.
---
In 1984, the 49ers became the first team to get 15 wins in the 1984 NFL season. Montana would have another great season and helped the 49ers win Super Bowl XIX, where they faced against the Miami Dolphins.
Joe Montana's Super Bowl Records
He established the Super Bowl record for most yards passing in a single game and earned his second Super Bowl MVP award.
In 1986, Montana suffered a severe back injury that almost resulted in retirement.
Despite the injury, he was one of the best quarterbacks in the league and was co-recipient of the 1986 NFL Comeback Player of the Year Award.
1988-1989 was another season that highlighted Montana's stellar performance as a starting quarterback.
The 49ers faced against the Cincinnati Bengals again in Super Bowl XXIII after stellar performances against the Minnesota Vikings and Chicago Bears.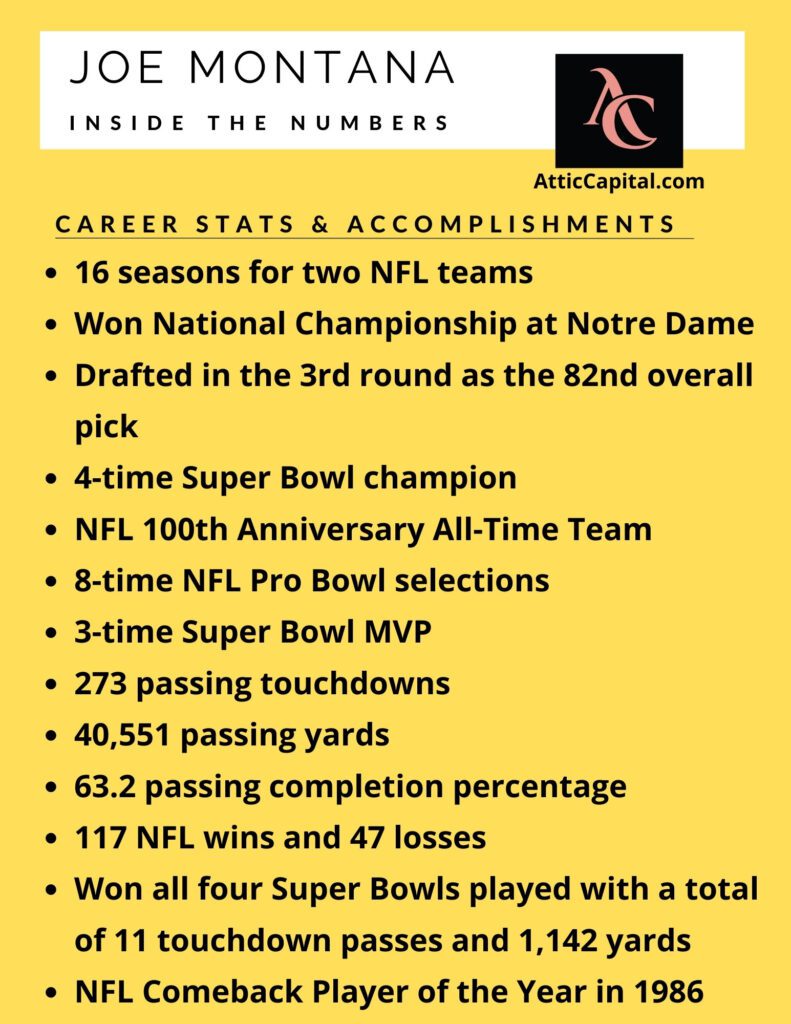 Joe Cool the Clutch Performer
The victory of the Chicago Bears in Soldier Field was especially notable, as they were playing in 17-degree Fahrenheit conditions with strong winds. Montana threw a sideline pass to Jerry Rice, who took it for a 61-yard score.
They would win 28-3, advancing to the Super Bowl, where Montana would have one of the best performances of his career. He would win the NFL Most Valuable Player Award and the Super Bowl MVP for the third time.
---
The following season in 1990 would be another excellent season for Montana. Still, the 49erswould ultimately lose to the New York Giants in the NFC Championship Games.
Montana would miss the entire 1991 season and most of the 1992 season due to a sustained elbow injury.
For better or for worse, Steve Young would establish himself as the starting quarterback, and Montana ultimately requested a trade.
Kansas City Chiefs (1993-1994)
Montana was traded to the Kansas City Chiefs in 1993. While Montana was injured for part of the 1993 season, he was still selected to his final Pro Bowl, leading the Chiefs to win their division for the first time in 22 years.
While they would lose to the Buffalo Bills, the Chiefs won 13 games, tying the franchise record for wins in a season.
Joe Cool Retires from the NFL
Montana announced his retirement on April 18, 1995, saying that if he felt it was the right time. Joe Montana would pave the way for a new era of quarterbacks, including Tom Brady, Peyton Manning, and Drew Brees.
After retiring from the NFL, Montana has become a successful businessman.
He and his business partners serve as angel investors, and Montana is also a wine producer with the Montana label.
The Joe Montana Rookie Card
Montana's rookie card is highly valuable. In an era where several sports card manufacturers entered the market, Montana's legacy is the key driver for the value of his cards. His track record includes:
Four super bowl victories
The first player to be named the Super Bowl MVP three times
Topps Football Cards
Topps cards, precisely the 1981 Topps football complete set, suffered centering issues. Additionally, the Topps set was notorious for print defects, making it challenging to find high-graded cards of this era. However, some printing errors can result in higher-valued cards.
1981 Topps Joe Montana Rookie Card
The 1981 Joe Montana Topps Rookie Card #216 is a highly prized card as it's a true Joe Montana rookie. It features Montana with thin green borders.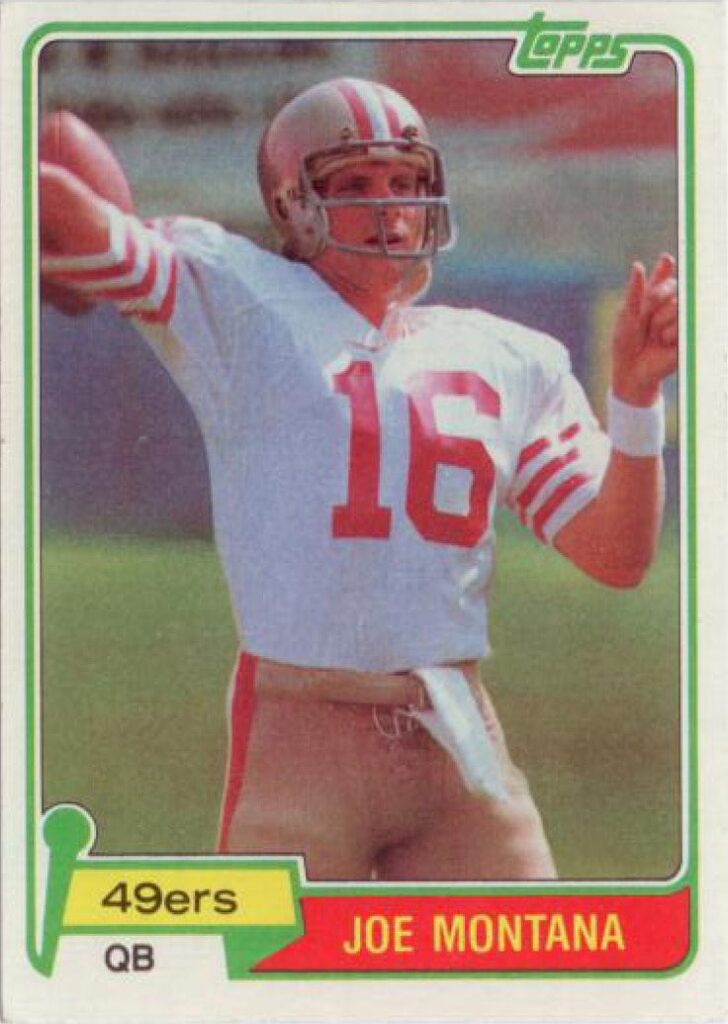 While the Joe Montana PSA 10 rookie card is not considered a low population card, the value still holds up amazingly well.
There are well over 100 PSA 10 graded Montana cards out there, but still, a perfect gem mint PSA 10 is worth $40,000 to $50,000, while a recent sale of a PSA 10 rang in at a record $85,000.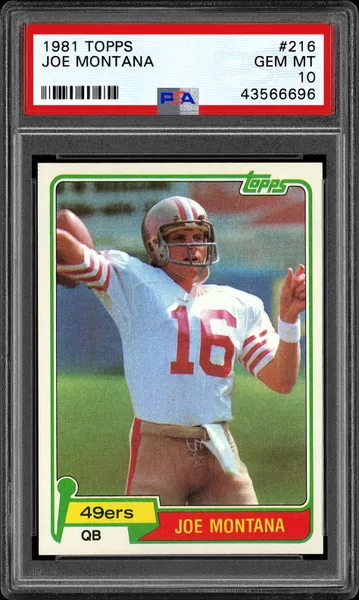 ---
Another Great Topps Montana Card
Another high valued Joe Montana card is the 1982 Topps Joe Montana #488 card, which features Montana taking a call from the booth without a helmet.
While it's not a Joe Montana rookie, it's a great card from the early 80s era.
A high-grade Topps card can land you close to $300.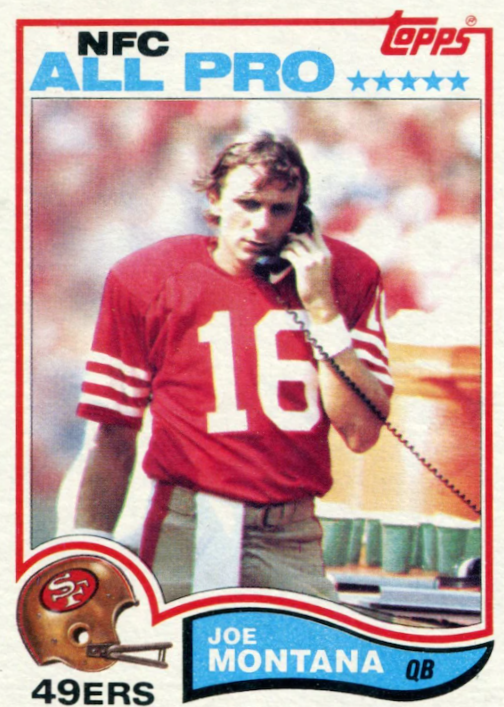 ---
1991 Upper Deck Joe Montana Heroes
The 1991 Upper Deck Heroes Joe Montana #9 Autograph is a hot card. The low population (2,500) card series featured four different Montana images.
These cards are valued at around $1,600, depending on the condition of the signature.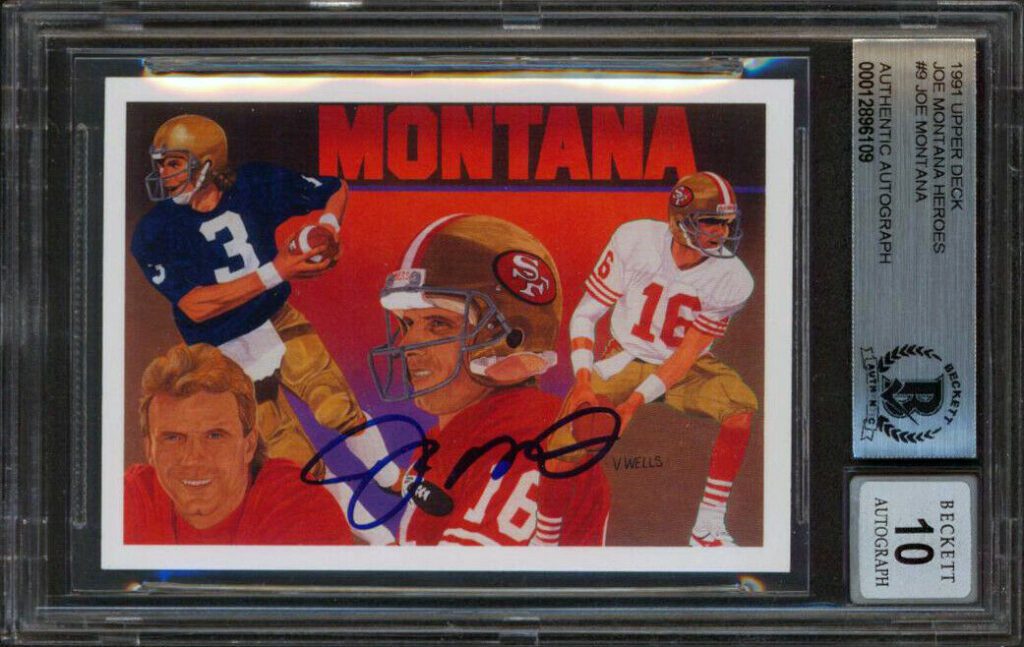 There are also the 1996 Upper Deck Game Jersey Joe Montana cards. These are the first relic cards in the hobby, and to make it more special, a Joe Montana has a 1 in 2,500 odds to appear in a pack of 10 cards. These cards are valued at around $300.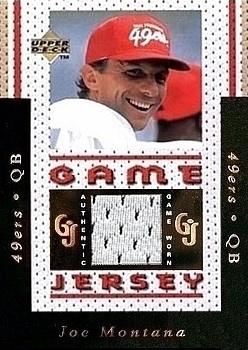 ---
1990 Pro Set Joe Montana
Another great Joe Montana card is the 1990 Pro Set card. The highest PSA 10 graded card is valued at $260.
There are also versions with a printing error containing Jim Kelly's stats instead of Montana's. Finally, the 1990 Joe Montana Pro Set Super Bowl XVI MVP Card #16 is a rare find. A gem mint card is valued at close to $300.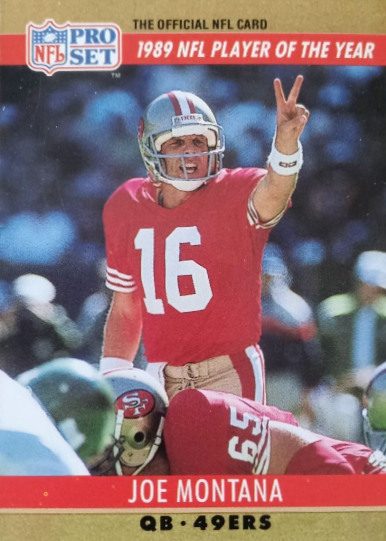 ---
Joe Montana Rookie Card and The Comeback Kid
Out of the many stand-out quarterbacks over the years, there's none quite like Joe Montana. Terry Bradshaw, Brett Favre, John Elway, and Dan Marino were stars, but Montana stood above them all.
Joe Montana is known as one of the NFL's greatest quarterbacks in history.
Known for his ability to remain calm under intense pressure, his accomplishments and legacy will continue to carry over to the value of his sports cards.
For baseball cards, hockey, basketball, and football card collectors, it's hard to argue against adding Joe Montana rookie card to your stache.
---
READ more about amazing athletes and their valuable rookie cards –
The Case for Bo Jackson Rookie Cards
The Greatness of the Barry Sanders Rookie Card
Beyond the Walter Payton Rookie Card
---
Card Collectors –> Looking to Sell Baseball Cards? Here's How (and Where) To Do It