---
The Alex Rodriguez rookie card might provoke a wide range of emotions for baseball fans. Usually, this is due to whether you're a Yankee fan or not.
Yankee fans will never forget the clutch performance of Alex Rodriguez and the World Series Championship he helped the team win in 2009.
If you're not a Yankee fan, it's possible you feel a slight disdain for the A-Rod rookie card. But it's mostly jealousy and envy that keep you from collecting mass amounts of Rodriguez rookies.
It's difficult for me to write this, but it's time to get over it, A-Rod was great.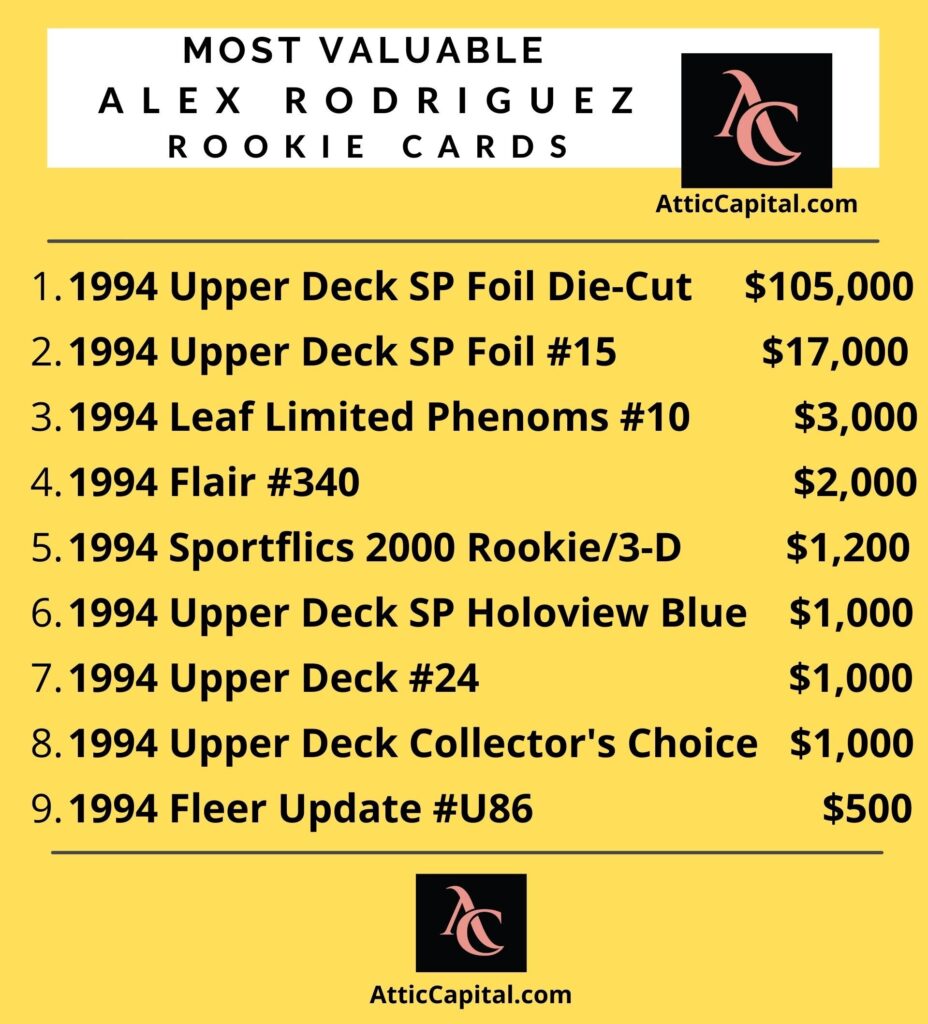 The Polarizing and Prolific Career of A-Rod
There's no denying it; A-Rod was straight-up money.
From terrorizing Joe Nathan in the bottom of the 9th inning with home runs and doubles off the wall or making game-saving diving plays at third base, he was a clutch performer.
Not to mention his record-breaking and mind-blowing multiple $250 million contracts over his career.
---
Alex Rodriguez, affectionately known as A-Rod, is one of MLB's most prolific players.
He has broken countless records, including home runs, batting averages, and stolen bases, and was the center of one of the biggest controversies in baseball history.
He's also ranked as the wealthiest baseball player ever.
An All-Time Great
Through it all, one thing remains true – his status as one of the greatest players the game has ever seen.
As a result, A-Rod baseball trading cards are some of the 1990s most valuable and memorable cards in The Hobby.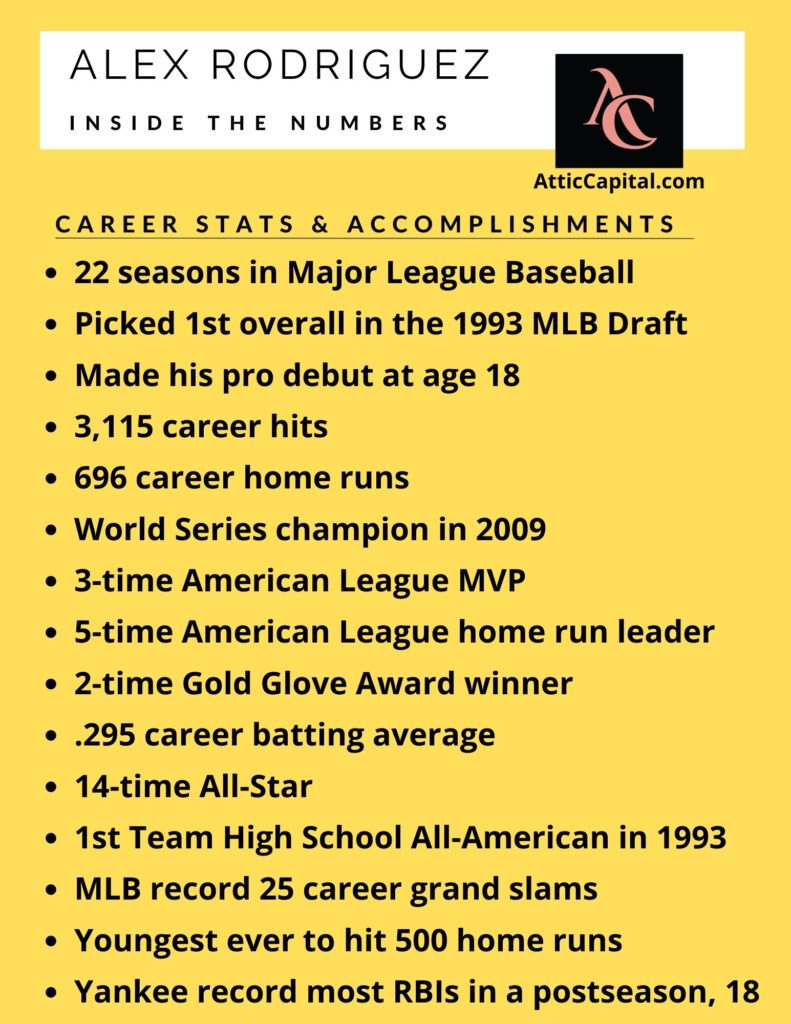 A legendary career, mind-blowing stats, a World Series Championship, and clutch performances that will go down in baseball history. You don't have to like it, but Alex Rodriguez is one of the greatest baseball players in history.
Good and Bad, He Did It All
Enormous contracts, a giant steroid scandal, and titanic home runs. A-Rod left his mark on the game; there's no doubt.
He's etched in baseball folklore forever, and his rookie cards are the best way to own a small piece of baseball history.
---
Respect for the A Rod Rookie Card
He played for three teams, the Seattle Mariners from 1994–2000, the Texas Rangers from 2001–2003, and twice for the New York Yankees, 2004–2013 and 2015–16.
There are plenty of great Rodriguez baseball cards, and at least 10 A-Rod Rookie cards to search for.
A-Rod Rookie Baseball Cards
A-Rod trading cards are as valuable and legendary as the legend himself. Gold versions, electric diamond cards, and both Score rookie and Upper Deck rookie cards.
Mint condition Seattle Mariners Alex Rodriguez rookie cards are often as, if not more valuable than Ken Griffey Jr. and Ichiro Suzuki cards.
Let's take a look at A-Rod's most legendary rookie cards –
1993 Topps Draft Pick A-Rod Rookie Card
The 1993 Topps baseball cards don't get much respect, unless it's an A-Rod rookie.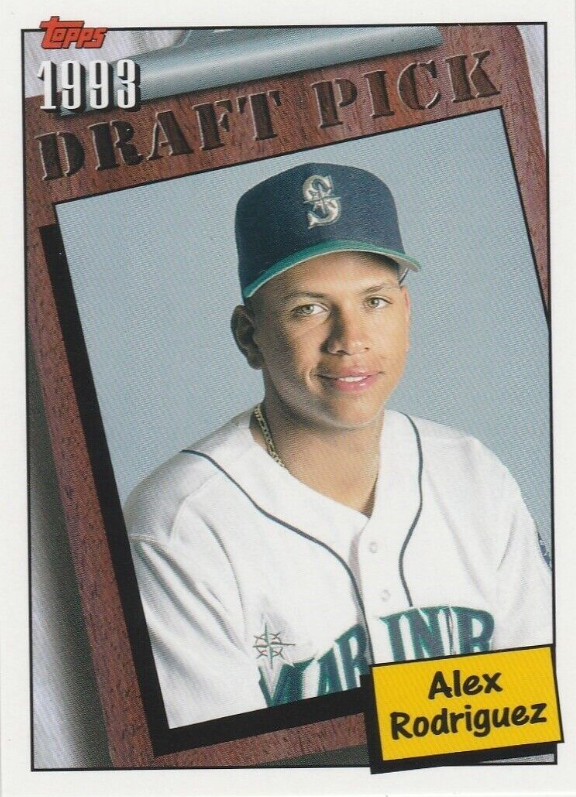 1994 Fleer Update Alex Rodriguez Seattle Mariners Rookie
This card with a BGS 9.5 grade is worth roughly $50. A BGS 8.5 card can be found for less than $30.
With the huge team logo in the corner, and the horizontal close-up photos, the 1994 Fleer Update cards were easy to look at.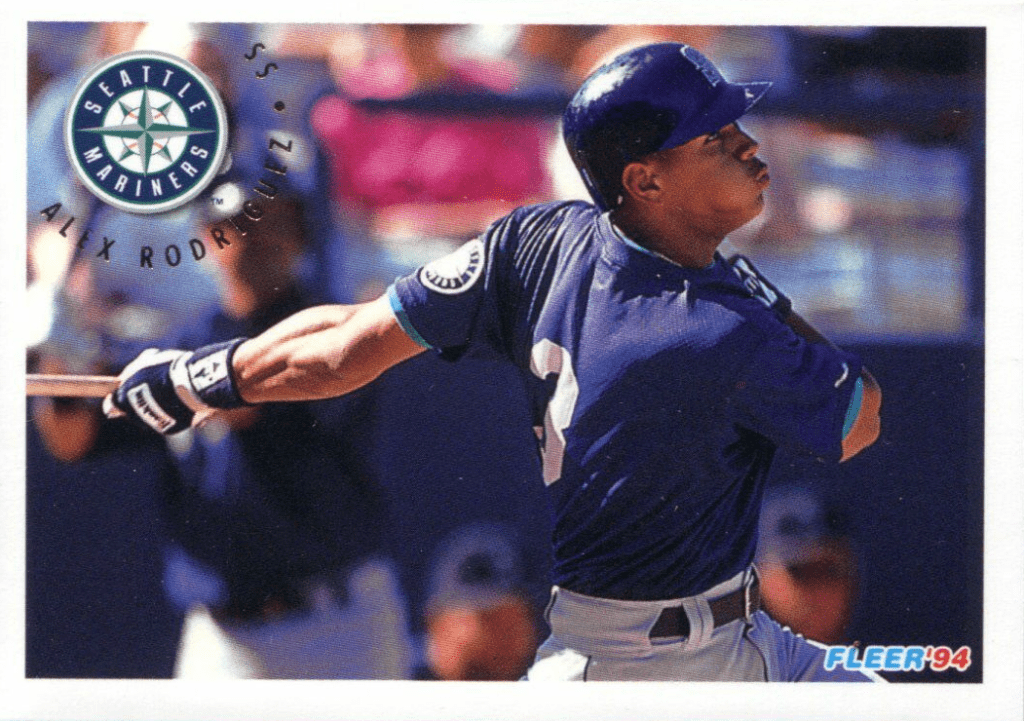 1994 Donruss Rated Rookie A-Rod Card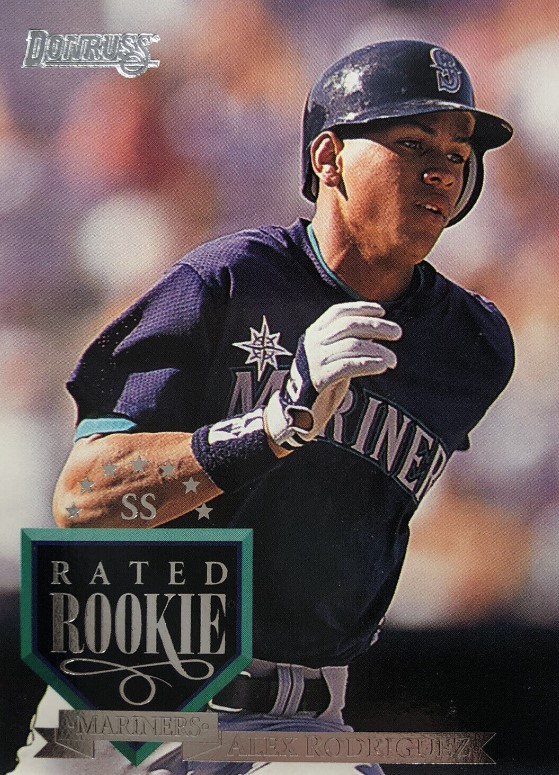 1994 Sportflics 2000 Rookie & Traded Starflics Alex Rodriguez Rookie Card
The Sportifics brand made a comeback after a 3-year absence in 1994 with the Sportifics 2000 set. The motion cards were state-of-the-art, and this particular A-Rod rookie card shows him turning a double play.
A scarce parallel version has a black and gold stamp with "Artist Proof" emblazoned on it.
This A-Rod card is one of the most valuable Sportifics cards ever produced. Currently selling for $1,600 on eBay.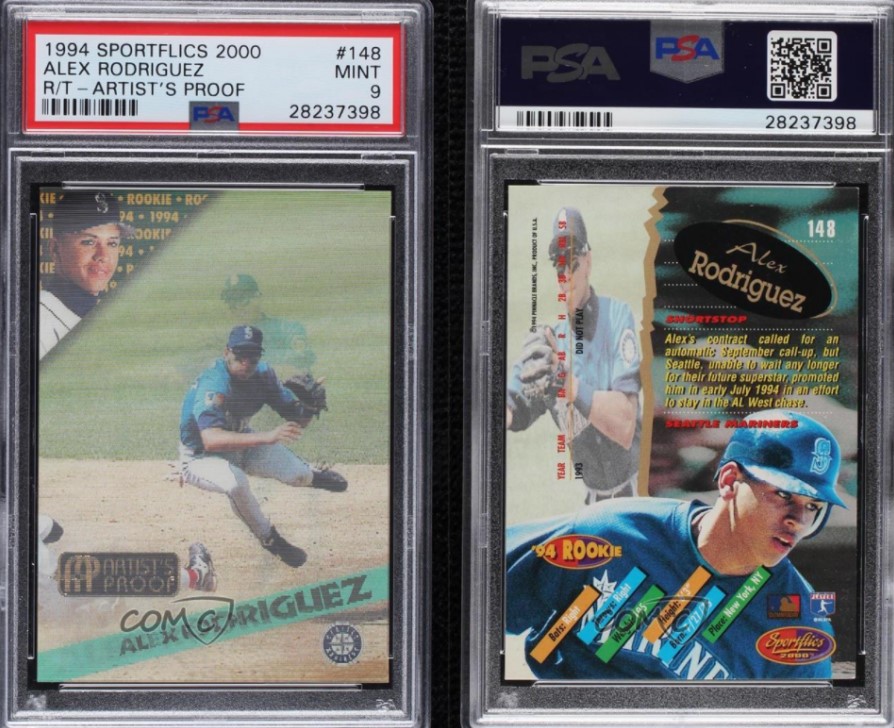 1994 Collector's Choice Alex Rodriguez Rookie Card
Collector's Choice by Upper Deck was an accessible and affordable card, and this is one of the best places for A-Rod rookie card hunters to start when they're on a budget and looking for value.
Prices are still affordable for some of the mid-90s Upper Deck rookie cards. But a decade from now, it might turn out to be a worthy investment.
It's horizontally framed with parallel cards and includes a foil-stamped silver and gold signature edition. Current values for PSA 10 GEM MINT graded cards are around $200.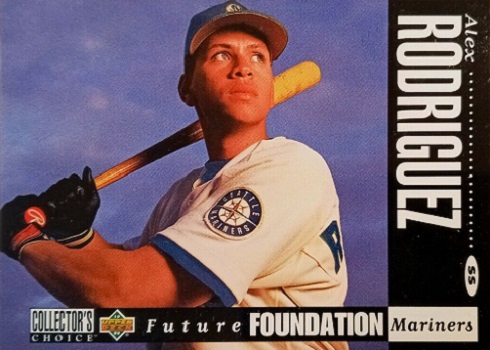 1993 Classic Four Sport Alex Rodriguez Rookie Card Autograph – One of 4,300
The earliest produced A-Rod rookie card is a must-have for baseball fans and collectors.
It includes a certified signature and is part of a set highlighting rookies from the four US team sports in that era. The A-Rod card was, of course, one of the most popular and most valuable of the set.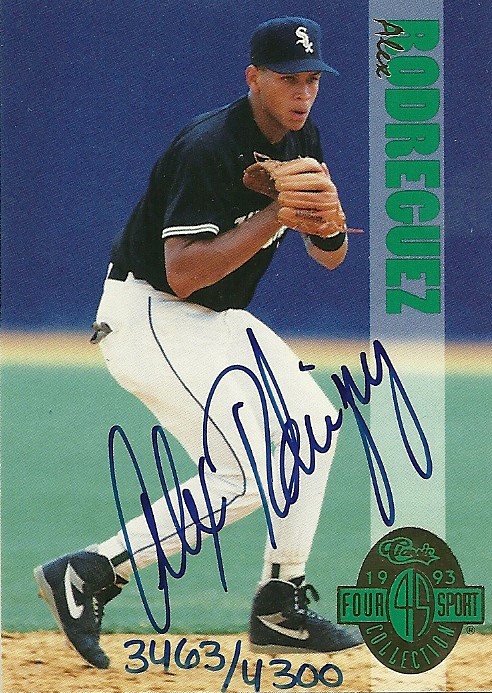 1994 Leaf Limited Rookie Phenoms Alex Rodriguez #10 #/5000
This is one of the most sought-after A-Rod cards around, and an all-time great collectible for any baseball nut.
The 1994 Leaf are high-quality cards with a relatively small production run of approximately 3,000 cards, making this a rare and valuable find in high-graded condition.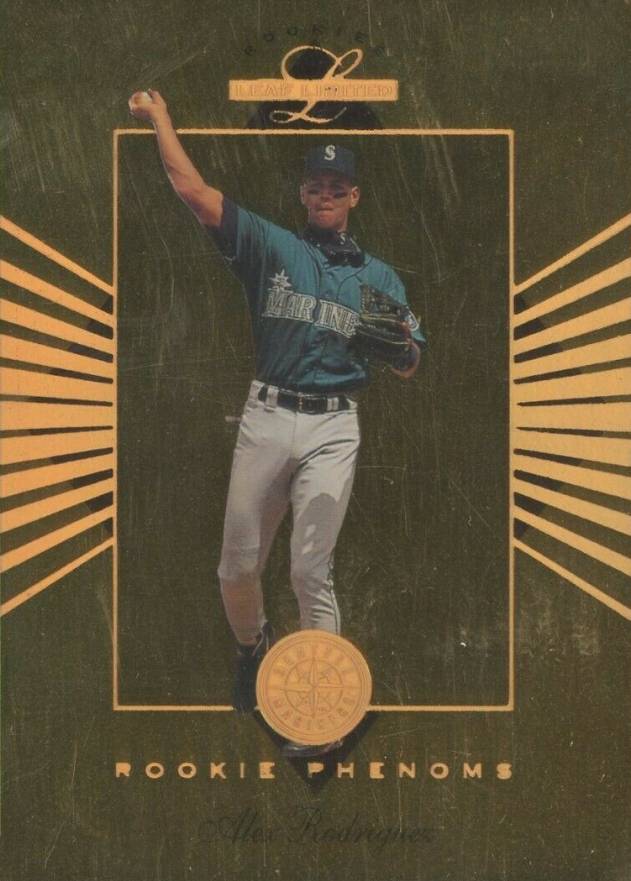 1994 Alex Rodriguez Pinnacle Sportflic Artist's Proof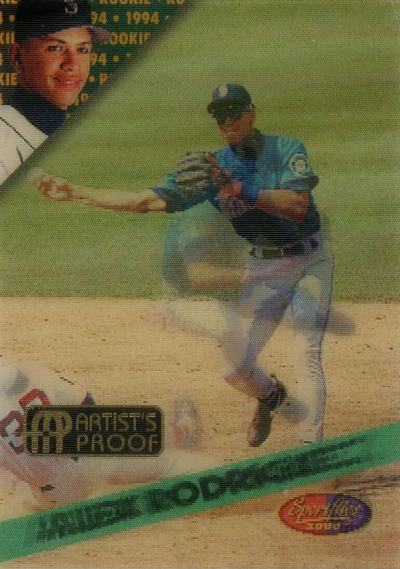 1994 Flair Alex Rodriguez RC Rookie Card
The follow-up to the 1993 debut flair card sets are extremely high-quality and popular cards.
With a protective, layered UV coating and a high-res graphic that pops out from the card, this is another A-Rod rookie card that would make a great addition to any card collection.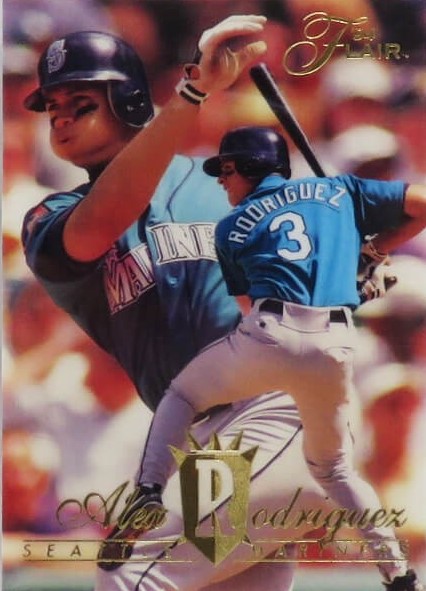 1994 SP Holoview Blue and Red Inserts A Rod Rookie Card
This card featured a printing innovation that showed modified video frames to recreate a 3D look.
There are rare blue versions with blue streaks along the bottom and an even more rare red version with red borders.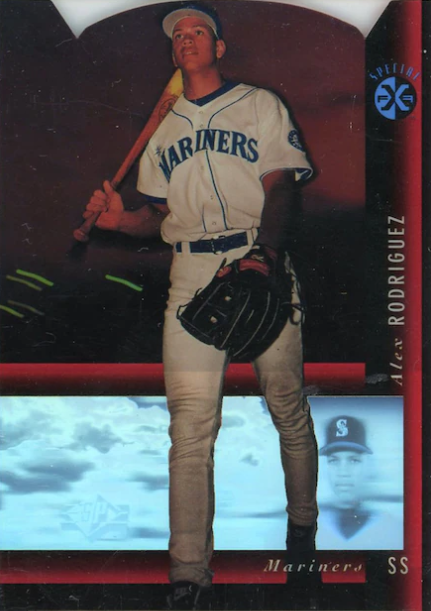 1994 Upper Deck SP Alex Rodriguez Rookie Card
According to many collectors, the SP Foil is the number one A-Rod rookie card. A rare parallel version is found in each pack and has a die-cut top as the base card.
While there are counterfeit die-cut versions, wise collectors can spot them by checking the color of the Upper Deck holograms on the reverse side. Gold on the base card version and silver on the die-cut version.
The A-Rod Upper Deck rookie card graded Mint PSA 9 sells for $100 – $200. A PSA 8 NM-MT card is going for around $70, and an SGC 9 graded card is roughly $50.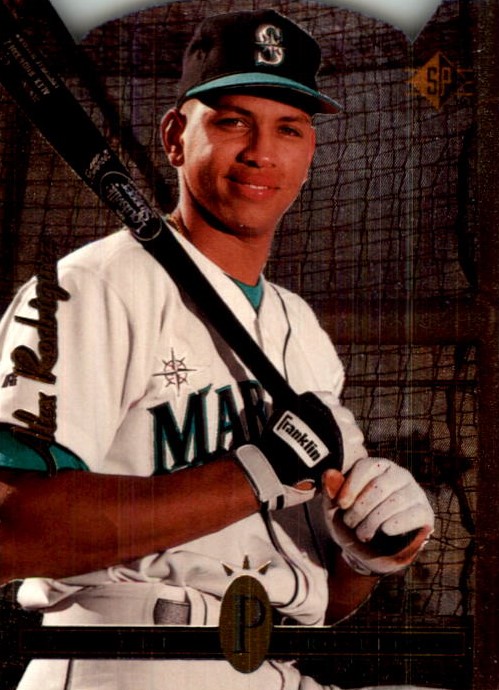 1994 Electric Diamond Upper Deck Alex Rodriguez Star Rookie Card
The Upper Deck Star Rookie A-Rod sports card comes in a standard card, and one with a special 'Electric Diamond' stamping across the bottom.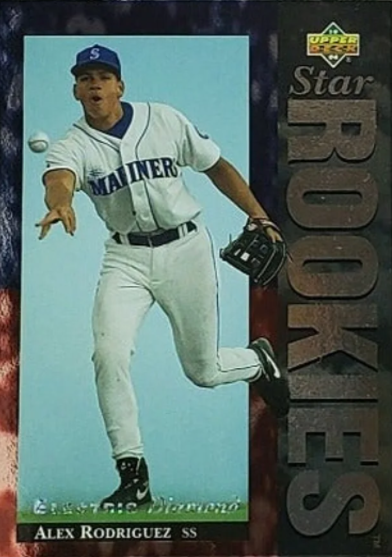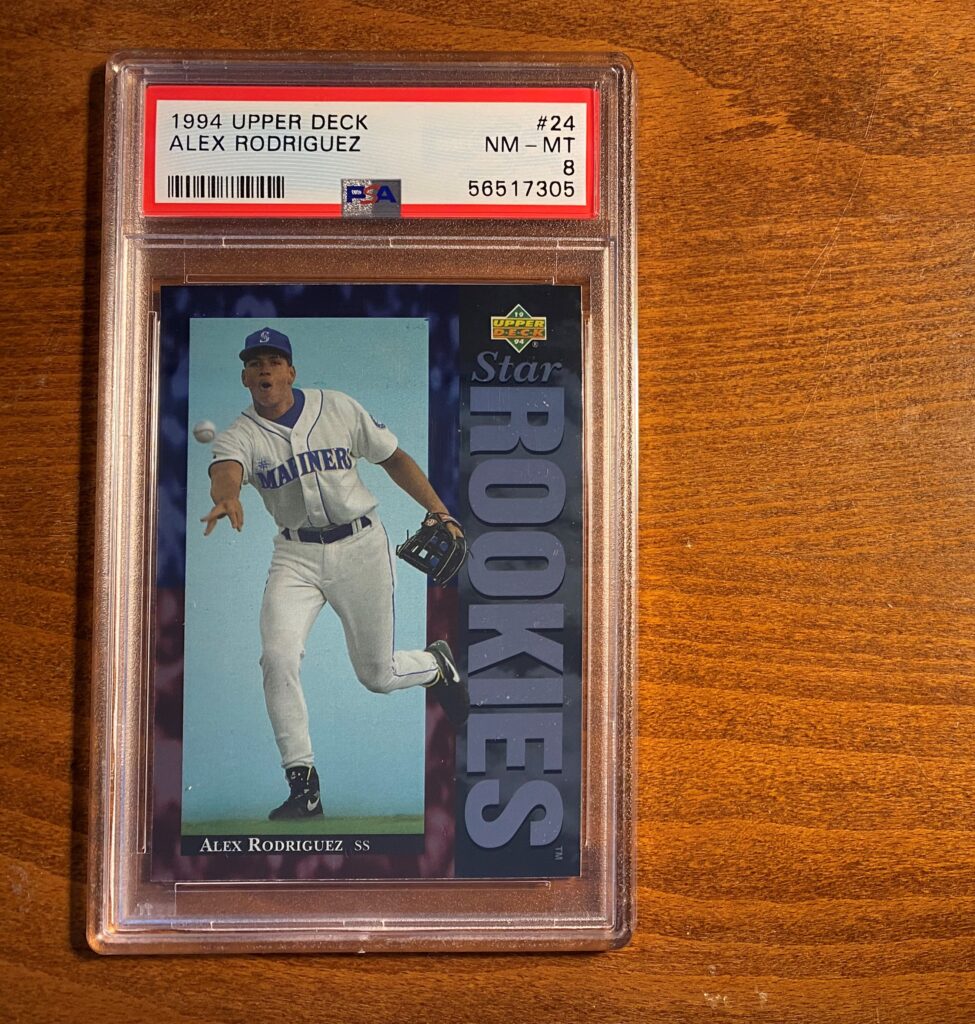 1994 Classic Appleton Foxes Alex Rodriguez Rookie Card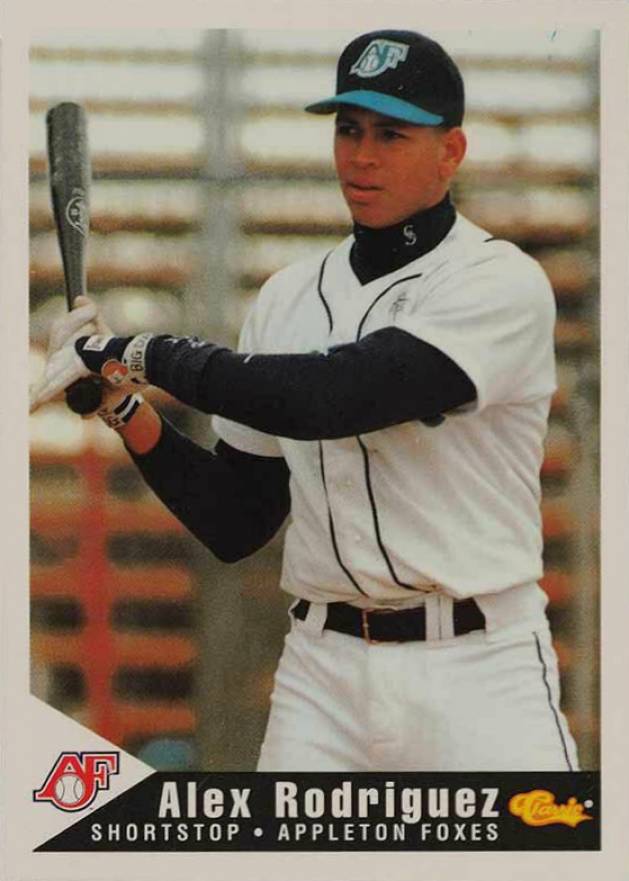 1994 Classic Alex Rodriguez Rookie Card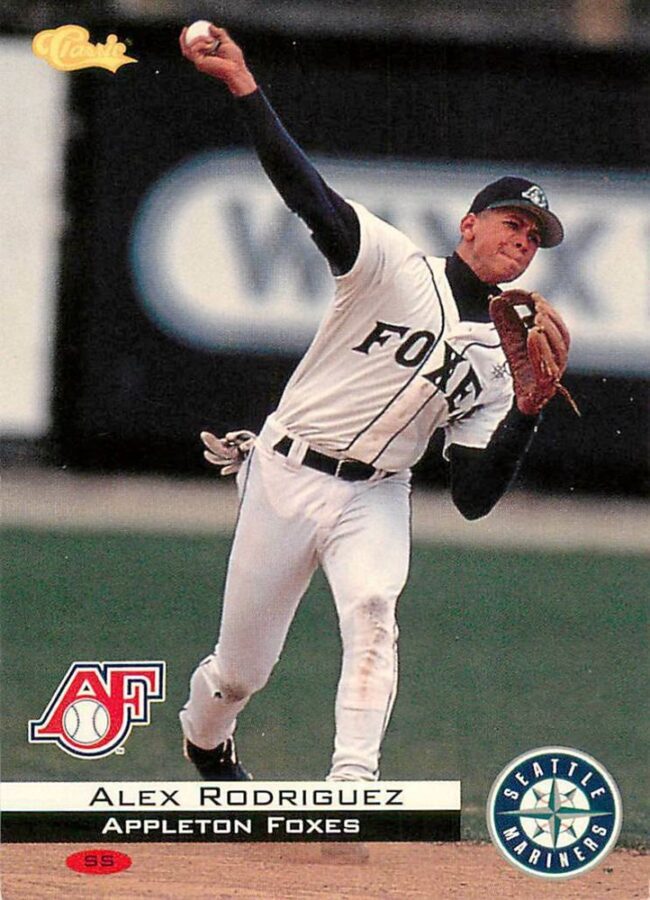 ---
Other Great Alex Rodriguez Baseball Cards
1995 Skybox Emotion A-Rod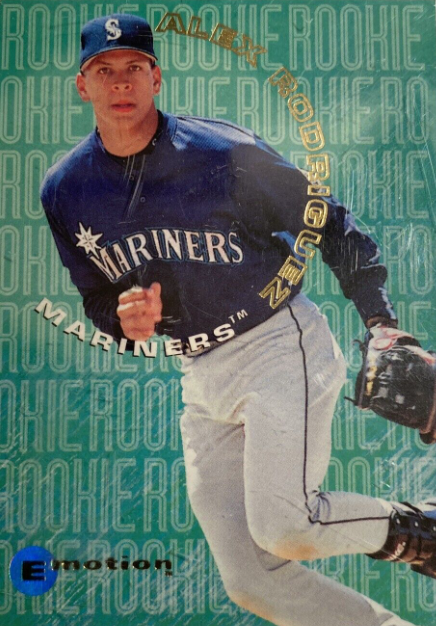 2002 Topps Chrome Alex Rodriguez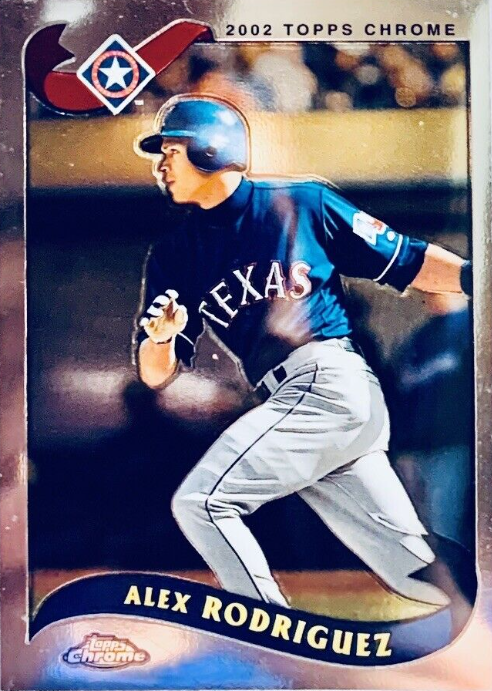 2007 Topps Chrome Refractors A-Rod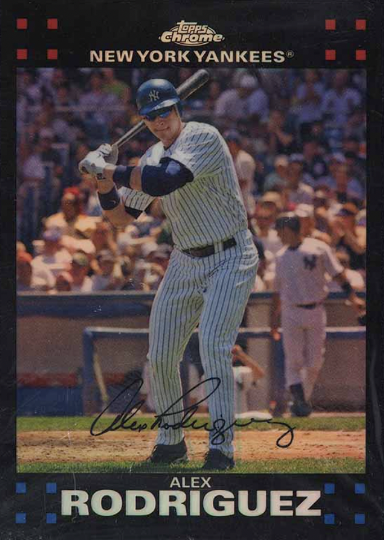 2012 Bowman Chrome Alex Rodriguez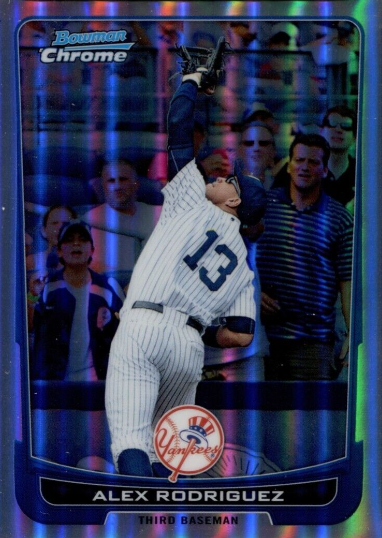 2021 Panini Prizm Alex Rodriguez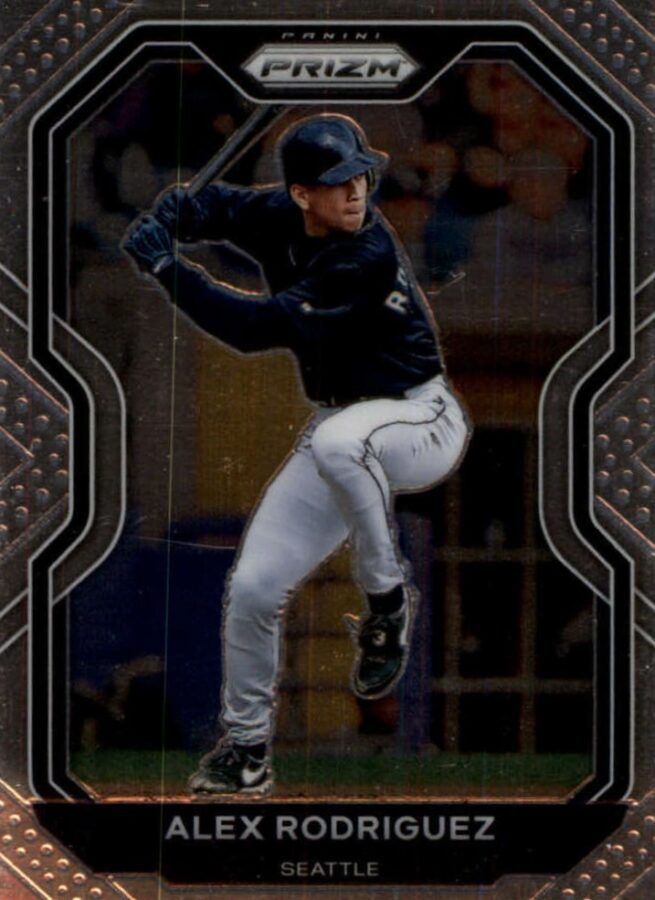 Valuable Alex Rodriguez Memorabilia
Sports collectibles sell for huge money at auctions, and there's nothing I love more than game-used bats. No autographs necessary, just the bat alone makes a great collectible.
They don't need to be autographed, because you will run a huge risk of getting ripped off. But game-used bats are more affordable options and have a higher likelihood of actually being legitimate collectors items.
Beware of game-used and autographed sports memorabilia – their might be as many fakes as they're is real items out there. Caveat Emptor – Buyer Beware.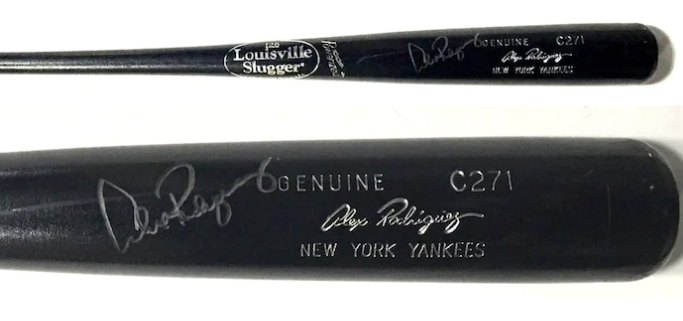 ---
Humble Beginnings of A-Rod
A-Rod was born Alexander Emmanuel Rodríguez in New York City in 1975, the youngest of three siblings.
His father, Victor, was a baseball player in his native Dominican Republic. In America, however, he was running a shoe store in Manhattan when the last of his three children were born in 1975.
Alex's early life was a turbulent one. When he was four, the family moved to the Dominican Republic, where they stayed for three years.
Then, they moved back to the US when Alex was seven, settling in Miami, Florida.
Victor had taught his son baseball and kindled the flame that would burn brighter than imaginable.
They played together as often as his father's work schedule allowed, and Alex developed his skills and love for the game from his dad.
Young Alex Rodriguez Moves to Miami
A few years after they resettled in Miami, however, Victor left, and suddenly Alex's mother, Lourdes, had to provide and care for the family on her own.
She held down two jobs, working day and night to keep the family afloat. A secretary at a local immigration office by day and a waitress by night.
This phase of his life had a profound impact on the young man, with Alex vividly recalling the lessons his mom's tenacity and drive taught him in a few interviews.
His quote from a People Magazine interview summed it up perfectly – "She taught me the meaning of hard work and commitment."
The Love of the Game
Lourdes continued to foster Alex's love of baseball throughout this period. He played for one of the Boys And Girls Clubs of Miami, where he found a mentor and father figure in the coach, Eddie Rodriguez.
Later on, Alex would become a standout athlete in baseball and football at Westminster Christian High School.
After a lot of attention from scouts in high school, he made himself eligible for the MLB draft after graduation and was the top pick in the 1993 draft by the Seattle Mariners.
A-Rod's Major League Baseball Career
Alex debuted in the major leagues in 1994 at age 18. In 1996, he became the starting shortstop, won the major league batting title, and was second overall in the AL MVP awards.
He had a unique blend of power, speed, and defensive instincts that soon made him a franchise powerhouse in Seattle.
As one of the best players in the league, he was in demand. He left Seattle via free agency after the 2000 season to join the Texas Rangers.
In 2001, for a then-record 10-year, $252 million contract, A-Rod became the wealthiest baseball player in the world.
His form was mercurial for the next three years, setting team and major league records. He eventually won his first American League MVP award in 2003, but the team could not make the playoffs.
The Texas Rangers traded A-Rod to the New York Yankees before the 2004 season. Due to their existing shortstop, Derek Jeter, A-Rod switched to third base.
He was named AL MVP in 2005 and 2007. When he opted out of his contract after the 2007 season, he signed a new deal, and once again, A-Rod broke records.
The new $275 million, 10-year deal was another ground-breaking contract record. A-Rod went on to break even more records on the ball field.
One of them was the youngest player ever to hit 500 home runs, which he achieved in 2007.
From the Mariners to the Rangers, to a Yankee Legend
The Yankees victory in the 2009 World Series over the Philadelphia Phillies gave A Rod's first and only championship title.
Yankee fans will never forget a championship team, and A-Rod earned a place in Yankee lore with the 2009 title.
Even though he grew up a Mets fan, having been born in New York City, I'm sure the Yankee championship meant the world to A-Rod.
After a successful run with the Yankees and a suspension in 2013 over his much-publicized steroid abuse allegations, he eventually finished his career with New York in 2016.
Hip and knee injuries hampered his impact in the later years. By his last game on August 12th, 2016, he was a designated hitter.
A-Rod, The Future Hall of Famer
Along with Barry Bonds, I'd love to see A-Rod in the Hall of Fame. Baseball is a game of numbers, and if you look at A Rod's numbers, your mind will melt.
As to steroid use – who knows how many hundreds or thousands of major league players used steroids.
And yes, both hitters and pitchers were juiced out of their minds. Just because everyone else was doing it doesn't make it right. But A-Rod will be in the Hall of Fame one day, and so will Bonds. Mark my words.
A Few of My Favorite A Rod Baseball Cards
Sometimes value is not easily calculated, and a card has meaning rather than extreme worth as an investment.
Digging out A Rod cards from the closet and finding them in (mostly) decent condition after nearly 30 years is always a blast.
So I don't really care if these cards are worth just a couple bucks. When you've owned them since you were a youngster they take on extra special meaning as collectibles.
That being said… if you see one you like, make me an offer!!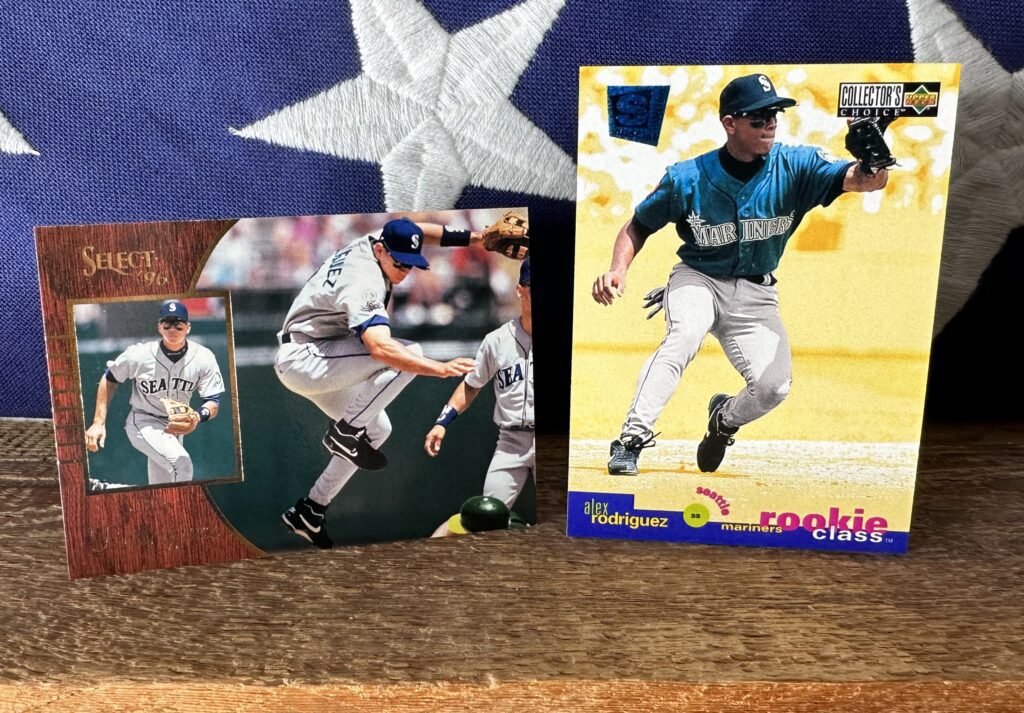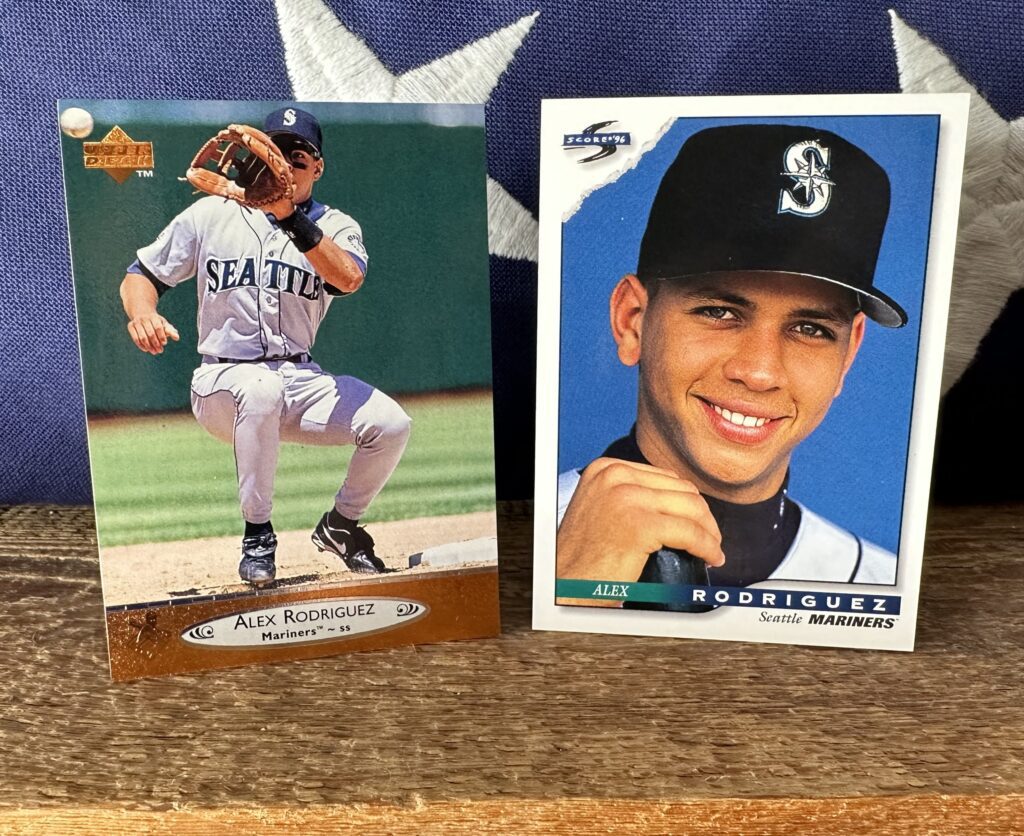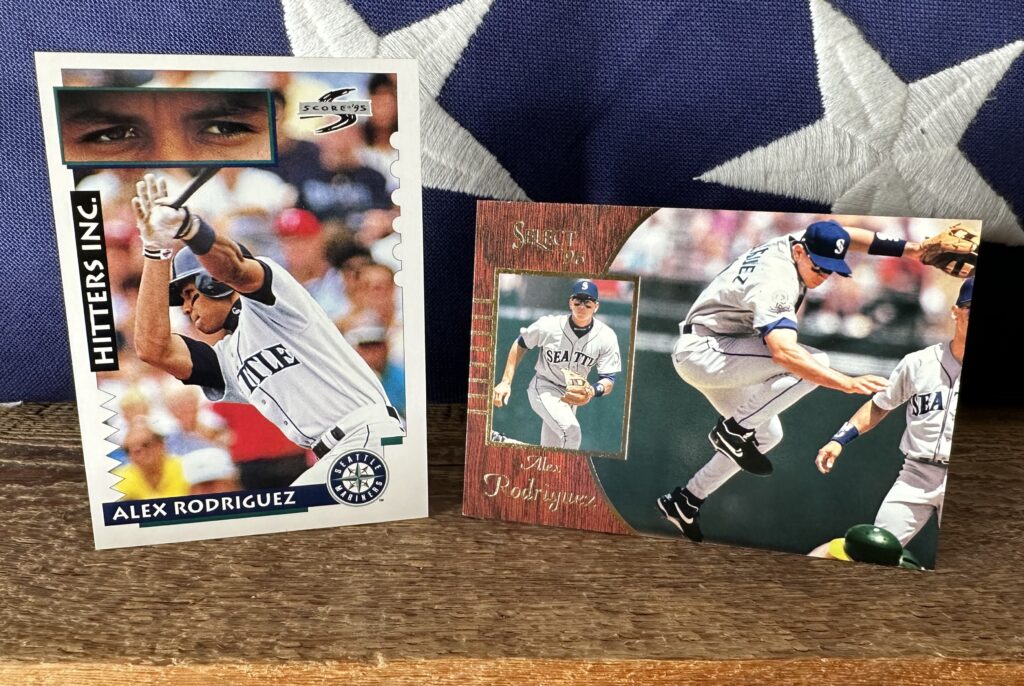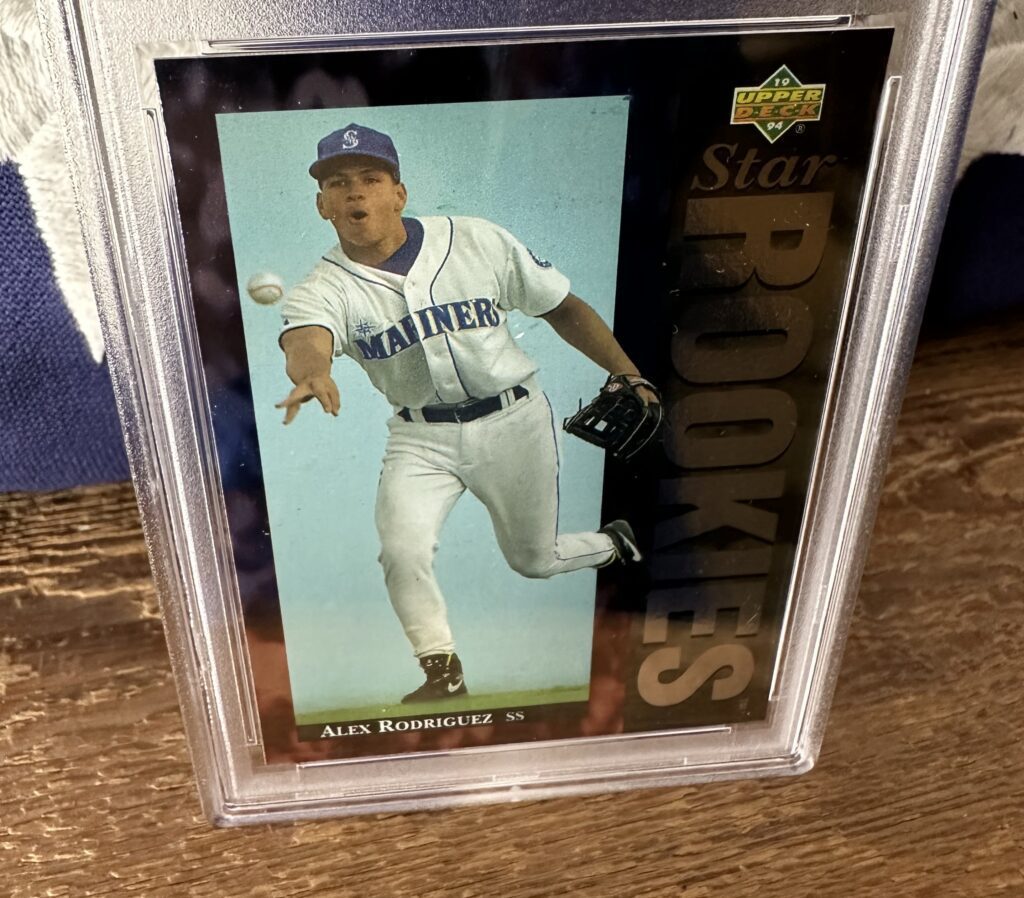 ---
Card Collectors –> Looking to Sell Baseball Cards? Here's How (and Where) To Do It
Just want to connect with a local card shop? Find one nearby and start collecting!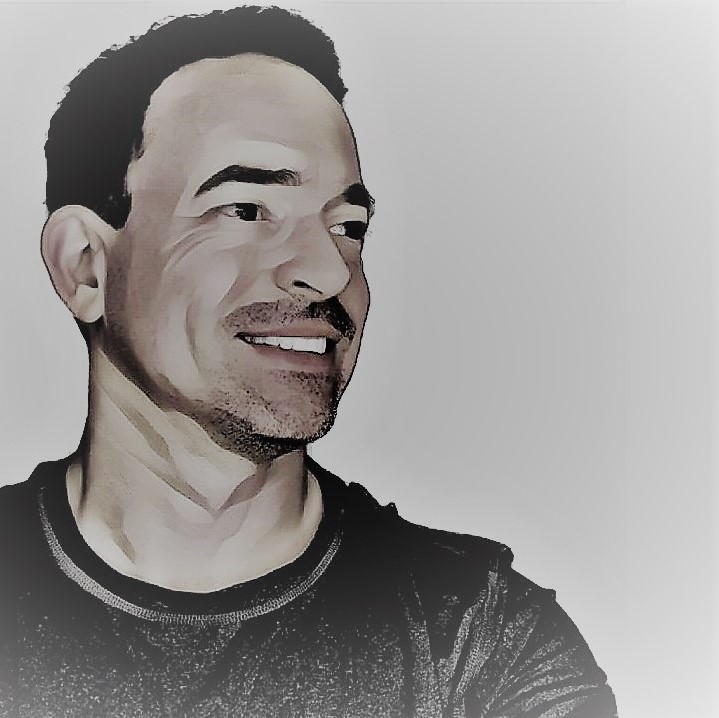 R.J. Bachman
Attic Capital – Writer, Editor, and Lifelong Collector
After many years of collecting rare coins, sports cards, and all types of collectibles, I began writing at Attic Capital to share my experience, knowledge, and passion.
I would love to connect with you, so don't hesitate to reach out and let me know more about your passion for collecting.