---
There are many different Frank Thomas rookie cards to consider adding to your collection. If you remember "The Big Hurt," you can probably imagine his White Sox uniform and the big smile he almost always had on his face.
If you're not familiar with Frank Thomas, it's about time you spend a few minutes learning about one of the most feared sluggers in all of baseball through the 1990s.
As a five-time All-Star, he is the only player in Major League history to have seven consecutive seasons with at least a .300 batting average, 100 runs batted in (RBI), 100 runs scored, 100 walks, and 20 home runs.
Frank Thomas was one of the greatest designated hitters to play the game.
Frank Thomas, The Big Hurt
The first thing you need to know about Frank Thomas is how he became known as 'The Big Hurt.'
Anyone who's 6 foot 5 inches tall and 275 pounds will deserve an intimidating nickname, but who started it?
The moniker is from White Sox announcer Ken "Hawk" Harrelson, a legend in the Chicago sports world.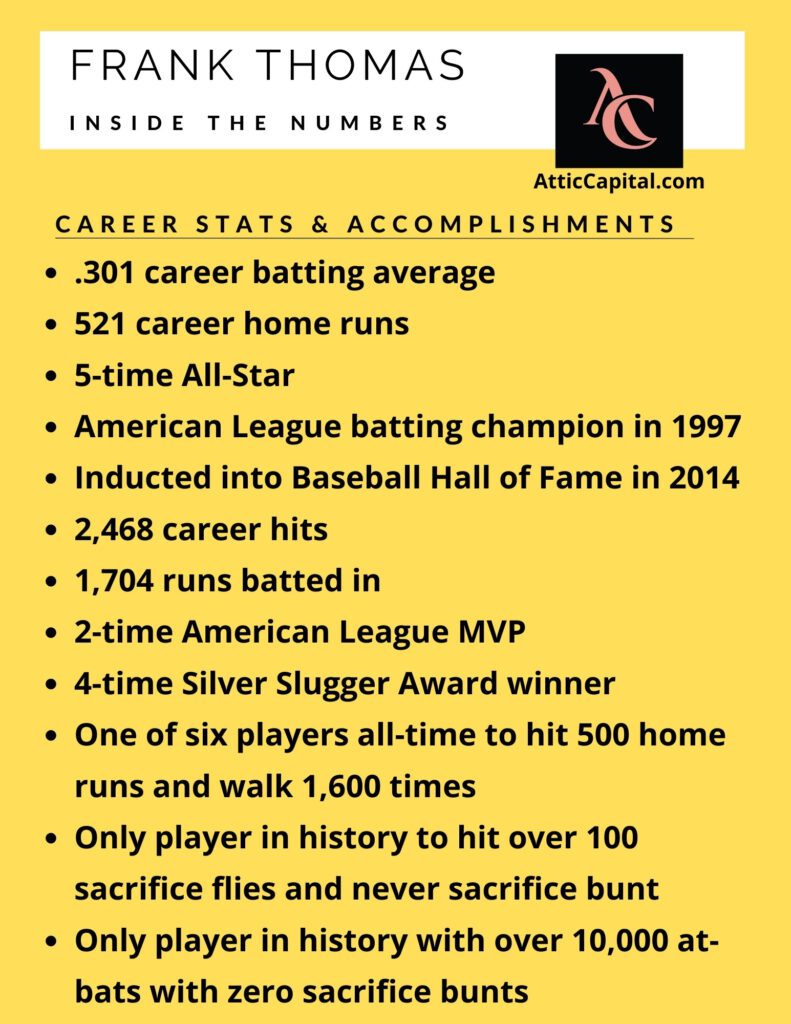 Harrelson used the moniker for Thomas because of the "hurt" he put on the baseball when he blasted it out of the ballpark.
The nickname stuck. Baseball fans instantly became familiar with The Big Hurt while watching ESPN highlights, showing the giant unleashing his mammoth swing while rocketing baseballs to all corners of the stadium.
Thomas would sell Big Hurt Beer, a Big Hurt video game, and baseball cards with The Big Hurt title.
---
Frank Thomas Rookie Cards
How much is a Frank Thomas rookie card worth? With so many to choose from, first, it's important to know the difference between the many Frank Thomas rookie cards.
You can see from the below graphic, the most valuable Frank Thomas rookie card is the 1990 Topps error card with no name on the front.
In PSA 10 graded condition, this card has sold for over $24,000.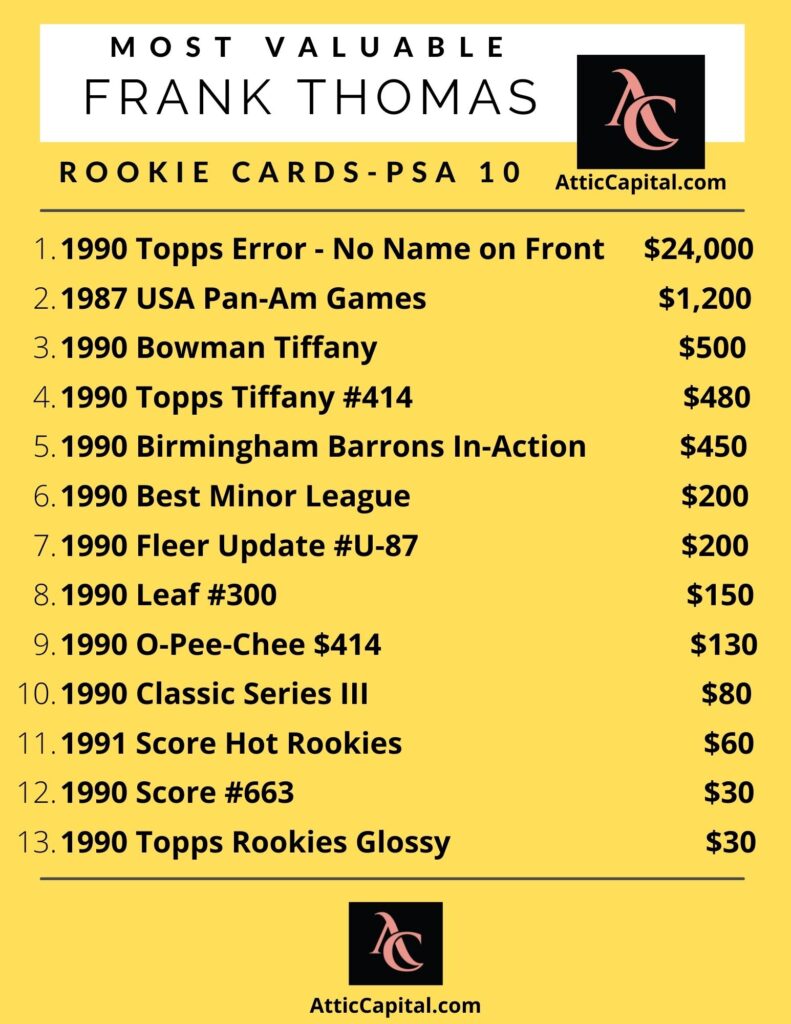 There are several other Frank Thomas rookie cards that every trading card collector should consider for their collection.
What are the best 1990 Frank Thomas cards? Let's take a look –
1990 Leaf Frank Thomas Rookie Card
The 1990 Leaf Frank Thomas card was a card that everyone was chasing back in the 90s.
The Leaf card features Thomas swinging at the ball and features colored photos on both the front and back.
The high-quality Leaf baseball cards were more expensive to purchase back then.
To this day, the price reflects this quality, with an estimated PSA 10 value of a few hundred dollars.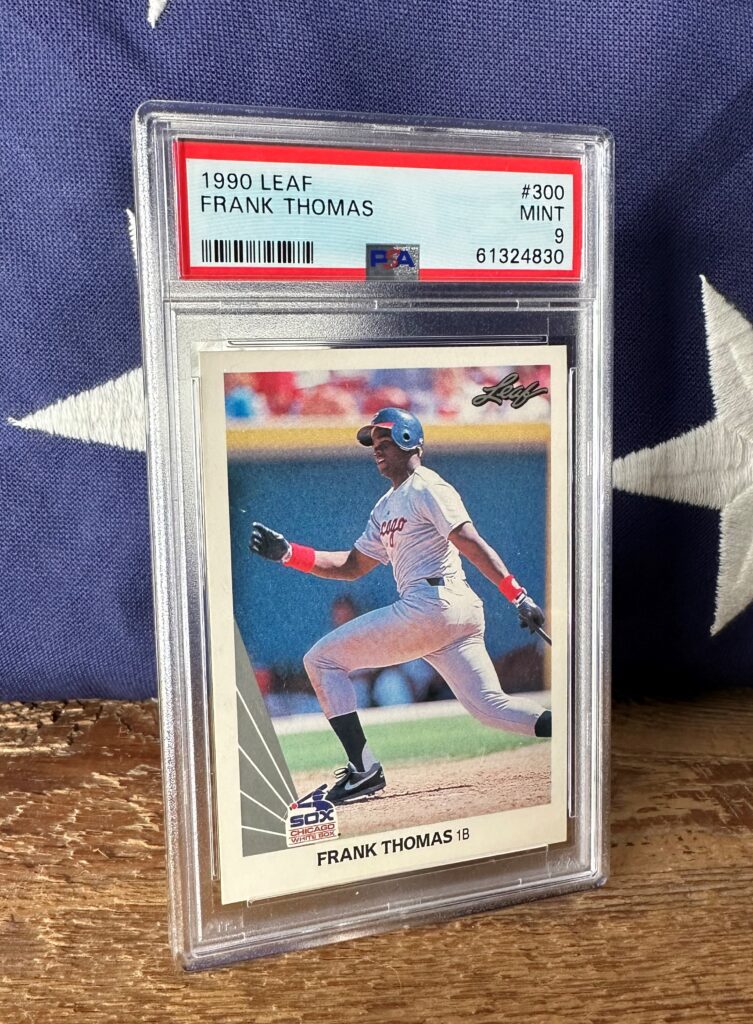 The Topps Tiffany version of the Frank Thomas card is in higher quality PSA 10 condition with white cardboard stock and a glossy finish.
The most recent eBay sale for this card with a Professional Sports Authenticator (PSA) 10 rating was for more than $2,000.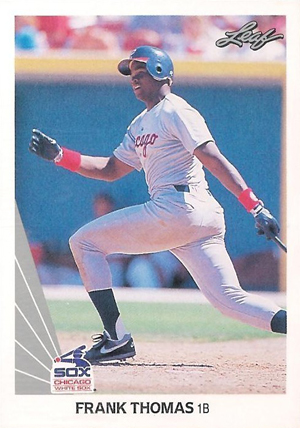 ---
1990 Topps Frank Thomas Error Rookie Card – No Name
The 1990 Topps Frank Thomas ERROR Rookie Card is incredibly rare and very valuable.
These cards have a printing error, with no name on the front of the card.
A Gem Mint PSA 10 card is valued at roughly $50,000.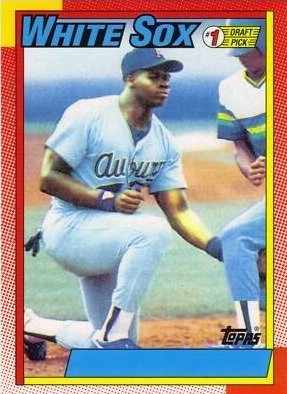 Another famous error on the same card is the loss of black ink above the nameplate.
With only six cards graded by PSA missing black ink, prices for the card have skyrocketed.
A few have been listed on eBay selling for tens of thousands of dollars.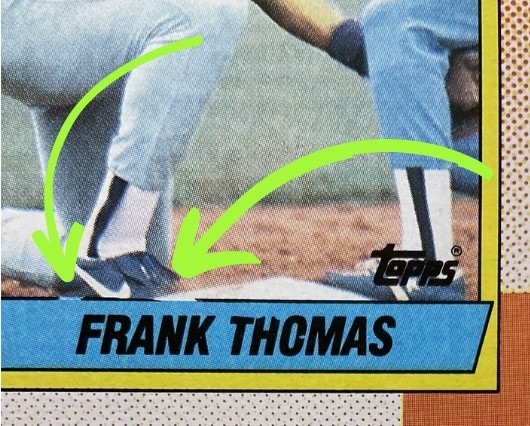 ---
1990 Topps Frank Thomas Rookie Card
The 1990 Topps Frank Thomas rookie card is one of my personal favorites, especially in PSA 10 condition.
There's also a 1990 Topps Tiffany rookie, which is much more valuable and tougher to find because of the lower production numbers.
Even in PSA 8 condition, the 1990 Frank Thomas Topps Tiffany rookie is valued at $200.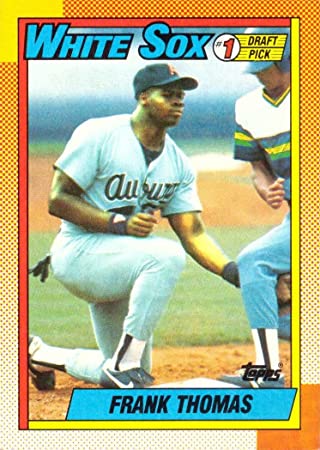 ---
1990 Bowman Frank Thomas Rookie Card
The 1990 Bowman #320 cards feature Thomas wearing a bright smile in his White Sox uniform.
The Bowman Tiffany cards are worth more than the regular versions, with one PSA 10 recently selling at $500.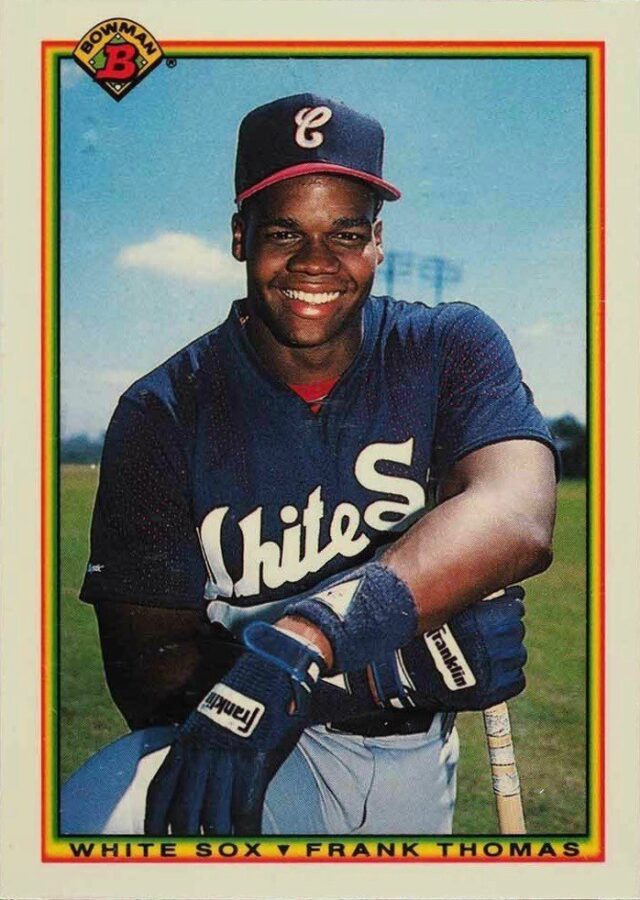 ---
Frank Thomas Rookie Cards for Collectors
Frank Thomas will go down in history as one of baseball's most feared and productive designated hitters in the history of the game.
His legacy will continue to increase the value of his baseball cards, making some of his rarer and higher-quality cards a great addition to any card collection.
1987 Pan-Am Team USA Blue Frank Thomas Rookie Card
You know classic sports cards when you see them. But it's the rarity that makes this Big Hurt rookie card great. There are only 14 PSA 10-graded cards.
The 1987 Pan-Am Team USA Blue Frank Thomas Rookie card is valued at $1,200 in PSA 10 condition.
Out of your budget? Drop down to a PSA 9 grade, and you can own this card for just $80.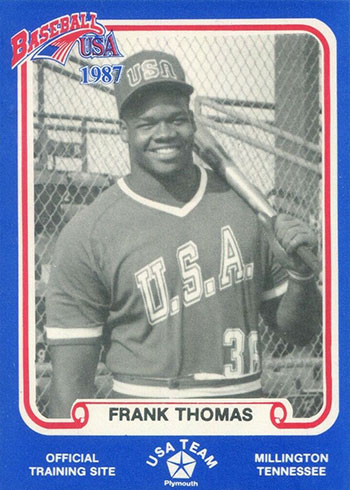 ---
1990 Best Frank Thomas Minor League Rookie Card #318
PSA reports zero PSA 10 cards from the 1990 Best minor league set.
You can find a PSA 9 card at eBay auctions for $20. eBay has also sold a BGS 9 Frank Thomas autograph card for $30.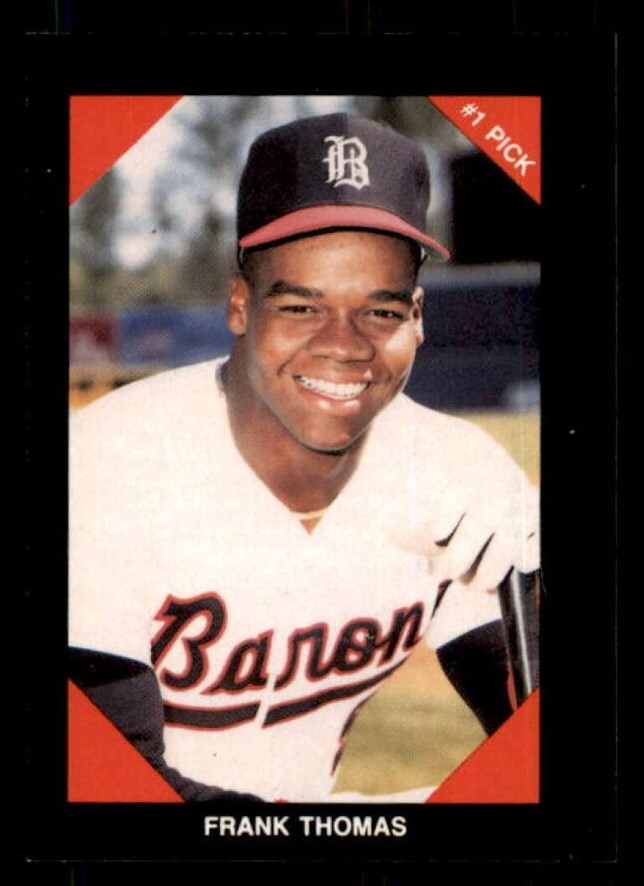 ---
1990 Score 1st Round Draft Pick Frank Thomas Rookie Card
This Frank Thomas 1990 Score rookie card sells for about $100 in PSA 10 graded condition.
Or, buy the entire 1990 Score factory set from Amazon for $30, and you might get lucky and get a mint condition Frank Thomas RC Rookie card inside.
Not only that, but you'll have a complete 704 card set.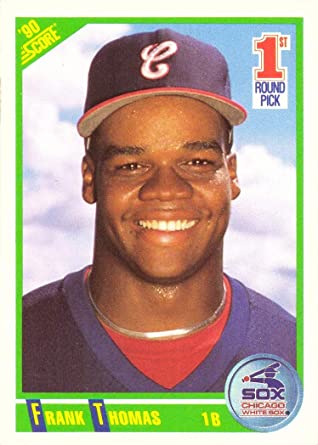 ---
1990 Birmingham Barons All-Star Minor League Rookie Card
The minor league Frank Thomas Birmingham Barons is valued at $30 in SGC 9 graded condition.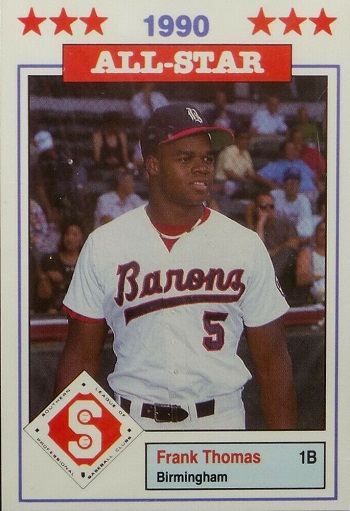 ---
1990 Birmingham Barons In-Action Rookie Card
There are only 2 Frank Thomas PSA 10 Birmingham Barons cards, and they are each worth $400. The PSA 9 card? Prices start at $30.
The card features a white border around the slugger in his Birmingham Barrons uniform with the Barrons logo on his cap.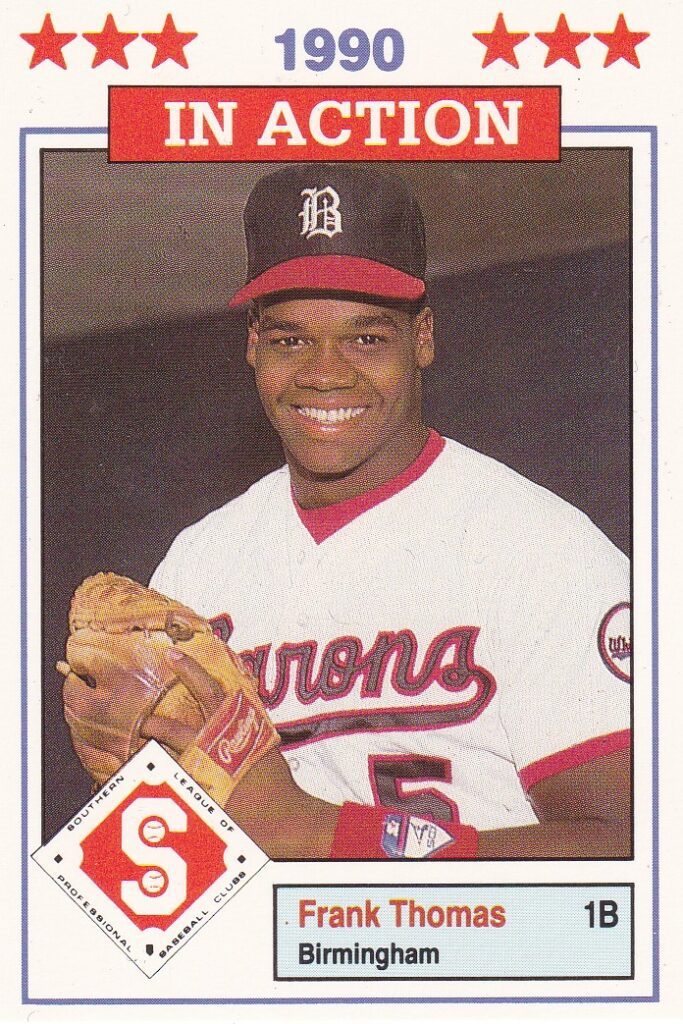 ---
1990 Topps Rookies Glossy Frank Thomas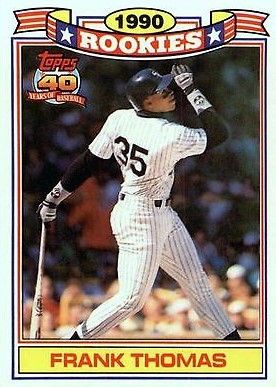 1990 Classic Series III Frank Thomas Rookie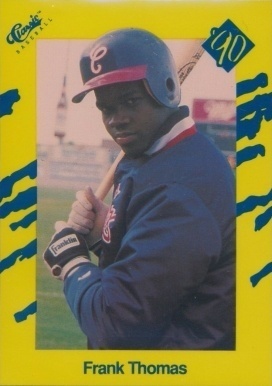 1990 Fleer Update #U-87 Frank Thomas Chicago White Sox Rookie Card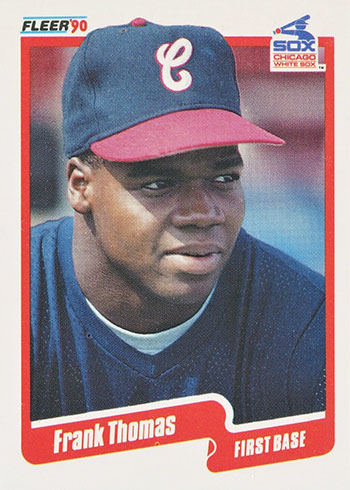 1990 O-Pee-Chee Frank Thomas #414 Rookie Card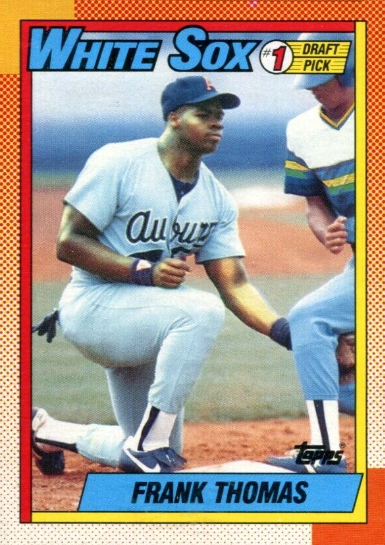 1990 Score Frank Thomas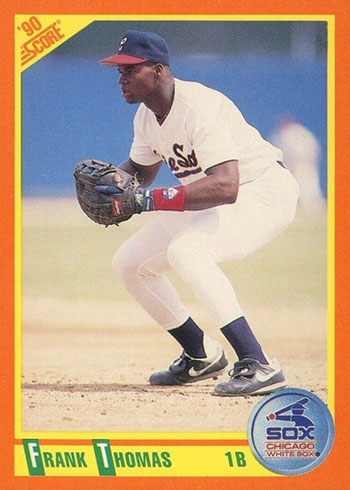 1990 Coke Top Prospect Frank Thomas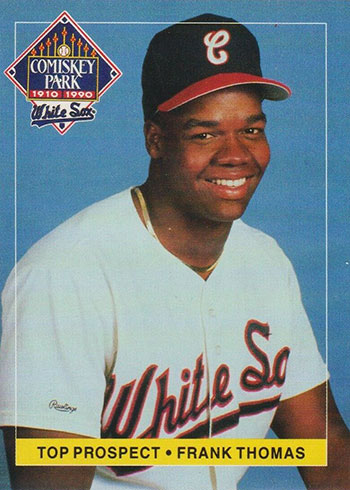 1991 Upper Deck Frank Thomas #246 RC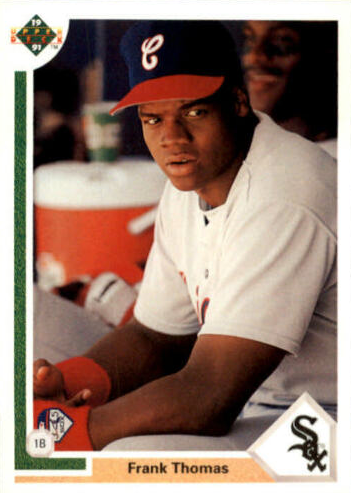 1991 Score Hot Rookie Frank Thomas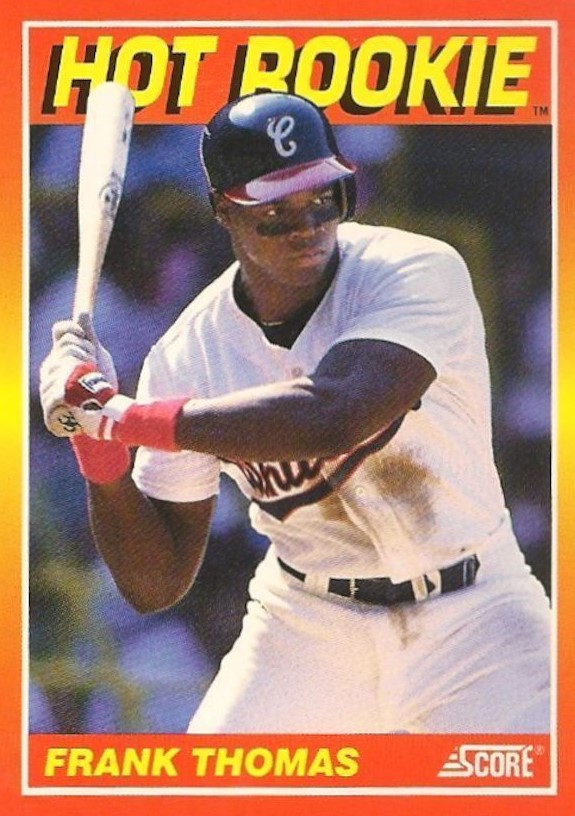 1991 Toys-R-Us Rookies Frank Thomas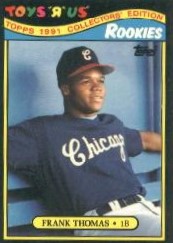 1992 Donruss Elite Series Frank Thomas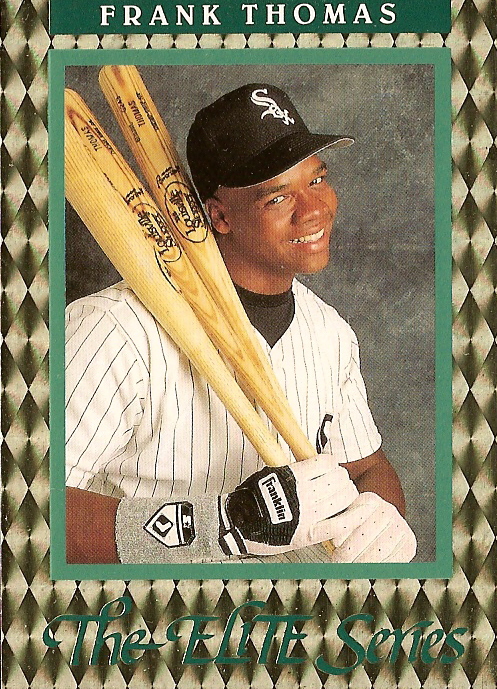 1992 Fleer Rookie Sensations Frank Thomas RC HOF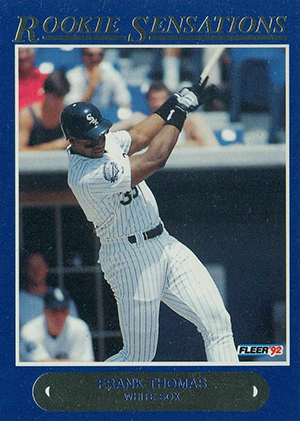 1990 ProCard Birmingham Barons Frank Thomas Rookie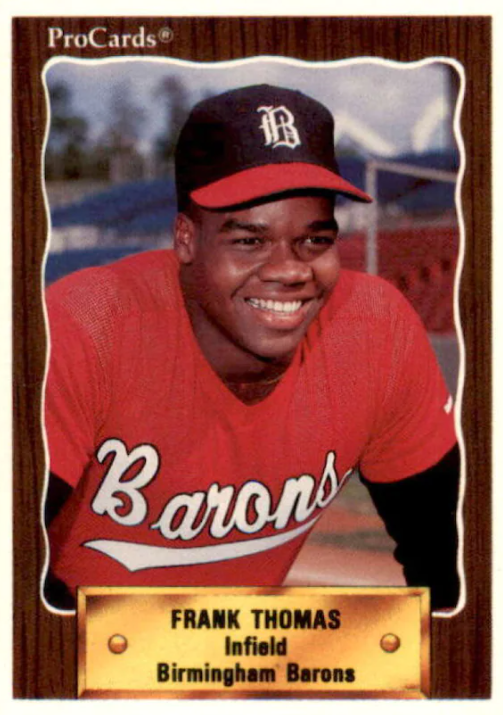 ---
A Few Other Great Frank Thomas Cards
Of course, we have the Topps #1 Draft Pick rookie card, but there are so many other great Frank Thomas cards out there.
Here are just a few of my all-time favorites. Make me an offer if you see one you like!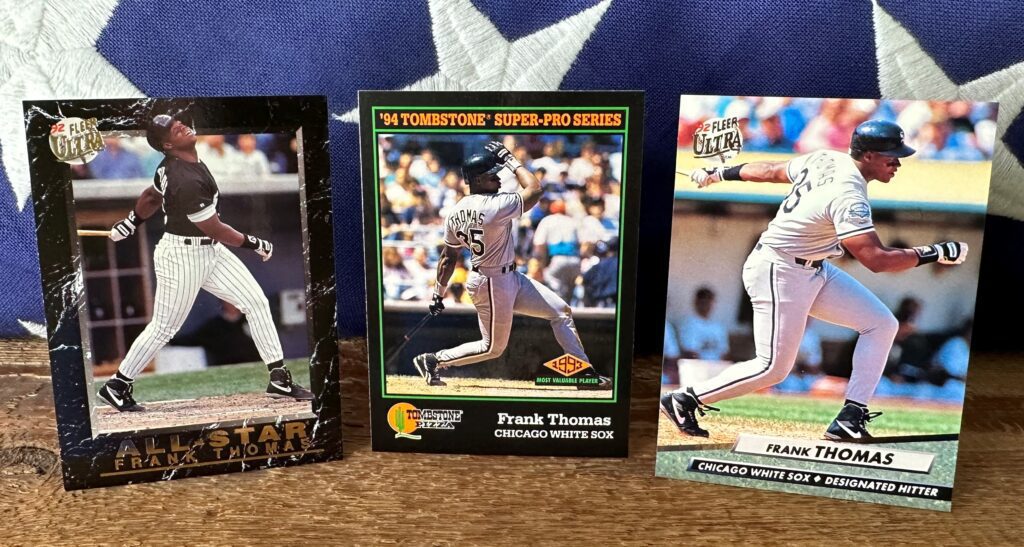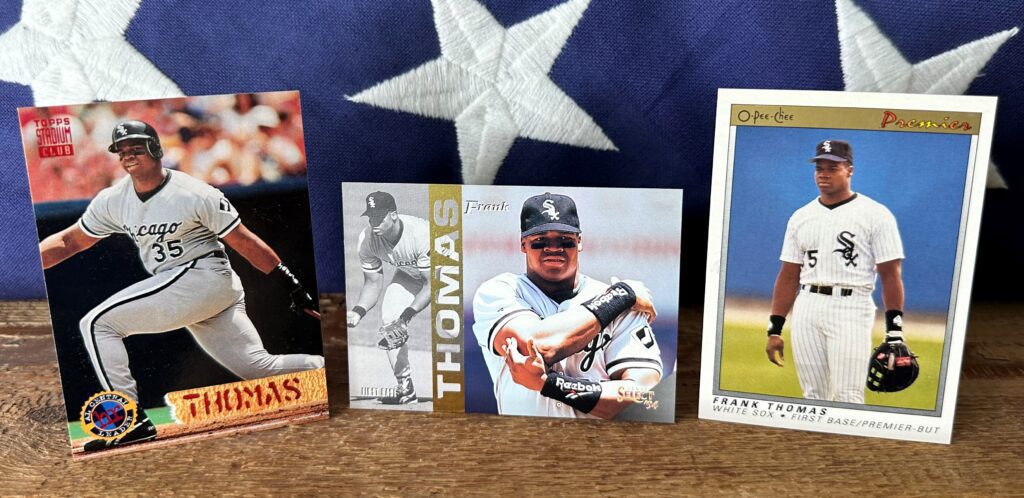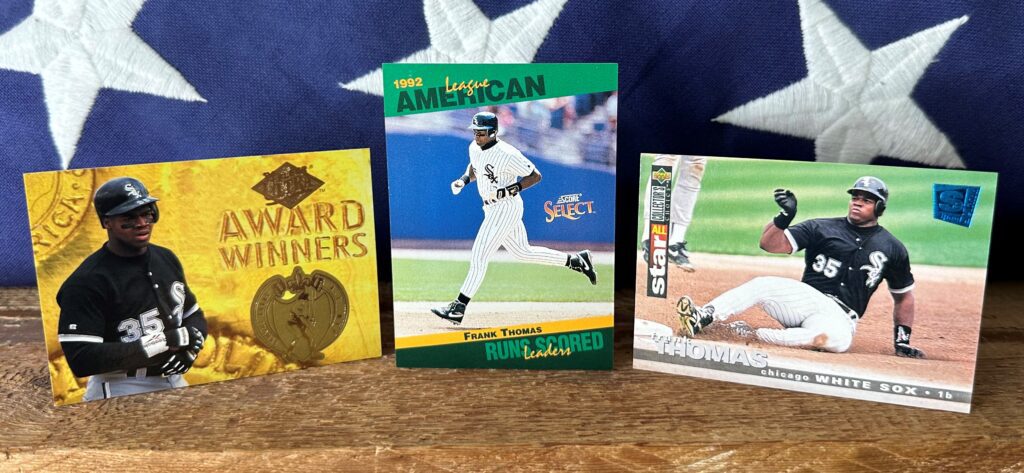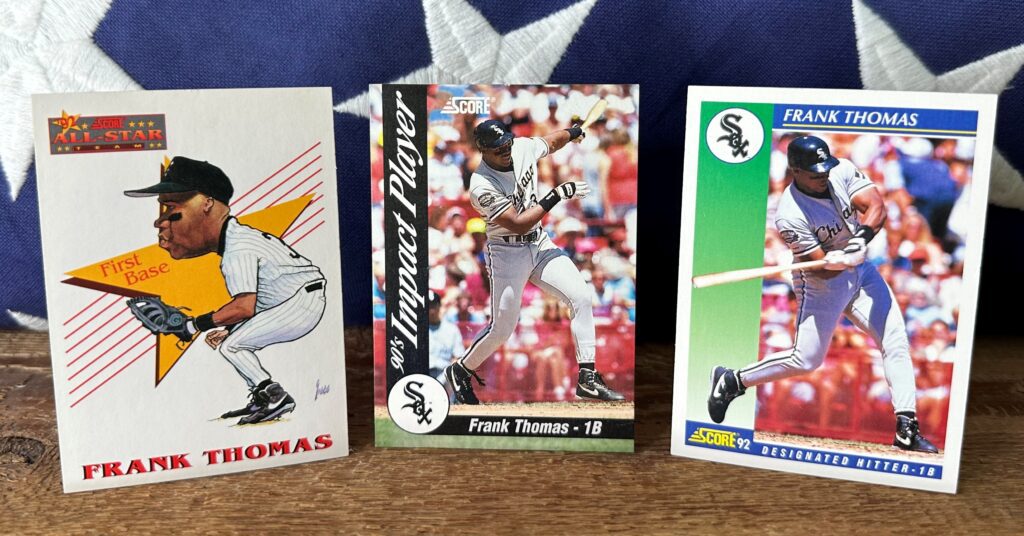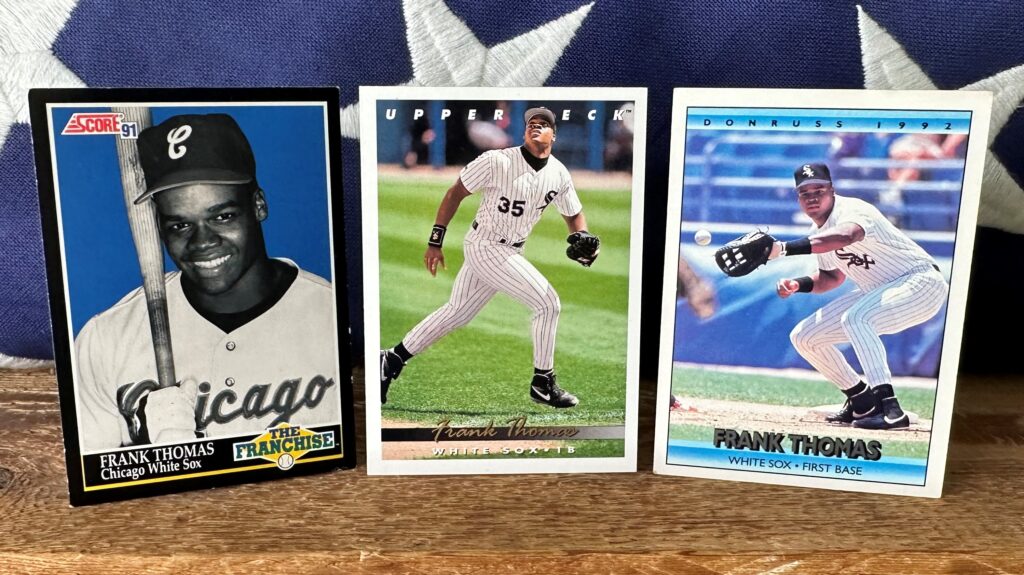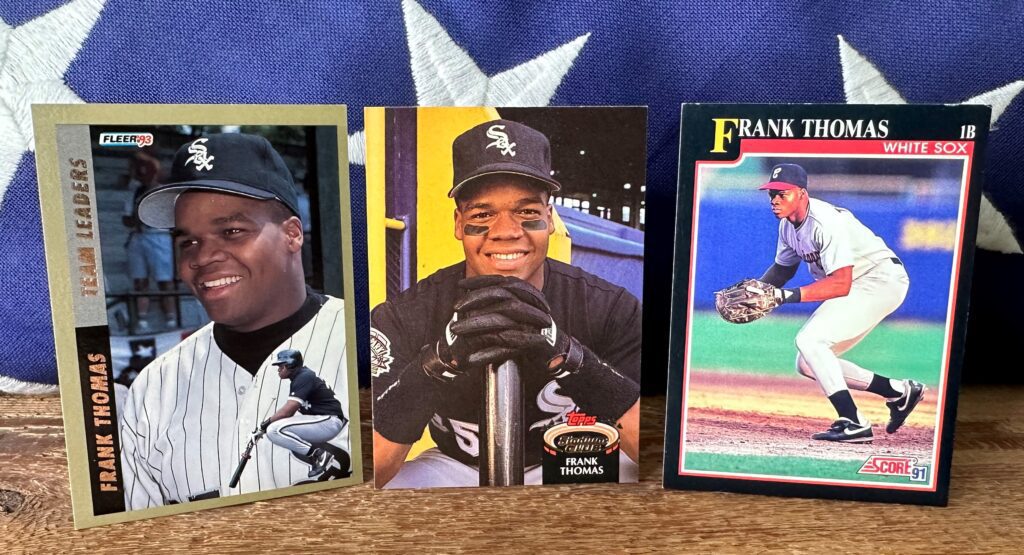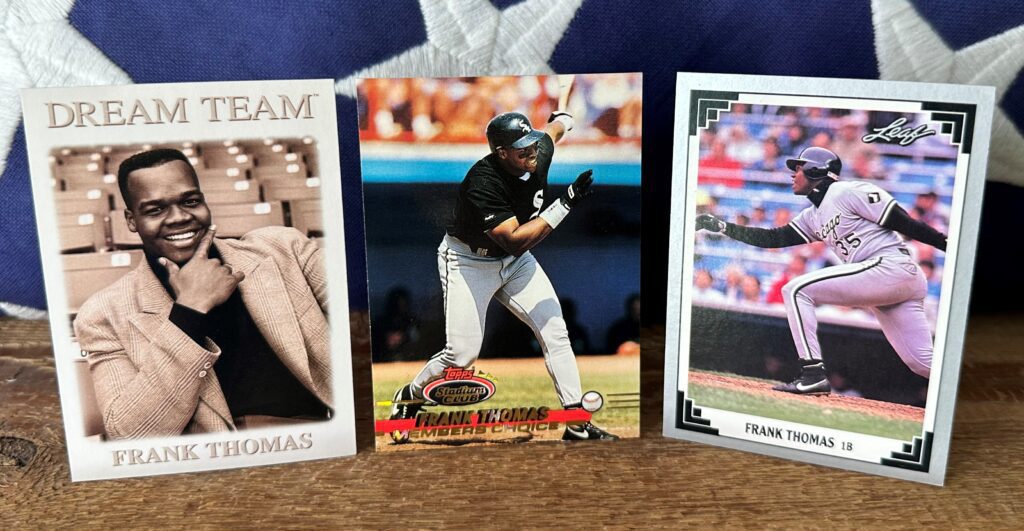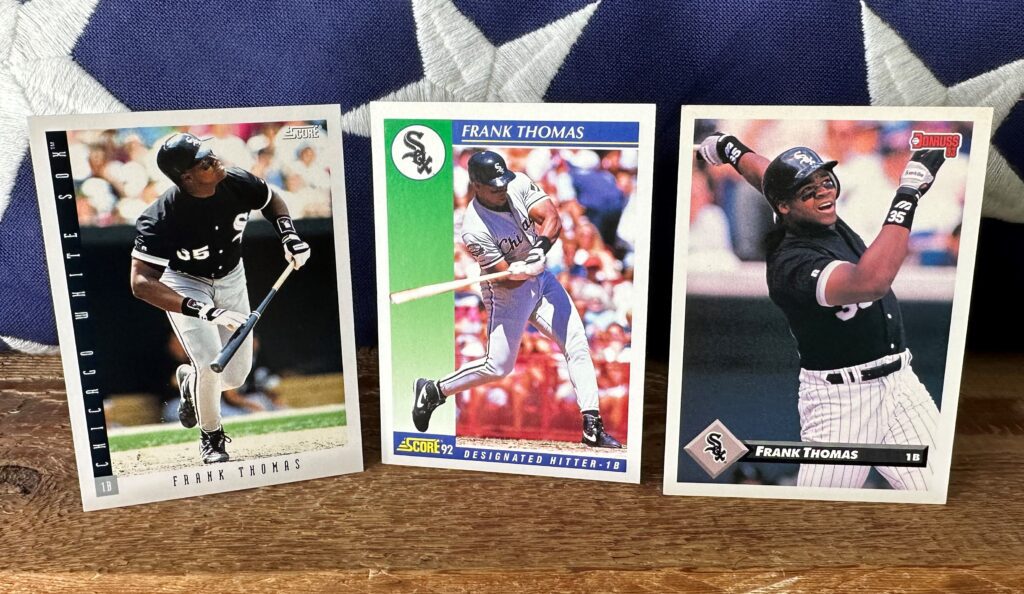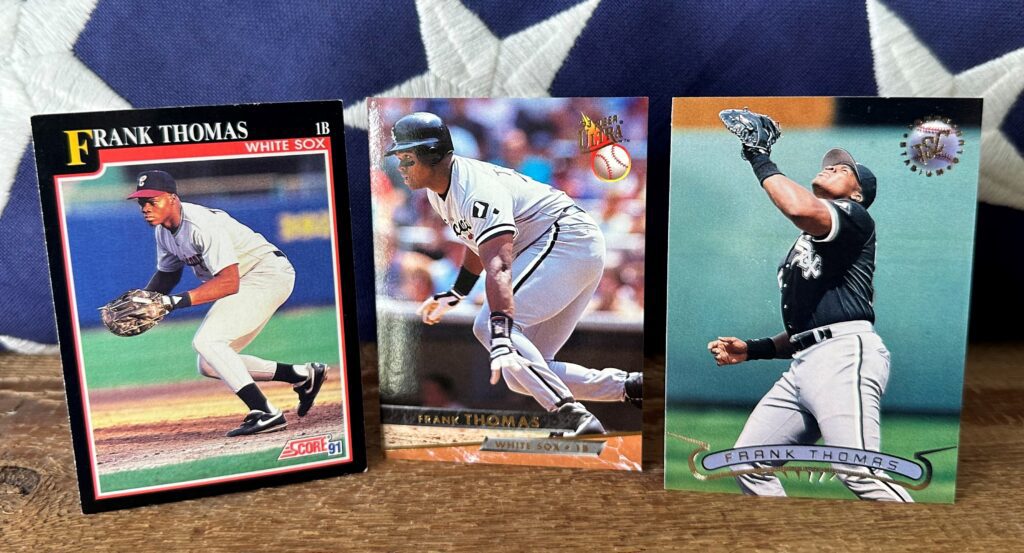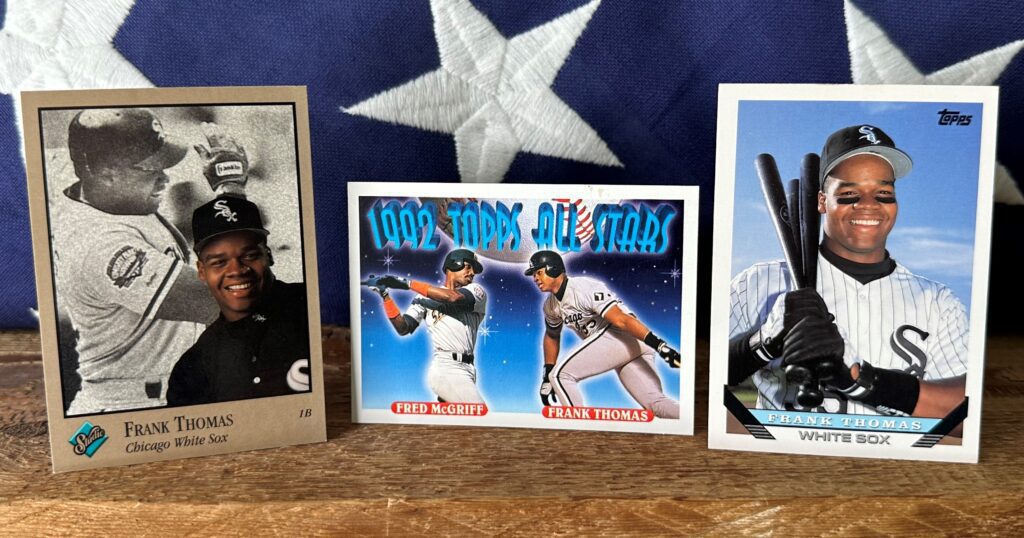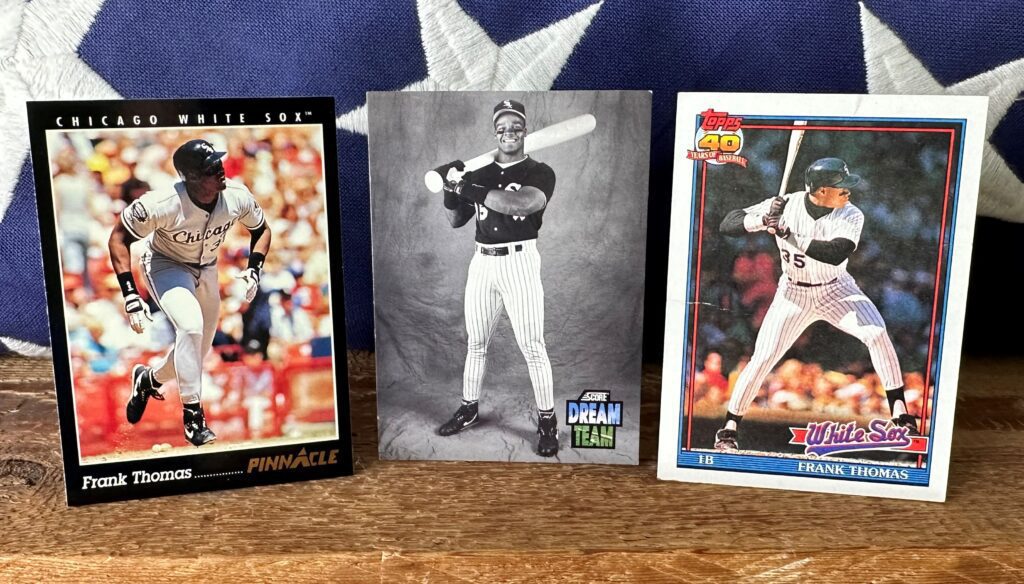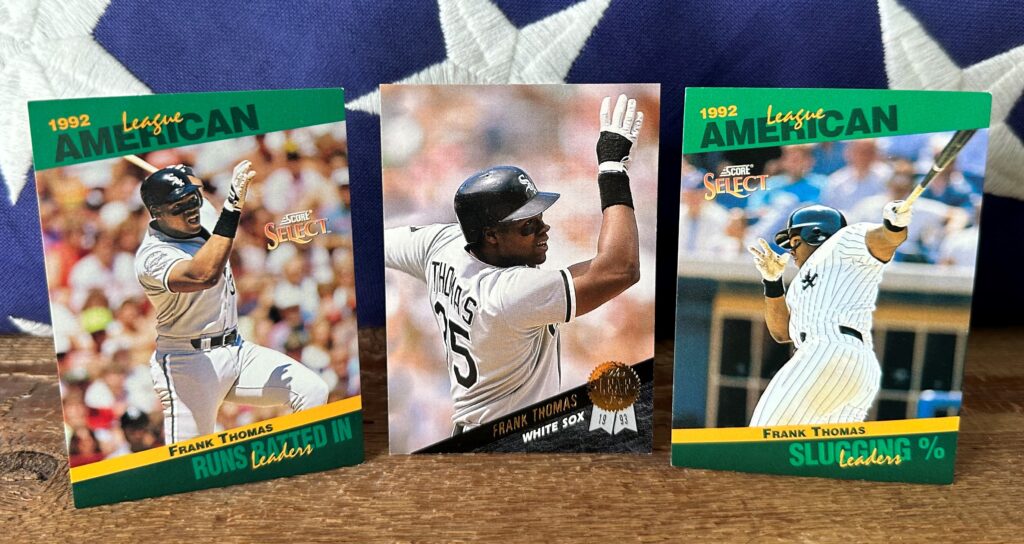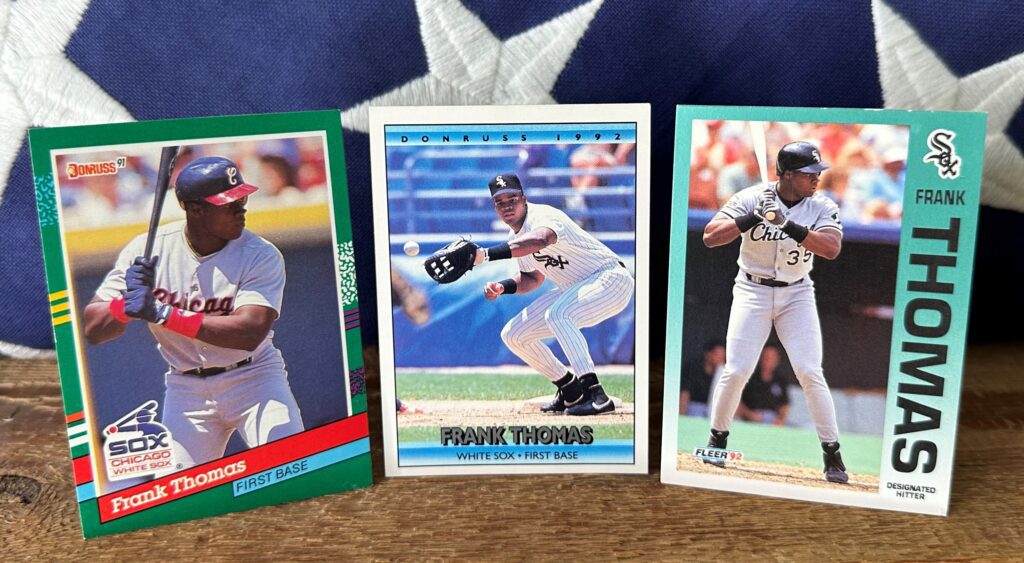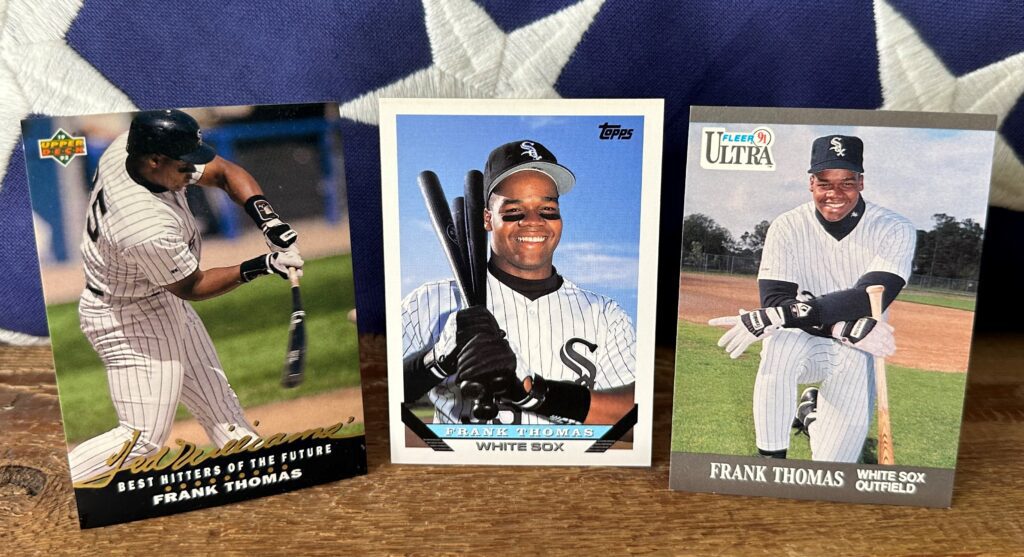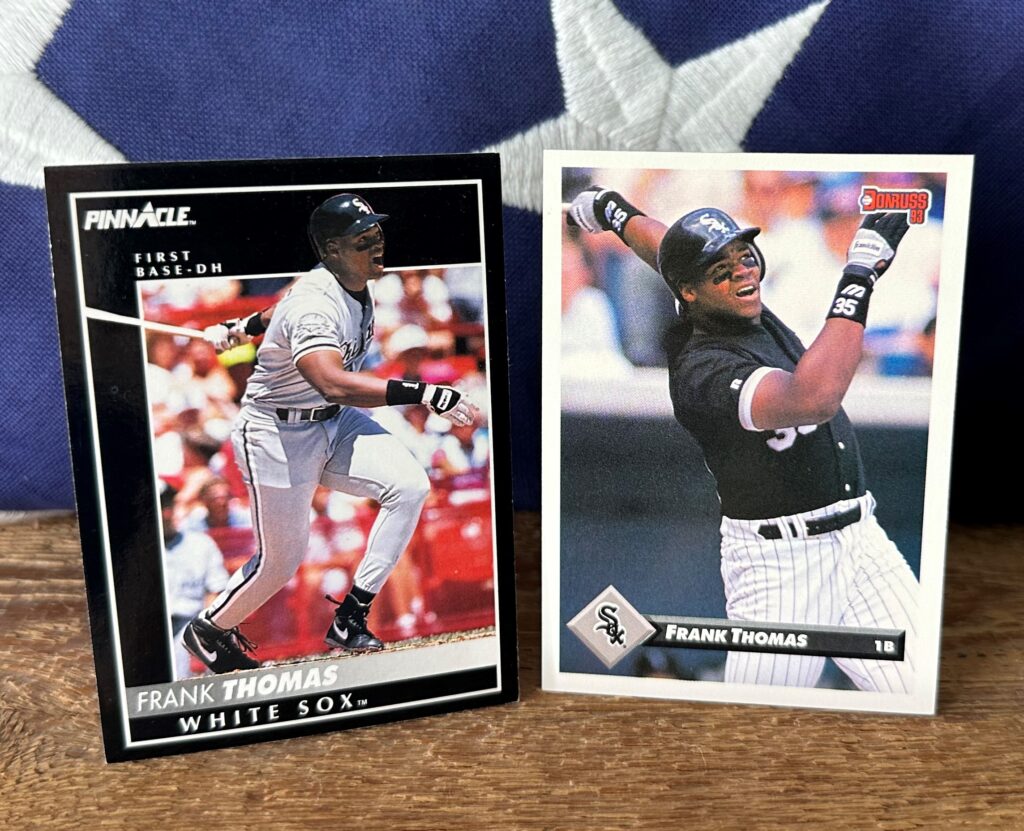 ---
1992 Fleer Timebomb Frank Thomas #712 White Sox HOF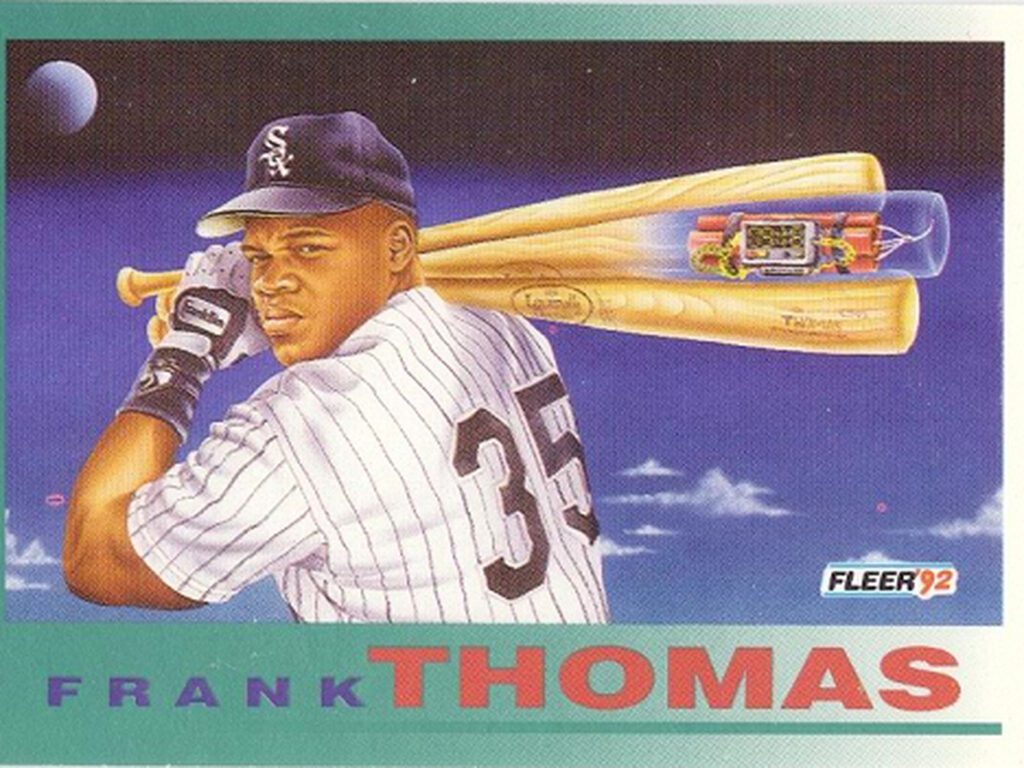 1994 Topps Traded Finest Update Insert Frank Thomas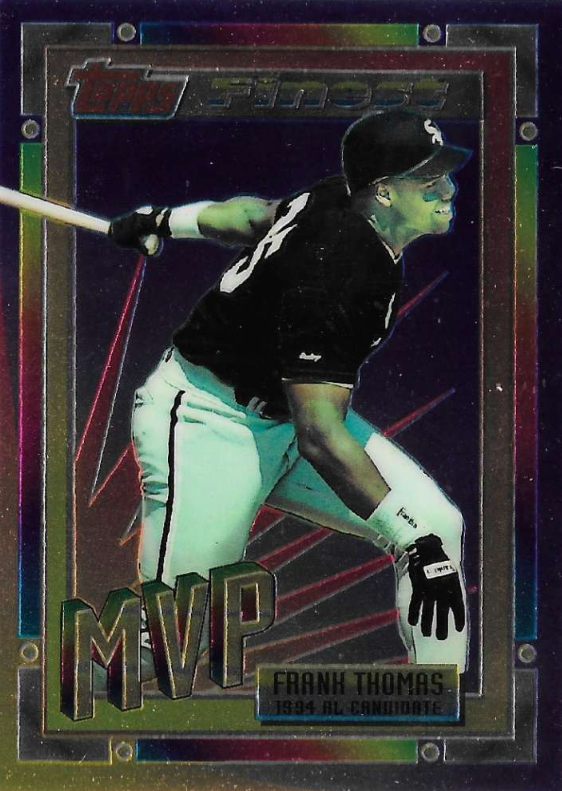 Frank Thomas Topps Project 2020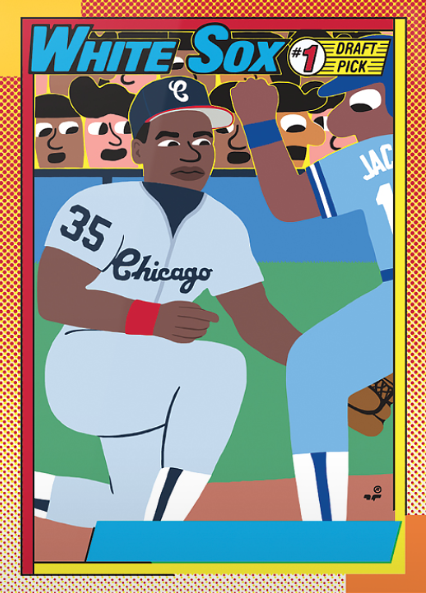 2020 Panini Frank Thomas Diamond Kings #46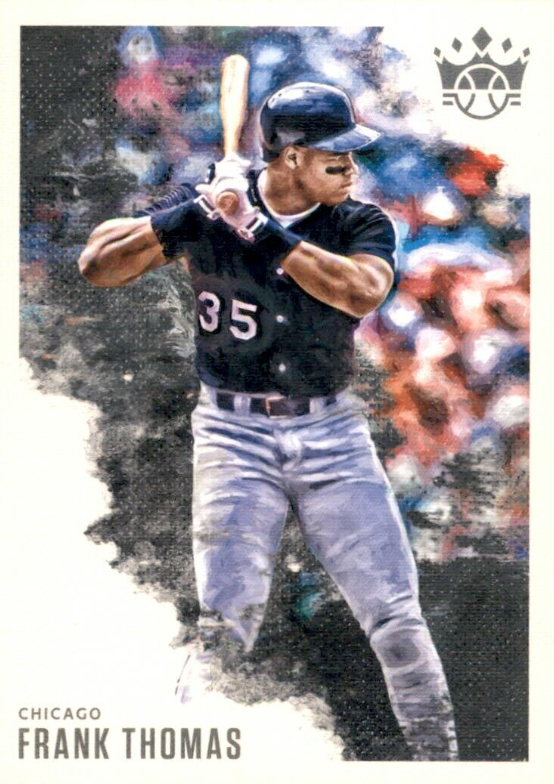 2021 Topps Archives Frank Thomas #10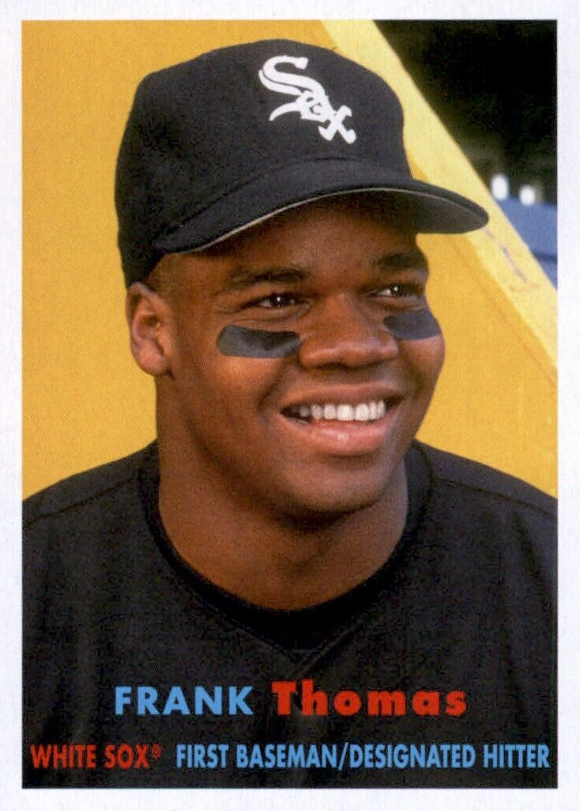 The Young Frank Thomas
Thomas was born and raised in Columbus, Georgia, and attended Columbus High School. He would be a multi-sport standout athlete in football and baseball.
In baseball, his team won the State Championship during his sophomore year while he racked up a .440 batting average. In football, he was named an All-State tight end.
While he wanted to play professional baseball, he was undrafted his first year and eligible for the 1986 amateur draft.
Instead, he accepted a scholarship in 1986 to play football at Auburn University. His love of baseball drew him to the school's baseball team.
In 1987, he played for the U.S. Pan American Team and even earned a spot on the final roster for the Pan American Games.
From Football to Baseball
However, the dates coincided with the beginning of football practice, so he returned to Auburn, only to be injured in an early-season game.
These injuries could have jeopardized his football scholarship. However, Auburn decided to continue his scholarship, and baseball became his only sport.
In 1988, he tried out for the U.S. National Team for the 1988 Summer Olympics but was cut from the final team.
Thomas concluded his college career with a school-record 49 home runs and Southeastern Conference MVP honors.
Frank Thomas MLB Career
Frank Thomas was drafted seventh overall by the Chicago White Sox in the first round of the 1989 MLB draft.
And by the first time The Big Hurt stepped in the batter's box, he was an unmistakable menace to opposing pitchers.
By the early 90s, he would become known as an incredible hitter, especially his home run power.
In 1991, Thomas won a Silver Slugger award and led the league in on-base percentage, which he would do four times during his career.
In 1993, Thomas batted .317 with 41 homers and 128 RBI, 106 runs, and 112 walks.
Now, a baseball superstar, he became the 5th person in baseball history to hit over .300 with more than 20 homers and 100 RBI, runs, and walks in three straight seasons.
Super Stardom and MVP Seasons
From 1991 to 1997, Thomas was top 10 in MVP voting every year. In 1997, Thomas won the batting title and finished third in MVP voting.
However, by the late 90s, minor injuries kept him out of the lineup for short periods.
In 2000, Thomas rebounded, hitting a .328 with a career-high 43 homers and 143 runs batted in.
He finished second in MVP voting and won the 2000 American League Comeback Player of the Year Award.
Thomas ranked among Chicago's most popular athletes behind Michael Jordan and Walter Payton. His collectible memorabilia within the sports card hobby was in big demand.
In 2001, Thomas announced that he would undergo surgery to repair a triceps tear in his right arm. While he had a successful recovery, he would never again approach a .300 batting average.
But his power and ability to get on base would be the tools he used on the field.
Thomas led the American League in walks four times, and in 2006, he was second among all players in walks and third in on-base percentage.
Late Career and Retirement
Thomas set multiple White Sox batting records, but despite his offense and fan base, the White Sox elected to release Thomas in 2005.
He would continue to play for multiple teams, including the Oakland A's and the Toronto Blue Jays.
Thomas announced his retirement in 2010 and was elected to the National Baseball Hall of Fame in 2014.
He was the first Hall of Famer who played more games as a designated hitter than a position player.
His career ended as a 1st ballot Hall of Famer receiving 83% of the eligible HOF votes.
The Big Business Man
Currently, Frank Thomas is an entrepreneur, serving as CEO and Founder of W2W Records in Las Vegas, Nevada, and co-founded Liger Enterprises.
Thomas has also recently secured rights to the Field of Dreams movie site in Dyersville, Iowa.
Along with a group of investors, Thomas purchased a controlling interest in "All-Star Ballpark Heaven," where the group plans to continue hosting Major League Baseball games on the site of the famous movie.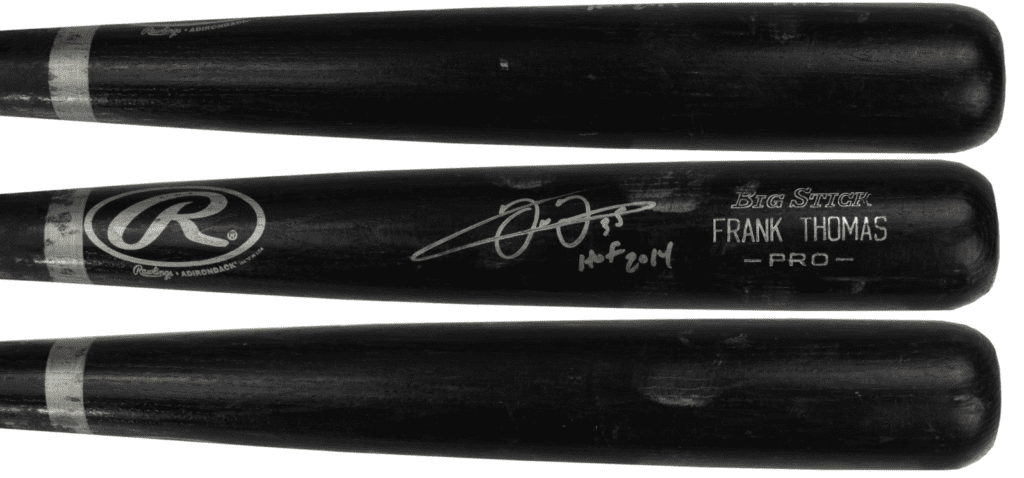 Frank Thomas game used autographed memorabilia sells for thousands of dollars. This PSA, DNA certified autographed game-used bat is something any baseball fan would appreciate.
---
Card Collectors –> Looking to Sell Baseball Cards? Here's How (and Where) To Do It
I need to find a local sports card shop, help me!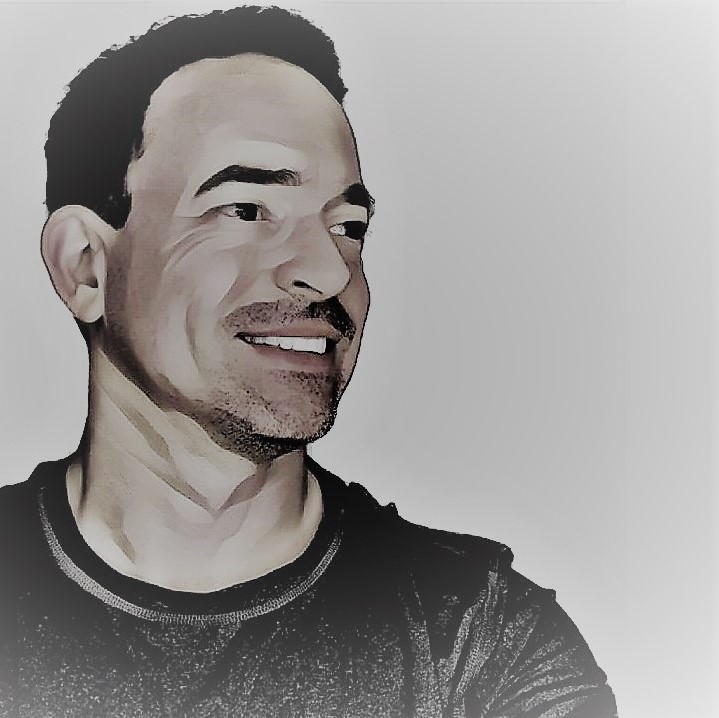 R.J. Bachman
Attic Capital – Writer, Editor, and Lifelong Collector
After many years of collecting rare coins, sports cards, and all types of collectibles, I began writing at Attic Capital to share my experience, knowledge, and passion.
I would love to connect with you, so don't hesitate to reach out and let me know more about your passion for collecting.