---
It can be a challenge to explain to some people why a football card is worth four million dollars. They just don't understand the attraction of a tiny piece of cardboard.
But football card collectors understand that big money is on the line, and the most valuable football cards have never been in more demand as they are today.
The Most Valuable Football Cards of All Time
Some of the most expensive, most sought-after football cards are modern cards. Tom Brady cards have sold for millions. Special edition "one-of-one" cards with the player autograph and game-used jersey embedded right into the card.
But many of the most valuable football cards of all time are the vintage, old-school Topps cards from decades ago.
Now just because you have the card doesn't mean you have a lottery ticket you can exchange for a fortune. They must be in perfect PSA 10 graded condition to be worth big money.
Vintage Football Cards
Vintage football cards carry enormous sentimental value to those who collected and traded them as kids. Some are valued higher than a luxury car or even the house you live in.
Future price appreciation might be stronger for vintage expensive football cards than real estate. Consider these ten great football cards to add to your collection.
Top 10 List of Most Valuable Football Cards
2017 National Treasures Pat Mahomes Autograph – $4.3 Million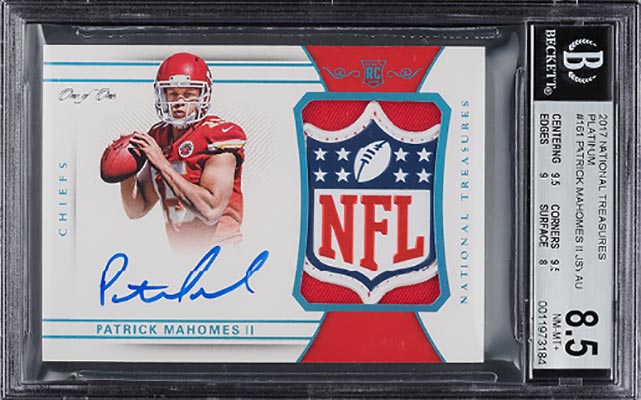 Here it is. The one-of-one Pat Mahomes card that smashed the record for highest sale price for a football card.
The record breaking card is a Beckett (BGS) 8.5 grade that sold at a PWCC Marketplace aution in 2021.
Is the card still worth the record $4.1 million today? Great question. After the boom in record sales over the last few years, I wouldn't be surprised if this card sold for less than four million at an auction today.
2000 Playoff Contenders Tom Brady Autograph/Ticket – $3.1 Million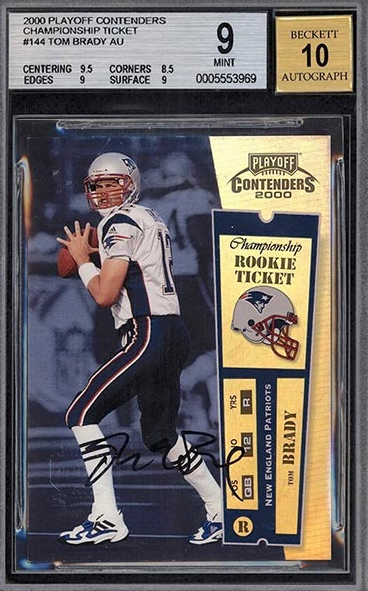 Not long before the 2017 Mahomes National Treasures signature record sale was recorded, the Tom Brady 2000 Contenders card held the record for most valuable football card of all time.
The 2021 Leland's auction was the third time the card set a record for highest sale price in the same year.
The BGS 9 graded card holds the record for most valuable Tom Brady , the other two cards were a BGS 8.5, and BGS 8 grade.
1965 Topps Joe Namath Football Card – $264,000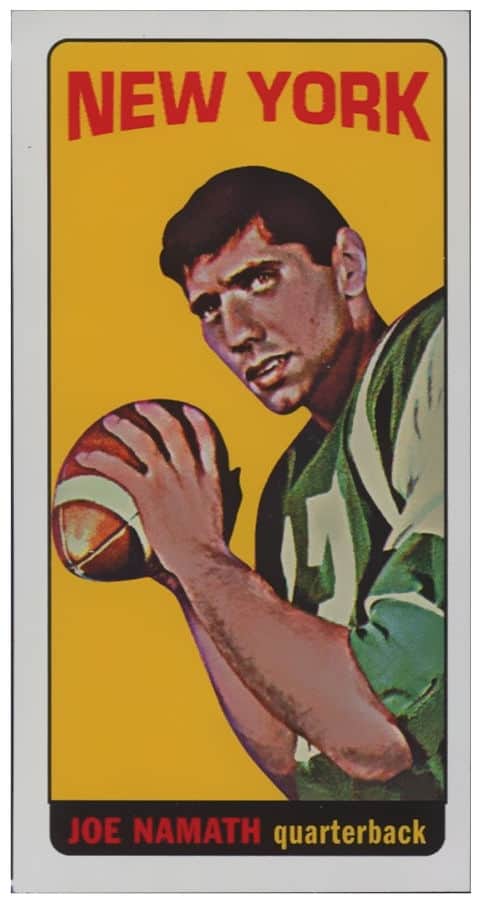 One of my favorite football cards is the 1965 Topps Joe Namath rookie card. Recent sales include a PSA 9 graded card for over $260,000 in 2018.
Topps designed the 1965 football cards with a tall 4 11/16″ height and a 2 1/2″ width.
On the backside, there's a cartoon with comments referencing Namath's performance during the 1965 Orange Bowl while he played for the Alabama Crimson Tide.
Broadway Joe
Broadway Joe made the guarantee heard around the world that his New York Jets would defeat the Colts in Super Bowl III.
Namath is considered one of the all-time greats ever to play the game and one of the most popular players in history.
A common issue with finding a good condition Joe Namath rookie card is the size. The "tall boy" sizing meant kids were more likely to dent the corners and edges of the card.
Rare Card in Great Condition
It's also challenging to find a Namath card with decent centering.
A common issue for many old sports cards is the centering, which was not focused on during card production back in the day.
There's a wide range of recent sales for the card. In March of last year, a PSA 8-rated card went for $36,000. Another PSA 8 Topps rookie card sold for $23,800 just a month later.
Lower-quality examples have sold for anywhere from $2,000 to $7,000.
1935 National Chicle Bronko Nagurski Football Rookie Card – $750,000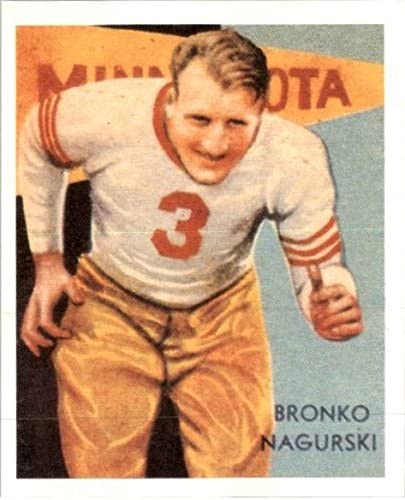 The 1935 Bronko Nagurski card is one of the most valuable football cards out there. It's nearly impossible to find a card in good condition.
The Chicago Bears fullback also won several World Heavyweight Championships as a professional wrestler.
There are zero PSA 10-rated cards and only one PSA 9. The PSA 9 Bronko Nagurski has an estimated value of $750,000.
Other recent auction sales saw a few PSA 6 cards sell from $10,000 to 30,000 over the last few years. The most recent purchase was a PSA 4, selling for $11,400.
The Hall of Famer
Bronko was a charter member of the NFL Pro Football Hall of Fame in 1963. One of the toughest players of his day.
One opposing player, Steve Owen, of the New York Giants, once said about Bronko, "The only way to stop Nagurski is to shoot him before he leaves the dressing room."
Bronko would win two NFL championships in his career and go down as one of the greatest players ever.
1957 Topps Johnny Unitas Rookie Card – $92,000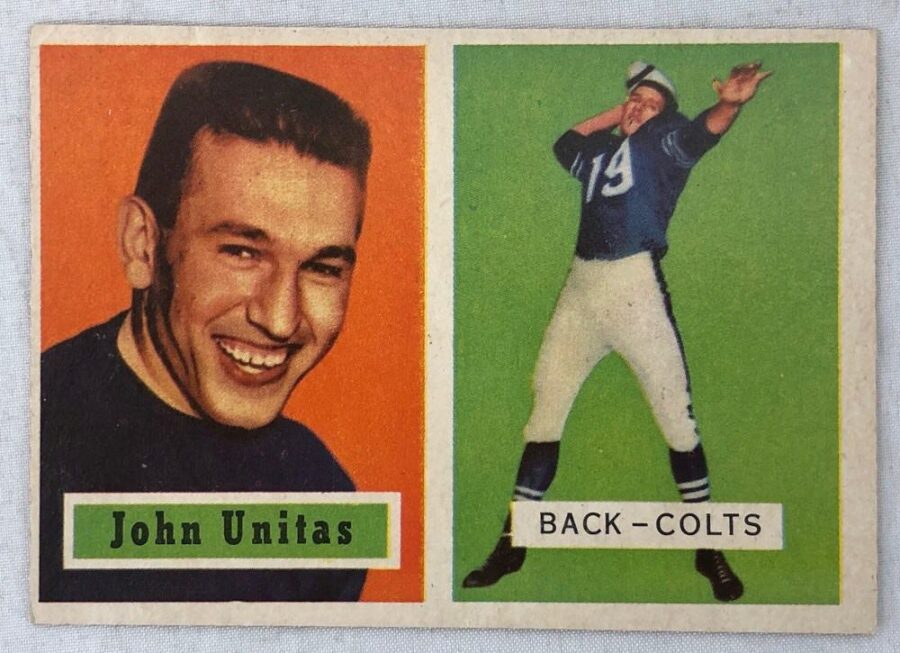 The Pittsburgh Steelers cut Johnny Unitas in 1955. Luckily he was given a second chance with the Baltimore Colts the following year, and the rest is history.
Over his incredible career, he would own almost every record kept for a quarterback. He was MVP three times and selected to the pro bowl ten times.
One of the Best QBs Ever
In 1979 he was inducted into the Hall of Fame as one of the greatest quarterbacks ever to play the game.
As with many great football cards, the 1957 Topps Johnny Unitas is extremely rare in good condition. Values have skyrocketed for the PSA 9 cards with only eight known examples.
A Heritage Auctions sale in late 2018 saw the PSA 9 sale price of $92,000. There are no confirmed PSA 10 cards as of yet.
A few PSA 8.5 cards changed hands recently for anywhere between $18,000 to $26,000.
1958 Topps Jim Brown – $336,000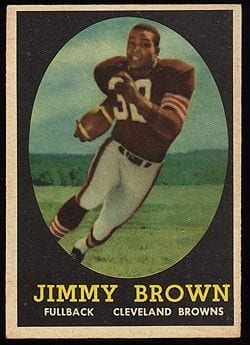 The Jim Brown rookie card is another one of my personal favorites. The front layout of the card is clean and well proportioned.
One of the greatest running backs and pure athletes in NFL history, Jim Brown was selected to the Pro Bowl every year he played.
Over those nine seasons, he averaged 5.2 yards per carry which is still a record today. He was inducted into the Hall of Fame in 1971.
A Hall of Fame Career
Jim Brown became the NFL's all-time leading rusher after only nine seasons with 12,312 yards. Brown was trying his hand in the acting world leading up to the 1966 season.
The movie he was filming at the time, "The Dirty Dozen," caused him to miss the beginning of his team's training camp.
Team owner of the Cleveland Browns, Art Modell, decided to fine Brown $1,000 for every day Brown was late joining the team in training camp. Jim Brown decided to retire rather than pay the fine so he could continue his movie commitments.
In 2017 a PSA 9 Jim Brown rookie card sold for $336,000 at a Heritage Auction. There are only five known examples of the PSA 9 card.
1976 Topps Walter Payton Rookie Card – $228,000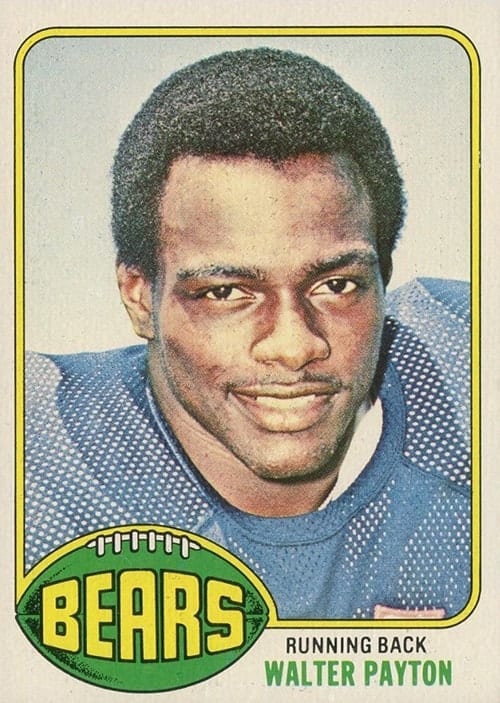 After 13 years as a running back in the NFL with the Chicago Bears, Walter Payton finished with 16,726 yards making him the all-time leading rusher.
Two-time league MVP, nine-time Pro Bowl selection, and hall of fame inductee in 1993. One of the most incredible stats in the history of the sport, in my opinion, is that Walter Payton only missed one game in his entire career.
The Amazing Streak
The missed game occurred in his rookie season. After that, he played in 186 consecutive games. A streak that might never be broken for the running back position, or any other position, for that matter.
Values for the PSA 10 card are in the $50,000 range. Recently, a PSA 6.5 sold for $6,500. There's a much higher quantity of Walter Payton rookie cards out there relative to some of the 1950s and 60's rookie cards.
This fact will hold down the value of the lower-rated Payton cards to just a few hundred dollars. Nonetheless, it's still one of my favorite cards.
Anyone who remembers watching Walter Payton play will know why.
1957 Topps Bart Starr – $288,000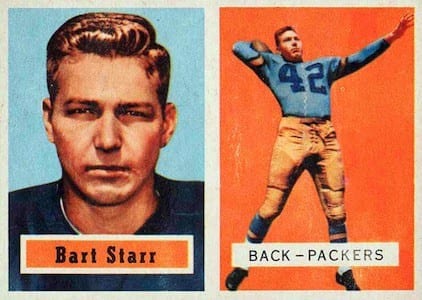 Bart Starr is one of the most popular Green Bay Packers ever. He led his team to two championships and won MVP awards in Super Bowls one and two.
Star moved into coaching after his career, then selected into the football hall of fame in 1977.
There are only three cards with a PSA 9 rating and none with a 10 rating, making the Bart Starr one of the most valuable football cards of the vintage era.
The PSA 8 rated card can sell for $5,000 – $7,000.
1981 Topps Joe Montana Football Card – $58,000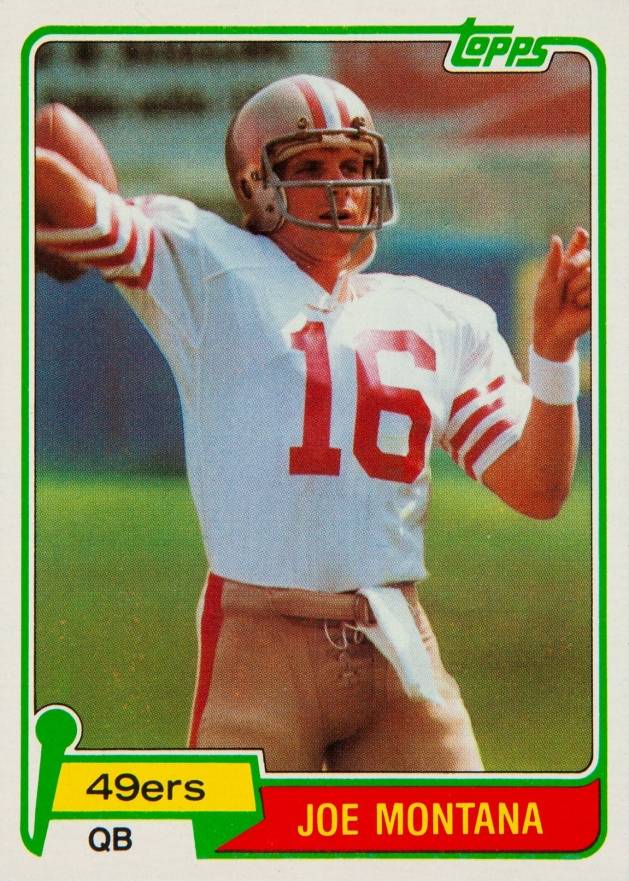 A 1981 Topps Joe Montana rookie in good condition is a staple for any football card collection. "Joe Cool" was one of the most clutch performers to ever walk onto the field.
There are over 100 PSA 10 rated cards out there. The PSA 10 Montana rookie is a highly valuable card, selling for roughly $10,000 each.
The production numbers were much higher in the 1980s for Topps football cards compared to the 60s and 70s, but this card remains a favorite for collectors.
One of the Most Popular Football Cards Ever
The 1981 Topps Joe Montana rookie card is not the most difficult card to find or the most expensive card. But it remains one of the most recognizable images in card collecting. Montana's popularity is still strong even several decades since his playing days.
After winning a National Championship at Notre Dame, Montana led the San Francisco 49ers to the playoffs in 10 of the 14 seasons.
He won four super bowl championships and was MVP in 3 of those games.
1989 Score Barry Sanders Football Card – $1,400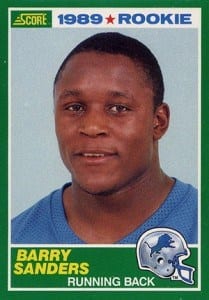 I would be crazy not to include Barry Sanders in my list of great football cards. The value for a PSA 10 rated card is only about $1,000.
Compare this to the other cards on this list, and you will wonder why you need this card in your collection.
The main reason any football card collection should have this card included is because of the player himself.
Ten Seasons and Done
Football fans can only wonder what Sanders would have done to the record books if he continued playing longer. He abruptly retired after only ten seasons.
There are over 1,700 PSA 10 Barry Sanders 1989 Score cards. Lower graded cards sell for under one hundred bucks. If you don't have it already, I would suggest adding this card to your collection.
1966 Dick Butkus Football Card – $31,000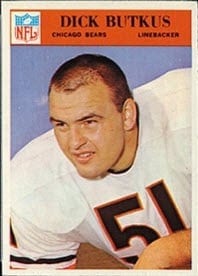 The 1966 Dick Butkus rookie card is challenging to find in good condition. There are zero PSA 10 rated cards and only eight PSA 9's, one of which recently sold for over $30,000.
Recent sales for high grade Butkus cards include PSA 8 rated cards for $2,000 – $3,000.
1933 Sport Kings Jim Thorpe – $119,500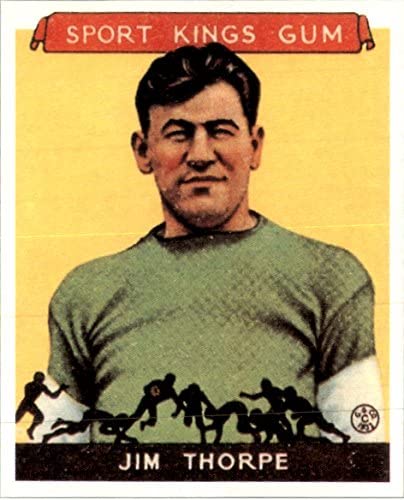 The 1933 Sport Kings Jim Thorpe card is pretty amazing. Only four PSA 9 rated cards exist, making it one of the rarest football cards out there.
A Heritage Auction sale in 2016 saw the higher grade PSA 9 card go for $119,500. Lower rated PSA 7 & 8's can be had for $3,000 – $9,000.
One of the Greatest Athletes of All Time
Jim Thorpe is known as one of the best all-around athletes in sports history. He won 2 gold medals in the 1912 Olympics in the decathlon & pentathlon.
Not only that, but he also played pro basketball and pro baseball part-time.
As a football player, he dominated the competition. His 1933 Sport Kings card is a sought-after NFL card and is a top 10 most expensive NFL card in the world.
1998 Playoff Contenders Peyton Manning Rookie Ticket Autograph – $50,000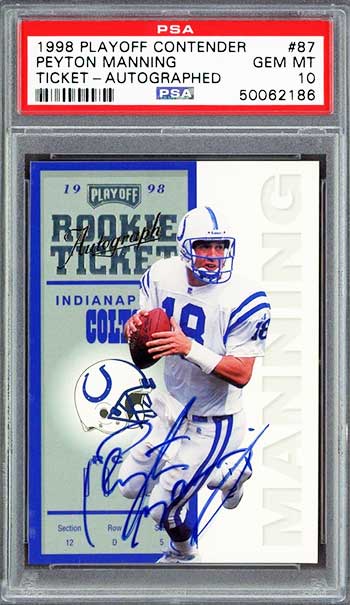 Peyton Manning led the Indianapolis Colts to two Super Bowl rings and led the Denver Broncos to two rings. He was the first pick in the 1998 NFL draft and was named Super Bowl MVP.
The 1998 Playoff Contenders autographed ticket card is his most valuable. Only six have reached the PSA 10 graded level.
---
Build Your Football Card Collection, But Be Patient
If you're a collector deciding to add to your football card collection, some of the high prices for recent auctions might have you thinking the best cards are becoming unattainable or overpriced.
While this might be true for the top PSA-rated cards in excellent condition with a 9 or 10 rating, lower-rated cards are still attainable.
Consider adding a few of these legendary football cards to your collection when the time is right.
If your budget doesn't allow for the highest PSA-rated card, consider a near-mint example. There's nothing wrong with buying an affordable version of your favorite card to add to your collection.
A Few of My Favorite Football Cards
These cards are not the most valuable, but they are a few of my favorite football cards from my collection.
I love to go into the collection and grab a random stack of football cards and see what comes up. A few of the cards below have some great stories behind them. And have been with me for decades.
Some of them are in pretty rough condition, but I'm fine with it. They are not blue-chip investments. Just fun cards that bring back good memories and enjoyment. That's it.
Sometimes it makes sense to hunt down a mint condition PSA 10 grade rookie card of a legend and take the plunge. But that's not all there is. There are tons of great cards worth $20 to $50 out there worthy of your football card collection. Get out there and find them!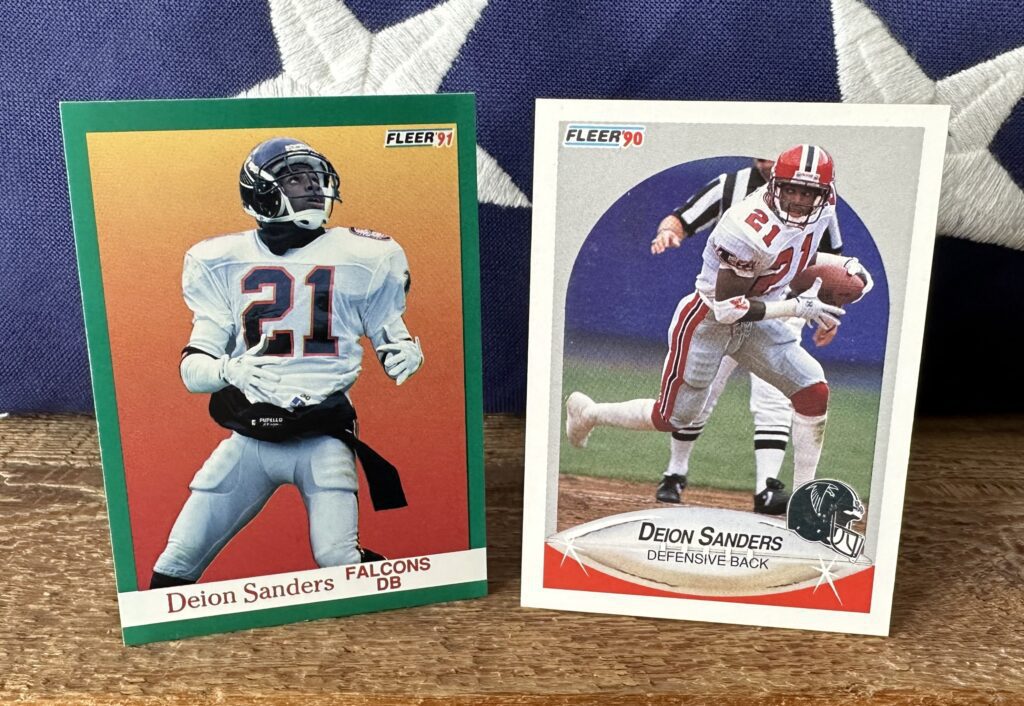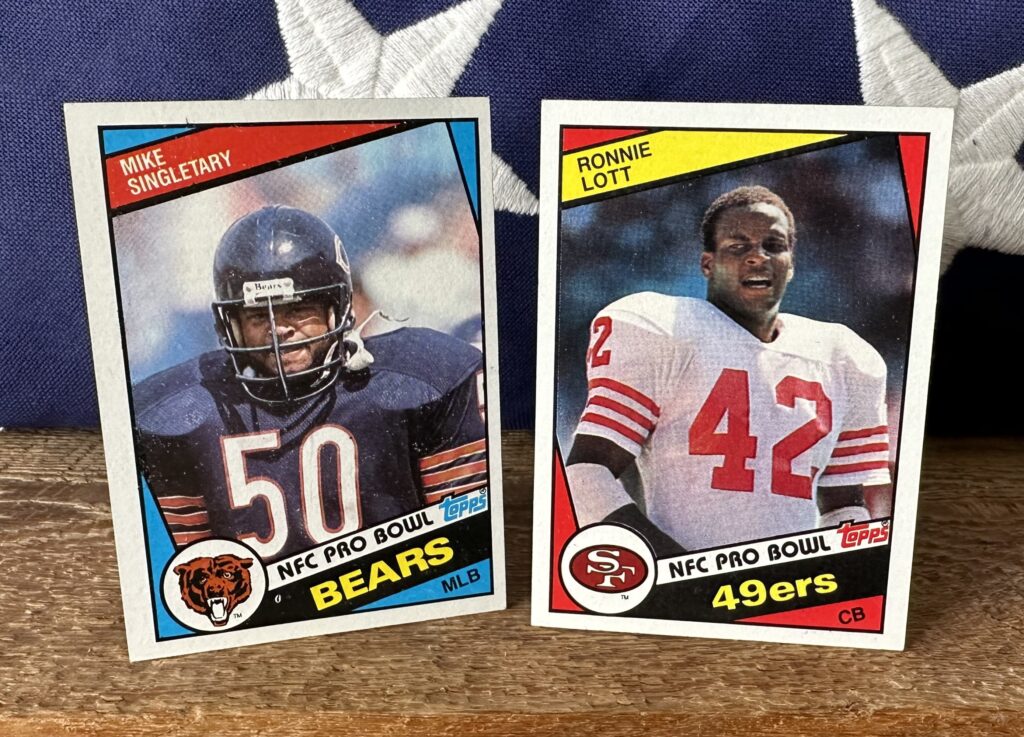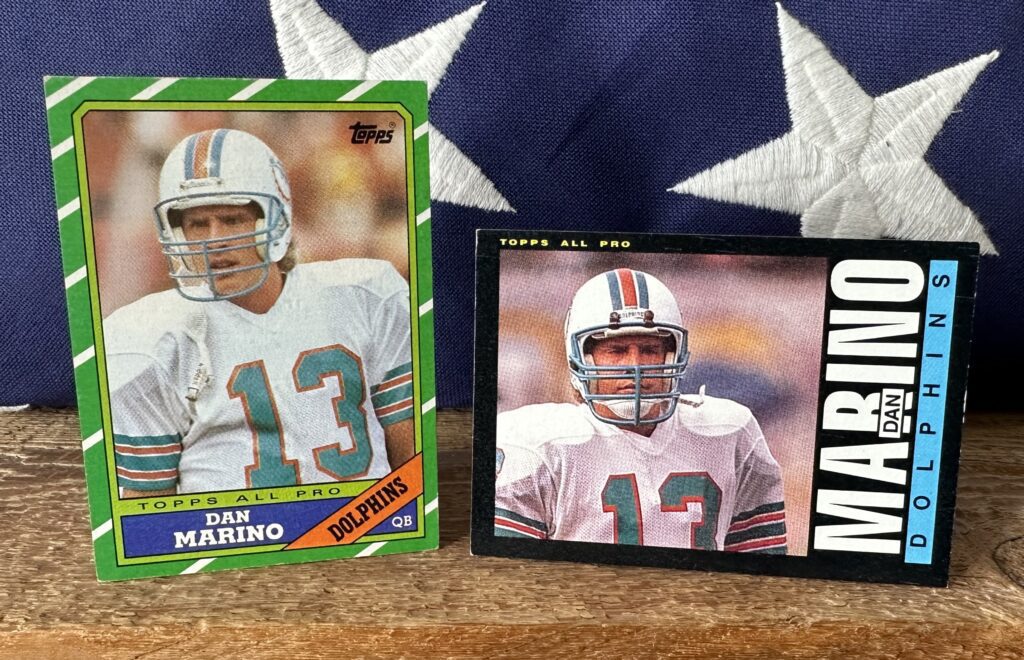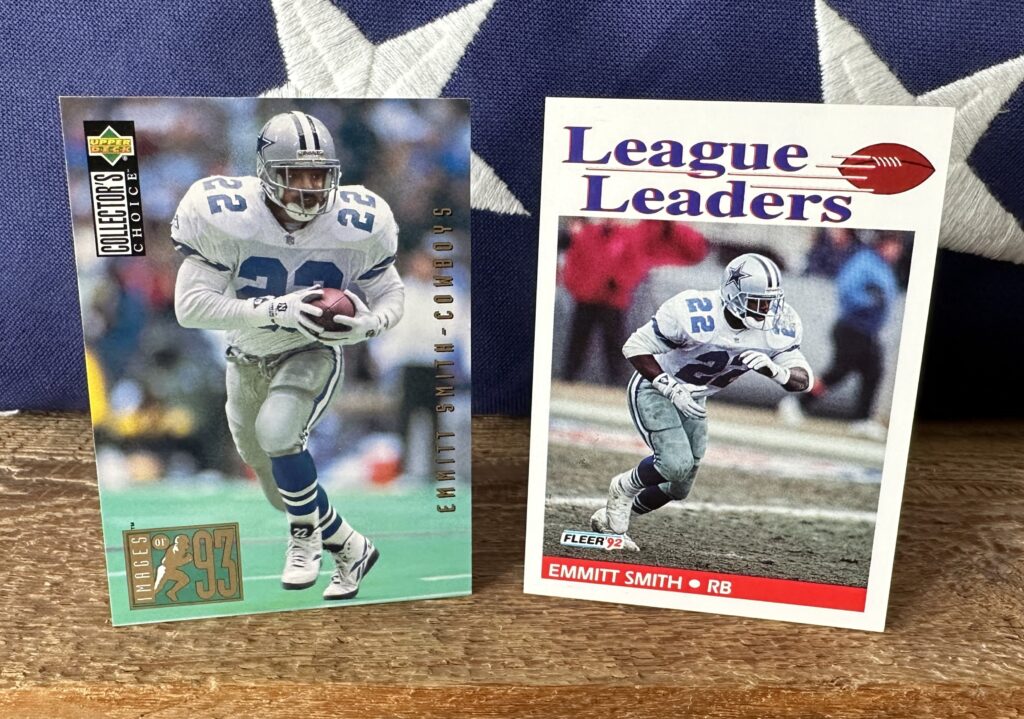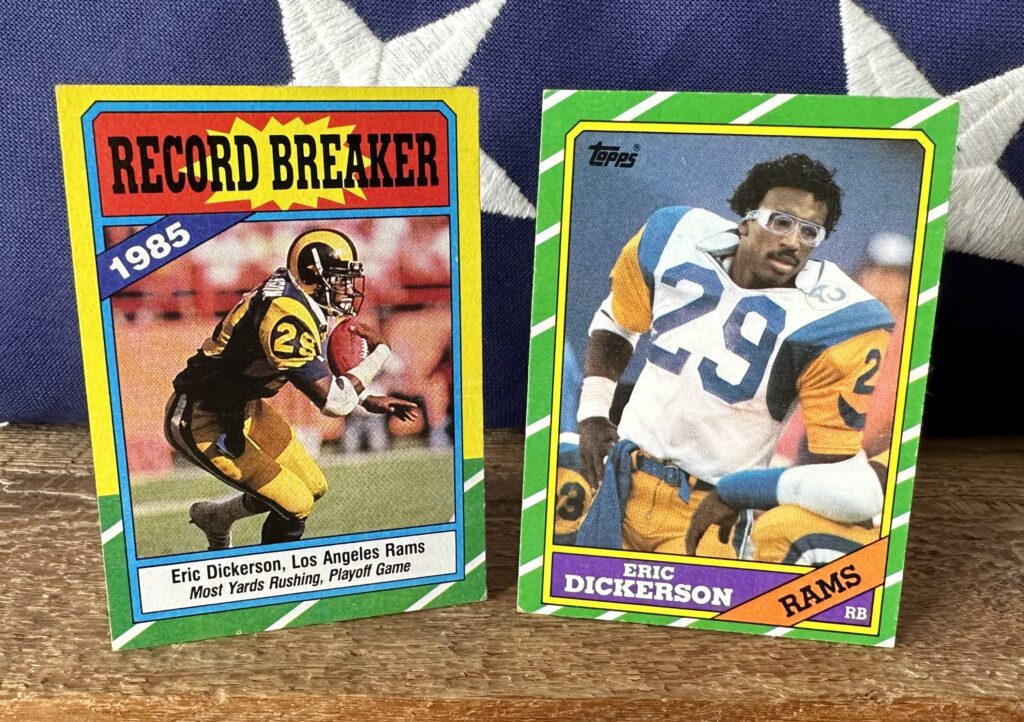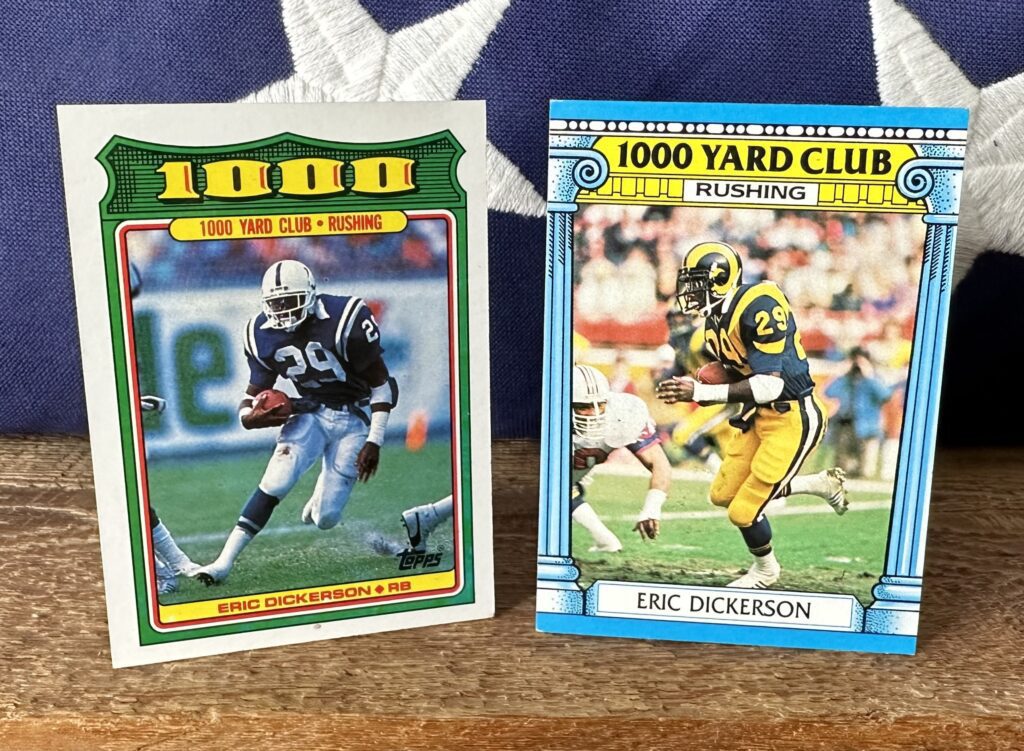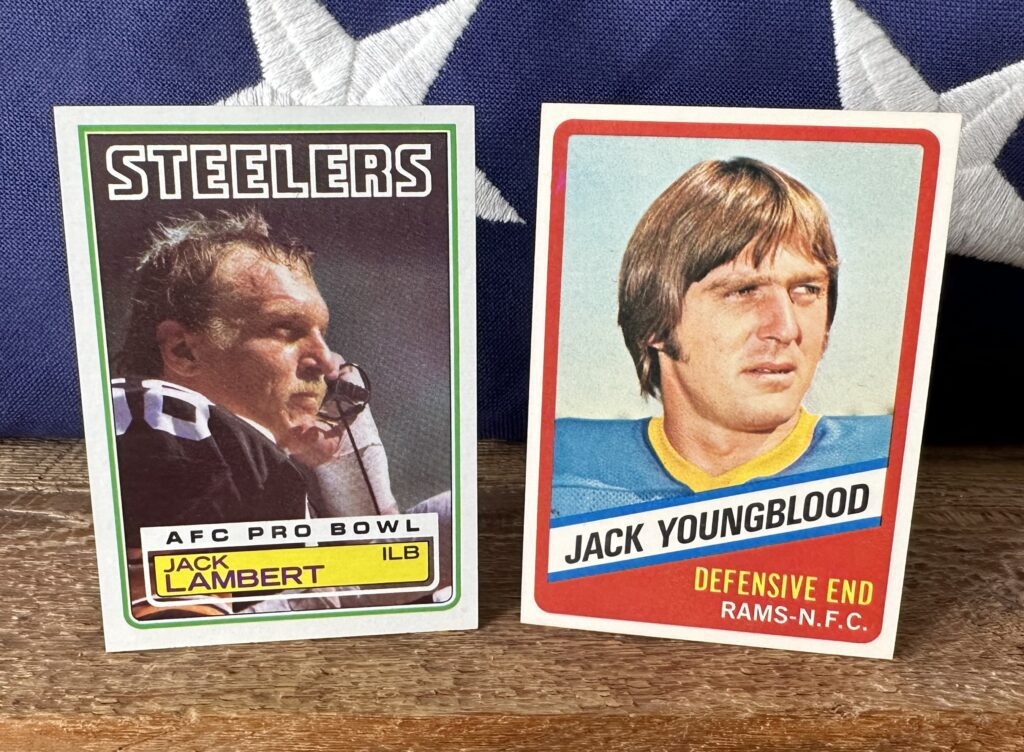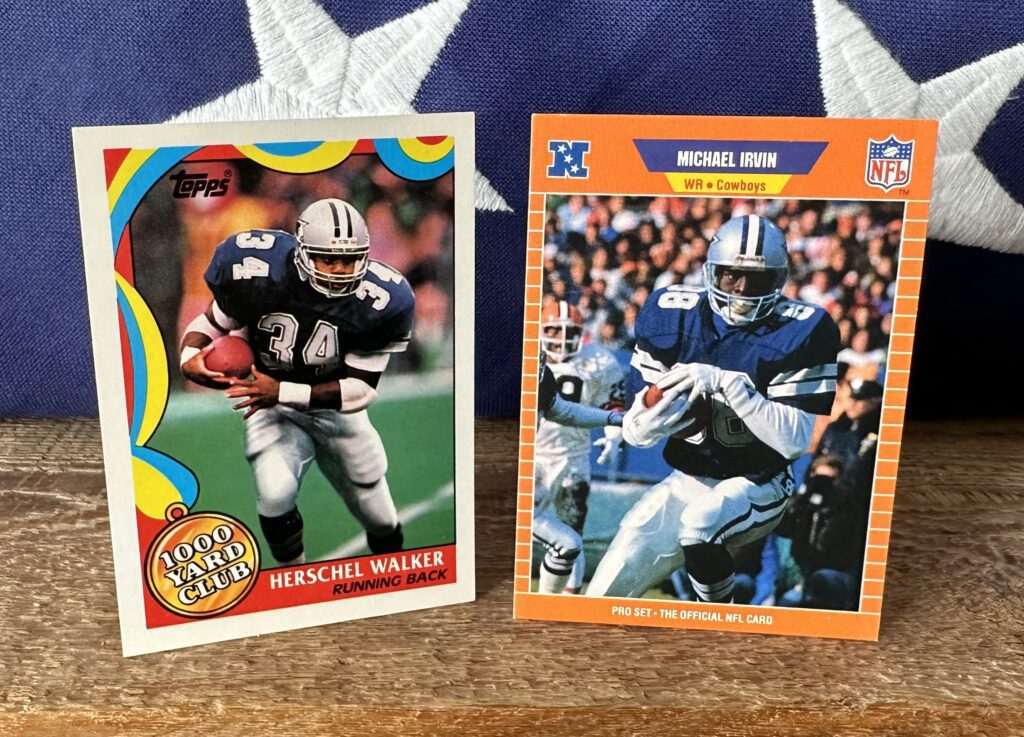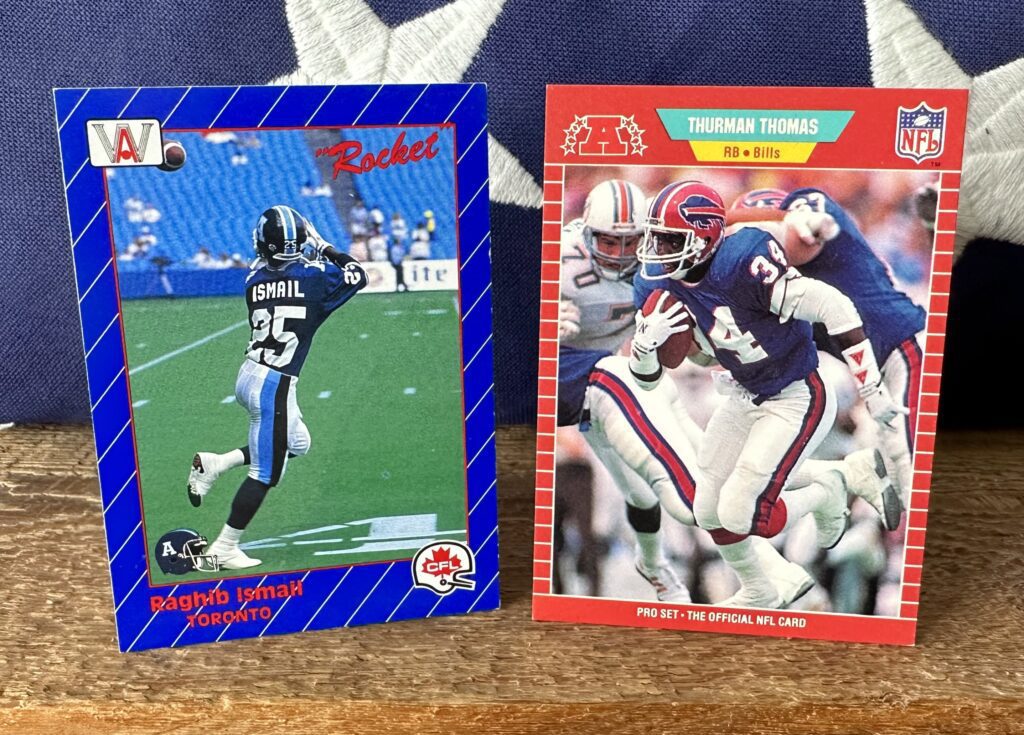 ---
Card Collectors –> Looking to Sell Baseball Cards? Here's How (and Where) To Do It
Here's your assignment for this weekend –> Find a Local Sports Card Shop Nearby, And Go Visit It!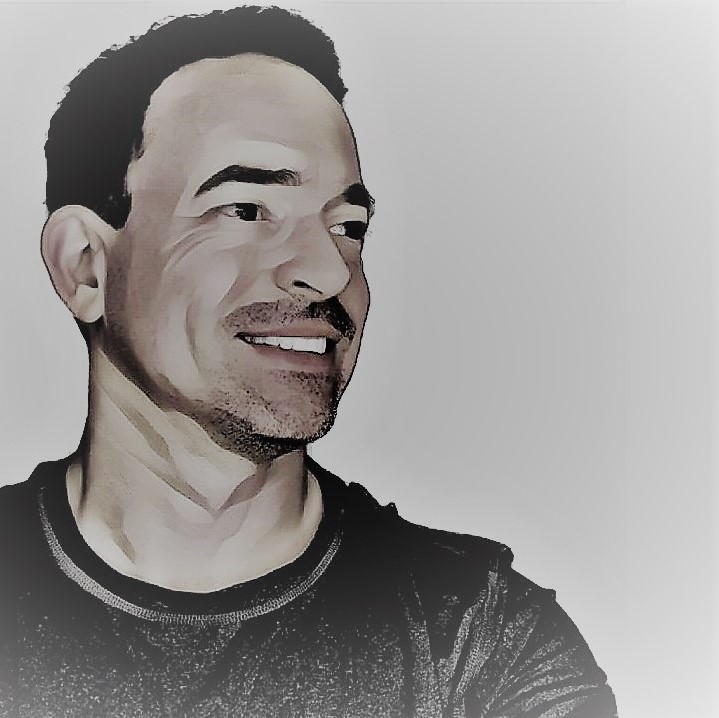 R.J. Bachman
Attic Capital – Writer, Editor, and Lifelong Collector
After many years of collecting rare coins, sports cards, and all types of collectibles, I began writing at Attic Capital to share my experience, knowledge, and passion.
I would love to connect with you, so don't hesitate to reach out and let me know more about your passion for collecting.