---
It's time for a Shaq rookie card rundown. Most remember Shaquille O'Neal as one of the greatest players in NBA history. He is famous for his powerful slam dunks, dominating performance, and always-entertaining charisma.
And by charisma, I mean The Big Charisma. No, Shaq never gave himself that nickname, but he gave himself nearly 30 other nicknames using "The Big ___" formula.
The Big Aristotle
Including the most famous Shaq nickname, "The Big Aristotle." After winning the NBA Most Valuable Player award in 2000, The big man was quoted as saying he would like to be referred to as "The Big Aristotle" from now on.
Because Aristotle was once quoted saying, "Excellence is not a singular act, but a habit. You are what you repeatedly do."
Shaquille O'Neal Career Highlights
He led the NBA in field goal percentage ten times, breaking Wilt Chamberlain's record. O'Neal was also a tenacious defender and was named to the All-NBA Defensive Team three times.
The big man racked up dozens of records and accolades in his NBA career.
Four NBA Championships, NBA Rookie of the Year (1992-1993), three All-Star game MVP awards, three NBA Finals MVP awards, and the NBA MVP Award (1999-2000).
O'Neal was elected to the Naismith Memorial Basketball Hall of Fame and FIBA Hall of Fame.
Shaquille is one of the wealthiest members of the NBA and has amassed an enormous fortune during his NBA career.
Off the court, O'Neal is a successful businessman, spokesperson, investor, and well-known for his media appearances and authentic persona.
---
Shaq Rookie Cards
Basketball's greatest players have high-valued rookie cards that can be well worth the investment. For example, the rarest Kobe Bryant card was recently sold for $2 million on the Goldin Auctions website.
Along with rare Michael Jordan cards, LeBron James cards, and a crazy recent sale of a Panini National Treasures Stephen Curry rookie card, Shaq rookie cards are also highly valuable in mint condition.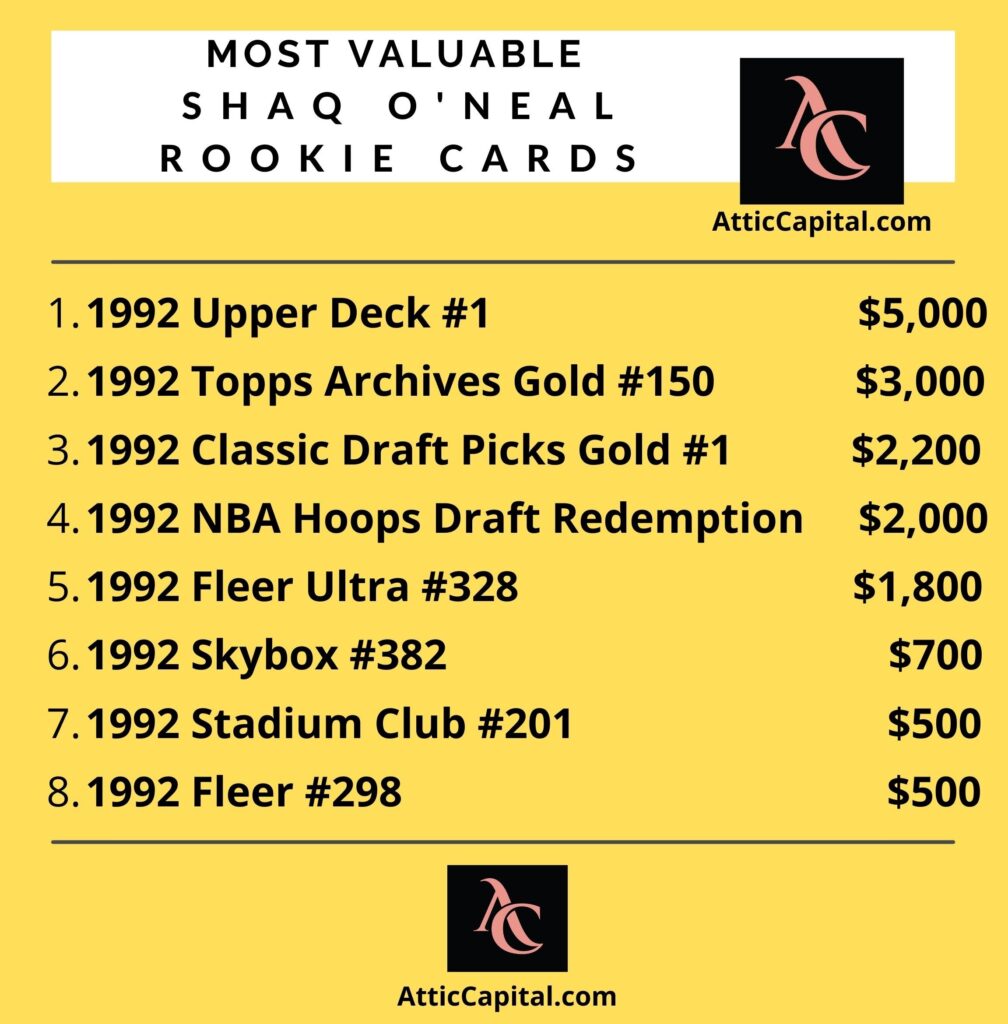 As a collector, you must wonder how much a Shaquille O'Neal rookie card is worth, given his storied NBA career.
The answer is that Shaq rookie cards, specifically low pop, gem mint, and high-grade cards, are worth quite a lot in the collectible sports card market. Even despite being released in the Junk Wax Era.
1992-93 Fleer Ultra Shaq Rookie Card #328
The Ultra line for Fleer cards was introduced in 1991 and featured thinner, sleeker versions of its standard cards. The 1992 Fleer Ultra Rookie Card #328 is another great card to own.
It features Shaq dunking a ball in his Orlando Magic uniform. Depending on the card's condition, you can sell it anywhere between $40 and $ 400.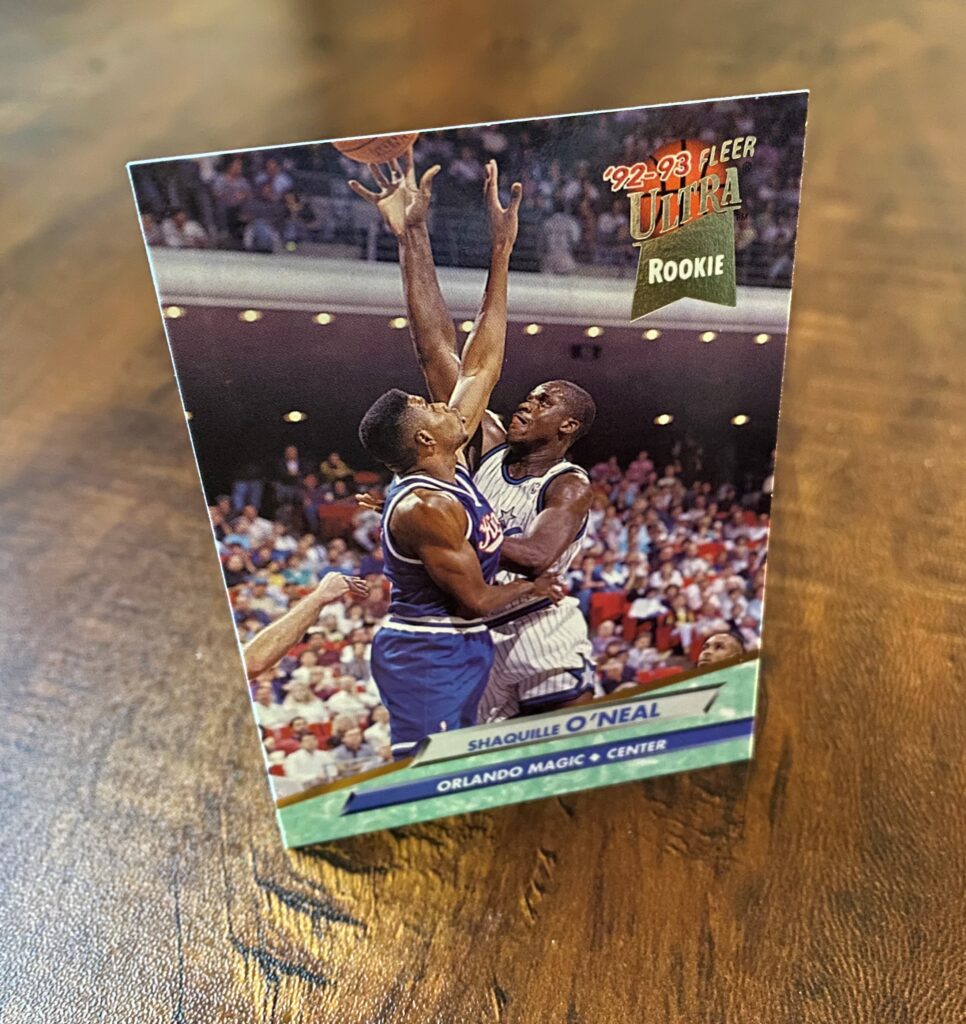 1992-93 Fleer Shaquille O'Neal Rookie Card #401
The 1992 Fleer Rookie Card #401 features Shaq under the basket about to dunk. The card has gold borders with a gray and blue nameplate. With its timeless appeal, the estimated BGS 10 value is $250, while the PSA 10 value is $150.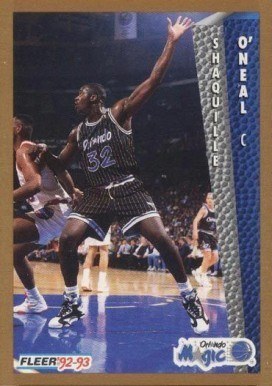 Shaquille O'Neal Topps Rookie Card
Topps decided to introduce gold versions of its cards to compete with new brands appearing in the Junk Wax Era, which feature a nameplate on the bottom embossed in gold.
The 1992 Topps gold set printed 12,000 sets with 792 gold inserts.
The 1992 Topps #362 card features Shaq calling for the ball, and a high grade can be worth around $1,500 in a high-grade PSA 10 condition. For a more affordable option, the PSA 8 card is selling for around $150.
1992 Topps Shaq Rookie Card #362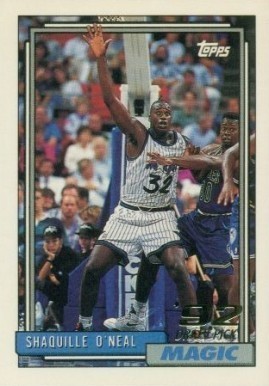 1992 Topps Gold Shaq Rookie Card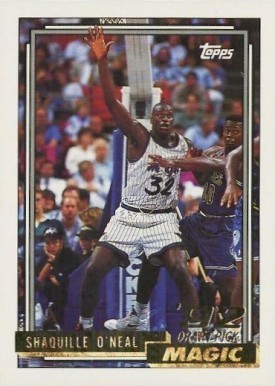 The 1992 Topps Shaquille O'Neal Stadium Club, card number #247, features Shaq coming down with a rebound. The cards are less than other rarer Topps cards, with a PSA 10 value of $35.
1992 Stadium Club Shaq O'Neal Basketball Rookie Card #247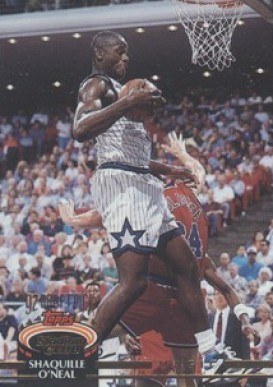 A Members-Only version was produced in limited numbers but is not valued much more than the base version.
1992 Stadium Club Shaq Rookie Card – Members Only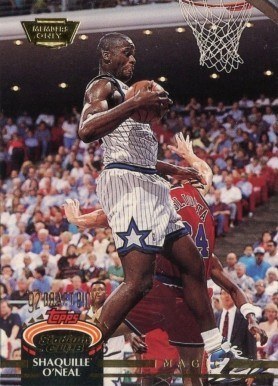 Upper Deck Shaq Rookie
The 1992 Upper Deck #1 cards are unique, featuring Shaw dunking from start to finish.
These cards are low pop, and the full-color borders are susceptible to wear and tear, allowing these cards to be worth several hundred dollars. An estimated PSA 10 value can be worth around $375.
1992-93 Upper Deck Shaquille O'Neal Rookie Card #1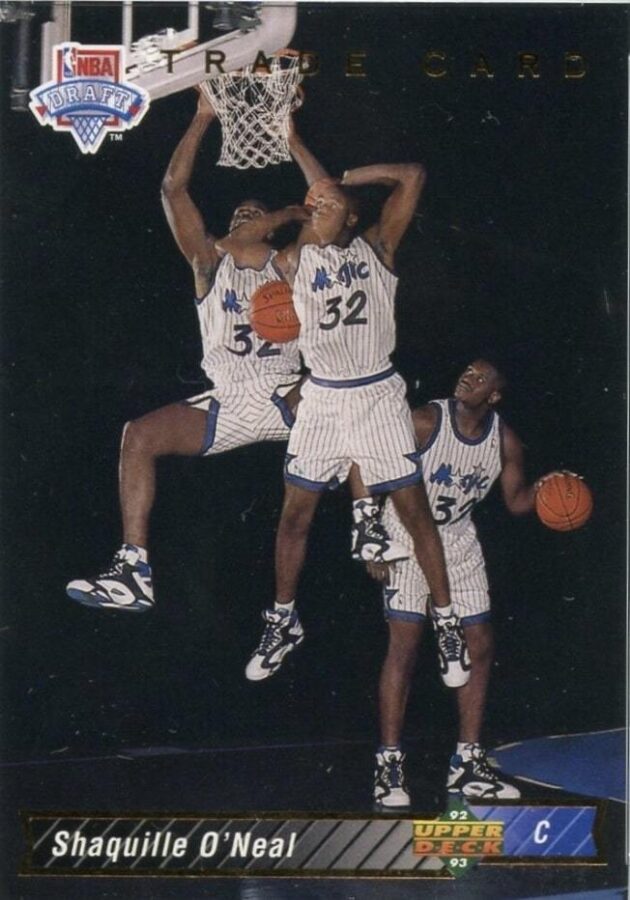 Another highly valued Shaq card is the 1992 Upper Deck Rookie Standouts #15. Upper Deck Shaquille O'Neal rookie trading cards feature a monster dunk in the Miami Heat uniform.
A top-grade rare card is estimated to be valued at around $90. Because the card lacks borders, this card is susceptible to wear and tear.
1992 Upper Deck Rookie Standouts Shaq Rookie Card #15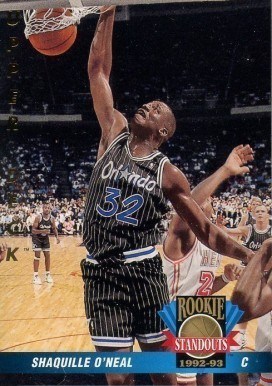 More Shaquille O'Neal Rookie Cards
There were no shortage of Shaq rookie cards. The big man was in the prime of the sports card boom. The late 1980s and early 1990s were a good time to be a sports rookie.
Nearly every card manufacture wanted to print as many Shaq rookies as possible to cash in on the up-and-coming superstar.
1990-91 Big Blue Basketball Shaquille ONeal Perforated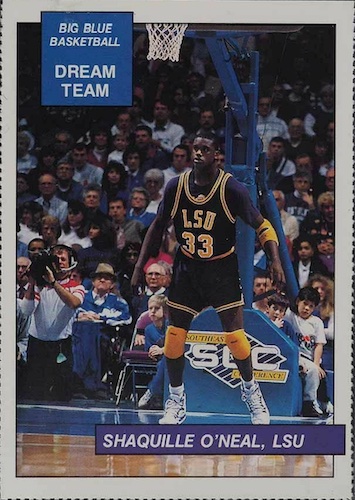 1992 Classic Draft Picks Shaq Rookie Card – Autograph Silver Ink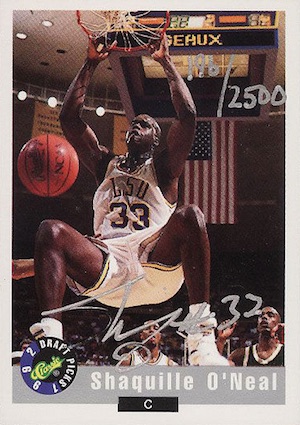 1992 Ultra Rejectors Shaq Basketball Card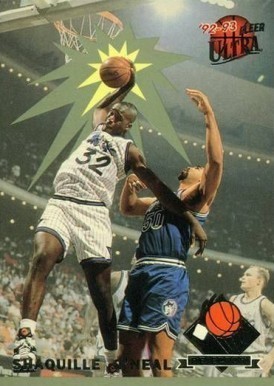 1992 Hoops Magics All-Rookie Team Shaquille ONeal RC Rookie Card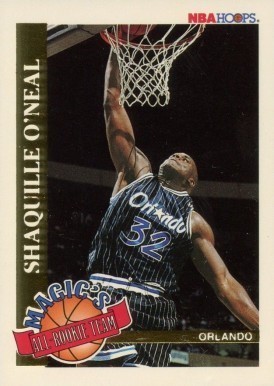 1992 Hoops Draft Redemption Shaquille ONeal Basketball Card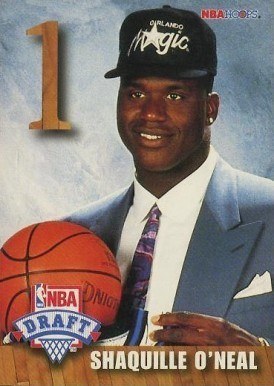 1992 Fleer Tonys Pizza Shaq ONeal Card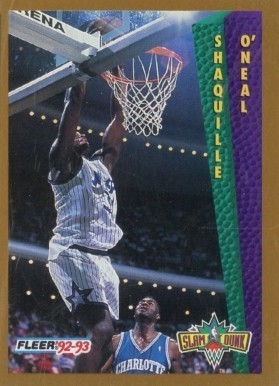 1992 Hoops Shaquille ONeal Basketball Card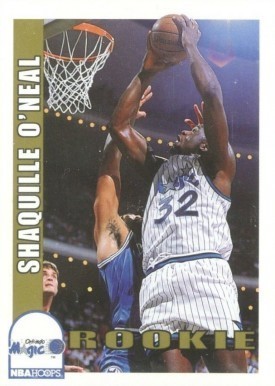 1992 Ultra All-Rookie Shaq ONeal Basketball Card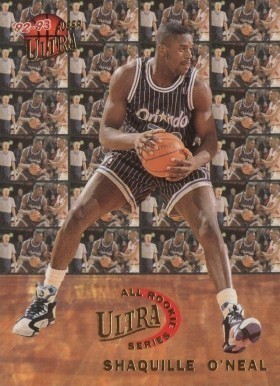 1992 Topps Archives Shaquille O'Neal Rookie Card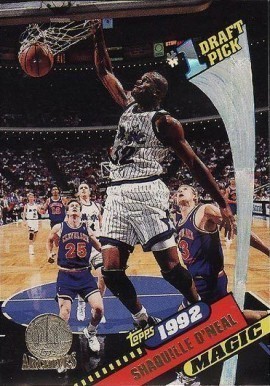 1992-93 SkyBox Head of the Class Shaq Basketball Card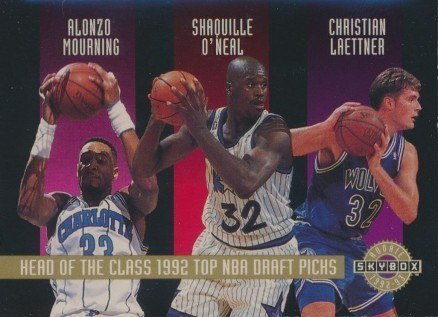 1992-93 Topps Stadium Club Beam Team Shaquille O'Neal Card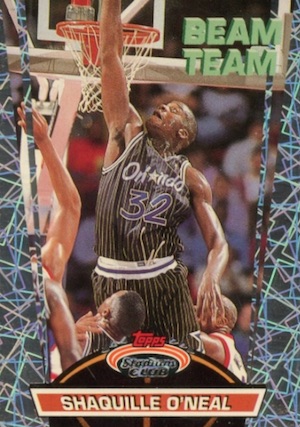 1992 SkyBox Draft Picks Shaq RC Rookie Card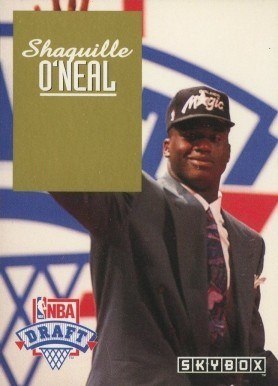 1992 Skybox Shaq ONeal Rookie Card RC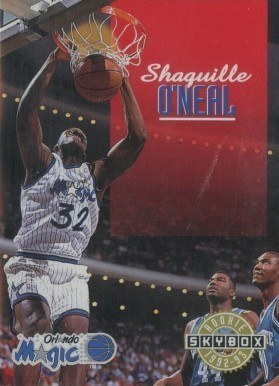 1997-1998 Shaquille O'Neal Topps Chrome Refractor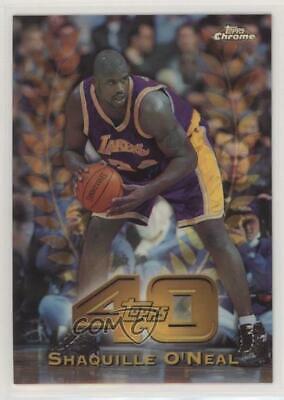 ---
Shaq's Early Years
O'Neal was born in Newark, New Jersey. Due to his stepfather's military career, they moved to military bases, settling in San Antonio, where O'Neal began playing basketball in high school.
After graduating high school, O'Neal studied business at Louisiana State University and continued to play basketball.
He won several awards, becoming a two-time All-American, two-time SEC Player of the Year, and received the Adolph Rupp Trophy.
Shaq's NBA Career
Orlando Magic
O'Neal was the first draft pick for the Orlando Magic in the 1992 NBA draft. In his rookie season, O'Neal became the first person to be named Player of the Week in his first week in the NBA.
He was also named 1993 NBA Rookie of the Year and the first rookie to be voted as an All-Star starter since Michael Jordan in 1985.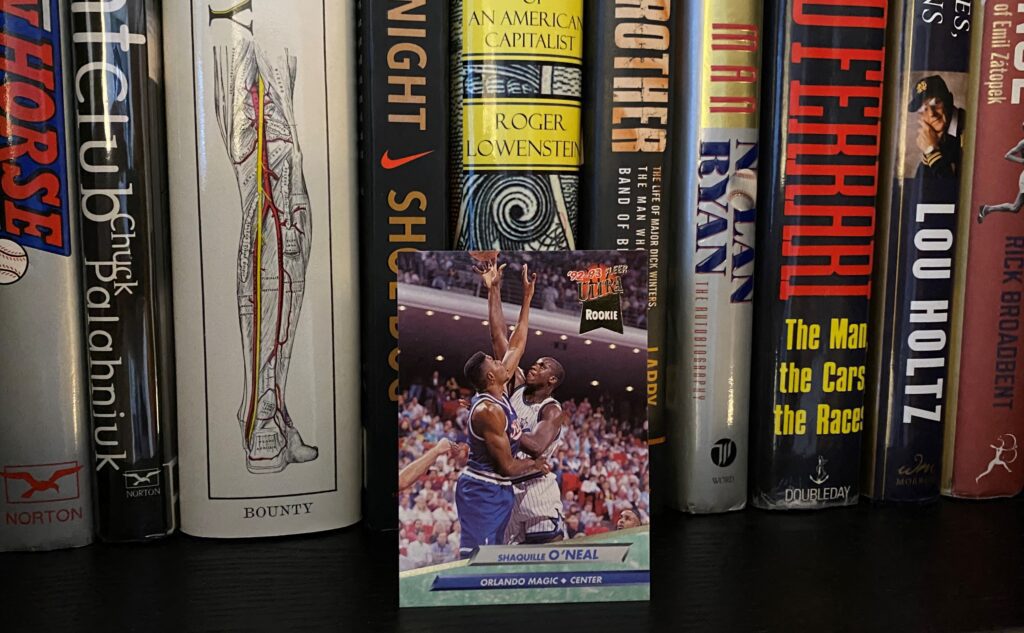 Los Angeles Lakers
O'Neal became a free agent in the 1995-1996 season and joined the Los Angeles Lakers on a seven-year contract. The Lakers had close playoff games for the next couple of years that would bring them near the finals, but their championship goals would ultimately be swept away.
From 1999 to 2002, the Laker's fortune changed when they hired Phil Jackson as head coach.
Three Time Champ
With Kobe Bryant and Shaquille O'Neal, the Lakers would enjoy tremendous success, winning three consecutive titles from 2000 to 2002.
O'Neal would be named MVP of the NBA Finals all three times and had the highest scoring average for a center in NBA Finals history.
During this time, O'Neal would be dealing with a toe injury that bothered him during the 2001-2002 season. From 2002 to 2003, O'Neal recovered from toe surgery, and the Lakers failed to reach the finals.
From 2003 to 2004, the Lakers made the playoffs but lost to the Detroit Pistons. The missed games due to injury and internal conflicts regarding O'Neal's pay led him to be traded to the Miami Heat in 2004.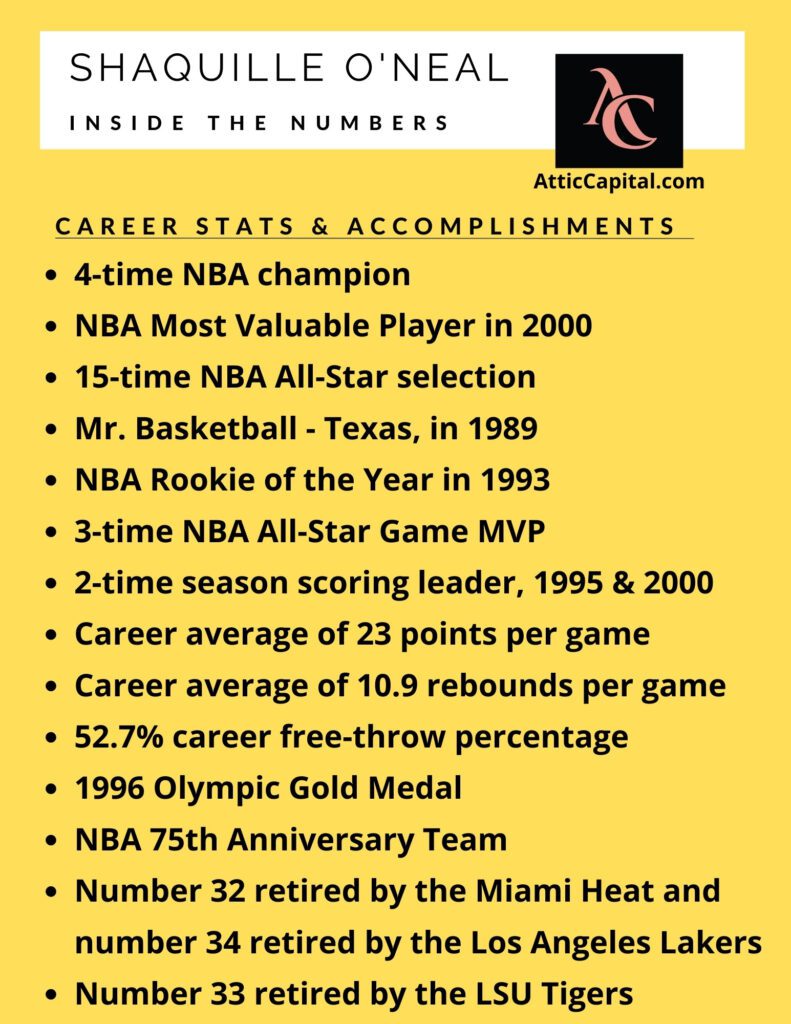 Miami Heat
O'Neal's first year with the Miami Heat would end strong, as they claimed the best record in the Eastern Conference with 59 wins.
In 2004, he made his 12th consecutive All-Star Team, made the All-NBA 1st Team, and won the Eastern Conference Player of the Month award.
In the 2005-2006 season, Miami won their first NBA title with a solid playoff game performance from O'Neal and Dwyane Wade.
However, injuries from both Wade and O'Neal in the following seasons resulted in career lows from 2006 to 2008.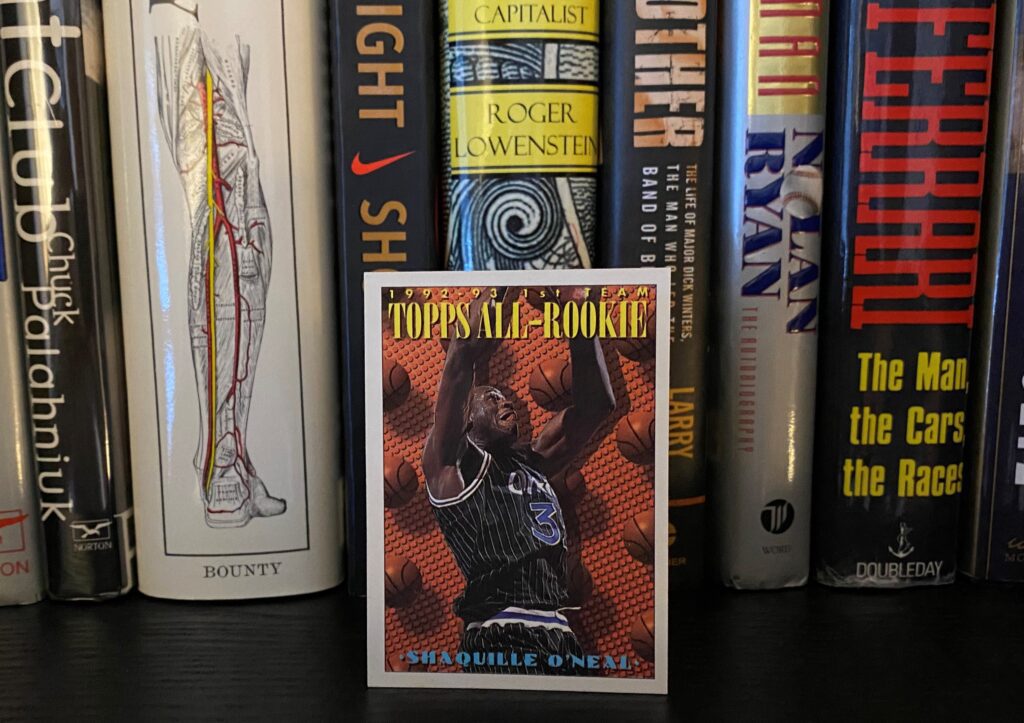 Phoenix Suns
O'Neal was traded to the Phoenix Suns in 2008. While he had a rocky start, O'Neal credits the Suns' training staff with prolonging his career, allowing him to work with his injured toe.
As the season progressed, O'Neal improved his statistics, allowing him to return to the All-Star Game in 2009 and emerge as co-MVP with Kobe Bryant.
Cleveland Cavaliers
In 2009, O'Neal was traded to the Cleveland Cavaliers. He suffered a severe thumb injury while facing the Boston Celtics. O'Neal would average career lows during the 2009-2010 season.
Boston Celtics
The Celtics signed O'Neal in 2010 with a two-year contract and a minimum salary of $2.8 million. Unfortunately, O'Neal would miss several games due to several injuries. This would be the last regular season that he would play.
In 2011, O'Neal announced his retirement on Twitter and held a press conference in Orlando to officially announce his retirement.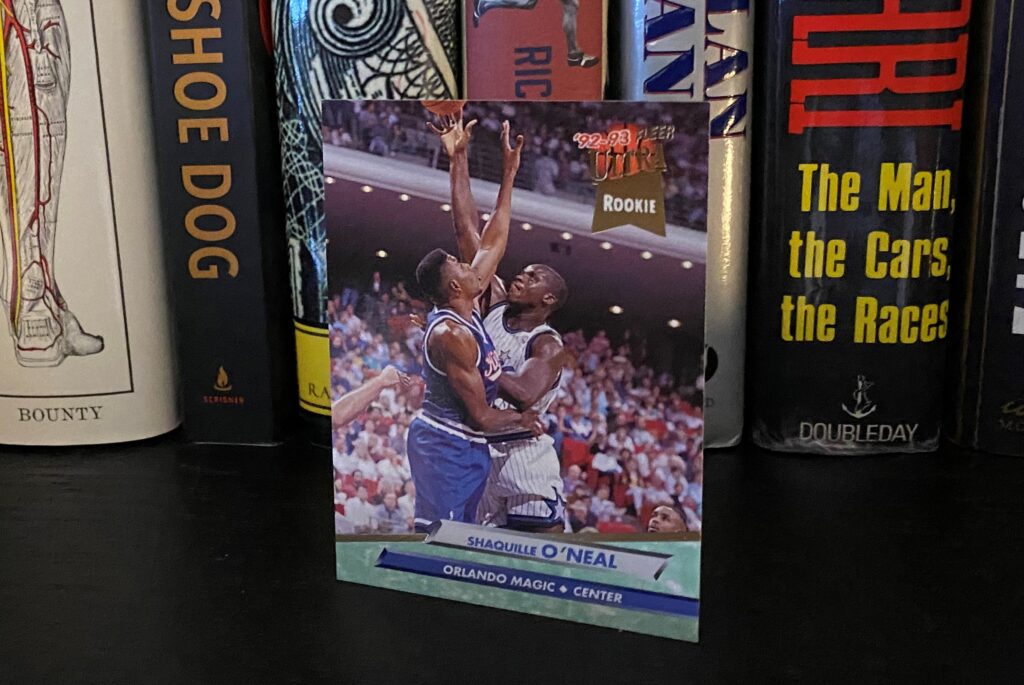 ---
Shaquille O'Neal Off the Court
O'Neal has been incredibly successful off the court. He has appeared in several films, TV Series, and animated cartoons, including Kazaam, Curb Your Enthusiasm, and The Lego Movie.
He has also appeared on the covers of several NBA video games, advertisements, and rap music.
Shaq Back to School
O'Neal returned to his studies at LSU and completed his bachelor's degree, eventually earning his online MBA from the University of Phoenix.
Towards the end of his NBA career, he worked on an educational doctorate and obtained his Ed.D from Barry University in 2012.
The Big Real Estate Mogul
Finally, O'Neal is an active entrepreneur and investor. He works on several real-estate development projects in Orlando, Florida, and Newark, New Jersey.
In addition to real estate, he works with several companies in various capacities across several industries.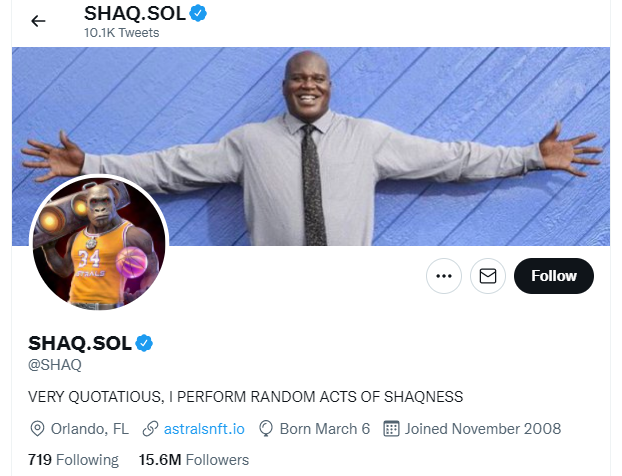 ---
Shaq Rookie Cards
David Robinson, Karl Malone, Patrick Ewing, there were times when Shaq made these other NBA "Big Men" in the league look like average Joe's in a backyard pick-up game.
Shaq once called himself the "MDE" (Most Dominant Ever). It's hard to argue. Just watch his highlight videos.
Shaq's legacy as one of the NBA's greatest players makes owning a Shaq rookie trading card a slam dunk collectible.
Card collectors appreciate Shaq's enormous contribution to the game of basketball and could see a continued price appreciation for his mint basketball cards in the coming years.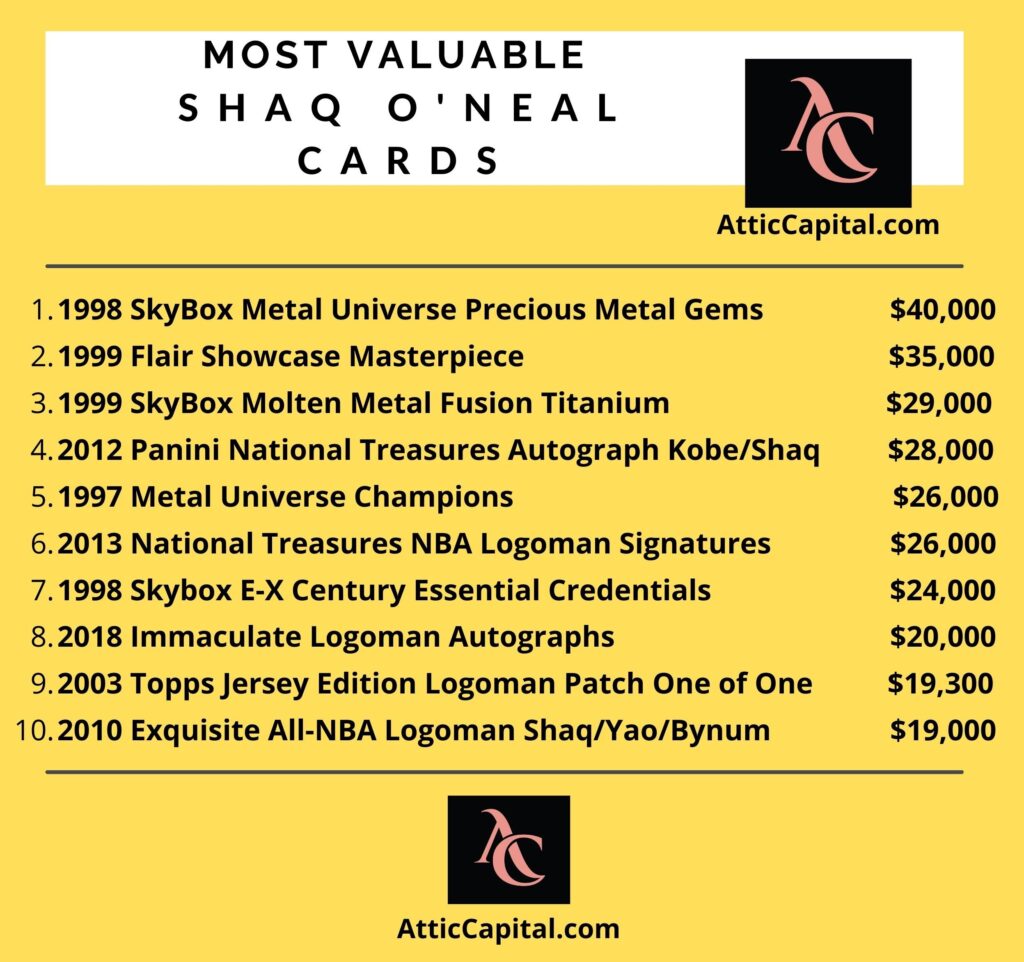 ---

Professional Sports Authenticators (P.S.A.) versus Beckett Authentication Services (BGS.)
When grading sports cards, collectors prefer two prominent options – PSA and BGS. Which service should you choose for your collection?
PSA has been the reliable go-to grading service for decades, and these cards tend to sell faster with a higher value. However, the service is more expensive than BGS, and it takes longer to grade cards.
In contrast, BGS is cheaper and faster to grade than PSA. Additionally, BGS has a fractional grading system to get more accurate grading scores with decimal points.
However, the BGS score is not valued like PSA, and equivalent ratings (e.g., PSA 9 and BGS 9) can be widely different card values.
Having cards graded is a great way to document the quality of your collection. Much like a certificate of authenticity for signed memorabilia, the very best collectibles should be verified and certified.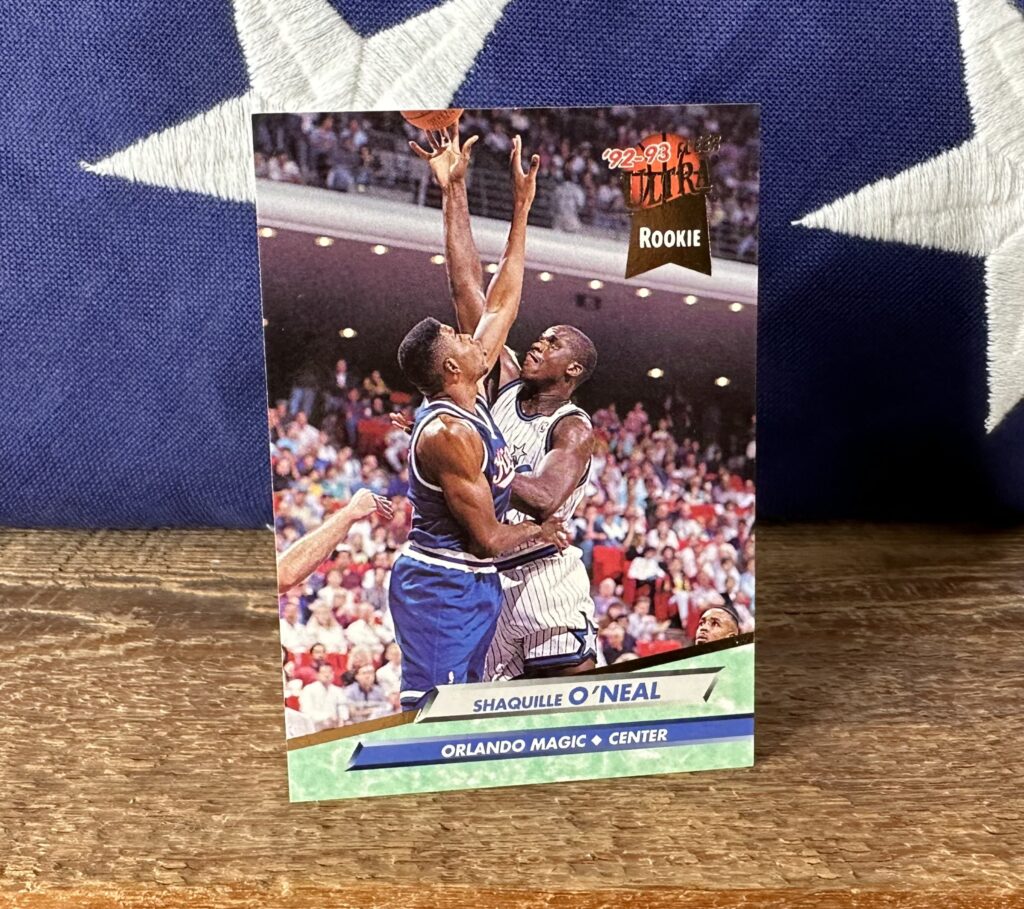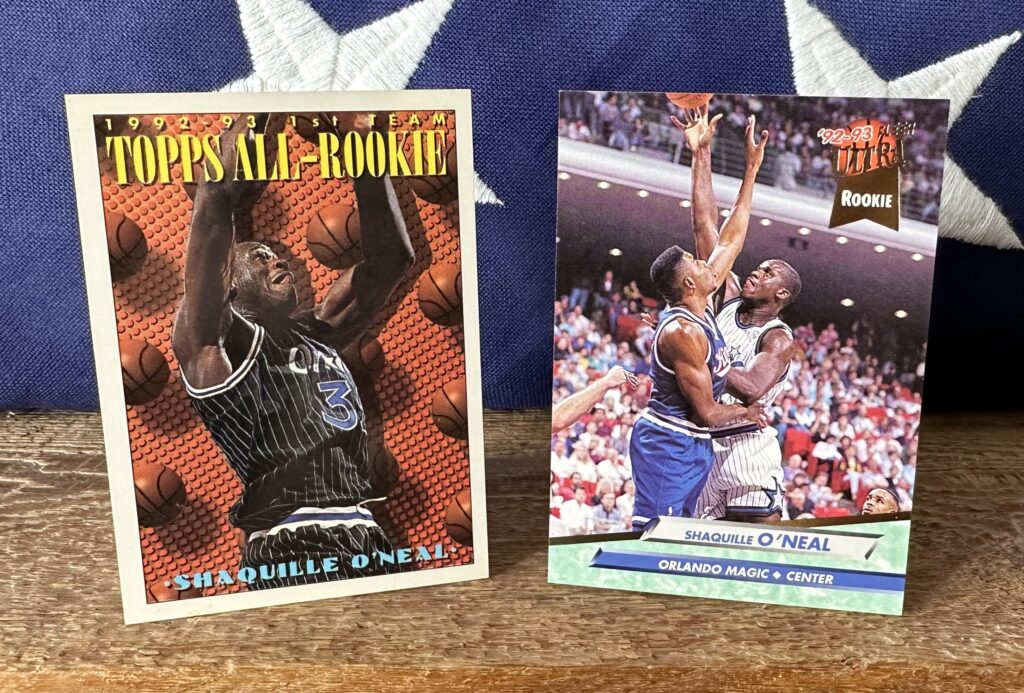 ---
Card Collectors –> Looking to Sell Baseball Cards? Here's How (and Where) To Do It
Looking for Some Advice? Visit a Local Card Shop and Go Treasure Hunting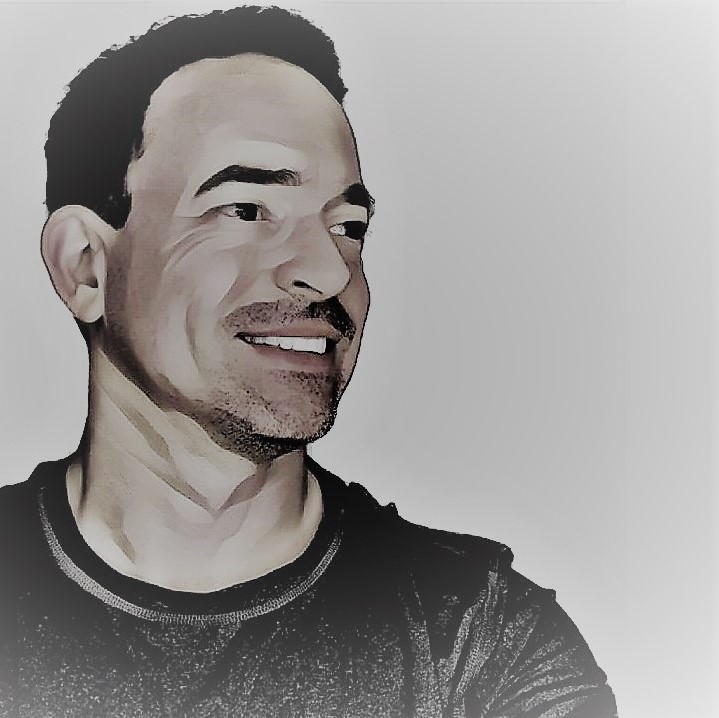 R.J. Bachman
Attic Capital – Writer, Editor, and Lifelong Collector
After many years of collecting rare coins, sports cards, and all types of collectibles, I began writing at Attic Capital to share my experience, knowledge, and passion.
I would love to connect with you, so don't hesitate to reach out and let me know more about your passion for collecting.