---
There's a certain mystique to the Ken Griffey Jr rookie card that's difficult to explain. If you are of a certain age, you know the status of this card because you were there when it hit the scene. You were there when 'he' hit the scene. The Kid. Ken Griffey Jr.
As the number one draft pick in 1987 by the Seattle Mariners, Ken Griffey Jr. was on the radar of much of the baseball world before putting on a professional uniform. Once he was drafted, Griffey reported to the Class A minor league Bellingham Mariners.
The following year Griffey joined the class AA Vermont Mariners. Speculation started to swirl that "The Kid" would report to the big leagues for the start of the 1989 season.
---
Upper Deck Ken Griffey Jr. Rookie Card
Just around the same time Griffey Jr's class AA Eastern League Vermont Mariners season ended in 1988; the Upper Deck Company, LLC was founded as a private company that would go into the business of producing baseball trading cards. Their idea would be to create a more expensive premium card with higher quality material, clear photos, and a hologram on each card to prevent counterfeiting.
On December 23rd, 1988, Upper Deck was granted a license by Major League Baseball to manufacture baseball cards, and immediately the biggest question for the newly formed company became clear. Who would be Upper Deck's featured card #1 in the inaugural set for the 1989 baseball season?
One of Upper Deck's young employees, Tom Geideman, who was just a freshman at UC-San Bernardino, suggested using Griffey as a possible choice for the number-one card. Historically, the famous Topps baseball card brand would feature the biggest stars in the game for their number one cards.
Geideman's reason for using Griffey as the feature card was that he was a top prospect, and even though he hadn't played in a pro game yet, it was fitting for Upper Deck to use him in the company's first set. As Upper Deck's employee No. 1, Geideman selected the player featured as card No. 1.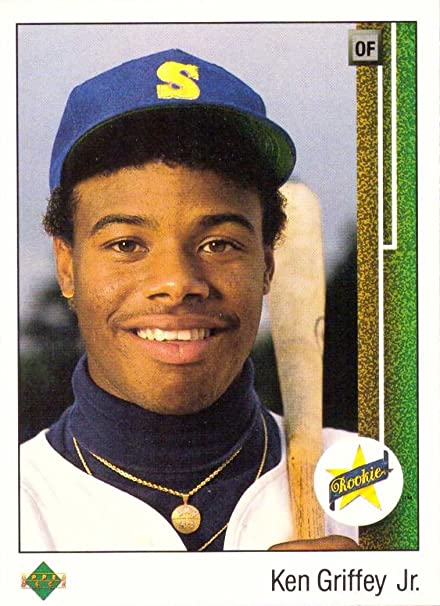 ---
The photo used for the card was a smiling Griffey in his San Bernardino Spirit uniform. Geideman called V.J. Lovero, a contracted photographer for Upper Deck. Lovero supplied a few pictures of Griffey from a Sports Illustrated shoot, and Geideman decided on one photo which stood out above the rest.
The only problem was the photo didn't feature Griffey in a Seattle Mariners uniform; it featured the minor league uniform.
Geideman sent the photo to the Scitex machine, which was an ultra-expensive photoshop machine before software took over the world. Upper Deck changed the "S" color on the hat from silver to yellow.
Griffey's navy turtleneck remained, but the color of the cap was changed from navy to royal blue. The photo was complete and sent to the printing press, where an estimated 2 million Ken Griffey Jr. cards would be created.
---
There were other suggestions for the 1989 Upper Deck number one card. Griffey Jr., along with Gregg Jefferies, Gary Sheffield, and Sandy Alomar Jr., were the other considerations.
Geideman, who was a Seattle Mariners fan, decided it was Griffey who would be the featured card number one in the very first 1989 Upper Deck set. Working at Upper Deck was Geideman's first job, but the new kid hit one out of the park with his Griffey pick.
The 1989 Upper Deck Ken Griffey Jr rookie card was a smash hit; its fresh premium card was something never seen before. And the groundbreaking Upper Deck card company was the least of the reasons the card was on absolute fire.
Ken Griffey Jr. hit the major league scene as a true legend would. His very first at-bat in the major leagues against Dave Stewart, he ripped a double off the wall at the Oakland Coliseum.
---
Instant Legend on the Field
Legends do things that amaze and surprise spectators, even when they are expecting greatness. In April of 1989, "The Kid" Ken Griffey Jr. appeared before our very eyes, and he was an instant favorite among virtually every baseball fan.
Youngsters especially took to his mannerisms, spinning their hat backward and attempting to copy one of the smoothest left-handed swings in baseball history.
His constant smile and easy-going persona, along with his amazing feats on the baseball diamond, made Griffey one of the most popular athletes in the world almost instantly. It's hard to describe how huge of impact The Kid was making on the game of baseball. At that time, kids wanted to "Be Like Mike" and swing like Griffey.
Instant Classic Baseball Card
It was a perfect storm for the baseball card industry. The planets aligned. Card collecting was on a roll in the late 1980s, and now Upper Deck debuted their first year of groundbreaking fresh cards with one of the brightest stars to play the game as their feature card #1.
The 1989 Upper Deck Ken Griffey Jr rookie card was on every kid's wish list.
Oldsportscards.com has said about the card, "Its importance to the hobby cannot be understated, and it's arguable that this is the most important modern baseball card you can find."
They went on to say, "sure, there are others that are more expensive, but this card helped define an era of card collecting craziness during the late 1980s."
---
How Much is a Ken Griffey Jr Rookie Card Worth
Unlike Upper Deck, most baseball card producers waited until their 1990 sets to print Ken Griffey Jr rookie cards, after he was already a major superstar. Therefore, the number of Griffey rookie cards in various makes and models is huge.
Over 130 Ken Griffey Jr rookie cards from various brands were made at the height of the baseball card craze. Even the most epic, the Upper Deck Griffey rookie, was printed in huge quantities.
That doesn't necessarily mean the Upper Deck rookie card is worthless. Huge production numbers of the 1989 Upper Deck Griffey rookie can't keep the iconic card from reaching thousands of dollars per sale on eBay recently.
Perfect condition, PSA GEM mint 10 cards are currently selling for over $5,000. But even in excellent condition, non-rated cards are selling for much less. If you love this card, the best move might be to consider unrated Junior rookie cards for your collection. 

---
Even when rarity is one of the most important traits of iconic baseball cards, I'm going to make an exception here. Even if everyone owns a 1989 Upper Deck Ken Griffey Jr rookie card, which very well could be the case, there really is only one Ken Griffey Jr rookie card. It's the 1989 Upper Deck, and I would still say it's one of my favorite cards of all time.
Other Griffey Rookies
There are minor league cards that can be worth good money, and there are others that are virtually worthless. The 1987 Bellingham Mariners Ken Griffey Jr. baseball cards are some of my favorite minor league rookie cards. A BGS 9 rated card is selling on Amazon for just over $400. Ebay shows a BGS 9.5 rated Bellingham Mariners Griffey rookie card selling for $1,200.
---
Nearly every baseball card shop in the country featured Ken Griffey rookie cards as their premier merchandise in the early 1990s. Other than the 1952 Topps Mickey Mantle rookie card, I can't remember a more prominent card at the time.
Another valuable card is the 1989 Bowman Tiffany Ken Griffey Jr. rookie featuring Jr's father, Ken Griffey Sr. And you can't possibly forget about another valuable Ken Griffey Jr. rookie card, the Topps Tiffany Traded from 1989.
As a member of the Baseball Hall of Fame and one of the greatest players to ever play center field, Griffey's career is loaded with incredible stats, records, and highlights. He has the seventh-most career home runs with 630.
He was his team's No. one overall pick and didn't look back. From his high school years as a future phenom to his rookie season to his retirement as a hall of famer, the baseball card business may never see anything like "The Kid" again.
---