---
There may be a no bigger name in track than Bill Bowerman. In 24 years, he trained 31 Olympians, 51 All-Americans, and 12 world record holders. Sixteen of them ran sub-four-minute miles.
He helped create Nike, one of the biggest companies in the world. As Nike's co-founder, he created the Cortez model shoe and the Waffle Racer with his own bare hands.
If you read the memoir "Shoe Dog" by Nike founder Phil Knight, you'll notice his name appearing throughout the book as Knight describes the twists and turns of starting and growing the shoe company. Phil Knight has said without Bowerman, there's no Phil Knight or Nike.
Co-Founder of Nike
The Pearl Harbor attack led Bowerman to join the United States Army. After rising to the rank of Major in World War II, Bowerman returned to Oregon to begin a long and storied career as coach of the track and field team.
Bill Bowerman teamed up with Phil Knight in 1964 to create Blue Ribbon Sports as a distributor of Tiger, a Japanese running shoe.
With each contributing just $500, the duo began selling imported Onitsuki Tiger running shoes out of the trunk of their cars. By 1971, they decided to change the company's name to Nike, after the Greek goddess of victory.
Bowerman the Teacher
By training 31 Olympians and 51 All-Americans, Bill Bowerman saw the best of the best compete on his track team. But there was one who stood above them all, Steve Prefontaine. In 1970, "Pre" enrolled at the University of Oregon because he wanted to be trained by the best. He wanted to be coached by Bowerman.
Prefontaine never lost a 3 mile, 5,000 meter, 6 mile, or 10,000-mile race in four years under Bowerman at Oregon. And only three losses in his entire collegiate career.
Bringing Running Back to America
While on a trip to New Zealand, Bowerman learned of a fitness routine involving running, especially for older people.
Once back in the United States, Bowerman began a running program for local Eugene runners that eventually became a national fitness routine. He also began writing about running. He wrote 'A Jogger's Manual,' detailing the benefits of running, which helped create national interest in running as a sport, and creating a jogging boom.
Bowerman's Statue at Hayward Field
Bowerman retired after bringing the U.S. Olympic Trials to Eugene and coaching the U.S. Track and Field Team at the Munich Olympic Games in 1972.
After gaining recognition for his talent in teaching and rising to one of the best American track coaches of all time, Bowerman reached his potential and decided to step back from the racetrack.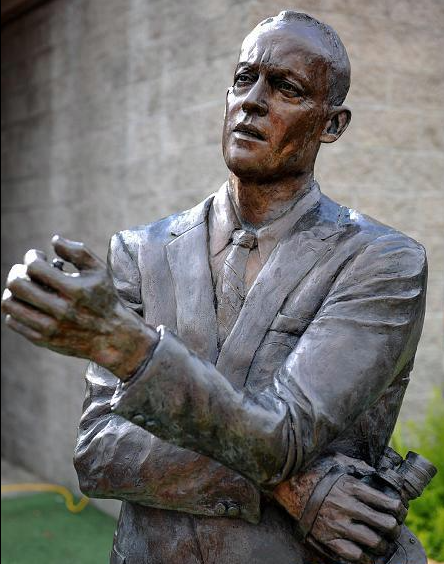 ---
As coach of numerous NCAA Championships, dozens of world-class athletes, 31 Olympic athletes, and several holders of world records and individual titles, Bowerman is respected as the greatest Olympic track coach and college coach in American sports history.
Bowerman, Nike, and the First Shoemaker
As a coach at the University of Oregon, he was one of the best. Although he preferred the title of "teacher" rather than "coach." In the early 1970s,
Bowerman was growing frustrated with the flimsy track shoes his runners were wearing. He wanted a better running shoe for his athletes. He knew from his football playing days at Medford High School just how vital the shoe was to athletic performance.
After complaining to various shoe companies to make changes in their design and not seeing a satisfactory response, Bowerman decided to create a track shoe he knew his runners needed.
The Bowerman Waffle Iron
Bowerman dove headfirst into the art of shoemaking, finding a local cobbler for beginner advice.
He became a shoe-making student, spending his spare time and money developing ideas and methods for the perfect track shoe. Years of tinkering and experimenting with shoe design led to one moment in 1971 when Bowerman pulled out his wife's waffle iron.
He proceeded to pour liquid urethane into the waffle iron to create a tread for his running shoe prototype, and the "waffle tread" was born.
---
Bowerman's Nike Waffle Spike
His original Nike prototypes have sold at auction for hundreds of thousands of dollars.
Recently, a pair of handmade Waffle Spike shoes he created exclusively for runner John Mays sold for an estimated $150,000 at a Sothebys auction.
With only a few pairs in existence, the waffle trainer shoes signify the beginning of a partnership between co-founders Phil Knight and Bowerman, eventually leading to the creation of one of the world's largest companies in the world.
"A shoe must be three things, it must be light, comfortable and it's got to go the distance."

-Nike Co-founder, Bill Bowerman
How Much of Nike Did Bill Bowerman Own?
By the time Nike went public in December of 1980, Bill Bowerman owned 26 million shares of Nike. After the first trading day, his shares were worth $9 million.
By the time of his death in December of 1999, Bill Bowerman's stake in Nike grew to $390 million. What's even more staggering is if he were still alive today and held the same 26 million shares of the company, his net worth would be $3.5 billion.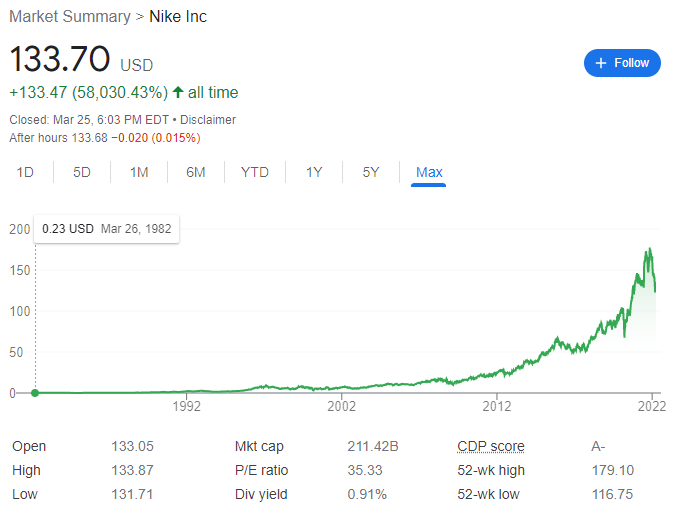 ---
Other Record Nike Sales
The sale at the Sotheby's auction is one of the highest prices paid for a pair of athletic shoes in history. Topped only by the Nike Waffle Racing Flat, known as the "Moon Shoe," which sold for $437,000, and a pair of autographed Nike Air Jordan shoes from 1985, which sold for $560,000.
The Nike Cortez
With the dozens of world-famous Nike shoe models over the years, the Nike Cortez might be the most recognizable model of any.
The original Nike Cortez design came from Bowerman himself in 1972. His goal was to design a comfortable shoe with durability. Suitable for both training and road running.
Nike released the Cortez during the 1972 Summer Olympics, and interest gained almost immediately.
Sales for the Nike Cortez reached $800,000 during the first year, a staggering amount that accounted for 100% sales growth over the previous year. Needless to say, the Cortez helped launch Nike on a path to the multi-billion dollar success story of the 1980s and 1990s.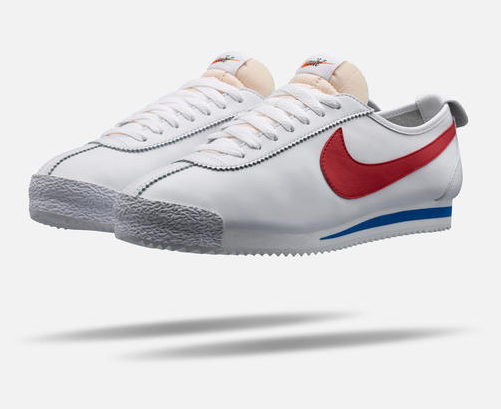 ---
The Nike Brand
Of the many great athlete's Bill Bowerman coached on the track, none compared to Steve Prefontaine. But off the track, many athletes trained under Bowerman, who accomplished amazing feats off the track in the business world.
One of Bowerman's former athletes who went on to work at Nike was Tinker Hatfield.
Hatfield was coached by the legendary Bowerman and studied architecture at the University of Oregon. After a severe injury ended his track career, Hatfield would find his calling in working for Nike; the company co-founded by his former coach.
---
READ more about rare and valuable shoes –
19 of the Most Expensive Shoes Ever
---
Hatfield and Air Jordan
Hatfield began his Nike career in 1985 and quickly moved up to Creative Director of Product Design.
In just a few years from starting his career, Hatfield found himself in the middle of the biggest opportunity of his life, developing the strategy for Michael Jordan and his own shoes. The Air Jordan Nike brand would be centered around the rising NBA star.
---
Other Nike Athletes
There's no way to describe the influence Nike has had on the sports world since Bill Bowerman asked his wife, Barbara Young if he could use her waffle iron to pour liquid urethane and create the first Nike Waffle track shoe.
Almost every major athlete in the world has worn Nikes. Tiger Woods, LeBron James, Bo Jackson. The list goes on and on.
The builder, Bill Bowerman hard at work creating a shoe that would propel his runners. As the head track coach, he understood that the shoes could make the difference between first place and second place.
I would highly recommend Phil Knight's memoir, "Shoe Dog," an amazing tale of partnerships, perseverance, and vision.
---
---
READ more about the amazing athletes around the Nike brand –
Top 10 Michael Jordan Collectibles
The Case for Bo Jackson Rookie Cards
The Legend of the Ken Griffey Jr Rookie Card
---