---
Timepieces have been more than just a way of telling time. The most expensive watches in the world have shocked and awed watch collectors for centuries.
Aside from being valuable items, watches can also be considered works of art and expressions of luxury. This is why some wristwatches are so expensive; we craft them with the utmost care and attention to detail.
The finest timepieces often contain gems, precious metals, and intricate designs, making them amazing pieces of jewelry and artwork.
In addition, the most expensive watches have a rich history and come from respected manufacturers with a long-standing reputation for quality. All these factors contribute to their high price tag.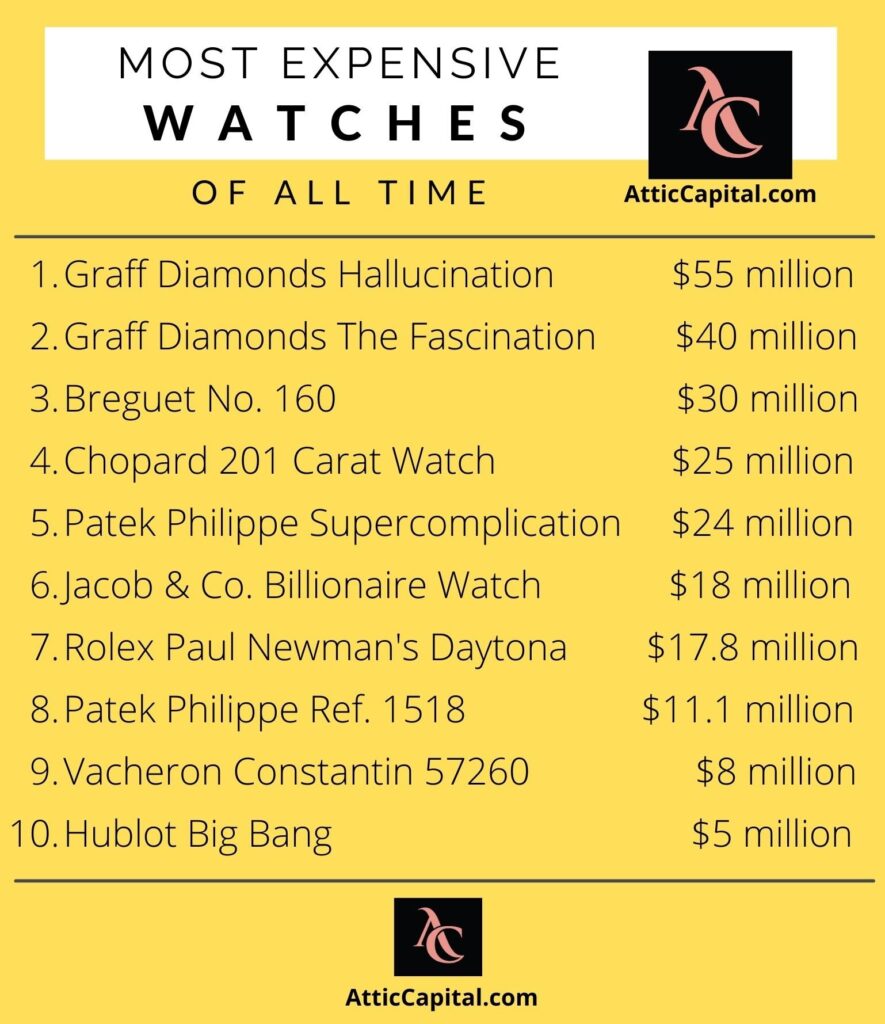 The combination of craftsmanship, materials, design, and heritage makes luxury timepieces desirable items at a premium price.
Even though certain timepieces can come with a hefty price tag, their owners often appreciate the value of owning such an exquisite timepiece and the satisfaction of making such an elegant investment.
Top 10 Most Expensive Watches of All Time
Luxury watches are about more than just telling time – they are also part of history, culture, and art, making them a valuable addition to any collection.
And that's why some timepieces are so expensive. They provide something truly unique and timeless.
---
#1 – Graff Diamonds Hallucination – $55 million
The Graff Diamonds Hallucination, unveiled in 2014, is the rarest watch of its kind, boasting an astonishing price tag.
The watch features a unique design featuring diamonds and other precious stones set in white and yellow gold, creating a mesmerizing kaleidoscope of color and sparkle.
The watch also features an intricate sapphire dial with a diamond-studded bezel, making it one of the most luxurious watches of all time. Rumors are the watch was inspired by a dream, making it even more special.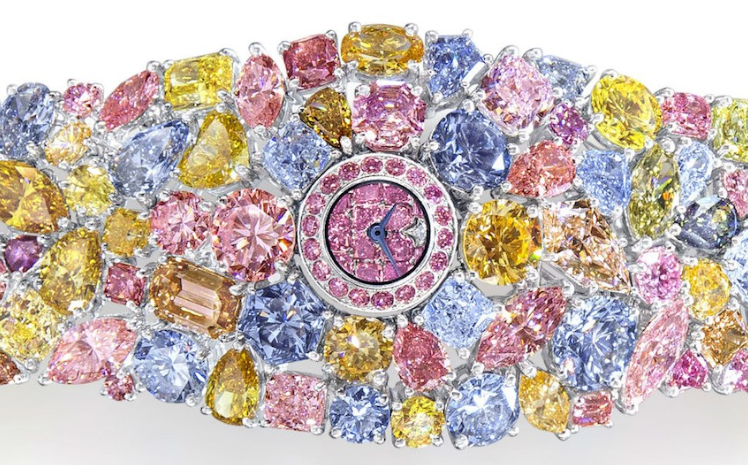 ---
#2 – Graff Diamonds The Fascination – $40 million
The Graff Diamonds The Fascination watch is a limited-edition luxury watch created by the renowned watchmaker Laurence Graff. It is considered the second most expensive wristwatch ever produced.
Created in 2014, the unique 18k white gold and diamond design totals over 38 carats. The watch is encrusted with 574 flawless diamonds, including a 7.2-carat pink diamond at the center of the watch face, making it an exquisite piece of watchmaking artistry.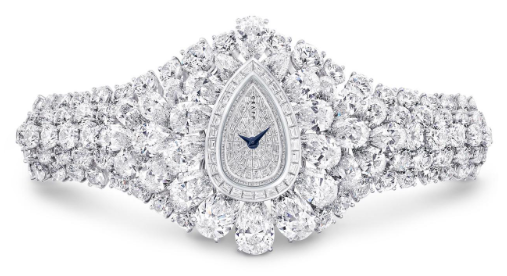 ---
#3 – Breguet Grande Complication Marie-Antoinette No. 160 – $30 million
The Breguet No. 160 watch is one of the most expensive timepieces in the world and has quite an interesting story behind it. Created by watchmaker Abraham-Louis Breguet in 1793, it's considered one of the most high-end watches of its time.
It was commissioned in 1783 by an admirer of the French Queen, Marie Antoinette. After 19 years, the watch was complete.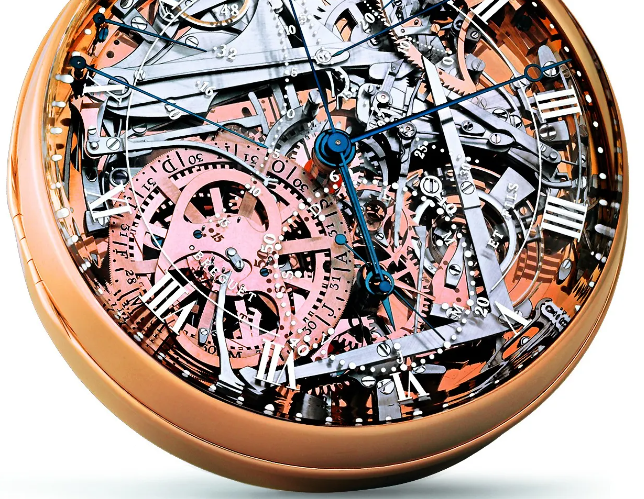 ---
#4 – Chopard 201 Carat Watch – $25 million
The Chopard 201 Carat Watch has a legendary past. It is the largest diamond watch ever made and was first presented to the world at the Baselworld exhibition in Geneva, Switzerland.
The diamonds used to make the watch were sourced from around the world, including diamonds from Russia and Africa. The diamonds were then cut and polished in Switzerland to the highest standards. The wristwatch is truly one-of-a-kind, featuring 201 diamonds with a total weight of 201 carats.
This watch is a testament to the superior craftsmanship, and quality Chopard is known for, making it one of the most sought-after watches in the world.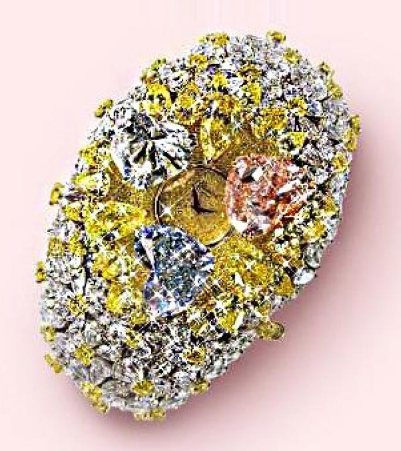 ---
#5 – Patek Philippe Henry Graves Supercomplication – $24 million
The Patek Philippe Supercomplication is one of the world's rarest and most valuable watches. It was made by Patek Philippe, a Swiss watchmaking company, and is also known as the Patek Philippe ref. 1527.
It was created in 1932 for American banker Henry Graves Jr., and at the time, was the most complicated watch made by a brand. It features 24 different complications, including a perpetual calendar, moon phases, and a minute repeater.
The watch was designed by Graves himself and took three years to complete.
The Supercomplication held the record for the most complicated watch ever made until 1989, when the Patek Philippe ref broke it. 3974.
Still, it remains one of the most expensive watches in history, selling at auction in November 2014 for a record-breaking price of 24 million US dollars.
Its value is due to its rarity and the incredible craftsmanship that went into its making. The Patek Philippe Supercomplication has come to symbolize the pinnacle of watchmaking excellence, and its legacy lives on.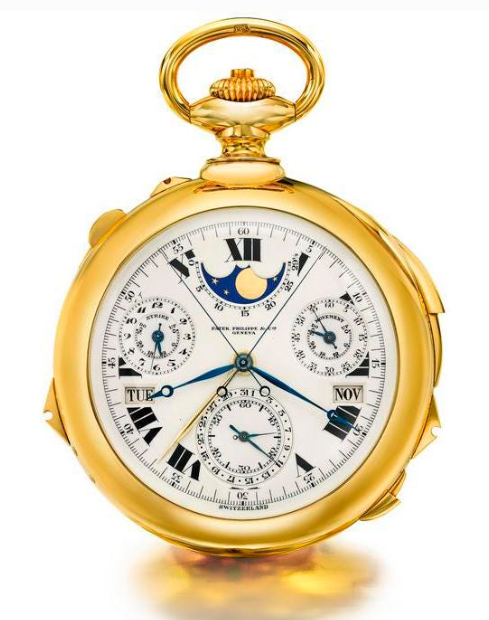 ---
#6 – Jacob & Co. Billionaire Watch – $18 million
When Jacob & Co. introduced the Billionaire Watch in 2017, they made a splash in the luxury watch world.
Designed by company founder Jacob Arabo and crafted in New York, the eye-catching timepiece features a skeletonized design with 342 diamonds encrusting the case.
The watch was purchased by Floyd Mayweather Jr. in 2015 after it's unveiling at Baselworld.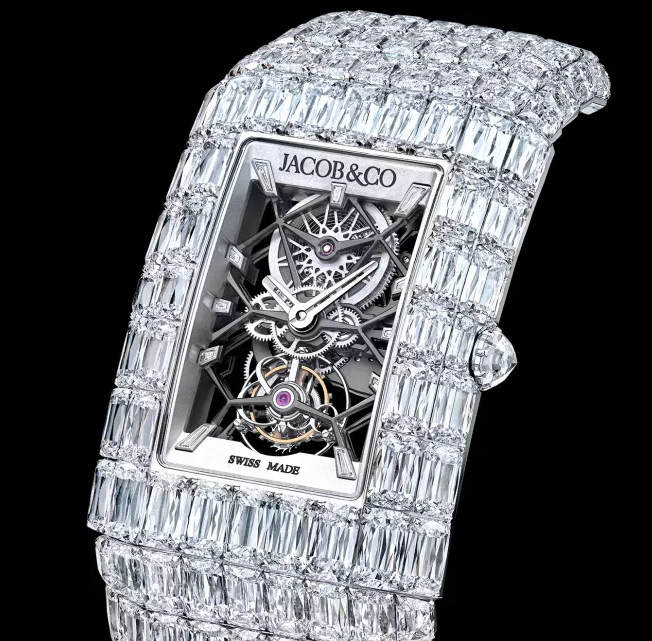 ---
#7 – Paul Newman's Rolex Daytona – $17.8 million
The Paul Newman Rolex Daytona watch started as a gift.
When the Hollywood actor, Paul Newman, was given the watch by his wife, Joanne Woodward, in 1972, it's become the most expensive Rolex in the world.
The Newman Daytona is a unique black and creme art deco-style dial. Only 2,000 to 3,000 were ever produced like it. Engraved on the back of the watch is "Drive Carefully Me," a note from Newman's wife.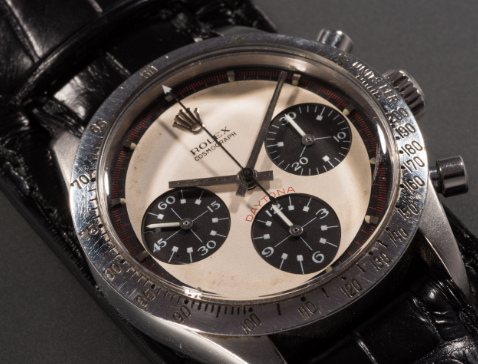 ---
#8 – Patek Philippe Stainless Steel Ref. 1518 – $11.1 million
The Patek Philippe Ref. 1518 was released in 1941, making it one of the earliest stainless steel wristwatches ever produced. It was also the world's first perpetual calendar chronograph wristwatch – a feat that had been thought impossible by watchmakers until then.
This model remains one of the most desirable watches among collectors, with stainless steel versions commanding some of the highest prices ever seen for a watch.
In 2016, an example of the Ref. 1518 stainless steel sold at auction for over $11 million, making it one of the world's most expensive watches. To this day, the Patek Philippe Ref. 1518 stainless steel remains a legendary timepiece.
The stainless steel version of the Ref. 1518 is scarce – only four stainless steel examples were produced in total, out of a total run of 281 watches.
This makes it one of the most sought-after stainless steel ref from Patek Philippe and a coveted piece in any collection.
Its perfect blend of classic design and modern horological capabilities makes it one of the most desirable watches among connoisseurs, with stainless steel versions often commanding some of the highest prices ever seen for a watch.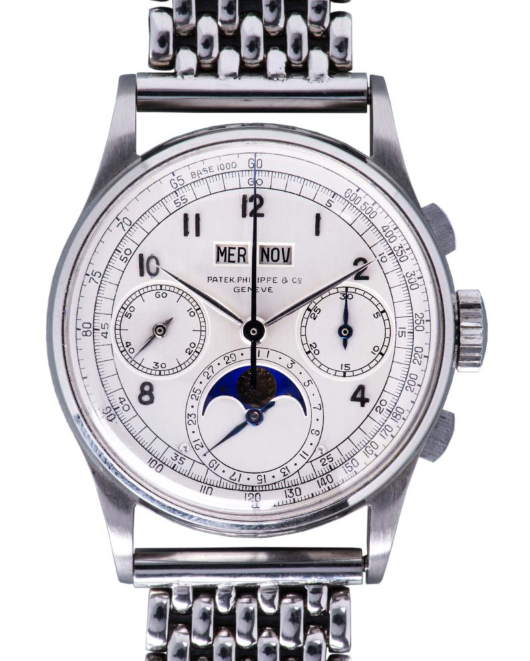 ---
#9 – Vacheron Constantin 57260 – $8 million
The Vacheron Constantin 57260 pocket watch is a one-of-a-kind masterpiece that stands out for its complexity. A collector commissioned it after Vacheron Constantin searched its archives and found pocket watches from the 19th century.
Inspired by this find, Vacheron Constantin created a pocket watch tailor-made for the collector. The pocket watch features 57 complications and took eight years to develop.
The pocket watch has a perpetual calendar, tourbillon and minute repeater, astronomical indications, equation of time, and instantaneous power reserve.
In addition to its unique complications, the pocket watch also features detailed craftsmanship. It is decorated with engravings of bridges and geographic maps made from 18k gold.
The pocket watch is genuinely one-of-a-kind and continues to impress collectors and watch enthusiasts alike. It is a testament to Vacheron Constantin's commitment to creating high-quality, tailor-made pieces that will last for generations.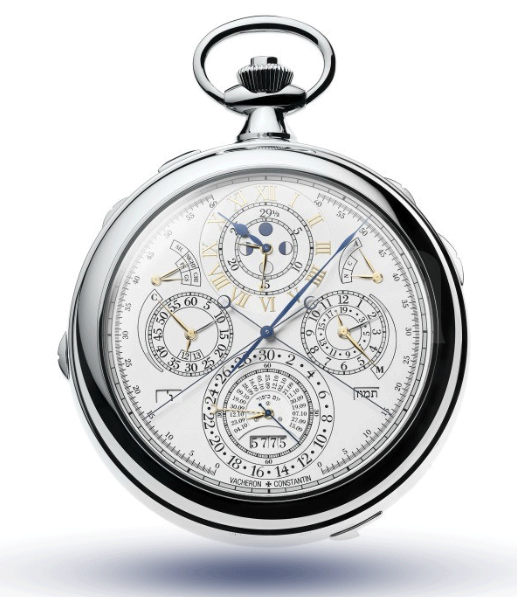 ---
#10 – Hublot Big Bang – $5 million
Since its initial release in 2006, it has become a symbol of status and exclusivity.
The Big Bang has become a highly sought-after item from its bold design and intricate features to its rarity due to limited production runs.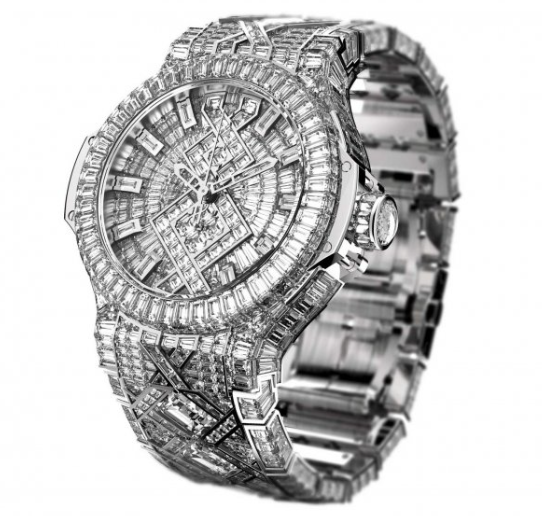 ---
What are the Most Expensive Watch Brands?
When it comes to luxury watches, grande complication models take the cake. These exclusive pieces of horology are usually crafted by some of the most prestigious watchmakers, with Patek Philippe being the most esteemed.
Since 1839, Patek Philippe has produced grande complication watches with complex movements, making them the ultimate symbol of prestige and craftsmanship.
They offer grande complication timepieces in various styles, materials, and grand complications, ranging from tourbillons to minute repeaters and grande sonneries.
While grande complication watches from Patek Philippe can cost up to seven figures, they are often considered a worthwhile investment and an excellent choice for collectors.
Other Amazing and Expensive Watches
Patek Philippe Grandmaster Chime – Twenty complications, six patented innovations, and two independent dials. Creating the Grandmaster Chime took 100,000 hours.
Split-Seconds Chronograph – The split-seconds watch features two-time intervals starting at the exact same instant.
Jaeger-Lecoultre Joaillerier 101 Manchette – This watch was a gift to Queen Elizabeth II for her 60th year as The Queen. White gold and a miniature caliber 101 movement. Some watch experts value the watch at $26 million.
Patek Philippe Heures Universelle – Also known as the World Time watch, it's one of the most complicated creations by Patek. Among its features, all 24 time zones split with 15 degrees of longitude displayed on the dial.
Patek Philippe Platinum World Time Ref. 1415 – The Platinum World Time has been owned several times by Davide Parmigiani, one of the world's biggest watch dealers.
Audemars Piguet Royal Oak Complication – Most watch aficionados recognize the AP Royal Oak design, but when you combine the classic design with a grand number of complications, you get a multi-million dollar watch.
---
The Best Auction Houses for Expensive Watches
Auction houses are a great way to buy the most expensive watches, and there are three main ones you should be aware of: Phillips, Christie's, and Sotheby's.
Phillips is known for its collection of vintage watches from the 18th century onwards, including rare pieces from some of the world's most renowned watchmakers.
Christie's has many modern watches, including limited editions and collaborations with top brands like Rolex.
Sotheby's offers a mix of vintage and modern watches, often with particular emphasis on limited edition pieces that are highly sought after by collectors.
All three of these houses are renowned for offering top-quality watches at competitive prices, and each one has a great selection to choose from.
Whichever one you prefer, if you're looking for an expensive watch, these three auction houses are definitely the places to go.
Who Owns the Most Expensive Watches?
The answer to who owns the most expensive watches is quite intriguing. According to reports, Sheikh Saud bin Mohammed Al-Thani of Qatar is believed to possess the most valuable collection of watches, valued at an estimated $2.6 billion.
While it's impossible to know precisely who holds that title, a few names have been thrown around.
NFL owner Jerry Jones is thought to own one of the most valuable single watches, a Hublot watch featuring 604 diamonds valued at over $5 million.
Other notable figures whose watch collections are worth mentioning include Bill Gates, Floyd Mayweather, Lionel Messi, and Cristiano Ronaldo.
It's not suprising some of the most well-known celebrities and business people own expensive watches, but what's fun is discovering the biggest watch collectors in the world nobody's ever heard of.
John Goldberger might be one of the least famous watch collectors with the best collection. He's been collecting amazing vintage watches for decades.
He sold the only white-gold Rolex Daytona created, for over eight million dollars in 2018.
More than beauty or status symbols, watches are a passionate hobby for many people. Collecting watches is often seen as an expression of art and history, with vintage timepieces often highly sought after.
As such, there are a variety of watch auctions that take place every year where avid enthusiasts can get their hands on some of the most sought-after and expensive watches in the world.
---