---
Are you a vintage watch enthusiast or collector? If so, you're probably familiar with the vintage Bulova pocket watch. Bulova watches are renowned for their innovative technology, precision timekeeping, and timeless style.
Since its inception in 1875, Bulova has proven to be one of the best watchmakers in the world.
Whether you're a modern wristwatch lover or have a soft spot for vintage timepieces, it's not just Rolex you should consider. Bulova has over 140 years of exquisite designs for every kind of collector.
Bulova watches have even been the go-to choice of presidents, astronauts, and celebrities, making them a must-have for collectors and watch enthusiasts.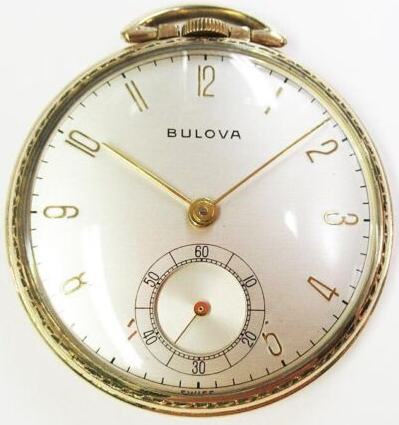 ---
Vintage Bulova Pocket Watch Values
Some of the most sought-after Bulova pocket watches are vintage models, especially those from 1920 to 1960. Vintage Bulova pocket watches can fetch anywhere from $50 to a few thousand dollars at auction, depending on the model and condition.
Rarer models and those that are immaculately maintained will command a higher price. Some of the most valuable Bulova pocket watches include the Bulova Art Deco and Bulova Observatory Chronometer.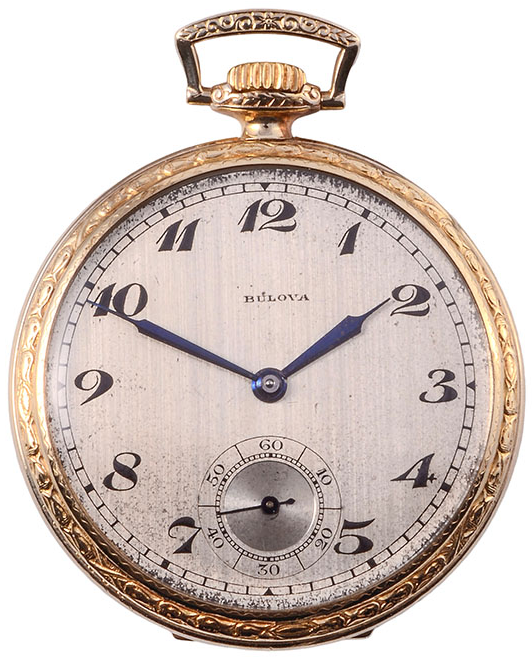 ---
The History of Bulova Swiss Watches
Despite being known for their Swiss-made watches, Bulova was actually founded in Manhattan, New York, in 1875 by a Bohemian immigrant named Joseph Bulova.
By 1911, Bulova found enough success to open a Swiss manufacturing plant that allowed him to continue to grow his business.
By the 1920s, Bulova was a household name and the first watch company to air a radio ad. In 1941, Bulova made history with another big first — the first television advertisement declaring, "America runs on Bulova time!"
Bulova was also the first watchmaker to introduce a fully electronic watch, the Accutron, in 1960. The Accutron was the most accurate timepiece at the time, and it was the first watch to use a tuning fork instead of a traditional balance wheel.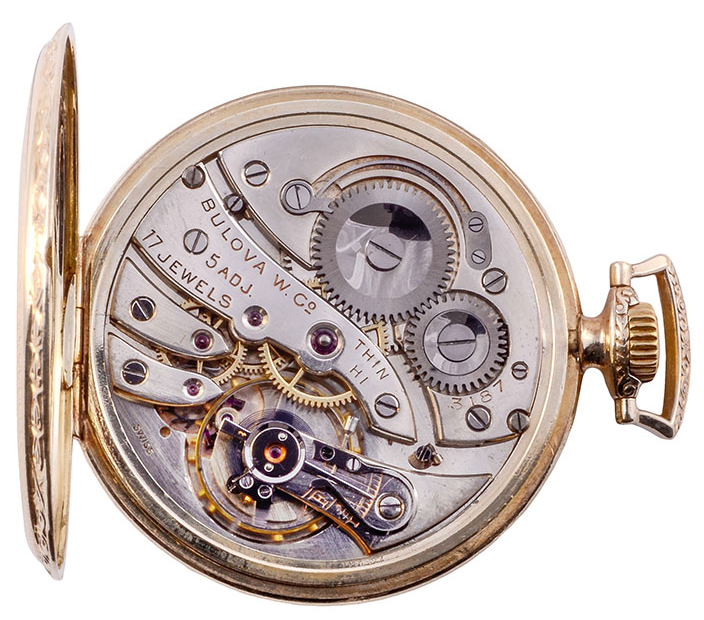 The tuning fork provided a more stable and accurate timekeeping mechanism. For this reason, NASA also used the high-quality Accutron in the 1960s for timing various space missions and paved the way for quartz watches.
Bulova continued to grow and innovate until 1979, when the innovation and pioneering spirit disappeared. However, in 2008, the brand was acquired by Citizen.
Since then, the brand has begun to rebuild and re-establish itself as an authority in watchmaking, and many of its modern models are getting more popular every year. Bulova continues to adapt and evolve as a dress watch or a sport watch.
Retro and vintage models from their prime years are still highly sought-after. Much like other classic pocket watch brands like Hamilton, Gruen, and Elgin, Bulova vintage and antique pocket watches will always have their place in history.
---
Bulova Wristwatch Values
Similar to pocket watches, the value of vintage Bulova wristwatches can vary greatly depending on the watch's age, condition, and rarity. Limited edition models and those kept in excellent condition will fetch a higher price at auction.
For example, a vintage 1960 Bulova Accutron watch in excellent condition with its original box and paperwork could be worth several thousand dollars or more.
A more common vintage Bulova watch from the same era may be worth a few hundred dollars.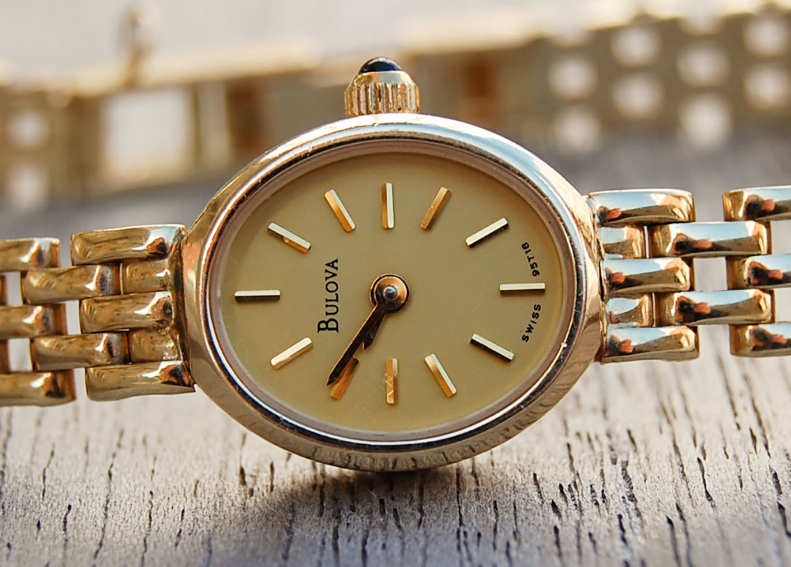 ---
Gold-Plated Bulova Pocket Watches
Gold-plated Bulova pocket watches are another popular timepiece among collectors. Not to be confused with Waltham watches, these pocket watches feature a stainless steel or brass case plated with gold, which gives them an elegant and luxurious look.
The thickness of the gold plating on these watches does vary. Some models have a thin layer that may wear off over time, while others have a thicker layer that can last for many years.
1930 Bulova Open Face Pocket Watch with 17 Jewel Manual Movement – $400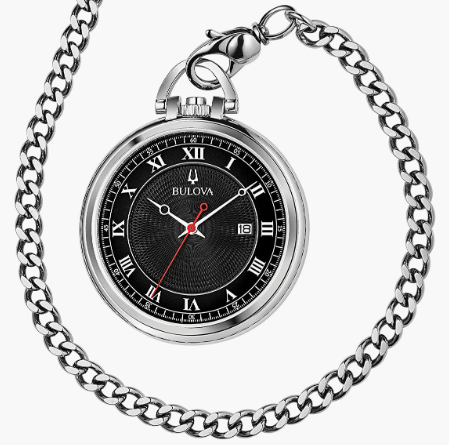 ---
Art Deco 14k Vintage Bulova Pocket Watch
Vintage Bulova pocket watches from the Art Deco period are highly sought-after by collectors, especially those made with precious metals like 14k gold.
These watches typically feature highly stylized geometric designs and bold colors that characterize the Art Deco style.
Bulova produced a wide range of Art Deco pocket watches, including both open-faced and hunter-case models. Some Bulova Art Deco watches were also made with solid gold cases, which are more valuable than gold-plated watches.
Caravelle Bulova Pocket Watch
In 1962, Bulova founded the Caravelle brand of watches. The Caravelle collection features several pocket watch models, each boasting a classic and elegant design.
Vintage Caravelle pocket watches from the 1960s and 1970s can still fetch a few hundred dollars, making them an excellent choice for collectors.
Caravelle pocket watches may come with either Roman or Arabic numerals, depending on the specific model.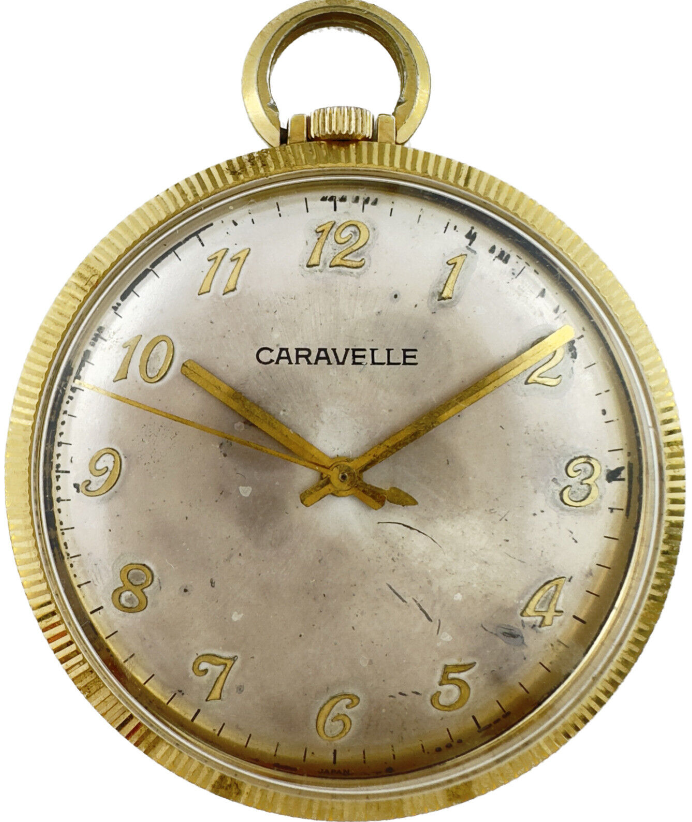 ---
Gold-Tone Bulova Pocket Watch
Gold-tone Bulova pocket watches are another popular collector choice due to their sleek appearance.
Gold tone refers to the color of the watch's case, which is made to look like gold but is a metal alloy coated with a layer of gold. This gives the watch a beautiful, rich appearance, making it more affordable than a solid gold watch.
While affordability was at the forefront of Bulova's mind when designing these pocket watches, they can still fetch a pretty penny on the secondhand market today.
---
Bulova Rolled Gold Plate Pocket Watch
Rolled gold plate is a popular material for vintage watches because it offers many of the aesthetic qualities of solid gold at a much more affordable price.
It is also more resistant to wear and tear than other types of metal plating, making it a practical choice for a pocket watch meant to be used and carried regularly.
Besides being a piece of history, these watches also typically boast a simple yet elegant design that many collectors love. So no one could blame you if you choose to display this timepiece rather than use it daily.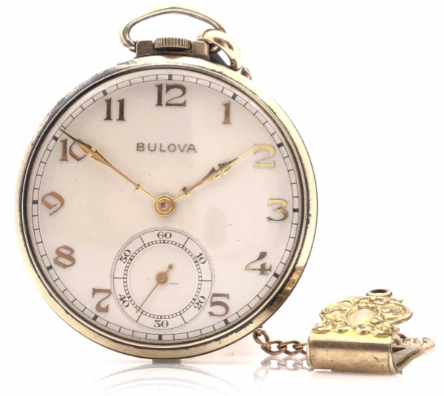 ---
How to Set the Date on a Vintage Bulova Pocket Watch
Many Bulova pocket watches feature a date display from 1 to 31. Since the watch doesn't know what month it is, you'll need to readjust this setting at the beginning of most months. Of course, not all months have 31 days.
If you have a vintage Bulova pocket watch and need help setting the time and date, don't worry. Setting the date on a vintage Bulova pocket watch is simple, and accessibility is not an issue.
Locate the crown on the right side of your pocket watch. Pull the crown straight out to the first position. Next, turn the crown clockwise or counterclockwise to adjust the date.
Continue moving the hands until the correct date appears in the date window.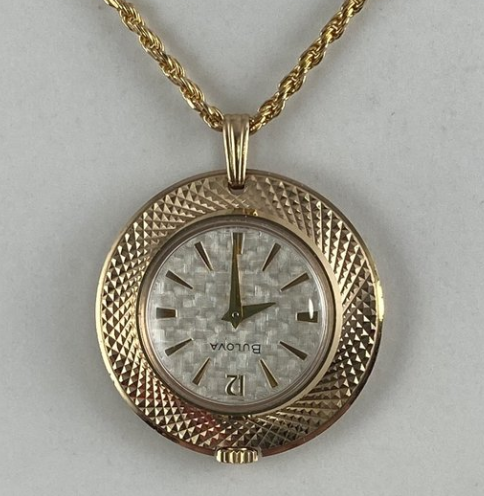 When setting the date, you should only hear one click when you pull the crown out, and the hands on the watch should not stop moving.
If the hands stop moving, you've likely pulled too far and put it into the second position. If this happens, gently push the crown back in until you hear it click one time. Then, you can set the date as outlined above.
Once the date is set, carefully push the crown in until it is secured in its original location.
---
How to Set the Time on a Vintage Pocket Watch
Pull the crown directly out to the second position if you need to set the time. You should hear two clicks, and the hands should stop moving. From here, you can rotate the crown to adjust the time.
If you have an automatic watch, you're in luck, no need for it to be wound daily.
The daily movement of the watch spins a rotor, turning gears and unwinding the mainspring that powers the watch movement. Pretty amazing engineering, which is one of the reasons I love old vintage pocket watches.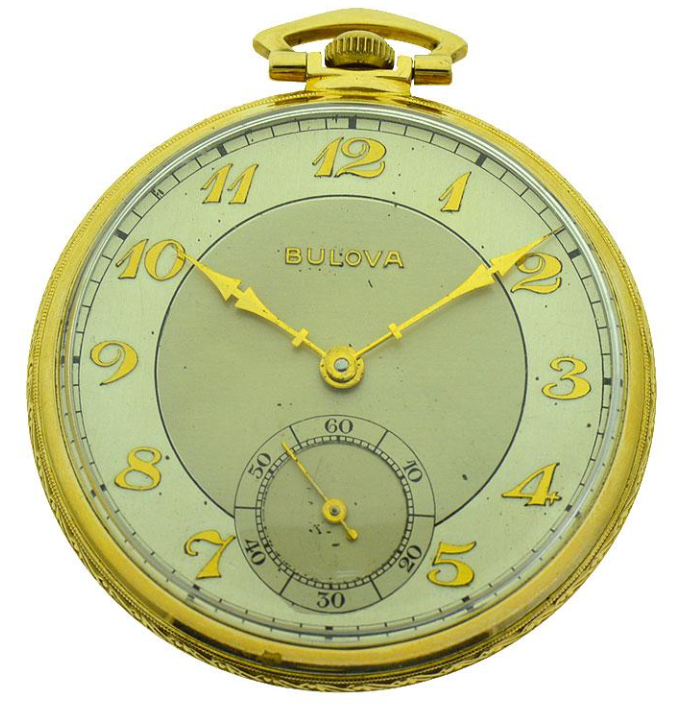 ---
What is a Bezel on a Pocket Watch?
What is a bezel? Most of the time, a pocket watch will have a round bezel. The outer case holds the inner crystal in place and protects the watch components.
Hunter-case pocket watches typically feature snap-on bezels, while open-face pocket watches will have hinged or screw-on bezels.
Hudson Maxim
The Hudson Maxim is a highly collectible Bulova men's watch initially produced from 1920 to 1923. Since these pocket watches were only made for a few years, they are typically harder to come across and highly sought-after.
The Hudson Maxim features black or raised copper Roman numerals that pop against the gold backdrop and 17 movement jewels.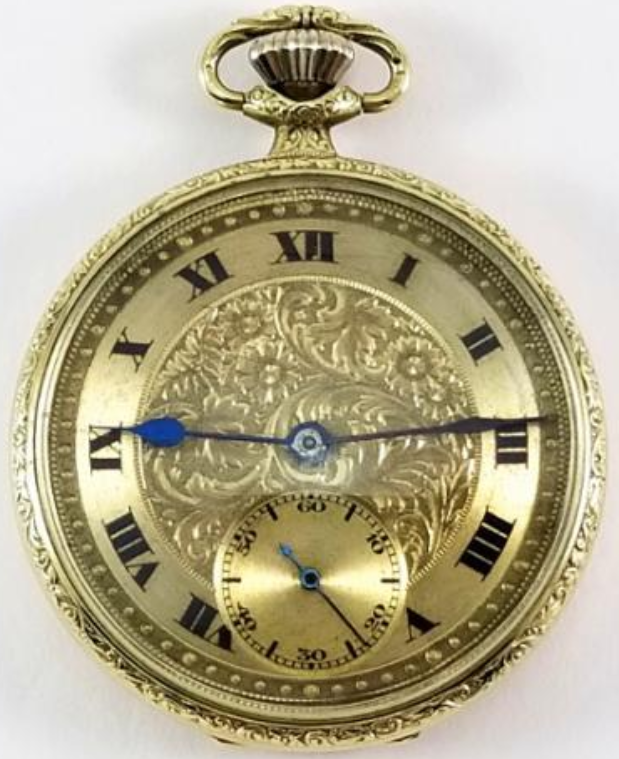 ---
The 682 Phantom
The 682 Bulova Phantom boasts a solid white gold engraved case and 18 movement jewels. If you have one of these lying around, it's worth getting appraised.
But what makes this pocket watch so coveted among collectors is its elusive nature. Dating back to the 1920s, the 682 Phantom is few and far between today.
---
The Prince of Wales
The Bulova Prince of Wales is a unique pocket watch that was only produced for a short time in the 1920s.
The Prince of Wales pocket watch was named after the British monarch, King Edward VIII, who was also known as the Prince of Wales and was a fan of Bulova watches.
It features a rectangular case with rounded corners, gorgeous gold hour markers, 17 movement jewels, and a date display by the 6:00 hour marker.
---
Rare Vintage Bulova Stopwatch
Apart from pocket watches and wristwatches, Bulova also produced stopwatches. These stopwatches were used for sports timing and were highly accurate.
Some of the most sought-after stopwatch models include the Bulova Accutron Astronaut Stopwatch, Bulova Accutron Surplus Military Stopwatch, Bulova Chronograph A, B, or C, and the Bulova Wrist-Mate Stopwatch.
If you have any of these stopwatches in your collection, you may be surprised by how much they're worth today.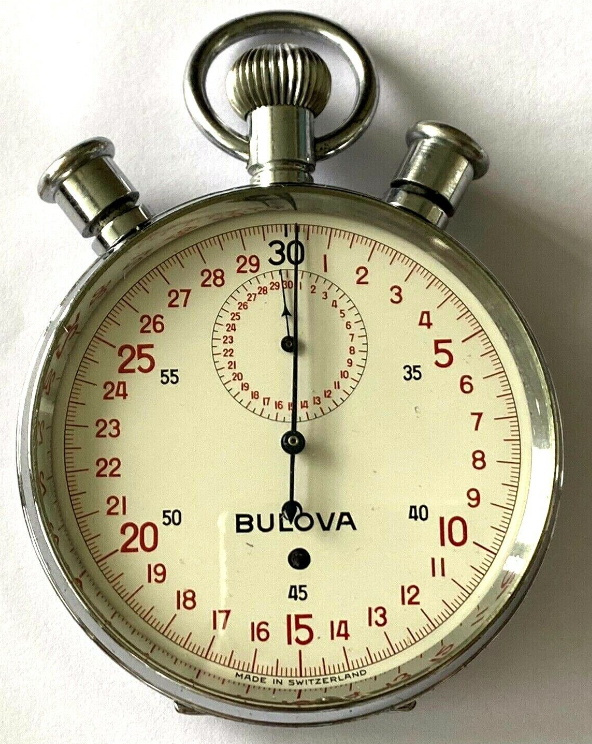 ---
Are Vintage Bulova Watches Right for Me?
Bulova watches are functional and add an elegant touch to any garment. But whether you coordinate your dress watches with your apparel or love to collect, Bulova watches make a fantastic addition to any collection.
With pocket watches, wristwatches, and stopwatches among their historical collection of watches, there is sure to be a vintage timepiece or two — or three, or four — that appeal to you.
---