The Best vintage watches under $1000 include storied brands, amazing designs, and incredible craftsmanship.
Whatever your budget might be, there's always vintage and retro watch gold out there, just waiting to be discovered.
Best Vintage Watches Under $1000
If I still have your interest, here's your next fresh idea – consider investing in some of the best vintage watches under $1000.
Luxury watchmakers are pulling out all the stops to attract customers and drive sales of their finest creations. Rolex, Audemars Piguet, Vacheron, Patek, FP Journe, these companies have intense pressure to up the ante and dazzle the most sophisticated and ultra-wealthy watch buyers.
The Vintage Watch Craze
New watches by luxury brands sell for tens of thousands of dollars, and the vintage models are not getting any less expensive.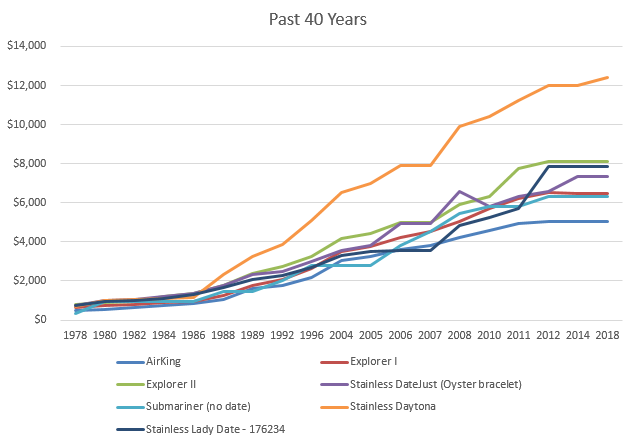 Take a look at other great options. There are some of the best vintage watches under $1000, and their classic designer look should grab any
There's a gold mine of quality vintage watches out there, with amazing design, in-house movements, and incredible craftsmanship.
With the proper research and a little time invested in your search, the potential for price appreciation may be more than you would imagine. And you may find there's a lot less competition bidding up the prices. Competition is far less for these vintage pieces under $1000.
Best Vintage Watches Under $1000
In the mid-1930s, new technology was developed and patented by Swiss engineers Georges Braunschweig and Fritz Marti.
This was a "shockproof" spring-loaded mechanism to avoid damage to watches when dropped produced by the company Incabloc, S.A.
Swiss Military Incabloc Vintage Watch, $550
Many watch brands would simply print "Incabloc" on the face of their watches, designating the quality, excellence, and latest watchmaking technology encased inside the watch.
This classic swiss made military-style vintage watch from the 1940s features a two-tone silver dial and a stainless steel screw-down case back. Selling for $550, this watch is a perfect example of 1940s vintage, with light wear and a NATO-style strap.
The purchase price includes a 1-year warranty of accurate timekeeping and operation from Wannabuyawatch.com.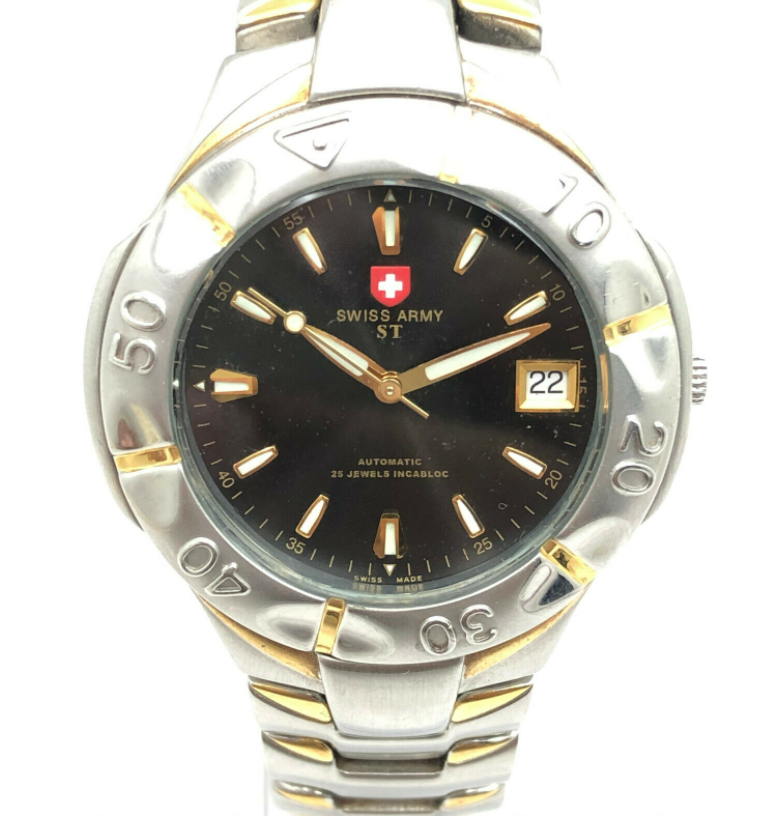 ---
Eberhard & Co. Nickel Silver Vintage Pocket Watch, $1,050
Ok, so this is just a little bit more than $1,000, but I really love the 1930s pocket watches. As a collectible, the vintage pocket watch is almost perfect. Small, sometimes-affordable, and elegant timepieces with loads of craftsmanship and amazing engineering.
Eberhard has produced watches in La Chaux-de-Fonds, Switzerland, since 1887. The old Swiss brand was founded by Georges Eberhard, the son of the very prominent Bernese family, tracing back to the 10th century.
When searching for the best watches under $1000, don't forget about the 1930s pocket watches. They are certainly historical, and you can find great pocket watches from some of the most reputable brands in the world if you dig deep enough.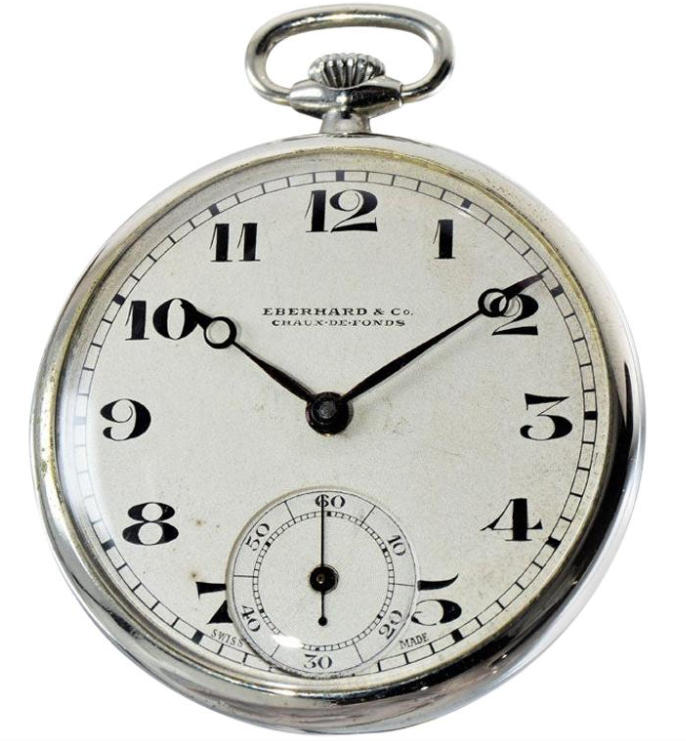 ---
Juvenia Stainless Steel Automatic Movement Watch, $900
Juvenia is another luxury watchmaker located in La Chaux-de-Fonds, Switzerland. The company was founded in 1860 by Jacques Didisheim-Goldschmidt.
One of its famous antique models is the "Sextant," which first appeared in the 1940s, featuring a handless display. The company has just announced its third edition of the Sextant model. Juvenia offers excellent quality, a great brand, and several affordable vintage watches in the $1000 price range.
Historic Watchmaking
The retro model selling below for $900 at 1st Dibs is from the 1930s. It's a really cool design and a small price to pay for a nearly 90-year-old watch made by a historic watchmaking brand.
Used as dress watches or everyday watches, Juvenia is a great place to start your vintage watch under $1,000 hunt. Juvenia automatic watches offer good quality packed inside a stainless steel case.
Looking to sport a unique piece and an all-around good vintage watch? Give Juvenia a consideration for your collection.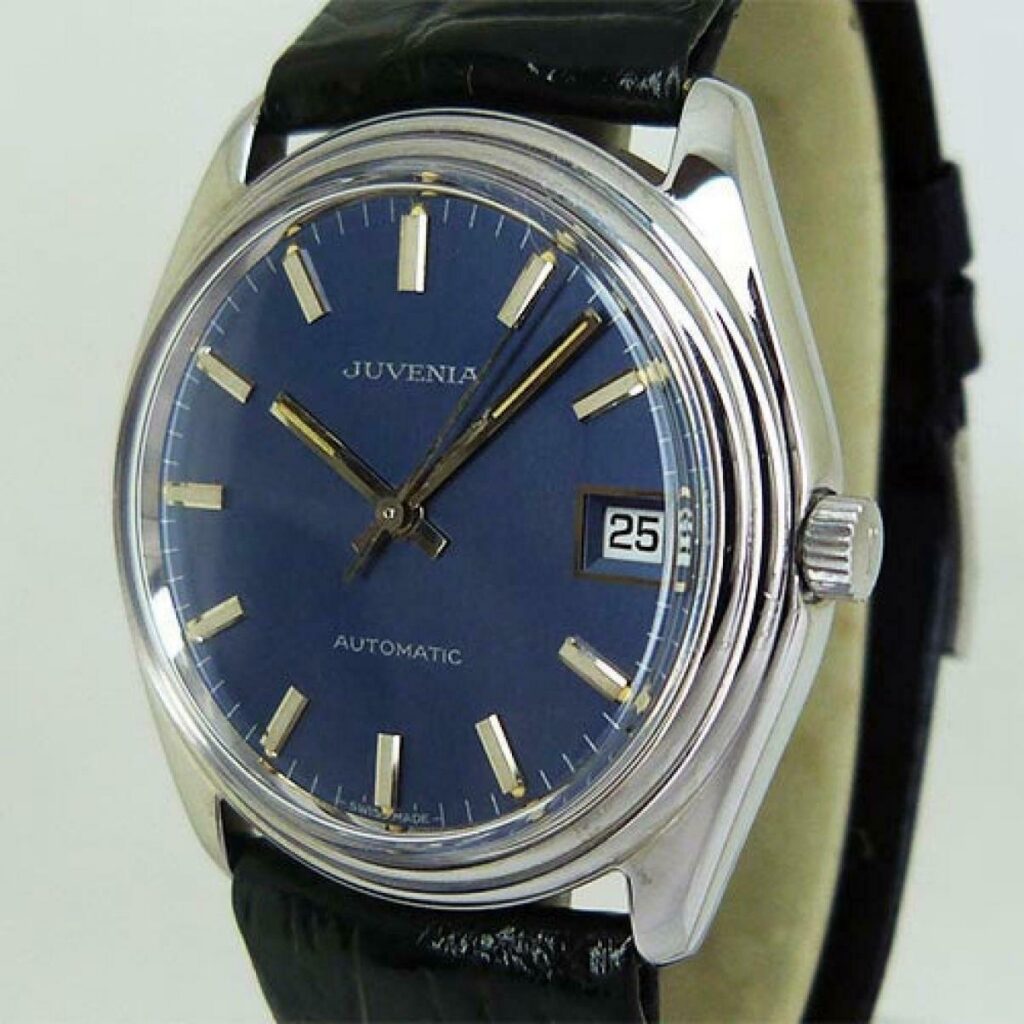 ---
Omega Mechanical Stainless Steel Vintage Watch, $1,000
Omega SA is a luxury watchmaker based in Bienne, Switzerland. The company was founded in 1848 by Louis Brandt as La Generale Watch Co. and changed its name to Louis Brandt et Frere – Omega Watch & Co. in 1903.
You can't go wrong with vintage Omegas; several iconic designs fall into very reasonable prices. From the Omega Speedmaster to the Omega Seamaster, the $1,000 price range still delivers a piece of watch history.
The Omega Storied History
The prestigious watchmaker has a storied history. Britain's Royal Flying Corps wore Omega wristwatches during World War I. NASA astronauts chose Omega as the first watch on the moon in 1969. And since 1932, Omega has been the official timekeeper of the Olympic Games.
The 1950s vintage Omega watch below is listed for sale at 1stDibs.com for just over $1,000. The men's watch features stainless steel, dauphine hands, Arabic quarter numerals, and a signed silvered dial.
Some staining is present around the dial's rim, but the watch is in fine working condition and keeping time well.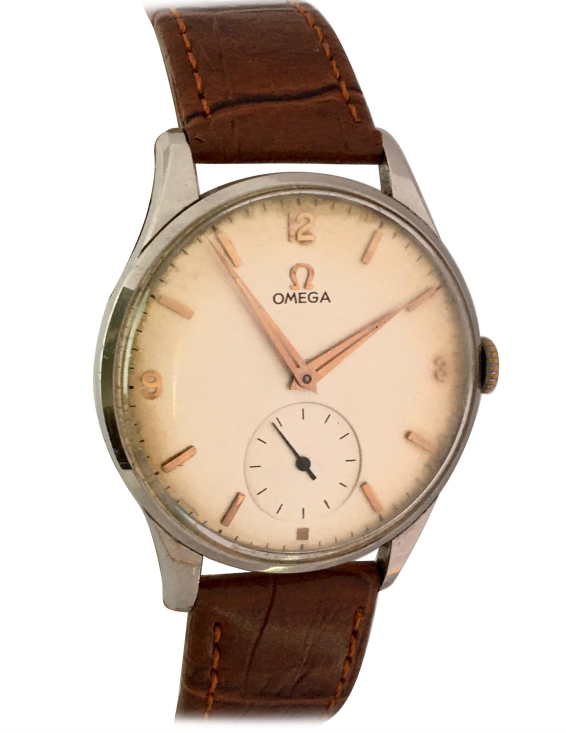 ---
Zodiac Olympos With Mystery Dial, $1,000
Ariste Calame founded a watchmaking workshop in 1882 in Le Locie, Switzerland, which would eventually become Zodiac in 1908.
The company began manufacturing pocket watches and later developed the popular Zodiac Autographic self-winding and shock-resistant watch.
The Zodiac Mystery Dial
This elegant vintage Zodiac Olympos stainless steel watch from the 1960s features a mystery dial and leather band. The watch appears to be in good condition and includes a black leather aftermarket band with a stainless steel clasp.
Vintage watches by lesser-known brands sometimes make the best collectible timepieces. And some make excellent jewelry pieces and fashion statements.
This might be my personal favorite in the best watch under $1000 category.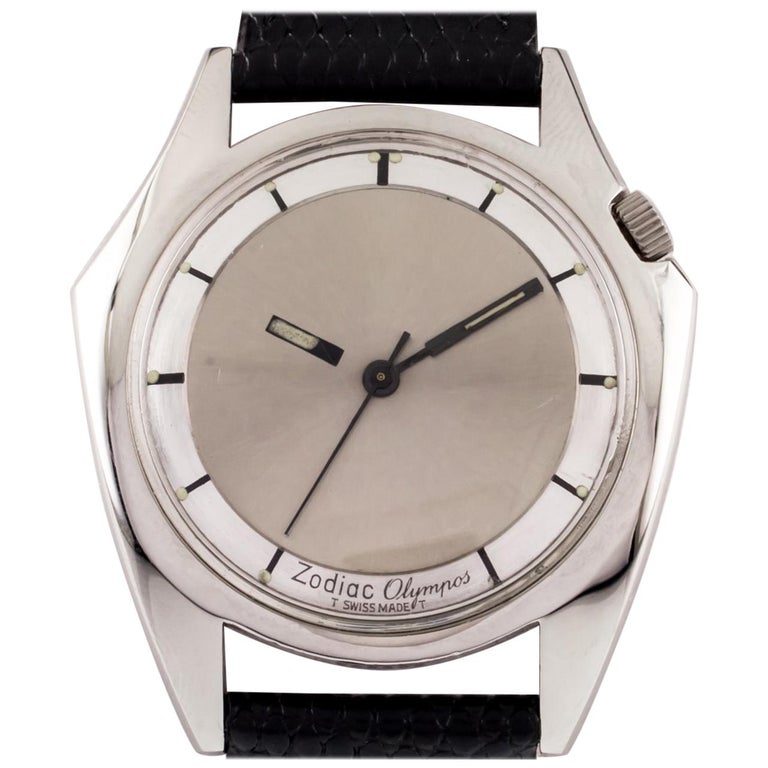 ---
Vintage King Seiko and Vintage Grand Seiko
For well under one thousand dollars, you can find a great looking King Seiko watch. Japanese watches offer compelling value in the vintage space.
The King & Grand vintage Seiko are very modern and precious designed watches that include a strong name brand dating all the way back to 1890. Kintaro Hattori began producing clocks, then later in 1923 began making watches.
The First Japanese Chronometer Certification
Many Seiko watch factories were bombed during World War II, but one remained. As for the Grand Seiko, it was the first Japanese watch to include a chronometer grade certification.
For under the $1000 price point, you can own a piece of Japanese watchmaking history with the vintage King Seiko, and Grand Seiko watches.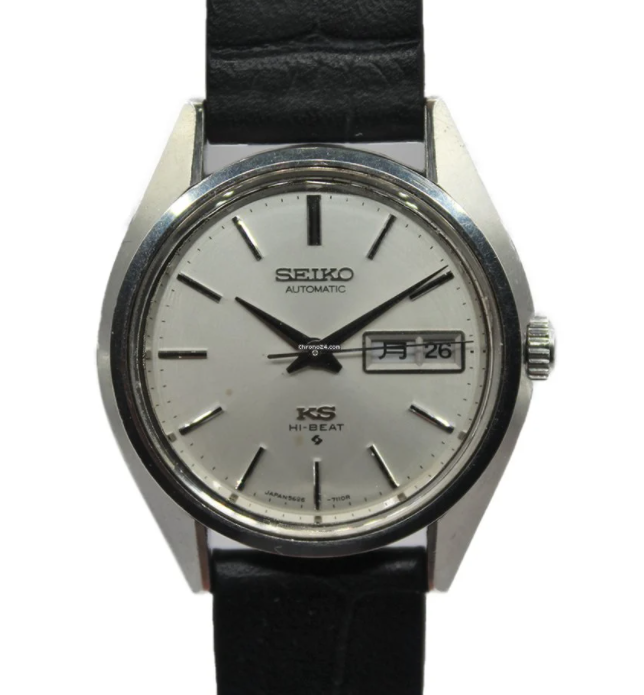 ---
Tag Heuer 2000 Series Ladies Watch, $700
For just under $700, the Tag Heuer 2000 Series Professional Quartz Ladies vintage watch is a great watch at a very affordable price. This watch is water-resistant to 200 meters with a moving bezel and a two-tone band.
When you discuss the very best vintage watch under $1000, you can't leave Tag Heuer out of the conversation.
Founded in 1860 by Edouard Heuer in Switzerland, he patented his first chronograph by 1882. He added the "oscillating pinion" shortly after, a feature still used by major watch brands to this day.
The brand carries an interesting history and a vintage look. Tag Heuer would make a great addition to any antique and vintage watch collection.
Bulova Spaceview, $1,500
The high quality Bulova watch brand delivers on all your vintage watch needs. The quartz movement shines through in true 1970s style. For under $1000, and in some cases under $500, you can find a rare Bulova Spaceview in great condition.
With an open dial, the Bulova Accutron Spaceview went on sale for the first time in 1961. Bulova was so proud of its Accutron technology; it just couldn't help but show the world how a smooth watch operates.
This watch should be on the shopping list of all vintage watch collectors.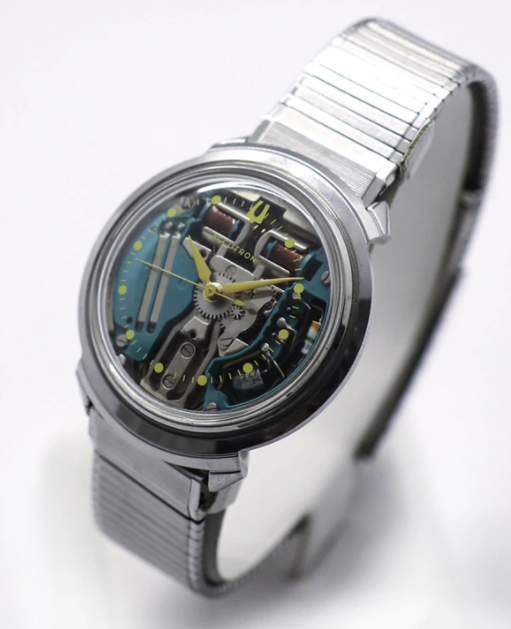 ---
Something for Everyone in Vintage Watches
If you love vintage watches, there are endless possibilities in the re-sale market. A few keys to keep in mind are setting your budget and spending plenty of time researching your favorite brands.
Once you identify a handful of brands to search, be patient; there are new listings every day in the vintage watch market.
There's no need to rush into something feeling like you might miss your chance at a great vintage watch. There's always another deal coming down the line. Start with great prices and the iconic design of the vintage watch. Focus on the best watches under $1000.
---
A Few More of My Favorite Little-Known Vintage Watches