---
Vintage Tonka trucks turn back the clock. No product line represents the golden age of childhood toys better than Tonka.
For a quarter-century, before the toy industry became addicted to plastic, Tonka turned out beautifully designed industrial trucks. They survived the harsh conditions of toy chests throughout the United States and across the world. Moving dirt in style back in a simpler time, Tonka truck style.
Vintage Tonka Trucks
They were among the last of a dying breed of toys — simply but powerfully rendered, heavyweight, generating hours of creative play, and built to last. And now they are classic vintage Tonka toys.
There may very well be one in your attic that you've forgotten about, and it may be worth a lot more than its original purchase price.
Here's the story of Tonka trucks and how to spot vintage models in good condition with the most value.
History of Tonka Trucks
Tonka Corporation evolved from a founding company called Mound Metalcraft, founded in Minnesota by Lynn Baker, Avery F. Crounse, and Alvin F. Tesch in 1946. The company inhabited an old schoolhouse.
Mound Metalcraft specialized in metal tie racks — a sorely needed device in the 1940s — and gardening equipment.
Mound Metalcraft
The previous owners of the schoolhouse, the Streater Company, were toymakers who had lost interest in the business. When Mound Metalcraft took over the property, Edward C. Streater sold them his patents of some steel toys he had designed: a steam shovel and a crane.
By the late 1940s, steel was in abundance (and cheap) after World War II. Mound Metalcraft was intrigued by its potential in toy-making.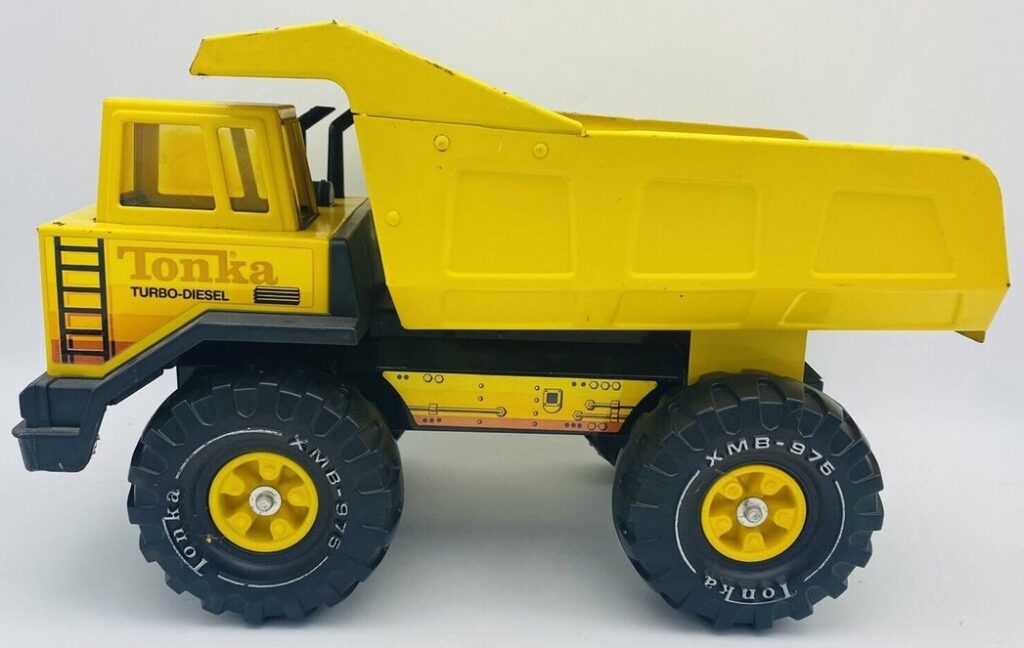 Mound Metalcraft to Tonka
After Tesch made some adjustments to the original plans in 1947, Mound Metalcraft decided to manufacture the metal toys as a sideline to their principal business. They launched the subsidiary "Tonka," the Dakota Sioux-language word for "great."
The name also fit because the company was located near Lake Minnetonka (made famous in the Prince movie Purple Rain).
Tonka at the New York Toy Fair, 1947
The first Tonka trucks were exhibited at the New York Toy Fair in 1947, and it didn't take long for them to become massive hits in the toy marketplace.
Customers loved the durability of the 20-gauge automotive steel — these original trucks may have been toys, but they meant business.
In the first year of production, Mound Metalcraft's first steel toys were over 37,000 toy steam shovels and cranes. Before too long, it was "so long" to tie racks and garden hoes. The founders switched to making toys full-time.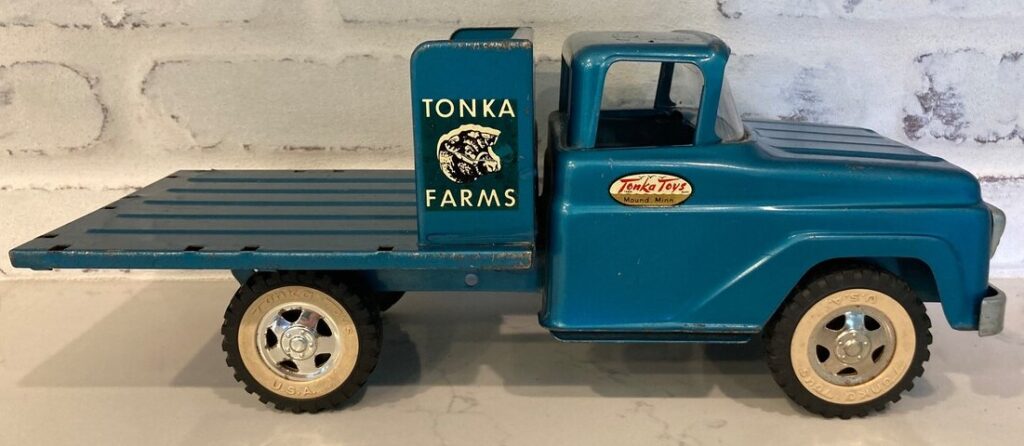 The First Tonka Trucks
Tonka issued its first toy truck catalog in 1949. It included a wide variety of classic Tonka toy trucks: semis, dump trucks, box vans, and more. To postwar customers, they stood for the renewed promise of American industry: hard work, large-scale achievement, and mobility.
Mound Metalcraft officially changed its name to the Tonka Corporation in 1955. The founders built a new plant to handle increased demand. Between 1955 and 1960, the company's sales tripled, and Tonka became a household word.
Tonka Goes Public
Tonka toys incorporated and raised capital to grow the business. The company went public in 1961, and the original founders left with tidy fortunes in their pockets.
In the 1960s, the Tonka toy truck invaded American homes. Backyards were flooded with Tonka's. The 'Mini-Tonka' line was introduced in 1963, and kids flocked to stores for the Mighty Tonka Jumbo line in 1965.
Tonka in 90% of All Homes
A 1969 marketing survey reported that 90% of all homes in the U.S. owned a Tonka toy of some kind. Tonka's most successful era saw the creation of classics like the Bulldozer, the Car Carrier, the Loadmaster, the Mighty Clam, and more.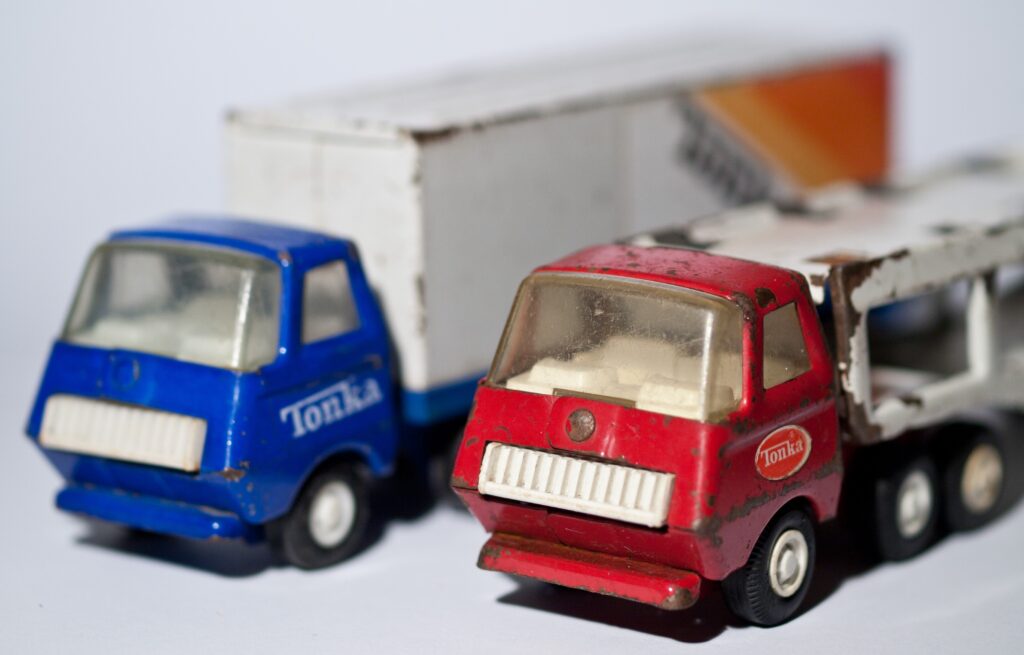 The Tonka and Hasbro Team
With continued success in the 1970s, Tonka used plastic as a manufacturing element and diversified its business.
Dolls and action figures were now made under the Tonka umbrella. The company succumbed to faddish temptations in the 1980s, including Teenage Mutant Ninja Turtle and Ghostbusters products. Hasbro finally bought Tonka in 1991 for nearly $500 million.
The Tonka brand still exists today, even though their current toys are mostly plastic rather than the original trucks' steel.
But to baby boomers and Generation X, the memory of sturdy Tonka army jeeps, hydraulic dump trucks, and semis racing through their backyards remains strong. Now they shop for vintage Tonka for memories and nostalgia.
How Much Are Vintage Tonka Trucks Worth?
The value of antique toys corresponds to their rarity and condition, which is the case for almost all collectibles.
But a classic Tonka truck has some unique characteristics that distinguish it from other toys of the era.
Tonka Tough Durability
The biggest factor is durability. Original Tonka trucks were built to last, with automotive-grade steel and attention to detail from steering wheels to steel fenders.
These toys survive through multiple generations of use, passed down from parents to their children in excellent condition. That kind of hereditary quality is all too rare in toys made after plastic became the dominant medium.
Tonka Truck Condition
The most valuable Tonka trucks on the collectibles market are in mint condition. They include all the original accessories, bear the original Tonka logo, have no blemishes on the finish, and come with original packaging and instruction manuals.
Tiny details are crucial in the valuation of Tonka trucks. Those with badly repaired parts or obvious repaint jobs are usually worth half as much as mint-condition Tonkas, if that.
Perfectly preserved Tonka trucks are so scarce that many collectors are content with those in merely good condition, foregoing the search for ones in "mint" condition.
Vintage Tonka Age
Generally, the Tonka trucks with the most value were made between 1947 and the mid-1970s.
While Tonka trucks sold for $10 to $30 brand new back in the old days. Now, vintage models can be much more valuable.
These old toy concepts include classic Tonka pickups, construction sets, trailers, mixers, fire trucks, car carriers, and more. Collectors especially covet rare trucks from the company's heyday in the 1960s.
Vintage Tonka Truck Price Guide
Here's a handful of my favorite, iconic, sought-after, and most valuable Tonka trucks. Although, the more digging you do, the more amazing vintage Tonka diecast models you will discover.
From the Buddy L truck to the vintage light green Tonka pickup truck and camper combo, there are dozens of great models out there!
Vintage Yellow Die Cast Metal Tonka Dump Truck – $200
This Tonka steel classic creation from the 1960s and 1970s is available through many antique toy sources and online auction sites.
It's a hefty 6 pounds heavy, measuring 17 inches long, 10½ inches high, and 8 inches wide. Diecast trucks in mint condition — no scratches, rust, or damage, with the original box — can go for $100 or more.
Some used yellow Tonka dump trucks made in the 1960s are priced upwards of $200. If you're willing to settle for less-than-mint condition dump trucks, they can be had for under $100.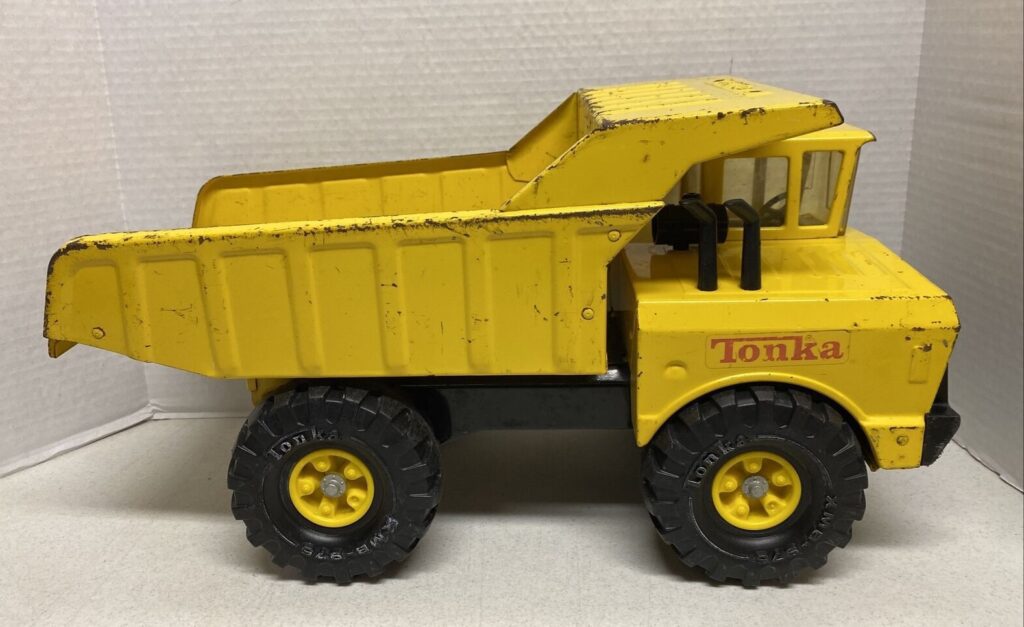 Vintage Tonka State Hi-Way Single Cab Sidestep Pickup Truck – $600
A bright orange beauty, this ubiquitous Tonka toy was manufactured beginning in 1957 through at least the early 1960s.
Variations on this truck include snow blowers and salt spreaders, dump trucks, tandem trailers, and double-plows.
Otherwise known as the Tonka B-220 State Turn-Pike Dept, these steel trucks are particularly rare items, and can fetch between $225 and $400, depending on the accessories. At least one custom-made truck is going for nearly $600 on auction sites.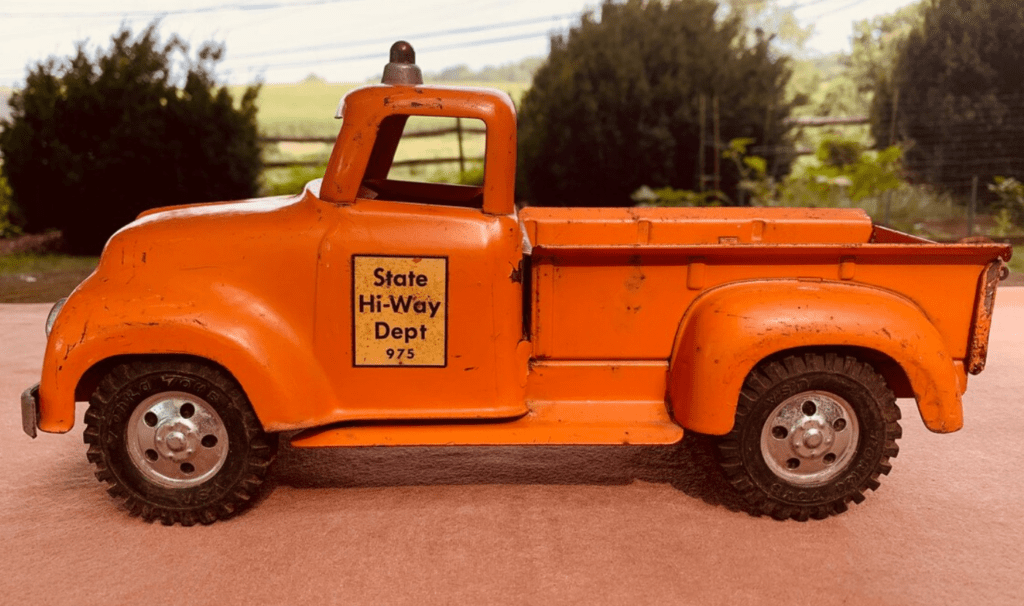 Tonka Jeep GR 2-2431 Military Steel Toy Truck With Canopy – $400
Tonka's military vehicles are simple but striking. The antique Tonka No. GR 2-2431 comes in army green, with a detachable canopy over the pickup bed.
A mint-condition version of the retro Tonka Army Jeep can be worth thousands of dollars, but you can find slightly lesser-quality versions for between $100 and $400.
The canopy is a big value-add — without it, the value of the truck goes down significantly.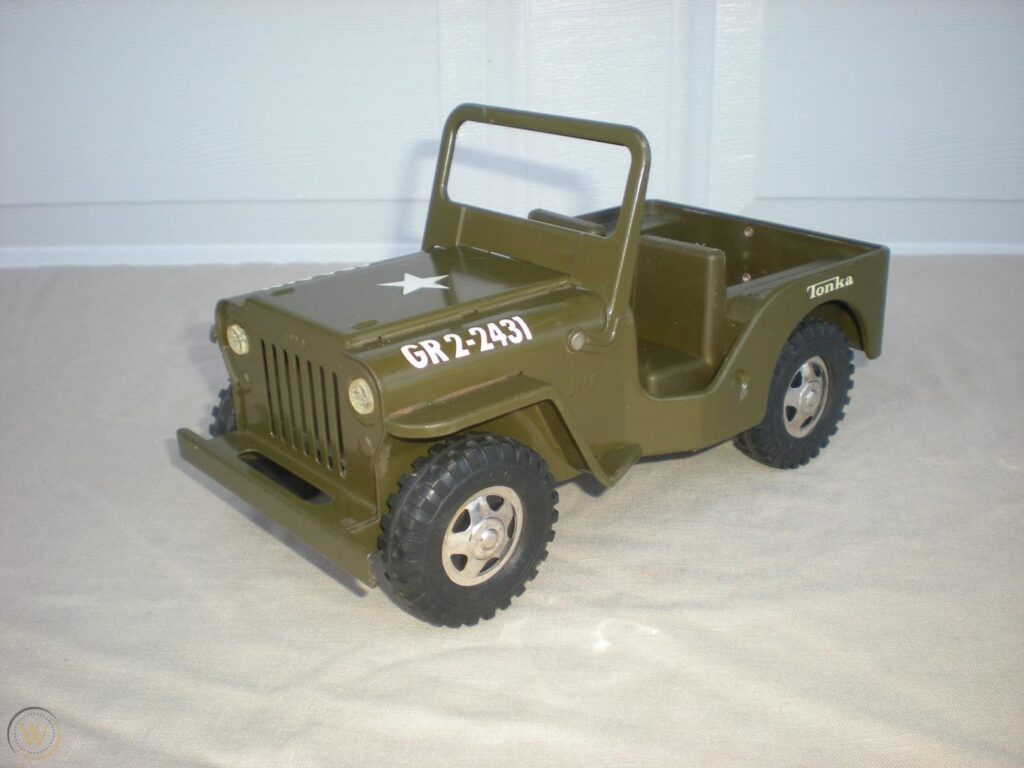 Tonka Fire Trucks – $1,000
Tonka made several variations on the fire truck theme. The rarest and most valuable is a 1958 tanker truck vehicle that's white rather than red — versions including the side ladders are currently priced between $975 and $1,300 on eBay.
Several red hook-and-ladder fire engine classics from the 1950s go for between $300 and $500 — possibly $1,000 if it's in immaculate shape, making the rig an amazing collectible.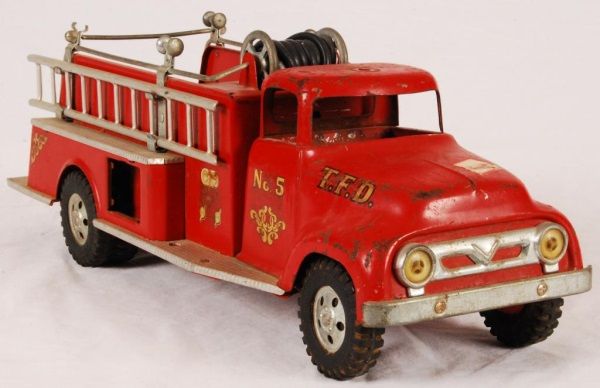 Tonka 1956 AAA Wrecker Tow Truck – $500
This ultra-rare, cream-white tow truck was produced with pressed steel. It bears the original Tonka logo on the side of the cab and the 1950s AAA logo on the cargo bed. Mint-condition replicas can be worth over $500.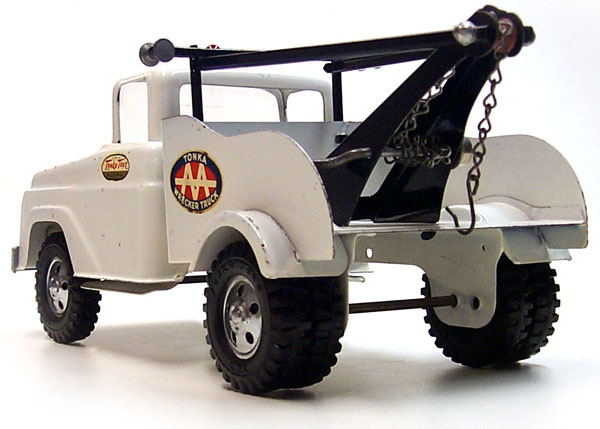 Hi-Way Dump Truck – $250
The 1956 Tonka State Hi-Way Department 980 orange dump truck is a classic vintage toy. Made with pressed steel, the hydraulic dump truck has withstood the test of time.
Several Hi-Way dump trucks and utility trucks are currently valued in the $100s, depending on the condition. I've found several heavily rusted trucks on eBay ready for a complete restoration.
With plenty of replacement parts for sale, the tiny Tonka could be the perfect project for a "Tonka Flip" if you're searching for the next candidate.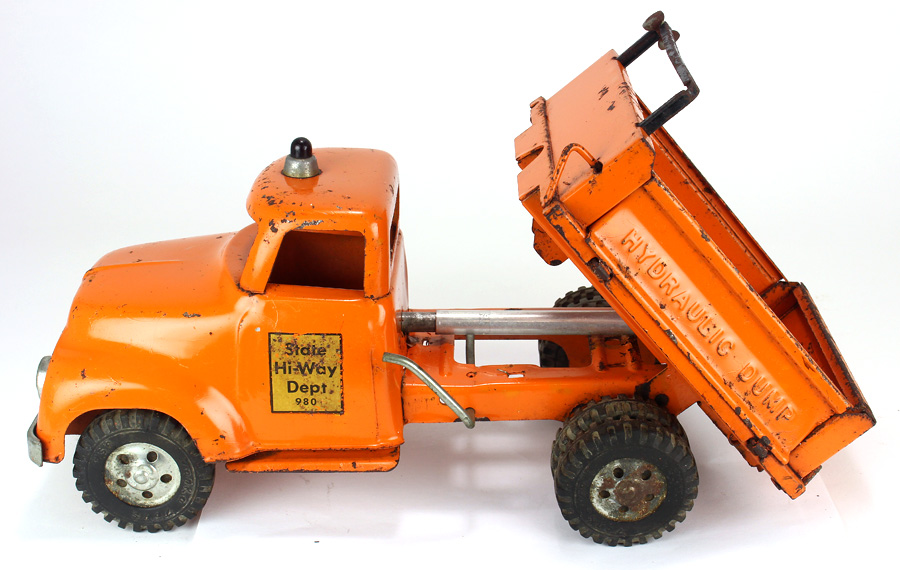 Aerial Ladder Fire Truck – $2,000
The Tonka Fire Department Aerial Ladder truck features a hydraulic ladder and two additional ladder segments. Also known ast the suburban pumper.
When fully extended, the ladder reaches 35″ long. Vintage models of the aerial fire truck can be found for a few hundred dollars. Initially, this model was part of the Tonka Round Fender Cab Truck Series back in 1956.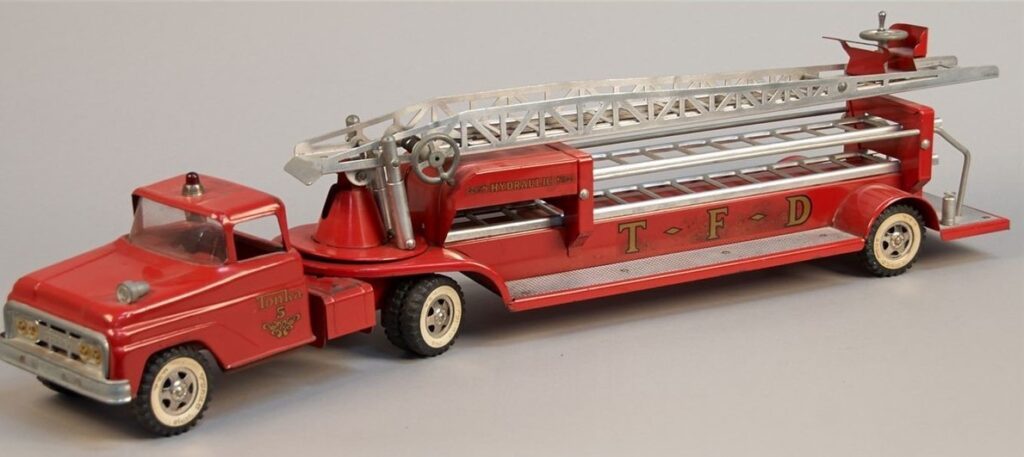 Tonka Semi Truck – $2,500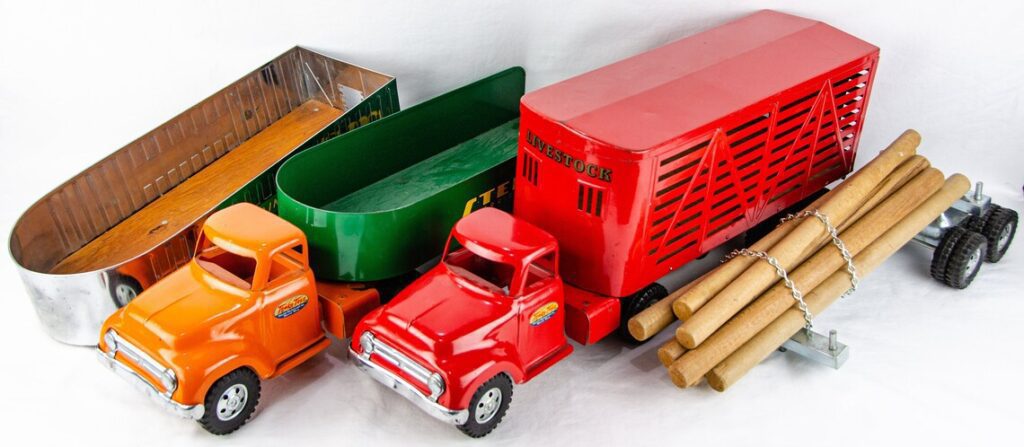 Tonka Loader – $120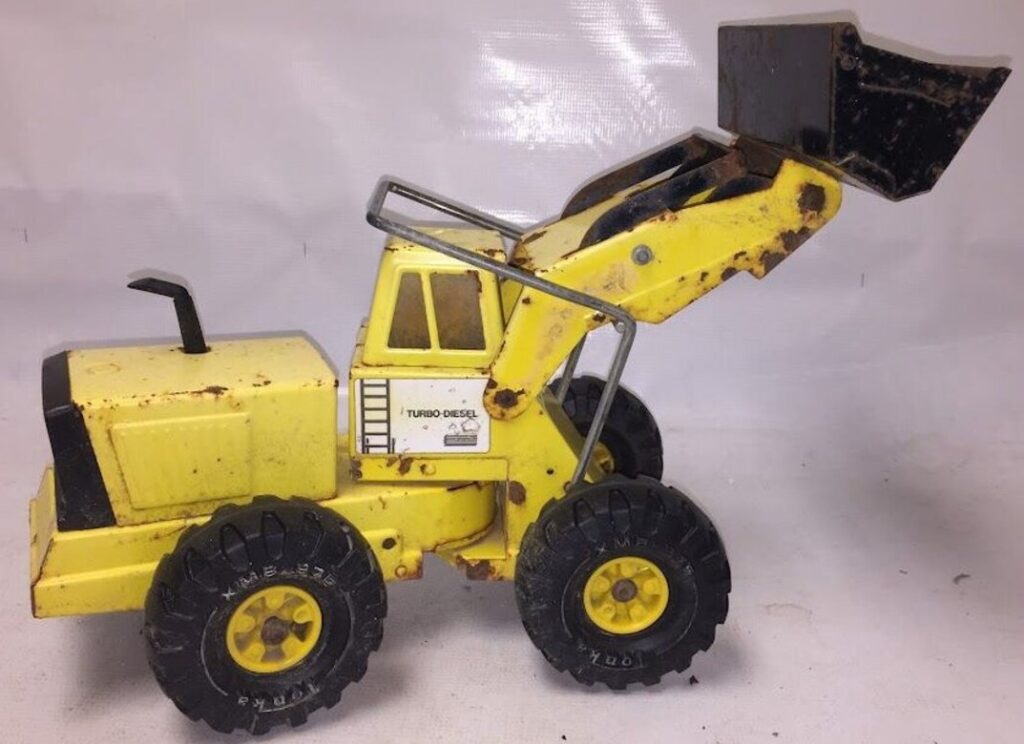 Tonka Cement Mixer – $80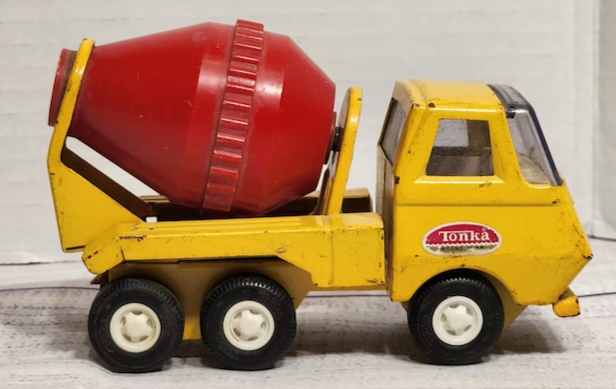 Tonka Road Grader – $50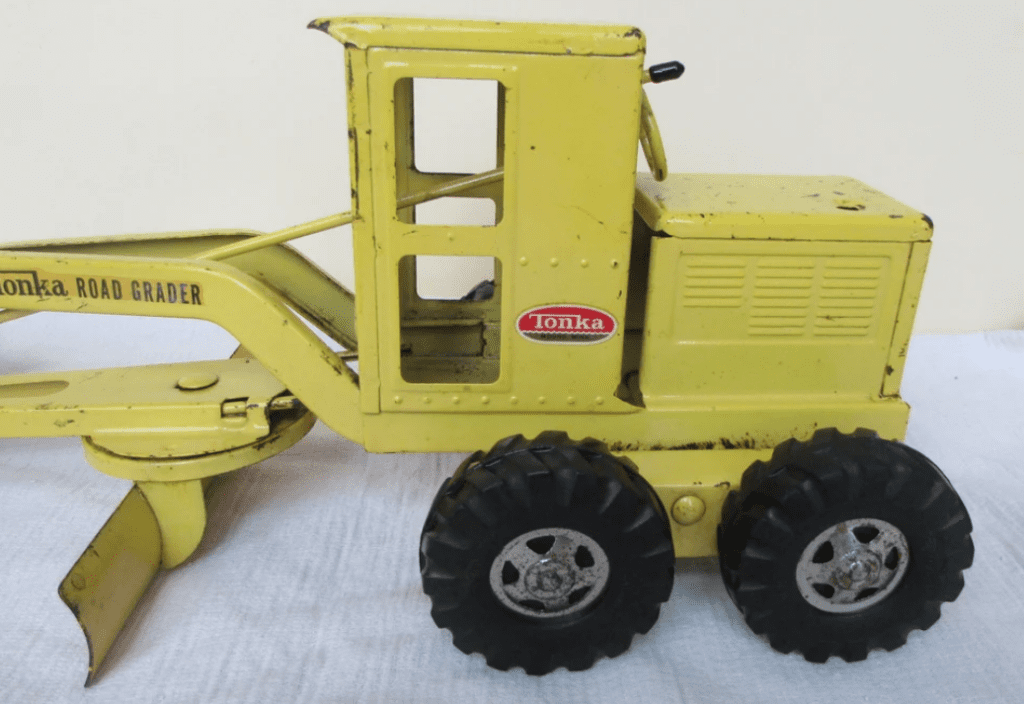 Tonka Horse Trailer – $90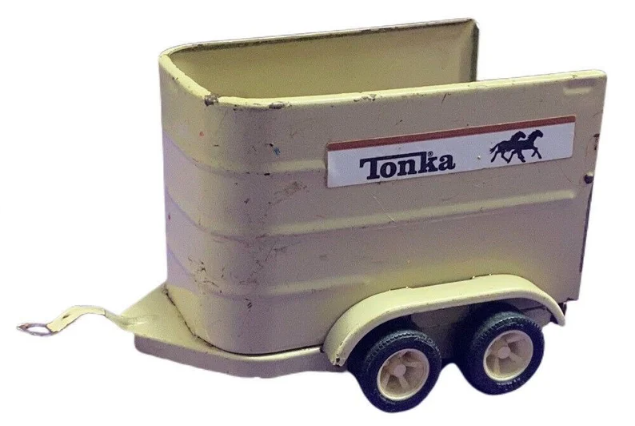 Tonka Digger – $50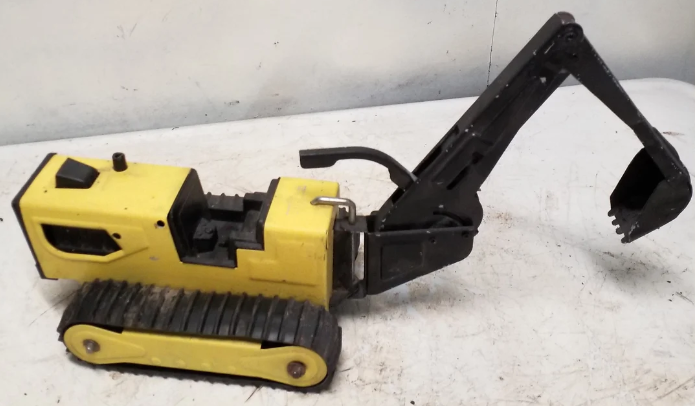 Tonka Box Truck – $100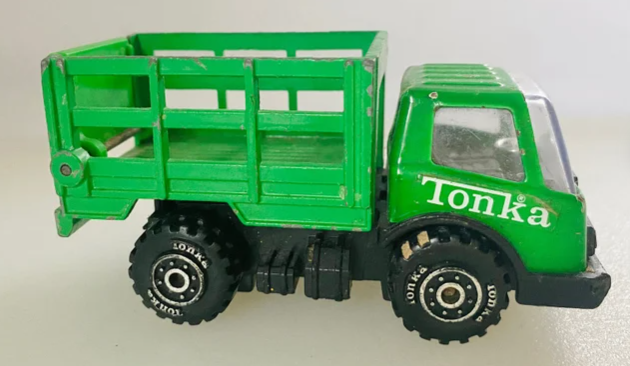 Tonka John Deere – $70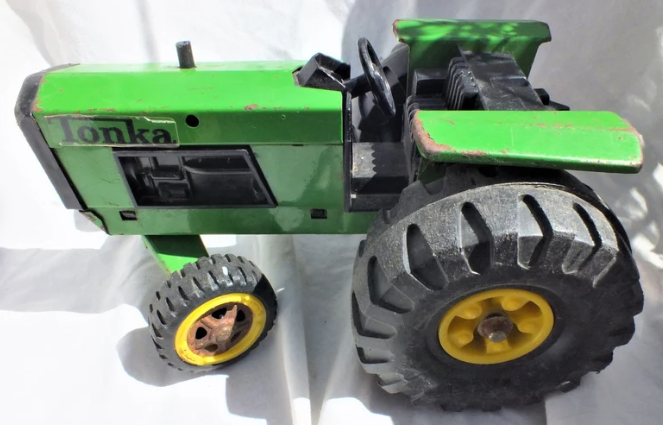 Restoring Vintage Tonka Trucks
There's a YouTube Channel for everything, and vintage Tonka Trucks are no different. Several YouTube Channels feature restoration videos of old, rare, vintage Tonka trucks and cars.
Check out the before and after photos of this blue Tonka camper at the end of the video by Chip Channel Restorations.
If you're thinking about getting into the Tonka Truck Restoration business, you're not alone. The market for beautifully restored Tonka's is booming.
Tonka Replacement Parts Online
Online sites now sell new parts for almost any Tonka model you can find. From single zinc connectors, a sacrificial anode or two, and even replacement stickers, everything you need for the final assembly of a perfectly restored Tonka is at your fingertips.
Many of you know someone who likes to buy old cars, repair them, and "flip it." But how many of you have considered "flipping" vintage restored Tonka trucks?
Here's another amazing restoration of a vintage Tonka Truck, this time by MW Restorations. Check out the powder coating – very impressive—fantastic attention to detail, great camera angles, and a very nostalgic experience.
The Life-Sized Ford Tonka Truck
When you're known for durability, your brand is highly desirable. I couldn't end a Tonka truck discussion without mentioning the life-sized Tonka truck brought to you by Ford.
With this beast, two amazing slogans are brought together, "Tonka Tough" joins forces with "Built Ford Tough." Under special license from the Hasbro toy company, Ford developed the yellow special edition F-150 Lariat Crew Cab 4×4.
Aluminum body panels, 20-inch alloy wheels, a 6″ lift, double air-intakes on the hood, extra-wide front end, and a visible Tonka logo on all sides of the truck.
This beauty is unmistakably Tonka and built Ford tough.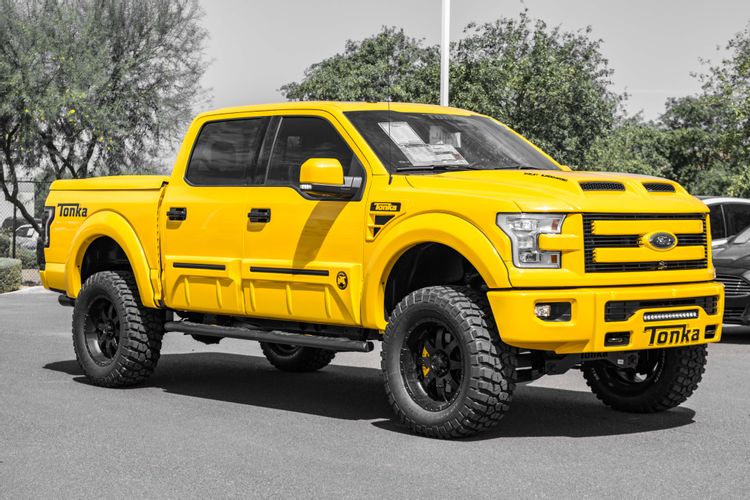 ---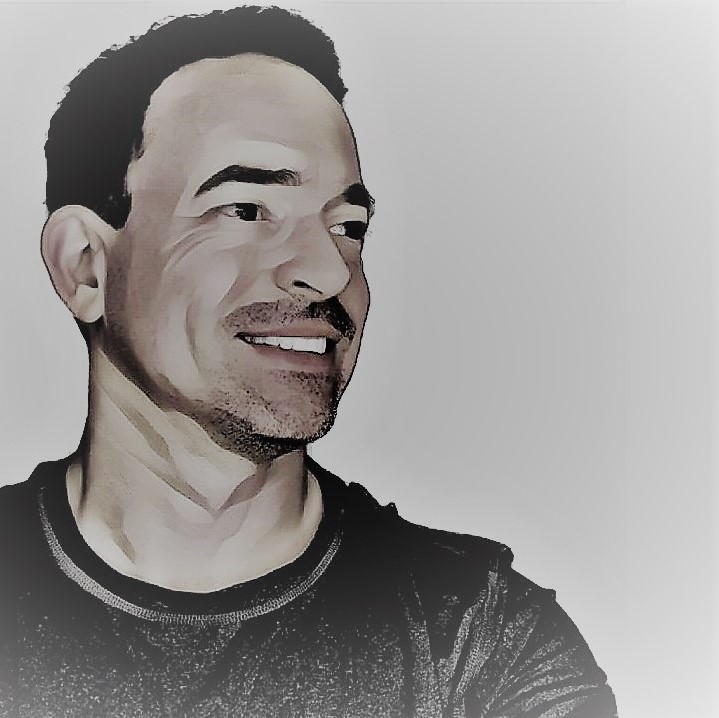 R.J. Bachman
Attic Capital – Writer, Editor, and Lifelong Collector
After decades of collecting rare coins, sports cards, and all types of collectibles, I began writing to share my experience, knowledge, and passion with the world.
I would love to connect with you, so don't hesitate to reach out and let me know more about your passion for collecting.